In today's digital age, staying connected is more important than ever. That's why, when it comes to choosing a tablet, I always prefer one with a SIM card slot. In this article, I have listed the best tablets with SIM card slots and 4G connectivity.
Tablets with SIM card support offer the freedom to stay connected wherever you go. Whether you're a student, a professional, or someone who loves the convenience of having mobile data on a tablet, we're about to embark on a journey to find the top options that seamlessly combine the tablet experience with connectivity.
I believe tablets with SIM cards are a game-changer. They provide the flexibility to access the internet, make calls, and send messages without relying on Wi-Fi. So, if you're looking for a tablet to keep you connected on the go, you're in the right place.
Let's explore the best tablets with SIM card support to meet your connectivity needs and enhance your digital experience. We have been reviewing tablets for 3 years, and the listed tablets are the best ones you can have right now.
List of the Best Tablet with 4G LTE & SIM Card in 2023:-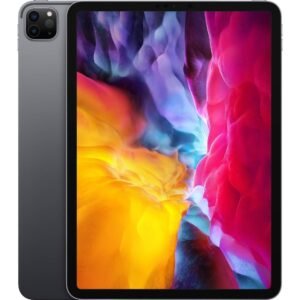 For the Apple lover and one who wants a bigger screen with a portable internet facility, then you must choose this without any reason. This new Apple device is fully updated and has all the previous features.
The price is always the main reason to switch to the other device. But the existing user knows very well why anyone craves this brand. However, to have an option, you get an Apple A12X chipset which makes it the fastest tablet on this list.
In fact, it's even faster than an iPhone XS. Apple is offering it with 11-inch and 12.9-inch IPS screens, 64GB, 256GB, 512GB, or 1TB of storage, as well as Face ID facial recognition. It has four great speakers too. It is a game-changer when it enters the market of the tablet, far better than others and its previous versions too.
I've been genuinely impressed by its SIM support and connectivity options. It's incredibly versatile, supporting both physical SIM cards and cutting-edge eSIM technology. I can easily switch between carriers and data plans when traveling or as needed.
With Gigabit-class 4G LTE capabilities, I've got reliable internet access wherever I go. It's a real asset for staying connected and productive whether I'm on the road, at home, or in the office.
This is the one of the best tablets with SIM card in my opinion and you must have this for travelling, but it will affect your pocket. The pencil is upgraded, bigger screen, and impressive design. The battery life is outstanding and gives it 100%.
Specifications of Apple iPad Pro 11-inch
Processor
Apple A12X chipset
RAM
4 GB
Storage
128/256/512/1TB SSD storage
Display
11-inch Liquid Retina display with 2388×1668 pixels
Camera
Rear- 12MP | Front-7MP
OS
Apple iOS
Battery Life
10 hours
Weight
471 g
PROS
Strong 4G connectivity
Great speakers
High quality display
Comes with Pencil
CONS
No HDR support
High price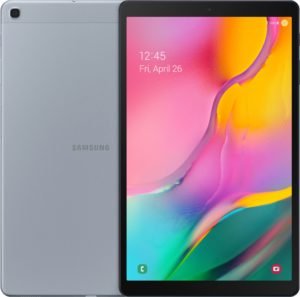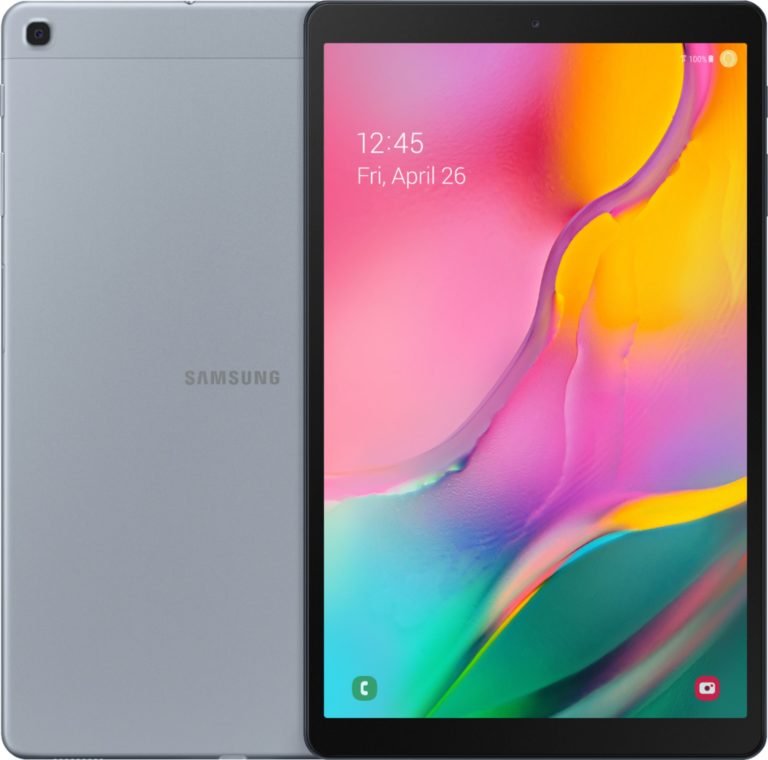 I recently got my hands on the Samsung Galaxy Tab A 10.1 with SIM capability. After thorough use, I can say it's a fantastic pick for anyone looking for connectivity on the go without breaking the bank.
Right out of the box, the Tab A impresses with its sleek design. The 10.1-inch display is just the right size for streaming media, browsing the web, and reading eBooks. Its Full HD corner-to-corner display provides vibrant and clear visuals, a pleasure for streaming sessions.
Performance-wise, the octa-core Exynos 7904 processor paired with 2GB RAM runs Android smoothly. While it's not the most powerful setup, it's perfectly adequate for everyday tasks like browsing, social media, and light gaming. Plus, the SIM card support with 4G connectivity is a huge advantage for me, ensuring I stay connected even when WiFi is out of reach.
Storage-wise, it comes with 32GB onboard, but the microSD slot is a lifesaver, allowing me to expand the storage up to 512GB, which means I never have to worry about deleting apps or photos.
Battery life is another strong point. It lasts me through a day of mixed-use, including browsing, emailing, and streaming videos, which is impressive. It means I can leave my charger at home for day trips without any worry.
The user experience is also enhanced by Samsung's One UI, layered on top of Android 9, which is intuitive and user-friendly. It's clear Samsung has put thought into Tab A's software to make it accessible even for those new to Android tablets.
But there are also drawbacks. The speaker quality is average, and for audiophiles, that might be a letdown. And while the SIM functionality is fantastic, I wish it supported higher network speeds for even better on-the-go browsing.
Summing it up, the Galaxy Tab A 10.1 is a solid choice for those who need a tablet with SIM support. It balances performance, display quality, and connectivity, making it a top contender and a smart choice for anyone needing a reliable tablet for everyday use.
Specifications of Samsung Galaxy Tab A
Processor

Exynos 7904 octa-core processor

RAM
2/3 GB RAM
Storage
32/64 GB
Display
10.1″ 1080p Full HD display (1920 x 1200)
Camera
Rear- 8MP| Front- 5MP
Operating System
Android 9.0 (Pie)
Battery Life
Up to 13 hour
Weight
1.03 lbs (469g)
If you still want to know more about this then you can read our Samsung Galaxy Tab A review from our experts.
PROS
Metal Body
Screen quality
Processor is powerful
Camera and speakers
CONS
Speaker on one side only
No fingerprint sensor
For Addition.. Read our expert's review on Samsung Galaxy Tab A7.

Having spent a considerable amount of time with the Apple iPad Mini 4, I'm well-placed to report on this compact titan within the tablet market, especially for those who prioritize SIM support for data on the move.
The iPad Mini 4's design remains timeless with its sleek build, and the 7.9-inch Retina display is as gorgeous as ever, delivering sharp, color-rich visuals. It's a joy to use for everything from browsing the web to catching up on my favorite shows. The fact that it comes with a 4G-supported SIM card slot means I can enjoy these features seamlessly, both indoors and out.
Under the hood, the A12 Bionic chip with 64‑bit architecture doesn't skip a beat, keeping up with my multitasking demands. Although it isn't the latest processor from Apple, it still handles iOS effortlessly, ensuring a smooth user experience.
The inclusion of SIM capability with Gigabit-class LTE connectivity is fantastic. I can stay connected with cellular data, which is particularly handy when traveling or in areas where Wi-Fi is spotty. It's been reliable and maintains good signal strength, keeping me connected to my cloud services and communication apps without a hitch.
With up to 256GB of storage, there's ample room for my apps, documents, and media. However, with Apple's ecosystem, I utilize iCloud for extra space and seamless synchronization between devices.
Battery life is another hallmark of the Mini 4, easily giving me up to 10 hours of usage. Whether I'm working through emails, video calling, or reading, it doesn't let me down.
However, it's not without its downsides. The speakers are decent and not as good as newer models, and the camera, while adequate, won't replace your primary photography device.
Overall, the iPad Mini 4 with SIM support stands strong for those seeking a reliable, compact tablet. It's perfect for on-the-go use and offers a premium feel without carrying around a bulkier device. While it may not be the newest, its performance and versatility make it a worthy contender in the 'best tablets with SIM' category.
Specifications of Apple iPad Mini 4
Processor
Apple A12 Bionic
RAM
2 GB
Storage
64/256 GB
Display
7.9″ Retina Display
Camera
Rear- 8MP | Front-7MP
OS
iPadOS 14
Battery Life
Up to 10 hours
Weight
0.65 lbs
PROS
Multipurpose
Apple Pencil
Display Quality
CONS
Costly for reading purposes
No 5G connectivity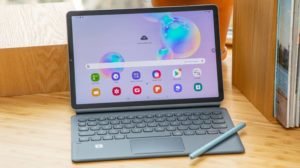 After months of using the Samsung Galaxy Tab S6, it's clear that it is one of the best tablets with SIM card support. Here's my first-hand experience with this versatile device that keeps me connected on the go.
Out of the box, the Galaxy Tab S6 impressed me with its sleek design and the vibrant 10.5-inch Super AMOLED display. Whether I'm reviewing documents for work or indulging in a high-definition movie, the screen never captivates me.
The single Nano-SIM slot is discreetly placed, maintaining the tablet's smooth lines. Once I inserted my SIM card, I immediately accessed 4G LTE network. This feature has been a lifeline when Wi-Fi was out of reach, ensuring I could continue my work uninterrupted or guide me with real-time maps while traveling.
Performance-wise, the Tab S6 is a powerhouse. Multitasking is a breeze, thanks to the robust Qualcomm Snapdragon 855 processor and ample 8 GB RAM. Switching between apps, streaming content, and engaging in video conferences, it manages every task efficiently.
Storage isn't an issue either. With an internal storage of up to 256GB and the option to expand it via microSD up to 1TB, I never worry about space for my files and apps.
The S Pen, a standout feature, is more than a stylus. It's my go-to for taking notes during meetings and doubles as a remote control for presentations and photo-taking.
On the downside, the Tab S6 comes with a premium price tag, which might be a consideration for some. And while the battery life is decent, offering up to 15 hours of backup on moderate use, intensive tasks like gaming can drain it quicker than I'd like.
In conclusion, the Samsung Galaxy Tab S6 is a top-tier tablet with SIM capabilities. Its connectivity, with the convenience of a Nano-SIM card slot and access to 4G networks, ensures that I stay connected at a cafe or on a cross-country train. For anyone who needs a reliable, high-performance tablet that won't tether them to Wi-Fi hotspots, the Tab S6 is a solid choice.
Specifications of Samsung Galaxy Tab S6
Processor
Qualcomm Snapdragon 855
RAM
6/8 GB
Storage
128/256 GB
Display
10.5-Inch Super AMOLED (2560 x 1600 pixels)
Camera
Rear- 13MP | Front- 8MP
Operating System
Android 9
Battery Life
Up to 15 hours
Weight
0.92 lbs
Still want to know more?? Read our expert's Review on Samsung Galaxy Tab s6.
PROS
Powerful Processor
DeX mode
Storage space
Updated S pen stylus.
CONS
The keyboard needs to be bought separately
Small keys
My personal journey with the Huawei MediaPad M5 Pro has been nothing short of a revelation in the tablet space, especially for a device that champions SIM card connectivity. As a discerning tech user, I was looking for a tablet that wouldn't just confine me to Wi-Fi zones, and this tablet ticked all the boxes.
First off, the MediaPad M5 Pro's design is sleek, and the 10.8-inch display provides a visual punch that is hard to overlook. The clarity and color reproduction make streaming and browsing a visual delight. Inserting my Nano-SIM was a straightforward affair, and the seamless transition to 4G LTE connectivity meant I could keep up with emails and social media without a hitch while on the move.
The performance is robust; powered by a HiSilicon Kirin 960 chipset, it handles everything from video calls to document editing without a stutter. I've been particularly impressed with the tablet's ability to maintain composure even when multitasking heavily.
The M-Pen is an added boon, making note-taking and sketching intuitive and enjoyable. Its precision is commendable and has become an indispensable tool for my creative workflows.
The battery life is respectable, easily carrying me through a full day of mixed-use, though, like any device, heavy tasks will sap it faster.
Regarding downsides, the MediaPad M5 Pro is costly, and the interface could be more intuitive. However, these are minor gripes in an otherwise stellar device.
Overall, the Huawei MediaPad M5 Pro has proven itself as a top contender in the 'best tablets with SIM' category. It offers the freedom of 4G, significant processing muscle, and an excellent display—all wrapped up in a device that keeps up with the demands of a mobile lifestyle.
Specifications of Huawei MediaPad M5 Pro
Processor
HiSilicion Kirin 960
RAM
4 GB
Storage
64/128 GB
Display
10.8″ IPS display (2560 x 1600 pixels)
Camera
Rear- 13MP | Front – 8MP
Operating System
Android 8.0 Oreo (EMUI 8.0)
Battery Life
Up to 12 hours
Weight
1.1 lbs
PROS
Bright and colorful display
Performance is great
Efficient pen and sound
CONS
Costly
Medium gaming capability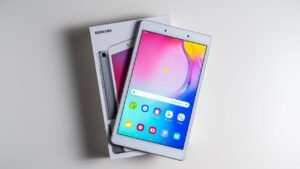 Having spent time with the Samsung Galaxy Tab A 8.0, I'm giving my honest opinion about this compact and portable tablet. With its SIM card capability, it is perfect for an on-the-go lifestyle that keeps the connection to the internet without always needing to hunt for Wi-Fi.
Right out of the box, the compact size struck me – the 8-inch IPS display is perfect for one-handed use without sacrificing visibility. Its resolution is crisp enough for reading and streaming, which I've done plenty of. The 4G LTE connectivity, thanks to the SIM slot, is robust, offering quick access to the internet and streaming services while commuting.
Performance-wise, it's equipped with Qualcomm Snapdragon 429 to handle day-to-day tasks like browsing, social media, and video calls with ease. I've also appreciated the expandable storage – a boon for downloading content for offline viewing.
The battery life is commendable, too; I can get through most of the day on a single charge, which is crucial when I'm out and about. The user interface is intuitive, with Samsung's One UI providing a smooth and user-friendly experience.
Admittedly, it's not the powerhouse that some might crave. Still, for its price point and the flexibility of cellular connectivity, the Galaxy Tab A 8.0 is a strong contender in the market.
In sum, the Samsung Galaxy Tab A 8.0 with SIM support is a testament to practicality and connectivity. It fits perfectly into the balance of affordability, functionality, and the convenience of staying connected wherever I am, making it a solid choice for anyone looking for the best tablets with SIM capabilities.
 Specifications of Samsung Galaxy Tab A 8.0
Processor
Qualcomm Snapdragon 429
RAM
2 GB
Storage
32 GB
Display
8″ IPS display (1280 x 800 pixels)
Camera
Rear- 8MP | Front- 2MP
Operating System
Android 9.0 Pie
Battery Life
Up to 13 hours
Weight
1.32 lbs
PROS
Sleek and lightweight
Build quality
CONS
The camera can be better
Slow performance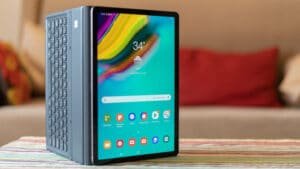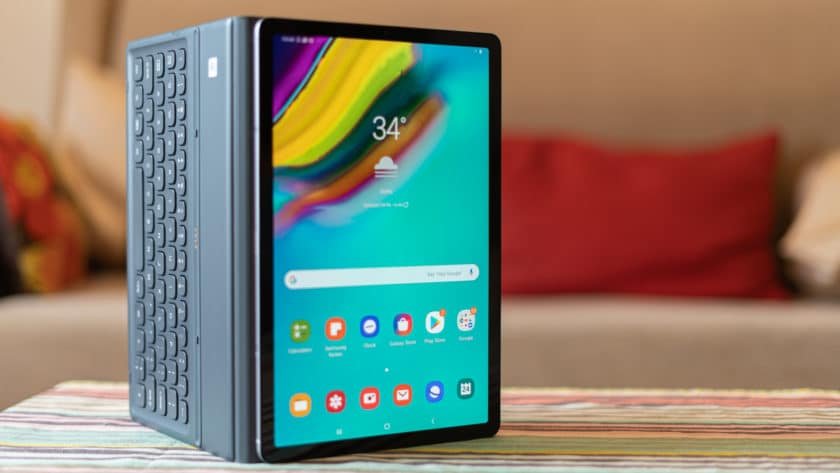 Since integrating the Samsung Galaxy Tab S5E into my daily routine, I've found it to be an exceptional tablet that truly stands out, especially for those needing seamless connectivity with SIM card support. This sleek device is more than just a gadget – it's become a crucial part of my mobile office and entertainment hub.
Slim and lightweight, the Tab S5E is a pleasure to carry around, fitting snugly in my bag without adding bulk. Its 10.5-inch Super AMOLED display is a visual delight, rendering colors vibrantly and making everything from documents to movies look stunning. I've used it for presentations and Netflix sessions, and it hasn't missed a beat.
What really sets it apart for me is the SIM card functionality. The ability to pop in a SIM and access 4G LTE networks keeps me always connected to the internet. This tablet keeps me connected, whether on a train or in a cafe. And with its impressive battery life, I rarely worry about finding a charging port during my day.
While the Galaxy Tab S5E may not replace a high-end laptop, it's more than adequate for my multitasking needs, handling multiple apps with its efficient Qualcomm Snapdragon 670 processor. And for those moments of creativity or note-taking, the compatibility with a smart keyboard and stylus (sold separately) is a big plus.
To wrap up, the Samsung Galaxy Tab S5E checks all the right boxes for a mid-range tablet with SIM capabilities – portability, performance, and connectivity. It's a smart buy for anyone looking for a reliable, all-in-one mobile device.
Specifications of Samsung Galaxy Tab S5E
Processor
Qualcomm Snapdragon 670
RAM
4/6 GB
Storage
64/128 GB
Display
10.5″ Super AMOLED (2560 x 1600 pixels)
Camera
Rear- 13MP | Front-8MP
Operating System
Android 9.0
Battery Life
Up to 15 hours
Weight
0.88 lbs
PROS
AMOLED display
Processor is great
Internal Storage
Buyer's Guide – Best Tablets With SIM Card Slot
Here we will discuss the top features of the tablet with SIM. We think you will give priority to the battery performance, the display, screen size, built-in quality, Weight, Portability, Important Accessories, Processor, RAM, etc.
1. Screen Size
This is one of the most important factors you need to consider whenever you are buying a tablet. The tablet has many options size of the screen so you can choose whatever you want. We suggest taking at least 7 inches tablet because if you want to have smaller than 7 inches then it's better to have a smartphone instead of that.
Compact tablets are easy to handle, carry, and operate. Bigger Size tablets are great for office work, streaming, as well as for gaming purposes. The bigger size and tablet with SIM cost you more so you should choose according to your budget.
2. Concealed Carry
If you usually travel from one place to another or work for the organization then you should have a tablet with SIM. Sometimes laptops have a problem during traveling and also a problem operating with WI-Fi.
While Tablet brands provide a carry bag that makes it comfortable and to put anywhere easily and also protects with the external damage.
3. Operating System
You are free to choose any OS according to your wish. Because this doesn't affect any way to the performance and connectivity to the server.
But Apple iOS helps in some cases, like multitasking a few other functionalities. You can also choose Chrome OS as many of the experts suggest this OS for official uses.
4. Battery Life
One of the important things as you need to carry your laptop outside with you so battery performance should be better in the long run.
In this field, no brand can beat Apple's better performance, but you only have to pay an extra penny for this. We didn't say that other brands like Samsung and Microsoft are not good, but if we compare, you can easily find the best performer, Apple.
If you have enough budget, then always go for a tablet with at least 8-10 hr of battery life.
5. RAM (Memory) and Storage
As everyone knows, these two things are the backbone of any device and help boost the device's capacity and storage.
Not every time you work on your tablet, this is normal that everyone keeps something that can help them in entertainment as well like people use tablets for watching movies, so having more memory space is a must and helps to store the data which you want.
6. Protection
If you are looking for a budget less or money spending tablets, you still need to do something for its protection.
Our personal suggestion is if you want to keep your device functional, then protect your device with some screen protectors and covers.
Frequently Asked Questions:-
Are there any tablets with a SIM card slot with dual SIM support?
My top 3 Tablets With Dual SIM would be: 
The Realme Pad X Tablet with 2.2 GHz Processor, Memory Card Support, VoLTE, 3G, and Dual SIM.

The upcoming OnePlus Pad 5G Tablet: Octa Core, VoLTE, 3G, Dual Sim, 1752 x 2800 px.

And also, the Realme Pad Tablet (4GB RAM + 64GB): VoLTE, 2 GHz Processor, Helio G80, 4G, 1200 x 2000 px Display.
How do I activate a SIM card in a tablet with a SIM card slot?
Take the sim out of your Android phone in case you're using the same, or buy a new one. Then eject the SIM card tray from your tablet and place the SIM inside it. Place the tray back and reboot the device. That's all, as you do on the phone.
Are there any tablets with a SIM card slot with built-in eSIM support?
Yes, Apple iPad Pro 11-inch is a great option with a SIM card slot with built-in eSIM support.
Conclusion
In conclusion, the world of tablets with SIM capabilities is vast and exciting. Throughout my exploration, I've come to appreciate the convenience and flexibility these devices offer. Whether you need to stay connected for work, study, or leisure, these tablets have proven their worth.
The choices are plentiful, and the best tablet with SIM for you may depend on your specific needs. But one thing is sure: these devices have made our lives more connected and accessible. So, as you begin your journey to find the best tablet with SIM, may your selection bring you the connectivity and convenience you desire.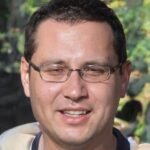 Ben Scott is a prominent technology journalist and reviewer, specializing in tablet devices. He is known for his comprehensive and unbiased reviews of tablets from various manufacturers.
With a deep understanding of tablet technology, including hardware components, operating systems, and software applications, Scott provides clear and informative reviews accessible to readers of all levels of technical expertise.
His attention to detail and in-depth analysis have earned him a loyal following of readers.