Are you looking for the best tablet for photo editing at an affordable price? If yes, then you came to the right place. As we all know, Photoshop is one of the most widely used software for editing, drawing, painting, and animation. However, the new software is cheap, easier to use, and compatible with portable devices like smartphones and tablets.
If you prefer to work on your PC with your drawing tablets, you can find a limited version of Photoshop for your Android and iOS devices. We must keep many things in mind while buying a tablet for Photoshop: its compatibility, display, pressure sensitivity, CPU, storage, budget, etc.
Yes, the storage and the lengthy process of downloading it and the price as well. Is it hard to maintain your creative self within such boundaries, right? But here we are to help you with that! 
We must keep many things in mind while buying a tablet for Photoshop: its compatibility, display, pressure sensitivity, CPU, storage, budget, etc.
Below is the complete guide on how you can find Photoshop in affordable and subtle tablets for photoshop so that your money and effort doesn't go to waste.
Best Tablets For Photoshop – Recommended By Graphic Designers
Apple iPad Air 2022 is a 5th Generation tablet by Apple Inc. This tablet has an M1 chip with a neural engine, which enhances its performance. This tablet came in two styles, i.e., Wi-Fi and Wi-Fi + Cellular. It also has two variations, i.e., 64 GB and 256 GB.
This tablet has an OLED 10.9-inch Liquid Retina Display, which makes the view clear and sharp. As an artist, I like its screen because it allows me to enhance my Photoshop experience. This tablet came with a 12 MP rear camera and a 12 MP ultra-wide front camera. It allows us to click pictures and make video calls.
It upports the Apple Pencil 2nd Generation. It elevates its performance and makes our work flawless. Claims to have up to 9 to 10 hours of battery life, but it depends on how we use this tablet. In my case, it lasts up to 7 to 8 hours. Well, it has fast charging, so the battery life is not a problem.
This tablet came with a USB-C charging cable and a 20-watt USB-C adapter. We have to buy the stylus (Apple Pencil) separately because it does not come with the tablet. One of the best parts about this tablet is that it supports 5G cellular models, which makes its technology more advanced.
Apple Air tablet is worth buying because of its excellent battery life, fantastic screen, and advanced technology. I like this tablet and suggest it to everyone.
Hardware Specifications of Apple iPad Air M1
Processor
Apple M1
RAM
4 GB
Storage
128 GB/ 256 GB/ 512GB/ 1TB SSD
Display
110.9 Inch Retina Display
Camera
Rear -12MP | Front-12MP
Operating System
iOS
Battery Life
9 hours
Weight
1.1 lbs
PROS
Supports a 5G cellular model.
Excellent battery life.
It has an M1 chip.
CONS
We have to buy the apple pencil separately.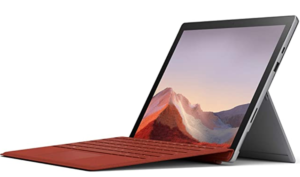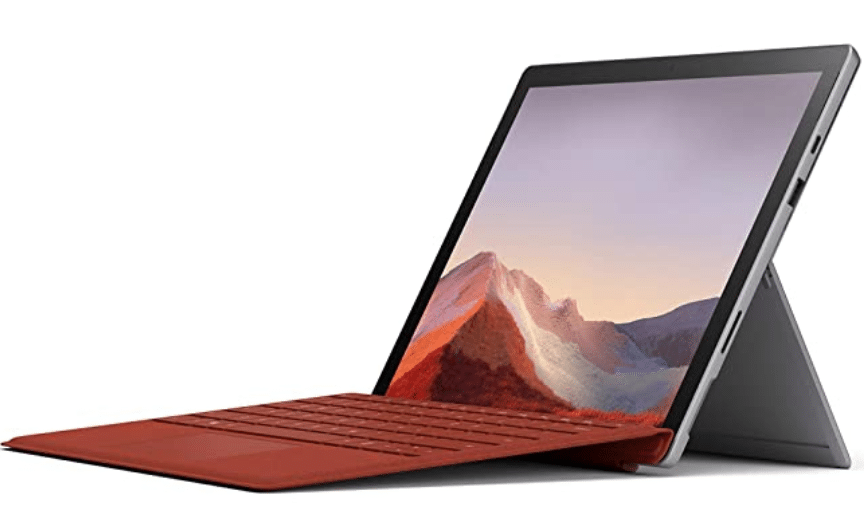 As in the past, the company continues to use the same design. Together with a built-in kickstand, this is a sleek, formal package. There are USB Type-A, Type-C, and Surface Connect ports on the right side. The power button is located on the top. The volume rocker is on the left edge. Surface Type Cover connectors and 3.5mm audio socket is also on the left side.
One of the critical features of this device is the 12.3-inch PixelSense display with 2,736 x 1,824 resolution and a 3:2 aspect ratio. There is also an integrated kickstand with a hidden micro-SD card slot on top. With this display, we get a polished presentation with high resolution. A USB Type-C port replaces the mini-DisplayPort on the tablet. As a result, multiple monitors can be used at the same time with the tablet.
Overall, Surface Pro 7 performs well for a device of its size. My unit featured an Intel Core i5-1035G4 processor with four threads and quad-core processing. Besides the 256GB hard drive, 8GB of RAM, and Intel Iris Plus graphics, this system included Intel Iris Plus graphics.
However, the Microsoft Surface Pro 7 has a disappointing battery life, despite more robust performance and better ports.
Hardware Specifications of Microsoft Surface Pro 7
Processor
10th Gen Intel Core i3/ i5/ i7
RAM
4 GB/ 8GB/ 16GB RAM
Storage
128 GB/ 256 GB/ 512GB/ 1TB SSD
Display
12.3 Inch PixelSense Display with 2736 x 1824 Resolution
GPU
Intel UHD Graphics/ Intel IRIS Plus Graphics
Operating System
Windows 10 Home
Battery Life
10.5 hours
Weight
3.53 lbs
PROS
Quad-core performance.
Cool and quiet with a quick resume.
USB-C port.
CONS
Still no Thunderbolt 3.
Dated design.
Lack of built-in LTE.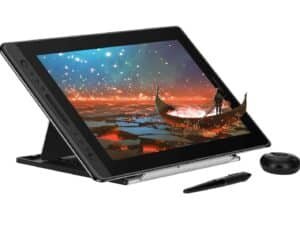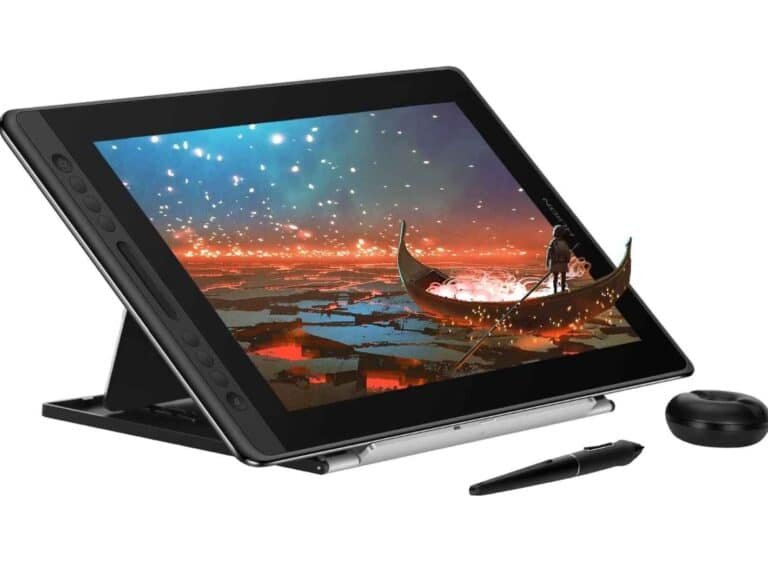 The Huion Kamvas Pro 16 is one of the best graphic tablets for Photoshop available on the market. It came in two different sizes, i.e., 15.6 inches and 13.3 inches. I have the Full HD version of this tablet, and it has worked great for me. Let me tell you more about this tablet.
It has a 15.6-inch fully laminated display, which gave me a pen-on-paper feel. Its anti-glare screen allows me to have a crisp and clear view. Huion is not a standalone product, which is why it does not have any processors. It is compatible with Windows, Mac OS, and Linux (Ubuntu).
This tablet came with the PW507 Battery-Free Pen. It has an 8192-level of pressure sensitivity. With the help of this pen, I can do my work more responsively and accurately. Great for Photoshop, as it is compatible with most creative software like Adobe Photoshop, Krita, Clip Studio Paint, etc. This tablet has 6 express keys and a customizable touch bar according to our needs.
What I don't like about this tablet is that it cannot be used without electricity, making it less portable. This tablet came with a digital pen, a 3-in-1 cable, a power adapter, a foldable stand, a pen stand, a pen nib, and other accessories, which makes it even more impressive.
Overall, this is one of the best tablets for using Photoshop. I strongly recommend it to those looking for the features above in this price range.
Hardware Specifications of

Huion Kamvas Pro 16

Pen Pressure Levels
 8192
Active Area
256.32×144.18mm
Display Resolution
1920×1080
Screen Size
15.6″
NTSC
82%
Express Key
6+1 Bar
Weight
2.1 lbs
PROS
Pen-on-paper feel.
Battery-free stylus.
It has 6 customizable express keys.
CONS
It cannot work without electricity.
The buttons on the pen are very erratic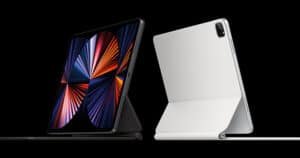 The iPad Pro has received an extensive makeover for a new generation, with a new full edge display, an A12X Bionic chip primarily used in laptops, and a new version of the Apple Pencil that attaches to the side of the iPad magnetically, with wireless charging.
Its screen size is quite an impressable 12.9-inch large display for bringing out more creative output.
The liquid Retina XDR Mini LED display is stunning, providing maximum brightness unmatched by other tablets – this slate can keep up with Samsung's Galaxy Tab S7 Plus, which seemed like a significant upgrade for tablet screens just one year ago. Besides being perfect for watching movies, it is also ideal for everyday tasks.
If you'd instead buy a smaller tablet, you can select the 2021 iPad Pro 11-inch, but the screen tech on that device isn't as impressive.
If you want to know more reasons why to choose this tablet then you can read our Apple iPad Pro 12.9 review from our experts.
The Screen Resolution is 2k and 4GB of RAM, and the best thing is about its storage. You have many options 64GB/256GB/512GB/1TB. With a very lite weight of 613g.
Since we know very well about apple, it is costly compared to the other, but not an apple lover. Add on the additional expense of the Pencil, and this is the most expensive iPad ever made by some margin.
Hardware Specifications of Apple iPad Pro 12.9
Processor
12X Bionic chip with Neural Engine
RAM
4 GB
Storage

64GB/256GB/512GB/1TB

Display
12.9″ IPS display with 1280 x 800
Camera
Rear- 12MP | Front- 7MP
Operating System
iOS
Battery Life
10 hours
Weight
1.39 lbs
PROS
Performance
Useful trackpad
Bright display
Best camera
Battery Life
CONS
Previous model is a better value
Ho 3.5mm jack
Quite Expensive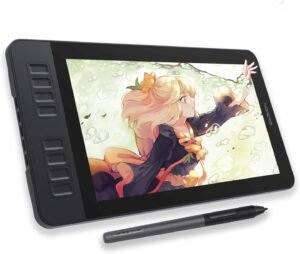 Once you have experience drawing on the tablet, you will upgrade to a more expensive one as needed.
I must say, Gaomon's PD1161 is utterly mesmerizing with its inspired design as slim and compact as it is. The revolutionary size of 11.6 inches also provides a carefree workspace of 256.32 x 144.18mm, which means anyone can easily create superb drawings. This tablet breaks outdated drawing tablet models of large screens.
Despite its round shape, the tablet is straightforward to use and comfortable to hold, making it both robust and user-friendly. The Gaomon PD1161 drawing tablet also comes with eight express keys, which can be programmed to aid seamless operations, helping you work more efficiently and effectively.
Adding colours to a compact design does not necessarily entail compromising your creativity. Gaomon PD1161 displays crisp, clear, and bright images thanks to its IPS display's 1920 x 1080 resolution. PD1161 will make your painting experience more natural and exquisite as it replaces papers and actual canvas colors.
The pen plays a significant role for all digital designers and artists. With the innovation of the Gaomon PD1161, brushes, pencils, and erasers have been replaced with pens. Drawing seamlessly on the screen will feel as if you were drawing on a piece of paper with Gaomon PD1161 pen AP50.
Pens are often difficult to use for beginners who have changed from tangible to digital tools. The AP50 pen, however, offers an entirely new experience. In addition, the ergonomic design of the tablet allows for a perfect grasp over the pen when drawing detail lines. In addition, pen AP50 is battery-free, allowing for long-term use.
Both Windows and iOS are compatible with this tablet. It only takes a few seconds, so you can draw with this innovative tablet by placing it correctly on your desktop. You can connect Gaomon PD1161 to your desktop via USB and video, accessing other peripherals as well, which may be required while you're working. You will easily dominate your work and creativity thanks to the excellent compatibility and speedy connectivity options.
You should pick Gaomon PD1161 because of the numerous positive reviews and responses it has received. It is available from different shopping websites, and for more information about Gaomon PD1161, visit their website.
Hardware Specifications of

Gaomon PD1161

Pen Pressure Levels
 8192
Active Area
256.32×144.18mm
Display Resolution
1920×1080
Screen Size
11.6″
NTSC
72%
Express Key
8
Weight
1.9 lbs
PROS
The pen holder protects.
Millions of color gradation.
Adopt Battery-free electromagnetic.
CONS
Not compatible with Chrome OS.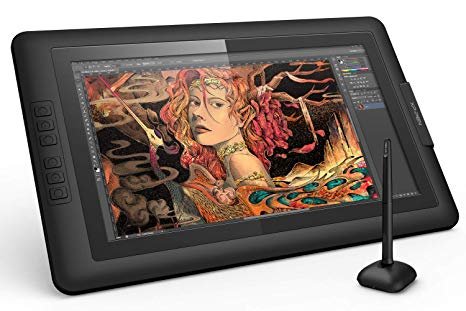 The X pen artist 15.6 is the newest tablet which brings you a display area of 15.6 inches with a sleek metallic body. The resolution is high dimension 1920X 1080 which brings you the impressive picture quality and helps you give the finest touch to your art or edit.
The best part about this ultrabook is that it's handy so that you can carry it anywhere and work anywhere, anytime. The sleek design of this tab is 75% of Adobe RGB color gamut, and the input signal is USB type – C.
This tablet is known for its ability and is rated among the best tablets for photoshop at such an affordable price. You can also find these types of drawing tablets according to your needs.
Hardware Specifications of XP-PEN Artist 15.6 
Active Area
15.6″
Pressure Level
8192+
Express Keys
8
Multi-Touch
Yes
Weight
8.82 lbs
Stylus
PO5R Battery-free
Size
17.52 x 11.22 x 0.43 inches
Tilt Support
Yes (178 degrees)
PROS
Affordable
8 shortcut keys and Red Dial
Low parallax display
CONS
Inconsistent line quality
Needs colour calibration
Pressure and tilt issues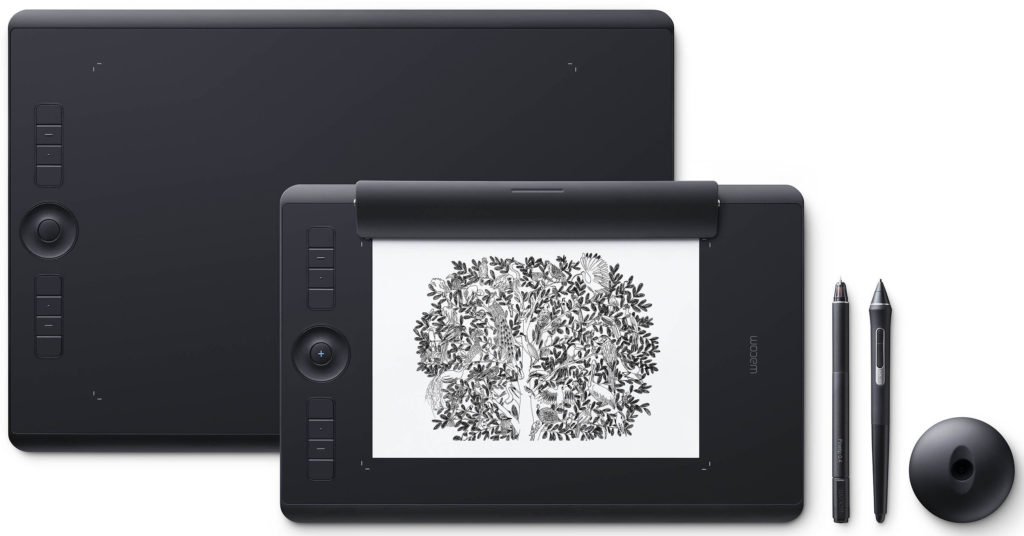 After unboxing Wacom's Intuos Pro, I had mixed reactions: I was impressed by how great it looks and worried that it would eventually become scratched, scuffed, and worn. A stand, four colour pen rings, a cable, and the Wacom Pro Pen 2 can also be found in the box.
Documentation primarily consists of a couple of diagrams showing how to use the stand, which is convenient for storing both nibs and removing nibs from the pen. In addition, there are smooth, standard, and rough texture sheets. Sticking (sold separately) to the tablet work area creates a new surface, making tapping on the tablet less likely to mark it.
The Wacom INTUOS Pro is available in 3 variants, small, medium and large, according to one's requirement. This series is known to be better when it comes to accuracy. The active area or display is 8.7 X 5.8 inches with zoom in and out power so that you can rectify specific regions.
For more info, read our experts review on it.
The best part about this tablet is that it has built-in Bluetooth to share your work easily. The no of USB ports is 1 with multi-touch technology. The other impressive part of this tablet is that it's very lightweight, can be travelled around with, since it weighs only 1.5 lbs, clearly a major plus since sometimes it becomes hard to travel with heavy gadgets. Still, if you're an outdoorsy artist, this tablet is your catch.
Hardware Specifications of Wacom Intuos Pro Digital
Active Area
8.75″ x 5.8″
Pressure Level
8192
Express Keys
8
Multi-Touch
Yes
Weight
1.5 lbs
Operating System
Windows or Mac
Size
13.2 x 8.5 x 0.3 inches
Stylus
Wacom Pro Pen 2
PROS
Good value for money
Large active area
CONS
Pen stand doesn't grip well
Difficult to access new pen nibs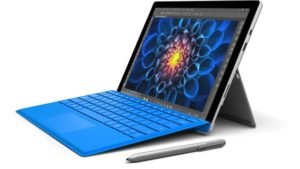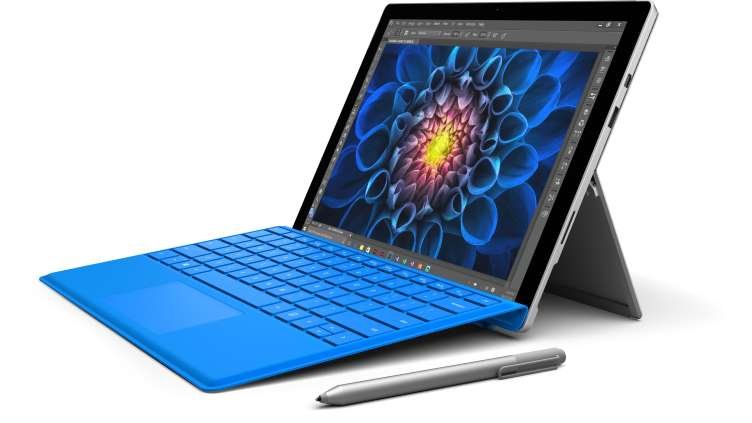 Are there any tablets from Microsoft that can replace your laptop without sacrificing much? As a practical matter, this looks to be the closest thing we can do to a working battery. Although Surface Pro 4 (Click here for detailed analysis) was released many years ago, it remains a worthwhile investment.
This tablet seems to be a refined version of the original rather than a drastic switch in the formula. The Surface Pro 4 keeps the same basic look and feel as its predecessor but enhances it. Aside from the chrome-laden Microsoft logo, there is a more than half-millimetre reduction in the chassis.
Microsoft has raised the amp after bringing this unique gadget into our lives. This lovely looking laptop is a touch screen with a detachable keyboard which makes editing way easy. It is processed by the latest 7th gen intel core i5 with storage up to 128 GB SSD.
 The display is 12.3 inches with pixel sense display and 2736X1824 resolution bringing you the wide and the most clear view for highlighting your work even more. 
It's operated by windows ten professionals who bring out built-in windows applications, and the battery life lives up to 13.5 hours, which means no stopping you until the work is done and ready to impress. The price value is costly, but it serves on its commitment.
Hardware Specifications of Microsoft surface pro 4
Processor
6th Gen Intel Core m3, i5, and i7 processors
RAM
4/8/16 GB
Storage
128/256/512/1024 GB eMMC storage
Display
12.3″ Retina display with 2736 x 1824
Camera
Rear- 8MP (Webcam)
Operating System
Windows 10 Pro
Battery Life
9 hours
Weight
1.7 lbs
For more detailed explanation you can read our expert's review on Microsoft Surface Pro 4.
PROS
Larger, sharper screen within same dimensions
Vastly improved Type Cover
Even better Surface Pen
CONS
Type Cover still sold separately
Intel Core m3 at entry level
Battery life hasn't improved much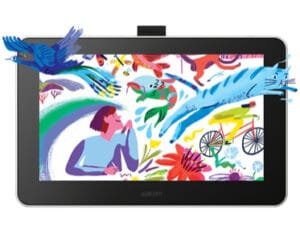 It is specifically made for novices and has everything you want to get started with digital illustration. One of the purposes, why this tablet is so prevalent amongst newcomers, is – despite its low price, it comes with a quick, precise, and reliable stylus along with an exquisite drawing surface.
Wacom is always appreciated for its excellent built quality no matter whether we talk of Budget Wacom tablet or the more costly models.
The antiglare screen has the very full HD or 1080p (1,920-by-1,080-pixel) presentation as the 15.6-inch Wacom Cintiq 16. It utilizes superior hyper-viewing angle (AHVA) technology, a modification of familiar in-plane switching (IPS) technology rather than VA.
Like its more elegant sibling, the stylus doesn't have a battery and doesn't need charging, as it draws power from the layout through Wacom's electromagnetic resonance (EMR) technology.
Hardware Specifications of Wacom One
Pen sensitivity

4096 Levels

Active Area
11.6 x 6.5 inch
Respnse Time
26 ms
Voltage
DC 5V
OS Support
MAC OS 10.13 or later and Windows 7 or later
Battery Life
Micro-USB
Weight
4.56 lbs
PROS
Surface feels like paper.
Small size fits anywhere.
Pen quality.
CONS
Multi cord setup.
Not for the long run.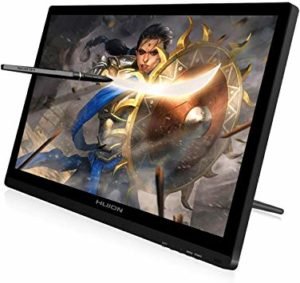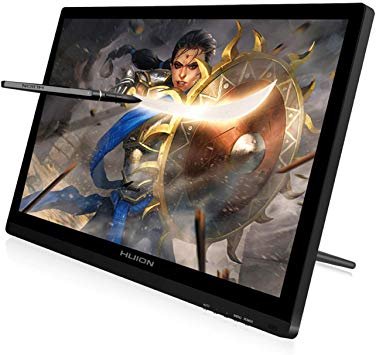 The HUION KAMVAS gt 191 has won many hearts since it has a long list of impressive features at an affordable price. The display is 19.5 IPS LCD which is adjustable as well. The resolution is 1920X 1080 pixels for the best experience in illustrating and Photoshop.
Despite its name, the Huion Kamvas GT-191 isn't a standalone drawing tablet. As a result, you can write or draw directly on the monitor in a much more natural way. A computer is required for this function, but it is handy for graphic designers.
This tablet comes with a pen with 8192 levels of pressure sensitivity. Even this tablet is a monitor that means you have to connect it with your computer. The picture quality is impressive, and this tablet is known to be among the best affordable tablets for photoshop, editing images, and creating art.
Despite not replacing a Cintiq directly, the Huion Kamvas GT-191 manages to deliver premium build quality and performance at a fraction of the cost of a Cintiq. This tablet has just one issue: It doesn't have shortcut buttons. Users may miss those, but that's the only one. In case you're considering upgrading from a basic drawing tablet or a smaller pen display, and this fits within your budget, it's worth considering.
Hardware Specifications of Huion GT-191 Kamvas
Active Area
43.48 x 23.86 cm
Pressure Level
8192+
Express Keys
8+ Mechanical and Virtual Wheel
Multi-Touch
Yes
Weight
13.5 lbs
Stylus
Rechargeable PE330
Size
19.53 inches
Tilt Support
Yes (20-80 degree)
PROS
Battery-Free passive pen
Fantastic pressure levels
Compatible with Windows and MacOS
Huge screen space
Frequently Asked Questions:-
Can I use a stylus with a tablet to edit photos in Photoshop?
Yes, you can use the stylus with your tablet to make precise selections and adjustments in Photoshop. If you have a graphic tablet, you can use the stylus that came with it or buy it separately from your tablet.
Can I use a tablet as a secondary display for Photoshop?
If you have a laptop or PC, you can definitely use a tablet as a secondary display for Photoshop. The best tablet for this purpose is the Apple iPad Pro, and you can also use the Samsung Galaxy Tab S8.
How do I set up a tablet to work with Photoshop?
You can configure your tablet to work with Photoshop in just three steps. First, you must install the required drivers according to your tablet brand. Second, calibrate the pen and double-check the cursor positions. Lastly, adjust the pressure sensitivity of your stylus from complex to low or low to hard, according to your needs.
Can I use a tablet to edit RAW images in Photoshop?
Yes, you can edit RAW images in Photoshop. For this purpose, you should upload your RAW images as Smart Objects through Adobe Camera RAW so that you can make adjustments at any time. The best tablet for this purpose is the Wacom Intuos Pro.
Can I use a tablet to create digital art in Photoshop?
If you have a tablet with Photoshop installed, you can definitely use it to create digital art and paintings. The best tablet to create digital art with the help of Photoshop is the Microsoft Surface Pro 7.
Conclusion
Now that you have a comprehensive list of the best tablets for photo editing, you can choose the right one. There are numerous options available. The best way to narrow things down is to keep in mind your budget and your requirements.
If you want to edit photos or draw, decide where you will work. Tablets for Android/Mac work well as standalone tablets. While you will need to spend a bit more up-front, you'll get much more power, flexibility, and freedom.
A drawing tablet without a screen would be a good choice if looking for a low-cost tablet. Even though they're pricey, they're great for photo editing. If a screen is a necessity, even cheap drawing tablet with a screen can satisfy the need. Choose your favourite tablet today! Now you can edit your photos like a pro with your handy new tool.
Howdy Geeks, I'm Andrew, a young passionate blogger, Tech Freak & a Gadget Lover. I help people in buying them the best tablet devices