Those days are gone when we had to glue down to the chair and work on computers for tiring long time durations. Now when we have Chrome OS tablets and light laptops we can work anytime and anywhere since they're easy for traveling. Laptops and tablets can be stored with computer software and also android functions which makes them sustainable and effective.
In this guide, we are going to review the latest 6 best chrome os tablets of this year and see if it's worth the hype and good for daily use and storage life. Without further ado, let's jump right in. 
What Are Chrome OS Tablets? 
People often get confused by the term 'Chromebook'. Chrome book is a laptop or tablet that runs with the Linux-based chrome os as its operating system. It's used because it's efficient since most of the applications and data are stored in the cloud rather than on the tablet's storage. 
Just to tell you, There are more than 25 million+ chrome OS users now in the world. Also, Chrome OS-based tablets are always cost-effective when it comes to features and specifications in a fair price range. We'll discuss in-depth some of the best chrome os tablets in this article.
Why Buy Chrome OS Tablets?
You must be thinking about Why you should buy Chrome OS Tablets?  Well, With their initial launch in the market they've been running smoothly and are considered the best choice by users who're looking for a smooth and efficient tablet within a budget range.
They have a fast processing system and that's the reason they are good at multi-tasking. If you are one of those multi-tasking users then these chrome os tablets are going to be your partner in your work for a long time.
They are designed so well for day-to-day tasks that they easily outperform the other tablets available in the market at the school and college levels.
Along with being user-friendly, Chrome OS tablets extend all features that other tablets have, and that too is a notch higher in terms of usability. They are well equipped to handle any applications on the go. You can easily use Microsoft Office, Google Docs, Sheets & slides on these Chrome OS Tablets.
Talking about the display, they have a larger display with high resolution and some other features which makes them outrank other normal tablet devices. Price makes the difference and at the price of a normal tablet device, these Chrome OS tablets will give you extra performance with some additional features as well.
What To Look In Chrome OS Tablets?
There are some major specifications one should always look for while buying Chrome OS Tablets in 2022.
Screen Size- Go for some large0size displays, it will help you in your day-to-day work especially if you're using it for work. I recommend going for some 8-inch tablets or 10-inch tablets.
Resolution- Always go for Chrome Tablets with high resolution for a better picture and video quality.
Memory and Internal Storage- You need space to store data, make sure the tablet you're going to buy has enough internal storage and RAM as well
Comparison→ Chrome OS Tablets Vs Android Tablets
With the growing popularity of Android tablets, Everyone loves to go for an android tablet. Let's do a small comparison between Chrome OS Tablets and Android Tablets in 2022.
Android OS is popular but still, it is not the real deal to get an android tablet as they're not going to stay for a long time. While these Chrome OS tablets are in full trend and will ace like a pro. With the recent launch of Acer Chromebook and Google Slate, they managed to compel buyers to buy them.
Techies are going to love the newly launched Chrome OS Tabs, with some amazing new features these Chrome OS tablets are going to stay in the market for a long time.
Everyone loves devices with great battery life and great performance, that's why Chrome OS Tablets are packed with great battery and all the new features. One single device will fulfill all your needs and requirements
When it comes to the user interface, the Chrome OS tablet still beats an android Tablet with its easy-to-use user interface with high-resolution screen size, and up-to-date features. You can get your hands on a chrome tablet for just $300 while other android tablets will cost you higher than this.
Chrome Tablets are more preferred at the school and college levels. With these tablets, Your kid will have not to worry about charging the battery every 2 hours. The chrome OS tablets will work with a battery life of up to 8 hours. That is going to be a plus point when it is compared to an Android tablet device.
We almost covered everything between chrome os tablets & Android tablets, Android tablets are on the verge as Chrome tabs are slowly and slowly acquiring the market especially the student market.
6 Best Chrome OS Tablets In 2022
Bestseller No. 1
Clorox ToiletWand Disinfecting Refills, Disposable Wand Heads, blue Original, 30 Count
TOILET BOWL CLEANER: Clean and disinfect with Clorox ToiletWand refills that kill 99.9% of bacteria and viruses while leaving your toilet sparkling clean
DISPOSABLE SPONGES: These toilet scrub pad refill heads click onto the ToiletWand to swish, scrub and clean the toilet bowl and conveniently pop off to throw in the trash.Keep off of clothing
DISINFECTING CLEANER: Preloaded with Clorox cleaner, these disposable scrubbing pads deep clean and remove stains while eliminating germs to make your toilet bowl feel like new
BATHROOM CLEANING PRODUCTS: These ToiletWand refills with Clorox cleaner are the perfect addition to your cleaning supplies – this all-in-1 bathroom household cleaner eliminates the need to carry around a bottle of cleaner and germ-ridden toilet brush
TOILET SCRUBBER: The hexagon shaped sponge heads clean in hard to reach places under the bowl rim and drain for a deeper and faster clean to remove rust, calcium and lime stains
Sale
Bestseller No. 2
Bestseller No. 3
HP DeskJet 2755e Wireless Color All-in-One Printer with bonus 6 months Instant Ink with HP+ (26K67A)
6 FREE MONTHS INSTANT INK SUBSCRIPTION when you activate HP+ – Print up to 700 pages a month. Ink ships to you automatically so you never run out. After 6 months, monthly fee applies unless cancelled, and you'll save up to 50% on ink.
INCLUDES FREE HP+ SMART FEATURES – Activate HP+ free to get advanced features for mobile printing, security, automatic updates and more. HP+ only works with an HP account, internet connection and Original HP Ink for the life of the printer.
BEST FOR BASIC PRINTING – Print basic color documents like recipes, forms and travel documents
KEY FEATURES – Print, copy and scan in color, plus mobile and wireless printing
EASY SETUP – Get started fast on any device with the HP Smart app that guides you step by step
Sale
Bestseller No. 4
Stardrops - The Pink Stuff - The Miracle All Purpose Cleaning Paste
WORKS LIKE A MIRACLE ! -The Pink Stuff paste made cleaning easier like never before, While saving you time, space & money Lasts way longer than any other liquid detergent
GREAT FOR ALL SURFACES -Remove stains,Grease or grime from just about anything, Stoves, Kitchen Floors,metal, ceramics, porcelain, marble, wood, silverware, jewelry, glass shower doors, fiberglass doors, glass stove tops, countertops,toilet, sinks, bathtub, car wheels, stainless steel,
NO SCRATCHES -Stardrops Paste wont leave any scratches or any streak. Works Instantly -removes stains from Rust, Pen, Marker, Crayons, Paint, Permanent Marker
Sparkling streak free shine
Sale
Bestseller No. 5
2 Pack Tongue Scraper with Travel Case, Bad Breath Treatment for Adults & Kids, Medical Grade 100% Stainless Steel Tongue Scrapers for Oral Care, Easy to Use Tongue Cleaner for Hygiene
GET RID OF GUNK & BAD BREATH: Whether you are trying to clear out the white, coated layer on your tongue or maintain better oral hygiene, MasterMedi tongue scraper for adults and kids has got you covered. Not just that, immediate benefits of scraping your tongue with this self care product include fresh breath for improved confidence and better overall health
100% STAINLESS STEEL TONGUE SCRAPERS: This gentle, 100% medical grade tongue cleaner for adults and kids keeps you plaque free, improves taste by sprucing up your taste buds and help you enjoy every last bite. The sturdy, non-toxic material is not naturally susceptible to rust or mold, making it super durable and easy to clean - just throw it in a dishwasher or opt for gentle hand wash
ERGONOMIC DESIGN AND EASY TO USE: Our metal tongue scraper with the 'U' shaped curve is flexible enough to twist and turn, scraping all the corners of your tongue. This personal care essential has been designed by over 50 global professionals to be ultra-smooth easy to use. It has two non-synthetic handles for good grip and an anti-gagging ridge for back-of-the-mouth cleaning
TRAVEL FRIENDLY AND BETTER THAN PLASTIC: The 2 piece kit has individual cases, making it easy to carry around. You can just stash one at home and another at work. It is a comfortable size for adults (men or women), kids and pets. The high quality stainless steel can be sterilized without any hassle and won't break, unlike cheap plastic alternatives
LOVED BY CUSTOMERS ALL OVER: MasterMedi is a highly regarded brand in dental hygiene. Our products are backed by incredible customer support for guaranteed satisfaction. If for any reason you don't love our tounge scraper, return them within 30 days - no questions asked. We love to hear your feedback and aim to resolve any issues in a jiffy
Sale
Bestseller No. 6
MR.SIGA Microfiber Cleaning Cloth,Pack of 12,Size:12.6" x 12.6"
ULTRA SOFT MATERIAL & SCRATCH FREE - Ultra soft and highly absorbent microfiber cleaning cloths, great for cleaning windows, kitchenware, car or other delicate surfaces.
ABSORBENT & LINT FREE - Made of 85% Polyester, 15% Nylon. These non-abrasive cleaning rags can soak up water from the countertop and tables instantly and without lint or streaks left behind. Clean with or without water, from worktops, appliances to kitchens, bathrooms, mirrors etc, they will make your house sparkling.
TACKLE VERSATILE CLEANING JOBS - These premium microfiber towels are also perfect dish rags which don't smell, removes grease and particles from microwave oven, plates, pots or pans effortlessly. Not only that, you will be amazed they are also terrific duster that removes fingertips from silverware and glasses easily and leaves your kitchen spotless.
REUSABLE & LONG LASTING - These microfiber towels feature high quality stitching with reinforced edges, they are durable and made to last hundreds of washings. They are lightweight, super absorbent and dry quickly, use them everyday to enjoy your cleaning.
MR.SIGA's mission: Make your housework easier, and make the world cleaner. Should you have any questions about the product or after-sale service, please do not hesitate to contact us. We are here for support and advice!
1-Google Pixel Slate 
I have placed this first on the top chrome books list because it's the best Chromebook by Google. This tablet has amazing features that will surely startle you. First of all, the outlook, this tablet looks stunning and it has a standard sleek design which is well, very attractive. It has a personality of its own.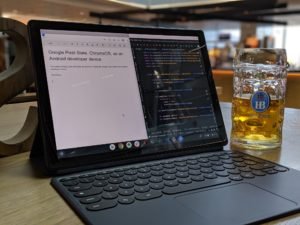 The screen of the tablet is very impressive it's embedded with a molecular display for sharp quality that enables you to experience the best picture quality. If you're a multi Tasker then this tablet is your equal friend. You can work on multiple tasks at the same time with the split-screen feature on this Chromebook.
To edit a picture and write an article on the same display, isn't it time-saving? Since it's a Google product it comes with all the Google services and applications like slides, Google docs, etc so that you can make a slide, your office or school projects, and write articles or reports.
After completing all your tasks you'll see the battery life is still stable since this tablet works for 12 hours straight which sounds better than other pricey laptops. To save your content and other data files, you do have password options but apart from that, you get a fingerprint to unlock the system for better security. This tab comes with a pen for precise work functions. 
Some highlighted features:- 
Fast charging
Better processing
10-hour battery
Fingerprint unlock system
Molecular display
Google apps
Pixel slate pen
Hardware Specifications of Google Pixel Slate (Chrome OS tablets)
Processor
8th Gen Intel Core m3 processor
RAM
8 GB
Storage
64 GB
Display
12.3-inch Retina display with 3000 x 2000
Camera
Rear- 8MP | Front- 8MP
Operating System
Google Chrome OS
Battery Life
10 hours
Weight
1.6 lbs
2-Acer Chromebook R11- Best Chrome OS Tablet
Acer and Samsung were the first brands that bought out Chrome OS tablets. This tab has a stunning body with a gorgeous display. Let's start with the display, the display is 1366 x 768 QXGA resolution that offers the best display quality. The body is very stunning it has volume buttons on the side and the texture of the body is smooth.
The battery life is very amazing, it has up to 9hours of long battery life which doesn't sound that impressive but for a Chromebook tab at this price it's okay.
For storage purposes, this tab has 32GB of internal memory where you can store your data files and pictures, etc. The ram is 4GB that is very impressive for a tablet since most of the tablets have only 2GB. The tab has an ARM dual-core OPI RK3399 processor with ARM Mali-T864 graphics.
For precise details functions, this Chromebook comes with a Wacom technology pen that will help you get a natural frail for writing and working. It's good for daily work patterns. 
Some highlighted features:- 
Stunning display
Wacom technology pen
9hour battery life
4GB ram with 32GB internal memory
OS chrome
ARM mail-T864
Hardware Specifications of Acer Chromebook R11
Processor
2.48 GHz Celeron N3060
RAM
4 GB
Storage
32 GB eMMC storage
Display
11.6-inch Retina display with 3000 x 2000
Camera
720p webcam
Operating System
Google Chrome OS
Battery Life
9 hours
Weight
2.8 lbs
3-HP Chromebook X2 12- F014D
HP is another effective and stunning company brand for tablets, mobiles, and chrome books. The display is a 12.3inch screen 2400X1600 it's a full touch screen that is stunning and very sleek for amazing picture quality. The body of the tab is aluminum which gives it a standard look. The tab has all the applications like Gmail, youtube, files, etc.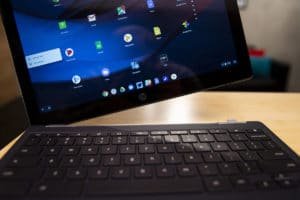 You can work and listen to music, you get pre-installed Google Play, Google Music, and play store so that you can download new applications and games, etc. The tablet has a detachable keyboard that you can detach. You can work and play games and watch movies with this impressive battery life, you can go on and on without tensing over the charging life. 
Some highlighted features:- 
12.3-inch display
12hour battery life
2400×1600 pixel resolution
impressive storage
 stunning display
Hardware Specifications of Acer Chromebook X2 12-F104D
Processor

2.6GHz intel core m3-7Y30

RAM
4 GB
Storage
32 GB eMMC storage
Display
12.3-inch
Camera
Rear- 13MP | Front- 5MP
Operating System
Google Chrome OS
Battery Life
10.5 hours
Weight
1.62 lbs
Wrapping Up Chrome Tablets
These are the best top 3 chrome books which are very effective and amazing for their performance. They have brilliant storage and a brilliant display look that will surely help you work swiftly. Tablet with a pen, you can work in a jiffy and precisely, making it ideal for art lovers. All these chrome os tablets are user-friendly and easily adaptable. They are lightweight and easy for traveling. You can get them on great deals on platforms like Amazon.
I tried my best to list out the best chrome os tablets in 2022 to fulfill your search. I hope I've covered everything about these Chrome OS Tablets and you can make your decision.