Those days are gone when we had to glue down to the chair and work on computers for tiring long time durations. Now when we have Chrome OS tablets and light laptops we can work anytime and anywhere since they're easy for traveling. Laptops and tablets can be stored with computer software and also android functions which makes them sustainable and effective.
In this guide, we are going to review the latest 6 best chrome os tablets of this year and see if it's worth the hype and good for daily use and storage life. Without further ado, lets jump right in. 
What Are Chrome OS Tablets? 
People often get confused by this term 'Chromebook'. Chrome book is a laptop or tablet that runs with the Linux based chrome os as its operating system. Its used because it's efficient since most of the applications and data are stored in the cloud rather than on the tablet's storage. 
Just to tell you, There are more than 25 million+ chrome OS users now in the world. Also, Chrome OS-based tablets are always cost-effective when it comes to features and specifications in a fair price range. We'll discuss in-depth about some of the best chrome os tablets in this article.
Why Buy Chrome OS Tablets?
You must be thinking about Why you should buy Chrome OS Tablets?  Well, With their initial launch in the market they've been running smoothly and are considered the best choice by users who're looking for a smooth and efficient tablet within a budget range.
They have a fast processing system and that's the reason they are good at multi-tasking. If you are one of those multi-tasking users than these chrome os tablets are going to be your partner in your work for a long time.
They are designed so well for the day to day tasks that they easily outperform the other tablets available in the market at the school and college level.
Along with being user friendly, Chrome OS tablets extend all features that other tablets have and that too a notch higher in terms of usability. They are well equipped to handle any applications on the go. You can easily use Microsoft Office, Google Docs, Sheets & slides on these Chrome OS Tablets.
Talking about the display, they have a larger display with high resolution and some other features which makes them outrank other normal tablet devices. Price makes the difference and at the price of a normal tablet device, these Chrome OS tablets will give you extra performance with some additional features as well.
What To Look In Chrome OS Tablets?
There are some major specifications one should always look for while buying Chrome OS Tablets in 2020.
Screen Size- Go for some large0size displays, it will help you in your day to day work especially if you're using it for work. I recommend going for some 8-inch tablets or 10-inch tablets.
Resolution- Always go for Chrome Tablets with high resolution for a better picture and video quality.
Memory and Internal Storage- You need space to store data, make sure the tablet you're going to buy has enough internal storage and RAM as well
Comparison→ Chrome OS Tablets Vs Android Tablets
With the growing popularity of Android tablets, Everyone loves to go for an android tablet. Let's do a small comparison between Chrome OS Tablets and Android Tablets in 2020.
Android OS is popular but still, it is not the real deal to get an android tablet as they're not going to stay for a long time. While these Chrome OS tablets are in full trend and will ace like a pro. With the recent launch of Acer Chromebook and Google Slate, they managed to compel buyers to buy them.
Techies are going to love the newly launched Chrome OS Tabs, with some amazing new features these Chrome OS tablets are going to stay in the market for a long time.
Everyone loves devices with great battery life and great performance, that's why Chrome OS Tablets are packed with great battery and all the new features. One single device will fulfill all your needs and requirements
When it comes to user-interface, Chrome OS tablet still beats an android Tablet with their easy to use user interface with high-resolution screen size and up to date features. You can get your hands on a chrome tablet for just $300 while other android tablets will cost you higher than this.
Chrome Tablets are more preferred at the school and college level. With these tablets, Your kid will have not to worry about charging the battery every 2 hours. The chrome OS tablets will work with a battery life of up to 8 hours. That is going to be a plus point when it is compared to an Android tablet device.
We almost covered everything between chrome os tablets & Android tablets, Android tablets are on the verge as Chrome tabs are slowly and slowly acquiring the market especially the student market.
6 Best Chrome OS Tablets In 2020
Sale
Bestseller No. 1
Asus Chromebook Tablet CT100, 9.7" Qxga Touchscreen, OP1 Hexa-core Processor, 4GB RAM, 32GB eMMC Storage, Rugged Military-Spec 810G, Dark Grey, K-12, Chrome OS, Includes Stylus, CT100PA-YS02T
Asus Chromebook tablet Ct100 is built to endure intensive use with military-grade protection. All four exterior edges and corners are protected by a tough rubber bumper, which reduces the impact of physical shocks to ensure critical components are always safe and sound.
Stunning 9.7'' qxga (2048 x 1536) Touchscreen designed to be used with the included stylus and in various lighting conditions both indoor and outdoor.
Has a rubber safety grip to help drops from happening, and a durable 3d-textured finish to help with scratches and fingerprints. This is a must feature for Chromebook tablets to help prevent damage.
Powered by the powered by OP1, Hexa-Core (Dual arm Cortex-A72, Quad Cortex-A53) for fast and snappy performance. Perfect for running lots of tabs and apps.
4GB DDR3 RAM; 32GB eMMC storage, USB Type-C (Gen 1), and Micro SD card slot. (Usb transfer speed may vary. Learn more at Asus website)
Sale
Bestseller No. 2
Google Pixel Slate 12.3-Inch 2 in 1 Tablet Intel Core m3, 8GB RAM, 64GB, Aspect Ratio 3:2
Keyboard and pen/stylus are sold separately
Google pixel slate is made to deliver brilliant entertainment, portable performance and everything you love about google for how you live & work today
12.3-inch molecular display with 6 million pixels brings your favorite movies and videos to life. Tuned to perfection, the dual front firing speakers deliver a premium audio experience
Get more done with powerful multitasking tools including split screen, multi window browsing, and collaboration apps like google docs, sheets, and slides
Pixel slate automatically updates in the background, so you'll always have the latest features and security without any hassles
Sale
Bestseller No. 3
Sale
Bestseller No. 4
Sale
Bestseller No. 5
Lenovo Tab M10 HD 10.1" Tablet, Android 9.0, 32GB Storage, Quad-Core Processor, WiFi, Bluetooth, ZA4G0078US, Slate Black
The Lenovo Tab M10 (HD) is one impressive family tablet; It is packed with powerful Qualcomm Snapdragon 429, quad core, 2.0 GHz and supports fast connection with true 2.4 GHz/5 GHz WiFi Dual bands
Inside lies an impressive 10.1" HD screen and dual front speakers for immersive entertainment impossibly contained within an extremely thin and light profile with rich sounds and visuals
Plus, make it truly family-friendly by adding kids Pack and stylish folio case so lend it to your child, worry free
This is one tablet you'll want to pass around the house; Add up to 256 micro SD additional storage to have everything you need all on your tablet
A family friendly tablet with face recognition to unlock your tablet with multiple user profiles and pre loaded kids mode gives you peace of mind
Sale
Bestseller No. 6
Tablet 10.1 inch Android Go 8.1 Tablet PC,Google Certified, 1GB RAM, 16GB Storage, WiFi, Bluetooth,GPS, 1280X800 IPS Screen, 3G Phablet with Dual Sim Card Slots,Dual Camera
Android Go 8.1 GMS Certified LectrusTablet: Our newest tablet is GMS certified with Android 8.1 Oreo operating System which would mean you can play all your favorite apps such as SKY GO and netflix and games without any compromise. With 2MP Front and 5MP Rear Cameras, it is convenient for pictures and ideal for video chat.
Crisp and vivid 10.1" IPS display--Lectrus 10.1 inch tablet features a 1280 x 800 IPS display with 171 ppi for a bright display with vivid colors and whiter whites for a great viewing experience from all angles. Compared to the 7" tablet, Lectrus 10.1 inch tablet features an improved display that provides higher contrast and sharper text.
Fast and responsive--The fast quad-core processor consists of four high-performance 1.3 GHz cores for quick app launches, smooth games and videos, and great overall performance. Plus, Lectrus 10.1 inch tablet offers WIFI 802.11b/g/n,Bluetooth 4.0 and sim card to connect networks and better network performance
Calling and Messaging This 3G tablet with dual sim card slots, if you put sim card into the slot,you can instantly call and message your contacts, such as call friends and family anywhere or anytime.The Unlocked 10.1 inch android tablet can compatible 2pcs sim cards standby at the same time.This Lectrus tablet can support 2G: GSM 850/900/1800/1900 MHz, 3G: WCDMA 850/1900/2100 MHz(Sim card and SD card are not included)
No more worrying about storage space--Expand your tablet's storage by up to 128 GB using a microSD card to keep your photos, movies, and compatible apps and games with you. Plus use OTG cable connect to other devices, such as keyboard, mouse, speaker etc.
1-Google Pixel Slate 
I have placed this first on the top chrome books list because it's the best Chromebook by Google. This tablet has amazing features that will surely startle you. First of all, the outlook, this tablet looks stunning and it has a standard sleek design which is well, very attractive. It has a personality of its own.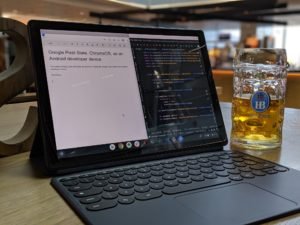 The screen of the tablet is very impressive it's embedded with molecular display for sharp quality that enables you to experience the best picture quality. If you're a multi Tasker then this tablet is your equal friend. You can work on multiple tasks at the same time with the split-screen feature on this Chromebook.
To edit a picture and write an article on the same display, isn't it time-saving? Since its a Google product it comes with all the Google services and applications like slides, Google docs, etc so that you can make a slide, your office or school projects and write articles or reports.
After completing all your tasks you'll see the battery life is still stable since this tablet works for 12 hours straight which sounds better than other pricey laptops. In order to save your content and other data files, you do have password options but apart from that, you get a fingerprint to unlock system for better security. This tab comes with a pen for precise work functions. 
Some highlighted features:- 
Fast charging
Better processing
10-hour battery
Fingerprint unlock system
Molecular display
Google apps
Pixel slate pen
Hardware Specifications of Google Pixel Slate (Chrome OS tablets)
Processor
8th Gen Intel Core m3 processor
RAM
8 GB
Storage
64 GB
Display
12.3-inch Retina display with 3000 x 2000
Camera
Rear- 8MP | Front- 8MP
Operating System
Google Chrome OS
Battery Life
10 hours
Weight
1.6 lbs
2-Acer Chromebook R11- Best Chrome OS Tablet
Acer and Samsung were the first brands that bought out Chrome OS tablets. This tab has a stunning body with a gorgeous display. Let's start with the display, the display is 1366 x 768 QXGA resolution that offers the best display quality. The body is very stunning it has volume buttons on the side and the texture of the body is smooth.
The battery life is very amazing, it has up to 9hours of long battery life which doesn't sound that impressive but for a Chromebook tab at this price it's okay.
For the storage purpose, this tab has 32gb of internal memory where you can store your data files and pictures, etc. The ram is 4GB that is very impressive for a tablet since most of the tablets have only 2GB. The tab has an ARM dual-core OPI RK3399 processor with ARM Mali-T864 graphics.
For precise details functions, this Chromebook comes with a Wacom technology pen that will help you get a natural frail for writing and working. It's good for daily work patterns. 
Some highlighted features:- 
Stunning display
Wacom technology pen
9hour battery life
4gb ram with 32gb internal memory
OS chrome
ARM mail-T864
Hardware Specifications of Acer Chromebook R11
Processor
2.48 GHz Celeron N3060
RAM
4 GB
Storage
32 GB eMMC storage
Display
11.6-inch Retina display with 3000 x 2000
Camera
720p webcam
Operating System
Google Chrome OS
Battery Life
9 hours
Weight
2.8 lbs
3-HP Chromebook X2 12- F014D
HP is another effective and stunning company brand for tablets, mobiles and chrome books. The display is 12.3inch screen 2400X1600 it's a full touch screen that is stunning and very sleek for amazing picture quality. The body of the tab is aluminum which gives it a standard look. The tab has all the applications like Gmail, youtube, files, etc.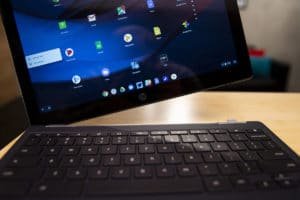 You can work and listen to music, you get pre-installed Google Play, Google Music, and play store so that you can download new applications and games, etc. The tablet has a detachable keyboard that you can detach. You can work and play games and watch movies with this impressive battery life, you can go on and on without tensing over the charging life. 
Some highlighted features:- 
12.3-inch display
12hour battery life
2400×1600 pixel resolution
impressive storage
 stunning display
Hardware Specifications of Acer Chromebook X2 12-F104D
Processor

2.6GHz intel core m3-7Y30

RAM
4 GB
Storage
32 GB eMMC storage
Display
12.3-inch
Camera
Rear- 13MP | Front- 5MP
Operating System
Google Chrome OS
Battery Life
10.5 hours
Weight
1.62 lbs
Wrapping Up Chrome Tablets
These are the best top 3 chrome books which are very effective and amazing for their performance. They have brilliant storage and brilliant display look that will surely help you work swiftly. Tablet with a pen, you can work in a jiffy and precisely, making it ideal for art lovers. All these chrome os tablets are user-friendly and easily adaptable. They are lightweight and easy for traveling. You can get them on great deals on platforms like Amazon.
I tried my best to list out the best chrome os tablets in 2020 to fulfill your search. I hope I've covered everything about these Chrome OS Tablets and you can make your decision.