If you are someone who is looking for a portable drawing tablet, then this guide is going to help you.
I've been playing around with different tablet devices for over five years now, Tried and tested almost every tablet available in the market.
I have used all the popular drawing tablets, and that's why I am very sure about my suggestions on the best portable drawing tablets.
I know buying a portable drawing tablet required a lot of research and effort, and reducing it, I've written this complete guide, especially for artists who used to work on tablets. They always look for portable tablets for drawing work.
Before going to my list, let's have answers to some basic questions.
XP-PEN Artist15.6 Pro- Best Portable Drawing Tablet
Here's the best pick for the best portable tablet for artists, If you're looking for a reliable and feature-loaded tablet with unique features this XP-PEN Artist15.6 Pro Tablet is going be the best artist's tablet. You can also read our full expert's review on this.
Some of the key features of XP-PEN Artist15.6 Pro are:-
15.6-Inch active area
8192 levels pen pressure
Compatible with Windows 10/8/7, Mac OS X version 10.10
The lightweight of 1500 Grams
Including lots of accessories
4.7/5 Rating By Users
What is a Portable Drawing Tablet?
Any tablet device which does not require a PC/Computer to be connected to work is considered a portable drawing tablet. These tablet devices are easy to carry around, and you can use them on the go; they are small in size, mobile, and independent tablet devices.
Tablet devices used by graphic artists for illustrations are designed mainly depending upon their hardware and software requirements. These devices need to be connected to a computer for work.
Whereas the concept of portable drawing tablets gives users the freedom to carry the device and work on the go. You can do almost everything on the device. They are considered well-equipped with the features you require.
What artists look in a Portable Tablet for Drawing?
Artists always look for technical specifications and the hardware and build quality. The screen size and quality also matter a lot for illustrators, as they need more accuracy and precision while doing their work.
Any tablet with a Full HD or Ultra HD screen resolution will go well for any graphic designer or artist. The screen should be multi-touch and should come with levels of sensitivity ranging from 256 to 8196. Every artist's tablets have the same range of sensitivity.
The technical specifications should be well enough to support all the software requirements of the users like photoshop, coral, and other image processing and editing tools.
The processing power of those devices should be good enough. Only then can they run software like photoshop smoothly.
Affordability is also a critical point so that the users will like a valuable tablet for the money.
Also, read 10 Best Standalone Drawing Tablet In 2023 For You.
Best Portable Drawing Tablets In 2023:-
Based on my experience, I will list out the top 10 portable drawing tablets that you can consider buying now. They are going to be the best options for you.
I'm not promoting any particular but they are all worth the money. I'll be mentioned each one of them in the order of most recommended to normal options.
1- Samsung Galaxy Tab S7+
The Tab S7 and S7 Plus hit the mark with Samsung's high-quality design. With its flat sides, the size and shape of the screen, as well as the buttons, speaker, and port placement, the Tab S7 resembles Apple's iPad Pro more than lightly.
The tablet's top edge (when held sideways) holds several button controls, including the power and lock buttons, one for volume, the SIM/Memory card tray, and a microphone. The USB-C port is found on the right edge. Near each corner, a speaker grille can be seen. A pogo pin connector is located at the bottom of the keyboard accessory. There is everything but a headphone jack on this device.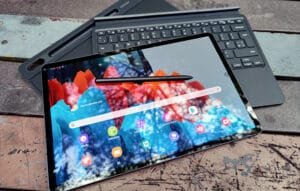 Tablets with an 11-inch and a 12.4-inch screen have different screen technologies. In contrast, the larger tablet has a Super AMOLED screen, while the smaller one is an LCD. Smooth operation is provided by both thanks to their 120Hz refresh rates. Aside from being bright and sharp, the Tab S7 screen is also perfect.
There's no doubt about the Tab S7 and S7 Plus' performance. These new tablets are processing beasts, powered by Qualcomm's 865 Plus processors from 2020. The model I got has 6GB RAM and 128GB storage. Although 6GB of RAM seems like a trivial amount for modern Android devices, my testing found that it had no impact on the performance of our test device.
Buying a Samsung Galaxy Tab S7 or Tab S7 Plus is a good investment for those looking for the best Android tablet available. In terms of hardware, these slates are a no-brainer. Besides its stellar battery life, the device offers best-in-class performance. For a more detailed review, you can also read our expert's opinion on Tab S7.
Hardware Specifications of Samsung Galaxy Tab S7+
Processor
Octa-Core (3.09+2.4+1.8GHz)
RAM
6/8 GB
Storage
128/256 GB SSD
Display
12.4″ Retina display with 2800 x 1752
Camera
Rear- 13+5MP | Front- 8MP
Operating System
Android
Battery Life
8 hours
Weight
1.28 lbs
PROS
Great Display.
Snappy Performance.
Excellent speakers.
CONS
Costly.
Aspect Ratio.
Battery backup.
2- Gaomon PD 1161 – Best Portable Drawing Tablets
As soon as it was released, Gaomon PD 1161 became one of the most prominent selling drawing tablets on the market. Gaomon is quite affordable as it rules the cheap market after popular brands like HUION and more. Picking Gaomon PD1161 drawing tablet is a good option for those beginning or learning to enhance their creative skills.
Once you have experience drawing on the tablet, you will upgrade to a more expensive one as needed.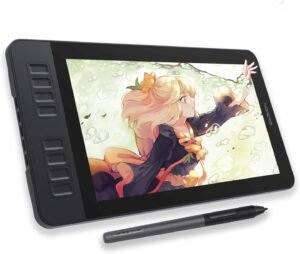 I must say, Gaomon's PD1161 is utterly mesmerizing with its inspired design as slim and compact as it is. The revolutionary size of 11.6 inches also provides a carefree workspace of 256.32 x 144.18mm, which means anyone can easily create superb drawings. This tablet breaks outdated drawing tablet models of large screens.
Despite its round shape, the tablet is straightforward to use and comfortable to hold, making it both robust and user-friendly. The Gaomon PD1161 drawing tablet also comes with eight express keys, which can be programmed to aid seamless operations, helping you work more efficiently and effectively.
Adding colours to a compact design does not necessarily entail compromising your creativity. Gaomon PD1161 displays crisp, clear, and bright images thanks to its IPS display's 1920 x 1080 resolution. PD1161 will make your painting experience more natural and exquisite as it replaces papers and actual canvas colors.
The pen plays a significant role for all digital designers and artists. With the innovation of the Gaomon PD1161, brushes, pencils, and erasers have been replaced with pens. Drawing seamlessly on the screen will feel as if you were drawing on a piece of paper with Gaomon PD1161 pen AP50.
Pens are often difficult to use for beginners who have changed from tangible to digital tools. The AP50 pen, however, offers an entirely new experience. In addition, the ergonomic design of the tablet allows for a perfect grasp over the pen when drawing detail lines. In addition, pen AP50 is battery-free, allowing for long-term use.
Both Windows and iOS are compatible with this tablet. It only takes a few seconds, so you can draw with this innovative tablet by placing it correctly on your desktop. You can connect Gaomon PD1161 to your desktop via USB and video, accessing other peripherals as well, which may be required while you're working. You will easily dominate your work and creativity thanks to the excellent compatibility and speedy connectivity options.
You should pick Gaomon PD1161 because of the numerous positive reviews and responses it has received. It is available from different shopping websites, and for more information about Gaomon PD1161, visit their website.
Hardware Specifications of

Gaomon PD1161

Pen Pressure Levels
 8192
Active Area
256.32×144.18mm
Display Resolution
1920×1080
Screen Size
11.6″
NTSC
72%
Express Key
8
Weight
1.9 lbs
PROS
The pen holder protects.
Millions of color gradation.
Adopt Battery-free electromagnetic.
CONS
Not compatible with Chrome OS.
3- Samsung Galaxy Tab S6 lite
Even though it's supposed to be an affordable version of the premium Tab S6, the Galaxy Tab S6 Lite seems more like a fascinating part of Samsung's Galaxy Tab A line of cheap tablets.
It features a glass front coupled with a metal frame and rear, so you can feel that it's hard-wearing. Compared to other states like the iPad and Galaxy Tab A, the bezel around the screen is extremely thin.
A rear camera is located on the back of the tablet at the top-left corner. The top of the device is a 3.5mm headphone jack, while the right edge takes care of the power button and volume control. At the bottom is a USB-C port.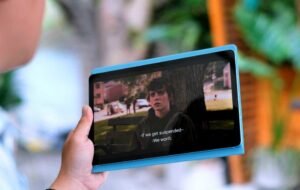 There is a 10.4-inch LCD screen on the Samsung Galaxy Tab S6 Lite with a 2000 x 1200. The non-Lite tablet measures just 0.1 inches longer.
I thought the screen quality is excellent — it's bright, easy to view even when it's dark outside, but it had a bit of a washed-out look, and the low resolution sometimes showed up when watching movies or playing games.
Powered by Samsung's own Exynos 9611 chipset, the Galaxy Tab S6 Lite runs on Android 4.2.2. There is also 4GB of RAM on this device.
As for the Exynos 9611 chip, it's not super-powerful, but it's excellent for midrange tasks. Games optimized for the platform ran smoothly even on lower-end devices.
It's arguably the best non-premium tablet that Samsung has ever created, and it's a tough competitor for the iPad.
Hardware Specifications of Samsung Galaxy Tab S6 Lite
Processor
Exynos 9611
RAM
4 GB RAM
Storage
64 GB
Display
10.4 Inch PixelSense Display with 2000 x 1200
Camera
Rear- 8MP | Front- 5MP
Operating System
Android 10
Battery Life
10.5 hours
Weight
2.12 lbs
PROS
Big screen.
Good battery life.
Good gaming performance.
CONS
No Samsung DeX support.
No fast charger in the box.
No fingerprint sensor.
4- Microsoft Surface Pro 7
The Microsoft Surface Pro 7 offers powerful performance from a 10th-generation Intel processor and a much-needed USB-C port. Despite this, Microsoft's flagship detachable hasn't evolved much over the Surface Pro 6, and its battery life has taken a step back.
As in the past, the company continues to use the same design. Together with a built-in kickstand, this is a sleek, formal package. There are USB Type-A, Type-C, and Surface Connect ports on the right side. The power button is located on the top. The volume rocker is on the left edge. The Surface Type Cover connectors and 3.5mm audio socket is also on the left side.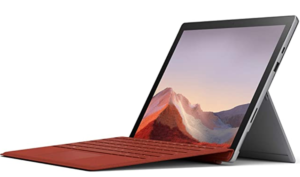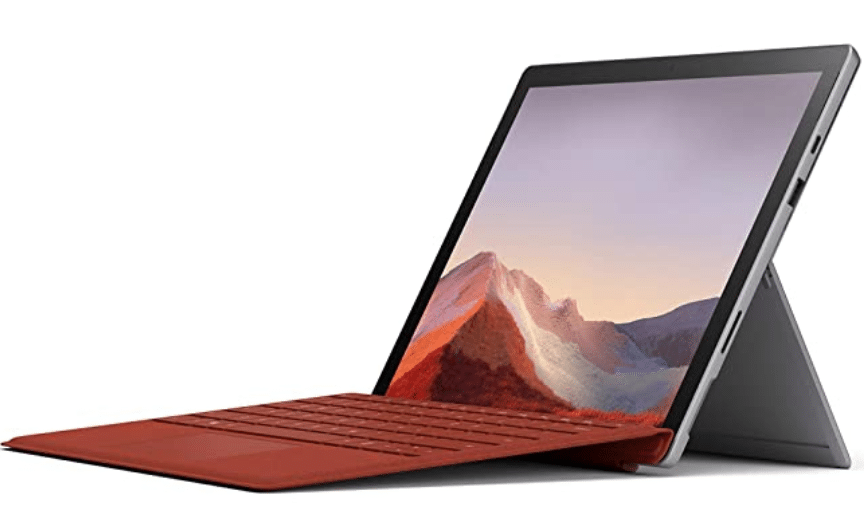 One of the critical features of this device is the 12.3-inch PixelSense display with 2,736 x 1,824 resolution and a 3:2 aspect ratio. There is also an integrated kickstand with a hidden micro-SD card slot on top. With this display, we get a polished presentation with high resolution. A USB Type-C port replaces the mini-DisplayPort on the tablet. As a result, multiple monitors can be used at the same time with the tablet.
Overall, Surface Pro 7 performs well for a device of its size. My unit featured an Intel Core i5-1035G4 processor with four threads and quad-core processing. Besides the 256GB hard drive, 8GB of RAM, and Intel Iris Plus graphics, this system included Intel Iris Plus graphics.
However, the Microsoft Surface Pro 7 has a disappointing battery life, despite more robust performance and better ports.
Hardware Specifications of Microsoft Surface Pro 7
Processor
10th Gen Intel Core i3/ i5/ i7
RAM
4 GB/ 8GB/ 16GB RAM
Storage
128 GB/ 256 GB/ 512GB/ 1TB SSD
Display
12.3 Inch PixelSense Display with 2736 x 1824 Resolution
GPU
Intel UHD Graphics/ Intel IRIS Plus Graphics
Operating System
Windows 10 Home
Battery Life
10.5 hours
Weight
3.53 lbs
PROS
Quad-core performance.
Cool and quiet with a quick resume.
USB-C port.
CONS
Still no Thunderbolt 3.
Dated design.
Lack of built-in LTE.
5- Samsung Galaxy Flex – 2 in 1
Despite looking like a high-end device, the Galaxy Book Flex 2 is not immediately apparent from its design. Despite an aluminium body, the Royal Silver finish lacks the premium radiance of a MacBook Pro.
While the bezels of the 13.3inch display have not changed from the previous model, the collection itself is enclosed within some impressively thin bezels. The original model's USB-C port is in its place, which Samsung replaced with a full-size HDMI port and a USB-A port. The original model gets a 3.5mm headphone jack and 5G connectivity as well.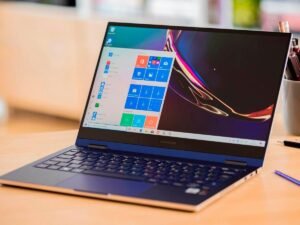 At this price point, you could be forgiven for expecting a higher resolution than the 1920×1080 of Samsung's 13.3-inch Full HD OLED (or QLED) display, but the deep, rich viewing experience more than compensates.
A choice of i5 or i7 chips powers the Flex 2's 11th-generation Tiger Lake processors. On the other hand, I can comment only on the latter model, which will cost you more than the base model and was not available on the original Flex. I have tested an 8GB model, but the full version has 16GB of RAM, although the Iris Xe graphics I used are part of the Intel Iris family.
With the Flex 2, you'll arguably be able to get a 2-in-1 laptop that's as complete as it gets, but you'll pay a premium for it. In exchange, you get a stunning 13.3in an OLED display, exceptional performance, and exceptional battery life.
Hardware Specifications of Samsung Galaxy Book Flex Alpha
Processor
1.8GHz Intel 10th Generation Quad-Core i7-10510U
RAM
12 GB RAM
Storage
512GB/ 1TB SSD
Display
13.3 Inch PixelSense Display with 1920 x 1080
GPU
Intel UHD Graphics/ Intel IRIS Plus Graphics
Operating System
Windows 10 Home
Battery Life
18.5 hours
Weight
2.62 lbs
PROS
Great screen with thin bezel.
Fast fingerprint reader.
Good backlit keyboard.
Reliable battery life.
CONS
No dedicated graphics.
No optical drive.
Smaller right Shift key.
Poor audio.
6- Apple iPad Pro
This year, the iPad Pro series gets Apple's next-generation M1 SoC, which has already outperformed Intel CPUs in applications such as the MacBook Air, Mac mini, and most recently, the iMac. In addition to a faster processor, the new iPads also have more RAM, a Thunderbolt port, a Face ID camera, and 5G connectivity.
According to the first glance, the iPad Pro (11-inch) in 2022 looks the same as the model in 2020. It does have a few subtle differences, however. The 11-inch model is five grams lighter than its predecessors, but its size and thickness are the same. In total, there are four speakers on this device, a Thunderbolt port (Type-C) at the bottom and a SIM tray on the right. It has a matte-finished aluminium body with exposed antenna bands along the flattened sides.

An IPS LCD panel with a resolution of 2,388×1,668 pixels powers the 11-inch Liquid Retina display. This display is 120Hz compatible and has rounded corners just like the frame. This tablet has thick black bezels, which are suitable for ergonomics.
The M1 SoC in this generation is one of the most significant improvements. It is said to deliver CPU and GPU performance improvements 50% faster than the A12Z Bionic SoC in the 2020 iPad Pros.
The iPad Pro 2021 (review) is a fast and long-lasting tablet I've used for a long time.
Hardware Specifications of Apple iPad Pro
Processor
Octa-core 4×2.5 GHz Vortex
RAM
4 GB
Storage
256 GB
Display
11-inch Retina display with 1668 x 2388 Resolution
Camera
Rear- 12+10 MP | Front- 7 MP
Operating System
iOS 12
Battery Life
10 hours
Weight
1.04 lbs
PROS
Trackpad Support
Gorgeous Display
Faster Chipset
Better Cameras
LiDAR Scanner
CONS
Price
Processor Is Not A Major Upgrade
7- XP-Pen Artist 15.6
Drawing tablets, such as the Artist 15.6 Pro from XP Pen, are on the rise. Those looking for a display tablet will find it one of the most lucrative options due to its distinctive look and low price.
Design-wise, you'll find all eight buttons and the red dial on the left side while the working area is suitable. There is a single USB-C port and a power button, and brightness controls are at the tablet's right edge.

Featuring a medium-size display of 15.6 inches and a width of just 11 mm, this laptop is lightweight and perfect if you want to work on a desk as well as on your lap. The device has two rows of rubber pads on its back that prevent sliding on smooth surfaces.
Artist 15.6 Pro features an impressive display as one of its main highlights. Featuring a 1920 x 1080 pixel resolution and a laminated display, it is fully functional. As far as vibrancy and color accuracy goes, the tablet is excellent.
There are 8192 pressure sensitivity levels on XP Pen Artist 15.6 Pro's stylus. The device supports tilt up to *60 degrees in addition to pressure sensitivity, making it one of the few budget devices that supports tilt.
It has never been easier to find a good budget tablet. XP Pen Artist 15.6 Pro boasts several features that used to be reserved for expensive-premium tablets.
This tablet provides beginners with the best drawing experience without compromising build quality and offers exceptionally stable performance. For more detail, read our review on XP-Pen 15.6 Pro.
Hardware Specifications of XP-PEN Artist 15.6 Pro
Active Area
15.6″
Pressure Level
8192+
Express Keys
8
Multi-Touch
Yes
Weight
3.2 lbs
Stylus
PO5R Battery-free
Size
17.52 x 11.22 x 0.43 inches
Tilt Support
Yes (178 degrees)
PROS
Affordable
8 shortcut keys and Red Dial
Low parallax display
CONS
Inconsistent line quality
Needs color calibration
Pressure and tilt issues
8- Wacom Cintiq 22
To make this famous digital art brand more affordable, the Wacom Cintiq 22 is the latest model in the company's Cintiq series.
Cintiq 22 features a full HD display (1,920 x 1,080 pixels), the same as Cintiq 16. The Cintiq 16 has a sharper image but a larger drawing area, which lets you move your arm more freely while drawing more comfortably. The Cintiq 22 has a smaller, physically larger drawing area, but the image on the screen is less sharp. Cintiq is also available in the 24″ variant for professionals who need this size screen.

The Surface of the Cintiq 22 has been thoughtfully designed. A thin layer of laminate is applied to both the anti-glare glass and the stylus area, giving the SurfaceSurface a distinct texture as it is moved.
As a result of the technology used by Cintiq 22 and similar drawing displays, there are two planes you interact with: the glass you draw on and the actual screen with your image.
With the included stylus, the Pro Pen 2, you can easily capture your creative movements: it offers 8,192 levels of pressure sensitivity. It tilts sensitivity, which changes the stroke depending on the angle at which you hold the pen. No battery is required for the stylus, either.
The Wacom Cintiq 22's resolution is 1080P rather than 4K so that I can read the text more efficiently with my older eyesight because of the larger size. If you look for pixels, you will see them, but if you don't, it becomes insignificant. Those of us who are older or are not blessed with excellent eyesight should consider this.
Hardware Specifications of Wacom Cintiq
Pen Pressure Levels
8192
Response Time
25ms & 22ms
Display
1920×1080
Pen Resolution
15.6″  and 21.5″
NTSC
72%
Pen Resolution
5080
Weight
2.2 lbs
PROS
Large pen-enabled screen
Strong value for its money
Accurate colors
Comfortable, responsive stylus
CONS
Not easily portable
No multi-touch (finger) support
Meager one-year warranty
Maximum brightness on the low side
9- Microsoft Surface Book 2
It looks identical to the original Surface Book from a visual perspective. A big trackpad, a sleek, silver magnesium finish, and a fantastic keyboard make the laptop feel like a MacBook Pro. The Surface Book has always been an oversized 13.5-inch laptop that felt like it was getting closer to a 15-inch machine, and for that reason, the larger size seems familiar. Actually, It is a hybrid tablet PC that you can use for multiple purposes.
The screen's color reproduction and viewing angle are excellent, as I've come to expect from Surface hardware. Furthermore, it is nearly 4Know (2736 x 1824), and it maintains the 4:1 aspect ratio that does reading and writing pleasure.

The fulcrum hinge beneath the display is the same as the first Surface Book, which stretches around the base and leaves a strange gap when closed. You can remove the screen and use it as a tablet, almost exactly like the original Surface Book.
In addition to USB-C, most of the ports are also the same. However, Microsoft hasn't enabled Thunderbolt 3, so you can still use external GPUs or high-speed peripherals. This is the first Surface device to boast USB-C, but strangely, it lacks Thunderbolt 3.
Its Intel Core i5-1035G4 processor, 8GB of RAM, 256GB SSD, and 2GB of VRAM is more than adequate for multitasking and running apps like Adobe Photoshop and Adobe Illustrator.
It's a desktop PC that competes with and beats the MacBook Pro on many counts: a higher-resolution display, a faster processor, a more powerful graphics card, and support for touch/stylus.
Hardware Specifications of Microsoft Surface Book 2
Processor
10th Gen Intel Core i5-1035G4 Processor
RAM
8 GB
Storage

256 GB SSD

Display
12.3″ IPS display with 2736 x 1824
Camera
Rear – 8MP | Front- 5MP
Operating System
Windows 10 with Pen
Battery Life
10.5 hours
Weight
1.7 lbs
PROS
Premium alloy construction
Elegant convertible design
Well-implemented kickstand.
CONS
16GB RAM maximum
Surface Pen is an additional purchase
SSD storage is pricey
10- Wacom MobileStudio Pro
In comparison to its Cintiq range, the Wacom MobileStudio Pro is an entirely different device. With its sleeker design and less boxy look, it immediately feels high-end. This cost-effective device is constructed from highly durable materials and weighs a reasonable amount.
The large bottom bezel of the tablet is all about getting your fingers to those all-important buttons. The buttons are framed with a shiny, silver trim – the middle button contains both the fingerprint scanner and the Windows Home key. ExpressKeys consists of two sets of four buttons flanking the circular button.

Its thinner bezel features an etched Wacom logo, while its 5-megapixel camera hides beneath the slim bezel. A rear 8-megapixel camera is found on the tablet when you flip it over.
Three USB-C ports are located on the tablet; two support Thunderbolt 3, while the middle port supports USB 3.1 Gen 2. On the bottom, you will find an audio-combo jack and a standard SD card reader.
I was impressed by the screen's 3840 x 2160 resolution on this 15.6-inch drawing tablet while watching Tears of Steel. There was no lag in the visuals.
An Intel Core i7-8559U processor powers it @ 2.7GHz with the ability to boost up to 4.5GHz. The system comes with a 512Gb SSD for storage and 16Gb RAM for running your programs. Those are both upgradeable as well.
It has a short battery life and gets hot on the go, but its full-version creative programs can run demanding and full-version innovative programs on it.
I have also listed this in my various blog posts related to graphic tablets and drawing tablets with the screen.
You can definitely go for this device.
Hardware Specifications of Wacom MobileStudio Pro
Processor
 Intel Core i7-8559U
Pressure Level
8192+
Storage
512 GB
Display
13-inch WQHD display with 2560 x 1440 Resolution
RAM
Upgradable
Operating System
Windows 10
Stand 
Included
Weight
9.83 lbs
PROS
96% Adobe RGB color range
Can be used as a pen display for a more powerful desktop
Best-in-class pen interface
Full-size SD card slot
CONS
Low battery life
Non-removable battery
A 3D scanner is not very accurate
11- Gaomon PD1560
There's nothing like the premium feel and look of the Gaomon PD1560 pen display. Its main case is primarily of smooth plastic, and its front SurfaceSurface is almost completely covered in glass. A small portion of the left edge of the front panel is plastic, like the main cast, and features eight large and two smaller shortcut buttons.
The PD1560 still manages to remain compact and lightweight despite its thick bezel for such a large pen display. Compared to other pen displays of this size range, it is fragile and light enough for one-hand operation.

The PD1560 has a 15.6-inch high-definition IPS display with a resolution of 1920 x 1080. Colors look vibrant, and viewing angles are excellent, but the display suffers from a somewhat limited range of color reproduction.
I found that the Gaomon color gamut is lower than that in practice. I was able to get 55 per cent RGB out of it, which is defensible for essential work, but may end up being problematic for work that requires accurate color reproduction.
With 8,192 levels of pressure sensitivity, the Gaomon PD1560 pen display is an absolute pleasure to use. The driver software does not have any options for changing the pressure curve, but my tests didn't make me feel like I needed to.
Read full review of Gaomon PD 1650.
Gaomon PD1560 is, in and of itself, a competent product that accomplishes what it is supposed to. Its performance was, to put it simply, inferior to the Wacom Cintiq for several reasons.
Hardware Specifications of Gaomon PD1560
Active Area
13.5 x 7.6  inches (1920 x 1080)
Pressure Level
8192 Levels Rechargeable Pen
Express Keys
10
Multi-Touch
Yes
Weight
3.48 lbs
Compatibility
Windows and Mac
Size
 15.6 inches
Battery
2.5 Hrs
PROS
High-end features at a mid-range price
Accurate, precise lines
Multiple, customized short keys
Lightweight and easily portable
12- Microsoft Surface Pro 2
In entering the tablet war with its own-brand devices, the Surface Pro 2 does more than step through the door – it puts its 10.6-inch foot through it. This indicates that Microsoft is not going to back down.
There's also a volume rocker, headphone jack, and a groove to help you flip the kickstand into place on the Surface Pro 2.

A microSD card slot on the right allows you to boost memory to 64 GB. Alongside it is a power connector that's still a bit fiddly for our tastes. It is also a MicroDisplay port that supports daisy-chaining of two external monitors with resolutions up to 2,560 x 1,440 pixels.
With the Surface Pro 2, you get an identical display with a 1,920 x 1,080 resolution and roughly the exact dimensions as the Surface Pro. Although its 208ppi is not the market's best, the show does produce deep blacks and vibrant colors with improved color accuracy of 46% over its predecessor.
A Core i5-4300U ultrabook-class processor powers the Surface Pro 2, along with 4GB of memory and 128GB of storage.
With a new processor from Intel, a fancier kickstand, and the latest version of Windows, Microsoft's Surface Pro offers significantly better battery life than the rather pedestrian SurfaceSurface Pro. Despite the eye-watering price tag, it remains an attractive purchase.
Hardware Specifications of Microsoft Surface Pro 2
Processor
Intel Core i5-
RAM
4 GB
Storage
128 GB Nvme SSD storage
Display
10.6″ Full HD Touch
Camera
Rear and Front
Operating System
Windows 10 Pro
Battery Life
6-7 hours
Weight
2.0 lbs
Wrapping Up
Portable drawing tablets can help you improve your productivity as you can carry them and work on them while traveling or roaming around. I have listed out all the best portable drawing tablets which are available online. Many of them are my favorites, and some of them are suggested by my friends in graphic designing and illustrations.
I hope this is going to help you. If you think I missed any gadget, do let me know in the comments section below.
Howdy Geeks, I'm Andrew, a young passionate blogger, Tech Freak & a Gadget Lover. I help people in buying them the best tablet devices