Graphic Tablets !!! Everyone was surprised to learn about this word. After hearing it is clear that there is something like tablets that can do some sketching or painting using some technical end. Yes, it's quite true to know about the exact meaning of the "Best Drawing Tablets For Beginners".
Graphical tablets or drawing tablets are very essential for digital artists. It will help to reduce the time effort and keep the doodle digitally. No matter what stage you are at, you always need to buy drawing tablets for enhancing your graphical work.
In the earlier time just like every artist had their own tools and paper in the same way these tablets had their own specification and many others which provide easy support to the designer.
Now with the best drawing tablets, you can bring creativity Vividly to life. There are many fantastic drawing tablets available for beginners and professionals at a reasonable price.
If you are new and don't know a lot about what specifications should it have? We have selected all types of best drawing tablets for you. It includes graphic tablets, pen displays, and tablet computers of the best brands like Apple, Microsoft, Huion, and Xenceblabls and many more as these are advanced and sophisticated. Let's have a close look at the major qualities that graphical tablets have.
Now let's dig some of the tablets which suit best for every professional i.e. beginner or pro. We sorted some of the best drawing tablets to reduce your effort in every price range. It's not in ascending or descending order but it depends upon the uses, budget, and proficiency of the user.
List Of Best Drawing Tablets For Beginners – Most Recommended:-
With the Wacom Intuos Pros, you may go back to your drawing origins and create images by really writing on paper, a tactile sensation that many younger digital artists may not be familiar with.
The matte-black, rounded-corner Wacom Intuos Pro Small is rectangular. Its measurements are 0.3 by 10.6 by 6.7 inches (HWD). The only significant difference between it and my 9.7-inch, sixth-generation Apple iPad is that it is slightly longer.
The tablet's active area, which is 6.3 by 4 inches and is bordered at its four corners by right-angle white hash marks, measures this distance. On your computer's screen, this constrained area is mapped. To place your pointer there, place the pen in the lower-right corner of the active area.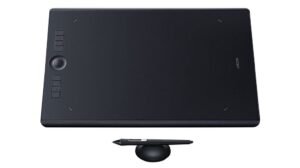 The Wacom Pro Pen 2 stylus that comes with other Wacom devices, such as the MobileStudio Pro 16, is also used with the Intuos Pro Pen Small.
The stylus is incredibly sensitive and has 8,192 pressure levels. It doesn't need to be charged since Wacom's electromagnetic resonance (EMR) technology eliminates the need for a battery by drawing power directly from the Intuos.
Latest Intuos Pro continues Wacom's tradition of superb build quality. Except for taking up less desk space and being a little slimmer, the Intuos Pro resembles the previous model quite a bit. It feels just as solid, if not more so, as previously.
The new USB-C connector cable is one caution I have. However, adding regular Bluetooth greatly aids with that and lets me move the tablet pretty much anywhere I want. Additionally, USB-C enables wireless operation and faster charging.
PROS
Suitable for usage when traveling. 
Very portable. 
Excellent value for the money. 
Multi-touch (finger) gestures are supported.
CONS
Small active drawing area in the test version. 
A rough strip of surface. 
Most programs don't correctly support Touch.
A great tablet is the One by Wacom for all types of creative digital work, including art, vector design, picture editing, etc. It is primarily marketed as a drawing tablet for beginners and students. However, it may be used by artists of any skill level.
I adore the clean lines of One by Wacom. Without ExpressKeys, the tablet has a smooth surface (extra buttons). Small (8.3 x 5.7 x 0.3 in) and medium are the two sizes of One by Wacom (10.9 x 7.4 x 0.3 in).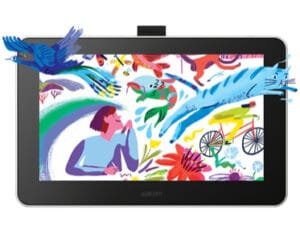 The tablet includes three standard replacement pen nibs, a nib-removing tool, a pen, a USB cord, and other accessories. There is no need to charge batteries or connect the pen to a cable because it uses electromagnetic resonance (EMR) technology. When it runs out, swap out the nib.
Pen's left- and right-handed compatibility is another clever feature. The Wacom Desktop Center allows you to configure its two programmable buttons.
The tablet's smooth drawing surface contains dotted guidelines that make it simple to follow the path you're drawing. The dots are helpful, especially if you're using a little tablet with a small display screen, because you could occasionally lose track of what you're sketching.
Since I'm using a tiny One by Wacom, I must organize my creative space and collaborate with the touchpad and keyboard. I adore the realistic and accurate strokes you can draw with the pressure-sensitive pen. It has an almost tangible pen-like sensation. I used the tablet to design various hand-drawn typefaces, icons, and brushes in addition to drawing.
PROS
A cozy drawing surface. 
Support for online and Android apps. 
No battery is required for the pen.
CONS
Zero USB-C. 
Not worth the price.
An excellent entry-level pen is the XP-PEN Artist24 Pro. It performs well in terms of accuracy and display, and it appears and feels professional. Although the pricing looks reasonable, keep in mind that this is more "fixed" equipment due to its size.
The Artist 24 Pro is the first of its type from XP-PEN and features a massive display measuring 23.8 inches diagonally and a screen resolution of 2560 x 1440 (2K QHD). This "canvas"-sized pen display requires a 2K resolution. No, it's not Wacom's 24-inch Touch Pro's 4K resolution.
Incorporating some of that "pen-on-paper" feel, the anti-glare, textured film overlay also offers a pleasing drawing experience. Once calibrated, the drawing movement is as precise and responsive as anticipated.
The PA2 stylus, the best that XP-PEN has to offer, is battery-free, lightweight, and compatible with the XP-PEN Artist 24 Pro. It has an incredible 8,192 levels of pressure sensitivity, allowing you to alter how light or heavy-handed you are when working precisely. It also features a 60-degree tilt recognition range, allowing for reasonably decent mark variation and calligraphy-style line work.
Aside from a DC power outlet for the pen display, the Artist 24 Pro uses an incredibly straightforward USB 2 to USB 2 connection if your setup is sufficiently advanced. If you don't have a USB 2, connecting with a USB and HDMI connection is relatively simple.
The pen display also features two more USB connectors if you wish to charge your phone or connect a keyboard. I had to restart my computer at least four times when installing the driver, and the directions supplied in the driver folder and on the company website were only sometimes obvious.
PROS
Reasonable Cost. 
Large display. 
Precision in drawing.
CONS
Bulky. 
No touchscreen. 
Not a 4K display.
If you're trying to speed up your editing process, then this handful of devices could help make complicated masking, brushing, and Cloning tasks more accessible and more user-friendly by using a digital pen. 
I first purchased an active-style pen years ago as an accessory for my laptop. While I'm not a sketcher, I soon realized that it was a lot better than the mouse or touchpad to accomplish those tedious tasks like creating complicated masks or cloning tiny specks of dust from photographs of product images.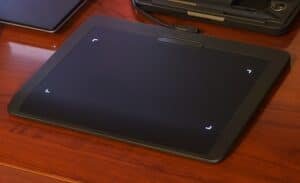 Xencelabs pen tablet has an ergonomic super sleek design and comes with a 13-inch medium size, neither too big nor too small. 
I keep this drawing tablet top in my list due to its price segmentation and durability, and function with a classic design, and this is one of my favorite tabs. The strokes and other design made from its pen is perfect and very good and there is no lag smooth line and no line is missing when sketching at speed. Also,  it has several advantages and when I compared it to Wacom Intuous Pro S then, I found that in this price segment, Xencelabs pen tablet is better and smooth in design. 
This drawing tablet has some other features like a backlit area for the best drawing in the dark, and it comes with a good battery life that is more than sufficient. It is compatible not only with windows and mac but also with android but there is something that is really worst that it has only three physical controls on the tablet, and there is no pen stand provided on the tablet. 
PROS
Very adaptable and straightforward to set up.
The perfect container for your pens and nibs.
Programmable Quick Keys gadget.
CONS
Expensive.
Weight is greater.
Tough for beginners to use.
iPad pro is an outstanding performer for drawing use, right? Yes, it is one of the best devices, and this is the reason I am mentioning in second place in my list as it has excellent performance and looks that something impresses me, but the price is a little higher compared to other devices with the same functions and features.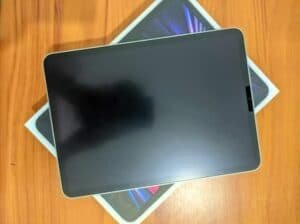 However, the 11.2-inch iPad Pro display is not a poor performer in any sense. It's got a resolution of 2,388 x 1668 pixels, and the display extends from edge to edge. The bezels are slim, and Apple achieves the right rounded corners for a modern and industrial design.
You can play games with absolute pleasure on the iPad Pro. The M1 iPad Pro display has been calibrated to match color, brightness, white point, and gamma. Also, Apple has added an anti-reflective coating to facilitate ease of use even in harsh conditions. You can easily work in bright daylight, the display will be sufficient to continue working. It is equipped with the Magic Keyboard, which has also been improved slightly from the previous version.
The trackpad functions as a charm. Overall this is a wonderful tablet, but it's worth the purchase only if you spend the extra money for its Magic Keyboard. You can skip using the Apple Pencil unless you're a photographer, illustrator, or artist. However, you must have the Magic Keyboard.
Hardware Specifications of Apple iPad Pro 11″
Processor
Octa-core 4×2.5 GHz Vortex
RAM
4 GB
Storage
256 GB
Display
11-inch Retina display with 1668 x 2388 Resolution
Camera
Rear- 12+10 MP | Front- 7 MP
Operating System
iOS 12
Battery Life
10 hours
Weight
1.04 lbs
PROS
Trackpad Support.
Gorgeous Display.
Faster Chipset.
Better Cameras.
LiDAR Scanner.
CONS
Costly.
Processor Is Not A Major Upgrade.
Looking for a tab with a large screen and an impressive display? 
Yes, the Huion Kamvas 22 Plus, as you could have already guessed, is an improvement and upgrade of the Huion Kamvas 22. Huion's recent update to its pen display of 22 inches makes it stronger and more powerful underneath the hood. And at the same time, it is not to be considered to be a sacrifice with regards to performance in terms of efficiency and performance.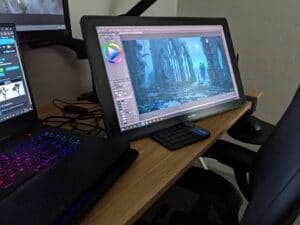 It is equipped with an etched anti-glare screen, not the anti-glare film. This will cause the screen to last much longer. A budget-friendly model includes pen displays, but the pen has a lot more to be desired, specifically in its presentation. It comes with an elongated doughnut-shaped pen holder that is nice.
However, it's not awe-inspiring. Inside, there are 10 nibs for replacement as well as there are other tiny plastic bags with the word 'gift' on it, which contain an additional 10. The Kamvas 22 comes with a USB-C to USB-C connector so that it can be connected to an Android-compatible smartphone or laptop. In addition to the power port, the main one is a three-in-one cable as well as a power adapter.
Overall, the Huion Kamvas 22 has a fantastic screen size at a reasonable price, but the screen is not a touch screen, and there are too many wires to connect and work similarly to a desktop. These are a few drawbacks that make it less compatible than other tabs with good battery and pen support. 
PROS
Excellent screen.
A good size.
An affordable price.
CONS
Not a touchscreen.
A single type of nib.
Traps of wire.
7. Apple iPad Air 5th gen
The iPad Air (5th Gen) is an amazing computer at a reasonable price and it is a notebook-sized device with the capabilities of the MacBook Pro. Its Apple M1 chip is able to handle everything you put it through from iPadOS, which has a wide selection of applications for creative use. The screen is clear and precise and light enough to take anywhere with you.
There are great reasons to choose to go with an iPad Pro instead (especially the larger 12.9-inch model) however, they're being marginalized with the iPad Air being a fully developed creative powerhouse, even without the "pro" brand name.

The only thing I disliked was that they didn't enhance the screen of the new iPad Air from the previous model. That's why you may get the same IPS screen size of 2360×1640. This is 264 pixels per inch however it's not as crisp as the iPad Mini (6th Generation) or smartphone screens,and hence I placed it below in the list even though it is a great technology.

Hardware Specifications of iPad Air 10.9
Processor
A14 Bionic
RAM
4 GB
Storage
64/256 GB
Display
10.9″ Retina display with 2360 x 1640
Camera
Rear- 12MP | Front- 7MP
Operating System
iPad OS 14
Battery Life
9 hours
Weight
1.0 lbs
PROS
Elegant thin and light design.
Bright, colorful and sharp display.
Excellent webcam.
Magic Keyboard.
CONS
No face id.
No headphone jack.
Expensive accessories.
It's perfectly suited for the distances that you'll normally utilize on the iPad Air. Also, you can use the Pencil, and the Pencil is magnetically attached to the back of the iPad, not just for storage but additionally to charge wirelessly whenever it's there, ensuring that it's always charged and ready when required.

Connecting it on the sides immediately pairs it with the iPad, meaning it's not a hassle making it set up as well as switching it between different iPads.
8. Wacom DTk1660KOA Cintiq Pro 16
Cintiq series allow the custom tablet by offering several models including 15.6-inch model, 22-inch pro or 16-inch tablet having several ports to connect with different screen and also with Macbook Pro.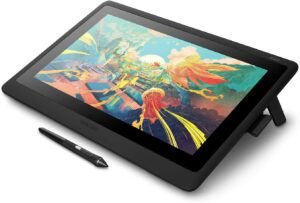 You get three adjustable positions according to the user's convenience and with an adjustable height panel. The large active area also reduces the effort of new and old users. Since it has no hotkeys but its other specifications can overcome these issues. Overall best in class with this range with HD LCD monitor.
Hardware Specifications of Wacom DTK1660KOA Cintiq Pro 16
Active Area
15.6″ Full HD (1920 x 1080)
Pressure Level
8192
Express Keys
No
Multi-Touch
Yes
Weight
4.19 lbs
Operating System
Windows or Mac
Size
16.6 x 11.2 x 0.4 inches
Stylus
Battery Operated
---
PROS
Provides new screen sizes
Pen performance is amazing
USB-C cable
Express keys and multi-touch gestures
CONS
Color depth. 87 percent.
Heavy.
9. Gaomon PD1560
Gaomon PD1560 is quite an expensive product.  But its features can easily overcome its price. The full HD screen allows a user to display a high resolution. Active space also satisfies your needs on creative space, ensures the fineness, definition, and accuracy of image color and lines. It is also one of the best portable drawing tablets as well.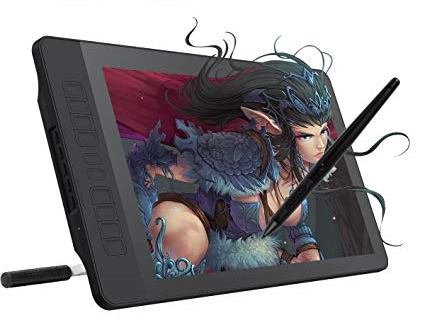 The 10 shortcut keys and 5 menu keys are best for creative habits, to make operation efficient and save time too. Its pressure level is 8192 which provides more accuracy and efficient movement. The battery life is quite low i.e. 2 – 2.5 hours due to its large display and HD resolution.
Read our full review of Gaomon PD 1560. 
Hardware Specifications of Gaomon PD1560
Active Area
13.5 x 7.6  inches (1920 x 1080)
Pressure Level
8192 Levels Rechargeable Pen
Express Keys
10
Multi-Touch
Yes
Weight
3.48 lbs
Compatibility
Windows and Mac
Size
 15.6 inches
Battery
2.5 Hrs
---
PROS
High-end features at a mid-range price
Accurate, precise lines
Multiple, customized short keys
Lightweight and easily portable
10. Huion KAMVAS Pro 12 GT-116
The Huion KAMVAS Pro is enriched with an 8192 sensitivity level with 60 degrees of pen support, its resolution is also good as compared to the price range. 4 hotkeys may provide some difficulty to switch over the options inbuilt with a one-touch bar.
Full laminate with an Anti-glare screen and compatible with all the OS. It is not a standalone device, much like an iPad or a tablet is not. It comes with a pen, which you can use to sketch on the screen and, with the help of the right software, share with your loved ones living in other states or countries.
There is no power needed, and the pen only operates on screens. The transaction came with 10 nibs, but I have yet to use any of them. I was warned that the nib might need to be replaced after extensive use.
The software is crucial. To capture your handwriting, you need the appropriate software. I have used Word, Onenote, and Microsoft Whiteboard, all of which have operated well thus far.
It comes with 10 extra pen nibs and a clip and holder inside with an easily adjustable angle.
Read our full review on Huion Kamvas pro 12.
Hardware Specifications of Huion KAMVAS Pro 12 GT-116
Active Area
11.6 inches (1920 x 1080)
Pressure Level
8192 Levels Rechargeable Pen
Express Keys
8+ Mechanical and Virtual Wheel
Multi-Touch
Yes
Weight
1.98 lbs
Stylus
Battery-free PW507
Size
17.1 x 9.4 x 0.4 inches
Tilt Support
Yes
---
PROS
Large area
Light weight
8 hard keys
11. Huion GT-191 KAMVAS
There is little to say anything about this best drawing tablet. If you are serious then you will never like anything which is just below then this. Its 8000+ level of sensitivity provides greater efficiency and speed with anti-glare protection.
Huion GT-191 KAMVAS is a pen display that offers a more natural way to sketch or paint directly on a monitor. This is useful for graphic artists but comes at a significant price premium and necessitates being connected to a computer. Despite the price, we enjoyed the device's 8,192 pressure sensitivity levels, clear IPS display, and superb color reproduction.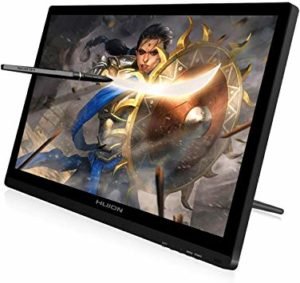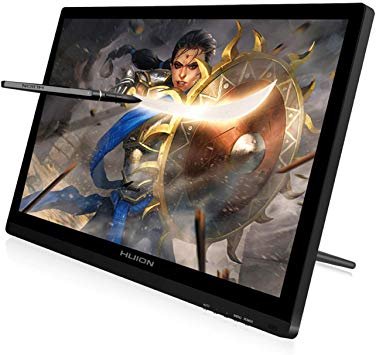 Unlike other tablets, it has an HD screen and a wide effective area that eliminate the need to carry multiple screens around you when you're on move and don't create a hassle. The attached screen also makes it best for an artist's tablet.
It's not cheap but in this effective range, you will get the experience at the very top of the technology and have endless features and functions at your fingertips. It brings together the regular tablet inbuilt with a drawing tablet. It may be the perfect gift for your artist friend or family member.
To find out if this affordable pen display can compete with more expensive ones, we unpacked a Huion Kamvas GT-191 and put it to the test. We looked at viewing angles, color reproduction, parallax, viewing angles, and more.
Read our review of Huion GT-191 for more detailed explanation.
Hardware Specifications of Huion GT-191 KAMVAS
Active Area
43.48 x 23.86 cm
Pressure Level
8192+
Express Keys
8+ Mechanical and Virtual Wheel
Multi-Touch
Yes
Weight
13.5 lbs
Stylus
Rechargeable PE330
Size
19.53 inches
Tilt Support
Yes (20-80 degree)
---
PROS
Large display with good resolution
Decent color gamut
Includes an extra pen
Fantastic value
CONS
No shortcut buttons
No touch controls
Problematic cable placement
12. UGEE M708 Graphics Tablet
These tablets come into the race when the budget is low and need most of the features. This tablet is mostly for new users who need lots of space to draw over. Its 8192 levels of sensitivity provide enough to draw any type of drawing.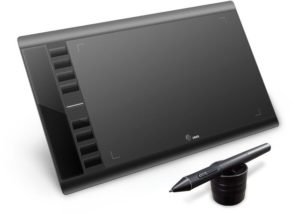 This is one of the top beginner drawing tablets available, perhaps. When I got my first personal laptop, I bought this tablet around a year ago today, and it has proven to be more than adequate. Due to the possibility of experiencing problems with the application itself and not picking up the pencil—issues I have not yet experienced—I have always been hesitant to buy or invest in drawing tablets.
It's 8 hotkeys that provide a better working experience. Compatible with most of the devices and have several ports to connect with and is also good for both-handed users i.e. left or right. With 5080LPI  resolution including several apps like Photoshop, Illustrator, Comic Studio, and SAI.
The only problems I've ever had were rare instances when my pen wouldn't pick up. Since I've owned it for a year, I've only encountered this problem a couple of times, and it has yet to start to happen more frequently.
Hardware Specifications of UGEE M708
Active Area
10 x 6 inches
Pressure Level
8192+
Express Keys
8+ 3 Mouse Button
Multi-Touch
No
Weight
1.45 lbs
Stylus
Battery-free
Size
14.1 x 8.3 x 0.3 inches
Tilt Support
Yes (178 degrees)
---
PROS
8 customizable buttons
Great price for the features

Comes with 

PenSigner
CONS
It scratch easily compared to other tables
No tilt sensitivity
Pen doesn't have an eraser
Frequently Asked Question about Drawing Tablets:-
How much memory do you need for a drawing tablet?
Although you can draw with only 4 GB of RAM, if you want to get the most out of your new tablet, we suggest getting 8 GB or more. Many people advocate Mac computers for sketching, although you can draw perfectly well on a Windows computer or a laptop.
What position is ideal for a drawing tablet?
When sketching from life, utilize an easel positioned at a 90-degree angle. However, if you're working from a reference, set the photo down next to the paper and tilt the drawing board at a 30- to 55-degree angle.
Does the drawing tablet's size matter?
A tablet's size can be compared to a computer screen, but it also directly reflects how much surface area an artist's hand needs to cover to get the desired effects. On a larger tablet, the surface area that the hand may or must move over is larger.
Can any pen be used with a drawing tablet?
It's accurate that not all styluses and graphic tablets are compatible. Therefore, be sure the digital pen you buy is consistent with the bulk of currently in-use graphics hardware and software.
How can my drawing tablet be made more Comfortable?
Wrist rests, adjustable stands, and cushioned grips are ways to increase comfort for drawing tablet use. Ergonomic pens, adjustable pen pressure, and customized buttons can also improve comfort and accuracy.
What are some desirable specifications for a drawing tablet?
Your requirements as an artist will determine which drawing tablet is best for you. These requirements might not match tablet specifications, so here is a quick primer on the most crucial ones: price, screen size, active area, screen resolution, connectivity, and stylus.
What makes the best drawing tablet for beginners?
Every drawing tablet has its own specifications according to the prize, brand, and size but apart from this, there is something that needs to be in every drawing tablet. Let's see through one by one:-
Effective Area
The area is where we draw or our stylus work. You also have bezel or plastic edges that come between the screen and the casing in this area. It is only depending on your interest and experience level that how much area you required to draw over it.
Most tablets have active areas labeled but double-check the effective screen size before buying a Drawing tablet. Of course, you need a widescreen if you are a beginner.
Sensitivity
It means how much fast responsive your graphic pad is. As it is found in the user that his/her hardness of holding the brushes also affects the sensitivity of the tablets. The higher the sensitivity greater the response of the tablets.
Resolution
If you are someone who wants everything in a high resolution then you should care about the resolution then you need to care about the resolution your drawing tablets have.
The stylus is a device that helps to draw over the tablets. The main thing to worry about is that it should be wireless. Nowadays Electromagnetic Resonance (EMR) stylus comes into existence. Which provides greater reliability and sets the user free from the wire and limited movement of the stylus. So it's better to have an EMR stylus other than a wired or a battery-operated one.
Final Verdict
After hours of research on various drawing tablets, recommendations by various graphic designers on the best drawing tablet in the market.
We made a list of the 11 best affordable drawing tablet for beginners that you can buy in 2023. These are the best drawing tablet that is available in the market.
You can read our list of some more cheaper drawing tablets under $200.
Do let us know if we missed your favourite device.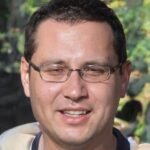 Ben Scott is a prominent technology journalist and reviewer, specializing in tablet devices. He is known for his comprehensive and unbiased reviews of tablets from various manufacturers.
With a deep understanding of tablet technology, including hardware components, operating systems, and software applications, Scott provides clear and informative reviews accessible to readers of all levels of technical expertise.
His attention to detail and in-depth analysis have earned him a loyal following of readers.