With the progressive use of  AI technology for advancement in almost every field, the world is changing on a daily basis and sometimes we feel that we are a step behind everyone else so there is an opportunity waiting for us in the form of a new window to the world.
Samsung Galaxy Tab A7 with a Slim Design, Vibrant entertaining system, and outstanding performance has become my new and stylish companion for life. I can learn, explore, connect and do much more at the average price of a smartphone.
Specifications:-
Hardware Specifications of Samsung Galaxy Tab A7
Processor
Exynos 9611
RAM
3 GB
Storage
32/64 GB
Display
10.4″ Inch Retina display with 2000 x 1200
Camera
Rear- 8MP
Operating System
Android Q
Battery Life
15 hours
Weight
1.04 lbs
PROS
Vibrant, colorful display.
Great-sounding speakers.
Reliable battery life.
Build quality.
CONS
Limited RAM.
Camera quality.
Design and Display
I am very much satisfied with the Sophisticated metal design and beautiful symmetry of the tab as if it was built to impress me by offering immersive experiences with just a thickness of 7mm and the metallic body comes in different colors like Dark Grey, Silver, and Gold. The model I had was dark grey in color with a consistent bezel all the way around measuring 9.75 by 6.20 by 0.28 inches and 16.79 ounces in weight.

As myself being an entertainment lover, I had a huge collection of movies and tv series, hence the screen and the audio quality proved to be superb for me and it had a wide and dynamic WUXGA display of 10.4 inches with an 80% screen-to-body ratio in addition which enhanced the experience up to a great level in combination with the speakers.
I was able to provide relaxation to my eyes through the dark mode feature of the tab as it helped to reduce the strain on my eyes while working on the tab as well as saved the battery usage. Does it help you too?
According to my test results, the fast processor and powerfuL RAM were to be thanked for witnessing the quick and smooth gaming event. A battery of 7,040 mAh was enough for the long binging sessions I love, throughout the day however when it started to run low on power,  I plugged it in with the 15 W fast charger and the battery was full again at 100% in no time.
Camera, Audio, and Connectivity
From capturing the stunning and beautiful moments to breathtaking sceneries or portraits I found the 8MP camera efficient and ready for any occasion regardless of the place. The shots came out perfect in the daylight with great colors and perfect details whereas the low light clicks were somewhat distorted.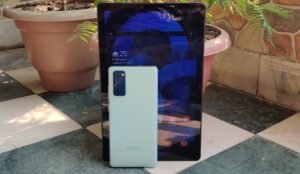 I think the tab had a great sound system with quad speakers that were supported by the Dolby Atmos, which gave me a terrific and rich audio experience while playing games like PUBG and COC as well as while streaming videos or watching movies.
I discovered that the sharing of media and files was really fast and easy with the tab as it connected me with everyone over WiFi or 4G network. It allowed me to share my family photos, reminders, notes, and calendar events with my close ones. I was really happy with this feature as it brought me one more step closer to my friends and family. I synced my Samsung phone with the tab so I didn't have to miss any calls or text messages hence it always kept me in the loop.
I also got the first 2 months of YouTube Premium subscription free with the Samsung Galaxy Tab A7 and I enjoyed my favorite content like videos and music uninterrupted and ad-free in addition to the background play on YouTube and YouTube Music.
Hardware and Performance
I got the model which had a fast octa-core processor with the built-in storage of 32 GB,  and 3 GB powerful RAM while the step-up model had a storage of 64 GB which stored all my hi-resolution videos, photos, and files: also the storage was extendable up to 1 TB through a MicroSD card in both models.
Additional Benefits
Apart from the general features, I found that the tab has provided some extra features too –
I got the first 2 months of YouTube Premium subscription free with the Samsung Galaxy Tab A7 and I enjoyed my favourite content like videos and music uninterrupted and ad-free in addition to the background play on YouTube and YouTube Music.
It took me closer to the people I wanted but wasn't able to at that particular time with the help of Google Duo, it kept us together even though we were apart.
I think that the security of the kids is really important because we can't be with them 24 by 7, so what they have seen or how much time they have spent on social media or playing games we mostly have no idea about it, but with Samsung Kids, parents can set restrictions on playtimes, apps, and contacts. It offers the usage reports of the kid's activity too. What are your views about this feature?
In my opinion, Samsung Knox was the best protective platform because they offered defense-grade security and protected my private data from malware and malicious attacks by leveraging the hardware-backed and multi-layered Knox security platform.
Conclusion
Personally, I think that the Samsung Galaxy tab A7 has proved the best tab in this price range it has offered various features that seemed pretty cool to me. It provided me with a powerful experience enhanced with galaxy favourites as the expandable memory, Samsung Knox, quick share, and biometric authentication.
All in all, I can say that it worked quite well because most of my test results came out inconclusively great. How good it was for you?