Are you an artist? Looking up the best tablets for artists? We'll help you today with our list of the best and most popular tablets for artists in 2023.
Artist tablets are quite similar to drawing tablets but have differences too. Before going to discuss the best tablets for the artist first let's know about the basic difference between Artist Tablet and Drawing Tablets.
The main difference between tablet PCs and a graphics tablet is apparent in the fact that Tablet PCs have screens you can draw on. While graphics tablets do not and further require a computer to run with but there are a few more details that you should know about as well.
If a user is new and doesn't have experience then he should use the artist tablets as it provides a screen to view the direct output under the drawing area but after the innovation, there are also many of the drawing tablets which have a screen.
If you directly want to go to the list of best tablets for artists click here.
But here let's discuss the best tablets for an artist under all the budget and according to the user and their needs.
XP-PEN Artist15.6 Pro- Best Tablet For Artists
Here's the best pick for the best tablet for artists, If you're looking for a reliable and feature-loaded tablet with unique features this XP-PEN Artist15.6 Pro Tablet is going be the best artist's tablet.
Some of the key features of XP-PEN Artist15.6 Pro are:
15.6-Inch active area.
8192 levels pen pressure.
Compatible with Windows 10/8/7, Mac OS X version 10.10.
The lightweight of 1500 Grams.
Including lots of accessories.
4.7/5 Rating By Users.
Now let's see some of the best tablets for artist which suit every type of user under budget. We listed some of the drawing tablets to reduce your effort in every price range. It's not in a particular order but it depends upon the uses, budget, and types of the user.
Top Rated Best Tablet for Artists – Most Recommended In 2023
The Apple iPad Pro 12.9-inch model is cutting-edge. Its 12.9-inch display and usage of mini-LED technology make it unusual in addition to its sheer size. The tablet becomes a creative tool when I add the extra keyboard and stylus, and the Apple M2 CPU outperforms most notebooks.
Design
It comes in silver and space gray, has a 12.9-inch display, and has a small number of buttons. There is a lock button (no Touch ID here), a volume rocker, and a front-facing 12MP Ultra Wide camera hidden by a thin bezel that uses Apple's Center Stage technology to keep the subject in focus while designing and sketching.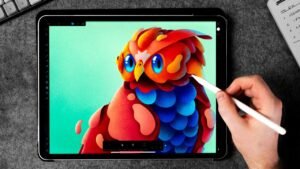 Performance
They claim that the M2 chip is 15% faster than the M1 chip, but in my testing, I couldn't see the difference when editing intricate photographs or playing the newest video games.
Now that it can record in ProRes formats and run DaVinci Resolve, Apple has hailed the iPad Pro M2 as a "full film studio in your hands." However, considering the M2's compatibility with Macs, it's puzzling that the company still needs to transfer its own Final Cut Pro program.
Drawing Surface

The bigger size helps a lot when drawing some small detailed or sketch type of design. You just need to have a matt layer on screens and buy procreate, although many other drawing tools are available on app store as well. Enough now you can draw anything over it. On that time it may affect the battery backup but yes you will get a perfect design over it.
PROS
Amazing performance.
Outstanding performance.
iPad OS is advancing.
CONS
Still costly.
No compelling reason to upgrade from the M1.
In the graphics tablet industry, Xencelabs is a relatively new player. The Pen Display Medium is as user- and artist-friendly as you'd imagine because of the team's extensive design and industry knowledge, which includes former Wacom personnel.
Design
The Xencelabs Pen Display Medium is a perfect size—just under a 13-inch MacBook—and at 8 mm thick, it feels and looks like a beautiful piece of design. It has an ergonomically curved front edge that gives off the impression that user comfort has been considered. This is especially appreciated in light of the lengthy drawing sessions.
Power
As per my experience, both the tablet's and the remote's batteries lasted for many hours. While being used, the pen and remote require less than an hour to recharge fully. The pens do not need any batteries at all.
Stylus
Once charged, the pen tablet and Quick Key Remote connect to your computer via USB (a USB-A to USB-C adapter is available), and a dongle is included in the pen case to enable wireless Bluetooth connectivity.
PROS
Comprehensive and unique package.
Simple to assemble and highly adaptable.
iPad wireless.
CONS
Despite being quite portable.
Quite heavy.
Expensive.
The Cintiq 22 offers a well-chosen feature set that improves your drawing comfort and is priced lower than any drawing display of this size that Wacom has ever offered. Although you may still find comparable items for less, Wacom's focus on quality makes this an appealing choice.
Display
The full HD screen on the Cintiq 22 measures 1,920 by 1,080 pixels, the same as the Cintiq 16's screen size. It offers a physically larger drawing surface for more comfortable, expressive arm movement, but the screen image is less sharp than on the Cintiq 16. This instantly indicates that there is a significant trade-off between the two.
Drawing Surface
The screen surface of the Cintiq 22 is thoughtfully designed. A tiny texture created by laminating the anti-glare glass surface gives it a pleasant bite as you slide the pen across it.
Stylus
The included stylus, the Pro Pen 2, can easily capture your artistic motions because it has tilt sensitivity and 8,192 levels of pressure sensitivity. Additionally, the stylus does not require a battery because it draws its power from the electromagnetic qualities of the screen.
Similar to the pen that comes with the competing Huion Kamvas Pro 22 but is less expensive, the XP-Pen Artist Display 22E Pro's pen needs to be periodically recharged.
PROS
Exact colors.
Good value for the money.
Screen with a considerable pen input.
CONS
Unportable by nature.
No support for multitouch (fingers).
Meager warranty of one year.
Even if it lacks a stand and has a tangle of wires that needs to be cleaned up, the XP-PEN Artist Pro 16 feels and looks different. Its sketching experience saves my day despite a complex installation process.
Design
It's okay that the Artist Pro 16 appears to be based on the XP-PEN Innovator 16, as it's a very cool design. The number 16 also contains a hint.
The Artist Pro 16 sports a space-gray-like metal case on the front and back that appears fashionable. It's almost the same size as the Innovator 16 and is also 9 mm thinner.
Stylus
A third era of XP-PEN styluses has begun with introduction of a stylus featuring "smart chip technology" that is only available with the Artist Pro 16.
The "artistic digitizer" that feels and functions like a traditional tool should result from this X3 smart chip's promise to "dramatically increase the performance and structure of the stylus."
Power
A USB-C to 3 x lead HDMI, USB-A, and power adapter look overkill, complicated, and unorganized. A USB-C to USB-C cable can be used with the Artist 24 Pro, a much older model than the Artist 16 Pro and the most recent Artist Pro 16TP.
When using a pen display that must be connected to a computer, that is about as much wire as you would like to have.
PROS
Slender, light, and robust.
Excellent value.
Good Delta E and decent gamut coverage.
CONS
Too many wires.
No stand present.
Possibly brighter.
Gaomon PD1560 is quite an expensive products.  But its features can easily overcome its price. The full HD screen allows the user to display on the high resolution. Drawing space satisfies your needs on creative space, ensures the fineness, definition, and accuracy of image color and lines. It is also among the list of portable drawing tablets which is used by artists.
The shortcut keys and menu key is best for creative habits, to make operation efficient and save time too. Its pressure level is 8192 which provides more accuracy and efficient movement. The battery life is quite low i.e. 2 – 2.5 hours due to its large display and HD resolution.
Its weight gives an advantage of the tilting angle of 178 degrees for a better view.
The number of extras included was impressive; aside from the tablet, stylus, and cables, you get a stand with an adjustable height, a stylus holder, a drawing glove, a stick-on screen protector, and a carrying case.
Drawing on the Gaomon is somewhat different than working on the Wacom Cintiq, as it is less organic. Despite the Gaomon's 8,192 levels of pressure sensitivity, its parallax feels more pronounced compared to the Cintiq's, as well as the same level of sensitivity as its Wacom rival.
Hardware Specifications of Gaomon PD1560 Pro
Active Area
13.5 x 7.6  inches (1920 x 1080)
Pressure Level
8192 Levels Rechargeable Pen
Express Keys
10
Multi-Touch
Yes
Weight
3.48 lbs
Compatibility
Windows and Mac
Size
 15.6 inches
Battery
2.5 Hrs
6. Gaomon PD1161 – Best tablets for artist
Gaomon has recently launched the tablet, the PD1161. It is quite affordable and rules the lower-end market after many brands like Huion and many more. If you are a beginner or indulge in some training for enhancing your creative skills in animation and drawing then picking the PD1161 is the ideal option.
Despite its round curves, it feels very sturdy in the hand and is comfortable to hold, giving it an airy feel. Additionally, it offers eight express keys that can be programmed and are designed to facilitate smooth operation, which increases productivity.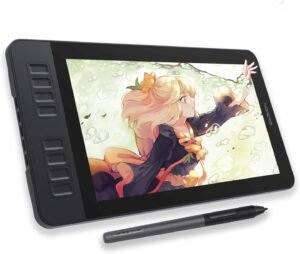 With 1920 x 1080 pixel resolution, the IPS panel is great too. It produces bright, crisp, and clear images through the screen. A pen is an essential tool for any designer or artist. It allows users to seamlessly draw on the screen by providing 8192 levels of pressure with the pen included with the Gaomon PD1161.
Hardware Specifications of

GAOMON PD1161

Active Area

256.32 x 144.18 mm (1920 x 1080)

Pressure Level
8192 Levels Rechargeable Pen
Express Keys
8
Multi-Touch
Yes
Weight
1.9 lbs
Compatibility
Windows and Mac
Size

11.6 inches

Battery
USB Based
The Huion Kamvas Pro 16 is one of Huion's many latest tablets in their Kamvas line of alluring monitors. It is a very precise tablet and it makes me question if the rest of their current lineup of Kamvas tablets is just as great.
This newer device is quite impressive, and although it highlights many plastic components, it does not feel at all like a modest piece of equipment. It looks comely good a lot of screens are going to the higher frequency displays like the Wacom Cintiq pro 16 which is complete 4k. This is swiftly becoming the symbol with drawing tablets in this industry and it is a big jump in position from older displays.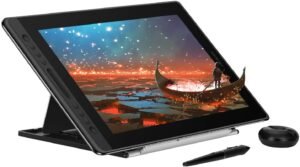 There was some detachment between where your pen tip was on that glass and where you viewed the cursor on the screen below it. The pen itself has 8,192 levels of pressure sensitivity which is pretty usual now.
And also I should lead out the pen is now battery-free. If you are considering getting one I would suggest purchasing one that won't disappoint you. Relatively this is a fabulous price for a device of this essence, and although it seems reasonable you can be confident that you are not getting a cheap piece of material.
Hardware Specifications of

HUION KAMVAS Pro 16

Dimension

17.24 x 9.88 x 0.47 inches (1920 x 1080)

Pressure Level
8192 Levels Rechargeable Pen
Express Keys
6+1 touch bar
Multi-Touch
Yes
Weight
2.9 lbs
Compatibility
Windows and Mac
Size

15.6 inches

Battery
USB-C Based
8. Wacom DTK1660K0A Cintiq 16 Drawing Tablet For Artist
Wacom's Cintiq 16 pen display tablet is among Wacom's least expensive tablets. Wacom Cintiq 16 is a cheaper alternative to the expensive Cintiq Pro drawing tablet made by Wacom. It is ideal for students, graduates of Intuos lines, and jobbing artists who cannot justify the price of a Cintiq Pro.
It has a diagonal display of 15.6 inches and has a 1,920×1,080 (full HD) screen resolution. Rather than an etched glass screen, this one has a textured anti-glare overlay and a TFT (thin-film transistor) liquid crystal display (LCD). In general, the onscreen feel is a very personal choice, and if you like the 'sliding on glass' feel of the iPad Pro and Pro models, this model is not for you.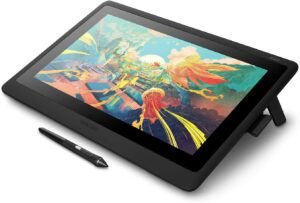 As far as sensitivity and build quality are concerned, the Pro Pen 2 always delivers. Wacom's pens do not require charging, which cannot be said for close competitors like the Huion KAMVAS and, of course, any of the Apple Pencils. In the new models, Huion has started giving away two pens, which is a good thing, but the best pen is always a chargeless one.
It is easier to use the Cintiq with a single cord coming from the top, compared to products with side connectors. In that cable, there is a USB-A connector, an HDMI connector, and a power connector. In case your laptop has a USB-C port or a display port, you will need an adapter to connect it to an HDMI port. You'll find only one power button on the right side of the screen, so accidental button presses are more difficult.
Hardware Specifications of

Wacom DTK1660K0A Cintiq 16

Active Area

13.6 x 7.6 inches (1920 x 1080)

Pressure Level
8192 Levels Rechargeable Pen
Express Keys
No
Multi-Touch
Yes
Weight
4.19 lbs
Compatibility
Windows and Mac
Size

15.6 inches

Battery
USB-C Based
9. Microsoft Surface Pro-6
Now again the Microsoft product is back to the race. We all know very well about this brand. When we talk about the quality product then this came into existence. Microsoft Surface Pro-6 is fully multi-functional and convertible to the studio, laptop, tablet mode.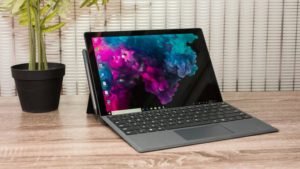 The artistic features of this product attract a user lot. We can draw over it with the help of the Surface Pen. The low weight and stylish look make it comfortable for the user.
Its lightweight provides convenience to use and carry. Processor and RAM help a lot for multitasking operations.
It also launched in different variants according to the user's needs. You can also read the complete review.
Hardware Specifications of Microsoft Surface Pro 6
Processor
Intel Core 8th Gen i5 or i7
RAM
8 GB
Storage
128 GB, 256 GB
Display
12.3" PixelSense Display
Camera
Rear- 8MP (Webcam)
Operating System
Windows 10 Home
Battery Life
13.5 hours
Weight
3.15 lbs
10. XP-Pen artist 12
A battery-free pen, a fully laminated textured screen, and pen tilt functionality come together to make XP-Pen Artist 12 XP-Pen's newest tablet. With top-of-the-line features on all fronts and a competitive price, this tablet looks promising based on its specs.
With its small form factor, the drawing monitor fits easily inside a laptop bag, as well as a whole host of other awesome features that make it irresistible.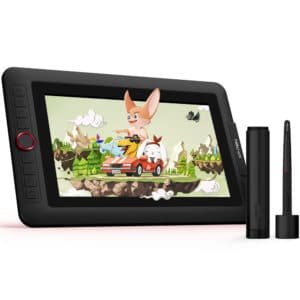 It is thin, sleek, and easy to use, making it a great choice for traveling. The build is sturdy and screams quality. Moreover, a drawing monitor must have good colors, a laminated display, and be laminated. You can assign specific functions to individual buttons thanks to the numerous programmable keys.
With the tablet's included pen, you don't have to worry about charging the pen before you can use it. An extra pen tip and tip replacement mechanism are included in the box, along with a pen holder.
On the front, Artist 12 is made of smooth plastic, and on the back, it is the same material. In case the tablet falls, the plastic panel provides more durability. There is only one color option available. A Full HD screen appears on the front of the drawing tablet along with six keys and a touch bar.
Hardware Specifications of XP-Pen artist 12
Dimension

13.84 x 8.87 x 0.51 inches (1920 x 1080)

Pressure Level
8192 Levels Rechargeable Pen
Express Keys
8
Multi-Touch
Yes
Weight
3.31 lbs
Compatibility
Windows and Mac
Size

11.6 inches

Battery
USB-C Based
11. Huion Kamvas 22 plus
By giving you full control of the cursor, Kamvas 22 Plus' laminated screen reduces parallax to the least amount possible. It also offers a natural pen-to-paper drawing sensation due to the etched anti-glare glass panel.
Kamvas 22 Plus can produce realistic colors with a 140% RGB color range thanks to Quantum Dot technology. In addition to this, the 1080p HD resolution, 1200:1 contrast ratio, and 178° viewing angle can make your artwork look exceptionally detailed and clear with remarkably vibrant color reproduction.
Huion PenTec3.0 makes the PW517 responsive to pen movements with virtually no lag since it uses capacitive pressure sensors. Improved nib firmness and shorter nibs improve accuracy by allowing the tip of the pen to barely bounce back, which would be difficult to achieve with longer nibs. PW517 offers 8192 pressure levels, tilt response, and lag-free tracking in addition to providing the most natural and accurate pen performance available.
With the included full-featured Type-C to Type-C cable or the included 3in1 Type-C cable, Huion Kamvas 22 Plus can be easily connected to your computer. You can connect flash drives, keyboards, mice, or other devices to USB-A ports. Easy-to-use connection design gives you greater ease of use and efficiency. An adjustable stand makes it easy to set up the desk in a comfortable position.
With Kamvas 22 plus drawing monitor, you can draw on your Mac (Mac OS 10.12 or later) or PC (Windows 7 or later) as well as on your Android device with the included fully-functioning USB-C cable. On a side note, your android device is supposed to support USB3.1 GEN1 or DP 1.2.
Hardware Specifications of Huion Kamvas 22 plus
Dimension

21.5 x 13 x 0.75 inches (1920 x 1080)

Pressure Level
8192 Levels Rechargeable Pen
Express Keys
No
Multi-Touch
Yes
Weight
8.6 lbs
Compatibility
Windows and Mac
Size

21.5 inches

Battery
USB-C Based
12. Wacom one
Finally, this brand makes a special place in the best tablets for artist segment due to its uniqueness and compatibility. There are various other pocket-friendly drawing tablets in the market but no one meets the quality of the drawing surface given by One by Wacom. Wacom is always appreciated for its excellent built quality no matter whether we talk of Budget Wacom tablet or the more costly models.
The exterior of One by Wacom is lightly textured. This surface texture gives small resistance to the stylus which makes the pen movements look more controlled. It has a display of 13.3″ which is quite decent and also works as a stand-alone artist's tablet.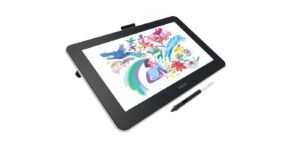 You get the Stylus, a large USB Cable, nib remover device, three other pen tips, and the tablet itself. For the new users, this is a decent piece as its screen helps to draw easily over it.
Measuring 0.6 by 14.1 by 8.9 inches and weighing 2.2 pounds, the Wacom One—which I'll simply call the One from here on—looks like a tablet, but with thick matte-black bezels (1.3 inches on the bottom, an inch on each side, and just under an inch on top).
On the top edge are a USB-C port and a fabric loop holder for the pen. The bottom of the tablet is white. A black strip conceals two fold-out legs that can prop the monitor at a 19-degree angle.
The bundled Wacom One Pen has 4,092 levels of pressure sensitivity and seemed reasonably responsive in my testing. It's not as sensitive as the Wacom Pro Pen 2, which we've seen in many Wacom products including the Cintiq 16, Cintiq 22, and Intuos Pro Small, and which boasts 8,192 levels of sensitivity. If I were a professional artist, I might be pickier, but I had no issue with the One Pen's responsiveness level.
While the Pro Pen 2 has three programmable buttons including an "eraser," the Wacom One Pen has only one.
Hardware Specifications of Wacom One
Dimension

8.86 x 14.05 x 0.57 inches (1920 x 1080)

Pressure Level
8192 Levels Rechargeable Pen
Express Keys
No
Multi-Touch
Yes
Weight
4.56 lbs
Compatibility
Windows and Mac
Size

13.3 inches

Battery
USB-C Based
Things To Consider Before Selecting Best Tablets For Artist
Every artist's tablets have their specifications according to the prize, brand, and size but it also depends upon the user that what they want. Let's see through one by one:-
Display Area
The area is where we move our stylus to draw or work. It's only depending on your interest and experience level that how much area you required to draw over it.
Most artist tablets have display areas labeled but keep sure about the area as its important to draw and also a key specification for the new users
Sensitivity
It means how much fast responsive your tablet is. As it is found in the user that his/her hardness of holding the brushes also affects the sensitivity of the tablets. The higher the sensitivity greater the response of the best tablets for artist.
Resolution
This is an important feature for artist tablet as this may also help to display over the big screen like projector, monitor, etc   
Pen
The main thing to worry about is that it should be wireless. Now day Electromagnetic Resonance (EMR) pens come into exists. Which provides greater reliability and sets the uses free from the wire and limited movement of the Stylus. So it's better to have an EMR stylus other than a wired or a battery-operated stylus.
Weight
Since these tablets don't need a different screen to display so their weights also give some problem or convenience to a user to carry or to use.
Frequently Asked Questions For Artist's Tablet:-
How much should I expect to spend on a tablet for artists?
A drawing tablet can range in price from about $30 to over $2500. Naturally, this depends on what you want. Without a screen, the average cost of a good tablet is roughly $74.4. A high-quality, screened drawing tablet typically costs around $850.
Are there any tablets for artists compatible with specific software, like Photoshop or Procreate?
While many tablets are compatible with artist software, the Apple iPad Pro is undoubtedly the best choice. Because of the tablet's speedy CPU and consistently accurate Apple Pen, using Photoshop and Procreate is surprisingly simple.
Are there any tablets for artists that have a similar feel to a Wacom tablet?
I have used drawing tablets with a more conventional design, such as graphics tablets and pen displays. The most excellent Wacom tablet alternatives for artists include the Huion Kamvas Pro 24 and Huion H430P.
Suggestions for tablets for artists with a large drawing area?
The Apple iPad Pro and Microsoft Surface Pro 8 are the most widely used tablets on the market. They can all be used independently with drawing software as sophisticated and feature-rich drawing tablets.
Are there any tablets for artists with high-resolution display screens?
The Samsung Galaxy Tab S6 Lite has a 10.4-inch Full HD+ (2000 x 1200 pixel) resolution TFT display, while the Apple iPad Pro runs on iPadOS and has an 11-inch. So, those two tablets are the best choices for artists who want to work on high-resolution display screens.
Any tablets for artists that have pressure sensitivity and tilt recognition?
Depending on how you move your wrist, pressure sensitivity can change the brush size, opacity, or flow, but tilt sensitivity is required to identify changes in roundness. So, the best tilt- and pressure-sensitive tablets for artists on the market are the Wacom Intuos CTL-4100/K0-CX and Lenovo Tab M10.
Are there any tablets for artists that have a built-in stand?
Unlike conventional drawing tablets, standalone drawing tablets include an internal computer that enables them to operate alone without requiring a connection to an external computer. It is evident that the Microsoft Surface Pro fully justifies the moniker of the "greatest standalone drawing tablet" on the market.
Is there any tablet that supports multitouch?
The Microsoft Surface Pro 3 MQ2-00001 12-inch Full HD tablet with 128 GB of storage is a multitouch tablet. It is the best-selling Microsoft Surface Pro 3 12-inch Windows tablet series. The MQ2-00001 isn't the lowest-end Surface Pro 3 configuration, but it is the most affordable one.
What is the viewing angle of an artist's tablet?
Learning to draw on an uneven surface will virtually remove the distortion you experience while sketching on a flat surface and help you sit in a less stressful position. The sketch pad doesn't have to be at the same angle as your subject; a 45-degree angle would do. It's equivalent to giving a slight nod while looking up and down.
Are there any tablets for artists that have a reasonable refresh rate?
Best for drawings and animations made with Android apps. The Samsung Galaxy Tab S8 Ultra and Wacom Cintiq 16 may be the best solo sketching tablets, if only for the size of their 14.6-inch SAMOLED displays and their quick 120Hz refresh rates.
Other Popular Tablets For Artists In 2023 [Summary]
Sale
Bestseller No. 1
Apple Pencil (2nd Generation)
Apple Pencil (2nd generation) brings your work to life. With imperceptible lag, pixel-perfect precision, and tilt and pressure sensitivity, it transforms into your favorite creative instrument, your paint brush, your charcoal, or your pencil.
It makes painting, sketching, doodling, and even note-taking better than ever.
It magnetically attaches to iPad, charges wirelessly, and lets you change tools with a simple double tap.
Compatible with iPad mini (6th generation), iPad Air (5th and 4th generation), iPad Pro 12.9-inch (3rd, 4th, 5th and 6th generations), iPad Pro 11-inch (1st, 2nd, 3rd and 4th generations)
Sale
Bestseller No. 2
Bravokids Toys for 3-6 Years Old Girls Boys, LCD Writing Tablet 10 Inch Doodle Board, Electronic Drawing Tablet Drawing Pads, Educational Birthday Gift for 3 4 5 6 7 8 Years Old Kids Toddler (Pink)
EYE PROTECTION COLOR SCREEN: 10-inch LCD colorful screen, easy for viewing and graffiti, free child's imagination. This kids drawing tablet without radiation, no glare, safe and comfortable, even kids use for a long time. Learning education toys birthday gifts for girls age 3-8.
PROTECT ENVIRONMENT: Over 100,000 times smoothly rewriting ,save thousands of paper and ink with just one drawing board, reduce tree felling. Protect our environment from now on!
EASY TO USE: Writing tablet doodle board creates lines as writing and drawing on paper, the different thickness based on how hard you push with stylus, nails, or any hard thing. Emptying the screen content in one second by press earse button, acheive time-saving and convenient using. Click lock key of doodle board to save the content.
PORTABLE AND DURABLE: Drawing tablets for kids is made of durable plastic, plus round corner design, anti-fall and anti-shock, no need to worry kids drop it. The drawing tablet weights only 150 grams, easy to carry, place in school bags, handbags, travel bags.
KEEP NOISY KIDS SLIENT: Are you facing the confusion how to quiet a noisy child?LCD Writing Tablet easily allows children to quietly immerse themselves in the rainbow world. The doodle board also can be used in multiple places: airplane, car, restaurant, sofa, etc. The perfect travel essentials for kids!!!
Sale
Bestseller No. 3
ORSEN LCD Writing Tablet Toddler Toys, 8.5 Inch Doodle Board Drawing Pad Gifts for Kids, Dinosaur Boy Toy Drawing Board Christmas Birthday Gift, Drawing Tablet for Boys Girls 2 3 4 5 6 Years Old-Green
🦕 【UNIQUE DINOSAUR DRAWING TOYS FOR KIDS】 Designed with super cute Dinosaur pattern, LCD writing tablet is a perfect learning toys for 3 4 5 6 7 8 years old boys. ORSEN doodle board helps toddlers free their imagination and creativity. It also can be used as a drawing pad, toddler drawing board, drawing tablets, writing board, light drawing pad for kids, scribble board, magic graphic tablet. An ideal toddlers toys & gifts for back to school, Birthday, Christmas, Thanksgiving Day, Easter etc.
🦕 【PERFECT SCREEN-TIME FREE ACTIVITY】 Drawing pad gifts for kids adopts highly sensitive pressure sensitive technology and smooth flexible LCD color screen, NO radiation, NO glare, NO blue light, NO harm to eyesight, very safe and comfortable for your kids to doodle anytime! Keep away from the mess of crayons, markers, or chalk! And drawing board kids christmas gifts will show different lines thinness if use different pressures while writing. What a magic drawing board toddler boy toys!
🦕 【EASY TO USE & ONE-CLICK CLEAR AND SCREEN LOCK】 Electronic educational toys for kids 5-7 drawing tablet is easy to use, just use stylus to write, draw, scribble, doodle anything you want! Travel toys writing board has erase key (dinosaur's eye) and screen lock function, emptying the screen content instantly and save it via lock button of writing tablet. Your Christmas Birthday Gifts First Choice! TIPS: Please DO NOT put kid learning toys drawing tablet in humid or high temperature places.
🦕 【SAFE & DURABLE & PORTABLE TODDLER LEARNING TOYS DRAWING PAD】 Made with safe & non-toxic & durable material, ensure the health and safety of your children; dinosaur toys drawing board for kids age 3-5 can write about 100,000 times, just like an endless paper! And the CR2032 button battery can be used for up to 6 months! Environmentally and save your money! 8.5 inch Lightweight kids drawing board is easy to carry anywhere (school, airplane, car, road trips, restaurant, sofa, outside etc.)
🦕 【WHAT YOU GET & CUSTOMER SERVICE】 1X 8.5" Kids Gifts LCD Doodle Board with Battery; 1X Stylus. ORSEN is dedicated to providing customers with the best products and services. Please feel free to contact us if any problems. TIPS: There may have scratches on the screen when opening package, which is caused by transportation, just press the erase button and the screen will be clear instantly.
Sale
Bestseller No. 4
ORSEN Colorful 8.5 Inch LCD Writing Tablet for Kids, Electronic Sketch Drawing Pad Doodle Board, Toddler Travel Learning Educational Toys Activity Games Birthday Gifts for 3 4 5 6 7 8 Year Old Girls
COLORFUL LCD WRITING TABLET FOR KIDS -- Four colors: blue, yellow, green and orange!The screen is 50% brighter than before, providing a better painting and writing experience. And kids can create lines with stylus or any hard objects, just like writing on paper
TODDLER GIRLS EDUCATIONAL LEARNING TOYS -- Fun activity for child! Keep the kids entertained with using their imagination + mess free coloring! They can play tic tac toe, hangman, practice letters etc. Great for 3 4 5 6 7 Year Old Girls!
GIFTS FOR GIRLS -- The kindergarten preschool drawing board gift is the best choice for kids. Birthday Gifts | Children's Day Gifts | Travel Gifts | Christmas Gifts
TRAVEL ACTIVITY DRAWING GAMES -- 0.183kg weight + 8.5 inch size of mini sketch pads. And aslo for Road Trip, they are so slim and light you can store them behind the seat in the pocket. Good Travel gifts for kids!
EYE PROTECTION -- The kids' electronics writing tablet adopt lcd screen, no radiation, no glare, Its safe and comfortable when children use for a long time. Your kids can freely release their natural instincts
Sale
Bestseller No. 5
ZMLM Boys Gift for Christmas Age 3-12: 10 Inch LCD Writing Tablet Electronic Drawing Art Pad Erasable Magic Learning Doodle Board Toddler Travel Boy Toy Activity Toy for Kids Girls Boy Birthday Gift
✍Super Valued LCD writing pad:Include all things 1*LCD tablet board, 1*stylus, 1*anti-lost hope,1*backup battery, 1*screwdriver and 2*3D stickers. Sketch doodle board let kids release natural instincts, enjoy painting, counting, spelling, scribble, doodle at any time without making mess【NOTICE: There may some traces left on screen due to long-term transport. It's normal, just press the erase button to clean】
✍Safe & Environment-friendly: Kids can draw amazing creative artworks safely with this nontoxic safe material toddler drawing tablet. The educational drawing pad can reuse 120,000+ times like an endless sheet of paper. We provide a replacement battery for long-term usage erasable writing board with low energy consumption
✍Easy to Use with Sensitive Tech: The rainbow digital coloring pad adopts pressure-sensitive technology to draw different thickness lines with your pressure. Easily to clear by ERASE button; Save your favorite artworks by switching LOCK button. Smart sketch pad travel toy bring you a vivid brighter drawing than paper
✍Eye Protection& Durable: The art doodle pad screen is no radiation, no glare, no blue light, no harm to protect eyes. The water proof screen and resistant shock proof case of this kids drawing gift is perfect for long time use and reduce the amount of time than children spend on phones tablets
✍Best Educational Learning Toy: This magic light board toy with 3D various animal stickers inspire brain development, thinking and learning. The kindergarten preschool drawing gift is the best choice for boys girls birthday game |Children's Day|holiday activity|back to school|Christmas gifts
Bestseller No. 6
LCD Writing Tablet for Kids, 2 Pack 10 Inch Colorful Screen Drawing Tablet with Stylus & Magnets, Erasable Doodle Board Including Copy Card, Learning Educational Toy Gift for 3+ Years Old Girls Boys
【2 PACK FOR SHARING】2 pack writing tablets solve the problem that kids fight for a single pad. The world has been set right. Wonderful! And the lightweight drawing pad is easy for kids to carry anywhere, suitable for occupying children's hours to provide parents a relaxing trip.
【LCD EYE-PROTECTING SCREEN】With a 10 inch pressure sensitive LCD screen, you can draw colorful lines of varying thickness with the included stylus or anything pointed but not too sharp, even your finger nail. No glare or blue light, radiation free, it can protect your kids' eyes even after long hours of use. And it's splashproof to prevent accidental spilling from destroying your work. Great tool for drawing, taking note, scribbling, etc.
【5 LEARNING COPY CARDS】Comes with 5 learning cards of cute-shaped animals & plants, space-related objects, numbers, etc., which can be taken out and facsimiled on the board by kids for learning math or animal / objects recognition, definitely an added source of fun for your kids.
【EASY TO USE】Including a replaceable button battery each pad, they come ready to use. Just pop the stylus out, scribble on the pad, press the delete button to clear the screen for a brand new masterpiece, and the lock switch on the back can keep your artwork on display till you decide to make a new design. They can be used repeatedly and save much paper and ink. The best alternative to pen and paper.
【PERFECT GIFT】Comes with spiral lanyard for attaching the stylus to the pad to avoid losing and magnets for sticking the pad to refrigerators, it can be used not only as doodle board for kids, but also message board/digital notepad for adults to leave messages/take quick notes/make daily to-do or grocery lists. It's a perfect gift for everyone on birthday, Thanksgiving, Christmas.
Sale
Bestseller No. 7
ORSEN 2 Pack LCD Writing Tablet for Kids, Colorful Doodle Board Drawing Pad for Kids, Learning Educational Toy Gift for Age 3 4 5 6 7 8 Year Old Girls Boys Toddlers
COLORFUL LCD WRITING TABLET FOR KIDS -- Four colors: blue, yellow, green and orange!The screen is 50% brighter than before, providing a better painting and writing experience. And kids can create lines with stylus or any hard objects, just like writing on paper
TODDLER GIRLS EDUCATIONAL LEARNING TOYS -- Fun activity for child! Keep the kids entertained with using their imagination + mess free coloring! They can play tic tac toe, hangman, practice letters etc. Great for 3 4 5 6 7 Year Old Girls!
GIFTS FOR GIRLS -- The kindergarten preschool drawing board gift is the best choice for kids. Birthday Gifts | Children's Day Gifts | Travel Gifts | Christmas Gifts
TRAVEL ACTIVITY DRAWING GAMES -- 0.183kg weight + 8.5 inch size of mini sketch pads, even the 18 month olds can carry them around! And aslo for Road Trip, they are so slim and light you can store them behind the seat in the pocket. Good Travel gifts for kids!
EYE PROTECTION -- The kids' electronics writing tablet adopt lcd screen, no radiation, no glare, Its safe and comfortable when children use for a long time. Your kids can freely release their natural instincts
Sale
Bestseller No. 8
Orsen LCD Writing Tablet 10 Inch, Colorful Doodle Board Drawing Pad for Kids, Drawing Board Writing Board Drawing Tablet, Educational Christmas Boys Toys Gifts for 3 4 5 6 Year Old Boys, Girls
Best Boy Girls Gift Toy - Perfect for kids who likes using their imagination to write and create with intention and purpose. Colorful LCD writing tablet gift for boys girls back to school, Easter, birthday!
Eye Protected Color Screen - ORSEN LCD writing Tablet adopt newest LCD pressure-sensitive technology, and has 10-inch LCD color large screen for easy viewing. The LCD screen of Writing Board without radiation and no glare, the boys girls toys is safe and comfortable, when children use for a long time.
Environmental-Friendly - The LCD Writing pad's battery can use 6 months (battery included). if the battery is exhausted, it can be replaced, and without charge or plug-in power, and the writing tablet can be reused 100000 times, and the stylus of girls toys can be hung on the writing board through the lanyard, you don't need to worry about the stylus disappear and reduce the money of paper.
Easy to Use - Writing and drawing on an LCD tablet is like writing and drawing on paper. It creates lines of different thickness based on how hard you push. You can be erased all content and pattern by pressing erase button of this boys girls toys. You also can lock the erase button, keep the pattern on the writing pad. Unlocking the erase button still erases the pattern.
Portable & Durable Doodle Board - ORSEN writing tablet weighs 150g and measures 10 inches. it is great for cars, airplanes, restaurants and on the go, and you can easy into backpack. LCD writing tablet's case is made from durable plastic materials, Its anti-shock and anti-fall and would be good boys and girls gifts toys for age 3-16.
Wrapping Up
A person's unique demands and tastes determine the finest tablet for artists. These tablets include excellent screens, pressure-sensitive styluses, and robust software ecosystems that enable artistic applications. However, I've also included a few well-liked options in this article that you may check out.
So, before making a choice, I suggest to conduct more research and consider variables like price, mobility, and required software compatibility.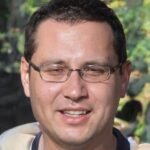 Ben Scott is a prominent technology journalist and reviewer, specializing in tablet devices. He is known for his comprehensive and unbiased reviews of tablets from various manufacturers.
With a deep understanding of tablet technology, including hardware components, operating systems, and software applications, Scott provides clear and informative reviews accessible to readers of all levels of technical expertise.
His attention to detail and in-depth analysis have earned him a loyal following of readers.