Are you an artist? Looking up the best tablets for artists? We'll help you today with our list of the best and most popular tablets for artists in 2021.
Artist tablets are quite similar to drawing tablets but have differences too. Before going to discuss the best tablets for the artist first let's know about the basic difference between Artist Tablet and Drawing Tablets.
The main difference between tablet PCs and a graphics tablet is apparent in the fact that Tablet PCs have screens you can draw on. While graphics tablets do not and further require a computer to run with but there are a few more details that you should know about as well.
If a user is new and doesn't have experience then he should use the artist tablets as it provides a screen to view the direct output under the drawing area but after the innovation, there are also many of the drawing tablets which have a screen.
If you directly want to go to the list of best tablets for artists click here.
But here let's discuss the best tablets for an artist under all the budget and according to the user and their needs.
XP-PEN Artist15.6 Pro- Best Tablet For Artists
Here's the best pick for the best tablet for artists, If you're looking for a reliable and feature-loaded tablet with unique features this XP-PEN Artist15.6 Pro Tablet is going be the best artist's tablet.
Some of the key features of XP-PEN Artist15.6 Pro are:
15.6-Inch active area
8192 levels pen pressure
Compatible with Windows 10/8/7, Mac OS X version 10.10
The lightweight of 1500 Grams
Including lots of accessories
4.7/5 Rating By Users
Things To Consider Before Selecting Best Tablets For Artist
Every artist's tablets have their specifications according to the prize, brand, and size but it also depends upon the user that what they want. Let's see through one by one:-
Display Area
The area is where we move our stylus to draw or work. It's only depending on your interest and experience level that how much area you required to draw over it.
Most artist tablets have display areas labeled but keep sure about the area as its important to draw and also a key specification for the new users
Sensitivity
It means how much fast responsive your tablet is. As it is found in the user that his/her hardness of holding the brushes also affects the sensitivity of the tablets. The higher the sensitivity greater the response of the best tablets for artist.
Resolution
This is an important feature for artist tablet as this may also help to display over the big screen like projector, monitor, etc   
Pen
The main thing to worry about is that it should be wireless. Now day Electromagnetic Resonance (EMR) pens come into exists. Which provides greater reliability and sets the uses free from the wire and limited movement of the Stylus. So it's better to have an EMR stylus other than a wired or a battery-operated stylus.
Weight
Since these tablets don't need a different screen to display so their weights also give some problem or convenience to a user to carry or to use.
Now let's see some of the best tablets for artist which suit every type of user under budget. We listed some of the drawing tablets to reduce your effort in every price range. It's not in a particular order but it depends upon the uses, budget, and types of the user.
Top Rated Best Tablet for Artists – Most Recommended In 2021
1. Simbans Picasso Tab – Budget Tablet For Artists
Now, this can call an economical product to earn billions by sketching and make it the best tablets for artist. This is an android based tablet with 1200 x 1800 pixels of resolution with a quad-core processor. It has a screen protection layer with an IPS display.
Connect with Wi-Fi, Bluetooth, and GPS. Many other apps like Google apps and Google Play. Its looks are very impressive and under budget with an active pen. The large memory space also allows storing many of the data without transferring it to other storage media.
Tablets come with cases, an active pen, a universal power adapter, and screen protectors already applied. Using this product while in class or at a meeting is a versatile way to take notes or draw. Neither right-handed nor left-handed people have problems using the product. Meanwhile, the original pen design provides excellent and effective performance combined with the pre-installed Sketchbook application. In addition, it comes with a case for protecting it and a charger.
The faux leather case offers a surprising amount of protection both on the front and back, as they are both very thick. Magnets are used to close the cover. Due to the lack of an auto-sleep function, you must power off the tablet before closing the cover to save battery life, or you can set your table to automatically sleep after a few minutes.
The Active pen is said to support 1024 pressure sensitivity levels as well as the rejection of palm prints. It does not require Bluetooth to function. The pen has surprisingly good build quality. The feel and weight are quite premium. Drawing with the tip is quite slippery since it is made of hard plastic. Thus, controlling it takes some practice. By default, the pen is powered by a single AAA battery. However, I'm unsure of the battery life. The battery life should be similar to that of the Microsoft Surface Pen. The pen doesn't have any shortcuts.
Overall, the tablet has a solid build quality. In comparison to more expensive tablets, it's not quite as premium or as stylish, but it's not horribly ugly. It has thick bezels, but that is not really a negative. Located on the sides of the device are the following ports: MicroSD card reader, 3.5mm audio jack, mini HDMI, and Type-C data and power.
There are usually no noticeable hiccups in performance. I would not say it's as fast as an Android tablet that's more expensive, but it certainly doesn't lag. With 2GB of RAM, you can only have a certain number of apps running in the background without the system lagging. The system can run up to 10 apps in the background with no lag before it starts to slow down.
Hardware Specifications of Simbans Picasso Tab
Processor
Quad-Core MTK8163 1.3GHz/Core
RAM
2 GB
Storage
32 GB
Display
10.1″ IPS display with 1280 x 800
Camera
Rear- 5MP| Front- 2MP
Operating System
Android 9.0 Pie
Battery Life
5-6 hours
Weight
2.91 lbs
2. Microsoft Surface Go 10"
It's perfect for all your daily tasks and compatible too. Its weight is less as compared to the other. Pen used in this is also lightweight with greater sensitivity and feels natural.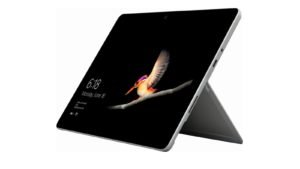 Attached with a multitasking removable keyboard with 4GB of RAM and 128GB SSD. The 4096 pressure point responds to the lightest touch. Tilt pen to shade like a pencil.
Just like other tablets you don't need to do other pc work on other devices when attached to the keyboard it works the same as a laptop or a personal computer.
Surface Go appears to have fairly thick bezels around all sides of the screen when viewed from the front. There is a lot of old-fashioned styling in the bezels when compared to current smartphones, and even the iPad Pro to a lesser extent. The sides and back are much more interesting, and this is where the Surface Go starts to feel like a premium device.
At the top of the device (when propped up with the kickstand) is a grey strip with the power and volume buttons. In the center, you'll find a noise-canceling microphone and a camera module, which give the back a two-tone finish.
Hardware Specifications of Microsoft Surface Go 10"
Processor
1.6 GHz 8032 Intel Pentium Gold
RAM
4 GB
Storage
128 GB
Display
10 inch Retina display with 1800 x 1200
Camera
Rear- 8MP (Webcam)
Operating System
Windows 10 Home
Battery Life
9 hours
Weight
1.15 lbs
3. XP-PEN Artist 15.6- Best Tablet For Artists In 2021
XP-PEN is a good line of middle to expensive products and XP-Pen 15.6 pro is one of them.
It also has 6 hard keys for the operation of operation. This stylus of a drawing tablet is wireless and not a chargeable stylus. Capable with all Mac and Windows-based systems, many of the apps like Photoshop and Photography studio software also run very fluently. Inbuilt with many other port like USB, Micro-SD, etc.
The visual of an angel is about 178 degrees and delivers rich colors, vivid images, and many more. Its slim body of 11mm also attracts a lot.
The display has an impressive gamut of 84 percent Adobe RGB, higher than the Cintiq 16, with a gamut of around 75 percent RGB. Although color accuracy is good, it is not perfect, so using a color calibrator will allow your artwork's colors to be printed accurately. Parallax is reduced by the laminated and bonded screen of the 15.6 Pro. Compared with the Cintiq, the parallax level is very low. It's a noticeable difference, but not too significant.
It comes with 8192-level pressure sensitivity and 60-degree tilt function. There are some caveats here; the tilt feature isn't as sensitive as the Pro Pen 2 in the Cintiq, and when angled, the cursor appears to be off by a considerable distance from the nib, which is frustrating.
A budget-friendly alternative to the Wacom Cintiq 16, the XP Pen Artist 15.6 Pro is right now the best screen tablet. Featuring a good screen with low parallax, a useful shortcut key set, and a limited tilt feature, this tablet is an excellent choice. The competition with Wacom is welcome. In comparison with the Cintiq, however, the 15.6 Pro does not perform as well in regards to color accuracy, build quality, surface quality, or line drawing quality. You can read the complete review here
Hardware Specifications of XP-PEN Artist 15.6 Pro
Active Area
15.6″
Pressure Level
8192+
Express Keys
8
Multi-Touch
Yes
Weight
8.82 lbs
Stylus
PO5R Battery-free
Size
17.52 x 11.22 x 0.43 inches
Tilt Support
Yes (178 degrees)
4. Gaomon PD1560 Pro
Gaomon PD1560 is quite an expensive products.  But its features can easily overcome its price. The full HD screen allows the user to display on the high resolution. Drawing space satisfies your needs on creative space, ensures the fineness, definition, and accuracy of image color and lines. It is also among the list of portable drawing tablets which is used by artists.
The shortcut keys and menu key is best for creative habits, to make operation efficient and save time too. Its pressure level is 8192 which provides more accuracy and efficient movement. The battery life is quite low i.e. 2 – 2.5 hours due to its large display and HD resolution.
Its weight gives an advantage of the tilting angle of 178 degrees for a better view.
The number of extras included was impressive; aside from the tablet, stylus, and cables, you get a stand with an adjustable height, a stylus holder, a drawing glove, a stick-on screen protector, and a carrying case.
Drawing on the Gaomon is somewhat different than working on the Wacom Cintiq, as it is less organic. Despite the Gaomon's 8,192 levels of pressure sensitivity, its parallax feels more pronounced compared to the Cintiq's, as well as the same level of sensitivity as its Wacom rival.
Gaomon's PD1560 is a competent and reliable product that does the job for which it was designed. When measured against the Wacom Cintiq, it, however, lacked several essential features. The parallax is an issue, as well as the pressure detection, which feels less organic. I do not believe that any of these are deal-breakers or that this tablet is any less of an effective tool, but it did highlight how the design of Wacom manages to be incredibly comfortable and intuitive to the point where it becomes almost invisible.
Hardware Specifications of Gaomon PD1560 Pro
Active Area
13.5 x 7.6  inches (1920 x 1080)
Pressure Level
8192 Levels Rechargeable Pen
Express Keys
10
Multi-Touch
Yes
Weight
3.48 lbs
Compatibility
Windows and Mac
Size
 15.6 inches
Battery
2.5 Hrs
5. GAOMON PD1161 – Best tablets for artist
Gaomon has recently launched the tablet, the PD1161. It is quite affordable and rules the lower-end market after many brands like Huion and many more. If you are a beginner or indulge in some training for enhancing your creative skills in animation and drawing then picking the PD1161 is the ideal option.
Despite its round curves, it feels very sturdy in the hand and is comfortable to hold, giving it an airy feel. Additionally, it offers eight express keys that can be programmed and are designed to facilitate smooth operation, which increases productivity.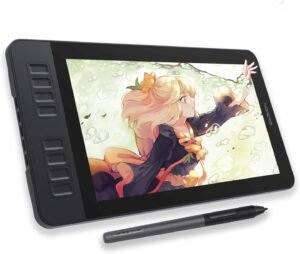 With 1920 x 1080 pixel resolution, the IPS panel is great too. It produces bright, crisp, and clear images through the screen. A pen is an essential tool for any designer or artist. It allows users to seamlessly draw on the screen by providing 8192 levels of pressure with the pen included with the Gaomon PD1161.
Hardware Specifications of

GAOMON PD1161

Active Area

256.32 x 144.18 mm (1920 x 1080)

Pressure Level
8192 Levels Rechargeable Pen
Express Keys
8
Multi-Touch
Yes
Weight
1.9 lbs
Compatibility
Windows and Mac
Size

11.6 inches

Battery
USB Based
6. HUION KAMVAS Pro 16 Artist Tablet
The Huion Kamvas Pro 16 is one of Huion's many latest tablets in their Kamvas line of alluring monitors. It is a very precise tablet and it makes me question if the rest of their current lineup of Kamvas tablets is just as great.
This newer device is quite impressive, and although it highlights many plastic components, it does not feel at all like a modest piece of equipment. It looks comely good a lot of screens are going to the higher frequency displays like the Wacom Cintiq pro 16 which is complete 4k. This is swiftly becoming the symbol with drawing tablets in this industry and it is a big jump in position from older displays.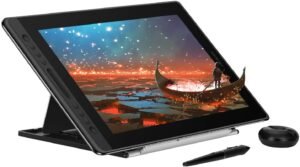 There was some detachment between where your pen tip was on that glass and where you viewed the cursor on the screen below it. The pen itself has 8,192 levels of pressure sensitivity which is pretty usual now.
And also I should lead out the pen is now battery-free. If you are considering getting one I would suggest purchasing one that won't disappoint you. Relatively this is a fabulous price for a device of this essence, and although it seems reasonable you can be confident that you are not getting a cheap piece of material.
Hardware Specifications of

HUION KAMVAS Pro 16

Dimension

17.24 x 9.88 x 0.47 inches (1920 x 1080)

Pressure Level
8192 Levels Rechargeable Pen
Express Keys
6+1 touch bar
Multi-Touch
Yes
Weight
2.9 lbs
Compatibility
Windows and Mac
Size

15.6 inches

Battery
USB-C Based
7. Wacom DTK1660K0A Cintiq 16 Drawing Tablet For Artist
Wacom's Cintiq 16 pen display tablet is among Wacom's least expensive tablets. Wacom Cintiq 16 is a cheaper alternative to the expensive Cintiq Pro drawing tablet made by Wacom. It is ideal for students, graduates of Intuos lines, and jobbing artists who cannot justify the price of a Cintiq Pro.
It has a diagonal display of 15.6 inches and has a 1,920×1,080 (full HD) screen resolution. Rather than an etched glass screen, this one has a textured anti-glare overlay and a TFT (thin-film transistor) liquid crystal display (LCD). In general, the onscreen feel is a very personal choice, and if you like the 'sliding on glass' feel of the iPad Pro and Pro models, this model is not for you.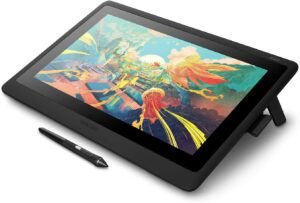 As far as sensitivity and build quality are concerned, the Pro Pen 2 always delivers. Wacom's pens do not require charging, which cannot be said for close competitors like the Huion KAMVAS and, of course, any of the Apple Pencils. In the new models, Huion has started giving away two pens, which is a good thing, but the best pen is always a chargeless one.
It is easier to use the Cintiq with a single cord coming from the top, compared to products with side connectors. In that cable, there is a USB-A connector, an HDMI connector, and a power connector. In case your laptop has a USB-C port or a display port, you will need an adapter to connect it to an HDMI port. You'll find only one power button on the right side of the screen, so accidental button presses are more difficult.
Hardware Specifications of

Wacom DTK1660K0A Cintiq 16

Active Area

13.6 x 7.6 inches (1920 x 1080)

Pressure Level
8192 Levels Rechargeable Pen
Express Keys
No
Multi-Touch
Yes
Weight
4.19 lbs
Compatibility
Windows and Mac
Size

15.6 inches

Battery
USB-C Based
8. Microsoft Surface Pro-6
Now again the Microsoft product is back to the race. We all know very well about this brand. When we talk about the quality product then this came into existence. Microsoft Surface Pro-6 is fully multi-functional and convertible to the studio, laptop, tablet mode.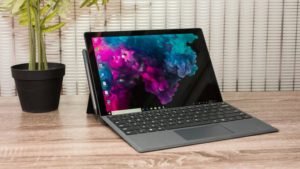 The artistic features of this product attract a user lot. We can draw over it with the help of the Surface Pen. The low weight and stylish look make it comfortable for the user.
Its lightweight provides convenience to use and carry. Processor and RAM help a lot for multitasking operations.
It also launched in different variants according to the user's needs. You can also read the complete review.
Hardware Specifications of Microsoft Surface Pro 6
Processor
Intel Core 8th Gen i5 or i7
RAM
8 GB
Storage
128 GB, 256 GB
Display
12.3" PixelSense Display
Camera
Rear- 8MP (Webcam)
Operating System
Windows 10 Home
Battery Life
13.5 hours
Weight
3.15 lbs
9. XP-Pen artist 12
A battery-free pen, a fully laminated textured screen, and pen tilt functionality come together to make XP-Pen Artist 12 XP-Pen's newest tablet. With top-of-the-line features on all fronts and a competitive price, this tablet looks promising based on its specs.
With its small form factor, the drawing monitor fits easily inside a laptop bag, as well as a whole host of other awesome features that make it irresistible.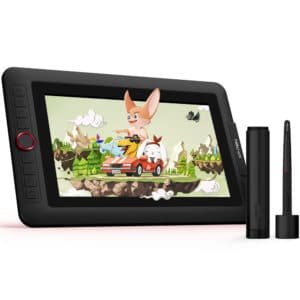 It is thin, sleek, and easy to use, making it a great choice for traveling. The build is sturdy and screams quality. Moreover, a drawing monitor must have good colors, a laminated display, and be laminated. You can assign specific functions to individual buttons thanks to the numerous programmable keys.
With the tablet's included pen, you don't have to worry about charging the pen before you can use it. An extra pen tip and tip replacement mechanism are included in the box, along with a pen holder.
On the front, Artist 12 is made of smooth plastic, and on the back, it is the same material. In case the tablet falls, the plastic panel provides more durability. There is only one color option available. A Full HD screen appears on the front of the drawing tablet along with six keys and a touch bar.
Hardware Specifications of XP-Pen artist 12
Dimension

13.84 x 8.87 x 0.51 inches (1920 x 1080)

Pressure Level
8192 Levels Rechargeable Pen
Express Keys
8
Multi-Touch
Yes
Weight
3.31 lbs
Compatibility
Windows and Mac
Size

11.6 inches

Battery
USB-C Based
10. iPad Pro 12.9
With its sleek design and premium feel, the iPad Pro 2021 looks the same as previous models – it's still a great-looking device that's durable and looks great.
A few things to keep in mind about the new iPad Pro: It's big. The size of the 12.9-inch display makes this a relatively large slate, and many users will prefer something smaller, such as an 11-inch slate smaller, like the iPad Mini 2019. If you're okay with a larger design, you'll also benefit from a larger display.
Aluminum makes up the tablet's back and frame, while the glass on the front is scratch-resistant – but if you want maximum protection from knocks and scrapes, you'll have to buy a case.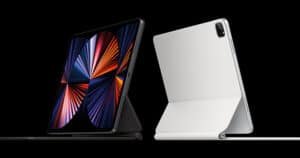 Two speakers are on the top side of the device, and two are on the bottom. Also on the bottom is a Thunderbolt port and a USB-C port.
Its display features new Mini LED technology that offers a crisp image with better brightness than previous models. We have found it to provide a great viewing experience, which the company calls Liquid Retina XDR.
With a peak brightness of 1600 nits, this lamp's maximum setting can sometimes be too bright in everyday use. Additionally, the display features a 120Hz refresh rate, which means the screen updates twice as fast as other tablets, giving it a smoother appearance and feel.
It has a performance we've yet to see on a tablet, one that's quite simply the best we've ever seen. We may have hedged a little with previous iPad Pros and said they were among the best-performing tablets, but this is a step above what we've seen with previous iPads and Android slates.
Among the new features of its top-end Macs in 2020 is Apple's latest M1 chipset.
Hardware Specifications of iPad Pro 12.9
Processor
Apple M1 chip
RAM
4/6 GB
Storage
128 GB, 256 GB
Display
12.3" PixelSense Display
Camera
Rear- 12+10 MP | Front- 12 MP
Operating System
iOS
Battery Life
10 hours
Weight
2.65 lbs
11. Huion Kamvas 22 plus
By giving you full control of the cursor, Kamvas 22 Plus' laminated screen reduces parallax to the least amount possible. It also offers a natural pen-to-paper drawing sensation due to the etched anti-glare glass panel.
Kamvas 22 Plus can produce realistic colors with a 140% RGB color range thanks to Quantum Dot technology. In addition to this, the 1080p HD resolution, 1200:1 contrast ratio, and 178° viewing angle can make your artwork look exceptionally detailed and clear with remarkably vibrant color reproduction.
Huion PenTec3.0 makes the PW517 responsive to pen movements with virtually no lag since it uses capacitive pressure sensors. Improved nib firmness and shorter nibs improve accuracy by allowing the tip of the pen to barely bounce back, which would be difficult to achieve with longer nibs. PW517 offers 8192 pressure levels, tilt response, and lag-free tracking in addition to providing the most natural and accurate pen performance available.
With the included full-featured Type-C to Type-C cable or the included 3in1 Type-C cable, Huion Kamvas 22 Plus can be easily connected to your computer. You can connect flash drives, keyboards, mice, or other devices to USB-A ports. Easy-to-use connection design gives you greater ease of use and efficiency. An adjustable stand makes it easy to set up the desk in a comfortable position.
With Kamvas 22 plus drawing monitor, you can draw on your Mac (Mac OS 10.12 or later) or PC (Windows 7 or later) as well as on your Android device with the included fully-functioning USB-C cable. On a side note, your android device is supposed to support USB3.1 GEN1 or DP 1.2.
Hardware Specifications of Huion Kamvas 22 plus
Dimension

21.5 x 13 x 0.75 inches (1920 x 1080)

Pressure Level
8192 Levels Rechargeable Pen
Express Keys
No
Multi-Touch
Yes
Weight
8.6 lbs
Compatibility
Windows and Mac
Size

21.5 inches

Battery
USB-C Based
12. Wacom one
Finally, this brand makes a special place in the best tablets for artist segment due to its uniqueness and compatibility. There are various other pocket-friendly drawing tablets in the market but no one meets the quality of the drawing surface given by One by Wacom. Wacom is always appreciated for its excellent built quality no matter whether we talk of Budget Wacom tablet or the more costly models.
The exterior of One by Wacom is lightly textured. This surface texture gives small resistance to the stylus which makes the pen movements look more controlled. It has a display of 13.3″ which is quite decent and also works as a stand-alone artist's tablet.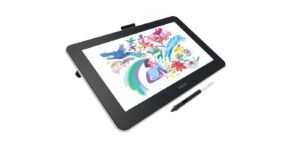 You get the Stylus, a large USB Cable, nib remover device, three other pen tips, and the tablet itself. For the new users, this is a decent piece as its screen helps to draw easily over it.
Measuring 0.6 by 14.1 by 8.9 inches and weighing 2.2 pounds, the Wacom One—which I'll simply call the One from here on—looks like a tablet, but with thick matte-black bezels (1.3 inches on the bottom, an inch on each side, and just under an inch on top).
On the top edge are a USB-C port and a fabric loop holder for the pen. The bottom of the tablet is white. A black strip conceals two fold-out legs that can prop the monitor at a 19-degree angle.
The bundled Wacom One Pen has 4,092 levels of pressure sensitivity and seemed reasonably responsive in my testing. It's not as sensitive as the Wacom Pro Pen 2, which we've seen in many Wacom products including the Cintiq 16, Cintiq 22, and Intuos Pro Small, and which boasts 8,192 levels of sensitivity. If I were a professional artist, I might be pickier, but I had no issue with the One Pen's responsiveness level.
While the Pro Pen 2 has three programmable buttons including an "eraser," the Wacom One Pen has only one.
Hardware Specifications of Wacom One
Dimension

8.86 x 14.05 x 0.57 inches (1920 x 1080)

Pressure Level
8192 Levels Rechargeable Pen
Express Keys
No
Multi-Touch
Yes
Weight
4.56 lbs
Compatibility
Windows and Mac
Size

13.3 inches

Battery
USB-C Based
Other Popular Tablets For Artists In 2021 [Summary]
Sale
Bestseller No. 1
XOPPOX Graphics Drawing Tablet 10 x 6 Inch Large Active Area with 8192 Levels Battery-Free Pen and 12 Hot Keys, Compatible with PC/Mac/Android OS for Painting, Design & Online Teaching
Broad compatibility: XOPPOX graphics tablet compatible with Windows Xp, 7, 8, 10. Android 4.4 and above; Mac OS 10.7.0 and above(Not compatible with iPhone/iPad/Chromebook) NOTE: for Mac user, Security & Privacy's permission is necessary for Accessibility/Input Monitoring/ Full Disk Access when installation completed.
No-battery Pen: The graphic drawing tablet come with 8192 levels of pressure sensitivity pen, which makes the line more smoother and natural. This battery-free pen not need to charge, and you not need to consider whether the battery will run out, and the packing include 20 replacement nibs.
Convenient Shortcut Keys: Designed with 12 customizable shortcut keys and 10 multimedia Keys(Only Compatible for Windows), provides more convenience to help improve productivity and efficiency when creating tablet drivers with graphics tablet that allow shortcuts to many different software.
Easy to Install: When connecting the graphics tablet to the computer, you will find the installation driver on the removable disk of my computer and then install it. NOTE: you need to perform some settings and restart your computer after the installation is successful before use; Please contact our Technical Support Team directly from the official website to get a quick and professional reply if any question about the product.
Wide range of use: XOPPOX drawing tablet is well compatible with office software like Microsoft office Word, Excel, Power Point, etc. It is ideal for online teaching, online class, remote work, web conference, presentation and so on. Also compatible with most major software including: Photoshop, SAI, FlipaClip, Medibang, Adobe illustrator, Lightroom and more.
Sale
Bestseller No. 2
GAOMON S620 6.5 x 4 Inches Graphics Tablet with 8192 Passive Pen 4 Express Keys for Digital Drawing & OSU & Online Teaching-for Mac Windows Andorid OS
【FOR ONLINE MEETING & ONLINE CLASS】You can use GAOMON S620 pen tablet for online education and remote meeting. It works with most online meeting programs, like Zoom, and so on. 【FOR DIGITAL ART & CREATION】-- Not only for beginner but also for professionalists in digital drawing, sketching, graphics design, 3D art work, animation, etc. 【FOR ANNOTATING AND SIGNATURE】--You can sign and write in excel, word, pdf, ppt, etc. 【FOR Osu! & GAMING】--It's a large help for playing rythm games like Osu!
【PASSIVE PEN】--Battery-free pen cuts the inconveneince of charging the pen. 【8192 HIGH LEVEL PEN PRESSURE & 4 CUSTOMIZABLE EXPRESS KEYS】It will provide you precise control and accuracy at your fingertips, to bring more natural lines and enhance creative performance. 4 customizable express keys could be set to more functions as you like. Using them while working will largely improve your work flow.
【COMPATIBILITY OR APPLICATION】-- It compatible with Windows OS 7/8/10 or above and mac-10.12 or above. Work with most art programs like Adobe Photoshop, Illustrator, Clip Studio, Lightroom, Sketchbook Pro, Manga Studio, CorelPainter, FireAlpaca, OpenCanvas, Paint Tool Sai2, Krita and so on. 【WORK WITH ANDROID DEVICES】--It works with android devices with 6.0 or above system which support OTG function. 【NEED PURCHASE EXTRAUSB ADAPTERS FOR ANDROID DEVICES】
【266 PPS REPORT RATE + 5080LPI RESOLUTION + 10MM PEN READING HEIGHT + 6.5*4 INCHES ACTIVE AREA】-- This size is more portable and lightweight, easy to be carried around in the laptop bag to the workplace, school, and travel. But it's also big enough for digital painting, handwriting, playing games and animation design, etc.
【HUMANIZED DESIGN】-- 4 rubber feet are created to ensure the stability of the tablet from slipper. 【LEFT & RIGHT HANDED SUPPORT】--Set 180 degree roate inside GAOMON Driver to set left hand mode.
Bestseller No. 3
GAOMON PD1161 11.6 Inches Tilt Support Drawing Pen Display with 8192 Levels Pressure Sensitive Battery Free Pen AP50 and 8 Shortcut Keys
[11.6-Inches 1080P HD IPS Monitor]--GAOMON PD1161 drawing monitor comes with 1920x1080 HD IPS monitor paired with 72% NTSC(100%SRGB) Color Gamut, work area is 256.32×144.18mm (10*5.7 inch). High-end monitor ensure a more vivid display. Signal Output: Mini HDMI &Type-C; Viewing angle: 178°。
[±60 Degree Tilt Function]--GAOMON PD1161 graphic pen display support ±60 degree Tilt function. We can freely draw from various angles according to the subtle pressure differences, and every detailed modification will be recognized immediately.
[8192 Levels Battery-free Pen AP50 ]-- Say good bye to battery.No need to charge pen anymore, which is an humanized and environment-friendly design. The tablet equip with 8192 levels pen pressure, the thickness of the lines will change with the pressure you put on the pen, making the lines more natural and smooth. Two programmable hot-keys on pen body, and the default setting is erase and mouse right click.【8 Replacement nibs】--The replacement nibs inside of the pen holder.
[Warm Reminder]-- GAOMON PD1161 drawing pen display is not a standalone product, it must be used with a computer which running windows or mac OS. It not compatible with Chrombook (chrome OS) . [8 ProgrammableShortcut Keys]-- You can set shortcut keys on tablet driver based on your preferences, such as erase, zoom in/out, scroll up and down, and so on.
[OS Support& Art Program Compatibility]-- GAOMON PD1161 art tablet support Windows 7/8/8.1/10 or later, Mac OS 10.12 or later; Compatible with gimp,firealpaca,krita,medibang,zbrush,blender,Inkscape,Photoshop, Adobe illustrator, adode premiere, adobe after effect, sai version 2, clip studio paint, Corel Paintshop Pro,Autodesk Mudbox, Lightroom, Sketchbook Pro,etc. [WIDELY APPLICATION]-- Drawing, photography, animation,sketching, image editing, 3D sculpture, architectural designers ect.
Bestseller No. 4
Wacom DTK1660K0A Cintiq 16 Drawing Tablet with Screen
A more affordable pen Display with Wacom Pro Pen 2 technology, 8,192 pressure levels and tilt recognition; It's amazing precision and reduced Parallax provide the most natural drawing experience
Cintiq's 15.6 inch 1920x1080 HD displays provide you with clarity to see every detail of your work; The scratch resistant, anti-glare surface prevents distracting reflections as you create
See your creations in vibrant color on the Cintiq's HD display (16.7 million colors bit, 72 percentage NTSC/Cie1931 typical); Work as long as you'd like with the battery free pen that charges off the screen while you create
Connect to your computer with the convenient 3 in 1 (HDMI) connection cable and get into the perfect position with foldable legs that let you adjust how you want to work; Brightness 250 CD/m2
Warning: Manufacturer's warranty is only valid when purchased from an authorized reseller or amazon
Bestseller No. 5
VEIKK VK1200 Drawing Tablet with Screen 11.6 inch Full-Laminated Art Tablet Graphic Tablet with Screen with Tilt Function Battery Free Stylus and 6 Shortcut Keys(8192 Levels Pen Pressure)
【Full-Laminated Technology】 VEIKK VK1200 drawing tablets with screen chooses full laminated screen which combining the glass and screen seamlessly. This ensures the accuracy of the cursor position and the lowest parallax. VK1200's active area is 11.6 inch with anti-glare film, it can protect the screen from scratches and offer a real paper-like drawing experience.1920x1080 HD IPS drawing monitor with120% sRGB gamut.
【Tilt Function and 8192 levels pressure battery-free pen】VK1200 computer graphics tablets provides the battery-free pen with 8192 levels pen pressure, and it supports up to 60 degrees tilt function. The pen don't have battery and no need to charge for uninterrupted use.
【6 Customizable Shortcut Keys】6 shortcut keys can be customized according to your drawing habit in different softwares. It can improve the efficiency and create a highly ergonomic and convenient work platform.
【Small and Stylish】VK1200 pen display adopts full screen design, it is all screen infinity display,almost no frame. With the same active area of 11.6 inch, VK1200 drawing monitor is more compact, stylish and easy to carry on the go. VK1200 graphics tablet is All-Metal Body, the back adopts anti-slip design to provide better drawing experience.
【More accessories】 VK1200 graphics tablet with screen comes with TWO pens in the package for longer time using experience.It also includes extra 28 pen nibs,1 artist glove,1 pen holder and clean cloth etc. All VEIKK drawing tablets and drawing tablets with screen have 1 year hardware warranty and lifetime technical support.
Sale
Bestseller No. 6
Graphics Drawing Tablet, UGEE M708 10 x 6 inch Large Drawing Tablet with 8 Hot Keys, Passive Stylus of 8192 Levels Pressure, UGEE M708 Graphics Tablet for Paint, Design, Art Creation Sketch
【Large Active Drawing Space】: UGEE M708 V2 graphic drawing tablet, features 10 x 6 inch large active drawing space with papery texture surface, provides enormous and smooth drawing for your digital artwork creation, offers no-lag sketch, painting experience;
【8192 Passive Stylus Technology】: A more affordable passive stylus technology offers 8192 levels of pressure sensitivity allows you to draw accurate lines of any weight and opacity according to the pressure you apply to the pen, sharper line with light pressure and thick line with hard pressure, perfect for artistry design or unique brush effect for photo retouching;
【Compatible with Multiple System&Softwares】: Powerful compatibility, tablet for drawing computer, perform well with Windows 10 / 8 / 7 and Mac OS X 10.10 or above; Driver program works with creative software such as Photoshop, Illustrator, Macromedia Flash, Comic Studio, SAI, Infinite Stratos, 3D MAX, Autodesk MAYA, Pixologic ZBrush and more;
【Ergonomically Designed Shortcuts】: 8 customizable express keys on the side for short cuts like eraser, zoom in and out, scrolling and undo, provide a lot more for convenience and helps to improve the productivity and efficiency when creating with the drawing tablet;
❤Easy to Set Up& Best Customer Service❤: Suits for both right and left hand user with the pen holder and extra pen tips, ideal for professional artist, newbie designer and amateur hobbyist of all kind, provides 12-month hussle free warranty service and clock customer service;
Bestseller No. 7
2020 HUION KAMVAS 13 Graphics Drawing Tablet with Full-Laminated Screen Android Support Battery-Free Sylus Tilt 8 Press Keys,13.3inch Pen Display,Black
Full Lamination Technology: Kamvs 13 is a more affordable graphic display with full-laminated screen. The seamless combination of screen and glass will bring you the most natural drawing experience with precise cursor positioning and the lowest parallax.The scratch-resistant anti-glare film prevents any unwanted distracting reflection. The 13.3inch 1920x1080 HD monitor with 120%s RGB gamut,16.7 million colors and 178° viewing angle presents you vibrant color and every detail of your creation.
Premium Pen Technology: Benefit from the Huion PenTec3.0, PW517 is optimized with Capacitive Pressure Sensor making it ultra responsive to every pen movement without any lag. Additionally, shorten pen nibs (3.5mm only)and better nib firmness make the pen tip barely bounce back to improve accuracy and reduce offset. Along with 8192 pressure levels, 60 degrees of tilt function and 266pps of report rate, PW517 delivers the most accurate and advanced pen performance and realistic pen-on-paper feel.
Easy Cable Connection: Kamvas 13 comes with 2 Type-C ports.The upper port is for a 3in1 Type-C to HDMI connection while the lower port is for a full-featured Type-C to Type-C single cable connection(sold separately).It can be powered directly by a laptop that runs on 5 volts or above via the USB cable while no extra power supply is needed. No need to connect with AC power adapter any more. The user-friendly connection design will bring you better convenience convenience and higher efficiency.
Android Devices Supported: Kamvas 13 could work with Mac(MacOS 10.12 or later) and Windows computer(Windows 7 or later), plus, you can also connect it to your android smartphones and tablets with the full-featured Type-C cable.The HUION Kamvas 13 drawing monitor will be the best companion as an extended display for web conference and remote learning when working from home.11.8mm ultra slim in thickness and 980g in weight make it an easy-to-carry pen display for outdoor drawing.
Optimize your Workflow: The Kamvas 13 has 8 programmable hot-keys along the side which provides a ton of convenience for graphic design work.And 2 customizable switches on the stylus allow for easy access to shortcuts. You could draw with Kamvas 13 in any creative software including Illustrator, Photoshop, Painter, SAI, Krita, Mediband and so on.
Bestseller No. 8
XP-PEN Artist 22 (2nd Generation) Drawing Monitor Digital Drawing Tablet with Screen 21.5 Inch Graphics Display
XP-PEN Artist 22 (2nd Generation) Drawing Tablet comes with a strikingly large 21.5-inch display. It features 1080p resolution, has a superb color accuracy of 86% NTSC (Adobe RGB≥90%,sRGB≥122%), and delivers more vibrant and realistic images and videos
Artist 22 (2nd Generation) Drawing Monitor supports a USB-C to USB-C connection, which allows you to connect your iMac, Mac Book Pro, or Windows computer without using an adapter. Or register your XP-PEN Artist22 2nd drawing tablet on xppen web to apply for an ArtRage 5, openCanvas, and Cartoon Animator 4 Pipeline drawing program
The battery-free stylus supports up to 60 degrees of tilt function and 8,192 pressure sensitivity levels, helping you to effortlessly create exquisite strokes and seamless shading
With better accuracy, the Artist 22 (2nd Generation) lets you draw with more precise cursor positioning, even at the four corners. This ensures a satisfying drawing experience. In addition, it responds nimbly to any pen movement and ensures the swift and smooth presentation of every line and stroke input onto the screen, bringing you a real drawing experience
XP-PEN Artist 22 (2nd Generation) Graphics Tablet supports Windows 10/8/7, Mac OS X 10.10 (and higher), and Linux. It is also compatible with popular digital art software, such as Adobe Photoshop, Illustrator, SAI, CDR, GIMP, Krita, MediBang, FireAlpaca, and Blender 3D. Notes: XP-PEN provides a one-year warranty and lifetime technical support for all our pen tablets/displays
Wrapping Up
I tried my best to list out the best tablets for artist that can fit under your budget and you get all the features too. There are a lot of tablets for artists out there, but we pick up the top 10 best tablets for artist for you. I've posted about the best drawing tablets under $200 for you as well. If you have budget issues you can check it out.
Make sure you leave your valuable opinion in the below comments.