Standalone drawing tablet can be a better choice for you if you are looking for a medium to explore your creative skills. There are many drawing tablets available on the internet, but they all require to be connected to a screen or computer.
So the best option is to get yourself a standalone drawing tablet, which doesn't require connecting to a computer screen or a drawing pad. This is going to be an excellent option for those who are just starting their digital journey.
Now, You must be searching for some best standalone drawing tablets? I'm here to help you out.
I have curated a list of various standalone drawing tablets. I will share a list of the best and most popular standalone tablets for drawing available on the internet.
If you don't know what standalone tablets are, let's know about them.
What Is A Standalone Drawing Tablet?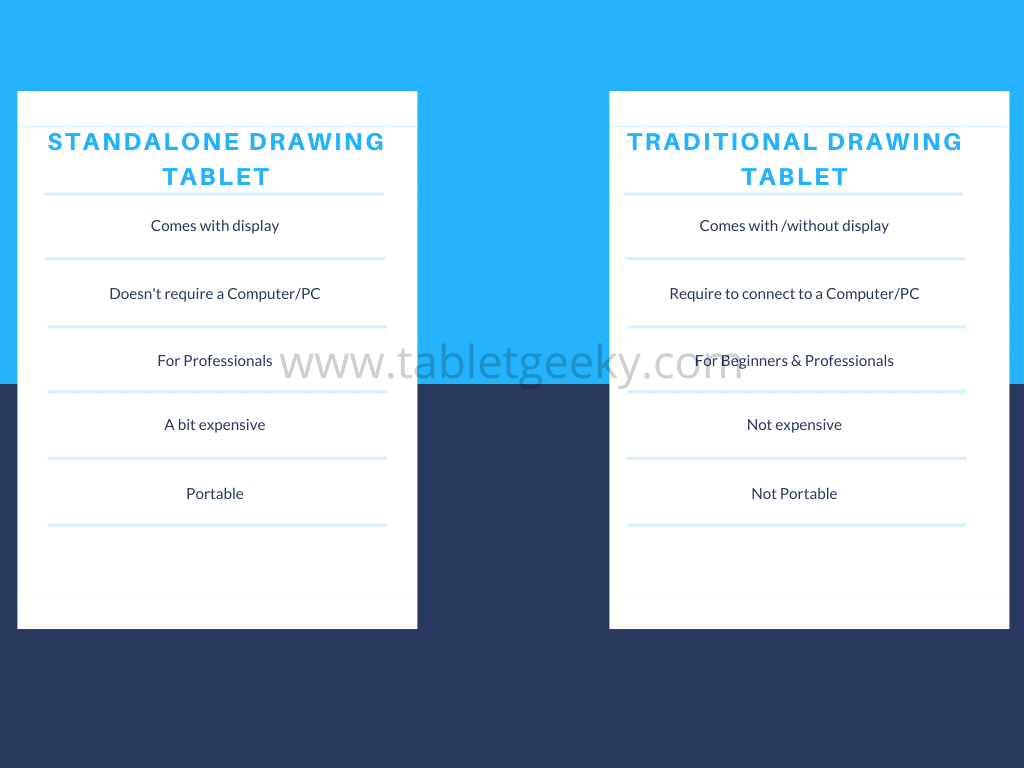 There's not much difference between a standalone drawing tablet and a regular drawing tablet, both the tablets have a touchscreen but the only difference is that the regular tablet will require a computer to be connected for functioning. Whereas a standalone drawing tablet can operate on its own, you don't have to connect it to a screen. You can do your drawing work directly on the standalone tablet as it has the screen and the computer in it.
There's a lot of reasons why standalone drawing tablets are better than regular drawing tablets like you can carry it anywhere, you can do your work while traveling. It will be compact and sometimes it can also save some money.
As I've already explained what standalone drawing tablets are actually. Let's move on to the list of the most popular standalone drawing tablets that you can consider buying today.
Best Standalone Drawing Tablets in 2023:-
I've sorted out the best ones from the list of standalone drawing tablets. The objective of the standalone drawing tablets is to provide you with freedom of expression on the go. You don't have to be dependent on an extra screen for carrying out your illustrations. You can draw your imaginations anywhere sitting in the mountains or on a beach seeing a beautiful sunset or a sunrise.
You can easily do anything you want with these best standalone drawing tablets. Now, as I have already boasted a lot about these devices. Let's jump to the number 1 device that I recommend.
1.

CHUWI UBook Standalone Tablet
Over the years, Microsoft has produced many Surface Pro clones, some of which are expensive and affordable. Chuwi debuted its UBook Pro 2-in-1, which is an excellent way to get your hands on a Windows device for less. As a standalone tablet, it is primarily a good piece of hardware, but it runs into some problems when connected to a keyboard and touchpad.
My review uses an Intel Core m3-8100Y CPU configuration, 8GB of LPDDR3 RAM, and 256GB solid-state drive (SSD) instead of the entry-level configuration with the Intel N4100 processor (CPU). Displays have a resolution of 1920×1280 (FHD+) and a 3:2 aspect ratio on all models.
UBook Pro is a well-built, sturdy metal alloy tablet. Similar to a Surface Pro, it has a bezel surrounding its 12.3-inch display. The top has no flexing, smooth lines, and well-positioned volume and power buttons. Despite its lightweight, it feels comfortable to hold.
There is a 3.5mm audio port and USB-A port on the left side of the panel. Besides the USB-A, USB-C, Micro HDMI, and the barrel charging port, the right side is also home to USB-A, USB-C, and Micro HDMI. The top edge is equipped with a microSD card reader. An HDMI adapter will probably be the best move to use Micro HDMI since it isn't seen too often. In the case you forget your AC adapter, you can charge your tablet via USB-C, and it supports a few relatively powerful docking stations.
While Chuwi's HiPen H5 came with this review unit, the HiPen H6 will more than likely come with an actual purchase of the tablet itself. As opposed to the H5 pen, the latter has 4,096 pressure sensitivity levels (vs 1,024 stations) and two buttons on the side, making it an even better choice for artistic work.
Chuwi's UBook Pro is an excellent choice for anyone seeking a Windows tablet for casual use. In terms of brightness, it's better than average, and it's more affordable than a lot of other options available on the market. Although I tested the Core m3 version, it handled lightweight productivity work without any complaints. The active pen allows for quick notes and sketches, which makes it great for taking notes.
Hardware Specifications of Chuwi Ubook
Processor
Intel Gemini Lake n4120
RAM
8 GB
Storage
256 GB
Display
12″ PixelSense Display with 2160 x 1440 Resolution
Camera
Rear- 5MP
Operating System
Windows 10 Home
Battery Life
6 hours
Weight
1.72 lbs
PROS
Cheaper than surface pro.
Build quality.
Bright and display color.
CONS
Processor.
The touchpad is useless.
Battery Life.
2. Microsoft Surface Go 2 – Best Standalone Drawing Tablet
Although its price is modest, the Surface Go 2 appears to be high-end in its sleek design, reflective magnesium alloy casing, and curved edges. The bezel around the screen has been trimmed down from the first Surface Go to add a premium feel. Despite Microsoft's efforts to market this as a family device, it's a product you would feel comfortable bringing to work.
Microsoft did not make any changes to its Surface Go 2's body except to increase the screen size. All of the same accessories – including the keyboard – work with it. It still has gently curved corners, is sturdy, and feels well built.
This new screen measures 10.5 inches diagonally (and has a 3:2 aspect ratio). Although it is not super bright, it has a 1920 x 1280 resolution. While it's not that big, it feels much more spacious than the first iteration.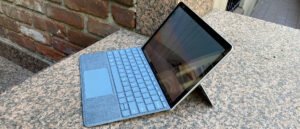 With a Pentium Gold processor, even more, meager storage (64GB), and just 4GB of RAM, the base model sells for $299. Many people wouldn't do much more than browse the web or run a few Office applications besides Outlook with those specs.
Besides the dual-core Intel Core m3 processor and faster SSD (128GB), the upgraded version includes 8GB of RAM. If you intend to use it as a laptop, I recommend 8GB for anyone buying a Windows machine.
For most casual users, the Surface Go 2 is better than the iPad despite not being a direct replacement for the iPad 2. Most Windows-powered tablets are the only midrange, and there are not many in its price range. The Surface Go 2 appears to have succeeded in making Microsoft an essential tool for home workers and students.
Also, read our expert's opinion on Surface Go 2.
Hardware Specifications of Microsoft Surface Go 2
Processor
8th Gen Intel Core M3 / Intel Pentium Gold 4425Y
RAM
4 GB
Storage
64 GB/128 GB
Display
10.5″ PixelSense Display with 1920 x 1280 Resolution
Camera
Rear- 8MP
Operating System
Windows 10 Pro
Battery Life
10 hours
Weight
1.2 lbs
PROS
Bigger screen.
Core M3 processor option.
Runs any Windows app.
CONS
Very low performance ceiling.
Battery Life.
Keyboard Flex.
3. Wacom MobileStudio Pro – For Professionals
Wacom MobileStudio Pro is my first choice if I have to buy a standalone drawing tablet. There are multiple reasons I recommend it to everyone. It comes up with a whole set of creative tools like a fantastic 13.3 inches display and a precise pen that you can use to draw your illustrations.
It also has a long-lasting battery which will make sure you don't have to worry about charging your device again and again. You can carry it around as it is portable.

It also has an ultra HD resolution of 3840×2160, giving you superb clarity for your drawings and illustrations. The pro pen two, which comes with this standalone drawing tablet, has pressure sensitivity and has 8192 levels of pen pressure. It comes with tilt technology to support various angular movements on the tablet.
The expense might be justified, though, since such a powerful computer is crammed into a semi-portable tablet. The 4K display on this device is pure eye candy; the vivid, rich colors are a sight to see.
The tablet does get toasty, though, and you'll want to be adjacent to a power source because the battery runtime on this device doesn't surpass 5 hours. You may want to consider the 12.5-inch Apple iPad Pro for a satisfactory battery-life experience.
---
PROS
96% Adobe RGB color range
Can be used as a pen display for a more powerful desktop
Best-in-class pen interface
Full-size SD card slot
CONS
Low battery life
Non-removable battery
A 3D scanner is not very accurate
4. Huion Kamvas Studio 22
It is trendy among graphic artists and illustrators. It is considered the new generation design studio, which adds feathers to your creativity with a fantastic set of specifications.
Huion Kamvas Studio is a 21.5 inches standalone drawing tablet with an IPS display and a convenient viewing angle of 178 degrees.

The display is of 1920*1080 resolution, ensuring you don't find issues while creating designs. The design is compact and is made for designers, and you can maintain your accuracy with this tablet. It also has an adjustable stand which will help to position the tablet to get maximum efficiency. You can adjust as per your requirements.
Also, the touch bars and the programmable press keys are positioned on both sides for user convenience. You will experience a smooth performance as the intel core i5-8400 processor powers it.
This new Huion Kamvas Studio 22 version is both slimmer and lighter with a weight of 4 kg and the thinnest part of 21 mm, making the device more handy and pleasing to hold.
Huion Kamvas Studio 22 should be considered by every graphic designer and illustrator interested in creating high-quality work. The new drawing table has unique features not found in previous models or any of the other drawing tablets.
This is a highly efficient and reliable standalone drawing tablet that you should buy today.
PROS
Great build quality
Pen is battery free
It's an all round computer
Great viewing angles
CONS
Has a bit of parallax
Few software experiences
5. New Apple iPad Pro 2020
Apple devices are already top-rated for their powerful performance and reliability. This is why I include the New Apple iPad Pro 2020 in my list of best standalone tablets.
It is a multi-purpose tablet device, so you can do your designing work and use it for other purposes like entertainment and reading books.

It comes with the Apple magic keyboard, which will do the real magic once you start working on it.
The liquid Retina XDR Mini LED display is stunning, providing maximum brightness unmatched by other tablets. This slate can keep up with Samsung's Galaxy Tab S7 Plus, which seemed like a significant upgrade for tablet screens just one year ago. Besides being perfect for watching movies, it is also ideal for everyday tasks. If you'd instead buy a smaller tablet, you can select the 2021 iPad Pro 11-inch, but the screen tech on that device isn't as impressive.
Talking about the price, It can hit your pockets if you are on a low budget. But considering you are looking for a reliable standalone drawing tablet, I guess you have a decent budget.
When you pay the price, you get the value. The same applies to Apple devices; many graphic designers prefer iPads for drawing purposes.
Also, read our expert's opinion on Apple iPad Pro 12.9.
Hardware Specifications of Apple iPad Pro 12.9
Processor
12X Bionic chip with Neural Engine
RAM
4 GB
Storage

64GB/256GB/512GB/1TB

Display
12.9″ IPS display with 1280 x 800
Camera
Rear- 12MP | Front- 7MP
Operating System
iOS
Battery Life
10 hours
Weight
1.39 lbs
---
PROS
Great display
Beautiful design
Excellent selfie experience
Good all-round rear camera
CONS
No 3.5mm audio port
The rear camera has lost OIS
Expensive
6. Surface Book 2
Surface Book 2 is a complete laptop cum tablet, and You can call it a completely portable tablet that you carry around and can do almost everything you do on your laptop device.
It is a 13.5 inches tablet that can be used in multiple environments just with a single device. You can connect the keyboard and the Surface pen at your convenience.
It has dual-core and quad-core processor variants powered by Intel and enhanced GeForce GTX graphics for immersive gaming experiences. It also has a long-lasting battery life of 17 hours which is more than enough compared to other tablets of the exact specifications.
Many of the best 2-in-1 laptops – and the best laptops in general – to date are just larger Surface Books, able to handle the latest PC games and last for eons. In addition, I have found this to be the best tablet for drawing we have tested so far. However, I would have liked Microsoft to do a little bit more with the new 15-inch form factor, which gives more space.
It is going to give you a very smooth drawing experience. You can use it depending on your convenience, and that's why I love this device.
Hardware Specifications of Microsoft Surface Book 2
Processor
10th Gen Intel Core i5-1035G4 Processor
RAM
8 GB
Storage

256 GB SSD

Display
12.3″ IPS display with 2736 x 1824
Camera
Rear – 8MP | Front- 5MP
Operating System
Windows 10 with Pen
Battery Life
10.5 hours
Weight
1.7 lbs
PROS
Premium alloy construction
Elegant convertible design
Well-implemented kickstand.
CONS
16GB RAM maximum
Surface Pen is an additional purchase
SSD storage is pricey
7. Surface Pro 7
The fifth in the list of best standalone drawing tablets is the new Microsoft Surface Pro 7. With over 400+ positive ratings, Surface Pro 7 is very much popular among graphic designers.
This tablet is ultra-lightweight and slim in design which makes it a compatible standalone drawing tablet that you can use on the go. This can be turned into a Tablet PC within seconds, and you can get the experience of operating a laptop. It is a versatile device with a great design and comes with Type C & Type A USB connectivities. The screen size is 12.3″ with a full touch screen display that you can smoothly use for your work.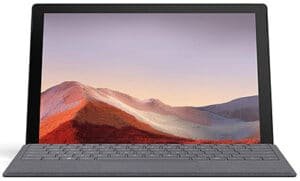 Overall, Surface Pro 7 performs well for a device of its size. My unit featured an Intel Core i5-1035G4 processor with four threads and quad-core processing. Besides the 256GB hard drive, 8GB of RAM, and Intel Iris Plus graphics, this system included Intel Iris Plus graphics.
However, the Microsoft Surface Pro 7 has a disappointing battery life, despite more robust performance and better ports.
Hardware Specifications of Microsoft Surface Pro 7
Processor
10th Gen Intel Core i5-1035G4 Processor
RAM
8 GB
Storage

256 GB SSD

Display
12.3″ IPS display with 2736 x 1824
Camera
Rear – 8MP | Front- 5MP
Operating System
Windows 10 with Pen
Battery Life
10.5 hours
Weight
1.7 lbs
PROS
Robust battery life.
Sharp display.
Well-implemented kickstand.
Finally includes USB-C.
CONS
Keyboard still sold separately.
Just two ports
No Thunderbolt 3 support.
8. Apple iPad 10.2″
Another Apple device in this list has a 10.2″ screen size, which is considered more than enough for a better drawing experience. It offers the same powerful performance as a computer but in the size of a tablet.
You very well know how efficient and reliable Apple devices are. So you will not regret investing in this excellent device for your work.

Despite only being a modest upgrade over last year's model, the new iPad 2020 offers excellent value for a brand new iPad. As well as the latest processor and 20W rapid charger support Apple Pencil and Smart Keyboard, which was also included in the prior year model. This is the best iPad for those who do not require Apple's most technologically advanced model. Furthermore, the price has remained unchanged year over year.
If you are here down in the 8th position, you may not be in the mood to spend that much on drawing tablets.
For more detailed explanation you can read our expert's review on Apple iPad 10.2. 
Hardware Specifications of Apple Ipad 2019 Model
Processor
Apple A10 Fusion
RAM
2 GB RAM
Storage
32GB
Display
10.2-inch Retina display with 2048 x 1536 Resolution
Camera
Rear- 8MP | Front- 1.2MP
Operating System
iOS 13
Battery Life
10 hours
Weight
0.99 lbs
PROS
A10 Processor
Affordable
Better screen
CONS
Internal storage
Heavier than previous model
9. Surface Pro X
Microsoft Surface series has many great standalone drawing tablets. The second on the list is the New Microsoft Surface Pro X. This is also a great and popular windows tablet available in 2020. It is considered another flagship Tablet by Microsoft for business persons. This can be an excellent tablet for college work as well.
Surface Pro X is also ultra-lightweight and slim in design with almost the same features as Surface Pro 7. You will get a bigger screen size of 13″ in the Pro X with an automatic light-adjusting feature. It also comes up with a removable surface signature cover that you can use to transform your tablet into a laptop.

It is a 2-in-1 tablet and comes up with two portable USB ports for the users. It has many variants with different RAM & Storage spaces. The most popular is the 8GB,128GB version, and has a Microsoft SQ1 processor. It can be compared to an i7 processor performance. You should go for this as it also has a battery life of up to 13 hours.
While I love the Surface Pro X's slick, refined, thin, and light design, as well as its comfortable typing experience, I find it difficult to recommend to most people. Because it lacks a headphone jack and isn't compatible with various apps, it ends up being a suitable device for only a tiny group of users.
The Pro X is a good choice if portability is your top concern when purchasing. It is the thinnest and lightest Surface I have ever seen, making it an ideal Surface Pro for frequent travelers and others.
Hardware Specifications of Microsoft Surface Go Pro X
Processor
Microsoft SQ1 processor
RAM
8 GB
Storage

128 GB

Display
13″ IPS display with 2880 x 1920
Camera
Front- 5MP
Operating System
Windows 10
Battery Life
7-8 hours
Weight
1.7 lbs
PROS
Great 13in screen, 4G, kickstand, nine-hour battery
Quick charging
Brilliant keyboard
Smart stylus holder
CONS
Not much ARM-native software
No good photo editors
No SD card reader
No headphone socket
10. Apple iPad Mini
This is one of the profitable brands in the world of tablets. Apple iPad always shows something better than its other competing brand. The Apple iPad Mini 4 is a more diminutive, marginally less incredible iPad Air 2. That is essentially all you have to think about this tablet, the 7.9-inch screen model, accessible since October 2015.

Investigating that 7.9 in a showcase on the iPad little 4, you'll see that it's a similar goal as the iPad smaller than expected 3 and 2, just as the iPad Air 2 and iPad Air, at 2048 x 1536 pixels. That compares to 326 pixels for each inch pixel thickness, higher than the Air and Air 2's 264ppi.
The iPad mini (2019) is an excellent tablet overall. Even though it's not designed for heavy productivity-oriented use, it's almost perfect for casual users. In addition to its superb performance and battery life, its form factor makes it ideal for commutes or traveling.
There are some design issues at the moment, but I don't think that's going to be a deal-breaker for anyone. The new iPad mini (2019) offers better overall performance, but the price does matter since it is designed for casual use.
These are the main reasons why I have listed this in my suggested standalone drawing tablets.
For more details you can read our review on Apple iPad Mini 4 form our experts.
Hardware Specifications of Apple iPad Mini 4
Processor
Apple A12 Chipset
RAM
2 GB
Storage
128 GB
Display
7.9-inch Retina display with 2048 x 1536 Resolution
Camera
Rear- 8 MP | Front- 5 MP
Operating System
iOS 9, upgradable to iOS 11.4.1
Battery Life
10 hours
Weight
0.65 lbs
PROS
Apple Pencil support
Best app selection
Good Battery
TrueTone screen welcome
Solid performance
CONS
Pricer than 9.7-inch iPad
No second-gen Apple Pencil support
No USB-C
If you're an Android lover and prefer Android over iOS, Samsung Galaxy Tab S6 is the best standalone drawing tablet. Samsung devices are known for their great display, and that's why they give a better viewing experience than the rest of the tablets available in the market.
You can stream videos, read E-books, and do your routine office work on this tablet. The super AMOLED display will surely boost your movie experience, and this is why we are recommending this device to you. A little high in the budget but is a value for money product.
With the Tab S6, you can consume content very well. You can watch it for long periods with it because of its excellent screen and speakers, and it is thin and light. Even three Marvel movies can be watched on it thanks to its long battery life. However, Samsung's attempts to market the Tab S6 as a productivity device fall short. The device has several bugs, and it isn't a device that can replace a laptop.
Hardware Specifications of Samsung Galaxy Tab S6
Processor
Octa-Core(2.8GHz+3×2.4, 4×1.7)
RAM
6 GB
Storage
128 GB
Display
10.5″ Inch Retina display with 2560 x 1600
Camera
Rear- 13MP | Front- 8MP
Operating System
Android
Battery Life
15 hours
Weight
0.92 lbs
PROS
Powerful Processor
DeX mode
Storage space
Updated S pen stylus.
CONS
Keyboard need to buy seperately
Small keys
12. Apple iPad Air
Last but not least, The Apple iPad Air is also a good option if you are looking for standalone drawing tablets. Similar to that of the Apple iPad mini, It also has an A12 bionic chip, and that is why I consider it a powerful standalone drawing tablet. You will not face issues while you're creating your arts and designs. It will work smoothly and is very reliable.
It has a 10.5 inches retina display and an anti-reflective coating which will give you the best viewing experience. You can also use it for other purposes.
It supports the Apple pencil and magic keyboard, which you can use to increase your efficiency and comfort. Summarising this, I would say you can go for any Apple devices listed above, and you will love using them.
The iPad Air is the best deal in Apple's iPad lineup and would win tablet of the year. Despite the lower prices, I still believe upgrading is well worth it, mainly since it's a device you will keep for years. The A14 processor isn't the only improvement; the less-reflective screen, the easier-to-lose Pencil, and the better Wi-Fi make a noticeable difference in daily activities.
Additionally, the iPad Air is good enough that it doesn't make sense to pay more for an iPad Pro. For those who can afford it, the iPad Air is the best high-end tablet of the year.
For more details you can read our review on Apple iPad Air 10.5 form our experts.
Hardware Specifications of Apple iPad Air 10.5″
Processor
Apple A12 Bionic
RAM
4/6 GB
Storage
64/128 GB
Display
10.5″ Inch Retina display with 2560 x 1600
Camera
Rear- 8MP | Front- 7MP
Operating System
iOS
Battery Life
6-7 hours
Weight
1 lbs
PROS
Fast performance.
Slim, light design.
Nice display.
Works with Apple Pencil and Smart Keyboard case.
CONS
Camera could be better.
 Lots of other iPad choices
Wrapping Up
Standalone drawing tablets are an excellent device for artists and graphic designers who are always traveling. They can carry these devices anywhere and can use them in their comfort. I have listed all the best standalone drawing tablets available online, depending upon my experience with a lot of them.
It is highly recommended to use a standalone drawing tablet to explore your creative abilities to the fullest extent possible since it includes a host of the latest features and advanced technology.
Even though its price is slightly higher than the average tablet, you can connect to the internet, write down ideas, and sketch as you go. You can use most of the above tablets from anywhere and anytime, and they are easily portable.
However, you must note the main features you are looking for before purchasing a standalone drawing tablet. After determining your requirements, picking a tablet will be easier. Additionally, you'll be more productive and creative by doing this, resulting in more efficient outcomes.
I also have few graphic designer friends who suggested me these devices be included in this list.
Thus, it concludes my roundup of the best standalone tablets currently available. A standalone drawing tablet comes in handy whether you're an artist, designer, or student. Go ahead and choose the model that suits your needs!
If you want to add your suggestions, you can do it from the comment section below.
Howdy Geeks, I'm Andrew, a young passionate blogger, Tech Freak & a Gadget Lover. I help people in buying them the best tablet devices