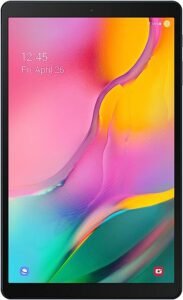 In the ever-expanding universe of tablets, the Samsung Galaxy Tab A 10.1 caught my attention, promising a blend of solid performance, a captivating display, and interesting features to fulfill diverse needs. Let's take a closer look.
Performance-wise, the tablet is engineered to handle both everyday tasks and more demanding applications with ease. I found this particularly appealing, as we all want a device that responds swiftly without lag, ensuring our digital journey remains uninterrupted. The underlying strength of its hardware means that whether you're streaming, gaming, or juggling between apps, the experience remains fluid and enjoyable.
Then there's the display, which, true to its name, spans a generous 10.1 inches. I must admit, it's an absolute treat for the eyes. Whether you're catching up on your favorite series, browsing through photos, or simply reading an e-book, the crisp resolution and vibrant colors enhance every visual aspect. The size is big enough for immersive viewing yet compact enough for portability.
Last but not least, the features. Samsung, as always, has managed to pack this tablet with interesting functionalities that cater to both casual users and tech enthusiasts. It's equipped with a decent set of cameras for those spontaneous captures, and its connectivity options ensure you're always in touch. The integration of the latest software tweaks, combined with Samsung's signature interface, makes the user experience intuitive and user-friendly.
To wrap up this brief introduction, the Samsung Galaxy Tab A 10.1 appears to be a well-rounded device, offering a harmonious blend of performance, display, and features. It's designed for those who seek a reliable tablet companion without breaking the bank. As we delve deeper into its specifics, I'm eager to share more about its capabilities and how it stands out in the bustling tablet market.
Hardware Specifications of Samsung Galaxy Tab A 10.1
Processor
Samsung Exynos 7904
RAM
3 GB
Storage
32 GB, 64 GB, 128 GB
Display

10.1-inch (1920 x 1200) TFT LCD

Camera

Rear – 8 MP | Front – 5 MP

OS
Android 9.0 (Pie)
Battery 

6150mAh (Up to 13 hours)

Weight

470g
PROS
Affordable pricing
Solid build quality

Storage space
CONS
Cameras are average at best

Not suitable for heavy gaming
Samsung Galaxy Tab A 10.1 Review: Design and Display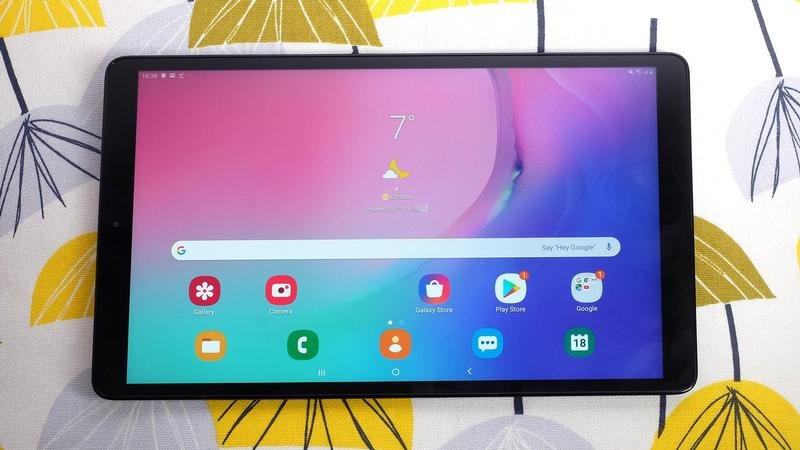 In my quest for a well-designed tablet, the Samsung Galaxy Tab A 10.1 didn't disappoint. Let's break down the "Design and Display" elements, which to me, stand out prominently in this device.
Starting with the design, the Samsung Galaxy Tab A 10.1 boasts sleek dimensions of 245.2 x 149.4 x 7.5mm. This compact form makes it comfortable to hold for extended periods, whether I'm binge-watching my favorite shows or sifting through documents. Weighing in at a manageable 470g, the device is light enough to carry around without feeling burdensome. I appreciate this, especially during travels or long commutes. Additionally, the tablet is available in three elegant colors: Black, Silver, and Gold. Each color offers its unique charm, but I personally leaned towards Black for its classic appeal.
Now, shifting our focus to the display, and this is where the Samsung Galaxy Tab A 10.1 truly shines. With a 10.1-inch screen size, it's spacious enough for most tasks. The resolution stands at a clear 1920 x 1200, ensuring that images and text are sharp and easy to view. While it uses a TFT LCD display type, the reproduction of 16 million colors makes the content vibrant and lively. Operating at a standard refresh rate of 60 Hz, I found animations and transitions smooth during my usage.
The 224 PPI pixel density might not be the highest on the market, but for regular tasks like streaming and reading, it's more than sufficient. With a brightness level of 396 nits, outdoor usability is decent, though I'd advise staying away from direct sunlight. The screen-to-body ratio of 80.7% ensures minimal distractions, maximizing viewing space.
In conclusion, both in terms of design and display, the Samsung Galaxy Tab A 10.1 proves to be a solid contender. It's stylish, and practical, and offers a viewing experience that's delightful for its price bracket. If you're seeking a tablet that offers a harmonious blend of aesthetics and functionality, this might just be the one for you.
Samsung Galaxy Tab A 10.1 Review: Camera and Features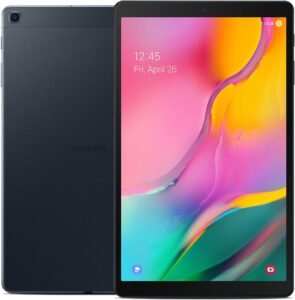 Diving into the Samsung Galaxy Tab A 10.1, I wanted to especially focus on its "Camera and Features" for this review. Here's my straightforward take on these two crucial aspects.
The Samsung Galaxy Tab A 10.1 is equipped with an 8 MP autofocus rear camera. While tablets aren't typically my go-to for photography, I was pleasantly surprised by the clarity this camera offers. With an aperture size of F2.0, it allows a decent amount of light in, making for reasonably bright photos even in dimly lit environments. I took it out for a spin, capturing moments here and there, and the video recording at 1080p@30fps delivered fairly smooth footage.
Switching to the front, the 5 MP camera with an aperture size of F2.2 is solid for video calls and occasional selfies. It's not the highest resolution available in the tablet realm, but it's definitely serviceable for most day-to-day tasks. The video recording capability of 1080p ensures that calls are clear, and the visuals aren't pixelated.
The tablet stands out with its audio capabilities. The dual stereo speakers, fine-tuned by AKG, provide a rich sound experience. I was especially impressed with the Dolby Atmos enhancement, which gives depth and dimension to audio, making movie-watching and music-listening truly immersive.
For traditionalists like me, the inclusion of a 3.5mm jack is a welcome feature. Whether it's for headphones or external speakers, the option is there. Connectivity is seamless with Bluetooth 5.0 and Wi-Fi (supports both 2.4G+5GHz bands), ensuring fast data transfer and stable internet connections.
When it comes to location technologies the tablet has GPS, GLONASS, BDS, and GALILEO. Whether I was using maps or location-based apps, tracking was accurate and quick. Lastly, the tablet comes with an assortment of sensors – Accelerometer, Proximity, Gyroscope, and Compass. These are particularly handy for various apps, gaming, and device functionalities. The addition of ANT+ support is a boon for fitness enthusiasts who might want to pair certain devices with the tablet.
In a nutshell, the Samsung Galaxy Tab A 10.1's camera and feature set make it a reliable companion for everyday use. It's well-rounded, catering to both casual users and those with specific needs. If you're in the market for a tablet that offers a balanced mix of photography and functionality, the Galaxy Tab A 10.1 should be on your radar.
Samsung Galaxy Tab A 10.1 Review: Hardware and Performance
After spending some time with the Samsung Galaxy Tab A 10.1, it's evident that its "Hardware and Performance" aspects deserve a spotlight. Here's my uncomplicated review of what this tablet brings to the table when it comes to its guts and functionality.
At the heart of the Samsung Galaxy Tab A 10.1 lies the Samsung Exynos 7904 system chip. Designed on a 14 nm process, this octa-core processor combines a duo of 1.8 GHz Cortex-A73 cores for performance-intensive tasks with six 1.6 GHz Cortex-A53 cores for everyday activities. This arrangement ensures that whether I was flipping through social media or diving into a graphic-intensive game, the tablet met my expectations consistently.
It comes with Mali-G71 MP2 GPU. While it's not the most powerful graphics chip out there, it does the job for most games and video playback on the Play Store. I noticed smooth animations and minimal lags during my usage.
In terms of memory, the tablet comes with 3GB RAM. This may sound modest compared to the beefier tablets in the market, but for general browsing, video playback, and multitasking, it's more than sufficient. I rarely faced hitches while switching between apps.
Internal storage options provide flexibility for different user needs. With 32GB, 64GB, and 128GB variants, users can pick based on their usage habits. For me, the 64GB variant felt like the sweet spot, offering enough room for apps, photos, and a few movies. If that's not enough, the dedicated microSDXC slot supports cards up to 512 GB. This is a lifesaver, especially when you're on the go and need that extra storage boost.
From a performance standpoint, the Samsung Galaxy Tab A 10.1 delivers a reliable experience. I could easily stream movies, browse the web, attend video calls, and play some casual games without feeling the tablet lagging or heating up.
To sum it up, the Samsung Galaxy Tab A 10.1 doesn't pretend to be a high-end powerhouse, but for its price bracket, it impresses with consistent performance and ample storage options. If you're in the market for a tablet that's perfect for daily tasks and light entertainment, this is a commendable choice.
Samsung Galaxy Tab A 10.1 Review: Software and Battery Life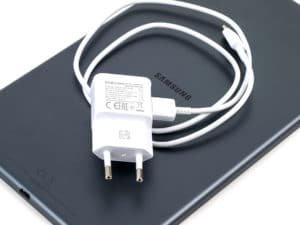 After exploring the Samsung Galaxy Tab A 10.1 for a while, I decided to focus on its "Software and Battery Life". For those looking for a straightforward, user-centric insight, here's what I gathered:
Samsung Galaxy Tab A 10.1 initially runs on Android 9.0 (Pie) but the good news is, it's upgradable to Android 11 complemented by Samsung's own One UI 3.0. This combination truly enhances the tablet experience. The upgrade brought forward not just the security and privacy features of Android 11, but also the finesse and user-friendliness of One UI 3.0.
During my time with the device, I genuinely appreciated the smooth animations which made transitions and general navigation feel much more polished. The user interface is fast, and I rarely encountered any bugs or stutters, making daily tasks a breeze. Samsung's Knox security integration is a notable mention. It added an extra layer of protection, ensuring my data remains safe and secure. The tailored tablet interface of One UI makes app accessibility and multitasking seamless, and I found it particularly efficient for my daily productivity tasks.
Powering the device is a 6150 mAh Li-Polymer battery. Samsung claims up to 13 hours of usage, and in my experience, this estimate stands accurate for mixed tasks like web browsing, video streaming, and app usage. The battery's stamina left me impressed, especially considering the tablet's vibrant display and performance capabilities.
Charging the tablet is done via a USB Type-C 2.0 port, which ensures faster data transfer and charging times. The inclusion of a 15W charger in the box ensures relatively quick top-ups. Though it's not the fastest charging tech available, for a tablet of this size and price point, it's commendable.
In wrapping up, the Samsung Galaxy Tab A 10.1 strikes a harmonious balance between solid software experience and reliable battery life. If you seek a tablet for day-to-day tasks, binge-watching, or even light work activities, it's hard not to consider this device as a prime option.
Conclusion
The Galaxy Tab A 10.1 has successfully carved out its niche in the tablet market. Its design is sleek, and the display, with its impressive resolution and color accuracy, offers an immersive visual treat. Performance-wise, the Exynos 7904 chipset paired with sufficient RAM ensures smooth multitasking and daily operations. The camera setup is decent for a tablet, while the array of features, from dual stereo speakers tuned by AKG to various connectivity options, amplify its utility.
The software experience, enhanced by the Android 11 and One UI 3.0 update, felt smooth, intuitive, and secure, thanks to Samsung's Knox. Not to forget, the battery life truly supports extended use, which is a significant plus for binge-watchers or long work sessions.
Considering its features and price point, the Galaxy Tab A 10.1 is a solid choice for those seeking a balance of functionality and affordability. Whether you're a student, a professional, or someone who loves consuming media on a larger screen, this tablet is bound to serve your needs efficiently. We hope this review helped you through and if you want any other features then you can check some other categories like 8-inch tablets or 10-inch tablets.
Howdy Geeks, I'm Andrew, a young passionate blogger, Tech Freak & a Gadget Lover. I help people in buying them the best tablet devices