Do you ever wish there was a digital resource where you could store, read, and organize sheet music? You may want to consider finding a sheet music compatible tablet that can even allow you to playback score digitized scores, transpose them, set music lists, edit sheet music sections, and run apps like ForScore, Orpheus, MusicNotes, among others.
As aspiring musicians, you might want to invest in a tablet with powerful speakers, sensitive microphones, excellent visibility, large screen real-estate, and enough processing power to edit live music in real-time. Furthermore, portability appears to be one of the essential traits if reading sheet music is a priority.
It is important to note that not all tablets are suitable for reading music. Despite some models offering modest displays, most exhibit shoddy portability, with chunkier form factors and inadequate battery backups. In addition, musicians are plagued by poorly performing acoustic hardware, a primary processing setup, and minimal exposure to multiple apps.
No matter what, I've handpicked nine extraordinary tablets for sheet music that should serve your needs well while sitting tight on that mason stand.
I believe paperless sheet music is the way to a more productive future as an artist invested in compactness. The last thing you want is for your chord charts to be lost just before an event, and that too if you have left the window panes open for the breeze to invade and carry them off with it.
Additionally, I reviewed and tested over 35 tablets and only identified nine that appeared to be the best fit, based on display, processing setup, portability, acoustic arrangement, and of course, price.
Here we go on Best Tablet for Sheet Music in 2023:-
The tiniest of Apple's tablet devices is the iPad Mini series. iPad Mini is a perfect choice for anyone looking for a more easy-to-carry yet functional tablet without the much-added bulkiness. iPad mini's versatility and portability work in favor of musicians when they have to work on the go. These tablets are available in 4 color options i.e. Starlight, Space grey, Pink, and Purple.
PROS
Wide range of app options for maintaining sheet music.
Great portability and functionality.
Excellent display.
CONS
Lacks a headphone jack.
Comes with only one USB-C port.
No microSD card slot.
What makes it suitable for sheet music?
With an 8.3″ liquid Retina LED display screen iPad mini surely holds to its name and provides crisp, clear images of even the most intricate musical notation. I was very impressed by the truetone and wide color display. The one major feature for me is the Apple pencil support, which enhances navigation and productivity.
Processor and OS: The iPad Mini runs on iPad OS 15 which is upgradable to iPad OS 16.1. With the introduction of Apple A15 Bionic chips in recent models, the performance of these tables has improved immensely. Many apps are available for the iPad designed specifically for reading sheet music. You can annotate your sheet music with notes, highlights, and other markings, making it easy to keep track of your progress as you practice and perform.
Storage: The iPad mini I own has a storage space of 256GB with 4GB RAM. Another option is the 64GB internal storage with 4GB RAM which comes at a slightly lower price. The price for the iPad mini also changes depending on whether it's a WiFi-only or cellular model; the latter are more expensive.
Battery: Like every iPad, the iPad mini too features a day battery life which lasts for about 9 to 10 hours on general usage. With the extended battery life, you can work on music without worrying about running out of power. In the box, you get a USB type C charging cable, a 20W adapter, and the tablet.
Camera: iPad mini has a 12MP rear camera and all the amazing features in all iPads. You get a 12MP FaceTime HD camera and a Center stage for the front camera.
Sheet music can be overwhelming sometimes, especially for self-taught musicians who prefer learning and playing by ear. Compared to the Apple iPad Pro 2021-variant, there is a better choice if you want to get the best of both worlds, reading and hearing.
It seems like a better upgrade for those who already own the 2022-model iPad Pro if they are interested in mobile music production.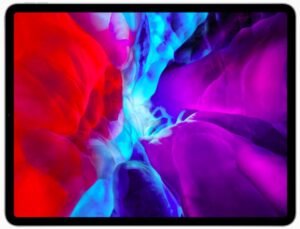 PROS
Powerful Processor.
Battery Life.
Gorgeous Mini LED screen.
Stellar 5G performance.
CONS
Very expensive.
iPadOS makes multitasking difficult.
What makes it suitable for sheet music?
The best tablet for reading sheet music is one with a bright and stellar display. This means you can read and follow music charts and chord sheets in bright sunlight, thanks to an excellent pixel resolution.
In addition to classically trained musicians who prefer reading music, learning by ear is also possible using the four speakers accompanying the display. It is impossible to improve the audio quality since studio-grade microphones are in use.
Hardware and Performance
This device is powered by Apple's processor, allowing you to manage synths, DAWs, and sheet music readers. However, the most impressive feature is the RAM, which will enable you to run multiple sheet music apps without any hiccups. Although it comes with upgradeable support, the storage seems more than adequate. Concerning the performance of the system, OnSong, Band Helper, and the like have run without a problem.
Connectivity
It takes the lead in connectivity thanks to an exotic Thunderbolt 4 port, Wi-Fi 6 support for establishing faster connections, and Bluetooth 5 support allowing you to download different files related to sheet music faster. Moreover, this tablet is compatible with the Apple Pencil 2nd generation, allowing you to skim through the documents and highlight notes quickly.
Battery Life and Other Features
With a battery backup of 10 hours, it's worth the investment, and it won't interrupt your musical sessions by draining the battery. You also access the interactive iPad OS, which allows you to install most apps without sacrificing interactivity. Additionally, there is a triple-camera setup at the back for converting paper to PDF format by scanning and clicking.
Conclusion
The new iPad Pro is easily the best large-screen tablet on this list if you intend to use it for sheet music. It is also comfortable, and it has the best screen size. However, if you want a dumbed-down iPad Pro that costs a bit less and pairs better with your mason stand, you can also pick up the 11-inch model.
This is your budget-friendly tablet with a 2K Display and amazing stylus support. Lenovo M10 3rd gen has good build quality, sturdy displays, and practically pure Android, and it's cool that it supports an active pen. The metal back panel with a thin body gives the tab a sleek look and its light weight makes it easy to carry around and work with.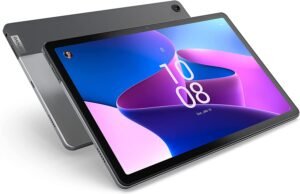 PROS
10.3" wide IPS display with narrow bezels.
Android 11 OS gives access to a vast app library.
CONS
Poor battery life. Low display refresh rate.
What makes it suitable for sheet music?
With a super classy metal body and 10.1" IPS display screen the tablet has a lot going on for its price range. The display offers vibrant and clear visuals making it great for reading sheet music. I was especially impressed by the wide viewing angles, high contrast, and great colors. There are a pair of Dolby Atmos-tuned stereo speakers, which are great when creating music.
Processor and OS: The tablet has a MediaTek octa-core processor and a Unisoc Tiger T610 chipset. The tablet offers average performance when running on the Android 11 Operating system, which is upgradable to Android 12. With the Android 11 OS, there's access to multiple apps that can be used for reading music and other useful tools for musicians.
Storage: With Lenovo M10 3rd Gen, there are currently two storage combinations in the market currently i.e. 3GB RAM with 32GB internal storage and 4GB RAM with 64GB internal storage. I like the expandable microSDXC card slot as I have a lot of large files to store on my tablet.
Battery: The 5100mAh non-removable battery lasts up to 5 hours on normal usage. When running multimedia apps and working simultaneously, the battery drains faster and requires frequent charging. The tablet has a USB C port for charging and a 3.5mm jack for connecting headphones.
Camera: The rear camera is 8MP with an autofocus feature and delivers decent-quality pictures and videos while the front camera is 5MP and has a fixed focus.
A big display with narrow bezels ideal for media streaming and powerful speakers helps the Samsung Galaxy Tab A8 earn its position among the finest budget-friendly Android tablets. This tablet is available in three color options to choose from i.e. Silver, Pink, Gold, and Gray.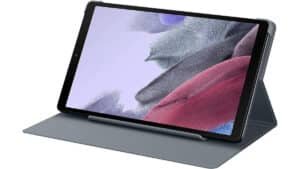 PROS
Lasting battery life. Wide display is great for musician. Access to numerous apps with the Android 11 OS.
CONS
Sluggish in multitasking No S pen support is present. Poor quality front and rear cameras.
What makes it suitable for sheet music?
Galaxy Tab A8 has a 10.50″ full HD display screen. It is adequately sharp for a budget tablet of this size, but it could be more vivid and color-accurate because it uses a TFT LCD. More accurate colors and viewing angles are produced by IPS LCD screens good for viewing sheet music. The Quad speakers with Dolby Atmos are a great addition for me, improving the user experience.
Processor and OS: This tablet runs an Octa-core processor with a Unisoc TigerbT618 chip. Android 11 is the operating system that can be upgraded to Android 13, One UI5. With the google play store, you can access multiple apps and music tools to work on sheet music.
Storage: Galaxy Tab A8 provides a storage space of 128GB with 3 to 4 GB RAM for smooth processing and multitasking. The presence of a microSD slot was a blessing for me, it gets you an expanded storage space of up to 1TB.
Battery: When used lightly the 7040mAh battery on this tablet can last for days. Though when you use the device for productivity and entertainment, the battery life dives, lasting for around 8 to 9 hours only. Battery life is good enough to work long hours making music and correcting your work without running out of power.
Camera: The rear camera is 8MP and the front camera is 5MP. As it's the case with most tablets, cameras aren't the primary focus of the device. When I used the front camera during the daytime it was unfocused for the most part.
A complete musician must consider purchasing the Samsung Galaxy Tab S7+ if they take pride in their achievements. Although you can always use it to read and edit sheet music, you can also learn music through in-ear listening. 
Compared with the Tab S7, the S7+ appears to be a much better tablet with a brighter display.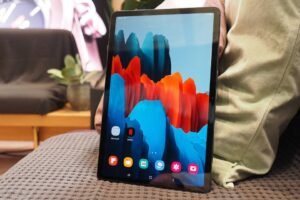 PROS
Powerful Processor
DeX mode
Storage space
Updated S pen stylus.
CONS
Keyboard need to buy seperately
Small keys
What makes it suitable for sheet music?
Experienced musicians and artists appreciate the AMOLED screen. Furthermore, the screen resolution is even more promising, followed by slimmer bezels that extend the viewing area. Its quad-speaker setup, coupled with AKG tuning, and support for Dolby Atmos and studio-grade microphones, make this an excellent option for in-ear learners.
Hardware and Performance
Several Android-specific sheet music apps such as Songbook, Mobilesheets, and more run smoothly on the Galaxy Tab S7+ thanks to its top-of-the-line flagship processor. Additionally, the laptop comes with more than an adequate amount of RAM for multitasking, as well as 128GB of expandable storage. Performances are expected since the existing processing setup handles multiple music sheets quickly.
Battery Life & Other Features
With an interactive Android 10 UI, this tablet offers 15 hours of backup time. You can scan traditional chord charts to PDF documents with a primary camera and a secondary rear camera, complementing the former primary lens.
Conclusion
The Samsung Galaxy Tab S7+ is a fantastic music reader tablet with a powerful 5G+ processor and a massive battery unit that sets it apart from the rest of the list. Additionally, if you prefer a more portable tablet as a musician, the Samsung Galaxy Tab S7 is a good option with a TFT display, fast charging support, and a lighter chassis.
When reading chord charts is one of your primary tasks as a musician, the Microsoft Surface Pro 7 is one of the best 2-in-1 tablet PCs to invest in. Although the tablet screen is large enough to accommodate sheet music, this Intel-powered computer can also be used with digital audio workstations (DAWs) like Ableton.
Moreover, this Pro 7 is a decent upgrade over the Pro 6 as the former comes equipped with a high-speed Type-C port for faster, wired transfers.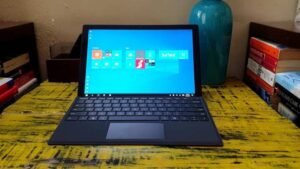 PROS
Processor
Solid build
Enough RAM and SSD
CONS
Quite Costly
Few important ports like c-type
What makes it suitable for sheet music?
Combined with its expansive screen and exceptional aspect ratio, it is an ideal tablet for reading music. The PixelSense panel on Apple's display provides an adequate brightness with its excellent resolution.
Furthermore, you can self-record music using far-field microphones with high fidelity, and it is an excellent choice for musicians. Aside from Sheet Music, you will always be able to depend on the stereo speakers for your in-ear training.
Hardware and Performance
As for the reviewed model comes with the i3 processor, but you can always spend some more money to get one with an i5 or an i7 processor. In any case, the i3 variant is still adequate for many sheet music apps and even a few Digital Audio Workstations provided that you are also interested in editing music.
Other performance-enhancing features include a decent amount of RAM and an adequate amount of SSD, making live reading faster and more enjoyable by speeding up sheet and chart retrieval.
Connectivity
Among the connectivity options, there is a Type-A port along with a Surface Connect slot, a micro-SD card reader for adding additional storage, Wi-Fi 6 standard, and Bluetooth 5.0 so that musicians can connect to their devices.
Battery Life & Other Features
The tablet can be used continuously for over 10 hours. There is also a rear camera and a front camera on the device for those who desire competitive cameras. Additionally, the TPM chipset makes it one of the few products that support safer boot-ups.
Conclusion
I would say that the Microsoft Surface Pro 7 is a good choice for those who want to use their tablet as a laptop, thanks to the Windows 10 operating system. Also, thanks to its state-of-the-art SSD storage unit, it provides faster file loading speeds than other products.
L

7.

Lenovo Tab P11
Lenovo's Tab P11 emphasizes display quality for professional musicians more than anything else. Therefore, if you are interested in reading or editing sheet music, this may be an excellent choice.
You should upgrade tablets such as the Tab M10 Plus with the Tab P11, as the latter offers a brighter screen and more storage space, both of which are beneficial for musicians and artists.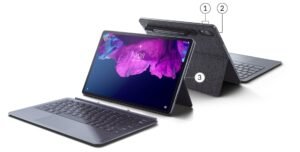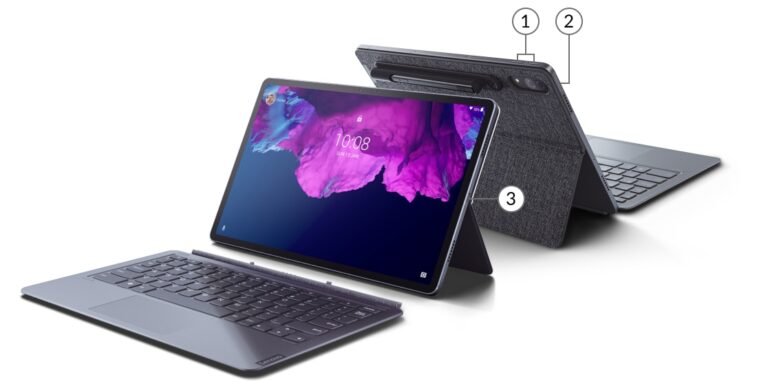 PROS
Punchy OLED screen.
Great-sounding quad speakers.
Responsive enough performance.
CONS
Few optimized apps.
Productivity mode.
Keyboard and pen accessories.
What makes it suitable for sheet music?
It is sized perfectly as a digital sheet music tablet and has a 2K display. Despite this, the overall resolution can be more than supplemented by the 400-nit screen brightness, making it even more visible under direct sunlight.
You can also use the built-in microphone when you want to record. Moreover, if you use this tablet to listen to music or stream movies/TV shows on Netflix, the quad-speaker setup will impress you.
Hardware and Performance
In my experience with the Tab P11 over two weeks, I didn't experience a single lag, especially with the powerful processor added to the mix. Enough amount of RAM makes the quad-core processor run with ease, and they together manage multitasking with relative ease.
This means that even if you render a music video in the background while reading sheet music, the response time will be remarkably fast, and you will not experience any stuttering. In addition to the storage capacity, there is a MicroSD slot for additional storage.
Design & Connectivity
Despite being all plastic, the Tab P11 feels premium in hand. The design of the tablet qualifies it as being reasonably aesthetic. Its internal hardware provides plenty of capacity for nifty connectivity, including the Type-C port, Wi-Fi AX support, and Bluetooth 5.1 as its most noteworthy features.
Battery Life & Other Features
Those who enjoy drawing life-like parallels while traveling can use the dependable rear camera. Furthermore, you can access a front-facing camera to connect virtually with other musicians and artists.
Musicians who regularly want to gobble up music-related stuff will appreciate the battery with 12 hours of backup. Last but not least, the Android 10 operating system lends itself to a pretty intuitive UI capable of accommodating some of the best sheet music apps, as mentioned previously.
Conclusion
A brilliant 2K display, massive battery life, and elusive fast charging capabilities make the Lenovo Tab P11 one of the more capable tablets for musically inclined readers. Yet, the unique aspect ratio sets it apart from other products mentioned on the list.
A

8.

Apple iPad Air 4Gen
You might need to carry your tablet around the world as a music artist, specifically to read live sheet music and chord charts. Apple iPad Air stands out as one of the more portable products on the list because of its size and weight.
I upgraded from my 3rd gen iPad Air to this tablet because it has a much bigger screen and a significantly faster processor.
Do you know how to clean screen safely without harming it?
PROS
The battery lasts a long time.

Chipset with a lot of power.

WiFi 6 compatibility.

The camera is great.

The device is quite portable.
CONS
The speaker output isn't as good as it could be.

There is no flash on the rear camera.
What makes it suitable for sheet music?
Thanks to its excellent color accuracy, the screen is quite handy for music readers. Furthermore, sheet music and other resources can be viewed outside the Liquid Retina screen. It comes with a vivid panel along with a robust set of speakers and a microphone so you can access other learning resources.
Hardware and Performance
Compared to its immediate predecessor, the processor speeds up every task by at least 30%. It also features an adequate amount of RAM, which makes it easy to run multiple music apps simultaneously, as well as massive, non-upgradeable storage.
Design & Connectivity
For fast charging and ultra-fast data connectivity, you have a Type-C port and Wireless AX compatibility to choose from.
Battery Life and Other Features
An iPad seems to have a 10-hour battery backup as a standard feature which would be helpful to music artists. On the other hand, this one charges faster and offers TouchID support for added security, in addition to a rear camera for clicking and converting sheets into scanned PDFs.
Conclusion
Apple's iPad Air 4th generation seems like a pretty good choice if you are familiar with the Apple ecosystem and wish to have a tablet that is both interactive and portable. Due to its 2nd generation Apple Pencil compatibility, it outperforms some comparable Android tablets making it an essential consideration for musicians.
What to consider when buying the Best Tablet For Sheet Music?
Size of the tablet
If a musician wants a genuinely top-notch experience of viewing sheet music on any digital device, they must first consider the size of that device before buying it. Tablets of larger sizes offer better user experiences. Hence, make sure to find a tablet with a minimum display size of 9 or 10 inches.
Display quality
When choosing a tablet for viewing sheet music, it is also essential to consider the display quality of the device. The resolutions of tablets determine the quality of the image, such as the pixels, the sharpness, the color, etc. There are different resolutions available for tablets. Ensure that you take all of them into account before choosing one.
Battery life
It is also essential to have a good tablet with long battery life. They may also require it for an extended period as they need to view music sheets whenever they want. They need a mobile device that can work for at least nine hours straight with only one charge when that occurs.
If you need to use your tablet for nine or ten hours at a time, go for the tablet that provides 9 to 10 hours of battery life on a single charge so that you won't have to worry about the battery draining every time you use it.
Weatherproof 
It does not matter where an artist is or what the weather is like; they may need a device in any given environment. For this reason, the device should be capable of fighting any kind of situation Mother Nature can throw at them. The device should be waterproof, dust-proof, and possibly scratch-proof as well.
Budget
If your budget is limited, you cannot expect all the unique features you want. Although, you won't have to compromise on everything. You can choose from various 5g tablets available in the market with different parts that fit your budget. You should evaluate your needs carefully and then buy according to your budget. 
Resistance to fingerprints
Ideally, the screen should be fingerprint-resistant. It's not a good idea to get some streaks on your sheet music. It is essential in brightly lit rooms or direct sunlight, where fingerprints may be easier to see.
Anti Reflective coating
You want your tablet to be resistant to bright light for the reasons already mentioned above. Moreover, you want it to be resistant to fingerprints as well. If you are not using a proper tablet, the sun's reflection can completely block your view.
According to the pressing issues and the need of the hour, I have listed the best nine tablets for reading sheet music designed for musicians and artists keen on performing on stage. The first few choices are for premium buyers, followed by a handful of mid-range models. A few budget tablets are good enough as secondary tablets for use in practice sessions at the end of the list.
Frequently Asked Questions – Best Tablet for Sheet Music
What are the best tablets for sheet music?
For sheet music on tablets, screens larger than 10 inches are sufficient. Nevertheless, this is not the only factor since you must also look for a decent aspect ratio, such as 16:9 or 3:2.
Musicians usually use tablets; which kind do they prefer?
Musicians prefer tablets with at least dual stereo speakers, high-quality microphones, a powerful processor for managing DAWs and sheet music apps, excellent battery life for lasting through events and gigs, and, of course, ample storage.
Can you read sheet music on an iPad?
iPads are ideal electronic sheet music readers thanks to their retina screen, powerful processing setup, and wide viewing angles that facilitate a comprehensive viewing experience.
How can I display sheet music on my tablet?
Digitally view sheet music and chord charts by downloading them from online resources or scanning them and converting them into readable PDF files.
How can I find the best sheet music app?
It is impossible to beat Mobile Sheets Pro when displaying sheet music. This app is one of the few that offers side-by-side page views, supports half turns, and even allows vertical scrolling.
Conclusion
It isn't challenging to work with sheet music. Nevertheless, most tablets fall short due to poor displays an average battery backups. I have listed the best choices for reading and working with sheet music, but here are a few categorized choices to help you settle on the best option:
The Apple iPad Pro 12.9 is an excellent choice if not compromising on performance.

Microsoft Surface Pro 7 seems to be a better option if you experience laptop-like functionality while using Windows 10 OS.

If you are more concerned with audio quality and other aspects of sound engineering, the Samsung Galaxy Tab S7+ is worth considering.

In addition, if you need a larger screen to view two pages at once, the Venturer Luna Max is the best choice for you.
However, aside from these options, you can also purchase other tablets and alternatives according to your brand preference, level of expertise as a musician, and even budget.
You can also read our review and analysis on a few other categories tablet-like gaming tablet, marketing tablets, photoshop tablet, drawing tablet and many other categories.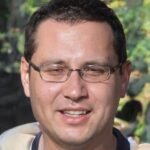 Ben Scott is a prominent technology journalist and reviewer, specializing in tablet devices. He is known for his comprehensive and unbiased reviews of tablets from various manufacturers.
With a deep understanding of tablet technology, including hardware components, operating systems, and software applications, Scott provides clear and informative reviews accessible to readers of all levels of technical expertise.
His attention to detail and in-depth analysis have earned him a loyal following of readers.