We earn some commission from AMAZON when you buy from the below links.
The world has changed so much and is still changing, and mostly the credit goes to technology. It has helped us in overcoming every obstacle we can face and even if we get stuck on something, technology offers us the easiest way to tackle it in a few seconds. I have done a little bit of research and finally made a list of the Best 5G Tablets of 2021 according to their functions and qualities.
Once I had an important assignment submission but it got deleted by mistake. I got so worked up over it, then a friend of mine explained to me that it was not a big deal as the Tab I was working on had an automatic backup feature. Hence, the project was saved on multiple folders. That's how I was able to submit it and was saved by a 21st century Tab, yeah I call it by this name originally it was the Samsung Galaxy Tab S7 with 5G.
(Image Credit: Vodafone)
My experience with technology has been great so far, however, the innovations in the 21st century in the field of technology have truly amazed me. With the 5G connectivity sharing files, assignments, projects, in addition to the photos and videos of high resolution has become so easier.
Smartphones are not the only ones which can provide us with several great features. The Tab's have been proved to come under the specialized section which offers us as much as a smartphone.
In 2022 various manufacturers have launched their Tabs with great features like their camera quality in both the bright as well as low light conditions, the theatre-like audio quality with the fastest bandwidth, and 5G connectivity.
They make sure we can complete our tasks no matter what field we are from, therefore can be considered as the Best 5G Tablets.
List of the Best 5G Tablets available in 2022:-
1- Apple iPad Pro 2022
Apple has always been among the trending manufacturers that produce amazing products with unmatchable features, saying that Apple has recently launched the Apple iPad Pro, which is the best tablet ever.
The features of the Apple iPad Pro along with the services it provides make the device feasible and easily adaptable which also plays a major role in making the tablet the best fit for any user.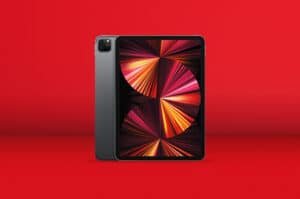 Tablet offered the smoothest XDR retina display in both variants with varying screen sizes i.e. the 11 inch and 12.9 inches. However, the commendable feature about the tablet is that it adjusts the screen brightness according to the light conditions around the user and helps in the relaxation of the eyes by minimizing the strain on them.
It tablet comes with the fastest Qualcomm octa-core processor with the Apple M1 chip and works as a power couple together resulting in super quick sensors and responses.
Apple iPad Pro has a stunning and magnificent, yet light weighing body with a wide display range which allowed it to become a portable as well as a stylish tablet. It can also be used for video games, streaming videos, live matches, and much more with absolutely impressive perfection as it possesses a great resolution power.
Sharing experience is unmatchable on the tablet because of the 5G cellular network connectivity which is supported in both variants. Sharing files or multimedia becomes much and much easier with 5G connectivity. The center stage feature of the tablet is simply wow, it gives a great video calling experience.
Apple iPad comes with pro accessories like the 1st generation Apple Pencil, a magic keyboard, and a smart keyboard folio which enhances the overall usability.
Hardware Specifications of Apple iPad Pro
Processor

A12X Bionic

RAM
6 GB
Storage
64 GB/1 TB
Display
12.9″ / 11″
Camera
Rear- 12MP-10MP | Front- 7MP
Operating System
iPadOS
Battery Life
10 hours
Weight
1.41 lbs
PROS
Powerful Processor.
Battery Life.
Gorgeous Mini LED screen.
Stellar 5G performance.
CONS
Very expensive.
iPadOS makes multitasking difficult.
2- Samsung Galaxy Z Fold 2 5G Foldable Tablet  
Samsung had never once betrayed the expectations of the users whether in the past, present or near future. Whenever a new device is launched, the specifications and the portability are the things that come to mind while opting for buying. Nothing can beat a foldable tablet in terms of portability as well as in the texture of the body.
It is an affordable as well as a reliable tablet comprising all the futuristic strength and potential, making it a treat to the eyes. In addition to it, the Tablet has magnificent technology which Enhances the overall usability and models it as a promising device.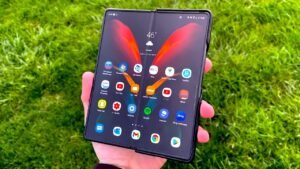 Samsung Galaxy Z Fold 2 Foldable Tablet comes in two stunning colors i.e. Mystic Bronze, and Mystic Black. This multipurpose Tablet can be used as an efficient smartphone having 6.2 inches display with great performance in folded form. While it works as a superb tablet when unfolded, with its extraordinarily ultra-thin glass of 7.6 inches display.
The tablet has an amazing AMOLED 2X screen display which ensures eye protection by reducing the blue lights emissions. The best part about this 5G foldable tablet is that this device can be used in various ways.
It has been manufactured by considering all the minute facts that can model it as the perfect base for future advancements with exceptionally high qualities.
This can be the first tablet that can give an immensely satisfactory result to the users by being the most easily portable, adaptable, and adjustive device. It can also be used for answering calls or texting messages when used in a smartphone manner or completing projects or making presentations in the tablet manner. Whereas the flex mode is appropriate for streaming or binge-watching shows.
Hardware Specifications of Samsung Galaxy Z Fold 2
Processor

Snapdragon 855

RAM
12 GB
Storage
256 GB
Display
7.6″ Unfold
Camera
Rear- 12 | Front- 10MP
Operating System
Android
Battery Life
10 hours
Weight
1.00 lbs
PROS
Powerful Processor.
Folded screen.
Stellar 5G performance.
3- Huawei Mate Pad Pro 5G
The best quality any device could offer is being user-friendly as well as economical for the consumers. Huawei has come forward by manufacturing the devices by keeping in mind the needs or demands of the users.
Another device that comes on the list of best 5G tablets is the Huawei Mate Pad Pro 5G which is a great device with a wide display of 10.8 inches. It provides an amazing visual experience along with maximum clarity because of the cinematic color gamut which is provided by the DCI-P3 in addition to the utmost brightness capacity.
The tablet is reliable for distant traveling as well as easily portable, as it has a long battery life of 7250mAh with wireless charging of 27W in addition to 7.5W reverse wireless charging capacity.
Huawei Kirin 990 5G SoC has the fastest performance with a super quick processor which offers the 5G modem in a single SoC. The tablet enhances the growth of 5G data by the advanced Al performance along with the computing power of itself-developed NPU. This technology helps in streaming or downloading high-resolution videos with great speed, as well as 3D graphics gaming also becomes easier.
Tablet has two variants based on the storage space, one comes with 8GB RAM + 256 GB storage and the other has 8 GB RAM + 512 GB storage. Despite the system occupying the space, there is still sufficient room available for the storage of user's data. With an NM memory card t, the storage can be extended up to 256 GB. Tablet possesses a rear camera as well as a front camera of 13 MP and 8 MP resolution respectively with an overall pixel resolution of 1920×1080 pixels.
Hardware Specifications of Huawei Mate Pad Pro 5G
Processor

Octa-Core Processor

RAM
6 GB
Storage
128 GB
Display
10.8″
Camera
Rear- 13MP
Operating System
iPadOS
Battery Life
10 hours
Weight
1.1 lbs
PROS
Powerful Hardware.
Lightweight.
CONS
Limited software.
No audio jack.
4- Samsung Galaxy Tab S7 5G
Samsung does not need to be introduced every time its new product is mentioned to the world. Samsung has launched many tablets this year and they all are worth noting because of their commendable features and specifications. Apart from their explicit display, Samsung offers new and better characteristics with every newly launched device.
The next Tablet in the line is Samsung Galaxy Tab S7 5G. The display of the tablet needs to be amazing to attract the attention of the users. Samsung Tab offers a superb LCD of 11 inches which provides a detailed and realistic experience as if the picture has come to life.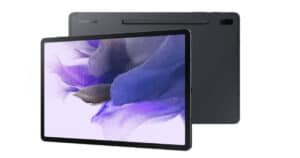 It offers marvelous performance because it possesses the fastest Qualcomm Snapdragon 865+ processor along with the latest Android OS which results in providing the smoothest function ever while performing the operations.
It provides 5G connectivity which enables the users to have optimum power to connect and be productive anytime regardless of the location. Tab provides a 5G connection which implies that there won't be a next time anymore.
This Tab has fulfilled all the requirements of users and has raised the level of streaming videos, gaming experiences, watching live matches, or binge-watching favorite shows to the next level. Shows can be watched without buffering due to the 5G connection and in a high resolution because of their visual effects.
It gives a PC-like experience when used with a keyboard or the S Pen stylus like never before and can also change handwritten notes into texts.
This device is capable of changing our world of working or gaming. For the professionals of different fields like photography, artistry, painting the Tab along with its accessories opens up a whole new world of operations they can perform on.
Hardware Specifications of Samsung Galaxy Tab S7
Processor
Octa Core (3.09+2.4+1.8GHz)
RAM
6 GB
Storage
128 GB
Display
11″ Inch Retina display with 2560 x 1600
Camera
Rear- 13MP | Front- 8MP
Operating System
Android 10
Battery Life
12 hours
Weight
1.1 lbs
PROS
Powerful Processor
DeX mode
Storage space
Updated S pen stylus.
CONS
Keyboard need to buy seperately
Small keys
5- Samsung Galaxy Tab S7+ 5G
Samsung Galaxy Tab S7+ 5G is the next awesome tablet in the line. The display and the design of the tablet are like the cherry on top of the cake flawless and attractive. Samsung tab has a wide and stunning display of 12.9. inches with brilliant style. This device emerged as a revolution in the digital world because it was the first 5 G-enabled tablet which was launched by Samsung.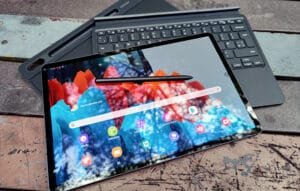 This is a must-have device that needs to be mentioned in the list. The device has provided everything at a faster rate with minimal or no lagging to the users to ensure they can make full use of it. The device shows developmental potential while doing any task due to its Qualcomm Snapdragon 856+ processor.
Samsung Galaxy Tab S7+ possesses Android 10 which makes it easier for the device to attain an impressive speed and efficiency. The tab offers a broad display to make the overall multimedia exposure involving gaming, binge-watching, streaming, subtly smooth and effective without leaving out the minute details that make them extremely realistic.
The sound quality of the quad speakers is surprising as they give a theatre-like experience and the gaming reaches a non-debatable level along with its super-lasting battery.
This device supports excellent and firm adaptability in addition to the acceptance of the all-day battery life. It offers all the features that are appropriately suitable to make it the best tablet launched by Samsung which is proficiently fulfilling the requirements of the users.
Hardware Specifications of Samsung Galaxy Tab S7+
Processor
Octa Core (3.09+2.4+1.8GHz)
RAM
6/8 GB
Storage
128/256/512 GB
Display
12.4″ Inch Retina display with 2800 x 1752
Camera
Rear- 13MP | Front- 8MP
Operating System
Android 10
Battery Life
12 hours
Weight
1.28 lbs
PROS
Powerful Processor
DeX mode
Storage space
Updated S pen stylus.
CONS
Keyboard need to buy seperately
Small keys
6- Samsung Galaxy Tab S6 5G
The next device on the list is Samsung Galaxy Tab S6 5G which contains all the features as per the user's necessities and needs. It offers a wide range of features with a stunning and superb look.
Possessing a terrific design makes the tablet uniquely qualified to be featured in the best tablets list. This is the first device that has supported 5G communications in tablets around the globe.
It can be easily carried out throughout the day as it is lighter in weight with great grip convenience which makes it an extravagantly portable tablet. The 10.5-inch display of the tab offers an awesome visual experience to the users.
Samsung Galaxy Tab S6  has a metal body with a dashing matte finish and an elegant grey color due to which the tablet looks classy as well as stylish altogether.
It gives out mesmerizing 4K visuals along with the audio quality while gaming, binge-watching, and streaming videos as the quad speakers are supported by Dolby Atmos which are tuned by AKG and provides access to AR content.
This Tab also comes with the exclusive S Pen Stylus for enhancing the productivity of the users. This Pen is quite amazing and easily portable, as well as it can be charged just by attaching it to the back of the tablet. Hand-free gestures can also be effortlessly acknowledged by it.
Samsung Galaxy Tab S6 is an absolute device for multitasking purposes. This device is equipped for facing any challenges because of the 5G connectivity with low latency.
The tab is fully flourished with numerous apps and qualities to show off in front of others, for example, it has the storage space of 128 GB which favors the access or utilization of a huge pile of data all at one place.
Hardware Specifications of Samsung Galaxy Tab S6
Processor
Octa-Core(2.8GHz+3×2.4, 4×1.7)
RAM
6 GB
Storage
128 GB
Display
10.5″ Inch Retina display with 2560 x 1600
Camera
Rear- 13MP | Front- 8MP
Operating System
Android
Battery Life
15 hours
Weight
0.92 lbs
PROS
Powerful Processor
DeX mode
Storage space
Updated S pen stylus.
CONS
Keyboard need to buy seperately
Small keys
Conclusion
I was introduced to technology from a very young age and in my work as well as an artistic experience, the development of the devices has allowed me to do much more than just use them for calling and messaging purposes.
I have worked with most of the variety of tabs throughout the years so I can tell the different impacts of devices easily, and efficiently hence the above-mentioned tabs were the best 5G Tablets of 2022 according to me.
The Tab's with the previous generation, limited access and properties, I had used them too and they were helpful at that time. However, with the increasing workload along with the swamped lifestyle, we rarely get any chances to be with our loved ones. So, when we are in the 21st century why can't our device be, that can bridge the gap between us virtually, besides we never feel left out anymore.
With a hectic schedule, I was becoming more and more distant from my family. However, the Tabs helped me a lot, not only did they diminish our gap but made me feel more than that. My working hours have been drastically hampered due to the lockdown but the Tabs helped me a lot. The 5G connectivity and the fast processor were a boon for me as well as the display didn't put much strain on my eyes.
The impressive impact of these 2022 devices can be seen easily in anyone's life, like mine, as they have given me a ton of satisfaction and pleasure in addition to great beneficial characteristics which have fulfilled most of my requirements and were worth the money.