If you're an artist or interested in being one, we know how much effort and time it takes to create art or to edit an image professionally. Now we have the best tablets for photoshop through which you can achieve your vision of creativity and make your work easy and outstanding, but that magic does take a hard token on us.
Yes, the storage and the lengthy process of downloading it and the price as well. It's hard to maintain your creative self within such boundaries right? But here we are to help you with that!
Below is the complete guide on how you can find Photoshop in affordable and subtle tablets for photoshop so that your money and effort doesn't go waste.
Best Tablets For Photoshop – Recommended By Graphic Designers
1. X PEN ARTIST 15.6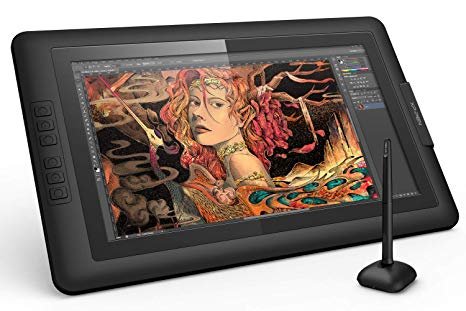 The X pen artist 15.6 is the newest tablet which brings you a display area of 15.6 inches with a sleek metallic body. The resolution is high dimension 1920X 1080 which brings you the impressive picture quality and helps you give the finest touch to your art or edit.
The best part about this ultrabook is that it's handy so that you can carry it anywhere and work anywhere, anytime. The sleek design of this tab is 75% of Adobe RGB color gamut, and the input signal is USB type – C.
This tablet is known for its ability and is rated among the best tablets for photoshop at such an affordable price. You can also find these types of drawing tablets according to your needs.
Hardware Specifications of XP-PEN Artist 15.6 
Active Area
15.6″
Pressure Level
8192+
Express Keys
8
Multi-Touch
Yes
Weight
8.82 lbs
Stylus
PO5R Battery-free
Size
17.52 x 11.22 x 0.43 inches
Tilt Support
Yes (178 degrees)
---
Pros
Affordable
8 shortcut keys and Red Dial
Low parallax display
Cons
Inconsistent line quality
Needs colour calibration
Pressure and tilt issues
2. WACOM INTUOS PRO
The Wacom INTUOS Pro is available in 3 variants, small, medium and large according to one's requirement. This series is known to be better when it comes to accuracy. The active area or display is 8.7 X 5.8 inches with zoom in and out power so that you can rectify specific areas.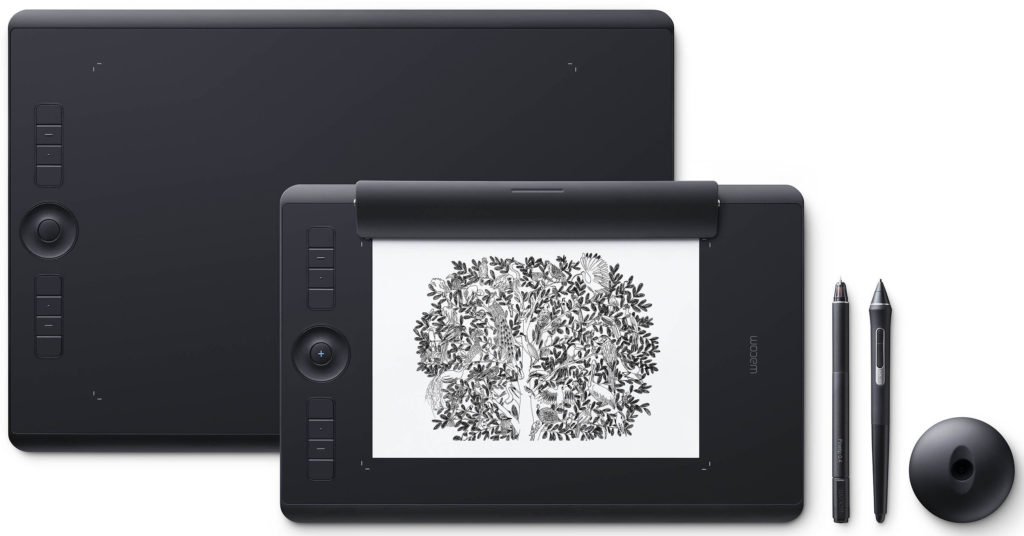 The best part about this tablet is that it has built-in Bluetooth so that you can share your work easily. The no of USB ports is 1 with multi-touch technology. The other impressive part of this tablet is that it's very lightweight, can be traveled around with, since it weighs only 1.5 lbs, clearly a major plus since sometimes it becomes hard to travel with heavy gadgets, but if you're an outdoorsy artist, this tablet is your catch.
Hardware Specifications of Wacom Intuos Pro Digital
Active Area
8.75″ x 5.8″
Pressure Level
8192
Express Keys
8
Multi-Touch
Yes
Weight
1.5 lbs
Operating System
Windows or Mac
Size
13.2 x 8.5 x 0.3 inches
Stylus
Wacom Pro Pen 2
---
Pros
Good value for money
Large active area
Cons
Pen stand doesn't grip well
Difficult to access new pen nibs
3. MICROSOFT SURFACE PRO 4
Microsoft has definitely raised the amp after bringing this amazing gadget into our lives. This stunning looking laptop is a touch screen with a detachable keyboard which makes editing way easy. It is processed by the latest 7th gen intel core i5 with storage up to 128 GB SSD.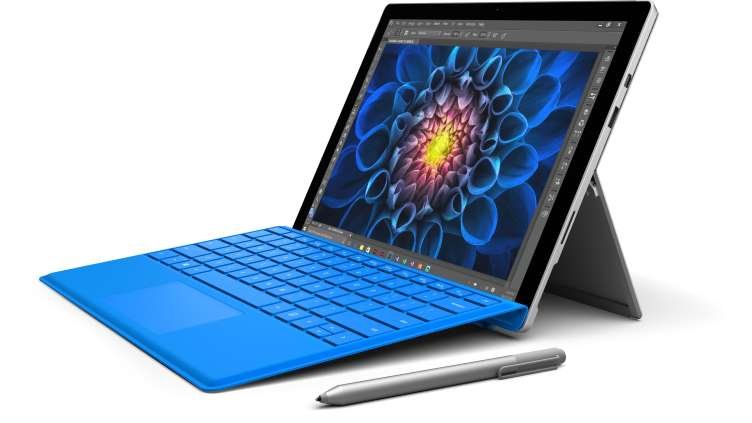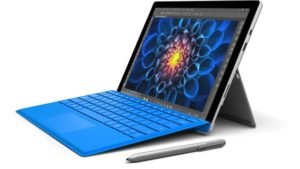 The display is 12.3 inches with pixel sense display and 2736X1824 resolution bringing you the wide and the clearest view for highlighting your work even more.
It's operated by windows 10 professionals which bring out built-in windows applications and the battery life lives up to 13.5 hours, which means no stopping you until the work is done and ready to impress. The price value is costly but it definitely serves on its commitment.
Hardware Specifications of Microsoft surface pro 4
Processor
6th Gen Intel Core m3, i5, and i7 processors
RAM
4/8/16 GB
Storage
128/256/512/1024 GB eMMC storage
Display
12.3″ Retina display with 2736 x 1824
Camera
Rear- 8MP (Webcam)
Operating System
Windows 10 Pro
Battery Life
9 hours
Weight
1.7 lbs
For more detailed explanation you can read our expert's review on Microsoft Surface Pro 4.
Pros
Larger, sharper screen within same dimensions
Vastly improved Type Cover
Even better Surface Pen
Cons
Type Cover still sold separately
Intel Core m3 at entry level
Battery life hasn't improved much
4. APPLE IPAD 2018
How can we forget about iOS when we're talking about editing. IOS has already amazing built-in software through which we can also edit videos and images that don't require you to download further software. Even for the novice editors, apple's iMovie has been considered professional and efficient to work with.
The Apple iPad 2018 has 2GB RAM with storage up to 32 GB so that you can store your work easily. The display is 9.7 inches retina display with 2048 X 1536 resolution. Its operating on the iOS 12.1 and the battery lasts up to 10hours. The tablet is available in 3 different colors and it also supports the apple pencil so that you can the precise touches to your photo or video easily.
Hardware Specifications of Apple iPad 2018 Model
Processor
Apple A10 Fusion
RAM
2 GB RAM
Storage
32GB
Display
10.2-inch Retina display with 2048 x 1536 Resolution
Camera
Rear- 8MP | Front- 2MP
Operating System
iOS 11.4.1
Battery Life
10 hours
Weight
0.99 lbs
For more detailed explanation you can read our expert's review on Apple iPad 10.2.
Pros
More affordable
Good screen quality
Powerful for the price
Cons
Apple Pencil costs extra
Design unchanged
5. HUION GT-190S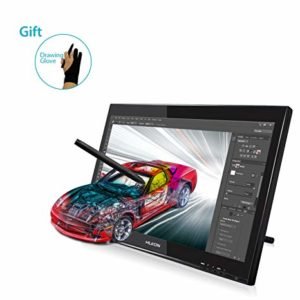 This tablet has the widest screen with a 16.10 aspect ratio which brings you a large screen so that you can work your vision even well, as it gets easy on a large screen to define your work and look for rectifications isn't? The display area is 19IPS LCD with the pressure sensitivity of 2048levels.
The resolution is 1440X 900 for clear defined images. This tablet is lightweight weighing only 9.4lbs and is covered in fine rubber which helps you to hold the grip. So overall it's an amazing artist's tablet at affordable prices.
Hardware Specifications of HUION GT-190S
Active Area

15.6 inches (1920 x 1080)

Pressure Level
8192+ Levels Battery Free
Express Keys
6
Multi-Touch
Yes
Weight
2.98 lbs
Compatibility
Windows and Mac
Size

17.32 x 9.84 x 0.39 in

Battery
2.5 Hrs
---
Pros
Affordable
Good pressure sensitivity
Pleasant Surface
Comes with 2 pens
Comes with a screwdriver for the stand
Cons
VGA port only
Driver is limited in function
Not high-resolution
Viewing angles not great
6. UGEE 1910 – (Budget tablets for photoshop)
Here's another monitor from UGEE for drawing and graphics which brings you absolute satisfaction. The display is 19 IPS LCD and the resolution is 1440 X 900. The best part of this monitor is that it comes with a pen so that you don't have to connect to a keyboard and you can do your work easily and precisely.
The pen given with this monitor can be recharged, and it comes with 2048 pressure levels of sensitivity for the fine details.
Hardware Specifications of UGEE 1910B-(Budget tablets for photoshop)
Active Area

402mm x 225mm (1440 x 900)

Pressure Level
2048 Levels Rechargeable Pen
Express Keys
10
Multi-Touch
Yes
Weight
15 lbs
Compatibility
Windows and Mac
Size

20.9 x 18.3 x 7.2 inches

Battery
2.5 Hrs
---
Pros
Adjustable stand
VESA-compatible
Excellent pressure curve and pen sensitivity
Good build quality
Cons
Screen shows some pixelation
Color accuracy is imperfect
Driver installation ease varies
Pen takes a moment to wake up
7. HUION KAMVAS GT-191
The HUION KAMVAS gt 191 has won many hearts since it has a long list of amazing features at an affordable price. The display is 19.5 IPS LCD which is adjustable as well. The resolution is 1920X 1080 pixels for the best experience in illustrating and Photoshop.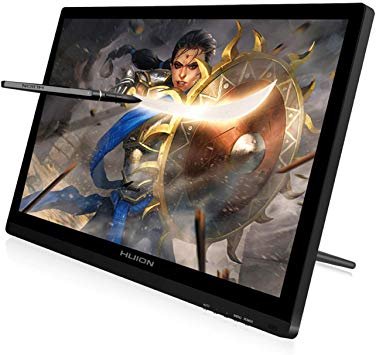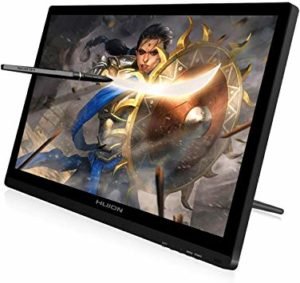 This tablet comes with a pen with 8192 levels of pressure sensitivity. Even this tablet is a monitor that means you have to connect it with your computer. The picture quality is impressive, and this tablet is known to be among the best affordable tablets for photoshop, editing images, and creating art.
Hardware Specifications of Huion GT-191 KAMVAS
Active Area
43.48 x 23.86 cm
Pressure Level
8192+
Express Keys
8+ Mechanical and Virtual Wheel
Multi-Touch
Yes
Weight
13.5 lbs
Stylus
Rechargeable PE330
Size
19.53 inches
Tilt Support
Yes (20-80 degree)
---
Pros
Battery-Free passive pen
Fantastic pressure levels
Compatible with Windows and MacOS
Huge screen space
8. LENOVO YOGA TAB 3
The Lenovo yoga tab 3 has a gorgeous display of 8inch HD IPS LCD it's a touchscreen with 1280X 800 pixels. This tablet has a primary camera of 8MP which stands on the mode by 10days. It's operated by android v6. 0 marshmallow with a 1.3 GHz Qualcomm quad-core processor.
The storage spreads out to 16GB with a single micro SD Sim slot. It has Wi-Fi and Hotspot services through which you can think out of the box and browse new ideas. This touchscreen tablet works for 20 hours and is available in different sleek designs at an affordable price.
Hardware Specifications of Lenovo yoga tab 3
Processor
Qualcomm Snapdragon APQ8009
RAM
2 GB RAM
Storage
16 GB (expandable microSD to 128GB)
Display
8″ IPS (

1200 x 800)

Camera
Rear- 8MP rotatable up to 180 degree
Operating System
Based on Android 5.1 Lollipop
Battery Life
15 hour
Weight
1.03lbs
For more detailed explanation you can read our expert's review on Lenovo Yoga Tab 3.
Pros
Unique, functional design
MicroSD slot
Good camera
Long battery life
Cons
Average display
Unimpressive display
9. HUION L4S Tracing Light Pad Box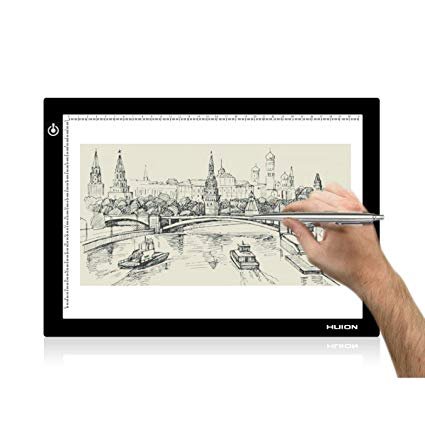 This tablet has the best review tablets for photoshop on every site since it has a lot of specifications under a jaw-dropping price. The HUION ARTCRAFT tracing lightbox has a USB cable slot and the display is 17.7 inches with an LED. Its very lightweight, and comes under the best sellers rank.
This monitor is ultra-thin only 0.2 inches, the USB makes it easy and convenient to use and share it to your local hard disk to save your progress or finished work. You can easily draw and sketch and moreover you can adjust the light intensity as well, all according to your comfort. This monitor cab is connected to your computer or laptop and the sleek body of the monitor doesn't get scratches easily.
Hardware Specifications of HUION L4S Tracing Light Pad Box
Working Voltage
DC 5V
Current
600mA
LED life cycle
6500-7000K
Display
310 x 210mm
Brightness
110Lux
Color Temperature 
8000-10000K
Battery Life
15 hour
Weight
1.21 lbs
---
Pros
Small and portable
Lightweight
Cons
Not the brightest
Larger work surface may preferable
Conclusion
If you are a professional editor then definitely you need to have this tablet for the multi-purpose uses and other advantages.
We hope you like our list of best tablets for photoshop and any other graphical uses.