It is no longer true that only brokers and professionals traded stocks in the stock market and that all stock trading was confined to computers and laptops. The average person like you and me now invests and trades securities. Trading stocks, however, requires a close eye on them, and a great tablet makes that possible.
If you've been using a smartphone to trade, you already know how frustrating it is to check out the charts on a small screen. Additionally, if you travel frequently or don't want to spend money on getting a full-featured computer or want an additional device aside from your PC, then a tablet might be the better choice.
As a result of this activity that must be performed on the go, the tablet's portability is essential for stock trading. You might end up losing money if you wait too long. You should also study different charts, read news stories, and even keep an eye on Twitter and Reddit to see what's happening around the world that could impact the stock market.
Apple iPad 9th Gen - Tablet For Stock Trading
Here's the best pick for the stock trading and marketing, If you're looking for a reliable, cheap and feature-loaded tablet then iPad 9th Gen is the best option for you. Because of its smooth performance and high security, this is an excellent option for traders.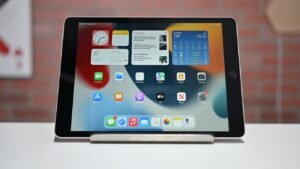 Some of its key features are:-
A13 Bionic Chip with Neural Engine

10.2″ wide display.

Camera.
Battery Life.
Robust body.
When it comes to trading stocks, you need a secure, robust device and can multitask well. Because many apps will be open simultaneously, you must have a machine to handle multiple tasks. It would also be necessary to have a tablet that has a long battery life because trading takes place all day.
Tablet Computer Requirements for Stock Trading
Display
A tablet's display is the most critical component, as it is the only way to display everything about stock trading. To choose a tablet, some factors need to be considered, like the display size, the resolution, the brightness, and the viewing angle.
It is important not to buy the smallest one that hurts your eyes; you should buy one that will suit your eyes; the display resolution should be HD so that you can read the text easily while trading, that will not be used at your home all day. It should therefore provide high brightness outside.
Size
Make sure the tablet is small enough to carry on your backpack easily, and keep in mind that the display size should be large enough to read on comfortably.
Weight
Because you're buying a tablet instead of a laptop, you need to consider its weight. A lighter weight will be easier to hold and carry.
Processor
Processors are like the heart of the tablet since if it works well, it will run smoothly. The app will keep track of stocks for an extended period, but some unique apps for stock trading on your tablet.
Therefore, a sound processor should be able to run them smoothly. A tablet's multitasking depends on its processor, so a fast processor is essential.
Storage
Although you may think that the amount of storage doesn't matter because your work is online, that is a false assumption. To run your apps and save files, you will need storage space on your tablet. Apps that take up big rooms on the storage need a lot of space.
The device will hang if there is not enough storage. The device should have at least 4GB of RAM, and more is better.
The internal storage must be at least 32GB, and if you have an external storage slot, you're in luck since cloud storage requires Internet access.
Battery Life
A durable battery is a must if you're buying a tablet for portability and not to keep it connected to the plug.
Travelling or staying longer is what you want. Your stock trading will be kept up-to-date with the battery. Thus, as much as you can get a durable battery, you are more likely to survive.
New tablets offer durable batteries, which should have a minimum of 10 hours of backup time.
After evaluating a wide range of models, I have determined the most appropriate ones for stock traders. I selected these tablets based on the factors above, such as processing power, app support, battery life, and multitasking capabilities.
Let's take a look at

 the list of Best Tablet for Stock Trading in 2022:-
1- Microsoft Surface Pro 7
When combined with the included keyboard, the Microsoft Surface Pro 7 performs much like a laptop as well as a 2-in-1. For day traders looking for the ease and familiarity of the Windows OS, this is a great tablet.
Display
Crisp, bright images are displayed on display. It works smoothly with multiple applications running simultaneously. The best possible visuals are also achieved with the Intel graphics coprocessor.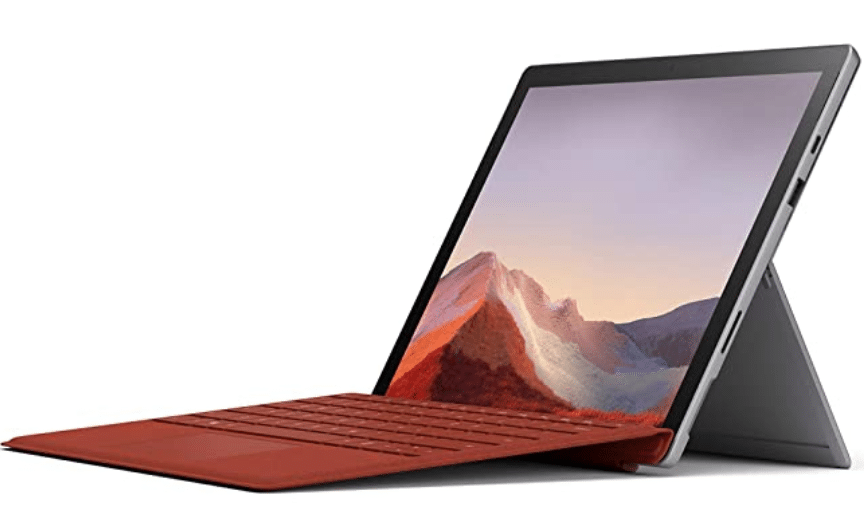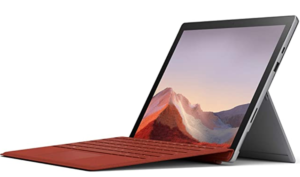 Processor and Performance
This model is powered by an Intel i5 processor, which puts it on par with the best laptops available on the market today. The laptop doesn't generate much heat and has a speedy processor, and helps the user keep an eye on the stock prices and charts without any hiccups from the tablet. 
Although you can also choose from Intel i3 and Intel i7 models, when trading stocks, I strongly suggest that you select the well-balanced i5.
RAM and Storage
This laptop offers 8GB of RAM and 128GB of SSD storage space, making it as powerful as it gets. This enables the user to glide through multiple stocks screens in split seconds and store important files and documents related to the stocks.
Design
In addition to its excellent design, the Surface Book can also be used as a laptop, a tablet, or even in a 'studio mode' where you can use the Surface Pen to illustrate or take notes. This is an excellent device for everything else if you're into trading stocks.
Other Features
There are a lot of PC applications that stock traders tend to use on their laptops, such as eToro, MetaTrader, etc., and most of them do not run well on Android and Apple devices. On the other hand, Windows OS-based tablets can efficiently run these applications without any effort.
Battery and Conclusion
With a battery life of 10.5 hours, this model can keep you going for a long time. In summary, this is one of the rare instances where a tablet's battery life works as advertised. For those who wish to use trading apps on the Windows platform and want to do so with a compelling device, this right here is the perfect device for you.
PROS
A keyboard is included in the package.

All PC apps are supported.

The display is bright and vivid.

Batteries that last longer.

Processor with high performance.
CONS
The quality of the camera is poor.

It's very expensive.
2- Samsung Galaxy Tab S7
You have come to the right place if you want to trade stocks on a high-end Android tablet. With the Galaxy Tab S7, Samsung has created a future-proof device and will last you a long time. A Tablet + Keyboard variant is also available, should you be interested in a 2-in-1 device for trading purposes.
Display
A large TFT display displays a decent resolution on the Tab S7. The model has an 84.6% screen-to-body ratio, allowing you to run and view multiple trading applications with clarity at the same time so that you can make the best trading decisions possible.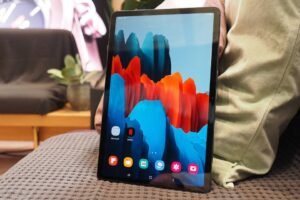 Processor and Performance
It is powered by a potent processor, Qualcomm's flagship chip and comparable to Apple's flagship processor. The processor also supports 5G technologies, which is a huge plus. A decent GPU is provided along with this processor to make workflow smoother related to the stock market.
RAM and Storage
It provides lots of storage space along with a more than satisfactory amount of RAM, making it one of the best Android tablets you can buy. Several applications can be stored and run simultaneously (and switched between). Other variants include higher storage options in case you want more on-device storage. MicroSD cards can be used to expand the storage on all devices.
Other Features
This device is guaranteed to receive a minimum of four years of security updates. Samsung's Knox security platform will keep your device safe from all possible threats. As a result, it is a good option for those trading stocks because they know their finances are secure at all times.
Battery and Conclusion
With a battery life of around 15 hours, the tablet can run efficiently for an entire working day. The Galaxy Tab S7+, on the other hand, features a super AMOLED display that is slightly larger than the Galaxy Tab S7.
PROS
A great deal of processing power.

The big screen is perfect for multitasking.

The box contains a stylus.

Security levels are excellent.

A battery that lasts a long time.

Excellent setup for the camera.
CONS
This is not an AMOLED display.

Quite costly.
3- Apple iPad Air 4
There is no doubt that the iPad Pro is a powerful device, but it is also an expensive one. This is why I chose the iPad Air over the iPad Pro, as the Air offers better value for money and doesn't compromise either. For those who want to purchase an iPad without having to shell out an exorbitant sum, this is just the perfect solution.
Display
While the iPad Air has a smaller display than the much larger iPad Pro, it does have significantly better battery life. There are 500 nits of brightness on this Liquid Retina IPS LCD screen, making it well suited to outdoor use as well so that you can spectate the stocks clearly while travelling. 
Processor and Performance
Because of its smooth performance and high security, this is an excellent option for traders. Apple's iPad Air is powered by Apple's flagship processor, which is paired with a neural engine, and it is the same chipset that powers the iPhone 12 line of smartphones and is about 40% faster than its predecessor, ensuring that it keeps you up to date in terms of usability and performance. This means you can use this tablet for trading without having to worry about an upgrade for half a decade.
RAM and Storage
The iPad comes with a decent amount of RAM and lots of internal storage so that you get the fastest experience when opening and closing all your stock apps, and you don't even need to worry about the size of the files and documents. There's also a 64GB variant sold for an even more affordable price if you don't want to invest a ton of money for trading stocks.
Camera
This device features an impressive 7 MP HD front camera that's perfect for conferences attendees.
Other Features
Apple has the best possible security, one of its best features. The data you store on an Apple device is entirely safe. Your cards can only be used to make transactions thanks to TouchID, FaceID, and other authentication methods.
Battery and Conclusion
You can use the iPad Air for an entire workday, thanks to its 10-hour battery life. Additionally, the model supports the latest WiFi 6 standards, allowing you to connect faster and see the updates of different companies' stocks earlier. Furthermore, Apple's tablets have one of any brand's most secure authentication systems. Given all these factors, it quickly becomes the best iPad to trade stocks in 2021.
PROS
The battery lasts a long time.

Chipset with a lot of power.

WiFi 6 compatibility.

The camera is great.

The device is quite portable.
CONS
The speaker output isn't as good as it could be.

There is no flash on the rear camera.
4- Samsung Galaxy Tab S6 Lite
When it comes to tablets, Samsung is an industry leader. One might be able to use some Samsung tablets to trade stocks. Whether you are interested in day trading, forex, cryptocurrencies, or long-term investments in the stock market, Galaxy Tab S6 Lite is an excellent device.
Display
The tablet does well from a display perspective. Although it doesn't have a giant screen, it's not too small either. 
It comes with a Full HD resolution so that you can see the data and graphs related to stocks trading. Additionally, there are two speakers on the back that provide surround sound in addition to fantastic visuals that aids in an immersed experience when watching the news.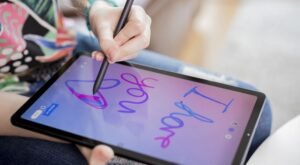 Processor and Performance
Samsung's S6 Lite runs on its Exynos processor, making it a good choice if you don't want to use the device for power-intensive tasks like video editing or 4K rendering. It is perfect for mediocre tasks like viewing stocks and switching between different trading apps fast to get the updates quickly.
RAM and Storage
4GB of RAM and 128GB of storage space are available here. Despite the great price of this tablet, if you want to save around $100 and are OK using a display smaller and a processor that is a few years old, you might want to consider the Galaxy Tab A, as it is also a great day trading device.
Design & Cameras
The device doesn't weigh much, so it is straightforward to carry around and work on, a plus point for stock trading. As a bonus, it comes with an S-Pen, which can take quick handwritten notes.
Battery and Conclusion
The tablet lasts for about 12 hours on a full charge about battery life. It has a DeX mode that lets you quickly switch between a tablet and a PC, one of its best features. Even windows open on your PC can be sent to the tablet and vice versa.
PROS
Bezels that are slim.

Quite long battery life.

Synchronization in DeX mode.

The package includes an S-Pen.

Lightweight and thin.
CONS
Front camera quality is average.

The Qualcomm processor could be improved.
5- Microsoft Surface Go 2
It would help if you had a tablet that offers you the same power level as the PC in your office when you are trading stocks on the go. That's where the Surface Go 2 comes in. Here's the second (and last) Microsoft product on this list, but it's a cheaper option than the Surface Pro 7.
Display
This 10.5-inch display offers a Full HD resolution, so you have plenty of room to view stock graphs and data.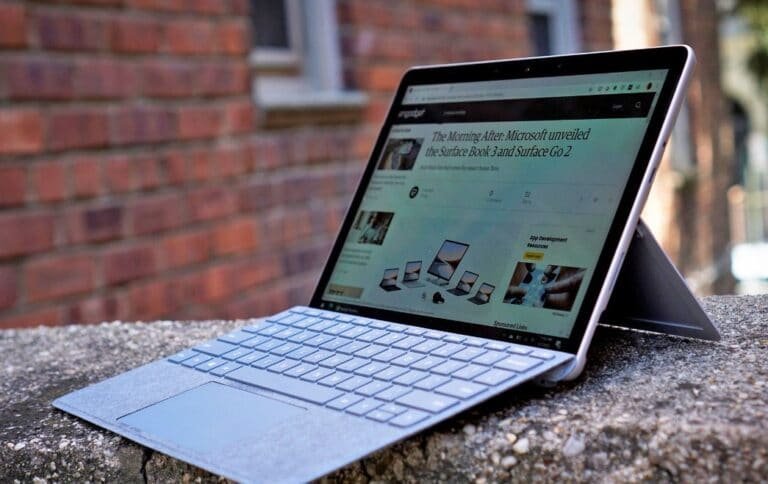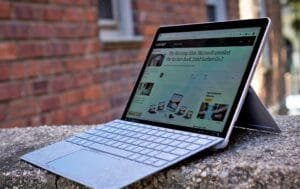 Processor and Performance
This tablet comes equipped with an Intel Pentium processor and the average RAM but performs like a beast. Additionally, there are a variety of other configurations available, from this one to higher Intel M3, which is the most potent version. It depends on how much you want to spend on the variant if you are serious about stocks trading.
Since the tablet runs Windows 10 Home, it gives you the flexibility to run all the PC apps that you want. This is particularly beneficial for stock traders who wish to use eToro, TradingView, etc., on their tablets.
Design and Cameras
This model is designed well and is very comfortable to hold means carrying it is effortless. Video conferences are possible with the 8MP rear camera and 5MP front camera of the Microsoft Surface.
Battery and Conclusion
When you trade stocks, one thing you need in a laptop is a long-lasting battery. It won't run out of battery so quickly with the Surface Go 2. With its 10-hour battery life, you will never need to worry about stopping trading.
After all, it is one of the best options available for you if you are looking for a Windows 10-based tablet with a long battery life that is also affordable. Stock traders should not overlook this investment.
PROS
Quite secure.

It can be used as a 2-in-1 device.

Display with high quality.

Batteries that last long.

Supports a wide range of trading applications.

Lightweight and thin design.
6- Lenovo Tab M10 Plus
Trading in commodities, unlike simple stock exchanges, is not time-sensitive. It is best to rely on an affordable, light, and responsive tablet, namely the Lenovo Tab M10 Plus since you can virtually trade assets round the clock.
Additionally, the Tab M10 Plus has a bigger storage space than the Smart Tab M10, best suited for traders who use multiple apps and numerous assets to cope with the changing global markets.
Display
Trading on a tablet is far better than dealing with small screens on smartphones. As for the Tab M10 Plus, it boasts a display with thinner bezels, a resolution of Full HD, and slimmer bezels, altogether improving the viewing experience while trading. This device has an 'eye comfort' mode for those who like to go through hours and hours of data before making any investments.
Processor and Performance
The Tab M10 Plus features an octa-core processor, making it easier than ever to manage multiple apps such as Market Pulse, Moneycontrol, Investing.com, etc. The processor prevents your screen from freezing while you switch between your trading account and price tracker.
RAM and Storage
As for the visuals, the PowerVR graphics coprocessor takes care of those, and the RAM ensures that you can manage multiple applications, tabs, and resources without system lag. MicroSD slots allow you to expand the storage space. 
Design & Cameras
Lightweight is an excellent word to describe the M10 Plus. While you are trading and keeping up with the market, you can move around with this tablet quite quickly. It comes with a rear camera, and if you need to connect with a broker in real-time, a front camera is also available.
Other Features
Lenovo has chosen to ship its devices with Android 9.0 out of the box. You will get a Type-C port and stereo speakers if you want to listen to music while not trading. The WiFi AC support is crucial when it comes to connectivity, as it allows you to access the internet at ultra-fast speeds. 
Battery and Conclusion
As a commodity trading tablet, it is one of the best in terms of price and battery life and affordable price. In terms of safety, it fares better than other products thanks to Face Unlock.
PROS
Support for Face Unlock.

High-speed internet access.

RAM that operates quickly.

Battery life is exceptional.

Display of excellent quality.

Processor with high performance.
CONS
The structure is flimsy.

Heats up a bit.
7- Vastking Kingpad K10 Pro
Vastking is a lesser-known name in the tech world, but it appears to have quite a future. The company has been releasing an impressive number of value-for-money tablets over the years, and the Vastking Kingpad K10 Pro we think would be most suitable for stock traders.
Display
It offers a display with a Full HD resolution and slim bezels. It features vibrant colors and vivid visuals, making it great for viewing content and keeping track of share market charts. You can view and analyze them in great detail.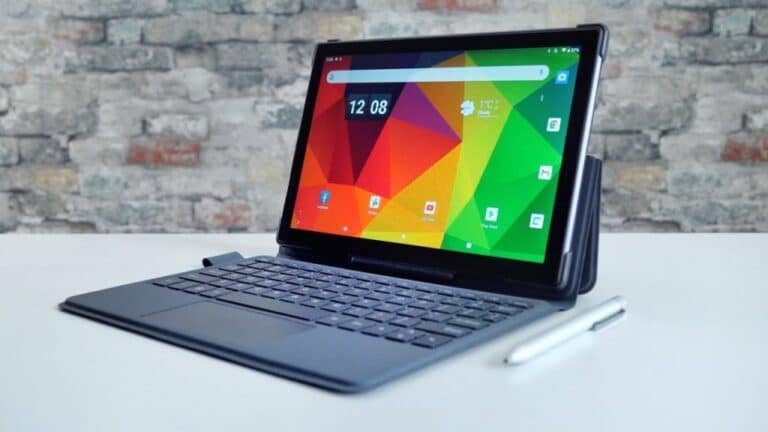 Processor and Performance
The tablet is powered by an octa-core processor with a 1.6GHz processor core. However, considering the price, the Kingpad K10 Pro is an incredible value. The app works surprisingly smoothly and allows you to open multiple trading apps simultaneously and switch seamlessly between them without any lag.
RAM and Storage
The storage can be further expanded from the default provided, so you'll have no problem storing your investment and stock-related documents. Furthermore, the tablet has 4 GB of RAM, sufficient for running trading apps.
Other Features
The device does not offer too many security features, but it has a feature known as 'facial recognition,' which can be used to unlock the tablet only by you. In addition to that, it also comes with a keyboard and a pen so that you can use it as a 2-in-1 laptop anytime you want to type something quickly or scribble something down.
Battery and Conclusion
In addition, the company claims that the battery life of their tablet is 12-hours, but most users have experienced around 8 hours of use. However, considering the price point of the device, it isn't all that bad.
If you are looking for an inexpensive and reliable 2-in-1 tablet that comes with a keyboard and stylus to ease off your stock trading activities, then this is the one to choose. Vastking Kingpad K10 Pro is simply uncompetitive at the sub $250 price point.
PROS
Camera with decent quality.

Unlocking with facial recognition.

Vivid and bright display.

Includes a keyboard and a pen.

The price is affordable.
CONS
A brand that is not popular.
8- Dragon Touch Max 10 Plus
As the last and most diminutive expensive device on my list, the Dragon Touch Max 10 Plus is the best tablet for stock trading if you want a primary device covering all the basics.
Display
The tablet is equipped with a full HD QLED display. The stock market can be monitored and easily analysed stocks. The device can also watch Netflix, YouTube videos, and read.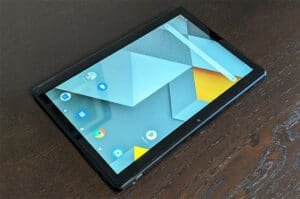 Processor and Performance
There is an Octa-core processor in this model. While this Dragon Touch tablet is good enough to run all of your basic stock trading applications, do not expect to use it for gaming or video editing.
RAM and Storage
Besides 3GB RAM, the device has 32GB of storage options. An SD card can add 128GB of storage. Because this is a budget-friendly tablet, all your basic needs can be met.
Battery and Conclusion
The Max 10 Plus from Dragon Touch also features a 10-hour battery life. Your device shouldn't run out of battery if you are trading stocks. Using a USB-C cable, the tablet charges pretty quickly, too.
As a result, don't expect too much from your budget-friendly tablet. Even so, it is, by all means, an excellent device for those who aren't looking for a cheap device under $100 and want to use it for stock trading on the go.
PROS
Charging with USB Type-C.

Ten hours of battery life.

A built-in eye care system.

Display with full HD color gamut.
CONS
The camera isn't up to par.

The processor is underwhelming.
Frequently Asked Questions:-
What is the best tablet for stockbrokers?
Because stock traders must access multiple datasets before making decisions, they need a tablet capable of multitasking.
These devices often conduct large financial transactions using these devices, so they need to be very secure. An attractive display, a good camera, and a fast processor are also essential.
Is it possible today to trade on a tablet?
A tablet can be used for day trading. Several applications permit this, such as E-Trade, Webull, Acorns, TradeStation, etc.
Is a Chromebook suitable for day trading?
It is possible to day trade with Chromebooks as well. I recommend checking out the Google Pixel Slate if you consider using a Chrome OS-based tablet, which is possibly one of the best options available to you.
Is it possible to trade forex on an iPad?
The iPad can be used to trade forex. Many apps can help you do this, including Ameritrade, FXTM, and Metatrader. An iPad allows you to change forex and stocks, futures, and cryptocurrencies.
Conclusion
Investing in stocks is no longer only a side hustle. The profession has become a primary source of income for many people in recent years. If you're pondering over a career in stock trading, this list should help you choose the perfect tablet according to your trading needs.
As with any form of investment, stock traders also need to invest in a suitable device. You should now be able to choose the best tablet for trading stocks.