Graphic Tablets !!! Everyone was surprised to learn about this word. After hearing it is clear that there is something like tablets that can do some sketching or painting using some technical end. Yes, it's quite true to know about the exact meaning of the "Best Drawing Tablets For Beginners".
Graphical tablets or drawing tablets are very essential for digital artists. It will help to reduce the time effort and keep the doodle digitally. No matter what stage you are at, you always need to buy drawing tablets for enhancing your graphical work.
In the earlier time just like every artist had their own tools and paper in the same way these tablets had their own specification and many others which provide easy support to the designer.
Now with the best drawing tablets, you can bring creativity Vividly to life. There are many fantastic drawing tablets available for beginners and professionals at a reasonable price.
If you are new and don't know a lot about what specifications should it have? We have selected all types of best drawing tablets for you. It includes graphic tablets, pen displays, and tablet computers of the best brands like Apple, Microsoft, Huion, and Xenceblabls and many more as these are advanced and sophisticated. Let's have a close look at the major qualities that graphical tablets have.
What makes the best drawing tablet for beginners?
Every drawing tablet has its own specifications according to the prize, brand, and size but apart from this, there is something that needs to be in every drawing tablet. Let's see through one by one:-
Effective Area
The area is where we draw or our stylus work. You also have bezel or plastic edges that come between the screen and the casing in this area. It is only depending on your interest and experience level that how much area you required to draw over it.
Most tablets have active areas labeled but double-check the effective screen size before buying a Drawing tablet. Of course, you need a widescreen if you are a beginner.
Sensitivity
It means how much fast responsive your graphic pad is. As it is found in the user that his/her hardness of holding the brushes also affects the sensitivity of the tablets. The higher the sensitivity greater the response of the tablets.
Resolution
If you are someone who wants everything in a high resolution then you should care about the resolution then you need to care about the resolution your drawing tablets have.
Stylus
The stylus is a device that helps to draw over the tablets. The main thing to worry about is that it should be wireless. Nowadays Electromagnetic Resonance (EMR) stylus comes into existence. Which provides greater reliability and sets the user free from the wire and limited movement of the stylus. So it's better to have an EMR stylus other than a wired or a battery-operated one.
Now let's dig some of the tablets which suit best for every professional i.e. beginner or pro. We sorted some of the best drawing tablets to reduce your effort in every price range. It's not in ascending or descending order but it depends upon the uses, budget, and proficiency of the user.
List Of Best Drawing Tablets For Beginners – Most Recommended
Bestseller No. 1
Apple Pencil (2nd Generation), White
Compatible with iPad mini (6th generation), iPad Air (5th and 4th generation), iPad Pro 12.9-inch (3rd, 4th, and 5th generations), iPad Pro 11-inch (3rd, 2nd, and 1st generations)
Apple Pencil (2nd generation) brings your work to life. With imperceptible lag, pixel-perfect precision, and tilt and pressure sensitivity, it transforms into your favorite creative instrument, your paint brush, your charcoal, or your pencil.
It makes painting, sketching, doodling, and even note-taking better than ever.
It magnetically attaches to iPad mini (6th generation), iPad Pro and iPad Air, charges wirelessly, and lets you change tools with a simple double tap.
Bestseller No. 2
Apple Pencil (1st Generation)
Apple Pencil features the precision, responsiveness, and natural fluidity of a traditional writing instrument and the versatility to become so much more.
With Apple Pencil, you can turn iPad into your notepad, canvas, or just about anything else you can imagine.
Pad Air (3rd generation), iPad mini (5th generation), iPad (6th, 7th, 8th and 9th generations), iPad Pro 12.9‑inch (1st and 2nd generations), iPad Pro 10.5‑inch and iPad Pro 9.7‑inch
Sale
Bestseller No. 3
Bravokids Toys for 3-6 Years Old Girls Boys, LCD Writing Tablet 10 Inch Doodle Board, Electronic Drawing Tablet Drawing Pads, Educational Birthday Gift for 3 4 5 6 7 8 Years Old Kids Toddler (Pink)
EYE PROTECTION COLOR SCREEN: 10-inch LCD colorful screen, easy for viewing and graffiti, free child's imagination. This kids drawing tablet without radiation, no glare, safe and comfortable, even kids use for a long time. Learning education toys birthday gifts for girls age 3-8.
PROTECT ENVIRONMENT: Over 100,000 times smoothly rewriting ,save thousands of paper and ink with just one drawing board, reduce tree felling. Protect our environment from now on!
EASY TO USE: Writing tablet doodle board creates lines as writing and drawing on paper, the different thickness based on how hard you push with stylus, nails, or any hard thing. Emptying the screen content in one second by press earse button, acheive time-saving and convenient using. Click lock key of doodle board to save the content.
PORTABLE AND DURABLE: Drawing tablets for kids is made of durable plastic, plus round corner design, anti-fall and anti-shock, no need to worry kids drop it. The drawing tablet weights only 150 grams, easy to carry, place in school bags, handbags, travel bags.
KEEP NOISY KIDS SLIENT: Are you facing the confusion how to quiet a noisy child?LCD Writing Tablet easily allows children to quietly immerse themselves in the rainbow world. The doodle board also can be used in multiple places: airplane, car, restaurant, sofa, etc. The perfect travel essentials for kids!!!
Sale
Bestseller No. 4
ORSEN LCD Writing Tablet Toddler Toys, 8.5 Inch Doodle Board Drawing Pad Gifts for Kids, Dinosaur Boy Toy Drawing Board Christmas Birthday Gift, Drawing Tablet for Boys Girls 2 3 4 5 6 Years Old-Green
🦕 【UNIQUE DINOSAUR DRAWING TOYS FOR KIDS】 Designed with super cute Dinosaur pattern, LCD writing tablet is a perfect learning toys for 3 4 5 6 7 8 years old boys. ORSEN doodle board helps toddlers free their imagination and creativity. It also can be used as a drawing pad, toddler drawing board, drawing tablets, writing board, light drawing pad for kids, scribble board, magic graphic tablet. An ideal toddlers toys & gifts for back to school, Birthday, Christmas, Thanksgiving Day, Easter etc.
🦕 【PERFECT SCREEN-TIME FREE ACTIVITY】 Drawing pad gifts for kids adopts highly sensitive pressure sensitive technology and smooth flexible LCD color screen, NO radiation, NO glare, NO blue light, NO harm to eyesight, very safe and comfortable for your kids to doodle anytime! Keep away from the mess of crayons, markers, or chalk! And drawing board kids christmas gifts will show different lines thinness if use different pressures while writing. What a magic drawing board toddler boy toys!
🦕 【EASY TO USE & ONE-CLICK CLEAR AND SCREEN LOCK】 Electronic educational toys for kids 5-7 drawing tablet is easy to use, just use stylus to write, draw, scribble, doodle anything you want! Travel toys writing board has erase key (dinosaur's eye) and screen lock function, emptying the screen content instantly and save it via lock button of writing tablet. Your Christmas Birthday Gifts First Choice! TIPS: Please DO NOT put kid learning toys drawing tablet in humid or high temperature places.
🦕 【SAFE & DURABLE & PORTABLE TODDLER LEARNING TOYS DRAWING PAD】 Made with safe & non-toxic & durable material, ensure the health and safety of your children; dinosaur toys drawing board for kids age 3-5 can write about 100,000 times, just like an endless paper! And the CR2032 button battery can be used for up to 6 months! Environmentally and save your money! 8.5 inch Lightweight kids drawing board is easy to carry anywhere (school, airplane, car, road trips, restaurant, sofa, outside etc.)
🦕 【WHAT YOU GET & CUSTOMER SERVICE】 1X 8.5" Kids Gifts LCD Doodle Board with Battery; 1X Stylus. ORSEN is dedicated to providing customers with the best products and services. Please feel free to contact us if any problems. TIPS: There may have scratches on the screen when opening package, which is caused by transportation, just press the erase button and the screen will be clear instantly.
Bestseller No. 5
Stylus Pen for iPad with Palm Rejection, Active Pencil Compatible with (2018-2022) Apple iPad Pro (11/12.9 Inch),iPad Air 3rd/4th Gen,iPad 6/7/8th Gen,iPad Mini 5th Gen for Precise Writing/Drawing
【Compatible with 2018-2022 iPad & iPad Pro】The stylus supports for iPad series 2018-2022 model: iPad 9th/8th/7th/6th Gen, iPad Air 3rd/4th/5th Gen, iPad Pro 11 inches,iPad Pro12.9 inches 3rd/4th/5th,iPad Mini 5th/6th Gen. Please confirm your devices before you place an order, another model is invalid.
【Not compatible with models before 2018】The stylus doesn't support iPad pro 1st&2nd, iPad pro 10.5", iPad pro 9.7", iPad 1 to 5 Gen, iPad mini 1 to 4 Gen, iPad Air 1st/2nd Gen versions of iPad. Not Compatible With iPhone, Android, Microsoft devices.
【Precise and Smooth】1.5mm pen tip can replace your finger to execute finer instructions, it easy to install and tear off the tips on your stylus pen without any tool. No lag/offset/breaking point!Compared with the ordinary stylus pen, it has higher sensitivity, more accurate signal, more comfortable hand. Not easy to break!【 Note 】The stylus pen no pressure-sensitive design.
【Palm Rejection Design】Stylus pen with palm rejection technology provides a natural writing feeling and quick, effortless interaction with your screen, gives you more accuracy and control against the screen. We commend you to use this pen on the iPad with a glass screen protector.
【Easy to Use and Extra Long Standby 】 No need to install Apps, just turn on this active digital pen by simply touching the cap button, it will automatically turn in "Sleep Mode" after idle for 5 minutes to save power. 20 hours continuous working, 90 mins charge, 365 days standby time. The package includes 1* Stylus Pen, 2* Replacement Tips, 1* USB C Charge Cable, 1* User manual.
Bestseller No. 6
Apple Pencil Tips (4 Pack)
Keep extra tips for your Apple Pencil at the ready.
Compatible with Apple Pencil (1st generation) and Apple Pencil (2nd generation).
Made by Apple
What's in the Box: Four extra tips for Apple Pencil.
Sale
Bestseller No. 7
ORSEN Colorful 8.5 Inch LCD Writing Tablet for Kids, Electronic Sketch Drawing Pad Doodle Board, Toddler Travel Learning Educational Toys Activity Games Birthday Gifts for 3 4 5 6 7 8 Year Old Girls
COLORFUL LCD WRITING TABLET FOR KIDS -- Four colors: blue, yellow, green and orange!The screen is 50% brighter than before, providing a better painting and writing experience. And kids can create lines with stylus or any hard objects, just like writing on paper
TODDLER GIRLS EDUCATIONAL LEARNING TOYS -- Fun activity for child! Keep the kids entertained with using their imagination + mess free coloring! They can play tic tac toe, hangman, practice letters etc. Great for 3 4 5 6 7 Year Old Girls!
GIFTS FOR GIRLS -- The kindergarten preschool drawing board gift is the best choice for kids. Birthday Gifts | Children's Day Gifts | Travel Gifts | Christmas Gifts
TRAVEL ACTIVITY DRAWING GAMES -- 0.183kg weight + 8.5 inch size of mini sketch pads. And aslo for Road Trip, they are so slim and light you can store them behind the seat in the pocket. Good Travel gifts for kids!
EYE PROTECTION -- The kids' electronics writing tablet adopt lcd screen, no radiation, no glare, Its safe and comfortable when children use for a long time. Your kids can freely release their natural instincts
Sale
Bestseller No. 8
ZMLM Boys Gift for Christmas Age 3-12: 10 Inch LCD Writing Tablet Electronic Drawing Art Pad Erasable Magic Learning Doodle Board Toddler Travel Boy Toy Activity Toy for Kids Girls Boy Birthday Gift
✍Super Valued LCD writing pad:Include all things 1*LCD tablet board, 1*stylus, 1*anti-lost hope,1*backup battery, 1*screwdriver and 2*3D stickers. Sketch doodle board let kids release natural instincts, enjoy painting, counting, spelling, scribble, doodle at any time without making mess【NOTICE: There may some traces left on screen due to long-term transport. It's normal, just press the erase button to clean】
✍Safe & Environment-friendly: Kids can draw amazing creative artworks safely with this nontoxic safe material toddler drawing tablet. The educational drawing pad can reuse 120,000+ times like an endless sheet of paper. We provide a replacement battery for long-term usage erasable writing board with low energy consumption
✍Easy to Use with Sensitive Tech: The rainbow digital coloring pad adopts pressure-sensitive technology to draw different thickness lines with your pressure. Easily to clear by ERASE button; Save your favorite artworks by switching LOCK button. Smart sketch pad travel toy bring you a vivid brighter drawing than paper
✍Eye Protection& Durable: The art doodle pad screen is no radiation, no glare, no blue light, no harm to protect eyes. The water proof screen and resistant shock proof case of this kids drawing gift is perfect for long time use and reduce the amount of time than children spend on phones tablets
✍Best Educational Learning Toy: This magic light board toy with 3D various animal stickers inspire brain development, thinking and learning. The kindergarten preschool drawing gift is the best choice for boys girls birthday game |Children's Day|holiday activity|back to school|Christmas gifts
Bestseller No. 9
LCD Writing Tablet for Kids, 2 Pack 10 Inch Colorful Screen Drawing Tablet with Stylus & Magnets, Erasable Doodle Board Including Copy Card, Learning Educational Toy Gift for 3+ Years Old Girls Boys
【2 PACK FOR SHARING】2 pack writing tablets solve the problem that kids fight for a single pad. The world has been set right. Wonderful! And the lightweight drawing pad is easy for kids to carry anywhere, suitable for occupying children's hours to provide parents a relaxing trip.
【LCD EYE-PROTECTING SCREEN】With a 10 inch pressure sensitive LCD screen, you can draw colorful lines of varying thickness with the included stylus or anything pointed but not too sharp, even your finger nail. No glare or blue light, radiation free, it can protect your kids' eyes even after long hours of use. And it's splashproof to prevent accidental spilling from destroying your work. Great tool for drawing, taking note, scribbling, etc.
【5 LEARNING COPY CARDS】Comes with 5 learning cards of cute-shaped animals & plants, space-related objects, numbers, etc., which can be taken out and facsimiled on the board by kids for learning math or animal / objects recognition, definitely an added source of fun for your kids.
【EASY TO USE】Including a replaceable button battery each pad, they come ready to use. Just pop the stylus out, scribble on the pad, press the delete button to clear the screen for a brand new masterpiece, and the lock switch on the back can keep your artwork on display till you decide to make a new design. They can be used repeatedly and save much paper and ink. The best alternative to pen and paper.
【PERFECT GIFT】Comes with spiral lanyard for attaching the stylus to the pad to avoid losing and magnets for sticking the pad to refrigerators, it can be used not only as doodle board for kids, but also message board/digital notepad for adults to leave messages/take quick notes/make daily to-do or grocery lists. It's a perfect gift for everyone on birthday, Thanksgiving, Christmas.
Sale
Bestseller No. 10
Replacement Tips Compatible with Apple Pencil 2 Gen iPad Pro Pencil - iPencil Nib for iPad Pencil 1 st/Pencil 2 Gen White 4 Pack
Replacement ipad pen tips ,Compatible with iPad Pro Apple Pencil 1st Gen, Pencil 2nd Generation, Logitech Crayon Digital Pencil,Ipad Pro 11 inch 10.5 inch 12.9 inch 9.7 inch ensures your Apple Pencil is working perfectly.
Keep extra tips for your Pencil at the ready.
Package includes: 4 x Pencil extra Tips( pencil is not including)
These pencil tips are specifically Compatible for apple pencil 1st generation tips,apple pen 2nd generation tip,apple pencil tip,apple pencil tips 2nd generation,apple pen tips !
After-sales service: We provide 12 months of worry-free replacement of iPencil Tip! If you have any questions, please feel free to contact our customer service.
1- Xencelabs Pen Tablet
If you're trying to speed up your editing process, then this handful of devices could help make complicated masking, brushing, and Cloning tasks more accessible and more user-friendly by using a digital pen. 
I first purchased an active-style pen years ago as an accessory for my laptop. While I'm not a sketcher, I soon realized that it was a lot better than the mouse or touchpad to accomplish those tedious tasks like creating complicated masks or cloning tiny specks of dust from photographs of product images.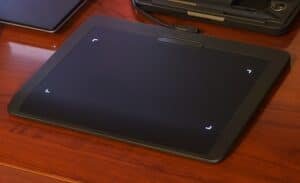 Xencelabs pen tablet has an ergonomic super sleek design and comes with a 13-inch medium size, neither too big nor too small. 
I keep this drawing tablet top in my list due to its price segmentation and durability, and function with a classic design, and this is one of my favorite tabs. The strokes and other design made from its pen is perfect and very good and there is no lag smooth line and no line is missing when sketching at speed. Also,  it has several advantages and when I compared it to Wacom Intuous Pro S then, I found that in this price segment, Xencelabs pen tablet is better and smooth in design. 
This drawing tablet has some other features like a backlit area for the best drawing in the dark, and it comes with a good battery life that is more than sufficient. It is compatible not only with windows and mac but also with android but there is something that is really worst that it has only three physical controls on the tablet, and there is no pen stand provided on the tablet. 
2- Apple Ipad pro M1
iPad pro is an outstanding performer for drawing use, right? Yes, it is one of the best devices, and this is the reason I am mentioning in second place in my list as it has excellent performance and looks that something impresses me, but the price is a little higher compared to other devices with the same functions and features.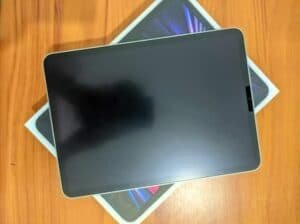 However, the 11.2-inch iPad Pro display is not a poor performer in any sense. It's got a resolution of 2,388 x 1668 pixels, and the display extends from edge to edge. The bezels are slim, and Apple achieves the right rounded corners for a modern and industrial design.
You can play games with absolute pleasure on the iPad Pro. The M1 iPad Pro display has been calibrated to match color, brightness, white point, and gamma. Also, Apple has added an anti-reflective coating to facilitate ease of use even in harsh conditions. You can easily work in bright daylight, the display will be sufficient to continue working. It is equipped with the Magic Keyboard, which has also been improved slightly from the previous version.
The trackpad functions as a charm. Overall this is a wonderful tablet, but it's worth the purchase only if you spend the extra money for its Magic Keyboard. You can skip using the Apple Pencil unless you're a photographer, illustrator, or artist. However, you must have the Magic Keyboard.
Hardware Specifications of Apple iPad Pro 11″
Processor
Octa-core 4×2.5 GHz Vortex
RAM
4 GB
Storage
256 GB
Display
11-inch Retina display with 1668 x 2388 Resolution
Camera
Rear- 12+10 MP | Front- 7 MP
Operating System
iOS 12
Battery Life
10 hours
Weight
1.04 lbs
PROS
Trackpad Support.
Gorgeous Display.
Faster Chipset.
Better Cameras.
LiDAR Scanner.
CONS
Costly.
Processor Is Not A Major Upgrade.
3- Huion Kamvas 22
Looking for a tab with a large screen and an impressive display? 
Yes, the Huion Kamvas 22 Plus, as you could have already guessed, is an improvement and upgrade of the Huion Kamvas 22. Huion's recent update to its pen display of 22 inches makes it stronger and more powerful underneath the hood. And at the same time, it is not to be considered to be a sacrifice with regards to performance in terms of efficiency and performance.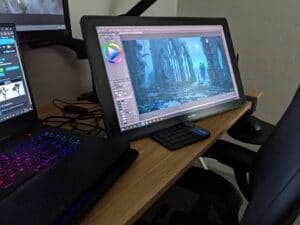 It is equipped with an etched anti-glare screen, not the anti-glare film. This will cause the screen to last much longer. A budget-friendly model includes pen displays, but the pen has a lot more to be desired, specifically in its presentation. It comes with an elongated doughnut-shaped pen holder that is nice.
However, it's not awe-inspiring. Inside, there are 10 nibs for replacement as well as there are other tiny plastic bags with the word 'gift' on it, which contain an additional 10. The Kamvas 22 comes with a USB-C to USB-C connector so that it can be connected to an Android-compatible smartphone or laptop. In addition to the power port, the main one is a three-in-one cable as well as a power adapter.
Overall, the Huion Kamvas 22 has a fantastic screen size at a reasonable price, but the screen is not a touch screen, and there are too many wires to connect and work similarly to a desktop. These are a few drawbacks that make it less compatible than other tabs with good battery and pen support. 
4- Apple ipad air 4 5th gen
The iPad Air (5th Gen) is an amazing computer at a reasonable price and it is a notebook-sized device with the capabilities of the MacBook Pro. Its Apple M1 chip is able to handle everything you put it through from iPadOS, which has a wide selection of applications for creative use. The screen is clear and precise and light enough to take anywhere with you.
There are great reasons to choose to go with an iPad Pro instead (especially the larger 12.9-inch model) however, they're being marginalized with the iPad Air being a fully developed creative powerhouse, even without the "pro" brand name.

The only thing I disliked was that they didn't enhance the screen of the new iPad Air from the previous model. That's why you may get the same IPS screen size of 2360×1640. This is 264 pixels per inch however it's not as crisp as the iPad Mini (6th Generation) or smartphone screens,and hence I placed it below in the list even though it is a great technology.

Hardware Specifications of iPad Air 10.9
Processor
A14 Bionic
RAM
4 GB
Storage
64/256 GB
Display
10.9″ Retina display with 2360 x 1640
Camera
Rear- 12MP | Front- 7MP
Operating System
iPad OS 14
Battery Life
9 hours
Weight
1.0 lbs
PROS
Elegant thin and light design.
Bright, colorful and sharp display.
Excellent webcam.
Magic Keyboard.
CONS
No face id.
No headphone jack.
Expensive accessories.
It's perfectly suited for the distances that you'll normally utilize on the iPad Air. Also, you can use the Pencil, and the Pencil is magnetically attached to the back of the iPad, not just for storage but additionally to charge wirelessly whenever it's there, ensuring that it's always charged and ready when required.

Connecting it on the sides immediately pairs it with the iPad, meaning it's not a hassle making it set up as well as switching it between different iPads.
5. Wacom DTk1660KOA Cintiq Pro 16
Cintiq series allow the custom tablet by offering several models including 15.6-inch model, 22-inch pro or 16-inch tablet having several ports to connect with different screen and also with Macbook Pro.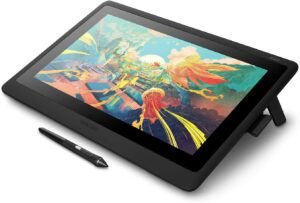 You get three adjustable positions according to the user's convenience and with an adjustable height panel. The large active area also reduces the effort of new and old users. Since it has no hotkeys but its other specifications can overcome these issues. Overall best in class with this range with HD LCD monitor.
Hardware Specifications of Wacom DTK1660KOA Cintiq Pro 16
Active Area
15.6″ Full HD (1920 x 1080)
Pressure Level
8192
Express Keys
No
Multi-Touch
Yes
Weight
4.19 lbs
Operating System
Windows or Mac
Size
16.6 x 11.2 x 0.4 inches
Stylus
Battery Operated
---
Pros
Provides new screen sizes
Pen performance is amazing
USB-C cable
Express keys and multi-touch gestures
Cons
Color depth. 87 percent.
Heavy.
6- Wacom Intuos Pro- Best Drawing Tablet ( Medium)
This series of best drawing tablets have a wide range containing 3 models small, medium, and large. Users can choose according to their specific needs. New pen technology supports 8192 levels of pressure which allows us to use pen very lightly and fluently.
It also has many types of ports to connect with any device. Its active area is quite impressive and looks decent but it may vary according to its size.
This may be customizable keys and touch ring tech which aloe to quick access to the shortcuts and to switch over the options. Bluetooth and some other wireless technology are also there.
There is still lots more left to know about Wacom Intuos Pro.
Hardware Specifications of Wacom Intuos Pro Digital
Active Area
8.75″ x 5.8″ 
Pressure Level
8192
Express Keys
8
Multi-Touch
Yes
Weight
1.5 lbs
Operating System
Windows or Mac
Size
13.2 x 8.5 x 0.3 inches
Stylus
Wacom Pro Pen 2
---
Pros
Good value for money
Large active area
Cons
Pen stand doesn't grip well
Difficult to access new pen nibs
7. Huion Inspiroy H640 Graphics Drawing Tablets
The name of Huion is on this list due to its low budget and its high efficiency. It has all the key features including wireless stylus wide active area and pressure sensitivity is 8192 which is best in this price range. Its surface is separated by lines and edges which provide greater workspace.
The best thing is it has a battery-free stylus no need to worry about the charging and the capacity of the stylus working time.
For detailed review on Huion Inspiroy H640, click here.
Hardware Specifications of Huion Inspiroy H640
Active Area
6.3 x 3.9 inches
Pressure Level
8192 
Express Keys
6
Multi-Touch
Yes
Weight
2.05 lbs
Operating System
Android
Size
13.2 x 8.5 x 0.3 inches
Stylus
Wireless (no charging)
---
Pros
Pressure senstivity
Wireless Pen
8- Gaomon PD1560
Gaomon PD1560 is quite an expensive product.  But its features can easily overcome its price. The full HD screen allows a user to display a high resolution. Active space also satisfies your needs on creative space, ensures the fineness, definition, and accuracy of image color and lines. It is also one of the best portable drawing tablets as well.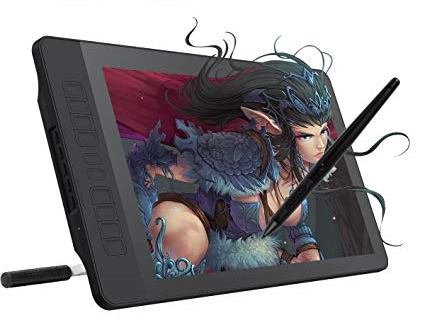 The 10 shortcut keys and 5 menu keys are best for creative habits, to make operation efficient and save time too. Its pressure level is 8192 which provides more accuracy and efficient movement. The battery life is quite low i.e. 2 – 2.5 hours due to its large display and HD resolution.
Read our full review of Gaomon PD 1560. 
Hardware Specifications of Gaomon PD1560
Active Area
13.5 x 7.6  inches (1920 x 1080)
Pressure Level
8192 Levels Rechargeable Pen
Express Keys
10
Multi-Touch
Yes
Weight
3.48 lbs
Compatibility
Windows and Mac
Size
 15.6 inches
Battery
2.5 Hrs
---
Pros
High-end features at a mid-range price
Accurate, precise lines
Multiple, customized short keys
Lightweight and easily portable
9- Huion KAMVAS Pro 12 GT-116
The Huion KAMVAS Pro is enriched with an 8192 sensitivity level with 60 degrees of pen support, its resolution is also good as compared to the price range. 4 hotkeys may provide some difficulty to switch over the options inbuilt with a one-touch bar.
Full laminate with an Anti-glare screen and compatible with all the OS.
It comes with 10 extra pen nibs and a clip and holder inside with an easily adjustable angle.
Read our full review on Huion Kamvas pro 12.
Hardware Specifications of Huion KAMVAS Pro 12 GT-116
Active Area
11.6 inches (1920 x 1080)
Pressure Level
8192 Levels Rechargeable Pen
Express Keys
8+ Mechanical and Virtual Wheel
Multi-Touch
Yes
Weight
1.98 lbs
Stylus
Battery-free PW507
Size
17.1 x 9.4 x 0.4 inches
Tilt Support
Yes
---
Pros
Large area
Light weight
8 hard keys
10- Huion GT-191 KAMVAS
There is little to say anything about this best drawing tablet. If you are serious then you will never like anything which is just below then this. Its 8000+ level of sensitivity provides greater efficiency and speed with anti-glare protection.
Unlike other tablets, it has an HD screen and a wide effective area that eliminate the need to carry multiple screens around you when you're on move and don't create a hassle. The attached screen also makes it best for an artist's tablet.
It's not cheap but in this effective range, you will get the experience at the very top of the technology and have endless features and functions at your fingertips. It brings together the regular tablet inbuilt with a drawing tablet. It may be the perfect gift for your artist friend or family member.
Read our review of Huion GT-191 for more detailed explanation.
Hardware Specifications of Huion GT-191 KAMVAS
Active Area
43.48 x 23.86 cm
Pressure Level
8192+
Express Keys
8+ Mechanical and Virtual Wheel
Multi-Touch
Yes
Weight
13.5 lbs
Stylus
Rechargeable PE330
Size
19.53 inches
Tilt Support
Yes (20-80 degree)
---
Pros
Large display with good resolution
Decent color gamut
Includes an extra pen
Fantastic value
Cons
No shortcut buttons
No touch controls
Problematic cable placement
11- XP-PEN Artist 15.6 Pro:- Best Drawing Tablet
XP-PEN is a good line of middle to expensive products and XP-Pen 15.6 pro is one of them, which has many different features than any other.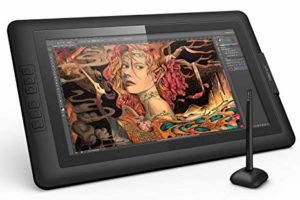 It has 6 hotkeys for different operations. This stylus of drawing tablet also has wireless, not a chargeable stylus. Capable with all Mac and Windows-based systems, many of the apps like Photoshop and Photography studio software also run very fluently.
The visual of an angel is about 178 degrees and delivers rich colors, vivid images, and many more. Its slim body of 11mm also attracts a lot.
For full review on XP-PEN 15.6 pro. CLICK HERE.
Hardware Specifications of XP-PEN Artist 15.6 Pro
Active Area
15.6″
Pressure Level
8192+
Express Keys
8
Multi-Touch
Yes
Weight
8.82 lbs
Stylus
PO5R Battery-free
Size
17.52 x 11.22 x 0.43 inches
Tilt Support
Yes (178 degrees)
---
Pros
Affordable
8 shortcut keys and Red Dial
Low parallax display
Cons
Inconsistent line quality
Needs color calibration
Pressure and tilt issues
12- Parblo Mast10 10.1 Graphics Drawing Tablets
This tablet provides a high 170-degree viewing angle both horizontally and vertically and allows many ways to adjust over. Having a comfortable design to work while holding in hand and even in a different workspace.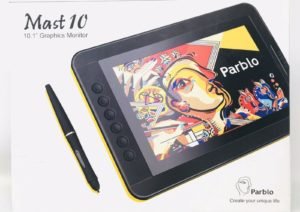 Its battery-less wireless stylus provides a lightweight like an actual drawing pen. Its screen size and lightweight provide a better holding grip and are excellent for professional projects and designers.
Compatible with most of the application including Corel Draw and Corel Painter.
Hardware Specifications of Parblo Mast10 10.1
Active Area
8.54 x 5.34 inches
Pressure Level
2048
Express Keys
6
Multi-Touch
Yes
Weight
1.5 lbs
Stylus
Battery-free
Size
11.92 x 8.2 x 0.5 inches
Tilt Support
Yes (178 degrees)
---
Pros
Nice Build Quality
Light and compact
Easy to set up and install Drivers
Reasonably Priced
Works well with Photoshop, Zbrush
Cons
Parallax is quite evident
Limited driver/stylus customizability
Lack of mappable toggle screen
13- XP-PEN Deco Pro (Medium)
XP-PEN is a good line of the middle range product and XP-Pen Deco is one of them with the cheap price and many specifications. Its scrolling wheel features allow operating many functions with a single hand.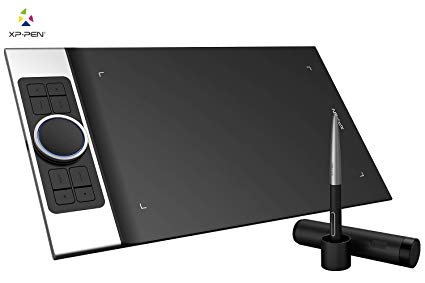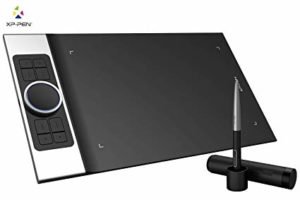 It has 8 hotkeys and 2 mechanical and virtual wheels for different operations. This stylus of drawing tablet also has wireless, not a chargeable stylus. Capable with all Mac and Windows-based systems, many of the apps like Photoshop and Photography studio software also run very fluently.
Many other versions are available like XP-PEN Deco Pro Medium, which can be possibly fit on your segment.
Hardware Specifications of XP-PEN Deco Pro
Active Area
11 x 6 inches
Pressure Level
8192+
Express Keys
8+ Mechanical and Virtual Wheel
Multi-Touch
Yes
Weight
1.79 lbs
Stylus
Battery-free
Size
15.74 x 8.94 x 0.65 inches
Tilt Support
Yes (178 degrees)
---
Pros
Excellent value
USB-C plug and play with reversible buttons
Surprisingly useful scroll wheel
Cons
Sensitive mouse pad
Pen taper not for everyone
Software not well integrated
14- UGEE M708 Graphics Tablet
These tablets come into the race when the budget is low and need most of the features. This tablet is mostly for new users who need lots of space to draw over. Its 8192 levels of sensitivity provide enough to draw any type of drawing.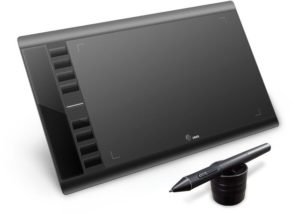 It's 8 hotkeys that provide a better working experience. Compatible with most of the devices and have several ports to connect with and is also good for both-handed users i.e. left or right. With 5080LPI  resolution including several apps like Photoshop, Illustrator, Comic Studio, and SAI.
Hardware Specifications of UGEE M708
Active Area
10 x 6 inches
Pressure Level
8192+
Express Keys
8+ 3 Mouse Button
Multi-Touch
No
Weight
1.45 lbs
Stylus
Battery-free
Size
14.1 x 8.3 x 0.3 inches
Tilt Support
Yes (178 degrees)
---
Pros
8 customizable buttons
Great price for the features

Comes with 

PenSigner
Cons
It scratch easily compared to other tables
No tilt sensitivity
Pen doesn't have an eraser
Final Verdict
After hours of research on various drawing tablets, recommendations by various graphic designers on the best drawing tablet in the market.
We made a list of the 11 best affordable drawing tablet for beginners that you can buy in 2022. These are the best drawing tablet that is available in the market.
You can read our list of some more cheaper drawing tablets under $200.
Do let us know if we missed your favourite device.