Is it possible to experience a similar quality and ease of working as an iPad but at a much lesser price? Well, I am here to let you know that good research can make that happen with my best iPad alternatives. And as multiple choices surround you, confusion is bound to happen. Here I am answering the most common doubts that'll help you decide on your iPad alternative.
Variably ranging from smartphones in courses of aspects, overall quality, and benefits, tablets essay the use of mini-laptops and the updated version of smartphones that can escort you everywhere, anytime.
A tablet gives the big-screen exposure of a laptop and portability similar to that of a mobile phone. It enables you to get your job done, play games quickly, and see your desired movies and TV programs on the go. 
Here is the list of Some Best iPad Alternatives in 2023-
The Tab S8+ is almost entirely a screen, which is how I prefer it. It is a screen-equipped ultra-thin aluminum platter. Three apps can easily be operated in split-screen mode on the tablet. I frequently have Chrome, Gmail, and Slack open on my Tab S8+ because they are all I need to complete the work. It's possible to work from this tablet, and I don't mind it. Even though it's not operating at full speed, it's still relatively fast.
A tablet such as the Galaxy Tab S8 Ultra is a huge one. A 14.6-inch display and proportions of 326.4 x 208.6 x 5.5mm give this tablet a striking outlook. It must have been challenging for Samsung to balance this massive footprint with the quality design this device deserved. 
It has the same luxury tablet feel that you would anticipate. The all-metal unibody construction and sleek silhouette achieve that balance. Excellent fit and finishing are present. Because of its enormous size and 726g weight, using it one-handedly, especially with the S Pen, can feel intimidating.
The 120Hz refresh rate of the 14.6-inch Super AMOLED panel with WQXGA+ resolution. An immersive viewing experience is made possible by the Samsung flagship tablet's bezels, which are the thinnest they have ever been. This is precisely what makes the Galaxy Tab S8 Ultra such a fun tablet to use and stands out. Moreover, a fingerprint sensor is also integrated into the display.
The app has a sleek UI that is well-optimized. With up to 16GB of RAM and 512GB of internal storage, the Galaxy Tab S8 Ultra has the most recent Qualcomm Snapdragon 8 Gen 1 CPU. This is more than what you typically receive on laptops in this price bracket. On some level, it may appear like Samsung wants to replace laptops with its Galaxy Tab S8 Ultra, but these specs are not enough to make it a strong alternative for a laptop.
This Samsung flagship tablet, S8 Ultra, has the largest battery I have ever seen, measuring 11,200mAh. Although the tablet supports 45W rapid charging, the box does not include a charger. However, with the 45W Samsung charger that I own, I tried charging up this device. To my surprise, it charged up pretty quickly! The results were even better than what Samsung had predicted.
Hardware Specifications of Samsung Galaxy Tab S8 Ultra
Processor
Qualcomm Snapdragon 8 Gen 1
RAM
6/8 GB
Storage
128/256 GB SSD
Display
14.6″ display with 2800 x 1752
Camera
Rear- 13+6MP | Front- 12+12MP
Operating System
Android 12
Battery Life
8 hours
Weight
2.21 lbs
PROS
High-resolution display.
Good performance with Snapdragon 865 Plus processor.
Good amount of RAM and storage options.
5G connectivity.
CONS
Costly.
Some users have reported issues with software bugs.
Limited software support.
It does not have expandable storage.
Also we have a deep comparison of S8 Ultra with iPad for better understanding:-
The recently updated iPad Pro is intended to be directly competed with by the Galaxy Tab S7 (2020). Depending on how much you want to spend, it comes in two different screen sizes, just like the iPad. The standard S7 features an 11-inch screen, while the S7 Plus has a 12.4-inch screen.
In contrast to the iPad, the Tab S7 Plus has several unique advantages. Additionally, the tablet has a built-in stylus and supports DeX mode, a desktop-like user interface that turns the Tab S7 Plus into a portable laptop.
Although it is a pretty light tablet, at 575g for the S7 Plus and 498g for the Tab S7, you should still handle it with two hands. It is also the tiniest tablet we've used, measuring just 5.7mm. On the back of the tablet is a glass strip towards the top that functions as a magnet to secure the S-Pen. Strangely, the S Pen will only charge if the pen's tip faces the camera.
Only one USB 3.2 Type-C connector is available on the right side of the Samsung Galaxy Tab S7 series, and it can be used to charge or connect to the internet. This also implies that the slate is devoid of a headphone jack. You'll want to confirm that your USB-C headphones work because when we tried one model, the tablet listed it as an unknown USB device.
The stunning 12.4-inch Super AMOLED screen is smooth and supports a quick 120Hz refresh rate. It provides a screen resolution of 2800 x 1752. Although the Tab S7's LTPS IPS LCD screen has a resolution of 2560 x 1600 pixels, its refresh rate is still 120 Hz.
The Qualcomm Snapdragon 865 Plus, currently the fastest CPU offered for the Android operating system, powers the Samsung Galaxy Tab S7 series. Depending on the model you select, 6GB or 8GB of RAM is used to support this.
This provides the smoothest Android tablet experience, thanks to the 120Hz display. You may choose between 128GB and 256GB of storage space; if you need more than that, you can add more using a microSD card that can hold data up to 1 TB. The launch of apps is swift, and switching between them is seamless.
In my tests, I discovered that the Galaxy Tab S7 Plus's battery is reliable. The battery life is mediocre to be suitable for daily use.
The 10,090mAh battery of the Galaxy Tab S7 Plus is larger than the 12.9-inch iPad Pro's capacity. That achievement is astounding because the iPad Pro is thinner and smaller than the Tab S7 Plus. The Galaxy Tab S7 has a smaller 8000mAh battery, but because it doesn't have an OLED screen, you may still get a respectable amount of use.
Hardware Specifications of Samsung Galaxy Tab S7 Plus
Processor
Qualcomm SM8250 Snapdragon 865 5G+
RAM
6/8 GB
Storage
128/256 GB SSD
Display
12.4″ display with 2800 x 1752
Camera
Rear- 13+5MP | Front- 8MP
Operating System
Android 11
Battery Life
7 hours
Weight
1.9 lbs
PROS
11th Gen Intel Core processors for high performance.
12.3″ PixelSense display with high resolution and touchscreen functionality
Good battery life.
A wide variety of storage options.
Good connectivity options, including Wi-Fi 6 and USB-C.
Lightweight and portable.
CONS
The price of the device is high.
Some users have reported poor customer service from Microsoft
Limited upgradability options.
The device runs hot under a heavy load.
The keyboard and stylus are not included in the price of the device and must be purchased separately.
Some users have reported issues with the device's cooling system.
The Surface Pro 9 combines the flexibility of a tablet with the performance and battery life1 of a laptop to give you everything you need to get through the day. The Surface Pro 9 with Intel is constructed on the Intel Evo platform and features 12th Gen Intel Core processors, providing Pro performance that is blazingly quick. Available with a variety of vivid colors and powerful modern processors.
It's likely never to be as light or thin as an iPad Pro. However, at 1.94 pounds and 0.37 inches thick, it's one of the smaller form factors in which you can run Windows 11. Both the touchpad and keyboard are excellent. The 3.5mm headphone jack, which has been included on every prior Surface device up to this time, is absent from the Surface Pro 9.
The Surface Pro 9 does have a sleek appearance. The 3:2 anodized aluminum slate has dimensions of 11.31 x 8.19 x.31 inches (WDH), which makes it thick but big. It is lightweight at 1.93 pounds, or 2.57 pounds, with the keyboard and pen attached.
However, its size and dimensions have been specifically designed for tabletop use. To hold it up to your face like you would a tablet or phone, it may be too large of a screen. Furthermore, Windows 11 is being used here, despite the touchscreen. Neither the operating system nor the program is mobile workflow-oriented like iOS and Android are.
The Surface Pro 9 with Intel is constructed on the Intel Evo platform and features 12th Gen Intel Core processors, providing Pro performance that is blazingly quick.
I missed that surfaces only had one USB port in my research before I made the purchase. It's not a significant inconvenience, but if I want a mouse connected, I have to unplug it to print and then plug it back in after I'm finished.
Please note that I am comparing the battery life to that of Apple products, which are unmatched. If you use the device typically at work or home, you will get five to six hours max. However, consumers anticipate tablets to last a little longer, particularly given that the Surface Pro 9's portability is one of its main selling points.
Hardware Specifications of Microsoft Surface 9 Pro
Processor
Intel i5/i7
RAM
16 GB
Storage
256 GB SSD
Display
13″  display with 2880 x 1920
Camera
Front- 10MP
Operating System
Windows
Battery Life
15.5 hours
Weight
1.9 lbs
PROS
Great Display.
Snappy Performance.
Excellent speakers.
CONS
Costly.
Aspect Ratio.
Battery backup.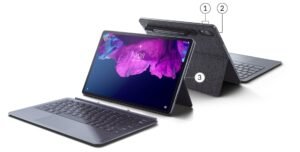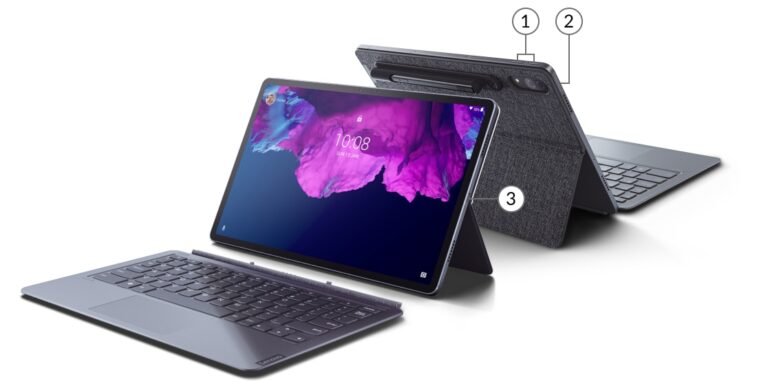 With its second-generation Tab P11 Pro, which combines a PC's capabilities and a tablet's flexibility under one roof, Lenovo has seized the opportunity for innovation to make its claim.
This 11.5-inch tablet is priced in the middle to top range of the market and offers a dazzling OLED display and the flexibility to attach a keyboard and a stylus pen for a more productive platform. This package is fantastic because it came with a keyboard and pen that were both flawless. The tablet's 128G storage and ideal screen size are also beautiful features. I needed a small, professional-looking device spacious enough to watch Netflix or YouTube.
The power button, SIM tray, and speakers were all located at the top of my device. You receive a set of volume rockers on the right side. A few dimples to keep the keyboard folio in place, and a few keyboard connectors are visible on the left. Another set of speakers and a USB-C port are seen at the bottom. 
You receive an 11.2-inch 2.5K OLED screen with a 15:9 aspect ratio and a resolution of 2560X1536 pixels. The panel is certified by HDR, Dolby Vision, and HDR10+ and fully complies with DCI-P3 color standards. The panel also features a touch sampling rate of 360Hz and a refresh rate of 120Hz. Additionally, it provides brightness of up to 600 nits.
The result of this is incredible picture quality, with razor-sharp images, bright and clean colors, optimum saturation and contrast levels, and generally a vivid image without going overboard. Watching content online on Netflix or YouTube is fantastic.
MediaTek's Kompanio 1300T SoC meets the performance needs of the tab. Additionally, you get 256GB of UFS 3.1 storage and up to 8GB of LPDDR4X RAM, which should aid with background work. I performed a few benchmarks on the gadget and was pleased with the results. However, the tablet's poor performance in the CPU Throttle benchmark may worry consumers who intend to use it for sophisticated creative tasks. However, I didn't experience significant performance concerns while using the gadget.
Last but not least, it enables the usage of style, although if you're a frequent user of Apple or Samsung style, don't expect too much from the stylus. Not good, but adequate for drawing and art. It functions, but it takes a while to register my inputs. I primarily use the tablet installed on a wall for media consumption, which is stunning.
The Tab P11 Pro (2nd Gen) has an excellent 8000mAh battery. While the battery life is good when used commonly, it depletes exceptionally quickly when the screen is off. Lenovo's battery management technology is clever because it doesn't slow down the device's operation to offer you a few more hours of use. I used the battery for roughly 14 to 15 hours, during which I watched a lot of YouTube and Netflix and played for extended periods.
Hardware Specifications of Lenovo Tab P11 Pro
Processor
Snapdragon 730G
RAM
6 GB
Storage
128 GB SSD
Display
11.5″ Retina display with 2880 x 1920
Camera
Rear- 13+5 MP | Front- 8+8MP
Operating System
Android 10
Battery Life
12 hours
Weight
2.1 lbs
PROS
Punchy OLED screen.
Great-sounding quad speakers.
Responsive enough performance.
CONS
Few optimized apps.
Productivity mode.
Keyboard and pen accessories.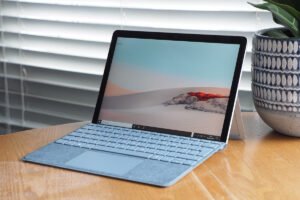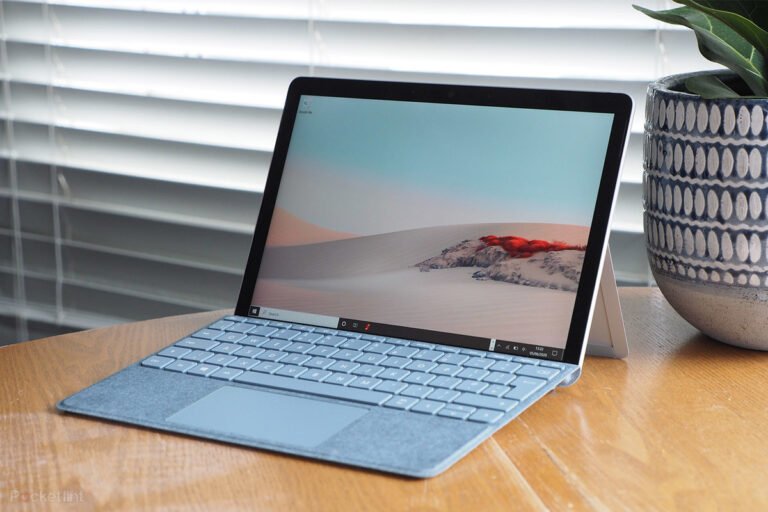 Seldom, it takes another try to make a thing go true. The Surface Go 2 takes purpose at all the defects of the predecessor and beats them all down. First of all, smaller bezels make way for a larger screen, arguably the most significant part of a tablet. The Surface Go 2 has a 10.5-inch layout, compared to 10 inches for the former model.
The most significant upgrade is the Surface Go 2's 11 hours and 39 minutes of battery time, over 5 hours higher than the initial Surface Go. Microsoft also acknowledged my prayers for a laptop with a great webcam.
The 5-megapixel 1080p camera in its best bezel is excellent for the time of online video calls, and its second head camera sensor figures Windows Hello biometric login. Lastly, take the Surface Go 2 with the 8th Gen Intel Core m3 grade, it's a little pricier, but it's unquestionably the ideal for multitaskers. Also, you can read our full review on Microsoft Surface Go 2.
Hardware Specifications of Microsoft Surface Go 2
Processor
8th Gen Intel Core M3 / Intel Pentium Gold 4425Y
RAM
4 GB
Storage
64 GB/128 GB
Display
10.5″ PixelSense Display with 1920 x 1280 Resolution
Camera
Rear- 8MP
Operating System
Windows 10 Pro
Battery Life
10 hours
Weight
1.2 lbs
PROS
Bigger screen.
Core M3 processor option.
Runs any Windows app.
CONS
Very low performance ceiling.
Battery Life.
Keyboard Flex.
Samsung's Galaxy Tab S series of Android tablets is the initial alternative to Apple's all-dominant iPad. The Galaxy Tab S7 will satisfy those who are suitable with the Android operating system.
It has a design of 11-inch with a 16:10 phase proportion, 2,560 x 1,600 images at 274 pixels per length, 120Hz with a great Qualcomm Snapdragon 865+ Processor. It has an outstanding camera quality of the 13-megapixel primary camera, an 8-megapixel front camera which is the most significant part of every tablet in this era of online meetings and classes.
It comes with Memory and storage of 6GB + 128GB and8GB + 256GBand also 8GB + 512GB; accommodation expandable up to 1TB with a micro SD card you can pick as per your requirement. Also, you can read our full review on Samsung Galaxy Tab S7.
A battery of 8,000mAh, 45W quick charger included, and speakers and USB-C will not disappoint you.
Hardware Specifications of Samsung Galaxy Tab S7
Processor
Octa-Core (3.09+2.4+1.8GHz)
RAM
6 GB
Storage
128 GB
Display
11″ Inch Retina display with 2560 x 1600
Camera
Rear- 13MP | Front- 8MP
Operating System
Android 10
Battery Life
12 hours
Weight
1.1 lbs
PROS
Powerful Processor
DeX mode
Storage space
Updated S pen stylus.
CONS
Keyboard need to buy seperately
Small keys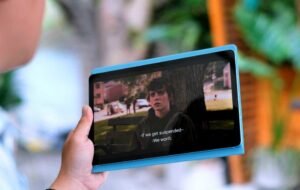 Android tablets don't have the most outstanding track experience, but Samsung gave competition to iPad with the Galaxy Tab S6 Lite on hardware. This great tablet has a tonne of battery time — serving over 12 hours on a single round — and gives a smooth design with a clear screen and solid quality. This all ties collectively to a tablet that's renowned for using content.
The Galaxy Tab S6 Lite's tiny bezels help it reach out to the mid-range tablet people even further, making it seem more like the iPad Pro than the iPad. Oh, and the S-Pen stylus, which allows low-latency design, is included by error, and it closes to the top of the Tab S6 Lite, so you're less inclined to lose it. 
Performance-wise, though, the Tab S6 Lite won't be driving people away if they attempt to multitask. There's also the subject of Android tablet apps, which could still practice their developers' love and attention.
Click here for full tablet review of S6 Lite.
Hardware Specifications of Samsung Galaxy Tab S6 Lite
Processor
Exynos 9611
RAM
4 GB
Storage
64 GB
Display
10.4″ Inch Retina display with 2000 x 1200
Camera
Rear- 8MP | Front- 5MP
Operating System
Android
Battery Life
12 hours
Weight
1.02 lbs
PROS
Robust Design.
Plentiful UI Design.
S Pen included.
CONS
Issue with Pen.
Little sluggish.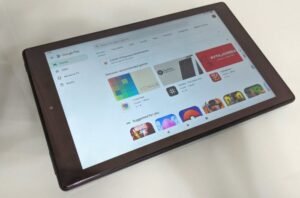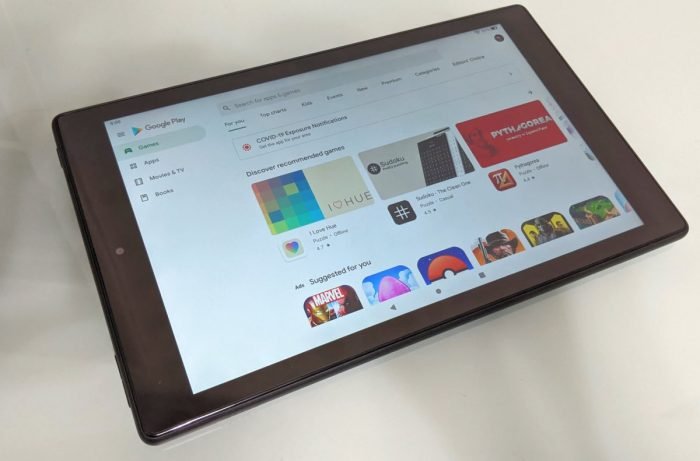 The Amazon Fire HD 10 (2021) exists as a previously high-grade tablet and interests incremental rises, such as a more colorful screen, 1GB more extra RAM, and a shorter, lighter perspective. While it isn't a must-have for anyone who purchased the 2019 model, it's a great display of Amazon's capacity to put out a value-driven slate that's large enough for many. 
Suppose you believe you'll be bothered by slight delays in performance. In that case, you should think about spending additional money to get the Amazon Fire HD 10 Plus, arguably the most reliable Amazon tablet ever. That affirmed the Fire HD 10 (2021) is excellent for the people who are looking for a device to randomly analyze the internet, read e-books, and see pictures and videos.
Click here for full tablet review of Amazon Fire HD 10.
This holds the Fire HD 10's rank among the most prominent Android tablets out there and one of the most excellent tablets you can obtain — peculiarly if you're on a budget. Its most extensive defects, though, are nothing different. Most notably, Amazon's Fire OS is yet app-challenged, dropping the Google Play app store — which implies you can't get the whole YouTube adventure, for example, and you'll want out on a lot of great apps not free on Amazon's app store. 
Hardware Specifications of Amazon Fire HD 10 Tablet
Processor
1.8 GHz quad-core processor
RAM
2 GB RAM
Storage
64 GB
Display
10.1″ 1080p Full HD display (1920 x 1200)
Camera
Rear- 2MP| Front- VGA
Operating System
Android 6.0 Marshmallow (upgradable to Android 7.0 Nougat)
Battery Life
10 hour
Weight
504 g
PROS
Affordable
Sharp display
Good performance
Dual Wi-Fi
CONS
No google play store
Low resolution camera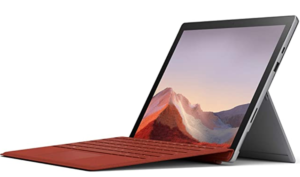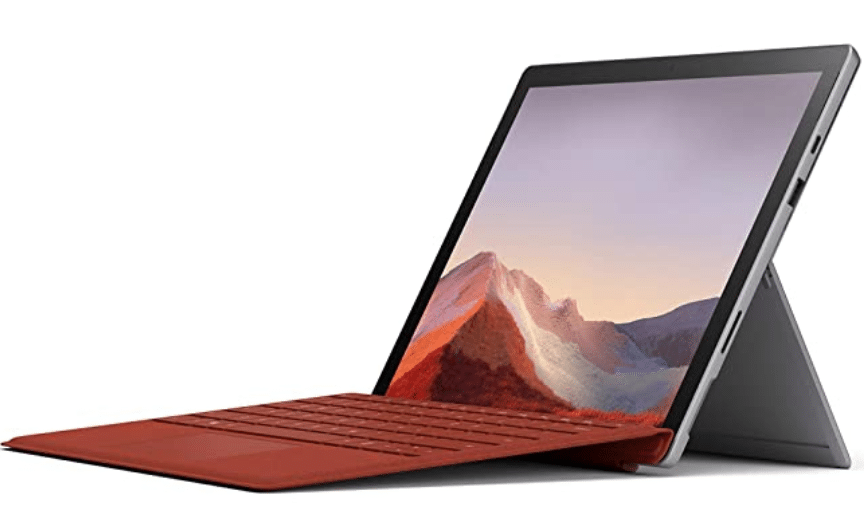 For those who need a worthy option in the form of a Windows device, the Surface Pro 7 is the most suitable pick. This high-end tablet by Microsoft appears in gift packaging with a smooth body emphasizing a kickstand. It has a PixelSense cover with a 60Hz refresh rate.
This tablet holds the Surface Pen stylus, which acts precisely on the screen, comparable to the stylus on iPad Pro. Although Apple Pen gets the upper hand in overall production as a stylus, the Surface Pen does not slouch too far behind. It gives an excellent performance that's great enough for daily functions like creating and editing.
The Surface Pro 7 can also be quickly paired with a keyboard for enhanced performance functionality. Under the shade, this one arrives powered by an up to Intel Core i7 matched with up to 16GB of RAM and higher to 1TB of SSD.
Its top-of-the-crop device and software assistance performs as a reliable alternative for the latest iPad Pro. Being a Windows tablet, the Surface Pro 7 can run effortlessly as your principal device for handling personal and professional responsibilities. Also we have some others options for window tablets as well. 
Hardware Specifications of Microsoft Surface Pro 7
Processor
10th Gen Intel Core i3/ i5/ i7
RAM
4 GB/ 8GB/ 16GB RAM
Storage
128 GB/ 256 GB/ 512GB/ 1TB SSD
Display
12.3 Inch PixelSense Display with 2736 x 1824 Resolution
GPU
Intel UHD Graphics/ Intel IRIS Plus Graphics
Operating System
Windows 10 Home
Battery Life
10.5 hours
Weight
3.53 lbs
PROS
Quad-core performance.
Cool and quiet with a quick resume.
USB-C port.
CONS
Still no Thunderbolt 3.
Dated design.
Lack of built-in LTE.
Why do Tablets do Better than Smartphones?
Tablets are like touchscreen machines, just externally the keyboard. Like mobiles, you have Android tablets and iPads, which are the tablet equivalent of an ios system.
They can work on all the likewise apps that you can download on the phone, plus expensive tablets can work some more excellent applications that are more like the versions you'd get on a computer, which is helpful for picture editing, video editing, record music, and other artistic pursuits.
All tablets have good connectivity of WiFi, which makes them ideal at home, in the room, or anywhere you have passage to WiFi.
Some also appeared with cellular assistance, providing you access to the internet anywhere and the capability to make calls without utilizing an online calling app. You will want to pay a regular fee for this, however. 
Frequently Asked Questions:-
Are there any tablets that are as good as the iPad but cheaper?
Yes! Definitely. Many brands have not heard of as much but are improving with every model they launch. 
Innovative companies include Samsung, Microsoft, and Lenovo. However, so many tablets are available that picking one might take a lot of work. I have compiled the top iPad substitutes in one convenient location to assist you.
Are there any tablets that are better than the iPad for specific tasks, such as drawing or gaming?
If you want a basic 7-inch tablet for streaming videos, looking up stuff on the web, using Alexa, and running apps, Amazon Fire 7 will undoubtedly do the job.
Are there any Android tablets that are comparable to the iPad?
The stunning Samsung Galaxy Tab S8 and S8+ tablets can rival Apple's iPad and iPad Air, models. With these Samsung smartphones, you can run Android and have a good battery life, powerful CPU, and good cameras without sacrificing battery life.
What are the best alternatives to the iPad for business and productivity?
The Xiaomi Pad 5 is a fantastic option for artists on a tight budget. With the tilt and pressure sensitivity capabilities of the Xiaomi stylus (sold separately), the tablet can be used for creative purposes. Pad 5 is powerful and makes a great productivity tool.
Are there any alternatives to the iPad with a stylus included?
The Microsoft Surface Pro 7 tablet is incredibly portable and has a longer battery life than most iPads. It also delivers a more professional sense because it comes with a stylus pen.
Are there any alternatives to the iPad with better battery life?
The stunning Samsung Galaxy Tab S8 and S8+ tablets can rival Apple's iPad and iPad Air, models. With these Samsung smartphones, you can run Android and have a good battery life, powerful CPU, and good cameras without sacrificing battery life.
Why Pick an iPad Alternative?
You get three main options for iPads – Android, Windows, and Chrome OS. Collection of these three have one or two things that make for a great alternative, but they vary in pricing, condition, and support. 
Android: Claims the widest variety of tablets after iPads and has some OEM options to pick from. 
Windows: The largest like you can ever get to a laptop-like functionality on a tablet. Microsoft primarily manages them. 
ChromeOS: Relatively lower adaption rate than the other two but more reliable safety than Windows and Android. 
iPhone vs Android: Why is Android Better?
There are phones at all prices: The majority of the market's smartphones run Android, and because so many organizations create Android handsets, they're ready at every cost range. No matter whereby much you can pay, possibilities are you can find an Android device that suits your budget or gives exclusive peculiarities.
It's more customizable: Though both iOS and Android have developed over the years, Android has always had a name for being the platform for customers who like to tinker and personalize their designs. That starts with the home screen launcher, which provides powerful widgets and the ability to place apps throughout on a surface or in a drawer, out of sight — something the iPhone is hardly getting up to now with iOS 14. 
You can (sometimes) increase the storage: Although expandable accommodation is somewhat less prevalent these days, many Android phones still allow it. This will enable you to practice a microSD card to store photos, apps, and other tools that won't match your device's internal memory.
That's an excellent benefit, given the high prices that Apple and other phone makers credit to increase or quadruple storage when you purchase your handset. 
USB-C is standard: Android phones often rely on USB-C ports for charging and data carrier these times, which is super practical if you're one of those bodies who want to pack light and take just one wire. 
There's an actual file system: Most of us don't want to get our hands dirty with our smartphone's file mode. Still, it's great to know that Android gives you that opportunity if you want it. Even great, when you plug an Android handset into a Windows PC, you can very quickly drag and separate files into folders, as if the device were just a different drive.
That indicates your media libraries and reports are a snap to take over and store nearby, and you don't have to pay for monthly cloud service if you have an extensive library. iPhones disguise the file system from the user for everything except pictures, which can be very irritating for dealing with songs, documents, and other kinds of media.
Video Credit- Techsquare
How We Test Tablets For Guides and reviews?
Direct from the most expensive tablets to the most affordable. We keep our testing standards the same. We put our heart and soul into beating out the most helpful reviews and purchasing guides. In our method, we put each device through a slew of examinations, and from the events, we can assess which device stands the greatest in the segment. 
We estimate the overall set, including the accessories like the keyboard and pen. This assists us in dishing out the most trustworthy information around a device and its harmonies. We always link our articles with every purchasing guide to give our users a complete understanding of how a machine works independently. 
Additionally, we operate a series of benchmark experiments to get the metrics about the software and hardware review of the device. This step is the most important to find if the device delivers what it guarantees. We also run some battery tests to assess the device from every aspect. 
With this, we end our purchasing guide on the best iPad alternatives in 2022. We believe this guide assists you in making the best shopping choice.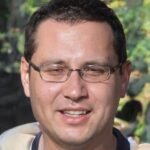 Ben Scott is a prominent technology journalist and reviewer, specializing in tablet devices. He is known for his comprehensive and unbiased reviews of tablets from various manufacturers.
With a deep understanding of tablet technology, including hardware components, operating systems, and software applications, Scott provides clear and informative reviews accessible to readers of all levels of technical expertise.
His attention to detail and in-depth analysis have earned him a loyal following of readers.