Looking for the best windows tablet? We're here with our list of the most popular windows tablet that you can be the perfect device for your requirements.
The Windows Operating system is one of the most popular OS in the whole world. There are reasons behind its popularity and that's why everyone wants to get Windows Operating System based gadgets. There are a lot of Windows tablets in the market.
But, You have to make the right choice of buying the best windows tablet. It will help you in many ways, especially if you're looking for a tablet for work purposes. Windows OS Tablet is considered the best when it comes to office work.
No worries!! We're here to help you buy the best windows tablet. We also use Windows tablet in our office for work purposes and believe us, there's no alternative to Windows tablet. It has a lot of other features and functionalities that can improve your work efficiency as well. These best windows tablets are just like mini laptops or tablet with keyboard, you'll feel like you're having a tablet as well as a laptop just by having a single gadget.
Some of you might prefer Android Tablets over Windows Tablet but It's subjective and a never-ending debate between these two operating systems. Microsoft Windows came into the tablet sector late, but with their high-specs products at reasonable rates they were really fast while covering the Tablet market.
It's all up to the users and their choice about choosing the tablet based on the Operating System. We'll be talking about the Windows tablet in this article and will list some of the top 10 best windows tablets available in 2023.
Before getting into the list of best windows tablets, let's know about why you should buy a Windows tablet.
Why Windows Tablet?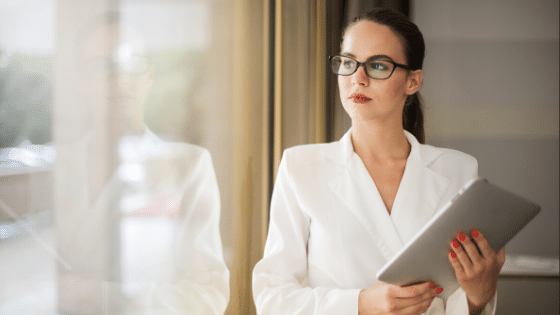 Better Experience
Windows is popular for its easy to use interface and it gives a better experience to users than that of other Operating systems.  So when you'll use a Windows Tablet then you'll are more likely to get a laptop experience than that of a tablet.
More Choices
You're going to have a wide range of choices to choose windows tablets. Microsoft is not the only brand that offers Windows tablet, there are a lot of other big players like Asus, Acer, Lenovo and many more in the market who've launched some of the best windows based tablets and are giving a tough competition to Microsoft. The more choices you have the better choice you'll make.
Docking Stations
These Windows tablets can also serve as desktop systems in your office by adding a docking station. Docking stations facilitate plugging in monitors, hard drives, mice as well as keyboards. This way you can build a complete desktop system using your laptop as a CPU.
If your tablet has no dock options then there are universal hubs that serve the same purpose. You can easily plug the hub's USB cable in the tablet and it changes into a full desktop system.
There are no such options available in iPads and Android that can make them a full desktop system. So it's a plus point if you're buying a Windows tablet.
Multitasking
If you're someone who does multitasking? then there's no alternative for you other than these best window tablet. You'll not be able to do multitasking as compared to other Operating System based tablets. Microsoft created Windows for users to provide them the feature of multitasking, especially for office and work purposes. Multitasking is important and it is one of the reasons why you should buy a windows tablet?
Peripheral Options
If you're choosing a windows tablet then you have the option to connect peripheral devices. Just like docking stations, You can directly connect keyboards, mouse, hard drives, etc. It's more like a tablet with USB ports to connect various peripherals.
List Of Best Windows Tablet In 2023:-
Bestseller No. 1
Apple iPad Air 2, 64 GB, Space Gray (Renewed)
Apple iOS 8; 9.7-Inch Retina Display; 2048x1536 Resolution
A8X Chip with 64-bit Architecture; M8 Motion Coprocessor
Wi-Fi (802.11a/b/g/n/ac): 16 GB Capacity: 2GB RAM
8 MP iSight Camera; FaceTime HD Camera - Up to 10 Hours of Battery Life
Bestseller No. 2
Apple MacBook Air MJVM2LL/A 11.6-Inch 128GB Laptop (Renewed)
Renewed products look and work like new. These pre-owned products have been inspected and tested by Amazon-qualified suppliers, which typically perform a full diagnostic test, replacement of any defective parts, and a thorough cleaning process. Packaging and accessories may be generic. All products on Amazon Renewed come with a minimum 90-day supplier-backed warranty.
1.6 GHz dual-core Intel Core i5 (Turbo Boost up to 2.7 GHz) with 3 MB shared L3 cache
11.6-Inch (diagonal) LED-backlit Glossy Widescreen Display, 1366 x 768 resolution
Intel HD Graphics 6000
Bestseller No. 3
Bestseller No. 4
Microsoft Surface Pro 3 (128 GB, Intel Core i5) (Renewed)
Intel Core i5-4300U Dual-Core CPU 1.70 GHz (with Turbo Boost Technology up to 3.3 GHZ) with Intel HD Graphics 5000
5MP and 1080p HD front- and rear-facing cameras - Built-in front- and rear-facing microphones - Stereo speakers with Dolby Audio-enhanced sound
128GB Hard Drive
A full-size USB 3.0, microSD card reader, and Mini Display Port
Bestseller No. 5
Microsoft Surface Pro 2 (128GB, Haswell i5 Processor, 10.6in Full HD Display, Windows 10 Pro, Dark Titanium) (Renewed)
4GB RAM Memory, 128GB Flash Memory (expandable via microSD card slot).
Windows 10 Pro, WiFi, Bluetooth, Dual Webcams, 1 x USB 3.0, Mini Display Port Output.
Intel 4th Generation (Haswell) Core i5 Processor.
10.6-inch 10-point multi-touch ClearType Full HD Display (1920 x 1080).
This CertifiedRefurbished product is tested and certified to look and work like new. The refurbishing process includes functionality testing, basic cleaning, inspection, and repackaging. The product ships with a relevant charger, a minimum 90-day warrantty, and may arrive in a generic box. Item does not include a stylus. Only select sellers who maintain a high performance bar may offer CertifiedRefurbished products on Amazon.com.
Bestseller No. 6
Samsung Galaxy Tab 3 Lite (7-Inch, Dark Gray) (Renewed)
Store photos, videos, music, and more with up to 64GB of memory available through a microSD slot and 50GB of free Dropbox storage
Android 4.1.2 Jelly Bean OS, 1.2 GHz dual-core processor
Dimensions 188 x 111.1 x 9.9 mm (7.40 x 4.37 x 0.39 in) ,Weight 302 g (10.65 oz)
Camera: 2 megapixel rear-facing
Bestseller No. 7
Bestseller No. 8
Microsoft Surface Pro 10.6-Inch Tablet P6T-002 Intel Dual-Core i5-3317U Processor, Dark Titanium (Renewed)
This product is manufacturer refurbished, shows limited or no wear, and includes all original accessories plus a 90-day warranty

IMPORTANT NOTE: Please read the instructions on the box clearly to learn the working functinality of the product Intel i5-3317U processor with Intel HD Graphics 4000
Two 720p HD cameras, front and rear-facing, Wi-Fi (802.11a/b/g/n), Bluetooth 4.0
10.6 inch ClearType HD Display, 1920 x 1080, 16:9 (widescreen), 10-point multi-touch
Windows 8 Pro, 128 GB Internal Memory, 4GB Ram Memory
Bestseller No. 9
Samsung Galaxy Tab S 10.5in 16gb SSD WiFi Titanium Bronze (Renewed)
Samsung Galaxy Tab S 10.5-Inch Super AMOLED Display with 2560x1600 WQXGA resolution delivers Vivid graphics. Enjoy rich graphics and clear text while you watch movies, play games, or read books on the large 10.5-inch screen
Android 4.4 Kit Kat OS, 1.9 GHz Exynos 5 Octa 5420 Processor (1.9 GHz Quad Core + 1.3 GHz Quad Core). With 16 GB Flash Memory, 3 GB RAM Memory
Use Two Apps Side by Side with Multi-Window Feature Do more on your tablet with this Multi Window feature. Listen to music and browse for lyrics, type emails while referencing other documents, or compare content on two websites at the same time
Built-in Cameras for Photos and Video Chat Equipped with an 8-megapixel rear camera and a 2.1-megapixel front camera, the Galaxy Tab S lets you take high-quality photos and video chat with friends and family members
Keep your Samsung S tablet and your content secure with the swipe of a finger. The fingerprint scanner captures and stores your fingerprints, so you can easily unlock your tablet and prevent unwanted access. Its ultra-Power Saving Mode maximizes battery life
Best Windows Tablet Of 2023 Reviewed:-
We know the benefits of getting a windows tablet. Now, let's jump into the list of best windows tablets that are available in 2023.
1. New Microsoft Surface Pro 7
The first and the most popular windows tablet is the new Microsoft Surface Pro 7. With over 400+ positive ratings, Surface Pro 7 is very much popular among office persons. Microsoft designs tablet devices keeping in mind the requirements of business persons.
This tablet is ultra-lightweight and slim in design which makes it a compatible windows tablet that you can use on the go. This can be turned into a Tablet PC within seconds and you can get the experience of operating a laptop. It is a versatile device with a great design and comes with Type C & Type A USB connectivities. The screen size is 12.3″ with a full touch screen display that you can smoothly use for your work.
2. New Microsoft Surface Pro X
Microsoft Surface series has a lot of great windows tablets and the second in the list is the New Microsoft Surface Pro X. This is also a great and popular windows tablet available in 2022.  It is considered another flagship Tablet by Microsoft for business persons. This can be a great tablet for college work as well.
Surface Pro X is also ultra-lightweight and slim in design with almost the same features as that of Surface Pro 7. You will get a bigger screen size of 13″ in the Pro X with an automatic light-adjusting feature. It also comes up with a removable surface signature cover which you can use it to transform your tablet into a laptop.
It is a 2-in-1 tablet and comes up with 2 portable USB ports for the users. It has many variants with different RAM & Storage space. The most popular is the 8GB,128GB version, and has a Microsoft SQ1 processor. It can be compared to an i7 processor performance. You should definitely go for this as it also has a battery life of up to 13 hours.
3. Microsoft Surface Pro 6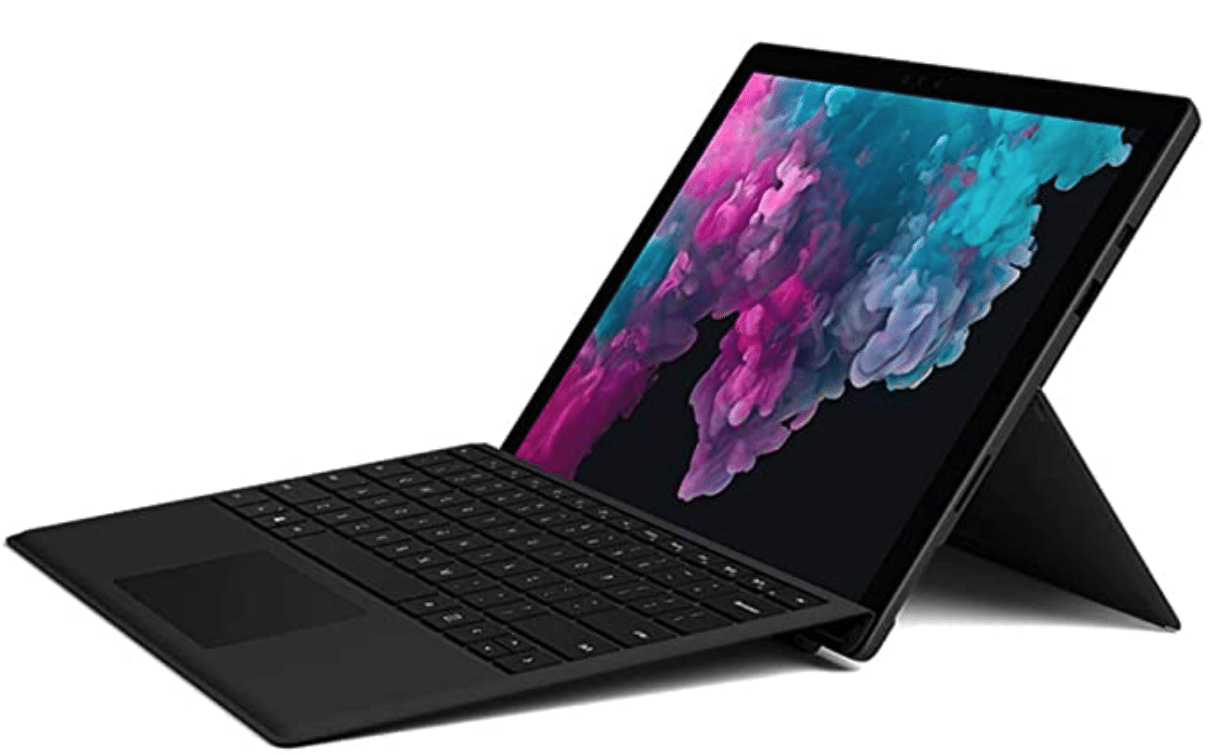 Microsoft Surface Pro 6 comes with a 12.3″ display with an amazing resolution of 2736*1824 and also 10 point touch screen.  This Windows Tablet is also popular among users due to its lightweight and compact design. It weighs 1.70 lbs and has 2 color variants available for you i.e Matte Black or Platinum
This is also a multi-feature tablet that gives you the flexibility of converting it into a PC or a laptop in just a few seconds. Its built-in kickstand will allow you to use it on the go with your convenience.
This tablet has an 8th Gen Intel Core processor which makes it a pretty fast Tablet with a great performance. It offers you 8Gb, 16GB RAM with 128 GB, 256 GB SSD storage. This is a flagship tablet available in the market. It is durable, flexible, versatile, and comes with a great battery life which makes it a popular windows tablet in 2022.
4. Fusion5 FWIN232 Windows 10 Tablet
Fusion also launched FWIN232 Windows Tablet to dominate the Windows tablet market. It is also a good option if you're in search of a perfect windows tablet. It is a slim and stylish tablet that can easily grab the attention of users due to its unique and compact design. The best part about this tablet is that it comes with a Windows 10 package.
It has a RAM of 2GB and a 10 inches screen size. There are limited features but it is considered the best windows tablet in 200 dollars range. If you're looking for a windows tablet in a tight budget then this device is going to be the perfect match for your search.
With an Intel quad-core processor, You can easily do a lot of your office work on this tablet. It comes with a 5MP camera and has a warranty of 12 months. If you are in a tight budget then you will be happy to know that you can get this tablet under 200$.
5. Microsoft Surface Go
Microsoft wants to dominate the Windows Tablet Market by launching more and more windows tablets in the different price ranges.  Surface Go is another great product made by Microsoft and is a very handy and light-weight tablet. It has a screen size of 10″ and weighs 1.15lbs only.
This beautiful device is 4G-enabled and thus you can easily connect your device on 4G connectivity. The processor used in Surface Go is Intel Pentium Gold 4415Y and has Windows 10 Pro installed in it.
You can easily use this device in your home as well as in your workplace. Surface Go has everything you need in a perfect windows tablet.  You can go with different RAM options of 4GB or 8GB and a storage of 64GB & 128GB.
Microsoft has made sure to give you an ultra-smooth experience while using this amazing device. It has a very easy to use interface and the great camera quality makes it easier to capture some good clicks and for video conferencing.
Connectivity options like WIFI, Bluetooth, and different sensors are also present in this device just like you have on your mobile phones. The battery backup is great and offers a backup of 9 hours in a single charge.
6. Lenovo ThinkPad X1 Tablet
Lenovo is known for its great products and they've one amazing tablet device as well. The Lenovo ThinkPad X1 is one of the best tablets by Lenovo. They've made sure to be the number 1 choice among businesses. They've given almost every feature they have in their laptop series.
This device is having a 13″ screen size and weighs 3 pounds with a full touch screen display. It is also a 2-in-1 tablet with a keyboard. You can transform it into a laptop in just a few steps. It is dust resistant and also have corning Gorilla glasses that will protect the screen.
The best part about this tablet is that it also has a pen, which makes it super easy to write notes, do signatures, and even for drawing purposes. This tablet is an all in one gem which can do everything. With a battery life of 9.5 hours, 16GB RAM, and 8th Gen Inter core processor, the performance is going to be the best among all the tablets in this price range.
7. Lenovo Miix 630
Lenovo Miix 630 is another pen tablet by Lenovo that runs on Windows Operating System. We've already shared Lenovo always focuses on giving more to the users and that's why they have Lenovo Miix 630 Tablet.
It is an ultimate and premium tablet with a 12.3″ Full HD display and a resolution of 1920*1280. These are the features that make it unique and more eye-pleasing. A Windows tablet that can be transformed into a laptop or PC in few steps and has a great performance. A perfect match for your search for the best windows tablet.
This device also offers a pen that you can use for drawing, sketching, and calligraphy. The 4GB Ram the SD 835 processor makes it super easy for you to do some heavy gaming as well.
The tablet runs on Windows 10 and has an amazing battery life of  20 hours (the best you can have).
8. CHUWI UBook Pro
One more great tablet device that you can buy is the CHUWI UBook Pro. It is a popular windows tablet available in the market in a tight budget of 400$. This tablet has won users' compliments for its sleeky design and its portable nature.
With a 11.6″ IPS display, you can have great visual experience and best for watching movies. Talking about its core features, It is loaded with the Intel Core N4100 processor with a frequency of 3.4Ghz. It is a powerful device and you can do your daily office work on this tablet very easily.
It has an 8GB DDR3 Ram and 256GB SSD hard drive that makes it super fast and that's why it has quick processing. It is just 780g and a thickness of 9mm. You can imagine how ultra-slim this device is, just 9mm.
9. Microsoft Surface Pro 5
If you can buy a laptop then why buy a tablet? Yes, You can get the feel of a premium laptop with this Microsoft Surface Pro 5 tablet. It is also very popular among users and has 4.5-star ratings with over hundreds of reviews on Amazon. You can do all your work on this device.
This device comes up with a Surface Pro Signature cover which you can use to customize your tablet into a laptop. The screen size is 12.3″ and the resolution is 2736*1824 with a pixel sense touchscreen LCD display. Loaded with Intel HD graphics 615 and a 7th generation powerful processor Intel Core M3. They have a great camera and runs on Windows 10 Home or Professional.
10. CHUWI Hi10 Air
Tablets & Laptops are very important in this digital era. Tablets are becoming more popular because they are handier and portable. But, If you get all the features of a laptop in a tablet then?
We know it'll be great and that's why CHUWI Hi10 Air is on the list. It is the cheapest tablet available in this list. If you're on a tight budget and want a laptop-cum tablet device then this is going to be the perfect match for you.
It's a 10 inches tablet with 1200*1920 resolution. Intel X5 processor and a 6GB of RAM. It works on Windows 10 and has a battery of 6500mAh. More than enough for basic daily usage in office or business.
Decent enough?
Then go grab this tablet before stocks out.
Final Words
After hours of research, We've listed all the best windows tablet for you above. We hope our efforts have somewhere helped you in getting you the best windows tablet for your work. These windows tablets can also be used by students in college for their study work because they have got everything a fully-functional laptop has and you can get them in your hands.
Do let us know your favorite windows tablet in the comment section.