Are you thinking about a more personalized curriculum for your child as part of a homeschooling plan? Could you create a learning environment that can help the students make up for the lost time since the schools are not planning on operating at total capacity any time soon? This article aims to help you find the right tablet that can help you do it all, but finding the right one can be a daunting task.
A tablet that allows multitasking is precisely what a parent should focus on when purchasing one. A good display and long battery life might do for some, but nothing beats a top-of-the-line processing setup. It is also essential to prioritize portability since children want something light in their hands.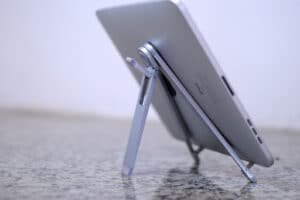 In addition to faster connectivity and powerful speakers, ensure the vents are located ideally to avoid overheating. If your child plans to connect a keyboard, be sure the device is multimode. However, it is sometimes hard to find a tablet that meets all the needs of homeschoolers.
You often end up purchasing a device with a low amount of RAM, a primary processor, limited storage, bulky chassis, a fragile form factor, and slow wireless connectivity. I have reviewed and enlisted the best homeschooling tablets to help you overcome these concerns. Each tablet is chosen based on children's needs, regardless of age, grade, or skill level.
Apple iPad 9th Gen - Tablet For Online Teaching
Here's the best pick for the best tablet for teachers, If you're looking for a reliable, cheap and feature-loaded tablet then iPad 9th Gen is the best option for you.
The tablet saves my time and has a good battery takes almost 2 days too go down and A13 bionic chip set so good I mainly use it for online classes and teaching impact really awesome performance.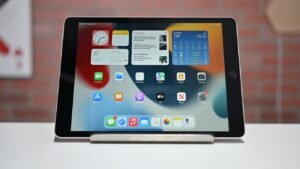 Some of its key features are:-
A13 Bionic Chip with Neural Engine

10.2″ wide display.

Camera.
Battery Life.
Robust body.
Discrimination should never be allowed when it comes to access to education. As a result, I will give you a list of nine of the best homeschooling tablets that can provide your child with all the academic resources. When regular schools are closed, these tablets are expected to provide unrestricted access to online academics, digital study materials, and relevant applications.
In addition, each of these nine products was selected based on testing close to 50 tablets across multiple parameters, such as processing power, multitasking capabilities, portability, autonomy, budget, etc.
List of the Best Tablet For Homeschooling for Students in 2023:-
A big, vibrant display and in-display fingerprint scanner make for a great productivity tablet. The Samsung Galaxy Tab S8 Plus strikes the mark regarding design, functionality, and versatility. There are 3 color variations for this tablet, i.e. Silver, Graphite and Pink Gold.
With a 12.40″ touchscreen display, the tablet has that comfortable screen size where I can be productive and use other apps without cluttering the screen. The AMOLED display provides ample space for reading, watching educational videos, and using learning apps. And comes with corning gorilla Glass 5 to protect the screen while homeschooling kids.
Android 12 with One UI 4.0 operating system that can be upgraded to Android 13 OS. The Octa-core processor with Qualcomm Snapdragon 8 Gen 1 chipset performs well in delivering general tasks making everything quick and responsive. With a powerful processor, students can expect snappy performance when running apps, browsing the internet, and multitasking.
The Tablet I own is the 8GB RAM 128GB storage combination, but there's another combination available in the market with 8GB RAM and 256GB storage. With ample storage, students can keep educational apps, documents, and multimedia files downloaded onto the device, making homeschooling more convenient. I greatly appreciated the microSDXC card slot to expand the storage.
Samsung claims the 10,900mAh battery will last a full day on a full charge though that's only sometimes the case. On a day full of productivity and occasional Netflix and chill, my tablet lasted about 8 hours. While on average usage, the battery life can range up to 10 hours, which significantly depends on the degree of use.
You get a 12MP lens with HDR features for the front camera. The dual rear camera is 13MP and 6MP with LED flash and panorama features. Students can participate in video conferencing sessions, take pictures of class work, or record educational videos.
Samsung Galaxy Tab s8+ comes with Bluetooth and WiFi support, making learning more accessible.
PROS
Best multitasking tablet among all the Android tablets.
S Pen support allows users to take notes, draw and navigate the table very efficiently.
Expandable storage of up to 1TB is excellent for storing large files.
Great performance tablet.
CONS
The screen ratio could be better for a large tablet.
Lacks tablet optimization.
Doesnt comes with a charger.
Absence of a headphone jack.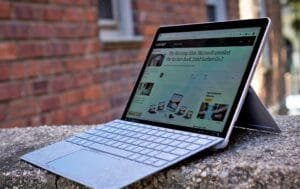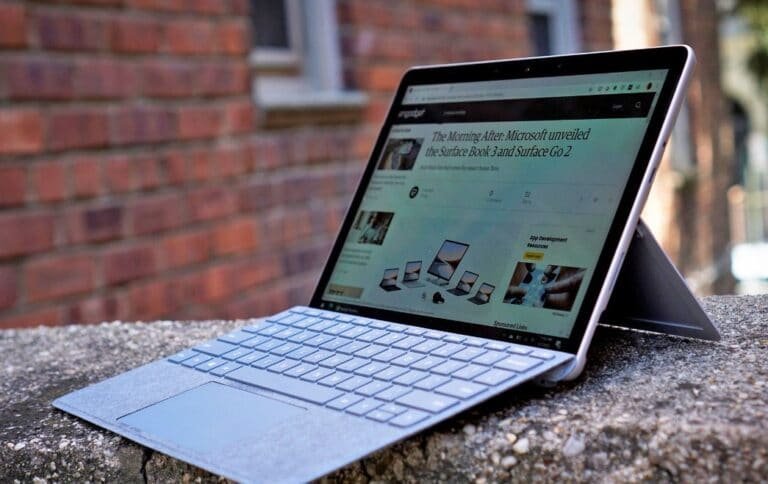 Homeschoolers should consider the Surface Go 2 as their tablet of choice, provided they prioritize typing documents, editing notes, and even utilizing MS Office as an on-premise resource. Compared to the dated Surface Go, the Go 2 from Microsoft is a better option for homeschooling your child as it comes with Wi-Fi 6 standard instead of Wi-Fi 5.
Students would find the screen adequate. By having a Full HD resolution, these display-specific issues are avoided. Moreover, as children might end up dropping the tablet, now and then, the Gorilla Glass panel feels strong enough.
Along with the IPS PixelSense display with near-perfect viewing angles, Microsoft has also included an excellent camera setup with a rear shooter for clicking, scanning documents and a front camera for attending online classes.
With this tablet, you can always connect an external Type-cover keyboard. The Surface Pen is also compatible, which further enhances its responsiveness and ease of use so that your child can be creative by doodling and drawing on the sketch app.
Pentium processors are suited for low-power laptops. When it comes to multiple apps and tasks running simultaneously, you cannot do better than an adequate amount of system memory when it comes to online learning. The graphics processor improves the visual quality of online education.
Students can access files faster and boot up Windows 10 S faster with the SSD module. Nonetheless, you can always add more storage via the existing microSD card.
The Microsoft Surface Go 2 is a pleasure to hold to cut a long story short. Nevertheless, the tablet is worth taking along if you intend to take your family somewhere and do not want your child to miss any educational opportunities.
With Windows functionality, 10 hours of battery life is enough for your child so that their studies are not suddenly interrupted by the tablet running out of power.
As a result, if you are looking for a Windows tablet that has minimal heating and maximized performance, then the Microsoft Surface Go 2 is a powerful option to consider.
PROS
Bigger screen.
Core M3 processor option.
Runs any Windows app.
CONS
Very low performance ceiling.
Battery Life.
Keyboard Flex.
If you simply want your child to have a performance-intensive tablet, the Samsung Tab S6 Lite is arguably your best option. Purchasing this tablet makes sense for students in higher grades as they tend to be more inclined towards practical work, image modelling, complex mathematical calculations, and other demanding tasks.
With its screen and a native resolution of Full HD, the Tab S6 Lite features a large screen. Gaming on the TFT panel would be a more enjoyable experience due to its inherent refresh rate so that your kids won't get bored when they have completed studying for the day. As far as the cameras are concerned, the front camera does its job well, but the rear camera may not appeal to discerning users.
Using Bluetooth or the tablet's USB port, an external keyboard can be paired with the tablet. As for the stylus compatibility, the tablet works perfectly with the S-Pen and provides additional functionality for the touch screen so that kids can doodle using it.
Regarding the Tab S6 Lite's internals, the device is equipped with an Exynos processor. The RAM, which works in conjunction with the SoC, is critical to managing the majority of your child's multitasking demands. Tab S6 Lite comes with 128GB of internal storage capacity that can be expanded if you need it.
Moreover, the Android 10 OS and layered One UI provide 12 hours of battery life, which is very impressive to the child and an array of customizable features.
A comparison of the Samsung Galaxy Tab S6 Lite with other tablets on the list shows its all-encompassing presence, thanks to its powerful speakers and brilliant processing setup. Also, the price point will help you establish a reasonable cost-to-ownership ratio.
PROS
Bezels that are slim.

Quite long battery life.

Synchronization in DeX mode.

The package includes an S-Pen.

Lightweight and thin.
CONS
Front camera quality is average.

The Qualcomm processor could be improved.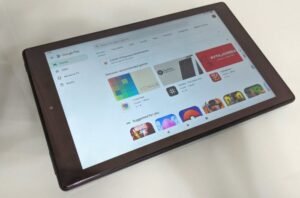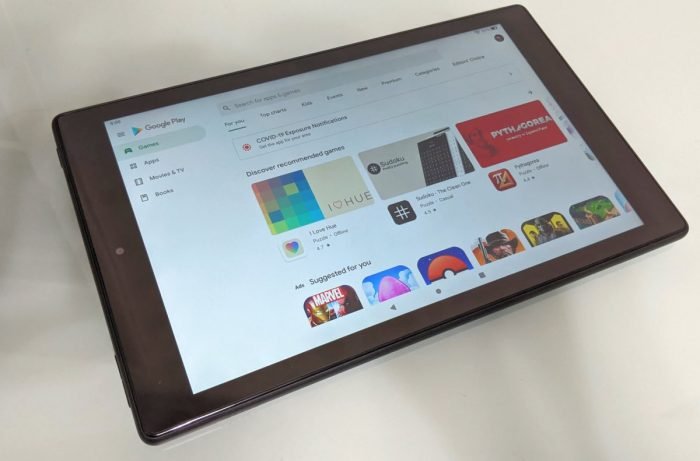 Amazon's Fire HD 10 tablet is an excellent choice if you want a reliable product for young kids who need visuals, audio, and digital reading assistance. This tablet has a larger screen real-estate than the Fire HD 8, so it is quite a good substitute for the Fire HD 8.
With a Full HD resolution, the IPS screen provides an excellent visual experience. Interestingly, the 2021 Fire HD 10 model has a brightness increase over the 2020 model. The setup makes it even more ideal for reading books, comic books, worksheets, etc. The HD 10 comes with a gorgeous screen, rear camera, and primary front camera for making video calls with your kids.
Almost every active pen is compatible with Amazon's Fire HD 10. You can also pair an external keyboard via Bluetooth if you wish to provide keyboard support for your homeschooled children.
This tablet is powered by a processor capable of handling most apps, tasks, and resources smoothly. 
The RAM on board is more than enough for multitasking, and the storage space is ample for most trivial applications. If your child complains about a lack of storage, you can always upgrade the device via the microSD port.
Although the battery life isn't set in stone, it still lasts 12 hours at a time.
Fire HD 10 is a great tablet to get for your kid if you want to give them the best educational experience at home. Moreover, Alexa compatibility makes it one of the best tablets on our list for under 150 dollars.
PROS
Bigger screen.
Multitasking.
Build quality.
Eye-friendly screen.
CONS
Some time size may be an issue.
RAM is just 3GB.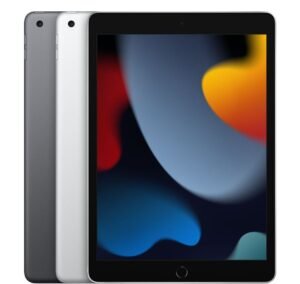 It seems like the Apple iPad 2021 is your best bet for home learning if you prefer Apple's ecosystem to Android. Moreover, if your child enjoys drawing and other relevant topics, the 9th Gen Apple iPad may be a good investment.
Compared to the older version of the 2020 8th generation iPad, the new model comes with double the base storage, an upgraded selfie camera, and a significantly faster processor.
The iPad 2021 comes equipped with a Retina screen on the display front. A scratch-resistant coating adds to the sharpness and vividness of the IPS LCD panel. Moreover, thanks to the 500-nits of brightness level and True Tone technology, kids can read even in bright sunlight, allowing them to stay connected to their books while travelling.
In well-lit conditions, the rear camera performs well. Your child can also use the improved front camera on the phone for most video calling needs.
With the magnetic link, the iPad is also capable of supporting an external keyboard in addition to the 1st generation Apple Pencil. Nevertheless, they must be purchased separately.
With Apple's new processor, users have never been worse off. The efficient processor is renowned for its minimal heating and maximum performance. Regardless of what gaming apps you throw at it, the existing 7nm chipset is more than capable of handling all of them with its proprietary GPU and RAM.
It is an upgrade over the storage options of its predecessor, although 64GB may seem to limit, especially in 2023. Students who want their iPads to hold multiple books and resources should find the base model adequate.
Despite its low price, this entry-level iPad is still one of my favourite tablets because of its 3.5mm audio jack, which allows your kids to use headphones and listen to music on the go. There is a fingerprint scanner on the home button, making this one of the more secure tablets on the market.
Battery life of almost 10 hours makes the device even more appealing for children who require uninterrupted web access.
It is fair to say that the 9th Gen iPad is very promising and is quite affordable for an Apple product. Additionally, the iPad OS 15 offers a pleasant experience for students, making it stand out from some of the other products on the list if you are looking for a tablet under $350.
PROS
Cheaper then anyother ipad.
Display.
Build quality.
CONS
Smaller screen as compared to other.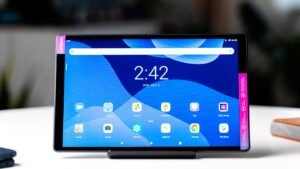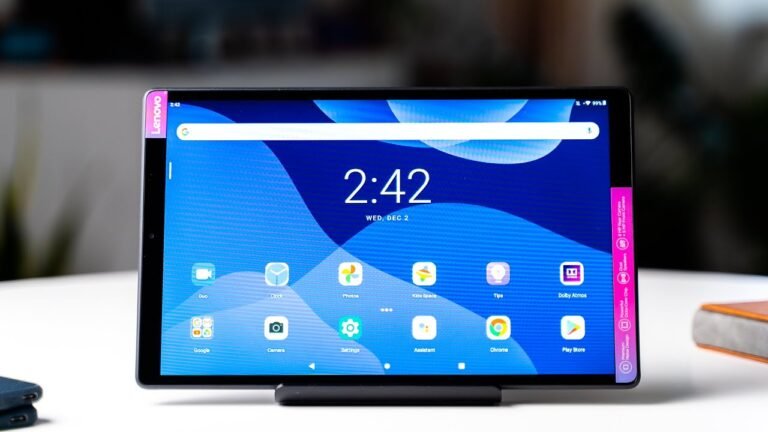 The Lenovo Tab M10 Plus is the best tablet available on the market if your child prefers to place the tablet in the open for online sessions. Despite the excellent headphone audio performance, the powerful speakers offer additional leverage. Compared to the older Tab M10, the Plus variant has a larger screen, making it a better option for students.
The Tab M10 Plus is equipped with an IPS display with a Full HD resolution. The TDDI technology makes the screen exceptionally bright and exhibits excellent viewing angles. Last but not least, there is also glare-protection support. These features aid in a better viewing experience when your child is watching video lectures or solving assignments from the tablet.
As long as you restrict its usage to taking pictures of pages, assignments or sharing them with friends, the 8MP camera in the rear takes decent photos. There is also a front-facing camera, complemented by a face-unlock feature.
The Tab M10 Plus doesn't come with a stylus or keyboard out of the box. On testing, I discovered it works seamlessly with any active pen and even supports external keyboard connectivity via both wired and Bluetooth connections.
Despite running hot at times, the processor can handle several academic applications, online platforms, and even programming tools. 
Even so, if your child still needs a large amount of on-device storage space rather than just cloud storage, expanding the ROM is also an option.
Despite the thickness, it feels good to hold, and kids will enjoy it while studying.
For battery life, 8 hours of support is a bit mediocre. However, it is sufficient for a student who is localized.
The Lenovo Tab M10 Plus isn't about to show-offs and flashy displays. In its place, it offers a balanced specs sheet that sets it aside from the rest of the field thanks to its acoustic performance and Faces Unlock security feature.
PROS
Support for Face Unlock.

High-speed internet access.

RAM that operates quickly.

Battery life is exceptional.

Display of excellent quality.

Processor with high performance.
CONS
The structure is flimsy.

Heats up a bit.
The Samsung Galaxy Tab A7 ensures that your child won't need the most expensive tablet for e-learning. The Tab A7 comes with a pretty beefed-up specs sheet but costs an affordable price and is ideal for students who want a handy tablet with a good enough screen.
Compared to the older A7, i.e. the 2016 model, the reviewed one feels better in hand, boasts a much better chipset, and has a bigger screen.
Students should be able to see well enough on the 2K screen. Despite this, the resolution also promises decent viewing angles and sharp images. In addition to the TFT screen, it comes with a front camera that students can use for video calls and online classes via Zoom, Google Meet, WhatsApp, etc. A rear camera is also included.
An S-Pen can be purchased separately and used for better maneuverability, but the keyboard support requires connecting via Bluetooth. The same, however, would be counterproductive as it would defeat the entire point of purchasing the Tab A7, i.e. affordability.
Snapdragon's processor boasts eight cores to ensure that your children can run the most demanding apps and processes. Yet, it still gets decent RAM support, which can easily handle most apps, tasks, and browser tabs. 
Aside from the excellent build quality, the tablet also performs well in terms of durability so that it doesn't get damaged that easily if it falls from your child's hands while studying.
However, the battery holds up exceedingly well, providing 10 hours of backup.
As compared to the Samsung Galaxy Tab A7, there are probably many better tablets, but this product offers the best cost-to-ownership ratio among other products on the market.
PROS
Bright display.
Good battery life.
well-built and slim design.
Best audio output.
CONS
Camera is not as expected.

Not for heavy users and multitasking.
Lenovo's Chromebook Duet is easy to use and makes it easy for a homeschooled child to be accountable for every online task they might face. It is better to invest in a Chromebook Duet if your kid is more inclined toward online coaching and spends most of their time online.
If your kid still owns the older version of this innovative Chromebook, it might be time to upgrade since the new Chromebook Duet comes with extra storage.
Lenovo has brought in a bright screen but doesn't exactly impress me when it comes to sunlight visibility. It has a Full HD resolution. Students can see the contents on the screen at home, but they might face some hurdles if they decide to use it outside. It's not likely that the Chromebook Duet will boast an exceptional camera setup since it's a two-in-one tablet computer. Despite this, you'll still get an excellent rear camera and a front camera for video calls.
External keyboards can be tagged along with a dedicated port. Although the keyboard comes bundled with the same, it has an excellent trackpad for smooth handling. Also, you can pair this tablet with any external active pen to make the touch screen more responsive.
At its core, Lenovo's laptop houses the Helio processor, which is ably supported by adequate amounts of RAM. The current configuration is sufficient for multitasking, and there is enough left over for storage. Also, you can easily upgrade the same if needed.
For this tablet, the Type-C port and high-speed Wi-Fi AC functionality work well together so that your child doesn't need to face a delay in fetching educational data or searching Wikipedia when they are on the tablet. Battery life is fixed at eight hours, which would seem adequate, but can pose a problem if the child prefers to use the tablet outdoors.
Lenovo Chromebook Duet comes equipped with Chrome OS, an operating system curated specifically for online tasks, cloud-based functionality, and more. As a result, this tablet probably has little to no Bloatware compared to other products on the list.
PROS
Ultra portable.
Battery life.
Great pricing.
CONS
Not for multitasking.
Keyboard quality.
No headphone jack.
Small screen.
Frequently Asked Questions:-
What are the best tablets for homeschooling?
The best tablets for homeschooling are those that are user-friendly, have a long battery life, offer a clear and bright display, have enough storage space, and can connect to the internet. The most popular options include the iPad, Samsung Galaxy Tab, Amazon Fire HD, and Microsoft Surface Go.
Which is preferable, tablets or laptops?
Using tablets should be preferable because they are portable if you want to browse the internet, read ebooks, play mobile games, and watch videos. However, a laptop should be used if you prefer to work with more feature-rich software, such as Microsoft Word, Microsoft Excel, or web design.
Do tablets make homeschooling more effective?
Tablets can help kids learn better since they offer distraction-free learning environments. Children can access educational resources, play games, or watch videos without interruption.
What features should I look for when buying a tablet for homeschooling?
When purchasing a tablet for homeschooling, consider factors such as screen size, display quality, battery life, storage capacity, processor speed, connectivity options, and overall durability. Consider whether the device has educational apps and tools to make homeschooling more accessible and engaging.
What age range is suitable for tablets?
Tablets don't have age restrictions, to be honest. As a parent, you may want to consider using a tablet for homeschooling kids of all ages, from kindergarteners to college students. However, the selection of the tablet is crucial because some models are better suited for pupils in higher grades, with requirements like more significant Memory and keyboard support.
What to consider when choosing a tablet for homeschooling:-
Tablets are increasingly popular with parents who want to homeschool. Choosing a suitable device doesn't necessarily mean that one is better than the other; instead, it's about matching the device with your homeschooling schedule and your child's needs.
The compact and all-in-one designs of tablets make them ideal for flexible learning environments. The batteries on these devices usually last a long time, and the screen resolutions and speakers are often superior. However, the tablets' screens are smaller than some laptops, so that certain activities may be challenging.
Laptops come with keyboards and can be used just like a desktop PC. They have larger screens that can handle multiple tabs and applications. To improve connectivity, they can also be hardwired. Laptops can be costly if you need reliable speed or advanced functionality.
Homeschooling tablets can be narrowed down based on age appropriateness relatively quickly. They can be divided into three general categories:
Children's tablets usually have limited functionality if designed for kids ages six and younger. Various educational apps are built-in, and web browsing and games can be accessed through limited browser capabilities.
Some educational apps are available for kids up to the age of 10, but most are designed to support basic word processing and access to interactive online learning platforms.
The tablets for middle and high school students are essentially adult tablets. Users will have full access to high-level features such as web browsing, video chatting, word processing, and e-reading.
Compatibility with peripherals
Compatibility with peripheral devices is among the top features to consider when comparing tablets for homeschooling.
The vast majority of Bluetooth peripherals work well with tablets, as long as the tablet is updated and has a compatible operating system (OS). You should cross-reference the specifications and system requirements of peripherals you consider with your tablet. This is also true for keyboards and mice.
Settings for parental control
Safeguarding a child's privacy and maintaining practicality are essential factors.
Parental browsers filter mature websites and limit access to cameras and chat apps on the safety front. Some tablets offer to monitor settings that allow you to keep an eye on your child's online activities. Most parental controls set usage limits and limit access to non-educational content and applications during school hours.
To expand the memory of an expandable memory device, either a USB stick or a microSD card is used. 
In addition, the tablet won't be limited by the amount of content stored on its internal memory or in the cloud, which may run low if it's loaded up with educational apps. It will also conserve power and maintain a more extended battery life by using expandable memory.
It is unlikely that the tablet will serve its purpose if it can't stay charged throughout the school day. While some tablets include batteries that can last for 10 hours of mixed-use, others have fast-charging capabilities. Your child's daily school schedule, as well as how much time they will spend on a tablet as homework, should be accounted for.
Kids ages 6 to 10 can buy entry-level tablets for between $150 and $250, while those aimed at teens typically cost $150 to $250. Tablets designed for middle and high school students, which offer the most functionality, cost $250 and $600.
Final Verdict
There are nine tablets on the list perfect for homeschooling your child, each with a different function. If you are still unsure as to which one is right for your children, here are a few options to consider:
When you want to provide your child with a PC-like experience, you should consider the Microsoft Surface Go 2.
A child familiar with the Apple ecosystem and finds it easier to work with would benefit from the Apple iPad 2021.
The Samsung Tab S6 Lite is a great Android tablet for your kid, with access to the Play Store for added productivity.
Lastly, if you prefer a tablet that evokes the memories of your love for laptops, the CHUWI UBook is your best option.
Despite these suggestions, you are free to choose any other tablet you prefer based on your child's exact requirements, budget, additional features, audio quality, and other factors.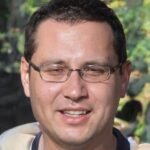 Ben Scott is a prominent technology journalist and reviewer, specializing in tablet devices. He is known for his comprehensive and unbiased reviews of tablets from various manufacturers.
With a deep understanding of tablet technology, including hardware components, operating systems, and software applications, Scott provides clear and informative reviews accessible to readers of all levels of technical expertise.
His attention to detail and in-depth analysis have earned him a loyal following of readers.