When Samsung Galaxy Tab S6 Lite comes to the tablet market, we can all agree that Apple has quite a stranglehold on it. With every new release from any other brand, it's become something of a norm to see it as a competitor for the latest iPad, especially in the case of an Android.
Samsung launched Galaxy Tab S6 Lite as another addition to its affordable table segment, being a more affordable version of the original Tab S6. With the idea of bringing features from the premium tablets to an affordable price segment. Though if you look at its Galaxy Tab S6 Lite doesn't share much in common with its premium counterpart.
Galaxy Tab S6 Lite comes with an S pen Stylus, making it the most affordable Samsung tablet to come with a stylus. Even though there is no compartment for the S Pen stylus, it's a minor detail to overlook at the price point. The stylus is great to work with, doodle, take notes and you don't even pay anything extra for it like in the case of an Apple pencil.
On the outlook, Galaxy Tab S6 Lite with smaller bezels and solid rear gives a pretty durable feel and seems hefty enough to survive some accidental knockoff. Though you might experience some delays in responses whilst switching apps or swapping, it works a little slow.
Even with this, the usefulness of the Galaxy Tab S6 Lite as a very flexible and portable entertainment device with good display quality and within a budget is hard to ignore. Galaxy Tab S6 Lite comes in three color options to choose from i.e., Oxford gray, Angora Blue, and Chiffon Rose.
Specifications:-
Hardware Specifications of Samsung Galaxy Tab S6 Lite
Processor
Exynos 9611
RAM
4 GB
Storage
64 GB
Display
10.4″ Inch Retina display with 2000 x 1200
Camera
Rear- 8MP | Front- 5MP
Operating System
Android
Battery Life
12 hours
Weight
1.02 lbs
PROS
Robust Design.
Plentiful UI Design.
S Pen included.
CONS
Issue with Pen.
Little sluggish.
Design
Samsung Galaxy Tab S6 lite has a pretty robust design. The 10.4-inch display comes with a glass front and a metal framework with a metal back giving it a sturdy feel. With the metallic body comes the weight of the device, weighing 467g, the tablet is on the heavier side of it and becomes noticeable when used with one hand for an extended period.
With dimensions of 244.5 x 154.3 x 7mm, it's of a pretty average size, with this the thin bezels are a pleasant feature giving the device a good size screen.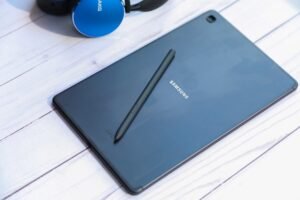 At the back, top left corner is the rear camera if you're holding the device in portrait mode. It has a 3.5mm audio jack at the top, a sim tray for inserting one Nano-SIM, and a microSD card. Other than this a secondary microphone, a power button with volume rockers on the bottom edge, and a USB-C port on the bottom edge are also present.
Galaxy Tab S6 Lite comes with an S Pen Stylus, which is held in place by magnets at the lower right side of the tablets. The stylus is a good addition here, useful for drawing, doodling, sketching, and taking notes. Though unlike other Galaxy Tabs the stylus doesn't have a Bluetooth feature.
Display
The Galaxy Tab S6 Lite comes with a 10.4-inch display screen with 2000×1200 resolution, it lacks the higher resolution AMOLED panels present in the non-Lite tablets. It has decent viewing angles and a pretty good quality screen which is bright and easy to view even outdoors.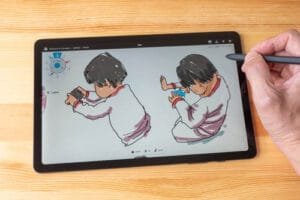 To might notice the low resolutions depending upon your streaming service and such. While using the S pen or just the finger to swap the screen some resistance is noticeable. The palm detection while using S Pen is not as good as the iPads but it not the worst either.
Battery
Galaxy Tab S6 lite with its big 7,040 mAh battery, has a pretty impressive battery life lasting easily for a day or two of typical use.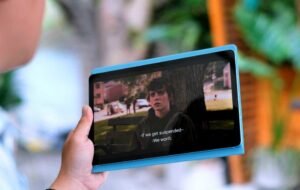 You won't feel the need to charge it daily unless you really push it to limits, it easily gets through hours of watching YouTube, video calling, some random gaming, etc. The charger is on the slower side, it takes a long time to power up the device.
Camera and Speakers
Galaxy Tab S6 Lite comes geared with 8MP rear and 5MP front snapper both of which don't sound much appalling. With tablets it's very unlikely that you'd be doing much photography instead of your smartphone, the 8MP rear camera doesn't do much to impress as pictures do come up a little dim-lit and grainy. As for the front camera which gets utilized a lot more is good enough.
You get pleasantly enough different modes available for selfies. Other features include live focus mode, filter, and beauty option. There's 1080p video recording for both front and rear cameras.
The two stereo speakers are rather excellent, providing you sound with enough bass and the volume can be turned up to some ridiculous levels, though it is a little muffled. The speakers are AKG tuned and come with Dolby Atmos compatible that add to your experience.
Connectivity
Samsung Galaxy Tab S6 Lite comes with inbuilt dual-band Wi-Fi 802.11, Bluetooth 5 which is good for connecting other Bluetooth devices for extra comfort. It also has four satellite navigation systems
Processors
The Samsung Galaxy Tab S6 Lite runs One UI 2.0 is based on Android 10 and the Chipset Exynos 9611 (10nm) CPU is Octa-core. The chipset here might not be the best for gaming purposes, but it's fine if you are not doing something too demanding. Lower-end games run smoothly on the device.
The tablet comes equipped with 64 GB of inbuilt storage and expandable storage of around 1000 GB via microSD card. It has 4 GB RAM providing you with a very fluent multitasking experience. Running multiple apps goes without trouble and the apps stay oriented. Navigation though is on the slower side sometimes, which gets frustrating.
Final Verdict
Definitely from the price point, it comes with some excellent features like S Pen, AKG-tuned speakers, 10.4-inch LCD, long enough battery life.
It's great for watching movies and shows, the right size for the e-readers, lets you have you doodling and scribbling time and play some light games.
However, if you come looking for snappy navigations and complex gaming it's not a device for you. With slow performance, word processing is a bit slow too when composing lengthy documents, the average palm detection also gets in your way of working and gets quite annoying.
Despite some shortcomings, Galaxy Tab S6 Lite makes an excellent choice of an Android tablet depending upon your usage preferences.