List of The Best Drawing Tablet For Kids:
The Repaper Tablet is one of those graphic tablets and stylus combos where you can attach it to a screen and paper and use a regular pencil to draw directly on it. It combines digital and analog functionality. The problem with graphics tablets is that they offer you the power to draw on one surface and instantly observe it on a screen.
However, one of the more complex sides is that a learning curve requires your child to split their attention and relearn how to draw on one surface while looking at a different one. Drawing tablets, such as the iPad Pro, allows me to draw directly onto the screen, which solves these problems. However, they can be pretty expensive, and at the same time, using them does not feel as natural as using a pencil and paper.
Undoubtedly, I recommend the Repaper Tablet to budding child artists interested in entering the realm of digital art. It is an excellent middle ground between a cheap, low-end graphics tablet that won't last for long and an expensive, high-end drawing tablet that could cost a lot of money.
I think that the Repaper Tablet offers you the best of both worlds; that is, it's a quality product that will last for quite a while, and when your child is ready, you can consider investing in something more specialized if they decide to take up this hobby more seriously in the future.
PROS
Cost-effective.
Light Weight.
Best color optimization for kids.
CONS
After sometime process become slow.
Build Quality.
If you are concerned about your expensive iPad Pro getting slammed by kids who would otherwise run wild with it, consider handing them the Amazon Fire HD 10 Kids tablet. Parents like myself will appreciate the extended parental controls offered by the Fire HD 10 Kids, which can be a real advantage for busy people.
However, older kids might find the Fire HD 10 Kids overly limiting because of the restrictions of Amazon Fire OS. A few Amazon extras are included when you buy an Amazon Fire HD 10 Kids.
I appreciate that Amazon Kids+ subscriptions are free for one year, plus two-year warranties are included. In the case of a broken tablet, you can return it for a free replacement. As I tested the kickstand, I accidentally dropped the tablet when using it as a handle, as Amazon suggested.
No damage was caused to it as it bounced softly off the floor. I even spilled water on the tablet, and it kept working. When giving it to kids, I found that the Fire HD 10 Kids can deal with "uh-oh" moments. There are also third-party cases for other Android devices similar to the Fire HD 10 Kids, so this is hardly a unique feature.
I was surprised by the excellent picture quality that can be found on this 200-dollar tablet designed for children, featuring a colorful and bright 10-inch Full HD display. The Fire HD 10 Kids features an octa-core processor with 2.0 GHz and 3 GB of RAM and is powerful enough for casual YouTube watching, web browsing, and reading so that your kids remain entertained.
PROS
Cost-effective.
Ease usage of Alexa.
Stubborn case.
Kids Friendly.
CONS
Lack of Google apps.
It has an outdated chipset
Upon my very initial inspection, the iPad Air dimensions remain the same as its predecessor, despite the new model weighing slightly more than its predecessor. I placed both devices side-by-side, and I couldn't tell them apart, but this changes when you buy the new model in one of the new colors. For unlocking the iPad Air, the Touch ID sensor complies with authentication requirements so that your kid cannot open it if left unattended.
I found iPadOS to be smooth and responsive. Although the screen was crisp and sharp, the downside I felt was that the widescreen video ran letterboxed due to the 4:3 aspect ratio, with thick black bars above and below most content. I also found the colors on this iPad's display slightly muted compared to the vibrant output from AMOLED panels. Dual speakers could fill a small room without drowning out other sounds.
While away from my laptop, I watched videos on my iPad Air and browsed the Web. On the games front, your child will be satisfied with it. I tested Asphalt 9: The Legends on the iPad Air, and it loaded in very quickly and without any stutters or lag. Although after 20 minutes of playing this game, I found the back side of the iPad to be quite hot. I also noticed a battery level drop of 10 percent, which is on the higher side.
I'm not going to lie; it has certain drawbacks but kept aside, it is still an excellent device for your kids to operate. The M1 SoC inside this table is mighty. Even though there are few changes compared to its predecessor, these tiny changes make it better to use at the same price.
PROS
Speedy M1 processor.
Center Stage front camera zooming.
Fantastic size.
CONS
Front camera placement is still peculiar.
The least expensive model only offers 64GB of storage.
IPadOS still seem constrained.
XP-PEN is a good line of middle to expensive product and XP-Pen 15.6 pro is one of them. It also has 6 hard keys for the operation of operation. This stylus of a drawing tablet is wireless and not a chargeable stylus.
Capable with all Mac and Windows-based systems, many of the apps like Photoshop and Photography studio software also runs very fluently. Inbuilt with many other ports like USB, Micro-SD, etc. The visual an angel is about 178 degrees and delivers rich colors, vivid images, and many more. Its slim body of 11mm also attracts a lot.
After getting the tablet in my hands, I found it has a screen size of 15.6 inches diagonally and a full HD resolution of 1080×1920 so that your kid experiences the best quality of viewing experiences.
After using the tablet, I have to mention that the eight built-in shortcut keys that are located down the side of the tablet, with the new dial that can be programmed to zoom in or out, alter brush sizes, and many more, these features combined will prove to be quite helpful for your kids.
One of the features I liked is that it also comes with a stand that provides a good angle while watching content or sketching. The price-to-quality ratio is superb. Those days are long gone when only professionals could buy a decent-quality screen tablet. Please take my word; for this tablet will keep your child creative, happy, and productive.
Hardware Specifications of XP-PEN Artist 15.6 Pro
Active Area
15.6″
Pressure Level
8192+
Express Keys
8
Multi-Touch
Yes
Weight
8.82 lbs
Stylus
PO5R Battery-free
Size
17.52 x 11.22 x 0.43 inches
Tilt Support
Yes (178 degrees)
PROS
Affordable
8 shortcut keys and Red Dial
Low parallax display
CONS
Inconsistent line quality.
Needs colour calibration.
Pressure and tilt issues.
The name of Huion is on this list due to its low budget and its high efficiency. It has all the key features including wireless stylus wide active area and pressure sensitivity is 8192 which is best in this price range.
Its surface is separated by lines and edges which provide greater workspace. The best thing is it has battery-free stylus no need to worry about the charging and the capacity of the stylus working time.
Huion H640 is made of solid plastic, and its case is matte, which feels premium. Using this tablet, it's a pretty thin tablet and relatively light, also. When your child operates this tablet, they will get 6 express keys divided into two groups on the left side of the tablet. Tiny white dots indicate the main working area to give a defined boundary of 6.3 x 3.9 inches if the child faces problems operating it.
The nice thing I out this tablet is that its style has an excellent design that is comfortable to hold, buttons can be pressed easily without much effort, and the response is obvious, making it perfect to be used by kids.
I got a fair drawing experience from this tablet as the surface of the tablet is sleek but feels fabulous to draw on it. The best thing about the pen is that it also doesn't need to be charged, and the rubber grip gives your child a nice texture to hold on to.
Hardware Specifications of Huion Inspiroy H640
Active Area
6.3 x 3.9 inches
Pressure Level
8192
Express Keys
6
Multi-Touch
Yes
Weight
2.05 lbs
Operating System
Android
Size
13.2 x 8.5 x 0.3 inches
Stylus
Wireless (no charging)
PROS
Well made and easy to use
Beginner friendly
Simple to setup
Easy to install
CONS
 Frustrating and has inhibited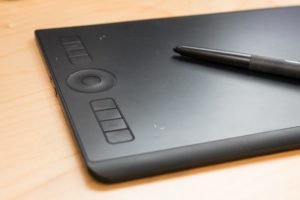 The brand from the Wacom and also reliable no matter its cost/ The cost s very low and can be easily used. Size is small and lightweight no need to worry to carry over any place. The only things you have to attach the external screen with this. The pen is very soft and pressure sensitivity is good to use on the surface.
The Wacom Intuos Draw is our pick for the best overall drawing tablet for kids. It is a great tablet for new users and children too. Great for the 9-12 year age group children. The small screen maybe gives some issues.
Speaking from my experience (as I have kids, too), when your child learns to use the Intuos tablet, it feels like the first time they tried to type without looking at their hands. Looking at your hands instead of watching the screen feels weird, right? Your kid may even find that using a separate monitor and tablet instead of drawing directly on the screen is more advantageous since their hand isn't getting in the way of their view of the canvas.
During my usage, its pen and tablet-based photo editing and illustration capabilities, the Wacom Intuos provided me an excellent value. Despite not being as large as pricier options, the Intuos' pressure sensitivity simplifies and speeds up brush-based work, even though it only serves as a screen map. A more efficient workflow was made possible by the customizable buttons on the tablet and pen, as well as the customizable buttons on the tablet.
Hardware Specifications of Wacom Intuos Graphics
Active Area
6.0″ x 3.7″
Pressure Level
4096+
Express Keys
4
Multi-Touch
Yes
Weight
0.55 lbs
Stylus
PO5R Battery-free
Size
7.87 x 6.30 x 0.35 inches
Tilt Support
Yes (178 degrees)
PROS
Thin and compact
Control
Pen
7. Amazon Fire HD 8 – Best Drawing Tablet For Kids

The Fire HD 8 is powered by Amazon, and it stands on the first position in the bestseller list. This tab comes with a long-lasting battery backup and has much pre-installed software. It features an 8-inch HD screen with a resolution of 1280 X 800 pixels.
The tablet is powered by a 1.3 GHz quad-core processor paired with a 1.5 GB of RAM. This tablet comes with two different storage types, one has 32 GB storage and another one comes with 16GB storage and their prices vary.
This tablet comes in different colors, with a techy body. Since this tablet is powered by Amazon, you get the experience of the app 'kindle' with free books that you can read whenever and wherever you want! The front camera is 2MP whereas the rear camera is also 2MP. So if you're going for this Amazon's 8-inch tablets, it also goes up to 12hours of continuous usage.
Click here to read full review of Amazon Fire HD 8 from our experts.
In my daily usage, the performance is on the lower side. However, the user interface is designed to work well on this tablet; scrolling through complex pages made it slower. Don't worry; it is not an unusable experience, but it doesn't feel premium. If your kids love to game, it will be a mixed-bag experience.
Kid's games such as Toca Boca performed just fine. A good feature that I feel is that you can lock the tablet into an age-appropriate content mode for your kids with content appropriate for kids children under 12 years of age with content from Disney, Nickelodeon, Sesame Workshop, and many more toy-related videos and book franchises.
This feature is possible through the Amazon Kid's+ experience. Amazon's Kids+ service locks the tablet into an age-appropriate content mode for kids under 12, with content from Disney, Nickelodeon, Sesame Workshop, and various popular toy-related video and book franchises.
Hardware Specifications of Amazon Fire HD 8
Processor
Mediatek MT8169A
RAM
2 GB
Storage
32 GB, 64 GB
Display
8.0 inches (1280 x 800) IPS LCD
Camera
Rear – 5 MP | Front – 2 MP
OS
Android 11, Fire OS 8
Battery Life
Up to 13 hours
Weight
337g
This is box title
Extremely modest
Strong form
Not too bad speakers
Professionals
Wallet-accommodating cost
Show Mode is brilliant
This is box title
Frail screen
Normal battery life
Amazon biological system is poor
Without hands Alexa
Absence of equipment redesigns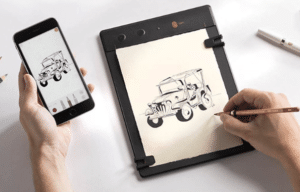 The best for the kids and for the experts who always want to work on paper and store their sketches digitally. The actual paper used on the top of the surface and when you draw on it the same things send to the screen connected with it and can save in a soft form.
You can use any pencil on it, mo any problem of battery in the stylus and all. A great tool for the artist and easy to carry due to its small weight.
With the iskn Ring, I could link the natural use of pencils to digital technology. I slid the Ring onto my favorite pen and watched the magic unfold. It was a fantastic experience where I could digitize the artwork that came to life on my screen from my very first pencil stroke.
My drawings were faithfully reproduced with this unique drawing tablet, and it provided me with various rendering options such as pencil, felt tip, and marker with other options as well. Illustrators and other professional artists like art designers have all adopted the Slate 2+; thus, if you want to give your kids a head start to explore their creativity, I can recommend this tablet without question.
Lightweight and compact, measuring just over 13 ounces, the Slate 2+ felt very easy to transport wherever I went. Known for its wide variety of retail outlets in France and abroad, the Slate 2+ has been available exclusively at the MoMA Design Store in New York City since September.
Hardware Specifications of iskn The Slate 2+ 
Paper Size
A5
Pressure Level
No Sensitivity
Internal Memory 
4GB
Battery
6 Hr
Weight
13.4 Ounce
Stylus
Not included
Size
10.5 x 7.3 x 0.3 inches
Tilt Support
Yes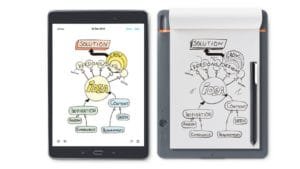 Similar to the Slate 2 so you can also do like that but have the bigger screen. It comes with the 2 component means have a bamboo notebook that includes 3 notepads.
It is not exactly a graphic tablet but can be used easily like that. Turns handwritten notes and sketches into the digital form so can be easily stored and edited digitally.
This product is available in both A4 and A5 sizes. I spent about a week with the larger Bamboo Slate in my testing. A fabric-covered 13-by-10-inch rectangle panel, Slate's more extensive version is nicely designed but could be more extraordinary. When I held the tablet in my hands, I found it to be a quarter-inch thick and the same size as a clipboard; it measures about a quarter-inch wide.
The pad is designed to fit an 8.5-by-11-inch pad of paper. With the Slate, I got a pen with a retractable ink cartridge that was slightly more comprehensive than a regular pen. The Slate tracks the pen's location on the paper just as much as a pen, and what's being captured is the pen's location. As a result, the Slate will only work with the pen that comes with it, so that any other pen won't work.
Furthermore, if your kids take notes and forget to upload the latest page before flipping to a new page, they've just created a gobbledygook from two perfect pages. The "replay" feature allows your kids to move the whole mess over and then step back through time to the moment before they turned the page and save the work that way, but it's unrefined.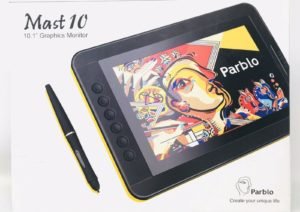 This tablet provides a high 170-degree viewing angle both horizontally and vertically and allows many ways to adjust over. Having a comfortable design to work while holding in hand and even in a different workspace.
Its battery-less wireless stylus provides a lightweight like an actual drawing pen. Its screen size and lightweight provide a better holding grip and excellent for professional projects and designers.
My first impressions of the build quality were very positive. I like the plastic finish, and it feels sturdy in my hand. Upon closer examination, I found 6 express keys with a nice matte rubbery texture, and they felt tactile when I pressed them. To use the tablet as a right-handed or left-handed user, I could rotate the tablet so that the express keys were on either side. The pen performed well according to my expectations, and it surprised me quite a bit.
I could use an app called Lazy Nezumi to adjust the pressure curve using the built-in driver setup, even though the pressure sensitivity is excellent at 2048 levels. The tablet has been a good purchase for me overall. During the tests, they were reasonably reliable.
I have tried other non-Wacom tablets over the years, but this one had excellent sensitivity and initial activation force compared to them. Even though it is tiny, it is an ideal purchase for anyone considering digital art. It wants a tablet screen they can take anywhere or get into digital art and a device they can use directly to draw on.
Compatible with most of the applications including Corel Draw and Corel Painter.
Hardware Specifications of Parblo Mast10 10.1
Active Area
8.54 x 5.34 inches
Pressure Level
2048
Express Keys
6
Multi-Touch
Yes
Weight
1.5 lbs
Stylus
Battery-free
Size
11.92 x 8.2 x 0.5 inches
Tilt Support
Yes (178 degrees)
To find the best drawing tablet for kids, first of all, you understand the need of your child or what you looking for. There are 3 types of tablets available in the market and every device can serve its best.
This the device that has no output screen to show the exact boundaries which we draw on it. It attaches to the screen like a desktop or laptop to show the expected output. Quite tough for the new user and especially for the children. Best fr the advanced graphic designer, if used by the children then it can give the disadvantage too.
These are touchpads that plug into a computer as they don't have a built-in screen. You just draw on them using a stylus (usually included with the tablet) and the sketch is displayed on your monitor. Every time you need to plug into the computer which is uncomfortable to plug every time and quite complicated for the children.
This is quite similar to the above category but it also includes the built-in screen with no other device need o operate it. The output shows directly on the screen so less chance of any fault. There are also many other uses like photoshop and other applications, the great portability is the best thing in this.
The cost is quite high but once you buy this you won't feel regret. The sophisticated screen may be damaged easily if used by the kids. And we would like the suggestions to buy some low price tablets if you are want to buy this category of the tablet for your kids.
3. Normal Tablet
This is the best drawing tablet for kids. No extra thing or any research about this if you buy this then can also do many things on it or you can say a multi-role tablet can also be used by the kids for drawing and any other need.
The price also varies from the lowest at $100 to $1000. These tablets can be easily used by 3-12 years of children. Amazon Kids edition is also a good option for drawing purposes.
We personally suggest buying a normal tablet so that you have an option to buy according to your budget and when not in children's hands you can also use it for any purpose.
Buyer's Guide For Drawing Tablet For Kids.
If you're not a technology guy then you may find the problem in finding your best tablet for kids under budget. We've added this buyer's guide section to help you find the best tablet.
There are certain things you need to keep in mind if you're buying a budget tablet.
Screen Size
Types – (Non-screen with a pen, Screen with Pen, normal Tablet)
Battery Backup
Battery-Free Pen
Connectivity Features
FAQ About Best Drawing Tablet For Kids:-
Can I find a drawing tablet for my child with a screen?
Yes, you have many options if you are looking for a drawing tablet with a screen for your children. These options include the Apple iPad Air and the Amazon Fire HD 8 and 10.
What are the best drawing tablets for kids for beginners?
For beginners, I would suggest a tablet that is easy to handle and preferably doesn't have a screen, such as the iskn Slate 2 and iskn Repaper.
Are there any drawing tablets for kids with a stylus included?
Almost all the tablets I mentioned in the article come with a stylus/pen included, excluding tablets like the Apple iPad Air.
Are there any drawing tablets for kids that are compatible with Adobe Photoshop?
Any tablet that needs to connect to a separate device, like a PC or a Laptop, can support Photoshop. For example, the Huion Insipiroy H640 and the XP-Pen Deco01 V2 support Adobe Photoshop.
Which tablet best for kids drawing and painting?
We consider XP-PEN Artist 15.6 Pro as the best drawing tablet as it has inbuild screen and always go for screen drawing tablet or kids.
Which tablet is best for kids drawing?
You can go for the Wacom Bamboo Slate, It is a budget tablet for kids drawing. You only have to add the sheet on the surface.
Conclusion
Your child can be extraordinary or can something better if he/she has the right gadget and resources in their hand. SO giving them the device which they want is not the worst thing every time. The rest is upon you that how you manage the limit they use the gadgets and keep an eye that what they are doing.
Choose your budget and get the right device. We hope now you understand your need and types of drawing tablets for kids and buy the best one from our sorted list.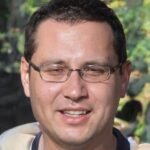 Ben Scott is a prominent technology journalist and reviewer, specializing in tablet devices. He is known for his comprehensive and unbiased reviews of tablets from various manufacturers.
With a deep understanding of tablet technology, including hardware components, operating systems, and software applications, Scott provides clear and informative reviews accessible to readers of all levels of technical expertise.
His attention to detail and in-depth analysis have earned him a loyal following of readers.