Do you want to get rid of the boring laptop that gets easily discharged or are you searching for a portable PC? Yeah, you heard me right, a portable PC with long battery life as well as a stylish texture. Samsung has launched its Galaxy Tab S7 which has fulfilled my demands.
Samsung is leading us towards the new era of technology through its latest developments. Samsung Galaxy Tab S7 is a magnificent and well-organized tablet. It has changed my experience of working and gaming to a whole new level. The Galaxy Tab S7 has been the most amazing Samsung tablet ever for me.
Specifications:-
Hardware Specifications of Samsung Galaxy Tab S7
Processor
Octa Core (3.09+2.4+1.8GHz)
RAM
6 GB
Storage
128 GB
Display
11″ Inch Retina display with 2560 x 1600
Camera
Rear- 13MP | Front- 8MP
Operating System
Android 10
Battery Life
12 hours
Weight
1.1 lbs
PROS
Powerful Processor
DeX mode
Storage space
Updated S pen stylus.
CONS
Keyboard need to buy seperately
Small keys
Design and Display
Galaxy Tab S7 has an inconclusive and extraordinary design with a width of 5.7mm which makes it an exceptionally thin and portable device; its frame is coated with black, silver, and bronze colors. I found the device has an advanced dual-core anodizing technique for enhancing the color and making it stylish and soft to touch.
I think the camera present on the back, above the portion where the S Pen attaches, has amplified my capturing skills in portrait, let alone landscape mode. Double speakers are present on both the top and bottom edges and a USB-C charging port is present on the bottom too, plus a volume rocker and microSD slot are present on the right, whereas the pogo pin port and notches that hold the optional keyboard present on the left, these features formulated the tablet handling easy for me.
While my LTE model weighs 17.63 ounces, the WiFi model weighs 17.57 ounces only and measures 9.92 by 6.50 by 0.24 inches.
Tablets feel more like a PC when they have a bigger screen, and the one I have is 12.4 inches wide with a dynamic display and a Resolution of 2,560 by 1,600.
While testing, I tried to use multi fingers, and the result was satisfactory as the in-built fingerprint sensor at the bottom of the screen works just perfectly without lagging.
Audio, Camera, and Connectivity
Tab S7 features the quad Dolby Atmos speakers tuned by AKG whose sound system is superb with fantastic bass at any volume which intensifies the gaming as well as the cinematic experience.
Widescreen tablet S7 deserves an ultra-wide camera. Therefore, It has a rear camera of 5MP with f/2.2 aperture and an ultra-wide camera of 13MP with  f/2.0 aperture. Daylight shots were captured perfectly with the 13MP camera and the shots came out great with efficient color accuracy. I had a great video conferencing experience too.

I clicked pictures from the front camera of 8MP. It was quite suitable for the clicks with impressive color accuracy with fine details, however, smartphones are better for selfies. The connectivity seemed great to me as well as dual-band connection is supported by both the Wi-Fi-only and LTE models.
All the variants have an accelerometer, a gyro sensor, a light sensor, a GPS, and a Bluetooth 5.0.
Keyboard versatility (work and play)
It has a larger touchpad supporting multi-finger gestures. And unlike its predecessor Tab S6, S7 has a book cover keyboard with 16 intuitive function keys and a Samsung DeX key. The book cover keyboard bends all the way up to 165° with a free-stop hinge of the keyboard, which made me find my perfect angle for gaming and streaming videos.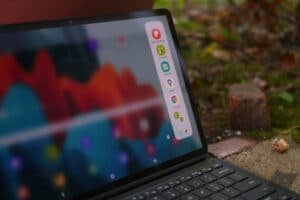 Unlike other devices, Tab S7 provided the longest battery life up to 15 hours even after online streaming and got charged superfast with the 45W charger.
It facilitated me to experience working on a PC with a single tap.
Hardware and Performance
The Galaxy Tab S7 ships the fastest octa-core processor ever in a tablet, the Qualcomm Snapdragon 865+. The model I tested had storage of 128GB and 6GB RAM. Micro SD cards can enhance the storage up to 1TB.
Enhancing the Quality
The Tab S7 proves its benefits for professionals in multiple fields. The connectivity and the instant file sharing service have been proven a boon for me. And I was able to view the documents simultaneously on my phone as well as on the tablet screen. The double-tap wake is the most privileged feature.
Furthermore, I linked the tablet with other devices too through Bluetooth, and when it was attached to my phone it helped in managing texts and calls and handling multiple appliances when connected to them.
S Pen stylus is the most desirable pen of Samsung, having ultra-low latency due to which there is minimal lag amidst our thoughts and our doing. It was superbly comfortable to hold and made my writing experience like never before. After completion, it can be attached in the back magnetically.
In my experience, the S Pen stylus was effective for Air Gestures, writing, sketching, and note-making. What do you have to say about yours??
Conclusion
I am truly impressed with the enhanced design and explicit display along with the latest advancements that make the Galaxy Tab S7 the most authentic Tab for multi-purposes while minimal lagging and the superfast charging make it a portable tablet to carry out.
Did you also find it amazing or was it a waste for you?? Additionally, it provided me with creative apps which are also great for a diverse group of professionals. The Samsung note sync service makes it easier to convert handwritten notes into texts. Hence, I consider the Samsung Galaxy Tab S7 as the most feasible and worthy Tab at a reasonable price.