If you are looking for the convince of using a tablet along with the option of attaching and detaching a keyboard at will? Well, Microsoft has got you covered with its 2nd Gen 2 in 1 compact the Microsoft Surface Go 2.
While still in competition with the Apple iPad air the new Microsoft devise also had to contest against the very capable surface pro-line-up. Upgrading with bigger battery life, better resolutions and a bigger touchscreen than its predecessors Surface go 2 comes with many pros.
The basic model itself is good to use on its own, though you'll very much want to also buy the type cover, getting yourself a very portable tablet and working laptop, just click the two together.
Being on the higher end of pricing in India Surface go 2, though a very beneficial device for students remains out of reach for a lot of student consumers. Microsoft Surface go 2 appeals also as one of the best tablets of use for families. Tablet for gaming and school work for younger ones and a convenient laptop at use for parents and streaming videos and web surfing for the whole fam.
Specifications:-
Hardware Specifications of Microsoft Surface Go 2
Processor
8th Gen Intel Core M3 / Intel Pentium Gold 4425Y
RAM
4 GB
Storage
64 GB/128 GB
Display
10.5″ PixelSense Display with 1920 x 1280 Resolution
Camera
Rear- 8MP
Operating System
Windows 10 Pro
Battery Life
10 hours
Weight
1.2 lbs
PROS
Bigger screen.
Core M3 processor option.
Runs any Windows app.
CONS
Very low performance ceiling.
Battery Life.
Keyboard Flex.
Design and Display
Microsoft Surface Go 2 measuring 9.65 × 6.9× 0.33 inches and weighing 544 grams with the solid build of the magnesium body gives you a very versatile device, easy to carry around and work with even in tight spaces.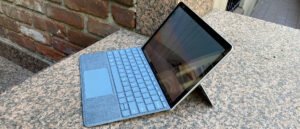 Though smaller in size compared to the Surface pro it has a bigger 10.5-inch display which gives its a more new and modern look also the built-in kickstand which can rotate 165 degrees is quite hefty
What's Good??
The larger display though small changes visibly a great improvement. It makes web surfing better, also a larger display makes editing and reading more convenient. Great for all the bookworms to, get all the reading done.
The display seems just right to work on, neither too larger nor too small which gives you a comfortable working experience Also the improved battery life makes it just that good to conveniently use as a work device.
The screen with resolutions 1920× 1280 pixels is very fine to work with, the display being vivid, sharp and colour accurate, great for outdoorsy use. The touchscreen is great to work with for art projects and such.
It's a great device for watching movies with the speakers delivering a balanced sound. Plenty of loudspeakers sound so you don't feel the need to reach for headphones.
The keyboard offers large and textile keys with a pretty basic design, there's no number pad.
Camera and Performance
A 5MP front one and an 8 MP rear one offers great picture and video quality. A front camera with an excellent microphone is amazing for video calling and zoom meetings. Though there is no physical fingerprint scanner the Microsoft Hello IR is good gets you instantly logged in to Surface Go 2 with facial recognition.
The unit I used was an 8th -Gen Intel core M3 chip with 8GB RAM and 128GB of expandable storage. Other than that the Surface Go 2 has a micro SD card slot for storage expansion and a standard audio jack.
It's a great device performance-wise, handling your everyday working very well with running multiple chrome tabs, attending zoom meetings, chatting up with colleagues, it gets an average workday done pretty nicely. Your WhatsApp web chat and music streams go smoothly along.
It offers you a pretty decent battery life too lasting 6 to 7 hours while keeping your type cover is connected.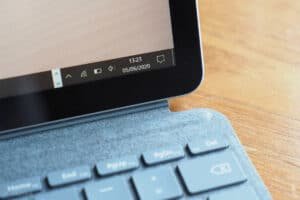 Surface Go 2 is another variant with an Intel Pentium processor, though I haven't used it, it's fine for those who primarily use their machine for photo editing or web surfing.
Your everyday apps work fine on Surface Go 2, Netflix and chill go perfect, it does face major lags unless you use the heavy-duty apps.
Some Letdowns
You come across some letdowns in the tablet mode, though it has more to do with the Windows 10 itself. Windows layout and the file manager could do with some optimization for touch input, cause poking them with a finger is not so fun. Another recurring issue that I face was the virtual keyboard not showing up, not so major of a deal but still a lag.
The other thing that you come across is limited connectivity, the Surface Go 2 comes with one USB-C and headphone jack.
Is It Worth It?
Surface Go 2 surely fascinates me, other than being very portable and fast, the bigger display screen and loudspeakers are some nice features. It comes across as a great device for bloggers or readers
It's a great companion if you don't work much on heavy-duty and actively rely on creative apps like adobe requiring a more powerful machine.