Diving into the world of digital art and drawing, I've come across various tools that promise to enhance the creative experience. Among them, the XP Deco 03 graphics drawing tablet stands out distinctly. This graphics tablet, crafted meticulously by XP Pen, is not just another device; it feels like a canvas tailored for the modern artist. With its sleek design and advanced features, the Deco 03 seamlessly marries the traditional joys of drawing with cutting-edge advancements in technology.
But the versatility of the XP Pen Deco 03 doesn't stop at the artist's studio. In an age where remote work and online communication are more essential than ever, this tablet proves its adaptability. I was pleasantly surprised to discover its efficacy in online teaching, e-learning, and even standard remote work. The tablet's precise stylus and responsive screen can turn any session, be it an art class or a corporate meeting, into a smooth and engaging experience. And the best thing is that the tablet is budget-friendly.
In a market saturated with gadgets and devices, the XP Pen Deco 03 distinguishes itself by catering to both creative and professional needs. Its dual nature, serving both art and communication, is its strongest asset. For anyone, like me, navigating the realms of digital creativity or online collaboration, this tablet emerges as a reliable ally, promising to make each task a tad bit more efficient and a whole lot more enjoyable.
Hardware Specifications of XP Pen Deco 03
Dimension 
354 x 218.8 x 8mm
Active Area

10 x 5.62 inch

Pen
P05 Passive Pen
Sensitivity 
8192
Pen 
5080LPI
Keys
 6 customizable Express Keys and a Dial
OS Support 
Windows, macOS, Linux
Weight
635g
PROS
Affordable price point
Sleek and Portable design
Wireless technology
CONS
Requires connection to a computer
Not compatible with Chrome OS and Android
XP Pen Deco 03 Review: Design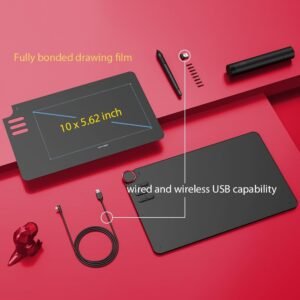 From the first moment I laid my eyes on the XP Pen Deco 03, its design instantly stood out. Sleek and modern in appearance, the tablet's dimensions of 354 x 218.8 x 8mm make it a compact yet sufficiently large workspace for artists and professionals alike. The 10 x 5.62-inch working area, presented in a striking black hue, offers a generous space for crafting digital masterpieces or effortlessly working on any project.
A significant highlight for me is its weight. At just 635g, the Deco 03 is incredibly lightweight, which makes it convenient for on-the-go tasks. Its design incorporates 6 customized express keys and a dial that allows quick access to various functions. With the addition of a multi-functional Red Dial, Deco 03 further enhances an already highly inventive design. This user-centric design extends to accommodate both right and left-hand users, emphasizing its universal appeal.
The Deco 03's connectivity options showcase its adaptability. Equipped with a Type-C USB port, users have the flexibility to choose between wireless or wired connections. I particularly appreciate the choice XP Pen offers: I can either plug in the ISM 2.4G USB receiver for a clutter-free wireless experience or rely on the included USB cable for a stable wired connection. This design consideration ensures that whether I'm at my desk or in a cafe, the Deco 03 caters to my needs effortlessly.
In conclusion, the design of the XP Pen Deco 03 encapsulates functionality with aesthetic elegance, making it an excellent choice for individuals seeking a tablet that's as stylish as it is efficient. Overall, this tablet is very lightweight and portable and we have sorted out a few of the best portable drawing tablets as well.
XP Pen Deco 03 Review: Pen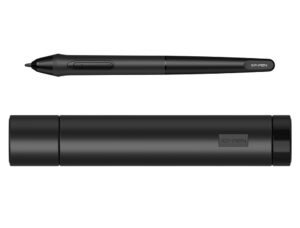 The moment I began using the P05 passive stylus of the XP Pen Deco 03, it was evident that the pen was designed with precision and user comfort in mind. One of the standout features that particularly appealed to me is its battery-free technology. No longer burdened by the periodic need to charge, I could engage in uninterrupted sessions of digital artistry or any other task at hand.
The pen's pressure sensitivity is remarkable. With a pressure level of 8192, it offers a wide range of nuances between the thinnest and thickest strokes. This feature, coupled with a pen resolution of 5080 LPI(Lines Per Inch), allowed me to achieve the utmost detail in my work. Every stroke felt natural, almost akin to working with traditional media.
A major highlight for me was the pen's report rate of 266 RPS, ensuring a lag-free drawing experience. The accuracy level of ± 0.01 Inch is commendable and noticeable when precision is key in certain projects. Moreover, the reading height of 10mm gives it an edge, allowing for more hand movement freedom without losing the touchpoint.
In conclusion, the P05 passive stylus for the XP Pen Deco 03 stands out as a blend of innovative technology and user-centric design. It provides an experience that mimics the authentic feel of drawing while integrating modern tech features, ensuring it caters to both budding artists and seasoned professionals.
XP Pen Deco 03 Review: Compatibility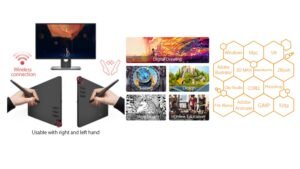 The compatibility aspect of the XP Pen Deco 03 truly broadens its appeal, making it an ideal fit for a diverse set of users. Initially, I was impressed to note that the tablet supports a broad range of operating systems including Windows 7 or later, macOS 10.12 or later, and even Linux. This ensures that irrespective of the platform I am on, the XP Pen Deco 03 remains my go-to graphics tablet.
Its versatility doesn't just end at OS compatibility. Whether I'm diving into detailed illustrative work, refining image edits, sketching out concepts, or even using it for handwriting recognition, the Deco 03 never disappoints. The fact that it's also optimized for online teaching, e-learning, and remote work makes it an indispensable tool, especially in our increasingly digital age.
Another commendable feature is its harmonious integration with so many painting and drawing software. From industry giants like Photoshop and Illustrator to niche programs like SAI and Clip Studio, the Deco 03 effortlessly syncs, allowing me to transition between different applications with ease. Even for those who utilize multiple software tools in their workflow, this tablet stands as a seamless bridge. Here is the compatibility list you should check.
In conclusion, the XP Pen Deco 03's compatibility range makes it a versatile and reliable companion for both professionals and hobbyists. Its ability to integrate with multiple operating systems and software tools, while also catering to diverse uses like drawing and remote work, amplifies its value in any digital toolkit. You can check another XP Pen Deco tablet, and that is the XP Pen Deco Pro Graphic Tablet.
XP Pen Deco 03 Review: Accessories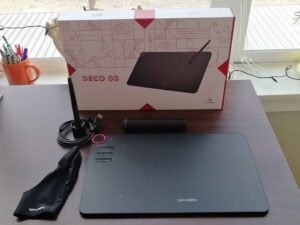 When it comes to accessories accompanying the XP Pen Deco 03, the package is as comprehensive as one would hope for a graphics tablet of its caliber. Firstly, the P05 Passive Pen is an absolute delight to use. Its battery-free design means I can dive into my work without the constant worry of recharging, offering an uninterrupted creative process.
The Pen Holder is another thoughtfully included accessory, ensuring that my P05 pen always has a safe and convenient resting spot. With the added benefit of housing 8 Replacement Nibs within the holder itself, it's clear that XP Pen values both function and design. Speaking of the replacement nibs, having eight of them at my disposal ensures the longevity of the pen, making sure wear and tear won't halt my creativity.
An unexpected but appreciated addition was the Anti-fouling drawing glove. It not only provides a smoother drawing experience by reducing friction between the hand and the tablet but also keeps the screen clean from smudges and fingerprints. A small touch, but one that makes a considerable difference in day-to-day use.
Lastly, the inclusion of the USB-A to Type-C cable ensures a reliable connection, catering to the modern shift towards Type-C ports. It's evident that XP Pen has made it a point to equip users with all they might need to optimize their experience with the Deco 03.
In conclusion, the accessories bundled with the XP Pen Deco 03 emphasize user experience, durability, and convenience. Every piece feels essential, and together they amplify the potential of the tablet, offering users everything they need right out of the box.
Setting Up Express Keys In Deco 03 On Windows
I'll summarise and simplify the setup process so that you get an idea about what's in store for you if you buy the XP Pen Deco 03. We start with:
Opening up your Pen Tablet Settings from the System Tray is the first step: After connecting your tablet, if you don't see the icon in the system tray, try double-clicking the Pen Tablet icon on your desktop before checking the system tray once more. Any time the Pen Tablet settings are opened from the desktop, they are always minimized to the system tray. To change the keys on your tablet, select "Express Keys Settings" from this page. There are three options available once you choose the drop-down list for the key you wish to set.
Open tablet settings: When you wish to program a key to always access the PenTablet Settings, use the "Open Tablet Settings" command.
Run The Program: This instructs a key to launch a particular program of your choice whenever it is pressed.
Function Key: This is where you can program any unique keystroke or keystroke combination, such as Ctrl + Z (Undo), for instance.
Mouse function: Here, you can program your keyboard's shortcuts to perform mouse actions like Left and Right Clicks, as well as Up and Down Scrolling. Selecting No Action will disable the express key.
Shortcuts: You can set up your keys to execute various key commands for Windows in this location. You must first click the modifier you want to use (Ctrl, Alt, Shift, or Win), then press the other key on your keyboard to perform the action.
Other: Under the other option you can configure certain keys to do particular special commands. 
Conclusion
In wrapping up my experience with the XP Pen Deco 03, this graphics tablet emerges as a harmonious blend of design, functionality, and versatility. From its sleek aesthetics to its optimized performance capabilities, it's evident that it caters to both novice and professional digital artists. Its compatibility with major operating systems and leading art software ensures that users can integrate it into their workflows seamlessly. The addition of thoughtful accessories, especially the battery-free P05 passive pen, streamlines the creative process, enabling artists to focus on their craft without distractions.
For those venturing into digital art, online teaching, or even remote work, the Deco 03 stands as a compelling choice that balances quality with affordability. I debated whether to purchase an Artist 12 Pro, a 13.3 Pro, or a Deco 03, but ultimately decided on this tablet due to the price difference, and I don't regret it at all. In a market flooded with graphics tablets, the XP Pen Deco 03 is undoubtedly a very good choice in the budget, offering a holistic digital drawing experience.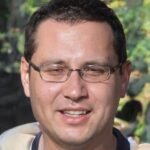 Ben Scott is a prominent technology journalist and reviewer, specializing in tablet devices. He is known for his comprehensive and unbiased reviews of tablets from various manufacturers.
With a deep understanding of tablet technology, including hardware components, operating systems, and software applications, Scott provides clear and informative reviews accessible to readers of all levels of technical expertise.
His attention to detail and in-depth analysis have earned him a loyal following of readers.