For a long time, the Wacom tablets have been considered the go-to option if you are looking for graphics/drawing tablets. They offer the highest pressure sensitivity settings along with the features such as wireless connectivity and touch support but on the downside, they cost a ton of money and their justification is that these products are targeted at professionals.
But what about the beginners? Will they have to do with the inaccurate, cheaper ones? and XP-Pen Deco Pro is one of them in this amazing prize.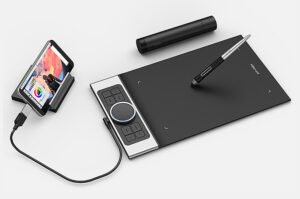 If a beginner wanted tools that were appropriate for their skill level, the XP-Pen Deco series makes a lot of sense for them. In the last couple of years, Wacom has seen its grip on the entry-level graphics tablet market loosening considerably while competitors like XP-Pen has gained artists as their customers who want to make their mark in the digital art world with more choices in the tools that they can use at an affordable price.
The XP-Pen Deco Pro comes with premium features and a premium build quality but without the premium price tag and if you are looking for a new drawing tablet on a tight budget, this is so far the best option in the market in my opinion.
Specifications:-
Hardware Specifications of XP-Pen Deco Pro
Pen sensitivity

8192+ Levels

Active Area
9 x 5 inches
Input Resolution
5080 LPI
Express Keys
8
OS Support
Windows 7/8/10, Mac OS X 10.10 Android 6.0
Battery Life
USB Powered
Weight
3.21 lbs
PROS
Battery Free stylus.
Light weight.
Cheap.
Compatible with any OS.
CONS
No screen.
Pen sensitivity.
Unboxing
The XP-Pen Deco Pro comes in a bigger box than I expected but once I slid the lid off the lid and saw the device itself I could see why the box is certainly much deeper than it needs to be.
The tablet sits on top and is the first thing I saw, wrapped in white plastic, with the support sticker placed in the center grabbing my attention.
Sliding the tablet from its wrapping I was immediately struck by how sturdy it is. For a device of this price range, I was surprised by the build quality, which feels more like a premium tablet.
The eight shortcut buttons are a useful addition but on my first checks, the wheel looked a little strange, as I'm used to a more recessed dial.
Beneath the Deco, you will find a thick tube where the stylus rests and spare nibs that seemed a lot chunkier than they needed to be. The good thing about the stylus is that it is battery-free.
Next to this, I saw two boxes, one holding the warranty and setup information and the other had the main USB cable. The package also contains USB adapters, USB-C, and Micro-USB, which connect the Deco Pro to other devices.
What I like is that XP-Pen supplies a screen protector too. It is a small thing but it's something every digital artist needs and having one supplied with the tablet is a nice touch.
The Tablet
As I mentioned earlier, The Deco Pro feels like it is more premium than it is. It is slim and sturdy with its black plastic front and cool aluminum base and there are also two rubber strips to keep it from sliding around the desk.
It only has one input and that is a USB-C port on the side but it won't be a problem for most as you shouldn't be needing it anymore.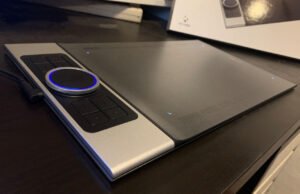 The active area on the medium version is 11 inches by 6 inches. On the smaller version, it drops to 9 inches by 5 inches but with both sizes, you end up with a large border around the active area which is not used. In this size, you can also go for an 8-inch tablet with having a screen as well as drawing capability. 
On the side, doesn't matter which one because you can rotate the Deco Pro so it can be used either right or left-handed, is a silver strip that is home to eight shortcut keys and the double wheel.
The keys have a nice feel to them with a satisfying click when you press them but the wheel impressed me very much. Rather than just being a dial that I could use to change your brush size, I also noticed a trackpad in the center that can be configured to do whatever I like but it's nice to have that extra level of functionality, literally at my fingertips.
The Stylus
It is a nice stylus to use and sits comfortably in my hand. I could access the two buttons easily and the rubber grip helps to make it fairly comfortable as you work, although with my stylus I had two raised seams running either side so it wasn't as smooth and comfortable as I would like.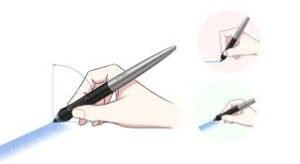 It is stylish with its mixture of black and silver, matching it with the Deco it's paired with, plus you get eight extra nibs which are all identical, so there is no difference in tip feel, and changing them is done easily with the tip removal tool provided.
The Drawing Experience
I had spent quite a bit of time with the configuration options to get myself set up for drawing and painting but it is the same as with any new device.
Drawing on the tablet with one hand while using the shortcut keys and the double wheel soon became second nature and I used the outer wheel to control my brush size while the touchpad was used for zooming in and out of the canvas.
I didn't have to change the default settings of the shortcut keys as it worked quite well for what I needed. The only thing I missed was the option to change the stylus buttons configuration.
If I were being picky, I would say that even though the Deco Pro boasts 8192 levels of pressure sensitivity, I did feel it wasn't as accurate as an equivalent Wacom tablet. To be fair, most people wouldn't even notice this though and I only did because I have used many tablets in the past.
Conclusion
XP-Pen impressed me and its customers when it released the Deco Pro series last year. I know I have mentioned this a lot in this review but these tablets seriously are a great value for money. The dual-dials are a game-changer. On the other hand, XP-Pen's software and drivers now make for a smoother drawing experience.
If you happen to be in the market for a non-display graphics tablet then I will recommend the Deco Pro M or S depending on which size you want.