If you are someone who is looking for a portable drawing tablet then this guide is going to help you.
I've been playing around with different tablet devices for over 5 years now, Tried and tested almost every tablet available in the market.
I have used all the popular drawing tablets and that's why I am very sure about my suggestions on the best portable drawing tablets.
I know buying a portable drawing tablet required a lot of research and effort and just to reduce it, I've written this complete guide. Especially for artists, who used to work on tablets. They always look for portable tablets for drawing work.
Before going to my list, let's have answers to some basic questions.
What is a Portable Drawing Tablet?
Any tablet device which does not require a PC/Computer to be connected to work is considered a portable drawing tablet. These are those tablet devices that are easy to carry around and you can use them on the go, they are small in size, portable and independent tablet devices.
Tablet devices used by graphic artists for illustrations are designed especially depending upon their hardware and software requirements, these devices need to be connected with a computer for working.
Whereas the concept of portable drawing tablets is to give users the freedom to carry the device and work on the go. You can do almost everything on the device, they are considered well-equipped with the features you require.
What artists look in a Portable Tablet for Drawing?
Artists always look for technical specifications and the hardware and build quality. The screen size and quality also matter a lot when it comes to illustrators. As they need more accuracy and precision while doing their work.
Any tablet with a Full HD or Ultra HD screen resolution will go good for any graphic designer or artist. The screen should be multi-touch and should come with levels of sensitivity ranging from 256 to 8196.
The technical specifications should be well enough to support all the software requirements of the users like photoshop, coral, and other image processing and editing tools.
The processing power of those devices should be good enough then only they can run software like photoshop smoothly.
Affordability is also a key point, so a tablet that is valuable for money will be more liked by the users.
Also read: 10 Best Standalone Drawing Tablet In 2021 For You
Best Portable Drawing Tablets In 2021
Based on my experience, I'm going to list out the top 10 portable drawing tablets that you can consider buying now. They are going to be the best options for you.
I'm not promoting any particular but they all worth the money. I'll be mentioned each one of them in the order of most recommended to normal options.
1. Apple iPad Pro
The first and my favorite one is the Apple iPad Pro, I have been recommending this device to almost everyone who looks for a reliable tablet device.
Everyone knows how good are Apple devices when it comes to performance and reliability. Drawing is an art and it requires a lot of creativity, this device can add features to your creativity with the performance and the features it has.
The device comes with a liquid retina display, a true tone screen, and graphics that will give you a great visual experience while drawing, sketching, and painting. The Apple Pencil 2 can be connected to this device to add cheery to the cake. You can use it like a pencil, brush, or a sketch pen for all your artistic work.
The active drawing area of the screen measures 10.32 x 7.74 inches and a 2k screen resolution. You will also experience great pen pressure sensitivity while drawing. The latency on the device is as low as 20 ms and that's how you will have a smooth drawing experience with this Apple iPad Pro.
Hardware Specifications of Apple iPad Pro
Processor
Octa-core 4×2.5 GHz Vortex
RAM
4 GB
Storage
256 GB
Display
11-inch Retina display with 1668 x 2388 Resolution
Camera
Rear- 12+10 MP | Front- 7 MP
Operating System
iOS 12
Battery Life
10 hours
Weight
1.04 lbs
---
Trackpad Support
Gorgeous Display
Faster Chipset
Better Cameras
LiDAR Scanner
Price
Processor Is Not A Major Upgrade
2. XP-Pen Artist 15.6
The second great tablet on my list is the XP-Pen Artist 15.6, You must have heard about this brand as they are popular for drawing and graphics tablet devices. They have some really impressive and powerful graphic devices.
One of them is the XP-Pen Artist, It is a specific portable tablet designed for drawing purpose. The design is compact and portable, along with a powerful performance. If you will buy this device, I guarantee you won't regret it once you experience the power and reliability of this device.
It is one of the devices that creative professionals adore, like the value it provides for the money is amazing.
It comes with a 15.6 inches screen size with a realistic drawing surface, a pen with pressure sensitivity, and a report rate of 266RPS. The screen also rotates 90 to 180 degrees that can be helpful for a better viewing experience.
Talking about the portability, it is a little large but still, I consider it a portable drawing tablet with a thin profile of 11mm and dimensions of 17.4 x 11.02 x 0.5, and weighs 3.2 pounds.
Hardware Specifications of XP-PEN Artist 15.6 Pro
Active Area
15.6″
Pressure Level
8192+
Express Keys
8
Multi-Touch
Yes
Weight
3.2 lbs
Stylus
PO5R Battery-free
Size
17.52 x 11.22 x 0.43 inches
Tilt Support
Yes (178 degrees)
---
Affordable
8 shortcut keys and Red Dial
Low parallax display
Inconsistent line quality
Needs color calibration
Pressure and tilt issues
3. Wacom Cintiq 22
Wacom is also very popular when it comes to graphic tablets, they have a lot of great drawing tablets available for graphic designers and artists. Among all, The Wacom Cintiq 22 is a masterpiece when you are looking for a portable drawing tablet in a mid-range budget.
Specs like screen resolution, pressure sensitivity, tracking speed, size, connectivity, and compatibility play a major role while buying a tablet device.
All these specifications are loaded in this Wacom Cintiq 22 tablet device. I will not say it's a great portable device because it is a 22 inches drawing tablet which is considered quite big,
You can all your artistic work on this device, the full HD native resolution with displays up to 16.7 million colors and a wide viewing angle of 178 degrees is more than enough for a smoother experience.
Also, the grip pen is very comfortable with a rubberized grip and an efficient nib. The pressure level is 2048 which is considered good.
This device comes with an adjustable stand that will allow you to position the gadget at your comfort, there are hotkeys around the bezel that you can customize.
I recommend this device to both beginners and professionals in the creative field.
Hardware Specifications of Wacom Cintiq
Pen Pressure Levels
8192
Response Time
25ms & 22ms
Display
1920×1080
Pen Resolution
15.6″  and 21.5″
NTSC
72%
Pen Resolution
5080
Weight
2.2 lbs
---
Large pen-enabled screen
Strong value for its money
Accurate colors
Comfortable, responsive stylus
Not easily portable
No multi-touch (finger) support
Meager one-year warranty
Maximum brightness on the low side
4. Microsoft Surface Book 2
Microsoft is popular for its Windows tablet, I have used a lot of them and found some of them really good.
Among all, In terms of efficiency and portability, I would list Microsoft Surface Book 2 and Surface Pro 2. You will find the second one in the later section of this list of the best portable drawing tablets.
Surface Book 2 is a 2-in-1 tablet cum PC device that you can use for designing and creativity work. It is a powerful device that will give you a smooth working experience.
If you are looking for a multi-purpose tablet including your graphics work, then this device is going to be your choice.
The amazing graphic features which this device holds, make it the best option for creative professionals. In terms of portability, this device ranks higher due to its lightweight and compact ultra-slim design. The tablet is available in 2 variants i.e the 13.5 inches and 15 inches.
There is a wide range of applications that you can use on this device including Photoshop, Affinity Photo, Paint 3D, Coral Draw, Autodesk, and many more.
Hardware Specifications of Microsoft Surface Book 2
Processor
10th Gen Intel Core i5-1035G4 Processor
RAM
8 GB
Storage

256 GB SSD

Display
12.3″ IPS display with 2736 x 1824
Camera
Rear – 8MP | Front- 5MP
Operating System
Windows 10 with Pen
Battery Life
10.5 hours
Weight
1.7 lbs
---
Premium alloy construction
Elegant convertible design
Well-implemented kickstand.
16GB RAM maximum
Surface Pen is an additional purchase
SSD storage is pricey
5. Wacom MobileStudio Pro
Wacom MobileStudio Pro is a 13.3 inches portable drawing tablet that comes with a drawing pen. It has an ultra HD resolution of 3840×2160 which will give you an amazing viewing experience and visual clarity.
The pro pen 2 which comes with this device has pressure sensitivity and 8192 levels of pen pressure. It also comes with a tilting technology to support various angular movements on this tablet.
I love this device, as the name itself explains it's a complete Mobile Studio with every specification a creative or graphic professional requirement for their work.
I have also listed this in my various blog posts related to graphic tablets and drawing tablets with the screen.
You can definitely go for this device.
Hardware Specifications of Wacom MobileStudio Pro
Processor
 Intel Core i7-8559U
Pressure Level
8192+
Storage
512 GB
Display
13-inch WQHD display with 2560 x 1440 Resolution
RAM
Upgradable
Operating System
Windows 10
Stand 
Included
Weight
9.83 lbs
---
96% Adobe RGB color range
Can be used as a pen display for a more powerful desktop
Best-in-class pen interface
Full-size SD card slot
Low battery life
Non-removable battery
A 3D scanner is not very accurate
6. Gaomon PD1560
Artists always look for an ideal drawing tablet, which should be affordable, portable, and full of graphic features for their work. Finding all traits in a single device is tough these days, but Gaomon PD1560 is one such tablet which is affordable, portable, and best for drawing purpose.
Actually, Gaomon designs a majority of graphic tablets used by thousands of professionals worldwide.
It has a lot of models, but I'm listing this PD1560 because it falls in the budget range. It has an active drawing area of 13.5 x 7.6 inches and a screen resolution of 1920 x 1080 with pressure sensitivity of 8192 levels.
The display is wide and clear, which makes it the best suit for drawing and creative work. Though It does not have its own OS, so you have to connect it with a Mac or Windows for proper functioning.
Hardware Specifications of Gaomon PD1560
Active Area
13.5 x 7.6  inches (1920 x 1080)
Pressure Level
8192 Levels Rechargeable Pen
Express Keys
10
Multi-Touch
Yes
Weight
3.48 lbs
Compatibility
Windows and Mac
Size
 15.6 inches
Battery
2.5 Hrs
---
High-end features at a mid-range price
Accurate, precise lines
Multiple, customized short keys
Lightweight and easily portable
7. Microsoft Surface Pro 2
The second Microsoft device which I recommend to everyone for drawing purposes is the Microsoft Surface Pro 2, It is one of the best portable drawing tablets you can use for drawing and art-related work.
It has 8 hours of battery backup and weighs 1.5 pounds. It also has a stylus but we recommend you should upgrade to Wacom Bamboo.
The reason I have listed it below is that this is a slightly older model and you can expect some new gadgets by spending a few more. It is still a good one but I recommend you to get any portable drawing tablet from the top 5 of this list.
Still, This model is good for beginners and if you have a slighter lower budget and you are just starting then you can surely go for this tablet.
Also, you can see regular discounts on this device as I mentioned this is an older model and I think in some months it will be completely outdated.
Hardware Specifications of Microsoft Surface Pro 2
Processor
Intel Core i5-
RAM
4 GB
Storage
128 GB Nvme SSD storage
Display
10.6″ Full HD Touch
Camera
Rear and Front
Operating System
Windows 10 Pro
Battery Life
6-7 hours
Weight
2.0 lbs
8. Lenovo Yoga 14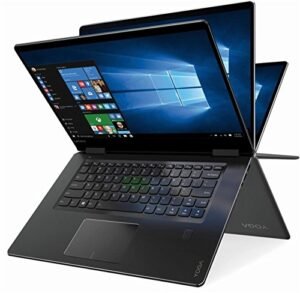 Last on the list is the Lenovo Yoga 14, It is also a very good drawing tablet. Actually, It is a hybrid tablet PC that you can use for multiple purposes.
The touchscreen along with the NVidia graphics card will give you an overall smooth experience and you can convert it into a super user-friendly portable setup.
The battery life is 6.5 hours, not that great but still good for a tablet cum pc system. You will find a lot of Yoga 14 users flaunting their great battery performances. They are just lucky to have it.
Overall, It is a nice and budget-friendly portable drawing tablet for beginners. You can go for it if you are just starting.
Hardware Specifications of Lenovo Flex 14
Processor
Intel Core i3-8145U
RAM
4 GB
Storage
128 GB Nvme SSD storage
Display
14.0″ Full HD Touch
Camera
Rear- 2MP Webcam
Operating System
Windows 10 Home
Battery Life
8 hours
Weight
3.52 lbs
Wrapping Up
Portable drawing tablets can help you a lot improve your productivity as you can carry them and work on them while you're traveling or roaming around. I have listed out all the best portable drawing tablets which are available online. Many of them are my favorites and some of them are suggested by my friends who are into graphic designing and illustrations.
I hope this is going to help you. If you think I missed out on any gadget, do let me know in the comments section below.