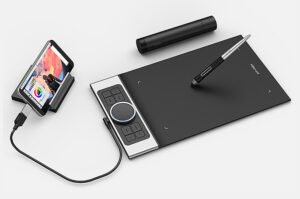 In the world of digital drawing, choosing the right tablet can be tricky. For many years, a few big brands were the main choices, and they were often expensive. Then came the XP-Pen Deco Pro. It has great features like the expensive ones but at a friendlier price. So now, more people can enjoy top-notch drawing tools without breaking the bank. It's like a special piece of paper that works with your computer. The best thing is that it comes in 2 different sizes – medium and small. So, it's like choosing between a big and a small notebook.
Now, there's something even cooler. It has two versions: wired and wireless. Imagine drawing without any messy cables around. But if you're the type who likes things old school, they've got you covered too with the wired version.
One of the best parts is, that this tool is perfect for so many things. For those who like to draw or sketch, it's perfect. For grown-ups or kids who learn things online, it's a game-changer. And for people who make beautiful designs for work, the XP-Pen Deco Pro is like a trusty sidekick. Plus, If anything happens to it, there's a 1-year warranty. It's like a safety net for your new toy.
In simple words, the XP-Pen Deco Pro isn't just another gadget. It's a friend for those who love to draw, learn, or design. And it promises to be by your side, helping you make amazing things happen. I recently tested XP Pen Deco Pro Small and I will give my thoughts on what I have experienced.
Hardware Specifications of XP Pen Deco Pro
Dimension 
350.8×199.5×16.5mm
Active Area

9×5-inches 

Pen
PA1 battery-free stylus
Sensitivity 
8192
Pen 
5080LPI
Keys
8 shortcut keys
OS Support 
Windows, macOS, Android, Chrome, Linux
Weight
3.21 lbs
PROS
Battery-free stylus.
Lightweight.
Cheap.
Compatible with any OS.
XP Pen Deco Pro: Design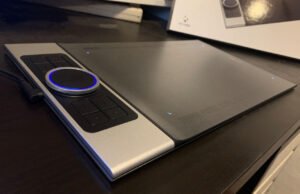 Diving into the world of digital art, I recently got my hands on the XP Pen Deco Pro, and I must say its design truly stands out. The first thing that caught my eye was its sleek black color, which gives it a professional and modern look. Holding it, I noticed it was lightweight, weighing just around 3.21 lbs, making it easy to carry around.
The tablet's dimensions, 350.8×199.5×16.5mm, and an active drawing area of 9×5 inches are well-balanced. It's spacious enough for my drawings without feeling too bulky. I particularly appreciated the aluminum casing – not only does it add a touch of elegance, but it also provides durability. Plus, some parts are as thin as 7mm, giving the tablet a slim profile.
The Deco Pro doesn't skimp on functional features either. It boasts 8 shortcut keys which are super helpful for quick actions. But what truly sets it apart are the two wheels – 1 Mechanic Wheel and 1 Virtual Wheel. These are game-changers for zooming, changing brush sizes, or any other function you'd want to assign.
Finally, its connectivity features are impressive. The Type-C USB Port ensures fast data transmission, and for those who don't like to be tethered, the wireless version of the Deco Pro is equipped with advanced Bluetooth v5.0 chips. This ensures a strong and stable wireless connection, letting me work without interruptions.
All in all, XP Pen Deco Pro's design blends form and function seamlessly. It's not just a tool; it's a companion for every digital artist, beginner or pro.
XP Pen Deco Pro: Pen
It is a nice stylus to use and sits comfortably in my hand. I could access the two buttons easily and the rubber grip helps to make it fairly comfortable as you work, although with my stylus I had two raised seams running either side so it wasn't as smooth and comfortable as I would have liked.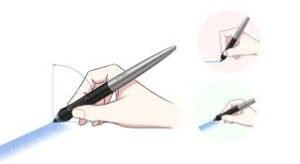 It is stylish with its mixture of black and silver, matching it with the Deco it's paired with, Plus you get eight extra nibs which are all identical, so there is no difference in tip feel, and changing them is done easily with the tip removal tool provided.
I had spent quite a bit of time with the configuration options to get myself set up for drawing and painting but it is the same as with any new device. Drawing on the tablet with one hand while using the shortcut keys and the double wheel soon became second nature and I used the outer wheel to control my brush size while the touchpad was used for zooming in and out of the canvas.
I didn't have to change the default settings of the shortcut keys as it worked quite well for what I needed. The only thing I missed was the option to change the stylus button configuration.
If I were being picky, I would say that even though the Deco Pro boasts 8192 levels of pressure sensitivity, I did feel it wasn't as accurate as an equivalent Wacom tablet. To be fair, most people wouldn't even notice this though and I only did because I have used many tablets in the past.
XP Pen Deco Pro: Accessories
The XP-Pen Deco Pro comes in a bigger box than I expected but once I slid the lid off the lid and saw the device itself I could see why the box is certainly much deeper than it needs to be.
The tablet sits on top and is the first thing I saw, wrapped in white plastic, with the support sticker placed in the center grabbing my attention.
Sliding the tablet from its wrapping I was immediately struck by how sturdy it is. For a device of this price range, I was surprised by the build quality, which feels more like a premium tablet.
Beneath the Deco, you will find a thick tube where the stylus rests and 8 spare nibs that seemed a lot chunkier than they needed to be. The good thing about the stylus is that it is battery-free.
Next to this, I saw two boxes, one holding the warranty and setup information and the other had the main USB cable. The package also contains USB adapters, USB-C, and Micro-USB, which connect the Deco Pro to other devices.
What I like is that XP-Pen supplies a screen protector too. It is a small thing but it's something every digital artist needs and having one supplied with the tablet is a nice touch.
Conclusion
XP-Pen impressed me and its customers when it released the Deco Pro series last year. I know I have mentioned this a lot in this review but these tablets seriously are a great value for money. The dual-dials are a game-changer. On the other hand, XP-Pen's software and drivers now make for a smoother drawing experience.
If you happen to be in the market for a non-display graphics tablet then I will recommend the Deco Pro M or S depending on which size you want.
Howdy Geeks, I'm Andrew, a young passionate blogger, Tech Freak & a Gadget Lover. I help people in buying them the best tablet devices