The Wacom Cintiq 22 holds a special place in the heart of the digital art world. Here's a device that seamlessly bridges the gap between traditional artistry and the innovations of the digital age. With its impressive 22-inch display, the tablet promises ample space for creativity to flow freely. But it's not just about the size; it's about delivering a hands-on drawing experience that feels natural and intuitive.
When I first encountered the Cintiq 22, it felt like an open canvas waiting to be filled with ideas, whether for sketches, designs, or intricate illustrations. Its compatibility with different operating systems assures that it's ready to integrate into various creative workflows.
Furthermore, Wacom's reputation for precision is evident in the tablet's pen technology, offering artists the accuracy they seek in their work. What makes the Cintiq 22 particularly compelling is its approachability. Whether you're a seasoned artist familiar with digital tools or someone just venturing into this realm, the Cintiq 22 welcomes all. As we delve deeper into its features and capabilities, it's clear that this tablet isn't merely a tool but a partner in every artist's creative journey.
Hardware Specifications of Wacom Cintiq 22
Display 
21.5 inches | 1920 x 1080 pixels
Dimension 
570 x 359 x 40mm
Active Area
476 x 268 mm
Pen
Wacom Pro Pen 2
Sensitivity 
8192
Pen 
5080LPI
Keys
ExpressKey Remote with 17 Keys
OS Support 
Windows, macOS
Weight
5.6 kg  (12.3 lbs)
PROS
High-quality display
Adjustable stand for comfortable use
Matte screen surface for reduced glare
Compatible with major design software
CONS
Relatively higher price point
May not be easily portable
Wacom Cintiq 22 Review: Design
From the moment I set my eyes on the Wacom Cintiq 22, its design captivated me. Measuring a spacious 570 x 359 x 40 mm (22.4 x 14.1 x 1.6 in), it offers an ample workspace that strikes the right balance – neither too bulky nor too limited. Weighing in at 5.6 kg, the tablet feels a little bit on the heavier side but it is good for using on a table for a long time. The choice of black as the primary color adds an air of elegance and ensures it blends smoothly with my other gadgets.
Wacom ensures easy connectivity to other devices through HDMI and USB 2.0 ports, eliminating any compatibility worries. The inclusion of a dedicated AC adapter is a thoughtful touch, highlighting a commitment to uninterrupted work sessions.
Its slim bezels and ergonomic stand give it a professional and modern look that seamlessly blends into any workspace. The build quality of this product is outstanding. The tablet feels robust and well-constructed, assuring users of its durability. Overall, the Cintiq 22's design emphasizes both style and functionality, making it a reliable companion for my artistic pursuits. It's clear that Wacom has paid attention to every detail in the design.
Wacom Cintiq 22 Review: Display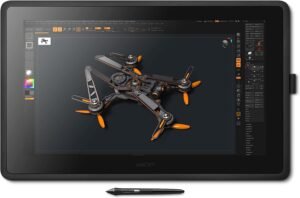 When I first powered up the Wacom Cintiq 22, the brilliance of its 21.5-inch display immediately stood out. It boasts a full HD resolution of 1920 x 1080, and every detail on this screen appears crisp and vibrant. I've found the IPS LCD technology it incorporates ensures color accuracy and consistency, which is vital for my art projects. The active area, a generous 476 x 268 mm (18.7 x 10.5 in), offers enough room for broad strokes and intricate details, making the drawing experience feel unrestricted.
Furthermore, the 16:9 aspect ratio is perfect for most of the design and video applications I use. With an impressive viewing angle of 178 degrees– Vertically and horizontally, I can easily share my screen with colleagues or peers without any distortion in colors or clarity. The contrast ratio of 1000:1 ensures the darks are truly dark and the bright areas pop, while the brightness of 210 nits is adequate for indoor use.
And although its 22ms response time isn't the quickest out there, I haven't encountered any lag during my use. Another essential mention is the display's color gamut; it covers 72% NTSC and 96% sRGB, rendering accurate and vibrant colors. The added AG film on the glass surface minimizes reflections and provides a tactile feel similar to paper, enhancing the drawing experience. Overall, the Cintiq 22's display offers a visually delightful and responsive canvas for all my creative projects.
Wacom Cintiq 22 Review: Pen Sensitivity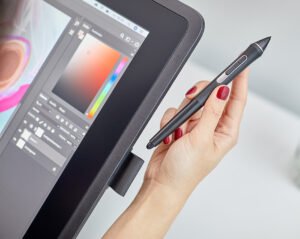 Upon unboxing the Wacom Cintiq 22, the Wacom Pro Pen 2 immediately caught my attention. The first thing I noticed was the absence of any cables or batteries, making it cordless and battery-free. This ensures an uninterrupted workflow without the need for charging pauses or tangling cables. The patented electromagnetic resonance technology that powers this pen is truly remarkable, allowing for precise movements and a lag-free experience.
Drawing with the Pro Pen 2 is a joy, and its pressure sensitivity of 8192 levels allows for the most subtle variations in line weight and opacity. Whether I'm sketching lightly or pressing down for more assertive strokes, the pen captures every nuance. The high pen resolution of 0.005mm combined with a report rate of 187PPS ensures that my strokes are accurate and instantaneously replicated on the screen.
Another feature I appreciate is the reading height of 5mm, which gives me a comfortable moving space when hovering the pen above the surface. Additionally, the pen supports a tilt angle of 60 degrees, letting me achieve more natural and varied stroke dynamics, akin to traditional drawing tools. In summary, the Pro Pen 2 provides an intuitive, seamless, and authentic drawing experience that truly elevates the Wacom Cintiq 22's capabilities.
Wacom Cintiq 22 Review: Compatibility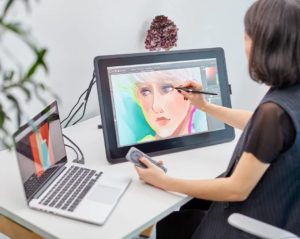 When it comes to compatibility, the Wacom Cintiq 22 truly stands out in the digital art world. Running it on various operating systems, including Windows 7 and its subsequent versions, as well as macOS 10.12 or later, I've experienced a seamless transition without a hint of disruption. Its ability to smoothly integrate with diverse OS platforms is a testament to its flexibility.
Beyond just OS support, the tablet's prowess shines through when you consider the vast range of programs it aligns with. I've found it to be the ideal art tool for a spectrum of activities. Whether my day involves digital drawing, animation, sketching, or even 3D sculpture, the Cintiq 22 has been up to the task. Moreover, it's not just for seasoned artists; even drawing beginners and architectural designers will find this device exceptionally accommodating.
In terms of software, it's hard to find a program that the Cintiq 22 doesn't gel with. From Photoshop's intricate tools and Illustrator's vector prowess to Clip Studio Paint's manga features and Lightroom's photo editing capabilities, this tablet delivers. Other platforms like Sketchbook Pro, Manga Studio, CorelPainter, and Krita have been a joy to use on this device. And for those who venture into the lesser-known territory of digital art software like FireAlpaca, OpenCanvas, or Paint Tool Sai2, rest assured, the Cintiq 22 supports these beautifully. In essence, it's a versatile companion for any digital artist or designer, regardless of their software preferences.
Wacom Cintiq 22 Review: Accessories
The accessories that come in the box make the entire drawing experience more holistic and refined. Right out of the box, the first thing that caught my attention was the sleek Wacom Cintiq 22 pen display itself. Its design and build quality immediately indicated that I was in for a premium experience.
The adjustable stand, which offers a range of 16 to 82 degrees, proved to be incredibly useful. Depending on my drawing posture or the type of work I was doing, I could effortlessly adjust the angle for optimum comfort. Another vital accessory is the Wacom Pro Pen 2. Its precision and responsiveness felt like an extension of my hand. And the fact that the kit also includes a detachable pen holder with three replacement nibs (standard) is a thoughtful addition. The nib removal tool further accentuates the convenience, making nib changes straightforward and hassle-free.
Connectivity is seamless with the 2-meter HDMI and USB 2.0 cables provided. They are of ample length and ensure that my workspace remains uncluttered. The AC adapter with a 60W rating guarantees that the tablet gets all the power it needs, and the 1.8-meter power cable offers flexibility in where I set up my station.
Upon using the ExpressKey Remote with the Wacom Cintiq 22, it immediately stood out as a game-changer for me. Boasting 17 customizable, application-specific ExpressKeys, it streamlined my workflow, allowing quicker access to essential tools. The Touch Ring, combined with the Rocker Ring and Home Button, made navigation effortless. Features like Precision Mode, Display Toggle, and the Radial Menu further exemplified its utility. Additionally, dedicated controls for pan, scroll, zoom, and brush size brought an added layer of convenience. It's worth noting that this remote doesn't come within the box you have to buy it separately, but in my opinion, it's a worthy investment for enhancing the overall user experience.
In essence, the Wacom Cintiq 22's accessories not only enhance the tablet's functionality but also significantly contribute to a more comfortable and streamlined work process. It's evident that each accessory was curated with the user's convenience and efficiency in mind.
Final Verdict
In wrapping up my experience with the Wacom Cintiq 22, it's evident that this tablet seamlessly merges functionality with user-friendliness. Its display is crisp and vivid, catering perfectly to artists who require precision and true-to-life colors. The Pro Pen 2, with its remarkable sensitivity and responsiveness, feels almost like a natural extension of one's hand, redefining digital artistry.
The compatibility across various OS and software ensures that artists, irrespective of their preferred platforms, can harness the full potential of the device. And let's not forget the thoughtful inclusion of essential accessories, each designed to elevate the drawing and designing experience. For professionals and beginners alike, the Wacom Cintiq 22 stands as a testament to what a modern-day graphic tablet should encapsulate. In simple terms, it's a well-rounded tool that resonates with the needs and aspirations of today's digital artists. However, If you want cheap and best tablets from Wacom you can definitely check it out.
Howdy Geeks, I'm Andrew, a young passionate blogger, Tech Freak & a Gadget Lover. I help people in buying them the best tablet devices