Have you ever feel that you need to have a SIM on your tablet so that you can use it for office work or any other purposes? Most of people prefer taking their tablets to work or on a trip, and it is not possible to go outside in the Wi-Fi range.
The problem is most of the tablet manufacturers offer mostly Wi-Fi. Obviously, you need to pay near about 200 dollars to get the best tablets with 4G SIM. However, If you want to use your tablet anywhere, you should make sure that a SIM card slot is available. While most of the smartphones come with an LTE module, this feature is lacking in some tablets.
Here you will get the best tablets with 4G LTE with at least one card slot. We are reviewing tablets for 3 years and the listed tablets are the best one yo can have right now.
Here the list of the best tablet s with sim which will be the best for your every need.
List of the Best Tablet with 4G LTE & SIM Card in 2021
1. Apple iPad Pro 11-inch – Best Tablet With SIM
For the Apple lover and one who wants a bigger screen with a portable internet facility then you must choose this without any reason. This new Apple device is fully updated and has all the previous features.
The price is always the main reason to switch to the other device. But the existing user knows very well that why anyone craves for this brand. However, to have an option, you get an Apple A12X chipset which makes it the fastest tablet on this list.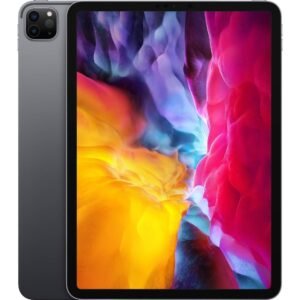 In fact, it's even faster than an iPhone XS. Apple is offering it with 11-inch and 12.9-inch IPS screens, 64GB, 256GB, 512GB, or 1TB of storage, as well as Face ID facial recognition. It has four great speakers too.
It is a game-changer when it enters the market of the tablet, far better than others and its previous versions too.
This is the Best tablet with SIM in my opinion and you must have this for travelling, but it will affect your pocket. The pencil is upgraded, bigger screen and impressive design. The battery life is outstanding and gives it 100%.

Hardware Specifications of Apple iPad Pro 11-inch
Processor
Apple A12X chipset
RAM
4 GB
Storage
128/256/512/1TB SSD storage
Display
11 inch  Liquid Retina display with 2388×1668 pixels
Camera
Rear- 12MP | Front-7MP
Operating System
Apple iOS
Battery Life
10 hours
Weight
471 g
---
Pros
Houses powerful specs
Great speakers
HRR display
Comes with Pencil
Cons
No HDR support
High price
2. Samsung Galaxy Tab A – Best Tablet For Office
If you are looking for an Android tablet with a stylus on a low budget. The Samsung Galaxy Tab A might not offer premium features but does offer good value and brand of SAMSUNG. It is perfect for getting down your notes on the go.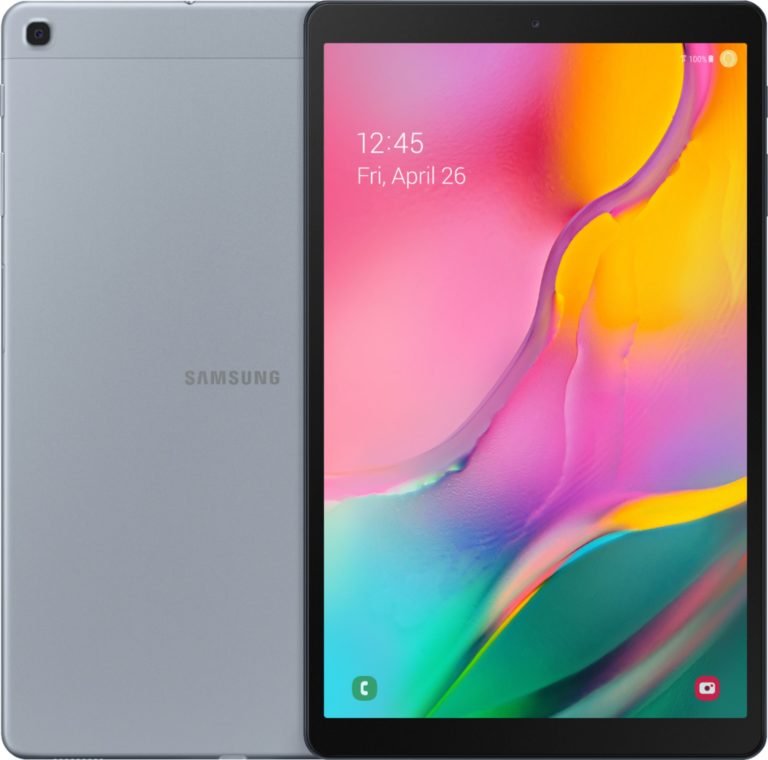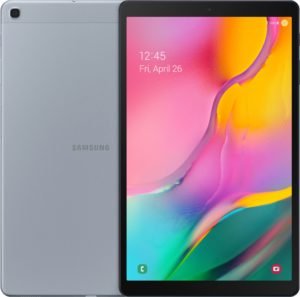 This medium-range tablet has a great battery life and a stylus embedded in it. As speed is not as much fast as compare to other tablets of the same range but it is so much you can expect from a 1.6 GHz Exynos 7870 octa-core processor. and 3 GB of RAM. 
It has a 10.1-inch, 1920 x 1200 display providing a density of 224 pixels per inch. You will notice that the 2019 Tab A doesn't come with a stylus within the box as Samsung discontinued doing the same. The user had an option for the stylus, but now, buyers will have to buy it separately. 
Hardware Specifications of Samsung Galaxy Tab A
Processor

1.6 GHz Exynos 7870 octa-core processor

RAM
2/3 GB RAM
Storage
32/64 GB
Display
10.1″ 1080p Full HD display (1920 x 1200)
Camera
Rear- 8MP| Front- 2MP
Operating System
Android 6.0 Marshmallow (upgradable to Android 7.0 Nougat)
Battery Life
13 hour
Weight
1.03 lbs
If you still want to know more about this then you can read our Samsung Galaxy Tab A review from our experts.
Pros
Metal Body
Screen quality
Processor is powerful
Camera and speakers
Cons
Speaker on one side only
No fingerprint sensor
For Addition.. Read our expert's review on Samsung Galaxy Tab A7.
3. Apple iPad Mini 4 – (Wi-Fi + Cellular)
Apple iPad mini 4 as its name implies is the most recent and somewhat streamlined variant from Apple's iPad Mini series. Accordingly, the tablet includes a rather compact form-factor and weighs only near ten ounces. It is one of the best tablets for reading in 2020.

The device sports a 7.9-inch Retina screen that's crafted to perfection concerning providing excellent viewing angles. Underneath the hood, the unit is powered with a Hexa-Core A12 Bionic using Quad-Core Apple Graphics paired with 3GB of RAM plus a huge 64GB / 256GB of onboard storage.
On the front, the system includes an 8 MP iSight camera to catch the moments with clarity. The iPad gets charged from 0 to 100 in under two hours and may provide over 10 hours of constant use.
The form-factor, the burden, the Gorgeous screen, and a Superb battery backup would be the main reasons to think about Apple's iPad Mini is the Perfect Selection for reading function.
Read a complete overview of Apple iPad Mini 4.
Hardware Specifications of Apple iPad Mini 4
Screen Size
7.9″ Retina Display
Storage
64/256 GB
Camera
Rear- 8 MP | Front- 7 MP
Processor
1.3 GHz quad-core processor
RAM
2 GB
Battery Life
10 Hr
Weight
0.65 lbs
---
Pros
Multipurpose
Apple Pencil
Display Quality
Cons
Costly for reading purposes
Heavy Weight
4. Samsung Galaxy Tab S6 – The best tablet with LTE
Our favorite Android tablet with a keyboard option is the S6 for several reasons. This is a premium tab that boasts excellent performance levels thanks to its Snapdragon 855 chip and the best thing nowadays, it has a Super AMOLED display and this made up to bring it in a segment of a tablet with a keyboard.
As a result, it's fantastic for media playback in particular, and a bonus is the inclusion of HQ AKG-tuned speakers. However, its keyboard is not attached to its price you have to buy it separately and it's cover too.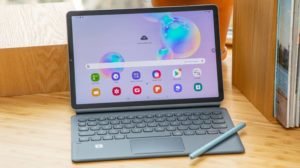 Although many rivals sell these accessories together with the tab if you switch to Samsung then you dot need to go for others. Under the hood, it is powered by Snapdragon 855 with Adreno 640 graphics. RAM is much better 6GB – 8GB, and full HD display. Since it has android 9 but can be upgraded further.
Hardware Specifications of Samsung Galaxy Tab S6
Processor
Octa-Core(2.8GHz+3×2.4, 4×1.7)
RAM
6 GB
Storage
128 GB
Display
10.5″ Inch Retina display with 2560 x 1600
Camera
Rear- 13MP | Front- 8MP
Operating System
Android
Battery Life
15 hours
Weight
0.92 lbs
Still want to know more?? Read our expert's Review on Samsung Galaxy Tab s6.
Pros
Powerful Processor
DeX mode
Storage space
Updated S pen stylus.
Cons
Keyboard need to buy seperately
Small keys
5. Huawei MediaPad M5 Pro – Cheap and Premium Hardware
If you are looking for an Android tablet that looks good and adorable go for Huawei Mediapad M5. The slim and weightless aluminum body will certainly turn heads anywhere. Moreover, it is very light and easy to carry in your jacket or purse. 
But what you will enjoy is the IPS LCD that has a 2560 x 1600 resolution. The Huawei MediaPad M5 Pro might not have an AMOLED screen but the crystal display may overcome this problem. The aspect ratio is another benefit 16:9 which is quite good for video and other entertainment purposes. 
Winding up, the Huawei MediaPad M5 Pro might not have the most seamless software or the most robust interior but its battery is outstanding up to 11hr, 4GBof RAM, and 64GB internal storage. The camera is also good of 13MP rear and 8MP front.
Hardware Specifications of Huawei MediaPad M5 Pro
Processor
2.1 GHz 8032
RAM
4 GB
Storage
64 GB
Display
10.1″ IPS display with 1920 x 1200
Camera
Rear- 13MP
Operating System
Android 8.0 Oreo
Battery Life
13 hours
Weight
1.1 lbs
---
Pros
Bright and colorful display
Performance is great
Efficient pen and sound
Cons
Costly
Medium gaming capability
Short battery life
6. Samsung Galaxy Tab A 8.0 
The Samsung Galaxy Tab A 8.0 with S Pen is a good option if you are looking branded tablet with a pen. It comes with an S Pen without charging any more. Unlike with all current competitors, the stylus is attached magnetically. As usual, Samsung pre-installed a lot of software and provide updates optimized for the pen.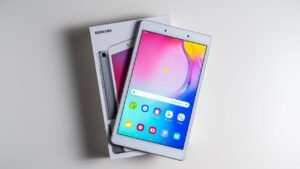 This is a middle-class tablet that is good enough for most. It features a full HD screen, a decent performance, and well-optimized Android 9.0 Pie. With 3GB of RAM and 32GB of internal storage which may be further expended.
Hardware Specifications of Samsung Galaxy Tab A 8.0
Processor
Qualcomm SDM429 Snapdragon 429
RAM
2 GB
Storage
32 GB
Display
8″ IPS display with 1280 x 800
Camera
Rear- 8MP | Front- 2MP
Operating System
Android 9.0 Pie
Battery Life
14 hours
Weight
1.32 lbs
If you want to know more reasons why to choose this tablet then you can read our Samsung Galaxy Tab A 8.0 review from our experts.
Pros
Solid performance
Build quality
Cons
Camera can be better
Pricey for what you get
7. Samsung Galaxy Tab S5E (2019)
It is powered with an octa-core Qualcomm Snapdragon 670 processor along with Dual 2.0GHz + Hexa 1.7GHz CPU speeds up the tablet performance. Some other feature lets you separate personal and business data from one another and gives you a feeling of two phones in the segment of the best tablet under 400$.
This is Samsung's most up to date tablet, and keeping in mind that not exactly as amazing as the Samsung Tab S6, it's presumably better an incentive for cash – if your necessities aren't that requesting and you need a very much fabricated Android tablet with a magnificent screen, the Samsung Tab S5e certainly stands apart as perhaps the best tablets under 400$ in 2020.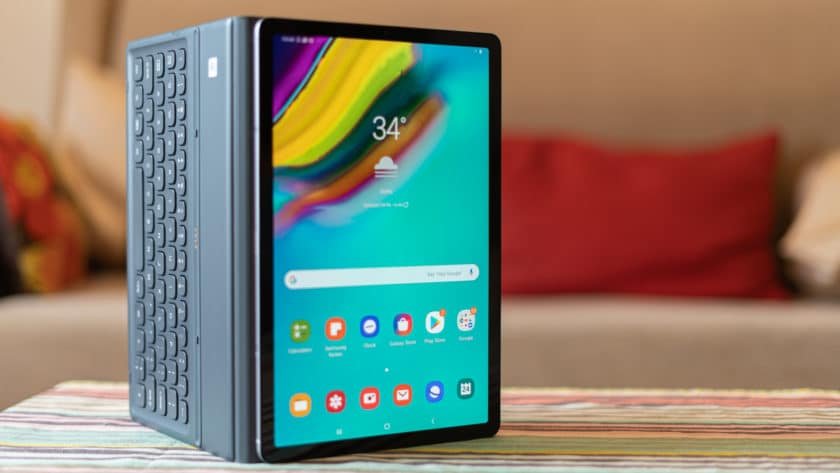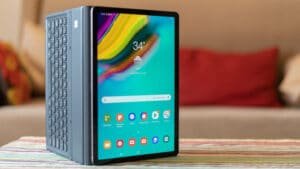 Yet the Samsung Galaxy Tab S5e has enough for us to suggest it regardless of whether it is expected to be supplanted sooner rather than later. A hard tablet to beat as far as unadulterated value for money. It comes with a 2560 x 1600 high-resolution 10.5 inches AMOLED display with a 16:10 screen ratio. The hues created are sufficient to appreciate recordings and mess around on it.
The camera is basic 13 MP rear and 8 MP front which gives splendid photos and video but the quality may be better than this. As we know the camera quality of Samsung is far better than its other competitors.
Still want to know more? Read our review on Samsung Galaxy Tab S5e form our experts.
Hardware Specifications of Samsung Galaxy Tab S5E
Processor
Dual 2.0GHz + Hexa 1.7GHz
RAM
6 GB
Storage
64 GB SSD storage
Display
10.5″ AMOLED Display
Camera
Rear- 13MP | Front-8MP
Operating System
Android 9.0
Battery Life
15 hours
Weight
0.88 lbs
---
Pros
Amoled display
Processor is great
Interna Storage
Buyer's Guide – Best Tablets With SIM Card Slot
Here we will discuss the top features of the tablet with SIM. We think you will give priority to the battery performance, about the display, screen size, built-in quality, Weight, Easy to Carry, Important Accessories, Processor, and RAM, etc.
1. Screen Size
This is one of the most important factors you need to consider whenever you are buying a tablet. Tablet has many options size of the screen so you can choose whatever you want. We suggest taking at least 7 inches tablet because if you want to have smaller than 7 inches than its better to have a smartphone instead of that.
Compact tablets are easy to handle, carry, and operate. Bigger Size tablets are great for office work, streaming, as well as for gaming purposes. The bigger size and tablet with SIM costs you more so you should choose according to your budget.
2. Concealed Carry
If you usually travel from one place to another or work for the organization than you should have a tablet with SIM. Sometimes laptops give a problem during traveling and also a problem to operate with WI-Fi.
While Tablet brands provide a carry bag that makes it comfortable and to put anywhere easily and also protect with the external damage.
3. Operating System
You are free to choose any OS according to your wish. Because this doesn't affect any way to the performance and connectivity to the server.
But Apple iOS helps in some cases like multitasking a few other functionalities. You can also choose Chrome OS as many of the experts suggest this OS for the official uses.
4. Battery Life
One of the important things as you need to carry your laptop outside with you so battery performance should be better an for the long run.
In this field, no brand can beat the better performance of Apple but the only thing is you have to pay some extra penny for this. We didn't say that other brands like Samsung and Microsoft are not good but if we compare then you can easily found the best performer that is Apple.
If you have enough budget then always go for a tablet at least 8-10 hr of battery life.
5. RAM (Memory) and Storage
As everyone knows these 2 things are the backbone of any device and help to boost the capacity and storage of the device.
Not every time you work on your tablet, this is normal that everyone keeps something that can help them in entertainment as well like people use tablets for watching movies so having more memory space is a must and helps to store the data which you want.
6. Protection
If you are looking for the budget less or money spending tablets, you still need to do something for its protection.
Our personal suggestion if you want to keep your device functional then protect your device with some screen protectors and covers.
Conclusion
Finally, we suggest you buy an LTE tablet if you genuinely need it because it will costs you more than $150 extra and can exceed your budget.
Instead of this you can have a $300 tablet with wifi and fits your need. We hope you like our guide of the best tablet with SIM.