Wacom tablets have always been a favorite of mine, but I was never a fan of the devices without displays. The ones with displays, on the other hand, were too pricey for the uses I had in mind.
What makes the Wacom Cintiq 16 one of its kind is that it combines pen and monitor for a seamless, entirely natural experience.
The Wacom Pro Pen 2 has a low activation force and 8,192 pressure sensitivity levels, so it can detect even the lightest pen strokes. I found it to provide astounding control and precision, responding instantly to each movement and accurately to the tilt of my hand. And a good pen such as this one, is definitely what makes a tablet stand out from the rest of its kind. 
The smooth connection between pen and display on the Wacom Cintiq will feel natural and advance your abilities whether you are still creating on paper or with a pen tablet. Whether you're a student or hobbyist who wishes to switch to producing directly on the screen.
With my usage and experience with the Wacom Cintiq 16, I found that it offers a natural drawing experience with brilliant color and HD clarity when combined with the Pro Pen 2. It also allowed me to work on any artistic software when I connected to my computer using the easy 3-in-1 (HDMI) connection cord.
It allows me to use a variety of software including Adobe suite (Illustrator, Photoshop, Lightroom).
However, if you wanted to use these softwares more effectively, you can also check out some other tablets that are exclusively made for artists. 
Autodesk Sketchbook, Paint Tool SAI, ArtRage, Krita, Artweaver, Rebelle, Clip Studio Paint, Corel suite (Painter, Draw, Paintshop Pro), etc. And well, I can say that the Wacom Cintiq 16 did justice to all of them.
Read on to know what makes it worthy of a positive review from me!
What's Inside Your Box Containing The Wacom Cintiq 16?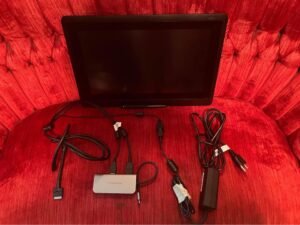 After giving a sneak peek and getting you excited about this gadget, I'll start by giving you a feel about the package you should expect to receive. Placed in a well-crafted and sturdy box, you get your:
Cintiq 16 pen Display

Pro Pen 2

Detachable pen holder with 3 nibs (standard) 

A Nib Removal Tool

3-in-1 Cable

AC adapter

Power Cable

Quick Start Guide
Its Specifications
The Wacom Cintiq 16 possesses the following qualities including a supported Resolution of 640 x 480; 720 x 400; 800 x 600; 1024 x 768; 1280 x 720; 1280 x 1024; 1600 x 1200;  1920 x 1080.
Moreover, you get a color gamut of NTSC at CIE1931 with a coverage ratio of 72% and Adobe RGB at CIE1931 with a coverage ratio of 74%. Cintiq 16 has a screen size of 15.6 inches. Your stylus pen with the tablet has a pen pressure of 8192 levels (pen and eraser).
Your Cintiq 16 has a 3-in-1 cable port only. 
In order to work without any hassle, note that the Cintiq 16 requires Windows 7 or later (latest service pack/build) or OS X 10.12 or later (latest update).
Some Amazing Features Of This Wacom Model
1. Cintiq's stylus, Pen Pro 2
In addition to the tablet, the Cintiq 16 includes a Wacom Pro Pen 2, a comfortable and accurate stylus with four times the pressure sensitivity (8192 pressure levels) and accuracy of its predecessor. 
The Wacom Pro Pen 2 doesn't require a battery because of EMR (Electro Magnetic Resonance) technology, which draws the power it requires from your Wacom Cintiq.
You can start bringing your ideas to life digitally without having to master any new skills because the Wacom Pro Pen 2 looks and feels like a standard pen. It fits perfectly in your hand due to the harmony of the weight, rubber grip, and placement of the two side buttons.
Additionally, those buttons may be programmed, providing you with immediate control and making your favorite software's shortcuts accessible.
The Wacom Pro Pen 2 features 8192 levels of pressure sensitivity, 60° tilt recognition, two side buttons, and virtually lag-free tracking as well. In addition to this, a set of essential accessories are included such as a pen holder, replacement nibs, and a nib removal tool.
We can say that these highly advanced styluses will one day retire brushes.
2. Display
Your creative session will be pleasant and effective thanks to the Wacom Pro Pen 2 and Cintiq's 15.6″ slimline display. While you're working, an anti-glare film keeps distracting reflections at bay. When used in conjunction with the Pro Pen 2, sketching on a Wacom Cintiq feels just like drawing on paper.
Additionally, your cursor shows up exactly where you would anticipate it to with less parallax. Wacom Cintiq is an innovative tool that you can trust for your first project and future ones because it is made of sturdy, scratch-resistant materials.
The Cintiq 16 also has foldable built-in legs for your convenience, so you can find your ideal working angle. The 15.6″ display offers 1920 x 1080 Full HD resolution, an anti-glare coating to prevent reflections, and reduced parallax for a more pen-to-paper-like sensation.
3. Design
Despite being made of plastic, the overall design feels fantastic. The screen has been well-treated so that the pen's friction with the surface feels quite natural and similar to that of paper. Even better than using the iPad with the Apple Pencil, that is one of the best things for me. That always gave me the strangest glass-drawing feeling.
4. Details
The Cintiq 16 Graphics Tablet is brimming with useful functions and provides an excellent playground. Thanks to the detachable pen holder, you can store your pen on either the left or right side. To minimize space, the 3-in-1 cable is connected to the top of your Wacom tablet. Power, data, and video transfers will be handled by it.
5. Shortcut buttons
I will make it clear that there aren't any customizable buttons on the Cintiq 16.
But don't worry, you have more than enough buttons to work with. Grateful to the Expresskeys 17 total buttons and touch ring. Its buttons include various shapes and sizes, as well as tiny raised bumps and dots that make them easier to recognize without searching for them. It connects and functions well wirelessly.
Although, if I compare it with the Cintiq Pros, the Cintiq 16's side bezel lacks magnets that would allow the Expresskey remote to be magnetically attached to the tablet.
Substitutes are also an option if you don't want to purchase an Expresskey remote. You can create shortcuts using the on-screen buttons in addition to the keyboard. Once you get a handle on them, the on-screen buttons can be fully customized using the Wacom driver itself.
Setting It Up
Once you've decided on the accurate graphics tablet according to your need, setting it up is just a cup of tea.
I found setting up my Wacom Cintiq 16, just that. A single adapter that splits into three ports for power, HDMI, and USB is used by the Wacom Cintiq 16. So all I had to do was plug in some cords, install the Wacom drivers, and restart my computer. And voila! I was ready to go and so will you.
With my experience in the digital design field and having explored numerous graphics tablets for my work, I'd say that the difficult part isn't installing the program; rather, it is customizing it for your needs.
Choosing how you want to use it, identifying your style, and organizing your workplace. It took me a while to configure the on-screen software controls to my liking, according to every tablet's specifications.
Well, in this regard, I didn't find the Wacom setup program to be very user-friendly. Better onscreen pre-configurations or at the least default beginning points based on the type of user one is (such as photographer vs. artist), would have proved beneficial for this basic concept.
Considerations for the physical arrangement include whether the monitor should be extended or mirrored. In addition to the former, the placement of the pen display with respect to the keyboard and primary screen is something that I would mention here.
These may seem like tiny details, but if you have a 4K display as I do, mirroring will bring down your 4K display's resolution. I can state another drawback of mirroring from my knowledge and it is that it prevents you from individually calibrating each monitor.
As it depends on personal experience, I believe you should take some time to consider what is right for you.
Whatever you choose to do, it does take some time to get used to. So be ready to struggle for a while until it starts to feel natural.
Pros And Cons Of The Wacom Cintiq 16
The Cintiq 16 has a lot of great features, some of which I believe were neglected (or intended due to the inexpensive nature of this tablet.) 
Pros
1. Feel of the tablet: The drawing reaction speed and paper-like feel, both of which this tablet excels at providing, are what matter most to me. My job required me to spend a lot of time on a smooth plastic surface, and this didn't exactly inspire me. The Cintiq 16 update has given my process new life. 
2. The dimensions are ideal: Not too little, yet big enough so that I may use more broad strokes to draw with more vigor.
3. Impressive response time: There was no discernible delay between drawing the line and it appearing. 
4. A higher standard: I've used Wacom since 2013, and this tablet is the best I've ever purchased. The Pro Pen 2 is considerably better constructed and feels even more sturdy (though still feels too light.) Finally, it feels like the cable is out of the way, and I'm not concerned that it will bend or break (as in the Wacom Cintiq 13HD).
Cons
1. There are no hotkeys: I frequently use the side keys that are mapped to various functions in my favorite programs, so this is a big deal. While a keyboard or a separate Wacom express key device can fix the issue.
2. Stand: The external stand is excellent but pricey (it costs about 10-11k online). The angle the built-in stand goes isn't quite as high as I would prefer. Other than that, I would without a doubt suggest this tablet to anyone looking for an expert.
Conclusion 
So, I'm a professional animator who's been using a Wacom 16-inch tablet for 9 months and honestly haven't seen even a single problem occur with it. I've used it day and night completing my work and it's apt to say that it is indeed better than all those cheap tablets.
My work has made me try a lot of these graphic tablets, cheap and expensive, and Wacom here makes every penny spent worth it. In addition, for professionals, I would recommend opting for a larger screen.
A creative pen display or the one we're discussing here, the Wacom Cintiq 16 enables you to visualize your concepts on a screen. The ideal on-screen experience for anyone who enjoys drawing in their spare time or art or design students.
With the incredibly responsive Wacom Pro Pen 2, this drawing tablet with a screen and high resolution (1920×1080) gives you the control and precision you want. It has a low activation force, 8, 192 pressure sensitivity levels, and recognizes even the lightest pen strokes.
With less parallax, your cursor appears exactly where you would expect it to. Wacom Cintiq drawing monitor is a graphics tablet with a screen that attaches simply to your Mac or PC with a simple 3-in-1 Cable and is made of sturdy, scratch-resistant materials.
Other than all the awesome features, what I'm impressed with is its price point. It's great to finally be able to get a WACOM at a reasonable price. This is excellent for scientific illustration and 3D mesh modification. There is no lag, and it feels like drawing on paper. It brings me joy. The only complaint I have is that the power cord takes up both an HDMI and a USB port.
Having stated everything about the tablet, I'd conclude by saying that the Wacom Cintiq 16 will fulfill your needs if you are a hobbyist.
You can also check out some other models of Wacom. Among hundreds of Wacom models my favourites are Wacom Cintiq 22, Wacom Cintiq Pro 13, Wacom One, Intuos Pro and DTK 2420K0. 
However, if your budget allows or you are using it for work, it is advisable to pay more for PRO and get the bigger screen multi-touch features. That would add to your efficiency greatly.