The Amazon Fire HD 8 2022 is Amazon's newest entry into the tablet arena, aiming to build upon the success of its predecessors. This model caught my eye for a number of reasons, chief among them being the enhanced performance that it promises. At the heart of this tablet is an updated hexa-core processor, which Amazon claims provides a performance boost of up to 30% compared to the previous generation Fire HD 8.
For someone who's been using tablets for a while, a promise like that is intriguing. It suggests smoother multitasking, quicker app launches, and generally a more seamless user experience. Given the vast digital landscape that we navigate daily, from streaming movies to reading e-books, to attending virtual meetings, this enhancement could be a game-changer for many.
It makes me curious about what other improvements and features are tucked away inside this device. Whether you're a seasoned Fire HD user considering an upgrade or someone looking for a reliable and efficient tablet, the Amazon Fire HD 8 2022 and its revamped performance might just be worth a closer look.
Hardware Specifications of Amazon Fire HD 8
Processor
Mediatek MT8169A
RAM
2 GB
Storage
32 GB, 64 GB
Display
8.0 inches (1280 x 800) IPS LCD
Camera
Rear – 5 MP | Front – 2 MP
OS
Android 11, Fire OS 8
Battery Life
Up to 13 hours
Weight
337g
PROS
Affordable pricing
Good value for the features provided
Alexa integration for voice commands
CONS
Ads on the lock screen (can be removed with a fee)
Cameras are basic
Limited Google services (no Play Store)
Amazon Fire HD 8 Review: Design and Display
The Amazon Fire HD 8 immediately grabbed my attention with its sleek design. With dimensions of 201.9 x 137.4 x 9.6 mm, it feels comfortably compact in my hands. Weighing in at 337g, it's light enough for prolonged use, yet it doesn't compromise on its solid feel. What I appreciate is the range of colors it's available in. Beyond the classic black, there's the stylish denim and a fresh rose shade, providing users with a bit more personalization.
Transitioning to the display, it sports an 8-inch IPS LCD screen. Now, while the resolution stands at 1280 x 800, some might argue that it isn't the sharpest display in the market, given its 189 PPI pixel density. However, during my usage, I found it adequately sharp for reading, streaming, and general browsing.
The 60 Hz refresh rate ensures smooth transitions, animations, and scrolling. Another detail that's worth noting is the 66.9% screen-to-body ratio, which, in my view, is quite decent for a tablet in this category. It does mean there are noticeable bezels, but that didn't diminish my overall viewing experience.
Lastly, and importantly for those prone to accidents, the screen is made of strengthened aluminosilicate glass. It's a reassuring feature for someone like me who tends to be a bit clumsy at times. Overall, the Amazon Fire HD 8 offers a balanced blend of aesthetics and functionality, ensuring a pleasant user experience both in terms of design and display. It is one of the best 8-inch tablets in the budget segment.
Amazon Fire HD 8 Review: Camera and Features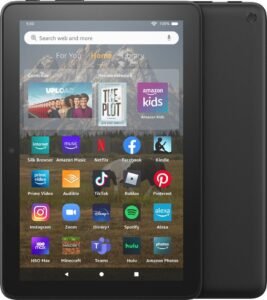 The camera setup of the Amazon Fire HD 8 isn't trying to compete with high-end tablets, but it certainly gets the job done for its range. The rear 2MP camera surprised me with its decent clarity. I wouldn't be using it for primary photography, but for quick captures or document scanning, it serves well. It's also equipped to record videos at 720p, which is quite good for recording some moments.
As for the front camera, the 2MP shooter is serviceable for video calls, and it records videos at 720p. Again, nothing groundbreaking, but it works for casual Skype or Zoom sessions.
Diving into the features, the audio aspect of this device deserves a mention. The stereo speakers produce clear sound, and the presence of a 3.5mm headphone jack is a delightful nod to traditionalists like me who still cherish their wired earphones. If you're into voice assistants, Alexa's hands-free support on this tablet is genuinely useful, especially when multitasking or while cooking up a recipe in the kitchen.
Connectivity options are pretty robust too. The dual-band Wi-Fi ensures stable internet connections. The built-in Bluetooth 5.2, which supports A2DP-compatible devices, is a treat. Connecting my stereo headphones and Bluetooth speaker was a breeze. Also, the USB-C (2.0) port and the microSD slot for added storage are practical additions, making data transfer and storage expansion straightforward.
Lastly, I found the accelerometer useful for games and apps needing motion sensitivity. The added Alexa natural language commands and the Text-to-Speech English content reader gave an extra layer of accessibility and hands-free control, making interactions smoother.
All in all, while the Amazon Fire HD 8 may not have the flashiest camera or features, it provides a comprehensive package that offers good value, especially for those seeking a balance between functionality and affordability.
Amazon Fire HD 8 Review: Hardware and Performance
The Amazon Fire HD 8 has always been a solid choice for those looking for a budget-friendly tablet, and with its hardware updates, it's becoming even more appealing. Let's delve into the hardware side of things.
Firstly, the heart of this device is the MediaTek MT8169A processor. The Hexa-core design, with all six cores running at 2.0 GHz, is a notable upgrade from the previous models. I've used the tablet for a range of tasks, from browsing the web to playing some casual games, and I found the performance to be quite smooth. It might not be as good as some expensive tablets, but considering its price, it does a pretty good job.
Now, let's talk graphics. The Mali-G52 2EE MC2 GPU ensures that videos and games run smoothly. I tried streaming videos, and they played without any lag or stutter. It can play simple games smoothly and I played simple games with no problems, but I wouldn't try any graphically intensive games on it.
The 2GB RAM might seem a tad limited, but for basic tasks and multitasking between a couple of apps, it gets the job done. As for storage, the options of 32GB and 64GB(eMMC 5.1) are sufficient for regular users. But what genuinely excites me is the dedicated microSD card slot. With the ability to expand the storage up to 1TB, you're looking at a vast amount of space for your movies, apps, and other content, which is a massive plus for those long trips or commutes.
In conclusion, the Amazon Fire HD 8 may not be a powerhouse, but considering its price bracket, the hardware it packs ensures reliable performance for everyday tasks. It's a testament to how even budget tablets these days can offer a user experience that's smooth and enjoyable.
Amazon Fire HD 8 Review: Software and Battery Life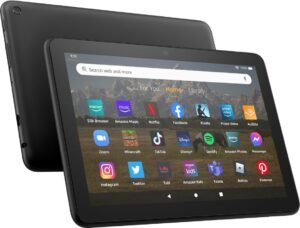 Having spent ample time with the Amazon Fire HD 8, I'd like to dive deep into its software ecosystem and battery life.
Starting with the software, the tablet runs on Android 11 under the hood, but you wouldn't really notice that straight away because of Amazon's Fire OS 8 overlay. Now, Fire OS has its unique look and feel, which stands out due to the deep integration of Amazon services.
Whether it's the Amazon App Store or Alexa's omnipresence, it's evident that this tablet is meant for those entrenched in the Amazon ecosystem. This device will also receive software security upgrades for at least four years.
A notable feature for me is the Parental Controls. As a parent, it gives me peace of mind knowing I can set restrictions for my child. The Reading Mode is a boon for bookworms like me. It turns the screen monochrome, making it more comfortable for prolonged reading sessions. Also, Profiles and Family Sharing is a handy tool when you're sharing the device with family members.
However, one of the significant setbacks, especially for Android purists, is the lack of Google Services. This means no Google Play Store, or Google Maps and while Amazon's Appstore is growing, it doesn't match the breadth and variety of Google's offering yet. Customization options are also limited compared to standard Android tablets.
Now, onto the battery. The 4,850 mAh battery's performance has been rather impressive. Amazon claims up to 13 hours, and in my experience of reading, web browsing, and occasional video streaming, it did hover around that mark. A highlight for me is the variety of charging options. While it takes under 5 hours to fully charge with the included 5W adapter and USB-C cable, I invested in the 15W adapter and was delighted to see it charge in just under 2.5 hours.
In wrapping up, the Amazon Fire HD 8 does an admirable job balancing its software features with decent battery longevity. Though the lack of Google Services might be a deal-breaker for some, Amazon loyalists will find much to love here.
[Video Credit – Tech Travel Geeks]
Conclusion
After spending considerable time with the Amazon Fire HD 8, it's evident that this tablet offers a unique blend of performance and functionality, especially for those invested in the Amazon ecosystem. The deep integration of Amazon services, coupled with features like Parental Controls and Reading Mode, makes it a compelling choice for a range of users.
However, the absence of Google Services might be a hiccup for some. On the battery front, its longevity is commendable, and the varied charging options add convenience. All in all, for its price point, the Fire HD 8 serves as a reliable companion for entertainment, reading, and everyday tasks. If you're seeking a budget-friendly tablet with a solid performance, this might just be the one for you.
You can also consider many categories like 10-inch tablets, 100$ tablets, 200$ tablets, etc.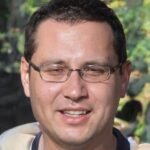 Ben Scott is a prominent technology journalist and reviewer, specializing in tablet devices. He is known for his comprehensive and unbiased reviews of tablets from various manufacturers.
With a deep understanding of tablet technology, including hardware components, operating systems, and software applications, Scott provides clear and informative reviews accessible to readers of all levels of technical expertise.
His attention to detail and in-depth analysis have earned him a loyal following of readers.