If you are a graphic artist working in the digital field of illustration, graphics, designing, animation, or any other digital art form. You must be using graphic tablets or drawing tablets for your work.
Wacom Cintiq is a pioneer when it comes to graphic tablets. It is really popular and offers a wide range of different drawing tablets. But Wacom Cintiq is not the only option for you.
I mean, If you can't stretch your budget to the higher price range of Wacom devices then you have to find out its alternatives. There are a lot of Cintiq alternatives like Huion available online.
I have been writing about different drawing tablets for over 2 years now. I share my opinions and reviews related to different drawing tablets. In this guide, I will be sharing with you how to find the best Cintiq alternatives if you are going to buy a drawing tablet.
List of the Best Wacom Cintiq Alternatives In 2023:-
Let's have a look at all the best Wacom Cintiq alternatives we have. These are all sorted based on the pricing, reliability, features, and experience of users who have used these devices.
XP-Pen Artist 16 (2nd generation) is a generational replacement for first-generation XP-Pen Artist 16. It has a few excellent new features over the first-generation model, including good use of XP-Innovative Pen's X3 Smart Chip technology to power its battery-free stylus.
It has a sturdy construction and a lovely appearance. XP-Pen Deco LW and XP-Pen Artist 12 also employ this second-generation style (2nd gen). There are four color options for its pen display: green, blue, pink, and black. When compared to black, mine is a lovely shade of green. The pen display is thicker than its provided pen at 12.9 mm.
It feels like a tablet, even though the pen display is much thinner than a tablet. There is no internal battery. This X3 Elite pen has 8,192 different levels of pressure sensitivity and supports tilt. Two side buttons can be altered.
This pen also comes in X3 Elite Plus form, with an eraser button on the back. With a 3G initial activation force, an X3 Smart Chip is used in this pen. The pen is easy to hold, sturdy, and has a matte-textured body. Its display is laminated, leaving little to no space between the line and the pen tip. The pen nib moves very slightly (0.6 mm).
The Windows driver version 3.3.3 caused me a few issues at first. The driver could not be opened after installation. I spoke with XP-Pen customer service using the website's chatbox, and they resolved the issue. They had to remove the Super Display driver (which I use to enlarge the screen on my Android tablet), and then the Windows driver functioned well.
PROS
Excellent construction.
Gorgeous Look.
Slim Design.
CONS
Stand is omitted.
USB-C cable is an optional extra.
No automatic launch of MacOS driver.
One of the most stunning entry-level graphics displays is the new Artist Pro 16 from XP-Pen. It is affordable, lightweight, well-made, extremely adjustable, and color-accurate—all for a price that will make Wacom users wince.
The "compact, quick, and stylish" 16-inch pen display that XP-Pen introduced in June 2020 is essentially the same as the new Artist Pro 16. Customers responded favorably to ultra-slim Innovator 16, and I am happy that XP-Pen has chosen to use the same strategy with the Artist Pro series.
Innovator 16's design and build quality significantly improve over other entry-level pen displays. A single USB-C connector on display splits into an HDMI wire for display input, a USB Type-A cable for pen input, and yet another USB Type-A cable for power.
The screen of Artist Pro 16 has two significant advantages: it is fully laminated and has an extensive color gamut for a $450 entry-level device. Full lamination reduces the distance between surfaces that detect your pen input and displays itself by bonding the tablet's touch layer directly to the LCD screen underneath.
In terms of range, Artist Pro 16 gains a minor improvement over Innovator 16. Artist Pro 16 is said to cover 133% sRGB, compared to Innovator 16's claimed 125%.
Another significant feature that distinguishes Artist Pro 16 from Innovator 16, in addition to a marginally enhanced screen, is the new XP-Pen X3 "smart-chip" pen. Since you asked, I'll be honest and say that Artist Pro 16's increase is enough for me to choose it over some of the other XP-Pen options.
PROS
Colorful range.
Cheap 4K television.
Little to no parallax.
CONS
Limited touchscreen support in macOS.
Insufficiently integrated legs (kickstand).
Some workstations would benefit from a longer cord.
For several purposes, including digital art, video gaming, editing, and studying, the upgraded Huion Kamvas 16 (2021) is an excellent entry-level pen display. A lovely drawing tablet and second screen are provided by a good-sized display's full HD resolution and superb color fidelity.
It's inconvenient that a stand is supplied separately, given that you will need one; it is additional but ergonomically worthwhile. Huion Kamvas 16 (2021) is a reliable drawing tablet for beginning digital artists.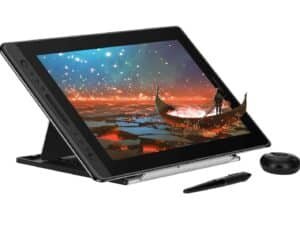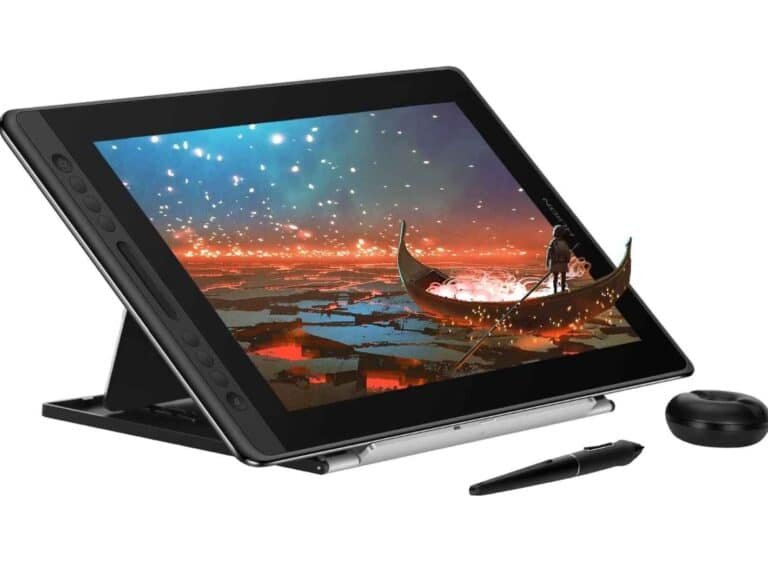 They are organized like traditional tablets. In contrast to controls, the sketching area is located on the right side of the screen. Brushed metal makes up most of Kamvas Pro's body, giving it a substantial, high-end feel. You have enough room around the display, which doubles as a palm rest, and the corners are rounded and curved.
Huion Kamvas Pro 16's screen is one of its main points of interest. One of the few low-cost tablets available has a fully laminated display. display on it is a 15.6-inch FullHD 1920 x 1080p model.
Additionally, it has outstanding contrast levels and 120% sRGB color support. Perfect for home or professional use, it creates incredibly accurate colors. Although the stylus is made of plastic, rubber grips on the front give it an excellent, comfortable feel. Its diameter is more significant in front and progressively gets smaller as it moves backward.
Its stylus has a pressure sensitivity of 8192 levels and a tilt sensitivity of 60 degrees. Two buttons are located on the stylus' side, and a dotted structure has been raised to make them easier to feel without looking. In pen settings, controls can be configured for a different shortcut.
PROS
Textured laminated screen.
Outstanding pen technology.
Excellent drawing skills.
CONS
It might be brighter.
Stand is a separate item.
The first best Wacom Cintiq alternative is the XP-Pen Artist 13.3, You can consider it as a competitor to Wacom Cintiq. I have placed it on the first because I consider it the best option for you.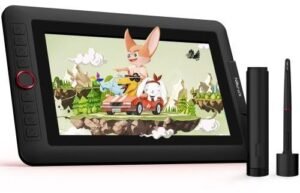 It has a 13 inches IPS display screen with a 1920 x 1080 resolution. It is one of the most affordable Cintiq alternatives available online. With a pressure sensitivity of 8,192 levels and a display Color Gamut of 75% Adobe RGB, You will experience a better visual experience while working on this device.
The pen along with the XP-Pen Artist 13.3 is also very good, you will feel like you are writing on a piece of paper. Also, there are 6 hotkeys available on the sides of this tablet for better handling and operations.
It also has a 12-inch version which they call XP-Pen Artist 12. You can also give it a try.
PROS
Good build quality and design.
Pen does not require battery.
Pen is quite sensitive.
Comes with 8 replacement nibs.
Matte anti-glare screen.
CONS
Matte screen protecter.
Some issues with the specific drawing apps.
The Huion Kamvas Pro 13 has a lot of features that you have never seen in other devices in this price range when it comes to creatives and visuals. It will surely help you to enhance your creative skills and designs as well.
It has a weight of 910 grams and a thickness of 11mm and will be a handy device in case you decide to buy this one.
Some of the other main highlights of this tablet are the full laminated display to avoid reflection and provide a smooth experience while drawing. With a pressure level of 8192 and a pen resolution of 5080 along with a response time of 25ms, it is going to be a great combination if you are looking for a budget-friendly drawing tablet with a screen.
PROS
Good design.
Good build quality.
13.3-inch still a good size.
1080P resolution.
10 replacement nibs.
Pen supports tilt and 8192 levels of sensitivity.
CONS
Stand sold separately.
Display Switch.
Photoshop is quirky with Mac driver.
The Huion KAMVAS Pro is enriched with an 8192 sensitivity level with 60 degrees of pen support, its resolution is also good as compared to the price range. 4 hotkeys may provide some difficulty to switch over the options inbuilt with a one-touch bar.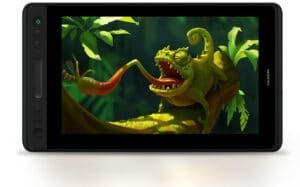 Full laminate with an Anti-glare screen and compatible with all the OS.
It comes with 10 extra pen nibs and a clip and holder inside with an easily adjustable angle.
PROS
Looks really nice and crisp.
11.6" display.
120% Adobe RGB.
Anti glare coating on screen.
Another great tablet from XP-Pen, The XP-Pen Artist 24 Pro is a 23.8-inch drawing tablet. It has 90% Adobe RGB color support which means more bright and clear colors.
The screen resolution is 2560 x 1440 and the pressure sensitivity level of 8,192. The drawing pen of XP-Pen Artist 24 Pro is a battery-less pen, and you will be getting two of them in the package.
It also supports USB-C and HDMI, so that you can connect your screen or another device to the drawing tablet. The built-in quality is amazing and that's why I consider it as one of the best alternatives to Wacom Cintiq.
PROS
There's tilt sensitivity.
Two pens and a stand included.
Artist glove included.
20 shortcut buttons.
2 scroll wheels.
CONS
Tilt does not work when pen tip is one inch away from edge.
Not a laminated display.
Some issues with the specific drawing apps.
It is also one of the latest Cintiq Alternative, I mean this device was launched in 2019 and has performed well on the expectations of artists. Yes, It is a little expensive but I consider it worth the money. You will have a very smooth experience once you start using this device.
The screen is amazing and very responsive, color accuracy is also great and the pen of Huion Kamvas 24 pro is also very good. You will definitely love the device.
PROS
23.8-inch display.
1440P resolution.
More resolution means more desktop space.
Good colour support at 99% sRGB.
Pen does not require charging.
Very good drawing performance.
CONS
 Inclusion of VGA port not that useful.
No DisplayPort cable included.
Gaomon PD1560 is quite an expensive product. But its features can easily overcome its price and that's why I consider it as one of the best Cintiq alternatives in 2023.
The full HD screen allows a user to display a high resolution. Active space also satisfies your needs on creative space, ensures the fineness, definition, and accuracy of image color and lines.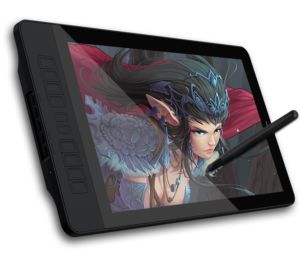 The 10 shortcut keys and 5 menu keys are best for creative habits, to make operation efficient and save time too. Its pressure level is 8192 which provides more accuracy and efficient movement. The battery life is quite low i.e. 2 – 2.5 hours due to its large display and HD resolution.
PROS
High-end features at a mid-range price.
Accurate, precise lines.
Multiple, customized short keys.
Lightweight and easily portable.
XP-PEN is a good line of middle to expensive products and XP-Pen 15.6 pro is one of them, which has many different features than any other.
It has 6 hotkeys for different operations. This stylus of drawing tablet also has wireless, not a chargeable stylus. Capable with all Mac and Windows-based systems, many of the apps like Photoshop and Photography studio software also run very fluently.
The visual of an angel is about 178 degrees and delivers rich colors, vivid images, and many more. Its slim body of 11mm also attracts a lot.
PROS
Affordable.
8 shortcut keys and Red Dial.
Low parallax display.
CONS
Inconsistent line quality.
Needs colour calibration.
Pressure and tilt issues.
Frequently Asked Questions:-
How do Wacom alternatives compare in terms of features and performance?
Wacom alternatives like Huion, XP-Pen, Veikk, and Gaomon offer similar features and performance, but often at more affordable prices. They provide good pen and pressure sensitivity, a wide range of options, and positive reviews for their build quality and affordability. However, some users have reported issues with build quality, and brands may not be as well-known as Wacom.
Are there any more budget-friendly Wacom alternatives?
Knowing what alternatives are available is a terrific way to begin or continue your path into digital art because excellent quality comes at a high price, and only some require a product as robust as a Wacom tablet. The two best competitors on the market are Huion Kamvas Pro 24 and Huion H430P.
Can I use other tablets with the same software as Wacom tablets?
Just when you thought graphic tablets were the only viable alternatives to Wacom, something a little more portable appears. The tablets with the same software as the Wacom tablet are Pad Pro 12.9 and XP-Pen Deco Pro.
Are there any tablets that offer a similar level of pressure sensitivity as Wacom?
The most excellent tablets that provide a comparable level of pressure sensitivity to Wacom tablets and are available on the market at an affordable price are Gammon PD1560 and XP-Pen Artist 15.6.
Can I use that device with a Mac or PC, just like Wacom?
Yes, much like a Wacom, one may use that gadget with a Mac or PC. Download and install the Wacom Tablet driver to use Wacom Intuos with a PC or Mac. The functionality of Wacom Intuos on a PC or Mac is unaffected by a firmware update.
Are there any Wacom alternatives with larger drawing areas?
Huion H430P and XP-Pen Deco Pro are excellent Wacom substitutes with a wider drawing area. Additionally, it is also inexpensive for a more extensive customer base.
How do I troubleshoot problems with a Wacom alternative?
Perform the suggested action in any error message that displays on your screen if you experience problems with your pen, pen tablet, or pen display. If it does not cure the problem, visit a Wacom center.
Are there any other brands of drawing tablets with 4K displays?
Both Kamvas Pro 24 (4K) and XP Pen Artist Pro 16TP have 4K resolution, QLED screens, HDR functionality, and a host of other features that allow professional artists to easily immerse themselves in their work while introducing you to a whole new level of clarity and detail in the visual realm.
Conclusion
Among all the Wacom Cintiq Alternatives, I consider XP-Pen as the most reliable brand when it comes to drawing tablets with a screen. They are very popular among graphic designers and artists. They also offer cheap drawing tablets, at least cheaper than that of those Wacom tablets.
So my call for the best Cintiq Alternative will be the XP-Pen Artist 13.3 or XP-Pen Artist 24 Pro ( the latest one). You will not get any better Cintiq alternatives than these two.
Now, It's your call. You have to decide which one you will choose. Anyway, If you think I missed out on any great gadget on this list. Do let me know in the comments section below.
Howdy Geeks, I'm Andrew, a young passionate blogger, Tech Freak & a Gadget Lover. I help people in buying them the best tablet devices