If you are a graphic artist working in the digital field of illustration, graphics, designing, animation, or any other digital art form. You must be using graphic tablets or drawing tablets for your work.
Wacom Cintiq is a pioneer when it comes to graphic tablets. It is really popular and offers a wide range of different drawing tablets. But Wacom Cintiq is not the only option for you.
I mean, If you can't stretch your budget to the higher price range of Wacom devices then you have to find out its alternatives. There are a lot of Cintiq alternatives available online.
I have been writing about different drawing tablets for over 2 years now. I share my opinions and reviews related to different drawing tablets. In this guide, I will be sharing with you how to find the best Cintiq alternatives if you are going to buy a drawing tablet.
8 Best Wacom Cintiq Alternatives In 2020
Let's have a look at all the best Wacom Cintiq alternatives we have. These are all sorted based on the pricing, reliability, features, and experience of users who have used these devices.
 1- XP-Pen Artist 13.3
The first best Wacom Cintiq alternative is the XP-Pen Artist 13.3, You can consider it as a competitor to Wacom Cintiq. I have placed it on the first because I consider it the best option for you.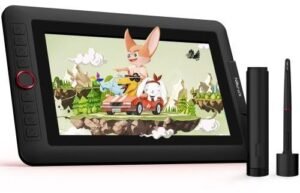 It has a 13 inches IPS display screen with a 1920 x 1080 resolution. It is one of the most affordable Cintiq alternatives available online. With a pressure sensitivity of 8,192 levels and a display Color Gamut of 75% Adobe RGB, You will experience a better visual experience while working on this device.
The pen along with the XP-Pen Artist 13.3 is also very good, you will feel like you are writing on a piece of paper. Also, there are 6 hotkeys available on the sides of this tablet for better handling and operations.
It also has a 12-inch version which they call XP-Pen Artist 12. You can also give it a try.
PROS
Good build quality and design
Pen does not require battery
Pen is quite sensitive
Comes with 8 replacement nibs
Matte anti-glare screen
CONS
Matte screen protecter
Some issues with the specific drawing apps
2-Huion Kamvas Pro 13
The Huion Kamvas Pro 13 has a lot of features that you have never seen in other devices in this price range when it comes to creatives and visuals. It will surely help you to enhance your creative skills and designs as well.
It has a weight of 910 grams and a thickness of 11mm and will be a handy device in case you decide to buy this one.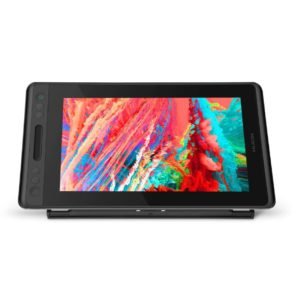 Some of the other main highlights of this tablet are the full laminated display to avoid reflection and provide a smooth experience while drawing. With a pressure level of 8192 and a pen resolution of 5080 along with a response time of 25ms, it is going to be a great combination if you are looking for a budget-friendly drawing tablet with a screen.
PROS
Good design
Good build quality
13.3-inch still a good size
1080P resolution
10 replacement nibs
Pen supports tilt and 8192 levels of sensitivity
CONS
Stand sold separately
Display Switch
Photoshop is quirky with Mac driver
3-Huion Kamvas Pro 12
The Huion KAMVAS Pro is enriched with an 8192 sensitivity level with 60 degrees of pen support, its resolution is also good as compared to the price range. 4 hotkeys may provide some difficulty to switch over the options inbuilt with a one-touch bar.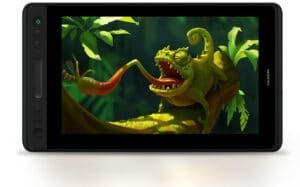 Full laminate with an Anti-glare screen and compatible with all the OS.
It comes with 10 extra pen nibs and a clip and holder inside with an easily adjustable angle.
PROS
Looks really nice and crisp
11.6" display
120% Adobe RGB
Anti glare coating on screen
4-Artisul D13
The Artisul D13 is also considered a reliable Cintiq alternative in the mid-range price range. The tablet comes with a sleek and thick design and a screen protector in the box. I consider it a reliable option in the mid-range budget, As it was launched in 2017 for a lower price than that of Wacom Cintiq.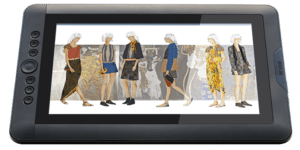 The Artisul D13 pen is ergonomically designed to give you a better experience while holding it in your hands, You will feel a bit comfortable while working with this drawing pen. It is similar to the Wacom Intuos pen.
PROS
Tactile buttons with good feedback
Can be powered by USB 3 port
Stand can be adjusted
Cheaper than Cintiq 13HD
Wireless and battery-less pen
Strokes taper well
CONS
Windows drivers
Parallax exists
Only HDMI port
Strange stroke tapering effect in Photoshop
5-XP-Pen Artist 24 Pro
Another great tablet from XP-Pen, The XP-Pen Artist 24 Pro is a 23.8-inch drawing tablet. It has 90% Adobe RGB color support which means more bright and clear colors.
The screen resolution is 2560 x 1440 and the pressure sensitivity level of 8,192. The drawing pen of XP-Pen Artist 24 Pro is a battery-less pen, and you will be getting two of them in the package.
It also supports USB-C and HDMI, so that you can connect your screen or another device to the drawing tablet. The built-in quality is amazing and that's why I consider it as one of the best alternatives to Wacom Cintiq.
PROS
There's tilt sensitivity
Two pens and a stand included
Artist glove included
20 shortcut buttons
2 scroll wheels
CONS
Tilt does not work when pen tip is one inch away from edge
Not a laminated display
Some issues with the specific drawing apps
6-Huion KAMVAS 24 Pro
It is also one of the latest Cintiq Alternative, I mean this device was launched in 2019 and has performed well on the expectations of artists. Yes, It is a little expensive but I consider it worth the money. You will have a very smooth experience once you start using this device.
The screen is amazing and very responsive, color accuracy is also great and the pen of Huion Kamvas 24 pro is also very good. You will definitely love the device.
PROS
23.8-inch display
1440P resolution
More resolution means more desktop space
Good colour support at 99% sRGB
Pen does not require charging
Very good drawing performance
CONS
 Inclusion of VGA port not that useful
No DisplayPort cable included
7-Gaomon PD1560
Gaomon PD1560 is quite an expensive product. But its features can easily overcome its price and that's why I consider it as one of the best Cintiq alternatives in 2021.
The full HD screen allows a user to display a high resolution. Active space also satisfies your needs on creative space, ensures the fineness, definition, and accuracy of image color and lines.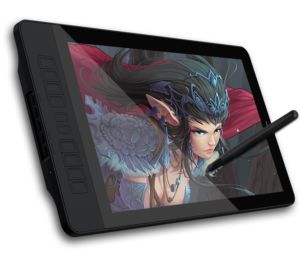 The 10 shortcut keys and 5 menu keys are best for creative habits, to make operation efficient and save time too. Its pressure level is 8192 which provides more accuracy and efficient movement. The battery life is quite low i.e. 2 – 2.5 hours due to its large display and HD resolution.
PROS
High-end features at a mid-range price
Accurate, precise lines
Multiple, customized short keys
Lightweight and easily portable
8-XP-Pen Artist 15.6
XP-PEN is a good line of middle to expensive products and XP-Pen 15.6 pro is one of them, which has many different features than any other.
It has 6 hotkeys for different operations. This stylus of drawing tablet also has wireless, not a chargeable stylus. Capable with all Mac and Windows-based systems, many of the apps like Photoshop and Photography studio software also run very fluently.
The visual of an angel is about 178 degrees and delivers rich colors, vivid images, and many more. Its slim body of 11mm also attracts a lot.
PROS
Affordable
8 shortcut keys and Red Dial
Low parallax display
CONS
Inconsistent line quality
Needs colour calibration
Pressure and tilt issues
Conclusion
Among all the Wacom Cintiq Alternatives, I consider XP-Pen as the most reliable brand when it comes to drawing tablets with a screen. They are very popular among graphic designers and artists. They also offer cheap drawing tablets, at least cheaper than that of those Wacom tablets.
So my call for the best Cintiq Alternative will be the XP-Pen Artist 13.3 or XP-Pen Artist 24 Pro ( the latest one). You will not get any better Cintiq alternatives than these two.
Now, It's your call. You have to decide which one you will choose.
Anyway, If you think I missed out on any great gadget on this list. Do let me know in the comments section below.