Diving into the digital art world can be a fascinating journey, and having the right tools can make all the difference. Enter the Wacom Cintiq 16, a tablet that promises to offer the premium Wacom drawing experience many artists dream of. When I first came across the Cintiq 16, it struck me as a blend of Wacom's commitment to quality and the needs of today's creators.
The Cintiq 16 isn't just another tablet. It's a canvas for artists, illustrators, and designers to express their creativity freely. With its responsive display and intuitive design, every stroke feels natural, almost like drawing on paper. But it's not just about how it feels. The tablet also ensures that what you see is what you get, offering vibrant colors and detailed visuals.
One of the comforting aspects of choosing the Cintiq 16 is the trust I place in Wacom as a brand. Known for its top-notch products in the digital art space, they back this tablet with a 1-year warranty, which to me, speaks volumes about their confidence in the product's quality and durability.
To sum it up, the Wacom Cintiq 16 seems like a bridge between an artist's vision and the digital canvas. It's not just a piece of technology, but a partner in the creative journey. Whether you're just starting out or have been in the field for a while, this tablet seems ready to elevate your creative process.
Hardware Specifications of Wacom Cintiq 16
Display 
15.6 Inches | Full HD(1920 x 1080)
Dimension 
422 x 285 x 25 mm
Active Area
344 x 194 mm
Pen
Wacom Pro Pen 2
Sensitivity 
8192
Pen 
5080LPI
OS Support 
Windows, macOS
Weight
4.2 lbs (1.9 kg)
PROS
High-quality display
Matte screen surface for reduced glare
Wacom's reliable build and reputation
Compatible with major design software
CONS
Relatively high price point
Not easily portable
Wacom Cintiq 16 Review: Design
Navigating through the vast array of drawing tablets available today, the Wacom Cintiq 16 caught my attention primarily because of its design. The first thing I noticed when I got my hands on this tablet was its size. Measuring 422 x 285 x 25 mm, it's a generous space for artists to work on, yet it's compact enough to fit neatly in a workspace without dominating it.
Weighing in at 4.2 lbs (or 1.9 kg), it's not the lightest tablet on the market. However, the weight gives it a sturdy feel, ensuring it won't slide around during intense drawing sessions. The tablet sports a sleek black color, which gives it a professional and minimalist appearance, aligning perfectly with the sophisticated aura Wacom products often give.
One design feature I found particularly useful was the built-in, fold-out legs. They allow for an elevation of up to 19 degrees. This might not sound like much, but this slight tilt can make a world of difference in comfort during prolonged use. It positions the tablet at just the right angle for drawing and minimizes wrist strain.
As for connectivity, the Cintiq 16 offers an HDMI port and a standard USB-A port, catering to the needs of most users. Additionally, there's a 3-in-1 cable port that simplifies the process of connecting the tablet to other devices. This approach to connection points is a testament to Wacom's thoughtful design strategy, which aims to streamline the user experience.
In summary, the design of the Wacom Cintiq 16 feels both intuitive and tailored for artists. Every aspect, from its dimensions to its connectivity options, seems to have been chosen with the user's comfort and convenience in mind. It's a tablet that doesn't just look good; it feels good to use.
Wacom Cintiq 16 Review: Display
After unboxing the Wacom Cintiq 16, the first feature that drew my attention was its expansive display. Spanning 15.6 inches diagonally, it provides ample workspace, allowing me to freely move my hand without feeling constricted. When I powered it on, the resolution of 1920 x 1080 (FHD) ensured that every line I drew, and every color I chose, appeared sharp and clear. It's worth noting that this full high-definition resolution, combined with the IPS LCD technology, results in vibrant colors that stay consistent from every angle.
Speaking of angles, the viewing angle on this tablet is an impressive 176/176 degrees, meaning colors remain consistent and the display stays clear even if I'm not looking at it straight-on. This feature is incredibly beneficial for those instances when I'm sharing my work with someone next to me.
The active area, which is the part of the tablet responsive to the pen, measures 344 x 194 mm (or 13.6 x 7.6 inches). It's a decent size, making it feel like I'm working on a physical canvas. With a 16:9 aspect ratio, the display's proportions are in line with most modern screens, ensuring my work appears as intended across various devices.
Delving into the technical aspects, the contrast ratio is 1000:1, balancing the lights and darks effectively. However, the brightness level at 210 nits might feel a bit dim in well-lit environments, but it's comfortable for the eyes during extended use. The tablet covers 72% NTSC and an impressive 96% sRGB(CIE1931), producing 16.7 million colors, guaranteeing my artwork's colors are accurate and vibrant.
Lastly, the anti-glare film is a godsend. It efficiently cuts out those pesky reflections, ensuring the screen's content remains visible even under bright lights.
In conclusion, the Wacom Cintiq 16's display has been thoughtfully designed. It offers a balance of size, clarity, and color accuracy, ensuring every artistic vision is realized in its best form.
Wacom Cintiq 16 Review: Pen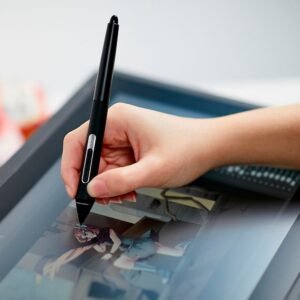 Upon first handling the Wacom Cintiq 16's pen, I was immediately introduced to the Wacom Pro Pen 2. From its sleek design to its impeccable performance, it became clear that this pen is an artist's trusted companion.
To start with, the absence of a battery and cord makes the pen convenient and hassle-free. No more interruptions due to battery drainage, and I can appreciate the freedom of movement. This comfort stems from the pen's patented electromagnetic resonance technology(EMR), which ensures a seamless drawing experience without the need for batteries.
One of the standout features is its pressure sensitivity. With a whopping 8192 levels for both the pen and eraser, the control I had was unparalleled. Whether I was sketching light strokes or putting down bold lines, the tablet responded with incredible accuracy. This precision, paired with a pen resolution of 5080 LPI, ensured that each stroke was captured with the minutest detail.
Another aspect worth mentioning is the pen's tilt support. The 60-degree tilt range allows for various shading techniques, which brings a more natural feel to digital drawing. It's almost like using a real pencil on paper, where the angle determines the stroke's width and opacity. This is excellent for scientific illustration and 3D mesh modification. There is no lag, and it feels like drawing on paper.
Additionally, the two side switches on the pen are strategically placed, offering quick access to shortcuts and functions. They're easily programmable, catering to my specific drawing needs and speeding up the workflow. With reduced parallax, you will notice your cursor appears exactly where you would expect.
In essence, the Wacom Pro Pen 2 with the Cintiq 16 has proved to be more than just a stylus. It's a combination of thoughtful design and cutting-edge technology, ensuring every artist, whether a beginner or a professional, has the tools to bring their vision to life.
Wacom Cintiq 16 Review: Compatibility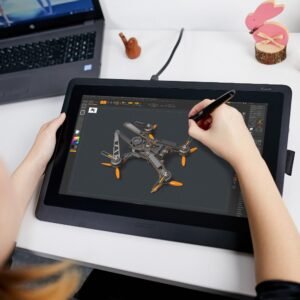 When I first considered integrating the Wacom Cintiq 16 into my workflow, one of the primary concerns was its compatibility. I was pleasantly surprised to find that Wacom has ensured that it syncs effortlessly with most of the operating systems and software I regularly use.
Starting with the basics, I noted that the Cintiq 16 supports both Windows 7 and later versions, as well as macOS from 10.12 onwards. This wide OS support means that, regardless of the system updates I go through in the future, I can rest assured that my tablet will remain a consistent companion.
Furthermore, diving into the realm of software compatibility, it's commendable how Wacom has approached this. I was particularly excited about the bundled offer of a 6-month subscription to Clip Studio Paint EX. For artists like me, who often dabble in creating comics, manga, or concept art, this software is an invaluable addition. It allowed me to elevate my digital art skills significantly during the time I had access to it.
Beyond the bundled software, I was relieved to discover that the Cintiq 16 works smoothly with a majority of the drawing and painting applications I lean on. Whether I'm retouching photos in Photoshop, sketching in Krita, sculpting in ZBrush, or animating in Blender, the tablet responds fluidly without any hiccups. This wide-ranging compatibility ensures that artists aren't boxed into specific programs and can freely choose the tools that best suit their style and needs.
In conclusion, the Wacom Cintiq 16 stands out not just for its stellar performance but also for its wide-ranging compatibility, making it a versatile tool for artists across different disciplines and software preferences.
Wacom Cintiq 16 Review: Accessories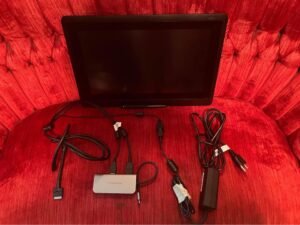 In my journey with the Wacom Cintiq 16, the accessories that come with it played an equally pivotal role in enhancing my drawing experience. Along with the Wacom Cintiq 16 pen display and Wacom Pro Pen 2, I found the detachable pen holder quite practical. Not only does it serve as a handy home for the pen when not in use, but it also houses 3 replacement nibs, which are standard in type. The inclusion of the nib removal tool in the holder was a thoughtful touch, ensuring I wouldn't misplace it during those inevitable moments of changing nibs.
The 3-in-1 cable, measuring a decent length of 1.8m, streamlined my setup process. Instead of juggling multiple cables, this unified solution handles all connectivity needs, reducing clutter around my workspace. Additionally, the AC adaptor, rated at 12V, 3A, and 36W, combined with the 1.8m power cable, ensured that the Cintiq 16 remained powered for those long art sessions.
Now, while the provided accessories already make for a comprehensive package, what caught my eye was the range of optional accessories. The ExpressKey Remote, for instance, offers unparalleled convenience. With its 17 shortcut buttons, I could access functions like the Touch Ring, Radial Menu, and Precision Mode without reaching out to my keyboard. The dedicated buttons for pan, scroll, zoom, and brush size adjustments further enhanced my workflow, allowing for quick changes on the fly.
To sum it up, the Wacom Cintiq 16 doesn't just impress with its primary features but goes the extra mile with its accessories – both provided and optional. These thoughtful additions truly elevate the overall user experience, making the drawing process smoother and more intuitive.
[Video Credit – MobileTechReview]
Conclusion
After spending considerable time with the Wacom Cintiq 16, I've come to appreciate its thoughtful design and powerful features. Its standout display, coupled with the precision of the Wacom Pro Pen 2, provides an unparalleled drawing experience. The device's compatibility with various operating systems and leading creative software highlights its versatility. With its comprehensive set of accessories, the Cintiq 16 stands out as a reliable tool for both seasoned artists and newcomers, blending technology and creativity seamlessly for a truly immersive experience.
You can also check out some other models of Wacom. Among hundreds of Wacom models my favourites are Wacom Cintiq 22, Wacom Cintiq Pro 13, Wacom One, Intuos Pro and DTK 2420K0.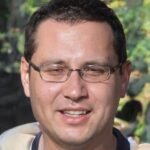 Ben Scott is a prominent technology journalist and reviewer, specializing in tablet devices. He is known for his comprehensive and unbiased reviews of tablets from various manufacturers.
With a deep understanding of tablet technology, including hardware components, operating systems, and software applications, Scott provides clear and informative reviews accessible to readers of all levels of technical expertise.
His attention to detail and in-depth analysis have earned him a loyal following of readers.