Introducing the Wacom One – your ultimate creative companion. Imagine having a paper-like canvas right at your fingertips, where you can sketch, paint, annotate, edit, and share your ideas with ease. With the Wacom One, you get all of this and more.
The Wacom One comes with a versatile pen that can do it all, making it a true one-pan wonder. Whether you're an aspiring artist, a student, or a professional, the Wacom One is designed to meet your creative needs. Plus, it boasts diverse compatibility, ensuring that it seamlessly integrates with your favorite devices and software.
In this article, we'll delve deeper into the features and benefits of the Wacom One, exploring how it can elevate your creative journey to new heights. So, let's dive in and discover the world of limitless possibilities that the Wacom One has to offer.
Hardware Specifications of Wacom One
Display
13.3 inch (1920 x 1080) FHD
Dimension 
336 x 222 x 12 mm
Active Area
294 x 165 mm
Pen
Wacom One Standard Pen
Sensitivity 
4096
Pen 
2540 LPI
OS Support 
Windows, macOS, Android, ChromeOS
Weight
900g (1.9 lbs)
PROS
The surface feels like paper.
Small size fits anywhere
CONS
Multi-cord setup.
Pen quality.
Not for the long run
Wacom One Review: Design
In my journey of exploring various drawing tablets, the design of the Wacom One truly stood out to me. Right from the moment I held it, its lightweight build, weighing just 900g, was immediately evident. This portability factor is quite significant for artists on-the-go or those who prefer a minimalist workspace.
Aesthetically, its sleek black finish offers a professional look that I believe would seamlessly blend into any creative workspace. The dimensions (336 x 222 x 12 mm) are balanced just right, providing ample drawing space without being too bulky. It's that sweet spot where comfort meets utility, making prolonged drawing sessions a breeze.
The I/O connectors are another area where the Wacom One shines. The inclusion of 2 x USB Type-C ports not only caters to modern connectivity needs but also emphasizes its forward-thinking design. This feature ensures the tablet is versatile and can be connected to a variety of devices. The USB hub function comes in especially handy, allowing multiple connections which is a lifesaver for multitaskers like me.
Lastly, the Source Video Signal via DisplayPort ensures that visuals are crisp and lag-free. As a visual artist, it's crucial for me that what I draw is represented accurately on screen, and Wacom One doesn't disappoint in this department.
To sum it up, the Wacom One's design feels like it was crafted with the end user in mind. It offers the perfect blend of aesthetics, functionality, and portability, making it not just a tool but a companion for any artist.
Wacom One Review: Display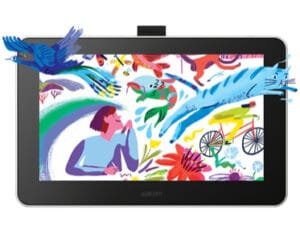 The first time I powered on the Wacom One, its display immediately caught my attention. With a generous size of 13.3 inches, it provides a canvas that feels expansive, yet intimate enough for detailed work. As someone who values clarity in visuals, I was thoroughly impressed with the 1920 x 1080 (FHD) resolution. Every stroke and pixel is crisply displayed, ensuring that what I see on the screen is a true representation of my artwork.
The IPS LCD screen type further enhances the viewing experience. Coupled with an expansive active area of 294 x 165 mm, the tablet ensures that every inch of its real estate is usable and vibrant. It's heartening to see that the aspect ratio stands at 16:9, making it perfect for most media types I work with.
The 170-degree viewing angle is a boon. This means that whether I'm leaning over the tablet or sharing my work with someone beside me, the colors and images remain consistent and clear from almost every angle. In terms of responsiveness, a 19ms response time ensures that there's minimal lag between my pen movements and their on-screen representations.
Brightness and contrast play pivotal roles in color accuracy, and with 320 nits of brightness combined with a 2000:1 contrast ratio, the Wacom One nails it. I found that the colors pop, but they don't oversaturate, striking the right balance. Covering 72%NTSC and boasting an impressive 99% sRGB, the color range is commendable. The display supports 16.7M colors with a depth of 8bit x RGB, leading to a 24-bit spectrum.
Lastly, the AG + AF Glass adds a touch of premium feel to the tablet. It not only looks sophisticated but also adds a tactile quality that mimics paper, enhancing the overall drawing experience.
In conclusion, the Wacom One's display is the perfect blend of form and function, ensuring artists get a premium experience without any compromise.
Wacom One Review: Pen
When I first laid my hands on the Wacom One Standard Pen, I was genuinely eager to test it out. Having had experience with various digital pens, this particular stylus had certain features that intrigued me.
Right off the bat, the cordless design of the pen is a winner. It's pressure-sensitive, which is always a perk for precise drawing and sketching. However, I noticed that its pressure level is at 4096, which, although adequate for most tasks, is a bit lower than some other pens in the same price range. This might not be a deal-breaker for many, but for those looking for ultra-sensitive pressure variations, it's something to be aware of.
Another feature that I found slightly limiting is its pen resolution of 2540 LPI. Again, while this is perfectly fine for general use, professionals or those who demand the utmost precision might find it somewhat lacking compared to other offerings in the market.
On the plus side, being battery-free is a massive advantage. No more pausing in the middle of a project to recharge or replace batteries! This pen harnesses Wacom's patented electromagnetic resonance technology, ensuring consistent performance without the need for any power source.
The two side switches are handy, allowing me to quickly access shortcuts. Additionally, the pen's capability to detect a tilt of up to 60 degrees is quite impressive. This tilt recognition emulates a natural drawing feel, making brush strokes feel intuitive and more controlled.
In conclusion, while the Wacom One Standard Pen might not boast the highest specifications in its class, it offers a reliable and comfortable drawing experience. For those who can overlook the slightly lower pressure levels and resolution, it remains a solid choice. Especially when considering the advantages of its battery-free operation and tilt recognition, it's a pen that serves well in both casual and semi-professional settings.
Wacom One Review: Compatibility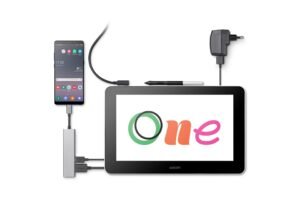 When it comes to compatibility, the Wacom One has pleasantly surprised me. Being a user who often hops between various operating systems, I was elated to find that the Wacom One seamlessly integrates with Windows 7 and later, macOS 10.13 onwards, Android 8 and later versions, and even Chrome OS. This wide range of compatibility ensures that whether I'm working on my laptop, desktop, or even a tablet, the Wacom One is ready to accompany me.
An outstanding advantage of the Wacom One is the bouquet of creative software it offers. Upon registering my device, I gained access to lots of programs. Bamboo Paper Pro is fantastic for note-taking, and Magma Studio is an incredible collaborative drawing tool, especially when working on projects with colleagues.
For someone who's into graphic design, the inclusion of the Affinity suite, including Affinity Photo, Publisher, and Designer, was a delightful bonus. Additionally, the six-month access to Clip Studio Paint Pro (with a 3-month extension for Chromebook users) is a boon for illustrators like me.
But Wacom didn't stop there. Recognizing the increasing importance of online education, they've generously included educational software as well. I got a 12-month subscription to the Kami App and Foxit PDF Editor for Education. Furthermore, I received a three-month trial for Explain Everything, Pear Deck, and Limnu, enhancing my online teaching capabilities.
In essence, the Wacom One has been a hub of versatility and compatibility. Whether you're an artist, student, teacher, or just a digital enthusiast, the tablet, coupled with its wide-ranging software offerings, ensures that you're equipped for virtually any task at hand.
Wacom One Review: Accessories
Diving into the accessories that come with the Wacom One was like unboxing a treasure trove designed to enhance the user experience. Apart from the Wacom One creative pen display and Wacom One pen, the inclusion of 10 Wacom One Pen Standard Nibs was a thoughtful touch. Given the natural wear and tear that occurs with frequent usage, having these replacements on hand ensures that my creative flow remains uninterrupted.
Using the provided Nib Remover, switching out an old nib for a new one was a breeze. The simplicity of this tool, with its intuitive design, made the process effortless, even for someone who might be new to using drawing tablets.
One feature I found particularly impressive was the Wacom One X-Shape cable. This isn't just any cable; its unique design consolidates multiple connections into one unified cable, streamlining the setup process. Without needing to consult the manual, I could see that the cable splits into different plugs, making sure I can connect it wherever I need to.
To power the device, the package includes an AC adapter with a power of 12W, which efficiently charges the tablet without causing it to overheat, even after prolonged use. The accompanying AC plug head fits snugly, making sure there's no accidental disconnection, a small yet crucial detail for those extended drawing or editing sessions.
All in all, Wacom has once again showcased its attention to detail with the accessories provided for the Wacom One. Each component, big or small, has been crafted with the user's convenience in mind, elevating the overall experience of using this tablet.
[Video Credit – Brad Colbow]
Final Verdict
In wrapping up my thoughts on the Wacom One, I've found it to be a reliable tool for both beginners and those on a budget. It's clear that Wacom put a lot of thought into creating a product that balances functionality with affordability. From its user-friendly pen to the wide range of compatible devices and software, it's a package that offers a lot, especially for those just starting out in the digital art world.
The bonus educational and creative software truly adds value. While it might not have every high-end feature some professionals seek, the Wacom One undoubtedly stands out as a solid choice for its price range. If you're in the market for a trustworthy and cost-effective drawing tablet, the Wacom One deserves serious consideration.
Howdy Geeks, I'm Andrew, a young passionate blogger, Tech Freak & a Gadget Lover. I help people in buying them the best tablet devices