Are you looking for some of the best tablets for research?
If yes, then look no further than this article. In this article, I will provide the complete list of tablets that will surely help in your research if you are a researcher or even a research student.
When talking about academicians or researchers, one begins to visualize a person drowning in papers, books, and journals all around them.
Saying this with my experience, as I am a researcher myself, due to the number of papers I have to read, analyze and critically evaluate, the paper load sometimes gets pretty hectic, and bookmarking everything here and it is very tiresome for me. It is for this reason that tablets make professional's lives easier in this day and age.
My guide to the best tablet for researchers like you and me outlines the features that make them ideal for academic papers.
Using the right tablet for your work is beneficial to your research and career, thus you simply need to choose one that best suits your work style, and presto, so that your workflow is faster, more efficient, and more productive.
Taking notes, sketching, reading, and bookmarking on tablets are easier than on paper. Even if you use it for 4 or 5 years, the cost spread out over that period doesn't even amount to much.
Now, without any further delays, let's get directly into the best tablets for researchers that will be perfect for you.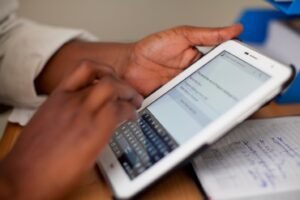 List of Best Tablets That Are Great For Research And Academic papers:-
To help researchers and academicians choose the best tablets for their work, I have assembled this list. Now let's look at each one in more detail:
1. Apple iPad Air
In Apple's tablet lineup, the iPad Air is the newest model. I would recommend you go for the iPad Air if you want the latest offering from Apple.
This tablet has the A14 Bionic chipset under the hood. In my opinion with the updated design, it now looks more like an iPad Pro, but it's a little lighter and thinner so it's easier for researchers and research students to carry around in a backpack.
Taking the tablet out of the box I found that the iPad Air has a 10.9-inch display, which is an upgrade over its predecessors' 9.7-inch display and I appreciate that.
The Liquid Retina display has TrueTone and a P3 wide color gamut, which ensured that colors were rich and vibrant when I was watching a movie or a TV show.
It has excellent brightness and gives me the right amount of brightness in dark and daylight conditions. The Apple Pencil is supported and works very smoothly, which makes note-taking very convenient.
Now I must speak about its performance and in that regard, the iPad Air houses Apple's latest A14 Bionic, giving me plenty of horsepower for my daily tasks.
Regardless of whether I was doing a basic task or something heavier like editing videos, it had the power I needed. The tablet never lagged and appeared to be able to handle any task I threw at it, so yes, it is a powerful tablet for modern computing.
Hardware Specifications of iPad Air 10.9
Processor
A14 Bionic
RAM
4 GB
Storage
64/256 GB
Display
10.9″ Retina display with 2360 x 1640
Camera
Rear- 12MP | Front- 7MP
Operating System
iPad OS 14
Battery Life
9 hours
Weight
1.0 lbs
PROS
Elegant thin and light design.
Bright, colorful and sharp display.
Excellent webcam.
Magic Keyboard.
CONS
No face id.
No headphone jack.
Expensive accessories.
Apple ditched Touch ID in favor of Face ID, which proved to be a very bad move. As a result, Apple reintroduced Touch ID in the iPad Air, but on the side this time. This model finally comes with a USB C port for charging and accessories, which is fantastic.
Besides that, the iPad Air comes with the latest Wi-Fi 6 so it will be easier, faster, and more secure to connect to wireless networks.
Overall, the iPad Air is a great tablet for anyone who is looking to use it for his or her research purposes.
2. Microsoft Surface Pro 7
Since it was launched in the global market, the Surface Pro 7 has earned global awards and has been adorned with numerous awards. The device's powerful specifications combined with its compact and ergonomic form factor have made it a global pioneer in the field of convertibles.
Let me talk about the specifications, it is powered by the 10th Gen Intel Core i5 processor and also available with an Intel i7 processor on higher-end variants.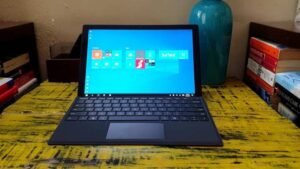 The tablet comes with 8GB of RAM for multitasking, which is more than sufficient for researchers like me, however, there is an option for 16 GB RAM if one needs more flexibility.
I really like the fact that the device has 128 GB of SSD storage, which is faster and more efficient than the previous generation. In terms of software, the tablet runs on Windows 10 Home, which in my opinion is the most productive operating system ever created.
Researchers like me and research students would appreciate the fact that the tablet has a convertible form factor and can be used as a powerful desktop replacement.
With the 12.3-inch PixelSense screen, the tablet also features extremely high contrast and low glare so that research students can work throughout the day without straining their eyes. There is also a long list of compatible peripherals available, including Type covers, surface docks, wireless display adapters, and more.
Hardware Specifications of Surface Pro 7
Processor
Intel Core i5 10th Gen
RAM
8 GB
Storage
128 GB
Display
12.3″ Inch Retina display with 2736 x 1824
Camera
Rear- 8MP
Operating System
Windows 11
Battery Life
10.5 hours
Weight
1.7lbs
PROS
A keyboard is included in the package.

All PC apps are supported.

The display is bright and vivid.

Batteries that last longer.

Processor with high performance.
CONS
The quality of the camera is poor.

Very expensive.
Lastly, the device provides 10.5 hours of continuous use on a single charge, making it an ideal device for researchers, students, and anyone who needs to be productive on the go.
Overall, I feel that the Microsoft Surface Pro 7 is a great tablet for research students who want to have a device that is portable and versatile, much like a laptop.
3. Microsoft Surface Go 2
The Microsoft Surface Go 2 is an excellent budget-friendly tablet making it a perfect choice for research students.
By offering Surface Pro features at a much lower price, the company hopes to attract a broader audience and in my opinion, this is a clever step by Microsoft. In terms of performance and productivity, the Surface Go 2 has never let me down in my daily usage for research work.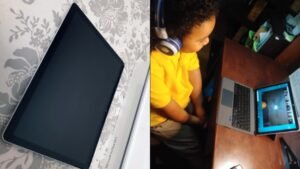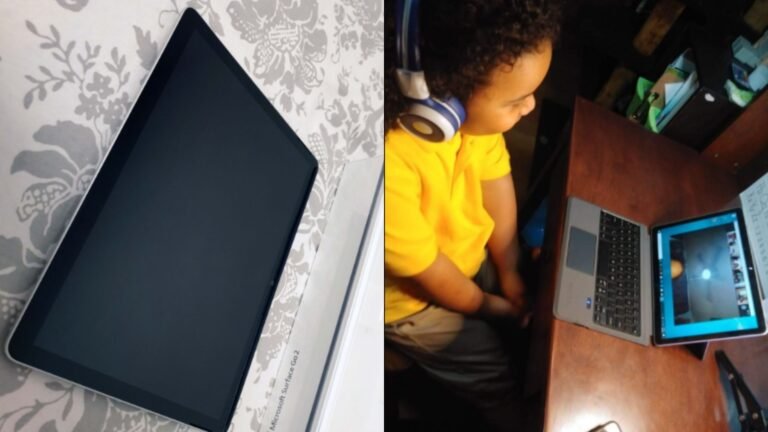 The front of the tablet consists of a bright and colorful 10.5-inch screen and if you like to draw digital sketches and paintings, you can take notes and draw with the Surface Pen, but the only downside I feel is that the pen must be purchased separately.
This Surface Go 2 has a kickstand on the back, so it works great with S-Pen, allowing for a comfortable, hands-free position for taking notes or browsing the web.
In terms of battery life, I would like to state that the Surface Go 2 has one of the best capabilities in its segment. When I was taking notes and working on documents, it lasted for 10 hours on a single charge.
Despite the budget price, performance is still good, better than its predecessor and 64% faster than the Surface Pro. This is what makes the tablet an absolute value-for-money product in my eyes.
Surface Go 2 is also highly portable, lightweight, and can easily fit inside a small sleeve, making it ideal for those who need to carry their tablets on vacations.
In addition to its keyboard cover, the tablet weighs only 544 grams, which is significantly less than the weight of an iPad with the Apple Smart Keyboard.
Because the Microsoft Surface Go 2 comes with a USB Type-C port, it is future-proof and compatible with many accessories. There is a front-facing HD camera on the tablet, so video chatting and attending lectures felt effortless to me.
So let me talk about the verdict for this device. Can research students benefit greatly from buying the Microsoft Surface Go 2?
Hardware Specifications of Microsoft Surface Go 2
Processor
8th Gen Intel Core M3 / Intel Pentium Gold 4425Y
RAM
4 GB
Storage
64 GB/128 GB
Display
10.5″ PixelSense Display with 1920 x 1280 Resolution
Camera
Rear- 8MP
Operating System
Windows 10 Pro
Battery Life
10 hours
Weight
1.2 lbs
PROS
Bigger screen.
Core M3 processor option.
Runs any Windows app.
CONS
Very low performance ceiling.
Battery Life.
Keyboard Flex.
Well, it's a good device for the price, and with a lightweight design and a Windows-based operating system built in, I feel it's one of the best tablets for research students on a budget and
I can definitely recommend this one to you without any hesitation. If you wanted to know more about this device, you can check out its comprehensive article.
4. Samsung Galaxy Tab S7
I would recommend the Samsung Galaxy Tab S7 as it is the best tablet for researchers and is yet another keyboard attachable tablet I reviewed that has a long list of features and specifications.
The Samsung Galaxy Tab S7 has an 11-inch IPS LCD display which felt amazing to my eyes. With a resolution of 2560 x 1600 pixels, the tablet's display provides cinematic vividness, detailed gradations, and deep contrast from a very small form factor.
From the perspective of intensive multitasking and intensive app handling, I faced no problems as the device is powered by a Snapdragon 865+ Octa-Core Processor coupled with 6GB / 8GB of RAM.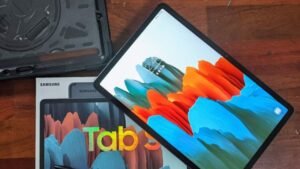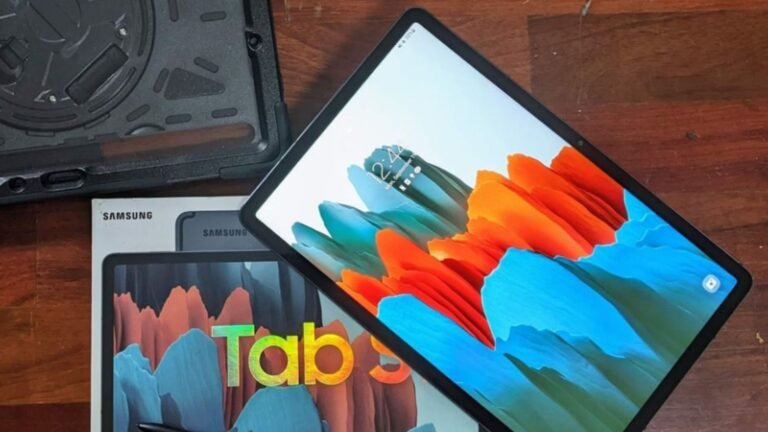 With the device's internal storage of up to 128GB, 256GB, and 512GB, microSD cards can be inserted up to 1TB of storage space. Running on Android 11, the tablet runs the latest and most commonly used mobile operating system.
The Samsung Galaxy Tab S7 comes with a 13-megapixel primary rear camera and in my opinion, it is also among the best tablets for editing photographs and taking photos, as it can capture moments with outstanding details when I took photos with it.
On one charge, the tablet gets fully charged in just over two hours and provides approximately fifteen hours of backup time according to my usage.
Hardware Specifications of Samsung Galaxy Tab S7
Processor
Qualcomm SDM865+ Octa Core
RAM
6 GB
Storage
128 GB
Display
12.4″ Super AMOLED, 120Hz
Camera
Rear- 13MP | Front- 8MP
Operating System
Android 10
Battery Life
12 hours
Weight
1.3 lbs
PROS
Powerful Processor
DeX mode
Storage space
Updated S pen stylus.
CONS
Keyboard need to buy seperately
Small keys
There are several other productivity features included on the tablet, including multitasking mode, seamless Samsung connectivity, and DeX, which transformed my tablet into a PC.
In conclusion, the Samsung Galaxy Tab S7 is a great tablet regardless of the age or major of the research student, thus making it one of the best tablets for note-taking in 2022.
You can also find out more about this tablet's other features and its pro model's specifications in our other article.
5. Apple iPad Pro 11″
In the world of tablets, Apple iPads need no introduction. Apple iPads run on the most advanced, cleanest, and most sophisticated operating systems ever created.
This iPad tablet runs on the iPad OS and comes with a large 11-inch Retina display with a resolution of 2388 x 1668 pixels. In my daily usage, I felt that the display offers the brightest and least reflective screen because it uses Apple's most advanced display technology with a 120Hz refresh rate.
Apple claims that the new iPad Pro is faster than 92% of portable notebooks sold within the last year, which is insane considering the form factor of the device, and all that's possible due to the A12Z Bionic chip, which is hidden under the hood of the iPad Pro.
I would also like to mention that the new iPad Pro provides incredible responsiveness and is powerful enough to handle multitasking and complex actions like editing 4K video.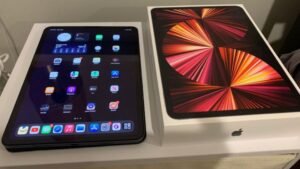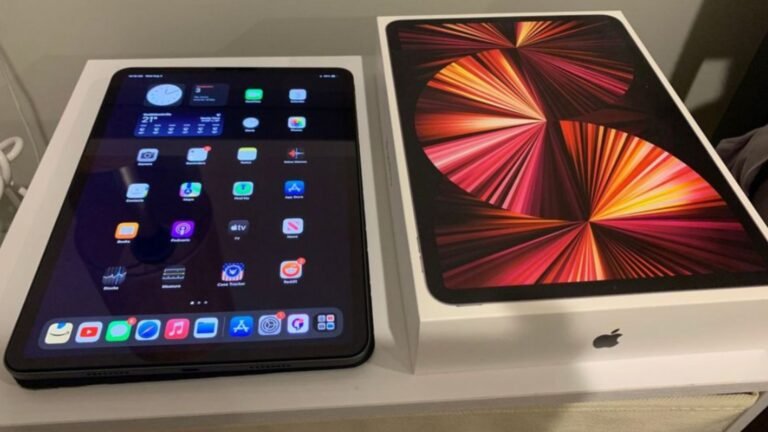 With 6GB of RAM and a huge 1TB of storage space, the device is another huge plus for researchers who easily run out of storage space.
There is a single USB Type C port, and it comes with a lot of Apple's proprietary features including FaceID. If you opt for the cellular version, it also includes a SIM card slot or choose some with SIM cards and LTE support tablets.
As a result, the tablet made it to my list of best tablets for research students with a wide selection of apps for all productivity and entertainment purposes.
With regard to note-taking, the iPad Pro supports the 2nd Generation Apple Pencil, which is more practical and easier to use than the previous generation.
In comparison with its predecessor, the 2nd Gen Pencil sticks to the side of the iPad and charges wirelessly when placed there. Apple Pencil now seamlessly switches between pen and eraser with just a tap on the Apple Pencil, so you don't have to constantly reach for the eraser tool.
Hardware Specifications of Apple iPad Pro 11″
Processor
Octa-core 4×2.5 GHz Vortex
RAM
4 GB
Storage
256 GB
Display
11-inch Retina display with 1668 x 2388 Resolution
Camera
Rear- 12+10 MP | Front- 7 MP
Operating System
iOS 12
Battery Life
10 hours
Weight
1.04 lbs
---
PROS
Trackpad Support.
Gorgeous Display.
Faster Chipset.
Better Cameras.
LiDAR Scanner.
CONS
Costly.
Processor Is Not A Major Upgrade.
Now it is time for me to speak the truth, that is if you have $700 on hand to spend then you cannot find a tablet that even comes close in terms of performance and usability to the new iPad Pro. The best tablet for taking notes for research in 2022 goes to this one for sure.
Apple iPad 10.2″
The Apple iPad 10.2" is a smaller, more compact, and cheaper alternative to the mentioned Apple iPad Pro and iPad Air in this list. This tablet comes with a 10.2-inch Retina Display with a resolution of 2160 x 1620 pixels that felt quite refreshing to my eyes.
As the tablet has a smaller screen size, the display has a vivid and bright viewing angle and generates very accurate colors which is a boon when you want to watch a movie after a tiring day of research and studies.
In terms of the iPad's internals, it comes with Apple's A13 Bionic chipset with Quad Core graphics and 3GB of RAM which helped me to multitask and handled my apps with ease.
There are also a pair of excellent cameras included with the tablet. An 8MP iSight primary camera can record 1080p Full HD video, and a 12MP secondary front-facing camera can record video in 720p.
You can choose storage options ranging from 32GB to 128GB. When I held the tablet in my hands it felt just so right thanks to its great ergonomics and pleasing aesthetics making it ideal for everyday use for research students as they can carry it around in their hands easily.
A final selling point of the iPad is its battery, which lasted me for 10 hours with continuous usage on a single charge.
In conclusion, the latest iPad is a great alternative to the iPad Pro for research students if they are not willing to burn a hole in their pockets.
Check out its other review done by our experts.
6. Samsung Galaxy Tab A7 Lite
The Galaxy Tab A7 Lite is Samsung's latest offering, and it's an excellent cheap tablet for students looking for a tablet without spending a lot.
On the front of the device, there is an 8.7-inch HD screen that seems spacious and big enough. At this price point, it's excellent to have an LCD screen.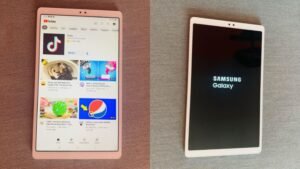 Samsung has not yet announced its stylus support for this tablet, but research students can use an aftermarket one to take notes.
The metal design gives the tablet a premium feel in my hand, and it has a boxy form factor. As a result of the tablet's lightweight design and slim profile, it was easy for me to slip it into a bag or sleeve, and carry it around without feeling burdened.
On the base model of the Samsung Galaxy Tab A7 Lite, I found an octa-core processor and 3GB RAM that power the tablet and are capable of running all the multitasking tasks I had on my mind.
Despite being excellent, the base variant has relatively low power output. My recommendation for researchers would be to go for the 4 GB RAM model because most of you need to deal with multiple documents while taking notes at the same time.
Overall, the Samsung Galaxy Tab A7 Lite is a great tablet for research students on a budget since it has a big screen, a nice build, and a long-lasting battery. It receives a green flag from my side.
7. Samsung Galaxy Tab A7
Located in the budget tablet category, the Samsung Tab A7 is the manufacturer's newest product. For entertainment purposes, the Tab A7 is a great choice because it comes at an affordable price and has a gorgeous 10" screen and Dolby speakers.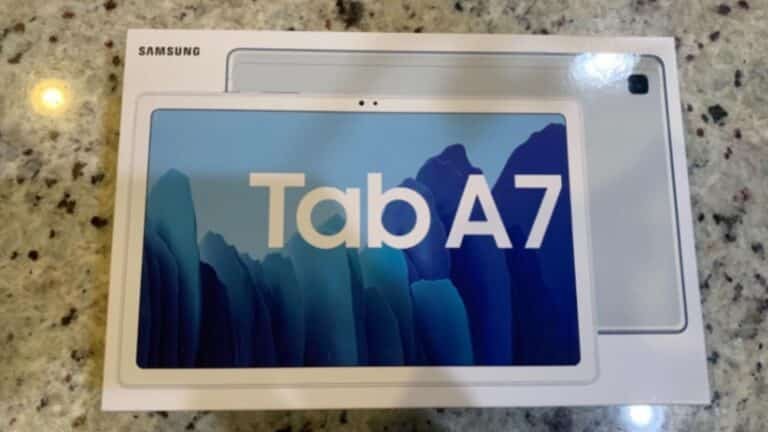 I would recommend this tablet to research students who want a 10-inch tablet but don't want to spend too much. We have sorted the best 10-inch tablets for research as well. It features a Snapdragon 662 processor along with 3GB of RAM, offering decent performance for light users, according to my usage ratings.
The tablet doesn't come with a stylus, although one can buy it separately if they plan on taking notes.
Hardware Specifications of Samsung Galaxy Tab A7
Processor
Exynos 9611
RAM
3 GB
Storage
32/64 GB
Display
10.4″ Inch Retina display with 2000 x 1200
Camera
Rear- 8MP
Operating System
Android Q
Battery Life
15 hours
Weight
1.04 lbs
PROS
Vibrant, colorful display.
Great-sounding speakers.
Reliable battery life.
Build quality.
CONS
Limited RAM.
Camera quality.
In spite of being a budget tablet, the Tab A7 offers a microSD card slot, and the storage can be expanded up to 1TB, so running out of storage is not an issue.
This tablet is a made-in-heaven choice for professional gamers. However, you can also check some other tablets that are good for XCloud gaming.
Coming to the conclusion, I think that the Tab A7 is one of the best cheap tablets for researchers like me, who are looking for a large tablet without spending a lot of money.
8. Fire HD 10
Amazon's Kindle is famous for its feature-rich and affordable performance-based tablets, but this time the brand has introduced a much stronger and more versatile line of tablets under the Fire series.
One such offering from the company is the Fire HD 10, one of the best tablets in Amazon's Fire line. Its soft-touch finish and decent build make it a good tablet in my opinion.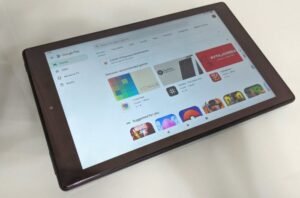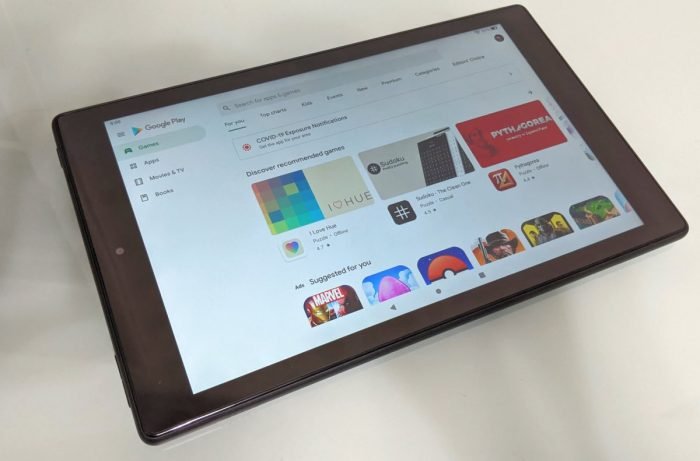 On top of the 10-inch HD IPS LCD, the Fire HD 10 has an anti-glare coating which helped me because I used this tablet to read under direct sunlight. I feel that the 1920×1200 pixel Full HD screen of this tablet makes it stand out from most other tablets in its class.
Depending on the model, the tablet can be connected to either 32GB or 64GB of storage, but microSD cards can be added up to 512GB. Because Fire OS 5 comes pre-loaded on it, it's perfect for research students both for everyday use and for reading.
Hardware Specifications of Fire HD 10
Processor
Octa-Core Processor
RAM
3 GB
Storage
64 GB
Display
10.1″ Inch
Camera
Rear- 5MP | Front- 2MP
Operating System
Fire OS
Battery Life
12 hours
Weight
1.1 lbs
PROS
Bigger screen.
Multitasking.
Build quality.
Eye-friendly screen.
CONS
Some time size may be an issue.
RAM is just 3GB.
The customizable voice assistant under Alexa lets users ask questions and give commands via voice for quick and accurate answers.
It is also known for being one of the best tablets for web surfing. However, if you want to know more about tablets that are good for web surfing, you can check out our other article which is primarily based on this. 
As a whole, I would rate the Fire HD 10 as one of the best tablets for research students who are temporarily looking for a tablet for notes and E-reading, along with binge-viewing the Amazon Prime video library.
9. Lenovo Chromebook Duet
Students and research people who need to carry their daily driver to class or lectures can benefit from the Lenovo Chromebook Duet.
Moreover, it houses a detachable keyboard design that allows this tablet to double as a laptop. The keyboard connects with the tablet using a magnetic mechanism, so whenever you need to type anything, you connect it with the tablet for laptop-like functionality.
You get 10 hours of screen time, so yes the battery life needs to last. It's built for productivity, so yes, the battery life has to last.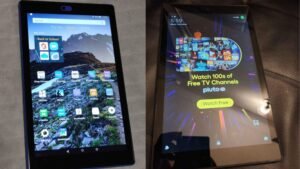 Design-wise, it is sleek and minimal as you would expect from a device that is intended for productivity. It looks quite similar to the iPad Pro because the bezels are thin and the corners are rounded.
As for the back, it's unique seeing as it's got a dual-tone design that's made of aluminum alloy, so it does evoke a feeling of luxury.
The Lenovo Chromebook Duet is designed to perform light workloads such as presentations, spreadsheets, internet browsing, and entertainment without experiencing any lag. The machine serves its purpose perfectly, and it has all the right specifications to make it a great tool for researchers and students.
Hardware Specifications of Lenovo Chromebook Duet
Processor
MediaTek Helio P60T
RAM
4 GB
Storage
128 GB
Display
10.1-inch display with 1900 x 1200
Camera
Rear- 8 MP
Operating System
Chrome OS
Battery Life
10 hours
Weight
2.64 lbs
PROS
Cheaper device.
Display.
Look.
The computer boots up within a few seconds and seems to be ready whenever you need it. A Google One membership for one year, inclusive of 100GB of storage, is also included with the Lenovo Chromebook Duet.
Frequently Asked Questions
What tablet is best for studying?
The Surface Pro 7 is a great option to check out. With a very thin laptop design and a detachable keyboard, it feels more like a laptop when you are typing on it than a tablet when you are holding it in your lap.
It has a much more powerful processor, so you can run your applications much more quickly. With its 12.3-inch display and full Windows 10 operating system, the Surface Pro 7 is a very powerful tablet.
Other tablets do not come with CPU options like the Core M3, Core i5, or Core i7 for the Surface Pro 7. Also, it has up to 32GB DDR4x RAM in comparison to other tablets with only 8GB or less.
What is the best way to study on a tablet?
Here are a few ways to maximize your tablet's capabilities for studying :
1. Take a look at some apps, such as the free BrainPop and the paid Crash Course, to learn more about what you are studying. In Seymour's Science Adventure, I particularly like the interactive nature of the game.
2. It's one of the coolest things about tablets that they have cameras that let you film yourself and then upload your videos for everyone to see. If it is a new technology for your parents as well, you can ask them to teach you.
3. Tablets are great for when you would like to do something different but still want easy access to your studies
What is the best tablet to use every day?
The best tablet for everyday use is the iPad Air because it has many useful features that one would want to be able to do on their tablet, such as watching movies, sending emails, and playing games.
Watching shows or movies on the iPad Air is also possible thanks to its big screen. Moreover, the iPad Air has a high-resolution screen, so the movies or shows you are watching will have a lot of visual clarity..
How do you choose between a laptop and a tablet for studying?
A laptop is best for studying because of its larger screen, which means your eyes won't be strained.
A laptop also comes with a keyboard, so typing information on it is easier. Because a laptop display is larger than a tablet, you won't need to strain your eyes when studying with one.
What is the benefit of using a tablet over keeping physical notes and books?
There are a lot of messy and cumbersome things about books and papers. It can also be quite a tedious and stressful experience to carry them all day long. Over time it will cause distress to your shoulders and even worse, it may affect your career if anything goes missing.
With tablets, you can organize your entire research life into a slim, lightweight device that will store all your notes, books, and other documents in one single location. With cloud technology, you can also check them from any other device.
Giant backpacks and broken backs are a thing of the past. At least, as long as you make sure you don't damage the tablet or let it go missing.
What is the ideal amount of storage space for a tablet?
I have emphasized above that it really comes down to what you need. Although this is true, you should note that some tablets with less storage space are far more affordable.
If you are planning to use an external storage device or cloud storage, then you will have the opportunity to save money (apart from any subscription fees).
It should be fine to choose something like a 32GB device. For those planning not to use anything extra, I recommend you to go for the most storage space you can. Presentations, notes, and lectures have a tendency to pile up.
When you consider how research programs can last anywhere from three to five years on average, you can be sure that your devices will be clogged with data sooner or later.
Conclusion
Congratulations! You have reached the end of my review. I have now provided you with the best options for making your research working days as effortless and pleasant as possible for you.
Now that you know what would work best for you, it's up to you which one would fit your needs the best. I hope you choose the best tablet according to your needs and reach the very heights of your career.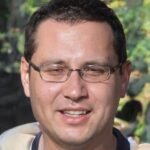 Ben Scott is a prominent technology journalist and reviewer, specializing in tablet devices. He is known for his comprehensive and unbiased reviews of tablets from various manufacturers.
With a deep understanding of tablet technology, including hardware components, operating systems, and software applications, Scott provides clear and informative reviews accessible to readers of all levels of technical expertise.
His attention to detail and in-depth analysis have earned him a loyal following of readers.