Do you like to spend your time on the internet reading and looking at different stuff but your phone is putting too much strain on your eyes while you can't carry your laptop everywhere?
In this case, you need to know about some of the best tablets for web surfing.
So I'm guessing you are looking for a tablet that is best for surfing the web?
Then this is the article worth your attention. Having a tablet is just as important as having a mobile phone. These types of devices are designed for people who cannot bring a large laptop with them but have a problem with their mobile phones.
Due to the increasing need to own a tablet, I have compiled the best tablets for web surfing. I am assuming that web surfing is one of the most used tasks on tablets, people tend to research things down and study them through tablets.
Imagine that you are reading a book on your laptop, I can guarantee that you won't be comfortable. However, If you read that same ebook on a tablet, it will feel as if you are reading a conventional book.
I would recommend researchers, artists, journalists, and graphic designers acquire the best tablet as soon as possible because this will save them time and help them produce their work more effectively.
But before all this let's look at some basic points that I recommend you look for before choosing a tablet for web surfing.
How Do I Pick A Tablet For Myself That Is Best For Web Surfing?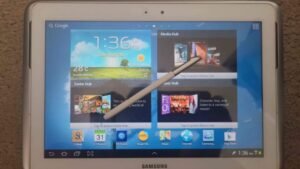 There are several models of iPads and tablets that are available on the market.
If you intend to buy a technical device to meet a specific usage, your choices and priorities change with the preference on its goal, for example, you want a good CPU and GPU combination for a tablet that's good for gaming while a tablet with a good screen is needed for media and content consumption.
If you are looking for the best tablet for surfing the Internet and watching streaming videos, you are not going to find it with an excellent camera.
In this article, I will focus mainly on all those fantastic iPads and Android tablets that can be used to access the internet for as long as possible and with ease. My goal is to get you the best tablet for web surfing and reading, and I have made a list of features you should check to get there:
1. Space
I agree that a tablet with more storage space will be better. Take the time to look around and see what else is available. Thus, I will recommend almost 64GB of space for someone who spends all day browsing the web.
Your tablet is not capable of running any additional software or programs if the storage capacity is less than 64GB. You should go for maximum storage if you plan to play games or add some more applications to your tablet.
2. Display
I know one thing for sure: no one wants to watch videos or surf the web with an unreliable display. For watching videos and movies I recommend tablets to be a minimum of 1080p HD, although 720p tablets are feasible, they are only useful for reading articles.
Videos and movies cannot be viewed with comfort on tablets with lower pixels.
3. Size of the screen
The size of the screen of the tablet is important for anyone who wants to create something, for instance, a piece of art or a graphic design.
As I recommended above, the ideal size is approximately 10 inches. For an even better viewing experience, I suggest going with a bigger screen also the size of some tablets, especially those by Samsung, is elongated, a good and user-friendly feature for web browsers.
Camera and audio
I feel these are two of the most underrated features in any tablet, however, what's wrong with having a good camera or a good audio setup on an iPad or any Android tablet?
There are many affordable tablets for you to pick with 8 or 10 MP front cameras, and in my opinion, 8MP front cameras are the ideal pixels for the front camera.
Beware of the malpractices of some brands to trick you into buying a tablet with a 5MP back camera while marketing it as a 10MP camera, which would make the camera pretty much useless for you. An audio quality that is in line with current technology is essential.
You should make sure the input and output audios are of the highest quality.
4. CPU
Processors play an important role in deciding which one you should opt for. A tablet with poor performing CPU will lag while multitasking and web browsing and thus restricting your top-notch experience.
Although the list of tablets that I have arranged comes with Quad Core and Octa-core processors meaning they are both fast and reliable that ensures you are not left behind in the tablet-owning experience.
You should also check the generation of the tablet mentioned by the seller as the newer generations are better and they make your surfing more fluid.
5. Battery life
If you use your tablet for long at a time for web browsing then it is important for the tablet to have great battery life. I mean who wants to charge their tablets every now and then?
In order to deal with this problem, I would suggest buying a tablet with a battery life of at least 8 to 9 hours.
6. RAM
The RAM of the tablet should be between 3 and 4 GB. If not, the web surfing plan wouldn't work properly, and the tablet would lag often. Saying this with my experience, using a tablet with insufficient RAM is very inconvenient and irritating.
What Is The Best Tablet For Web Surfing?
For those who are Apple fans, I recommend you the best iPad for surfing the web and that crown will take the Apple iPad Pro. You can use it as a multipurpose device because it has the most storage and a big screen.
You might want to consider the Samsung Galaxy Tab A7 if you do not wish to own an Apple product. It has the best processor and the screen is large enough to make your web surfing as smooth as possible.
Okay so have you gathered some knowledge on what to look for in a tablet, right?
Alright! But now I will guide you on which tablets you should really focus on. So without any further delay let's look at the tablet options that I have arranged for you for the best web surfing experience.
List of 8 Best Tablets For Web Surfing Available In The Market:-
1. Apple iPad 10.2 inches
I present to you the first contender on my list: The Apple iPad. The screen quality is good, so it is not hard on the eyes.
This one is widescreen and has the best picture quality. I recommend this tablet to graphic designers, researchers, and anyone else who doesn't want to use and carry a laptop everywhere. Processing is quite fast thanks to Apple's A12 Bionic chip, which is used in many of its products, including the best iPads.
I felt the 128 GB of memory is more than enough for storing almost everything, including heavy software, applications, and my work files. Those who need a device to use when traveling, but must attend meetings and online sessions can also take advantage of the 1.2 MP front camera.
128 GB of memory is more than enough for storing almost everything, including heavy software, applications, and your work files. The 1.2 MP front camera is a boon to those who need a device to use when traveling but must attend meetings and online sessions.
For more detailed explanation you can read our expert's review on Apple iPad 10.2. 
Hardware Specifications of Apple Ipad 2019 Model
Processor
Apple A10 Fusion
RAM
2 GB RAM
Storage
32GB
Display
10.2-inch Retina display with 2048 x 1536 Resolution
Camera
Rear- 8MP | Front- 1.2MP
Operating System
iOS 13
Battery Life
10 hours
Weight
0.99 lbs
PROS
A10 Processor
Affordable
Better screen
CONS
Internal storage
Heavier than previous model
I have used this device and having ten hours of battery life makes it the best budget tablet for browsing the web. As users do not get enough time to charge it every now and then, a single charge per day is enough to run it throughout the daily working session.
The Apple Pen works so smoothly on the multi-touch screen that it is all you need to browse on the tablet. Further, the smart keyboard fits just the right way on the screen for sending emails and messages.
Overall, I think this tablet represents good value for money, and people looking to invest in a web browsing tablet should definitely consider it.
2. Samsung Galaxy tab A7
I would suggest you choose this device if you prefer stylish and contemporary devices. This tablet is the perfect option for those who simply want to surf the internet on their Tab without doing anything. The elongated screen of the tablet makes it easy to scroll down and perform searches.
During my usage, I felt that a bit more memory storage would have been great, but it's comparable to what one would find in a mobile phone. The device has 3GB of RAM and 64GB of internal storage available, but you can upgrade it with a 1TB SD card for additional storage.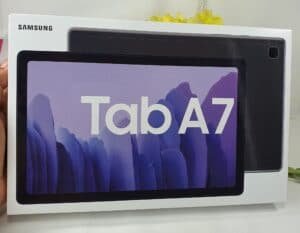 The keyboard is another aspect of using the tablet for work-from-home sessions that you might find frustrating. In many cases, people don't find the on-screen keyboard suitable for continuous typing.
Therefore, this comes with the ability to work with an external keyboard. You can also use it with the S-pen in addition to the keyboard.
Hardware Specifications of Samsung Galaxy Tab A7
Processor
Exynos 9611
RAM
3 GB
Storage
32/64 GB
Display
10.4″ Inch Retina display with 2000 x 1200
Camera
Rear- 8MP
Operating System
Android Q
Battery Life
15 hours
Weight
1.04 lbs
PROS
Vibrant, colorful display.
Great-sounding speakers.
Reliable battery life.
Build quality.
CONS
Limited RAM.
Camera quality.
The display resolution is also compliant with the standard tablets that are available on the market. I could watch movies and videos without the loss of quality. In my opinion, with a resolution of 2000×1200 WUXGA, making it is perfect for me to browse the web.
Also, I would like to mention that taking pictures and making memories is quite easy with this tablet and the 8MP camera is ideal for making stock photos. A separate graphics processor, Qualcomm SDM865 plus, maintains the picture quality and the color display to the fullest extent.
Overall this is a great tablet to consider if you are looking to use it for web browsing.
If you still want to more about this amazing tabelt, you check out its other features in another article.
3. Fire HD 10 tablet
Now I present to you the Amazon Fire HD 10 tablet. Even though the memory capacity is not as large as that of a laptop, the speed is still much faster than most of those available on the market.
The device is equipped with an octa-core processor clocked at 2.0 GHz, which made it easier for me to multitask while browsing the web. The CPU is in its ninth generation, which ensured that my apps opened quickly and I could work on different software smoothly.
This tablet has Alexa on board. So, if you need artificial intelligence to save time, this one is the one for you.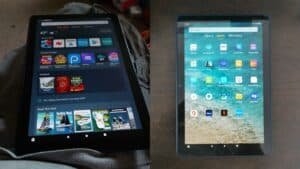 Its storage capacity is 64GB, but you can also add microSD cards to increase it to 512GB. To support this, it comes with 2 GB RAM, which may seem a bit low, but the fast processor won't let it affect the device's performance.
Hardware Specifications of Amazon Fire HD 10
Processor

1.8 GHz quad-core processor

RAM
2 GB
Storage

32 or 64 GB internal storage

Display

10.1″ 1080p Full HD display

Camera
No Camera
Operating System
 Android
Battery Life
 10 hours
Weight

1.6 lbs
If you still want to know more about this then you can read our Amazon Fire HD 10 Review from our experts.
PROS
Affordable
Sharp display
Good performance
Dual Wi-Fi
CONS
No google play store
Low resolution camera
As I used this device for my work and research and got a battery life of about 10 hours which I feel is quite normal. With respect to power saving, the best feature I consider is that the device charges in only three hours for a maximum battery life of ten hours.
You should not worry about handing over the device to your kids because the 10.1-inch screen is laminated. However, with this lamination I wasn't disappointed, the screen is high definition with a resolution of 1080p HD that allowed me to enjoy movies and videos.
I would recommend this tablet to everyone if you are looking for using it as a web browsing device.
4. Samsung galaxy tab A 10.1
The Samsung Galaxy Tab A 10.1 inch is an octa-core tablet optimized for carrying out complex software work over an extended period of time.
Along with the tablet, you'll get the Android 9 Pie operating system, making it an affordable and cool tablet. As a result of its 10.1-inch screen with 1920 x 1200 resolution, it is a suitable tablet for watching movies and surfing the net.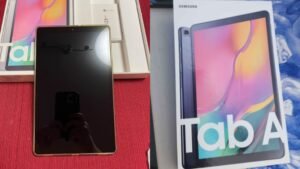 As a general rule, you do not want to store a lot of things on your tablet, so buying a large storage tablet is not a good idea.
Nevertheless, this one has an average storage capacity of between 32GB and 128GB; you may choose one according to your needs.
Hardware Specifications of Samsung Galaxy Tab A
Processor
Samsung Exynos 7904A Eight-Core Processor
RAM
2 GB
Storage
32 GB
Display
10.1″ IPS display with 1920 x 1200
Camera
Rear- 8MP | Front- 5MP
Operating System
Android 9.0 Pie
Battery Life
13 hours
Weight
1.03 lbs
PROS
Metal Body
screen quality
Processor is powerful
Camera and speakers
CONS
Speaker on one side only
No fingerprint sensor
Do not worry, because this is not only for those who want to save space but can also be transformed into a higher-capacity tablet with 512GB of external storage.
It is also equipped with an 8 MP camera that is good enough for average pictures, and it will keep you carefree while it's charging. The battery needs to be recharged only once, and then it is ready to go.
5. Apple iPad mini 9.7″
In my opinion, this is the iPad for graphic designers, journalists, and researchers. The 9.7-inch retina display and the best color contrasts gave me an impressive viewing experience.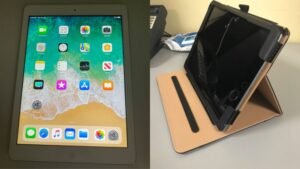 The tablet also comes with a fingerprint sensor to secure the data, making it somewhat of a professional tablet. A mom who browses the internet would be delighted to have such an iPad.
Okay, so the 7MP front camera on the iPads and tablets is a huge selling point. In the rear, there is an 8 MP camera, but it is designed for business and virtual work, so the front camera has been removed from this model.
In my daily usage, the processor is reliable, as I had expected from an Apple iPad, it is equipped with the A12 Bionic chip to provide smooth operation. This fantastic iPad is also equipped with an embedded M12 coprocessor.
You can draw something you want and learn whatever you want on the iPad with its Apple pencil. Thanks to its sensitive touchpad, the iPad is easy to use. 256GB of storage is the maximum; 64GB of storage with the same features is available as well.
Overall, this is a great tablet for you to consider if you are an Apple enthusiast and also want something light enough to handle web browsing.
6. Lenovo tab M8 Tablet
The Lenovo Tab M8 is a device that works fast as the processor is quite powerful. To enhance its working capacity, it is equipped with a quad-core processor clocked at 2.0GHz and an Android Pi 9 operating system. Using this device will be an enjoyable experience.
My suggestion for you is to give this tablet to your grandfather since it is a very light device. The device weighs less than a pound which enabled me to carry it outside and on vacations very conveniently.
I would suggest you not use this tablet for bigger projects as the capacity of the storage is equal to a typical smartphone. Based on my usage experience, the device is better suited for research or email and games. There is, however, the option of using external memory if one desires to.
Hardware Specifications of Lenovo M8
Screen Size
8-inch HD IPS LCD 1280 x 800 px
Storage
32 GB
Camera
Rear- 5MP | Front- 2MP
Processor
2 GHz quad-core processor
RAM
2 GB
Battery Life
8+ hr
Weight
0.67 lbs
PROS
Affordable.
Batter life.
Speakers.
For longer use of screen.
CONS
Normal cameras.
Not for multitasking.
This screen size is 8 inches, so it's good for searching, but not for creating anything or doing graphic design. To achieve your goals, you should do some research, prepare some documents, and watch some movies and this tablet can help in that regard.
So finally we come to the verdict of this tablet and it is a good tablet for web browsing and other daily activities.
7. Apple iPad Pro 12.9 inch
This is the best iPad that is available in the market today. Having a bigger screen is a sign that you will have a better viewing experience if you plan on watching movies with your family and this was the case when I bought this tablet.
I was overwhelmed by its screen size of 12.9 inches. Another feature I greatly appreciated is the 12MP camera on the back, with the 10MP ultra-wide lens. Furthermore, the 4k video quality makes it the ideal package for you.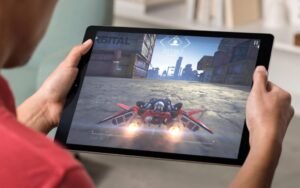 I used it on my vacations to capture beautiful memories. In addition to its back camera, the device also has a 7 MP front camera for truly immersive selfies with your family.
While listening to music and watching recorded videos allowed me to stay with it for up to 10 hours. It will stay with you for the same time even if you only use it for research or scrolling.
You can use its smart keyboard, or you can use an external keyboard, sold separately. It is extremely easy to use. In addition, the apple pencil can also be purchased, but it costs a little more. The face ID feature is also part of the Pro version. Your data will be as safe as possible.
Okay, if you're interested in developing pro iPad applications with intelligent features, you should choose one with a neural engine. It uses an A12Z bionic chip and neural engine for this purpose, making the operating system easy to use and fast.
Hardware Specifications of Apple iPad 12.9 Pro
Processor

A12X Bionic

RAM
6 GB
Storage
64 GB/1 TB
Display
12.9″ Resulution with 2732 x 2048 – 264PPI
Camera
Rear- 12MP-10MP | Front- 7MP
Operating System
iPadOS
Battery Life
10 hours
Weight
1.41 lbs
PROS
Powerful Processor.
Battery Life.
Gorgeous Mini LED screen.
Stellar 5G performance.
CONS
Very expensive.
iPadOS makes multitasking difficult.
This tablet is also good doing drawing. However, you can also check out other tablets in our other article.
Overall I loved this tablet and I would recommend it to everyone who doesn't want to compromise on any feature and are willing to spend a pretty huge amount to get the best experience possible on a tablet.
8. Apple iPad Air (2020)
In my opinion, Apple's iPad Air is the best non-Pro iPad ever, and it is the tablet most people recommend. An iPad Air is more like an iPad Pro without the fancy, niche features of the Pro and rather than an upgraded version of the entry-level iPad.
Liquid Retina display that is 10.9 inches with thin display bezels to give it a more modern look.
The iPad Air comes equipped with the A14 chip, making it Apple's first product with the new six-core processor and its performance numbers indicate that it is more powerful than some laptops. 10-hour battery life is also excellent, although competitive slates last even longer.
Hardware Specifications of iPad Air 10.9
Processor
A14 Bionic
RAM
4 GB
Storage
64/256 GB
Display
10.9″ Retina display with 2360 x 1640
Camera
Rear- 12MP | Front- 7MP
Operating System
iPad OS 14
Battery Life
9 hours
Weight
1.0 lbs
PROS
Elegant thin and light design.
Bright, colorful and sharp display.
Excellent webcam.
Magic Keyboard.
CONS
No face id.
No headphone jack.
Expensive accessories.
The new $599 iPad Air is perhaps best known for its support of the Apple Pencil Gen 2 (with magnetic wireless charging) and the Magic Keyboard accessory, which makes the device a possible laptop replacement.
Conclusion
Thank you if you have read till this point, it means that you have reached the conclusion of this article. So let's talk about the final verdict.
These were my top picks for reading and surfing the web on tablets. All of these can be searched or you can add a few more to your wishlist, but don't forget the features that I mentioned.
In the worst-case scenario, you might end up purchasing a tablet that is not the best one to browse the web on. If you need a big screen, keep in mind that you will need a lot of memory, space, and a good processor.
I hope that I have guided you in choosing your tablet that would fit the best for your internet surfing needs. Now it is up to you which tablet you should go for. Everyone has personal preferences and I respect that.
So what are you waiting for?
Go ahead and grab your favorite tablet for web surfing.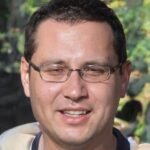 Ben Scott is a prominent technology journalist and reviewer, specializing in tablet devices. He is known for his comprehensive and unbiased reviews of tablets from various manufacturers.
With a deep understanding of tablet technology, including hardware components, operating systems, and software applications, Scott provides clear and informative reviews accessible to readers of all levels of technical expertise.
His attention to detail and in-depth analysis have earned him a loyal following of readers.