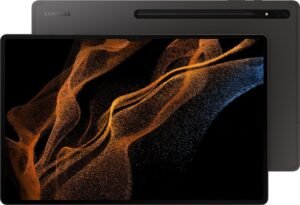 Diving into the expansive world of premium tablets, I've laid my hands on Samsung's latest marvel – the Galaxy Tab S8 Ultra. At first glance, it's clear this isn't just a simple tablet; it's a masterpiece of design and innovation. Every curve, every edge, and every pixel on this device has been crafted to deliver an unparalleled experience.
Central to the Tab S8 Ultra is its performance. Samsung didn't hold back, ensuring that every task, be it simple or intensive, was executed with remarkable speed and efficiency. Whether you're working on a presentation, gaming, or simply browsing, the Tab S8 Ultra promises a smooth ride, all thanks to its robust internals.
Now, let's talk about its display – a feature that's hard to overlook. The expansive screen is not just about size but quality. Offering crystal-clear visuals, vibrant colors, and sharp details, it's like having a cinema in your hands. Whether you're an artist drawing a masterpiece, a professional reviewing documents, or a movie enthusiast, the display is nothing short of captivating.
But a tablet isn't just about performance and display; it's the additional features that can make or break the experience. Samsung knows this all too well, ensuring the Tab S8 Ultra is loaded with features designed to enhance usability. From top-tier security options to innovative productivity tools and entertainment features, it seems the tablet has something for everyone.
In sum, the Samsung Galaxy Tab S8 Ultra isn't just another tablet on the block. It's a statement. A testament to what's possible when technology meets design. As I delve deeper into its offerings, one thing is clear: Samsung has raised the bar yet again, setting new standards for what a premium tablet should embody.
Hardware Specifications of Samsung Galaxy Tab S8 Ultra
Processor
Qualcomm Snapdragon 8 Gen 1 processor
RAM
8GB, 12GB, 16GB
Storage
128GB, 256GB, 512GB
Display
14.6-inch (2960 x 1848) Super AMOLED
Camera
Rear – Dual 13+6 MP | Front – DUAL 12 MP+12MP
OS
Android 12 ( One UI 4.1)
Battery 
11,200mAh (Up to 14 hours)
Weight
726 g (Wi-Fi), 728 g (5G)
PROS
Powerful Processor
Big Super AMOLED Display
DeX mode
Updated S pen stylus
CONS
Book cover keyboard buy separately
Charger is not included in the box
Samsung Galaxy Tab S8 Ultra Review– Design And Display
Having recently explored the Samsung Galaxy Tab S8 Ultra, I find myself particularly drawn to its design and display. It's hard to ignore the sheer brilliance and attention to detail that Samsung has poured into this device.
The Tab S8 Ultra is big but looks slim at 326.4 x 208.6 x 5.5 mm. Even with its large screen, it's easy to handle. The Wi-Fi version weighs 726 g, and the 5G one is a bit more at 728 g. The tablet is a little bit heavy compared to other tablets because of its massive display. It's made of aluminum alloy, which feels high-quality, and comes in a stylish graphite color.
The display, a focal point of any tablet, truly shines on the Tab S8 Ultra. With a whopping 14.6 inches of screen, it offers a vast canvas for all activities. The WQXGA+ resolution of 2960 x 1848 ensures that visuals are sharp, colors are vibrant, and details stand out. It's a Super AMOLED panel, a signature of Samsung, renowned for its deep blacks and vivid colors. With an impressive screen-to-body ratio of 90%, bezels are minimal, making for an immersive viewing experience. The display is protected with Corning Gorilla Glass 5.
The 120 Hz refresh rate ensures that everything, from scrolling to watching videos, is buttery smooth. Support for HDR10+ and HLG guarantees rich, dynamic content, and the screen's maximum brightness of 600 nits ensures clarity even in bright environments. An added bonus is the SGS certification for eye care, ensuring that prolonged usage is easier on the eyes.
In conclusion, Samsung's emphasis on design and display with the Galaxy Tab S8 Ultra is evident. The tablet feels premium, looks modern, and offers a display experience that's hard to rival. For those who prioritize aesthetics and screen quality, this device ticks all the right boxes.
Samsung Galaxy Tab S8 Ultra Review– Camera and Features
Taking a dive into the camera and features of the Samsung Galaxy Tab S8 Ultra, I was truly impressed. The tablet boasts a dual rear camera setup,  a 13 MP wide lens, and a 6 MP ultrawide lens. These specs enabled me to capture sharp and vibrant photos. The added HDR and panorama options further enhanced the quality, ensuring picturesque results. Video enthusiasts aren't left out either; the Tab S8 Ultra supports 4K recording at both 30 and 60 fps, and 1080p at 30 fps, guaranteeing crisp videos.
On the front, we have not one, but two cameras. A 12 MP wide lens and a 12 MP ultrawide lens make video calls clearer and selfies pop. Like the rear camera, the front camera also supports 4K video recording at 30 and 60 fps, ensuring that content creators get premium results.
But the Galaxy Tab S8 Ultra isn't just about cameras. Its quad speakers, tuned by AKG and enhanced with Dolby Atmos, provide an immersive audio experience. This tablet kept me connected effortlessly, thanks to its Bluetooth 5.2, super-fast Wi-Fi 6E, and 5G support.
Connecting devices and charging was a breeze with its USB Type-C 3.2 port and a magnetic connector. For the multitaskers, Samsung DeX makes the tablet a mini workstation, while the S pen, with its swift 2.8ms latency and added features like Bluetooth and motion sensors, enhances productivity.
Last but not least, the on-display fingerprint sensor and other sensors like the accelerometer, gyro, proximity, compass, and ambient light sensor ensure smooth operation and security. The Tab S8 Ultra also supports GPS, GLONASS, BDS, and GALILEO, ensuring I'm always on track wherever I go.
In simple terms, this tablet excels in camera, connectivity, and user-friendly features, making it a top choice for both casual users and professionals.
Samsung Galaxy Tab S8 Ultra Review– Hardware and Performance
Diving deep into the Samsung Galaxy Tab S8 Ultra's performance and hardware, I found myself immersed in a world of swift operations and seamless multitasking. The heart of this beast is the Qualcomm Snapdragon 8 Gen 1 system chip. Designed on a 4 nm architecture, this octa-core processor ensures every task, big or small, is handled efficiently. With a combination of a 3.00 GHz Cortex-X2 core, three 2.50 GHz Cortex-A710 cores, and four 1.80 GHz Cortex-A510 cores, I noticed snappy responses and virtually no lags.
When it comes to gaming and graphic-intensive tasks, the Adreno 730 GPU took care of that. Every game I played, and every video I watched, flowed smoothly, with vivid colors and sharp details.
The Tab S8 Ultra comes in various RAM configurations: 8GB, 12GB, and a whopping 16GB LPDDR5. I could run multiple apps simultaneously without the tablet breaking a sweat. Paired with this is the internal storage that caters to all needs, starting from 128GB and going up to 512GB UFS 3.0. This means super-fast read and write speeds, making app installations and file transfers lightning-quick.
And for those who have an ever-growing collection of files, photos, or videos, Samsung hasn't forgotten you. The Tab S8 Ultra offers a microSDXC slot that supports cards up to 1 TB. This is a godsend, allowing me to carry my entire media library and work files without worrying about space.
To sum it up, the Samsung Galaxy Tab S8 Ultra is a powerhouse. Its top-tier chipset, ample RAM, vast storage options, and expandability make it a top choice for anyone, whether you're a casual user, a gamer, or a professional on the move.
Samsung Galaxy Tab S8 Ultra Review– Software and Battery Life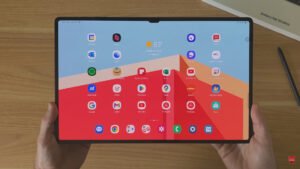 Diving into the software side of the Samsung Galaxy Tab S8 Ultra, my experience has been nothing short of impressive. Running on Android 12 with Samsung's One UI 4.1 on top, everything felt refined. What caught my attention straight away was the smoothness of the user interface. The animations are quick, multitasking is a breeze, and I didn't encounter any bugs during my usage.
One of the standout features for me was the sheer number of customization options. Personalizing my tablet to fit my preferences was straightforward, and the changes I could make felt almost endless. With the promise of 4 years of Android updates, it's comforting to know that the Tab S8 Ultra will stay up-to-date with the latest features and security patches.
Speaking of security, Samsung's Knox system is integrated, ensuring data safety. It's a reassuring touch, especially when dealing with sensitive information or using the tablet for professional tasks.
Now, let's discuss the battery. With a massive 11200 mAh Li-Polymer cell under the hood, it's designed to last. However, it totally depends on how you use it. During my use, I could easily get a full day of moderate usage. And when it's time to recharge, the USB Type-C 3.2 magnetic connector, combined with the 45W charger, ensures quick top-ups. In fact, Samsung claims a full charge in just 82 minutes, and in my tests, this held pretty true.
In conclusion, the Galaxy Tab S8 Ultra offers a premium software experience paired with robust battery life. Whether it's personal or professional tasks, entertainment, or productivity, this tablet ensures a smooth, efficient, and long-lasting performance.
Final Verdict
In wrapping things up, the Samsung Galaxy Tab S8 Ultra clearly stands out in the tablet market. Its powerful performance, large and vibrant screen, and packed features make it a top choice for anyone seeking the best. Samsung has truly gone above and beyond with this tablet, offering a user experience that's hard to match.
If you're in the market for a premium tablet, the Tab S8 Ultra should definitely be on your radar. All in all, it's not just a tablet; it's a statement of what the future of tech looks like.