Samsung's Galaxy Tab S8 Plus is a new and exciting tablet that's catching a lot of attention. It looks great and has the latest technology, making it one of the best tablets out there. Its powerful insides make sure everything runs smoothly and quickly, so users don't have to wait around.
The screen on the S8 Plus is special. It's not just any screen; it's bright, colorful, and very clear. This makes watching movies, drawing, or looking at presentations a joy because everything looks so real and alive. And Performance is top-notch, everything feels so smooth and blazing fast.
But this tablet is not just about a fast performance and a good screen. Samsung has added many cool features to the S8 Plus. There are tools to help people with their work, fun stuff for those who like to watch shows or movies, and safety features to keep personal data secure.
To sum it up, the Samsung Galaxy Tab S8 Plus is more than just a regular tablet. Samsung has worked hard to make it stand out. With so many tablets to choose from, the S8 Plus shows that it's one of the best choices for those who want quality and value.
Hardware Specifications of Samsung Galaxy Tab S8 Plus
Processor
Qualcomm Snapdragon 8 Gen 1 processor
RAM
8GB, 12GB, 16GB
Storage
128GB, 256GB, 512GB
Display
12.4″ (2800 x 1752) Super AMOLED
Camera
Rear – Dual 13+6 MP | Front – 12 MP
OS
Android 12 ( One UI 4.1)
Battery 
10,090mAh (Up to 15 hours)
Weight
567g (Wi-Fi), 572g (5G)
PROS
Powerful Processor
Super AMOLED Display
DeX mode
Updated S pen stylus
CONS
No bundled charger
Book cover keyboard not included
Samsung Galaxy Tab S8 Plus Review– Design And Display
Diving into the design of the Samsung Galaxy Tab S8 Plus, it's hard not to be impressed. With dimensions of 285 x 185 x 5.7 mm, it feels sleek and modern in the hand. The tablet is not too heavy either, with the Wi-Fi version weighing 567g and the 5G one just a tad more at 572g. Built with a solid aluminum back and frame, the tablet feels sturdy and premium. Moreover, the color choices are both stylish and elegant. For the Wi-Fi model, there are options like Graphite, Silver, and Pink Gold, while the 5G variant is available in Graphite color only.
Now, moving on to the display, which is always a highlight in Samsung's premium devices. The Tab S8 Plus boasts a large 12.4-inch screen, ensuring ample space for any task, be it work or entertainment. The resolution is sharp at WQXGA+ 2800 x 1752, making images and texts crisp and clear. Being a Super AMOLED display, the colors are vibrant, the blacks are deep, and the contrasts are excellent. This type of display also ensures lesser strain on the eyes, thanks to the Low Blue Light Certification. The Display has Corning Gorilla Glass 5 protection.
Another standout feature is the 120 Hz refresh rate, which makes everything on the screen look super smooth, whether you're scrolling through a website or watching a video. The HDR10+ support guarantees richer colors and better contrast, especially when viewing compatible content. With a pixel density of 266 PPI and a brightness of 500 nits, visuals are always clear, even under bright sunlight. The screen covers a good 84.60% of the tablet's front, which means thinner bezels and more space for viewing.
In conclusion, the design and display of the Samsung Galaxy Tab S8 Plus are top-notch. It's a well-crafted device that offers a brilliant viewing experience, making it a pleasure to use every time.
Samsung Galaxy Tab S8 Plus Review– Camera and Features
Diving into the camera department of the Samsung Galaxy Tab S8 Plus, it's clear that tablets have come a long way in this area. The rear camera setup includes a 13 MP primary lens with an f/2.0 aperture, which captures clear and detailed shots. Paired with a 6 MP ultrawide lens at f/2.2, it's great for capturing broader scenes, like landscapes or group photos. Features like HDR and panorama add more versatility to the photography experience. For video enthusiasts, the ability to record in 4K at 60fps, 30fps, and 1080p at 30fps is a real treat, ensuring memories are captured in high clarity.
Switching to the front, the 12 MP ultrawide camera with a 120˚ view is perfect for video calls or those occasional tablet selfies. It, too, can record videos in both 4K at 30fps and 1080p at 30fps, ensuring clear videos whether you're on a conference call or recording a vlog.
But the Tab S8 Plus isn't just about the camera. The quad speakers, tuned by AKG and supported by Dolby Atmos, deliver an impressive audio experience. Whether you're watching movies, playing games, or just listening to music, the sound is immersive.
Connectivity-wise, the tablet is future-ready. With Bluetooth 5.2 and Wi-Fi 6E, data transfers and internet connections are super quick. Not to forget the 5G capability for those who opt for it, ensuring blazing-fast internet on the go. The USB Type-C 3.2 and magnetic connector ensure faster charging and data transfer.
For security, the on-display fingerprint sensor is responsive and quick. Other sensors, including the accelerometer, gyro, and ambient light sensor, enhance the user experience. The S pen Stylus, with just 6.2ms latency, feels almost like writing on paper. And for professionals, the Samsung DeX mode can turn your tablet into a near-desktop experience. Lastly, with GPS, GLONASS, BDS, and GALILEO, navigation is precise and fast.
In a nutshell, the Samsung Galaxy Tab S8 Plus impresses not only with its camera setup but also with a plethora of features that cater to both entertainment and productivity needs. It's a well-rounded tablet, suitable for almost any task you throw at it.
Samsung Galaxy Tab S8 Plus Review– Hardware and Performance
The Samsung Galaxy Tab S8 Plus is an absolute beast when it comes to hardware and performance. At its core, this powerhouse operates on the Qualcomm Snapdragon 8 Gen 1 chip, which is built on a 4 nm process. This not only speaks to efficiency but also powerful performance. The Octa-core setup, which includes the 3.00 GHz Cortex-X2, ensures that the device delivers a smooth experience, regardless of whether I'm multitasking, streaming, or gaming. The other cores (3×2.50 GHz Cortex-A710 & 4×1.80 GHz Cortex-A510) also play a crucial role in ensuring a balanced mix of power and energy efficiency.
The GPU Adreno 730, has been instrumental in my tablet gaming sessions. Graphics are rendered beautifully, making every frame detailed and lifelike. Whether it's intense gaming or graphic design, the GPU handles it effortlessly.
Memory plays a crucial role in device performance, and with 3 variants 8GB,12GB, and 16GB, there's ample support for all types of tasks. I've personally found multitasking to be a breeze, with no lags or stutters even with multiple apps open.
When it comes to storage, Samsung offers a variety of options to suit different needs from 128GB to 512GB UFS 3.0. This is particularly helpful as it allows me to store large files, apps, and media without constantly worrying about running out of space. And if ever I do need more, the dedicated microSDXC slot comes to the rescue, allowing expansion up to a massive 1 TB.
In conclusion, the Galaxy Tab S8 Plus is a testament to how far tablet hardware has evolved. Every aspect, from the powerful processor to the ample storage options, has been optimized for peak performance. It's clear that Samsung has built this device keeping in mind both casual users and power users, ensuring that it doesn't just meet but exceeds expectations. Whether it's work or play, this tablet is more than equipped to handle it all.
Samsung Galaxy Tab S8 Plus Review– Software and Battery Life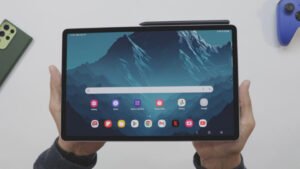 Navigating the Samsung Galaxy Tab S8 Plus, one thing that struck me is its seamless software experience. The tablet comes pre-installed with Android 12, and Samsung's One UI 4.1 lies on top of it. The promise of four years of Android updates is reassuring; it's evident Samsung is dedicated to keeping the device fresh and secure for the foreseeable future. The user interface itself is smooth and bug-free, an aspect I appreciate, especially when switching between apps or scrolling through content.
The fast animations within the UI are a delight to watch, adding to the overall sleekness of the experience. Multitasking, in particular, feels intuitive, with the software efficiently managing multiple apps and processes. Samsung's Knox security feature is another aspect that puts my mind at ease. Knowing that my data and privacy are guarded by robust security mechanisms makes the overall experience more enjoyable.
Battery life is another area where the Tab S8 Plus shines. The robust 10,090 mAh Li-Polymer battery is a workhorse, easily lasting up to 15 hours on a single charge. This longevity means I can go about my day – be it work, play, or a bit of both – without the constant need to reach for a charger. Speaking of charging, the device supports a 45W charger, which, based on Samsung's claim, can juice up the tablet to 100% in just 82 minutes. While I haven't timed it down to the minute, my charging sessions have indeed been swift, adding to the convenience.
In conclusion, the software and battery aspects of the Samsung Galaxy Tab S8 Plus are well-thought-out and executed. Whether it's the promise of long-term updates, the fluidity of the UI, or the impressive battery stamina, Samsung seems to have ticked all the right boxes, ensuring users get a premium experience from start to finish.
Conclusion
After spending considerable time with the Samsung Galaxy Tab S8 Plus, I can confidently say it stands out in the crowded tablet market. This device is a testament to Samsung's dedication to blending premium design with top-notch performance. Its vibrant Super AMOLED display, combined with the powerhouse of the Snapdragon 8 Gen 1 chip, ensures both casual users and professionals get an unmatched experience. 
Not just hardware, the software, with its smooth One UI and promise of long-term updates, adds value to the overall user experience. The substantial battery life and fast charging mean uninterrupted usage for hours on end. From the camera capabilities to its enhanced features like Samsung DeX and the S pen Stylus, every aspect of the Tab S8 Plus speaks volumes of its premium nature. For anyone seeking a high-end tablet that doesn't compromise on any front, the Samsung Galaxy Tab S8 Plus is undoubtedly a top contender.