We earn some commission from AMAZON when you buy from the below links.
Earlier the art was forced to restrict itself to the pen and paper world, however, inspiration is like a free bird, it can come at any time, anywhere and if you are not carrying a drawing book that will simply go to waste, but that's not the case anymore. Technology has developed and enhanced the overall experience in almost every field so we have prepared the list of Best Android Tablet For Drawing for every user.
Nowadays smart devices have replaced their need and have become a canvas for the users on which an artist can pour its heart out, while keeping an eye on minute details, with the help of a stylus or a smart pencil provided by almost every drawing tablet.
Samsung Galaxy Tab S6- Best Android Drawing Tablet
Here's the best pick for the best android drawing tablet, If you're looking for a reliable, cheap and feature-loaded tablet then Samsung tab s6 is the best option for you.
If you are thinking for the multiple use and do some sketching and drawing in weekends only, then go for it you don't need to think a lot. Just $600 device which help you a lot.
Some of its key features are:-
Octa-Core(2.8GHz+3×2.4, 4×1.7).

10.5″ wide display.

13MP Camera.
15+ hr of Battery Life.
Light weight.
The people who have only started to develop their interest in drawings or the amateur artists can be pretty amazed to witness what an Android tablet can serve. As for users who are already familiar with android tablets for drawing purposes, they are fully aware of how cool they can be.
Android tablets are best as they can offer us a million things to do. They can perform multitasking better than any other gadget. Now when they can be used for drawing purposes, users are only going to be amazed. Additionally, they don't even need to remain connected to a PC, these are perfect with efficient portability so they can be used anywhere at any location, hence now there are no boundaries or restrictions to your art.
The most difficult and important task nowadays is to find the perfect tablet that matches your style but stays within the budget. There are various tablets available in the market that make the job even harder. Comparing the Tablets and then choosing one to buy can become the toughest topic to decide on.
A list has been prepared after deeply studying and researching them. Users/ buyers can go through this list and product specifications so that they can easily distinguish between what they want and what are options available.
List of The Best Android Tablets for Drawing:-
1- Samsung Galaxy Tab S7
Whenever you talk about an Android device, Samsung is the first brand that comes to mind. The first device on the list is the Samsung Galaxy Tab S7 undoubtedly.
This is the only device that is capable of challenging the iPad Pro which is the top artistic tablet. It is proven to be the best android tablet present for artists.
Advancement and growth have been the most basic step to overcome any obstacles in becoming the best. With the launch of this device, Samsung has overcome all the barriers and became the top model as usual.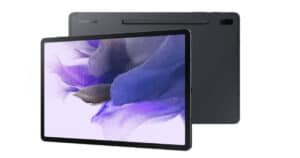 The new specifications Samsung possesses are simply incredible. This tablet has a widescreen of 11 inches with a resolution of 2560×1600 pixels which technically enhances the visual and makes the display clearer and sharp. Its performance is practically as great as a laptop without the bulkiness. Its battery life is quite great on top of that it can be charged super-fast, which makes it reliable for long-distance traveling.
The tablet comes with the utmost important feature that is the Samsung Stylus Pen. Therefore, the user does not have to buy a stylus separately. Its functionality is superb and can be noticed while gliding it over the screen. A faster response is highly appreciated by artists, so it will be a cool accessory to have with a fluid-like performance.
Who doesn't want to have a stylish and premium quality device these days, this tablet can be the perfect fit. It has a thin body with slim bezels that make the screen look even bigger. In addition, it also offers a great storage space of 1 TB, so all the designs and files can now be saved in a single device.
Still want to know more?? Read our expert's review on Samsung Galaxy Tab S7.
Well, it's obvious if a device is offering these many features the price of it is not going to be shallow. This is the most expensive tablet among Android. If you can afford it, you won't regret your decision.
The user can use this tablet in a bright outdoor environment as it possesses a brightness level of up to 500 nits. Besides, this tablet can be used in dark rooms without causing much strain on the eyes.
This tablet is available in two sizes based on its display, i.e. one with 11 inches screen and the other with 12.9 inches screen with a 16:10 ratio aspect.
Hardware Specifications of Samsung Galaxy Tab S7
Processor
Octa-Core (3.09+2.4+1.8GHz)
RAM
6 GB
Storage
128 GB
Display
11″ Inch Retina display with 2560 x 1600
Camera
Rear- 13MP | Front- 8MP
Operating System
Android 10
Battery Life
12 hours
Weight
1.1 lbs
PROS
Powerful Processor
DeX mode
Storage space
Updated S pen stylus.
CONS
Keyboard need to buy seperately
Small keys
2- Samsung Tab S6 Lite LTE – Best Android Tablet For Drawing
This is the next option you can choose if the Samsung Galaxy Tab S7 seems a little out of your budget. The Samsung Galaxy Tab S6 Lite is somewhat cheaper but possesses all the features that are required for drawing or taking notes.
Every Samsung tablet has this exclusive feature which makes them extremely realistic and contrasting from the other digital devices i.e. the Samsung Stylus Pen. With this tab, an S Pen is provided which is specially designed to get acquainted with the S6 Lite.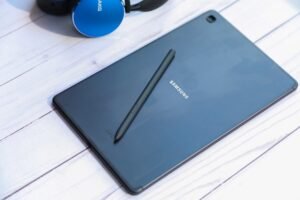 This S Pen is used for its accuracy and sensitivity, besides it is superbly responsive while performing and offers great results. It has a firm and stunning metallic body which makes it compatible with the Tab S6 Lite.
The Samsung Galaxy Tab S6 Lite is technically a smaller version of the Galaxy Tab S6. However, the S6 Lite possesses a bit smaller screen and less storage than that of the S6 tablet. Even so, its long battery life and the jack for headphones are much greater than the S6 tablet.
This tablet, the Samsung Galaxy Tab S6 Lite, can serve as the best choice for any artist. Also, it is likely to be a more considerable tablet than Samsung's S6 or S7 tablets due to its affordable price range.
Any artist who simply wants a device for sketching and drawing purposes can choose it, as it doesn't offer any extra features.
As it is a trimmed-down version of the Tab S6, only the features that were added but not very necessary have been removed to form this device. All in all, this device contains all the features that are required for a better drawing experience. It provides all the same benefits but at a cheaper price than Samsung's S6.
Hardware Specifications of Samsung Galaxy Tab S6 Lite
Processor
Exynos 9611
RAM
4 GB
Storage
64 GB
Display
10.4″ Inch Retina display with 2000 x 1200
Camera
Rear- 8MP | Front- 5MP
Operating System
Android
Battery Life
12 hours
Weight
1.02 lbs
PROS
Robust Design.
Plentiful UI Design.
S Pen included.
CONS
Issue with Pen.
Little sluggish.
3- Samsung Galaxy Tab S6
Now the next device on the list is the Samsung Galaxy Tab S6 after the Tab S7 and S6 Lite because Samsung possesses many devices that are quite helpful for the users.
This device comes in a stunning and extravagant metallic body. It can also be assumed that this device is particularly designed for artists. It has a beautiful screen with contrasting yet vibrant colors and high resolution. All these features collectively make it easier to work on the device for a longer duration as they won't put much strain on the eyes while working.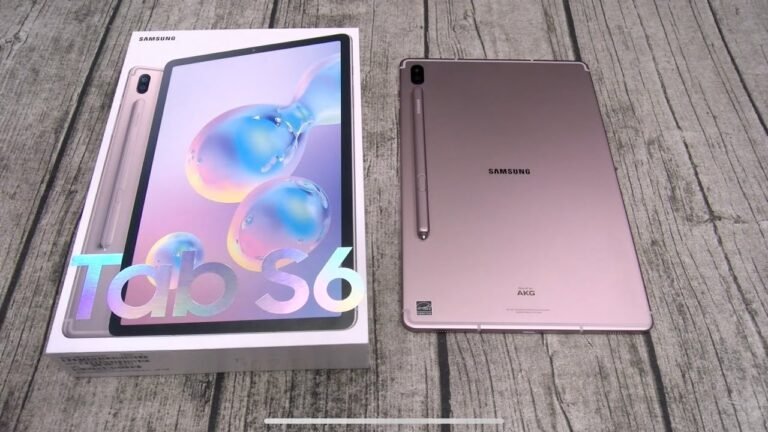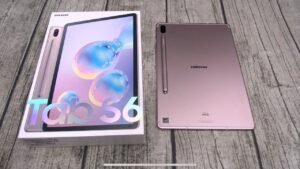 It has a mind-blowing processor that becomes helpful while working on complicated designs. Heavy programs can also be run smoothly on the device due to its fast processing.
This tablet offers an AMOLED display of 10.5 inches and it offers a quite popular color quality and contrast levels. It permits drawing for a longer period as it doesn't flicker. Therefore, there is no strain on the eyes that can cause them to get tired.
In addition, the exclusive Samsung Stylus pen is also included in the package, so no extra expense is needed to be spent on looking for a compatible Pen stylus with the device.
This S Pen has been proven to be the best digital pen for drawing purposes. It offers a great sensitivity with at least 4096 pressure points. It can give you the feel of drawing with a real pen with no lagging or interruptions.
Still want to know more?? Read our expert's review on Samsung Galaxy Tab S6.
The Pen can be held comfortably because of its lightweight, but with sufficient weight to be carried out perfectly. Besides, its metallic design makes it a little more intense and stylish. It can be attached magnetically to the back of the tablet because of its metallic body. Therefore, the user does not need to be worried about losing the Pen; it's always safe and secure.
Samsung has provided us with the best device for drawing purposes as it is powerful, fast, and responsive. Any digital artist can go for it as it is a complete package of convenience and comfort at a single doorstep.
Hardware Specifications of Samsung Galaxy Tab S6
Processor
Octa-Core(2.8GHz+3×2.4, 4×1.7)
RAM
6 GB
Storage
128 GB
Display
10.5″ Inch Retina display with 2560 x 1600
Camera
Rear- 13MP | Front- 8MP
Operating System
Android
Battery Life
15 hours
Weight
0.92 lbs
PROS
Powerful Processor
DeX mode
Storage space
Updated S pen stylus.
CONS
Keyboard need to buy seperately
Small keys
4- Lenovo M10 Plus
The next device on the list, for a change, doesn't belong to the Samsung group. It is the Lenovo M10 which is also a reliable option, one can pick. It possesses small bezels and a metallic design with a slim body making it extremely stunning
It offers a wide display of 10.3 inches which provides accessibility and visuals up to the extreme as well as a huge space for illustrations.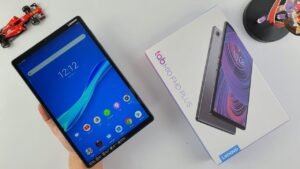 This tablet can be categorized as an excellent value for money. However, the Lenovo M10+ stylus needs to be bought separately. The tablet as well as the Stylus are simply affordable and even after combining them falls in the budget, can be considered a great investment.
The M10 offers more advanced features than a budget tablet. The 1920 x 1200 pixel, the high-res screen is crystal clear and sharp.
This device possesses built-in eye protection so that there won't be any strain or pressure on the eyes of the users. This makes the drawing or sketching experience much better, you can practice for as long as you want without getting headaches or sore eyes.
The tablet is capable of handling practically all programs one can test it with because of its octa-core processor. Along with the storage space of 32 GB, all the specifications of this device are quite amazing.
This tablet also comes with a Stylus. The M10 stylus has a convenient design and looks quite amazing and vibrant with a brushed aluminum finish. This has been the best tablet for taking handwritten notes due to the ultrafine tip of the Stylus.
Still, want to know more?? Read our expert's review on Lenovo Tab M10.
The device can be a complete disappointment for highly technical drawings because the M10 stylus doesn't come with great pressure sensors.
Overall, it can be concluded that the Lenovo M10+ is a great drawing tablet that offers amazing features at a reasonable price. It has proven itself worthy for beginners or newbies however, for an experienced artist this won't be the perfect choice to go for.
Hardware Specifications of Lenovo Tab M10 Plus
Processor
Octa-Core Processor
RAM
4 GB
Storage
64 GB
Display
10.3″ Inch Retina display with 1920 x 1200
Camera
Rear- 8MP | Front- 5MP
Operating System
Android 9 Pie
Battery Life
9 hours
Weight
3.25 lbs
PROS
Kids mode.
Price.
Build Quality.
Charging Dock.
5- Simbans Picasso Tab
The next Android tablet that is perfect for an artist is the Simbans Picasso Tab. There is no doubt that not everyone out there has the sources to fulfill their desires. It is not possible that all the users out there can opt-out for Samsung Galaxy 7 or any other expensive drawing tablet. But it's not a matter of dissatisfaction, there are several cheap, affordable, and economical tablets available that can also serve as a drawing tablet.
Beginners or newbies usually want a tablet that can fit in their budget yet fulfills all their needs. However this is not limited to newbies only, except for the people who can afford the expensive drawing tablets, every other artist seeks an affordable drawing tablet. This Simbans Picasso Tab is just the answer for it. Even though it fits in the budget doesn't mean it lacks or is not capable of producing a great art piece.
Considering it is an Android tablet especially for drawing purposes, this is very much capable of producing delicate and accurate drawing models surprisingly. For providing more details and a magnificent touch to the drawing, this tab comes with a Picasso Tab Active Pen which is quite helpful and completes the whole package.
Digital arts are mostly needed to be finished by accomplishing finer details as they can look clumsy if not taking full attention to it. That's why a widescreen that can offer a big display can be helpful. This tablet is the solution as it has an HD screen of 10 inches that fully ensures the great outcome of the resultant drawing. The resolution of this tablet is not much but it is still good enough for newbies or amateur artists.
Simbans Picasso Tab comes with an explicit and stunning body besides it possesses amazing connectivity to the user. Its superfast connectivity helps it to connect with WiFi effortlessly. This tablet is equipped with USB ports and a micro- HDMI port which technically enhances its abilities and features. These features increase its credibility and user's digital artistic experience.
Tablets are manufactured and packed differently by every technical producer. This tablet has its distinctive feature in packaging as its package consists of a tablet, a tablet cover in addition they also provide a drawing glove. While some tablets need to be screen guarded after buying, the user has to buy a screen guard additionally. That's not the case with this tab as it already possesses a pre-installed screen guard for the protection against scratches or damages.
This is the best tablet for taking notes with the help of a stylus that too in one's budget conclusively. It serves to become the best android tablet for drawing purposes, that doesn't exceed the spending limit and can be bought with some cash.
It can be concluded that this tablet is designed especially for artists or users who are not looking to make it a profession. The artists who want a device to complement their hobbies can definitely opt this tablet out.
Hardware Specifications of

Simbans Picasso Tab 10

Processor
Quad Core MTK8168 2 GHz/Core
RAM
4 GB
Storage
64 GB
Display
10.1″ Inch Resolution with 1280 x 800
Camera
Rear- 5MP | Front- 2MP
Operating System
Android 9 Pie
Battery Life
5 hours
Weight
1.2 lbs
PROS
Powerfull processor.
Display.
Android-based.
6- Huawei Mediapad M5 Lite – The Samsung alternative
Huawei devices have been proven to be premium quality products possessing limitless boundaries available at a reasonable amount. This tablet Huawei Mediapad M5 Lite is also a reliable tablet produced by Huawei.
This tablet offers a widescreen of 10.1 inches with a superb resolution of 1920×1200 pixels. The tablet has very slim bezels for providing maximum productivity around the screen.
A Pen also comes with the tablet which has approximately 2048 levels of pressure sensitivity sensors. It enhances the drawing experience to a peak as its accuracy of pen tracking is flawless and super fast. This Pen works perfectly fine on all the apps except some apps whose pressure sensitivity isn't that great.
An additional accessory is also provided, a keyboard, which can be connected after plugging in the device at the bottom. There is a tablet stand at the back of the keyboard which is quite helpful to the users.
With long battery life and superfast charging, this tablet can be used for a longer period. This tablet can be an alternative to the Samsung devices with the same features but at a way lower amount.
Hardware Specifications of

Huawei MediaPad M5 Lite

Processor
Huawei Kirin 659 Octa-core 2.36GHz
RAM
3 GB
Storage
32 GB
Display
10.1″ Inch Resolution with 1920 x 1200
Camera
Rear- 8MP | Front- 8MP
Operating System
Android
Battery Life
11 hours
Weight
1.2 lbs
PROS
Stylus included.
Display quality.
Performance.
Speakers.
7- Samsung Galaxy Tab A With S Pen Support – The Compact Samsung Tablet
Samsung is well known for the production of the best Android devices. The recently launched tablet offering a vast range of benefits and advantages can not fit in everyone's budget. Therefore, they can't be owned by every artist.
Due to the increasing demands of mid-priced Samsung Tablets, they have launched a new product,  Galaxy Tab A, which is affordable as well as possesses all the required features.
Tab A is available at approximately half the rate of the Samsung Galaxy Tab S6. This tablet offers all the features at the best that are required for providing a better drawing as well as writing experience. This can be the best pocket-friendly Samsung drawing tablet.
This Tab A offers a great HD LCD of 8 inches accompanied by sharp and vibrant colors.
Samsung has its best feature, the S-Pen, which is specifically designed and developed to increase the overall tablet's experience. It doesn't matter whether the tablet is expensive or not, the S-Pen provides the best experience.
This Pen offers a fast response rate as well as an almost absolute tracking rate. It can be used for multi-purposes which include drawing, writing, etc.
This tablet is one of the compact tablets with a Stylus Pen for drawing purposes. As this tablet has a smaller screen along with a Stylus, it can be carried easily or an easily portable device that can stay with you all the time.
Still want to know more?? Read our expert's review on Samsung Galaxy Tab A.
Hardware Specifications of

Samsung Galaxy Tab A 10.1

Processor
Octa-core(2×1.8GHz + 6×1.6GHz)
RAM
3 GB
Storage
32/64 GB
Display
10.1″ Inch Resolution with 1920 x 1200
Camera
Rear- 8MP | Front- 5MP
Operating System
Android 9
Battery Life
11 hours
Weight
1.2 lbs
PROS
Stunning outlook.
Display.
Gaming experience.
CONS
Fingerprint sensor.
Battery Life.
Conclusion
Finding a perfect tool can become a hectic task. So as mentioned above, this list has been made for the users so they can easily understand which one they need. This is the list of best android tablets for drawing. So not only artists but, the ones who are quite interested can help themselves through this list.
Mostly the artists don't want to get involved or be bothered about anything except their own art. Hence, these tablets are manufactured considering all these factors and to provide utmost satisfaction to the users by not creating a nuisance around them. These best android tablets for drawing are specially designed for artists and are easily portable. That is the most important point for them.
Although not every tablet on the list is expensive, they are capable enough to fulfill all the requirements of the owners. The Stylus Pen that is coming with these tablets is also quite responsible and offers all the benefits an expensive one can.
The best android drawing tablets have been made for the ease and convenience of the users without putting them in the tension of getting lagged, only because of a little shortage in cash.
This can be considered a pretty amazing development, a stylus with android tablets. We are witnessing the development and increasing demand for convenience as well as comfort in recent years. Every newly launched product contains an additional feature from the previous ones.