The Samsung Galaxy Tab S6 has been on my radar for a while now, and when I finally got my hands on it, I was not disappointed. Let me give you a quick overview of what this tablet offers.
First off, the speed. It's super quick. Everything from opening apps to playing heavy-duty games feels smooth. No more waiting around for things to load or dealing with frustrating slowdowns. It's genuinely impressive how fast it operates, especially when you're multitasking.
Then, there's the display. It's fantastic. Bright, vibrant, and sharp. Watching movies, browsing photos, or just reading online felt like a premium experience. The colors pop and everything is so clear. And, even if you're using it for hours, your eyes feel okay, thanks to the quality of the screen.
Beyond just the basics, Samsung packed the Tab S6 with loads of extra features. It comes with all new S Pen. These aren't just fancy add-ons but genuinely useful tools. Whether it's for work, drawing, or just managing your day, this tablet has something to make it easier and more fun.
I also have to mention the design. It feels modern, sleek, and even elegant. It's not bulky or heavy, making it comfortable to hold and use, whether you're lying in bed, sitting at a desk, or on the move.
To wrap up this brief intro, the Samsung Galaxy Tab S6 feels like a complete package. It brings together speed, an outstanding display, and handy features all in a beautiful design. If you're considering a new tablet, this one certainly deserves your attention.
Hardware Specifications of Samsung Galaxy Tab S6  
Processor

Qualcomm Snapdragon 855

RAM
4/6/8
Storage

64GB, 128GB, 256GB

Display

10.5″ Inch (2560 x 1600) Super AMOLED

Camera
Rear – 13+5 MP | Front – 8 MP
OS
Android 9
Battery Life
Up to 15 hours
Weight
420g
PROS
Powerful processor.
Super AMOLED Display.
Under screen fingerprint.
Updated S-Pen stylus.
CONS
Keyboard sold separately.
Only 15w charging.
Samsung Galaxy Tab S6 Review– Design and Display
Navigating through the vast landscape of tablets, I recently got the chance to experience the Samsung Galaxy Tab S6 up close, and I must admit, the "Design and Display" left a lasting impression.
Starting with its design: The first thing I noticed was its remarkably slim profile. Measuring just 5.7 mm in thickness and weighing a feather-light 420g, the Tab S6 felt incredibly sleek and easy to handle. This is a tablet designed for both looks and comfort. Its aluminum frame, coupled with the glass front and aluminum back, exudes a premium feel that's hard to match.
The build quality is top-notch, and every inch of the device reflects Samsung's commitment to excellence. Additionally, the color options, namely Mountain Gray, Cloud Blue, and Rose Blush, offer a spectrum of choices to cater to various tastes. Personally, the Cloud Blue variant caught my eye for its calm and sophisticated aura.
Now, moving to the display: At 10.5 inches, the screen is spacious without being overly bulky. The Super AMOLED display boasts a sharp resolution of 2560 x 1600 (WQXGA), ensuring crystal clear visuals with every use. The colors are vibrant, with a depth of 16M, making images pop and videos play with lifelike clarity. With a refresh rate of 60 Hz, navigating through apps and websites is smooth, devoid of any lag. A PPI of 287 ensures that even the tiniest details are crisp, and the impressive 500 nits of brightness ensure readability even in brightly lit conditions. The screen-to-body ratio of 82.5% means that bezels are minimal, allowing for an immersive viewing experience.
In conclusion, when it comes to design and display, Samsung Galaxy Tab S6 has truly nailed it. Its elegant design and vibrant display make it a joy to use, and it is clearly a culmination of Samsung's years of expertise in crafting premium devices. If you value both aesthetics and performance in a tablet, the Tab S6 is worth considering.
Samsung Galaxy Tab S6 Review– Camera and Features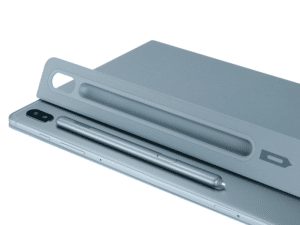 In my exploration of tablets, the Samsung Galaxy Tab S6's "Camera and Features" stands out, and here's a simple breakdown of my experience.
Let's begin with the camera. Tablets aren't typically renowned for their camera capabilities, but the Tab S6 offers a pleasant surprise. On the back, it houses a dual-camera setup – a 13 MP primary lens with an aperture of f/2.0 and a 5 MP ultra-wide lens at f/2.2. These lenses work in tandem to capture sharp and vibrant images. I was particularly impressed with the autofocus, ensuring that shots were consistently clear.
For video enthusiasts, the UHD 4K video recording at 30fps is a nifty feature, offering high-quality footage suitable for most tasks. Switching to the front, the 8 MP fixed-focus camera, with an f/2.0 aperture, ensures decent selfies and makes video calls crisp, recording videos at 1080p@30fps.
Now, onto the features. A highlight for me was the quad speakers, tuned by AKG. They deliver rich and immersive sound, further enhanced by Dolby Atmos. Whether it was watching movies or listening to music, the sound experience was top-notch. The inclusion of Samsung Dex and the S Pen magnified its productivity potential, allowing for a more desktop-like experience and precise note-taking or drawing.
Connectivity is smooth, with the tablet supporting Bluetooth 5.0 and dual-band Wi-Fi (2.4G+5GHz). I found no lags or drops, ensuring uninterrupted streaming or browsing. For those always on the move, the GPS is bolstered with additional technologies like GLONASS, BDS, and GALILEO, guaranteeing precise location tracking.
The Tab S6 also houses an array of sensors, from the usual Accelerometer and Gyroscope to the ANT+ for those who might use it for fitness or health-related apps.
In summary, the Samsung Galaxy Tab S6 offers an impressive camera setup and many features that cater to both casual users and professionals. It goes beyond just being a tablet and provides tools that enhance creativity, productivity, and entertainment. If you're in the market for a device that packs a punch in both camera and features, the Tab S6 should be on your radar.
Samsung Galaxy Tab S6 Review– Hardware and Performance
In the tech world, the Samsung Galaxy Tab S6 really stands out for its "Hardware and Performance". Here's my simple opinion about what it offers.
Starting off with its heartbeat, the Tab S6 runs on the Qualcomm Snapdragon 855 processor. Manufactured with the efficient 7 nm process, this Octa-core chipset packs a powerful combo. This powerful processor ensures the tablet smoothly handles everything from basic tasks like web browsing to resource-intensive activities like gaming or multitasking with demanding apps.
Now, supporting this robust processor is the GPU – the Adreno 640. During my use, whether it was graphics-intensive games or media playback, the visuals were fluid and lag-free, making it evident that the GPU complements the Snapdragon 855 beautifully.
Diving into the memory and storage aspects, the Tab S6 offers flexibility. Depending on your needs, you can choose between 4GB, 6GB, or 8GB LPDDR4 RAM variants. My personal experience with the 6GB variant was seamless, even when juggling between multiple apps. Storage options are also generous: with choices of 64GB, 128GB, or 256GB UFS 3.0 internal storage, there's ample space for all your files, apps, and multimedia. The fast UFS 3.0 ensures quick app launches and data transfers. And if that's not enough, there's a dedicated microSDXC slot, letting you expand up to a whopping 1TB.
In simple terms, the Galaxy Tab S6 is a powerhouse. Whether you're a casual user, a professional looking for a portable work device, or a gamer wanting a responsive experience, this tablet seems ready to deliver. All in all, Samsung has crafted a tablet that truly impresses on the hardware and performance front.
Here are some tablets' performance benchmarks and you can see where Tab S6 stands.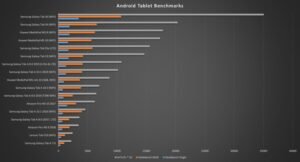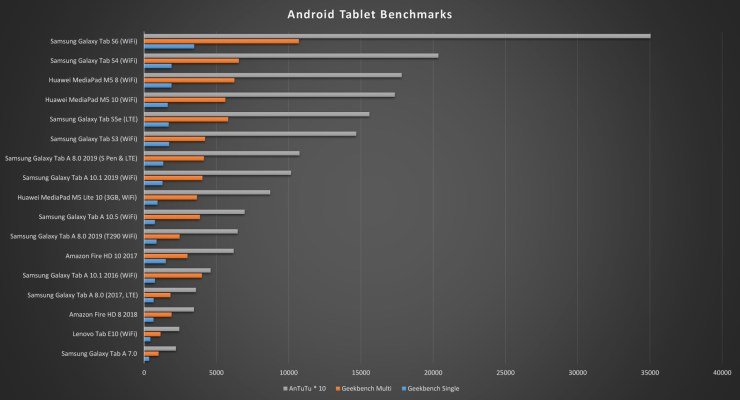 Samsung Galaxy Tab S6 Review– Software and Battery Life
When exploring the Samsung Galaxy Tab S6, one can't overlook its "Software and Battery Life", two critical aspects for a seamless user experience. Here's my uncomplicated take on it:
Out of the box, the Tab S6 runs on Android 9. However, it's good to know that you can upgrade it to Android 12. This flexibility ensures that the tablet remains updated with the latest software features and security patches. With the One UI 4.0 layered on top, interactions become fluid, animations are snappy, and the user interface remains free from annoying bugs. Plus, for those concerned about device security, the inclusion of Samsung Knox adds that extra layer of peace of mind. It's a seamless software experience that matches well with its robust hardware.
The Tab S6 is armed with a 7040 mAh Li-Polymer battery. In my experience, this beast can easily last up to 15 hours, depending on usage. This is impressive for a tablet, especially when considering heavy tasks or long video-watching sessions. The USB-C port, supporting USB Type-C 3.1, ensures efficient charging and data transfer capabilities. While the tablet comes with a 15W charger, it replenishes the battery fairly quickly, ensuring minimal downtime.
In short, Samsung has done a commendable job ensuring that the Tab S6 delivers both in terms of software richness and battery endurance. It truly enhances the overall user experience and ensures longevity and relevance in a fast-paced tech world.
Conclusion
After spending quality time with the Samsung Galaxy Tab S6, my final thoughts are straightforward and concise. This tablet has genuinely carved a niche for itself in the saturated market. With a splendid display, great performance, and lasting battery life, it efficiently caters to both entertainment seekers and professionals.
The cameras and added features like the S Pen and Samsung Dex further enhance its versatility. The well-structured software experience, topped with security from Samsung Knox, ensures peace of mind. To put it simply, for those seeking a reliable, future-proof tablet, the Tab S6 stands as a formidable contender worth every penny. It's a blend of innovation and efficiency that Samsung has crafted meticulously.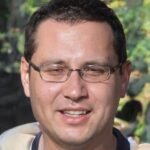 Ben Scott is a prominent technology journalist and reviewer, specializing in tablet devices. He is known for his comprehensive and unbiased reviews of tablets from various manufacturers.
With a deep understanding of tablet technology, including hardware components, operating systems, and software applications, Scott provides clear and informative reviews accessible to readers of all levels of technical expertise.
His attention to detail and in-depth analysis have earned him a loyal following of readers.