Samsung is a brand that's been trusted by people all around the globe, whether it's the US, UK, China, India, and many more, and all of its devices viz, tablets, mobile phones, and others, have always been in the trend due to their unique specifications and price. But, when you decide to get one, it becomes somewhat confusing which product to buy as they all are amazing and possess various features. If you are also asking the same question and are stuck, let me help you by suggesting some of the best Samsung tablets.
However, before going ahead, I should fill you in on those little details that I seek out personally to assure you that these are indeed among the best Samsung tablets.
For testing purposes and the possibility of a better outcome, I went through almost all the Samsung tablets' features, including mainly battery life, performance, and screen quality. And after much research, the results were excellent, and here I am mentioning some of the top products which genuinely surpassed all the tests, i.e., well-designed, performed well, and lasted a long time on a single charge.
Best Samsung Tablets we picked for you in 2023:-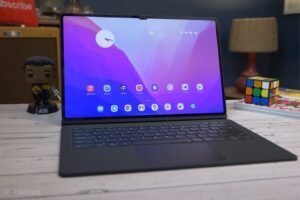 The main reason that I have put the Samsung Galaxy Tab S8 as my first choice for the best Samsung tablet is, in addition to doing and covering all the required aspects of a tablet, it serves as a top-tier general-purpose Android tablet. That said, when I used it for my work, it helped me as a secondary display and a note-keeper device. And at home, I had fun playing games and watching shows on it. 
I was amazed by its powerful 11-inch (2560 x 1600) 120Hz LCD, which only made my overall experience more fun, easy and exciting. 
As for its storage capacity comes with an impressive 128GB or 256GB storage capacity, which is more than enough to keep all of my personal and professional files in one place without any problem. Along with this, it also consists of a Memory of 8GB RAM.
It is easily portable and can be fitted on my bag conveniently as it weighs 1.1 pounds and has dimensions of 9.99 x 6.51 x 0.25 inches. also, if you are worried, like me, about transferring files from the tablet to any other device, if the wifi is down, you do not need to worry because the Samsung Galaxy Tab S8 has a USB-C and microSD card slot too.
Hardware Specifications of Samsung Galaxy Tab S8
Processor
Qualcomm Snapdragon 8 Gen 1 processor
RAM
8 GB
Storage
128 GB, 256 GB
Display
11-inch (2560 x 1600) LTPS LCD
Camera
Rear – Dual 13+6 MP | Front – 12 MP
OS
Android 12 ( One UI 4.1)
Battery 
8000mAh (Up to 15 hours)
Weight
503g (Wi-Fi), 507g (5G)
PROS
A bright, splendid display

Amazing battery life

Comprehensive audio quality

Indistinguishable cameras
CONS
They lie beneath the iPads comparatively

 The Book Cover keyboard might make it seem cramped
We all think that iPads are best, but affordability is undoubtedly a barrier that not everybody can overcome just because they want to. So, when I learned that the Samsung Galaxy Tab A7 is a fantastic alternative to the 10.2-inch iPad, I had to give it a go. And this Samsung product provides the iPad with a quicker beat with its thinner bezels and prolonged battery life than the apple product.
As I said, it is an excellent alternative to the 10.2-inch iPad since it has a unique, beautiful screen of 10.4-inch with a 2000 x 1200-pixel display. This amount of screen exposure automatically enhances the overall watching and reading experience for much longer. 
Talking about the storage capacity, it does not have massive storage, but for a tablet in this price range, this 32 GB storage is quite good, along with the memory of 3GB. I was able to store most of my work-related files on my drive, so storing data for quite some time will do the best.
It is a fantastic tablet but has a minimum weight of 1.1 pounds and dimensions of 9.7 x 6.2 x 0.3 inches. It was easy to carry it around with me and take it everywhere I wanted. Then, as for the ports, it has a USB-C port and a microSD slot.
To get more info read my detailed review on Samsung Galaxy Tab A7.
Hardware Specifications of Samsung Galaxy Tab A7
Processor
Qualcomm Snapdragon 662
RAM
3 GB
Storage
32 GB, 64 GB
Display
10.4" FHD (1200 x 2000) TFT LCD
Camera
Rear – 8 MP | Front – 5 MP
OS
Android 10
Battery Life
Up to 13 hours
Weight
476g
PROS
Prolonged battery life 

Facial recognition

USB-C charging
CONS
A little dim screen

Dire performance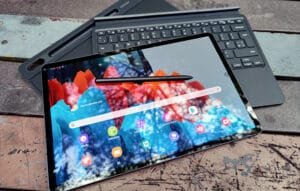 With its outstanding performance and versatility, the Samsung Galaxy Tab S7+ is the best Android productivity tablet out there. Additionally, it supports 5G connectivity as well as being a performance powerhouse that handles multitasking with ease. There are very few good laptop alternatives on the market, especially if you travel or commute often without the need for a hotspot.
Compared to other high-end slates like the iPad Pro, the Galaxy Tab S7+ looks nothing like it. There are three colors available for the Galaxy Tab S7+: bronze, silver, and black. A Book Cover Keyboard Case is not included, so it measures 11.25 by 7.3 by 0.2 inches (HWD) and weighs 1.3 pounds with the keyboard.
Even though it looks heavy, it's well-balanced, so it's easy to hold over time. An S Pen magnetic connector and a thin camera stack can be found on the upper left corner of the device.
The screen on the front has a resolution of 2,800 x 1,752 pixels and a refresh rate of 120Hz. Color accuracy is top-notch, with vivid colors and blacks that are inky and deep. Direct sunlight does not pose a problem for the screen.
The Tab S7+ is powered by Qualcomm's Snapdragon 865+ chipset. With Samsung tablets, you can choose between 128GB/6GB, 256GB/8GB, or 512GB/8GB storage/RAM configurations. My unit has 256GB/8GB of storage. Using a microSD card, you can add an additional 1TB of storage to all three. Also, read our full detailed review on this tablet.
Android productivity tablets like the Samsung Galaxy Tab S7+ are among the best available. In addition to supporting 5G connectivity, it's a performance powerhouse that can handle multiple tasks with ease. Samsung One UI adds to the overall experience thanks to its S Pen. This OS prevents the Tab S7+ from reaching its full potential. Despite the tweaks Samsung makes to One UI, it is still an Android device and cannot be compared to the iPad Pro's seamless experience.
Hardware Specifications of Samsung Galaxy Tab S7 Plus
Processor
Qualcomm Snapdragon 865
RAM
6GB, 8GB
Storage
128GB, 256GB, 512GB
Display
12.4-inch (2800 x 1752) Super AMOLED
Camera
Rear- 13+5 MP | Front- 8MP
Operating System
Android 10
Battery Life
10,090mAh (Up to 14 hours)
Weight
575 g (1.27 lb)
PROS
Powerful Processor
DeX mode
Storage space
Updated S pen stylus
CONS
Keyboard need to buy seperately
Small keys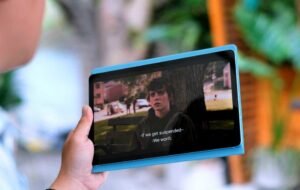 Android tablets don't have the most outstanding track experience, but Samsung's made up with the iPad with the Galaxy Tab S6 Lite on hardware. This great tablet has a tonne of battery time — serving over 12 hours on a single round — and gives a smooth design with a clear screen and solid quality. This all ties collectively to a tablet that's renowned for using content.
The Galaxy Tab S6 Lite's tiny bezels help it reach out to the mid-range tablet people even further, making it seem more like the iPad Pro than the iPad. Oh, and the S-Pen stylus, which allows low-latency design, is included by error, and it closes to the top of the Tab S6 Lite, so you're less inclined to lose it. 
Performance-wise, though, the Tab S6 Lite won't be driving people away if they attempt to multitask. There's also the subject of Android tablet apps, which could still practice their developers' love and attention.
Click here for full tablet review of S6 Lite.
Hardware Specifications of Samsung Galaxy Tab S6 Lite
Processor
Exynos 9611
RAM
4GB
Storage
64GB, 128GB
Display
10.4-inches (2000 x 1200) TFT LCD
Camera
Rear- 8MP | Front- 5MP
Operating System
Android 10
Battery Life
7040mAh (Up to15 hours)
Weight
1.02 lbs
PROS
Robust Design
Plentiful UI Design
S Pen included
CONS
Issue with Pen
Little sluggish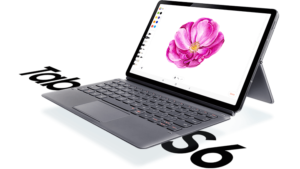 We cant even forget this if we are talking about tech. Our old player comes into a queue the Samsung Galaxy Tab S5e. Finally, it gives a reason to put your phone down. Since we know very well that Samsung has a problem of continuous lagging but now the time changes and products too. 
The 2-in-1 device transforms your tablet into a PC with a keyboard with a built-in touchpad. Power to multitask with Octa-Core 2.8GHz processor and internal storage has 2 options 126 and 256 GB, external may be increased up to 512GB. After all of this feature, its weight is one of the best things 0.96lbs like a feather. 
All-new S pen included with it and best tablet with pen. You can also make your paper and docs and takes notes too. There is no burden of putting pen here or there, the magnetic feature help for easy storage as well as charing too. The battery is also very long 15hr with smart fast charging. Nothing other but its AMOLED display force us to make it in the list of the tablet with pen.
Still want to know more?? Read our expert's Review on Samsung Galaxy Tab S6.
Hardware Specifications of Samsung Galaxy Tab S6
Processor
Qualcomm Snapdragon 855
RAM
4GB, 6GB, 8GB
Storage
64GB, 128GB, 256GB
Display
10.5-inch (2560 x 1600) Super AMOLED
Camera
Rear- 13MP+5MP | Front- 8MP
Operating System
Android 9
Battery Life
7040mAh (Up to 15 hours)
Weight
0.92 lb (420g)
PROS
Powerful Processor
DeX mode
Storage space
Updated S pen stylus.
CONS
Keyboard need to buy seperately
Small keys
Which may be the Best Samsung tablets?
The best Samsung tablets are the Samsung Galaxy Tab S6, as per our in-house testing, industry benchmarks, and true understanding. Samsung has given us extraordinary compared to other Apple iPad Pro choices in the Android space when Android tablets are starting to lose steam. The Galaxy Tab S6 is a smooth and slim tablet with an excellent, outwardly satisfying 10.5-inch show and rapid execution.
In contrast to the iPad Pro, the Galaxy Tab S6 accompanies a stylus. What's more, what's truly cool is that the stylus can be charged on an attractive dock situated on the rear of the Tab S6.
Our editorial manager spouted about the Samsung Galaxy Tab S6 as the best Samsung tablets and even announced that it would make a stunning PC substitution if the separable console embellishment was incorporated with the gadget.
In any case, maybe the Samsung Galaxy Tab S6 doesn't address your issues and you're searching for something somewhat increasingly no-frills or something less expensive. This purchasing aide will give you a brisk review on the best Samsung tablets that will accommodate your wants.
Conclusion
Samsung tablets have proved to be among the most premium tablets and some of them have specs that are better than any promising brand. In this guide of best Samsung tablets, we
spend lots
of hours searching for the product throughout the internet.
We hope you like our suggested device of "Best Samsung Tablets", if you still want some other categories like the tablet with keyboard, drawing tablets then you can go through our links.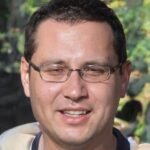 Ben Scott is a prominent technology journalist and reviewer, specializing in tablet devices. He is known for his comprehensive and unbiased reviews of tablets from various manufacturers.
With a deep understanding of tablet technology, including hardware components, operating systems, and software applications, Scott provides clear and informative reviews accessible to readers of all levels of technical expertise.
His attention to detail and in-depth analysis have earned him a loyal following of readers.