When I first picked up the Samsung Galaxy Tab S7, it was evident that Samsung was pushing the boundaries of what a modern tablet can offer. Right from the start, the Tab S7's performance stood out, thanks to its powerful internals that promise and deliver a lag-free experience. Whether you're multitasking, playing graphics-intensive games, or streaming videos, this tablet is more than up to the task.
The display is another highlight. Bright, crisp, and vibrant, it brings images and videos to life, making it a delight for both work and entertainment. Its resolution and color accuracy ensure that whether I'm sketching, editing photos, or just binge-watching my favorite shows, the visual experience is top-notch.
But what truly sets the Galaxy Tab S7 apart from other tablets in its category are its additional features. Samsung has seamlessly integrated hardware and software to provide functionalities that cater to both casual users and professionals. With the inclusion of the S Pen and other productivity tools, the Tab S7 is not just another entertainment device; it's a workstation that fits in your bag.
In short, the Samsung Galaxy Tab S7 is a testament to how far tablets have come in recent years. Combining robust performance, a stunning display, and so many useful features, it's clear that this tablet is designed for those who demand the best in portable tech.
Hardware Specifications of Samsung Galaxy Tab S7
Processor
Snapdragon 865+
RAM
6 GB, 8 GB
Storage
128 GB, 256 GB, 512 GB
Display
11-inch (2560 x 1600) LTPS LCD
Camera
Rear – Dual 13+5 MP | Front – 8 MP
OS
Android 10 ( One UI 2.0)
Battery 
8000mAh (Up to 14 hours)
Weight
498g
PROS
Powerful Processor
DeX mode
Storage space
Updated S pen stylus
CONS
The keyboard needs to buy separately
Small key
Samsung Galaxy Tab S7 Review– Design and Display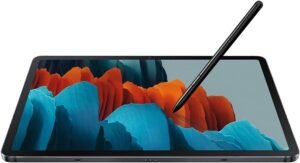 When I got the Samsung Galaxy Tab S7 in my hands, I was immediately struck by its sleek design. Measuring 253.8 x 165.3 x 6.3 mm and weighing just 498g, it's incredibly slim and light, making it comfortable to hold for extended periods.
The aluminum body, crafted with the precision of polycrystalline diamonds, has a micro-sand blasted finish that feels soft and luxurious. Plus, with color options like Mystic Black, Mystic Silver, and Mystic Bronze, it's a treat for the eyes as well.
Now, let's talk about that screen. The 11-inch display is vibrant and sharp, boasting a resolution of 2560 x 1600. The LTPS LCD panel brings colors alive, especially with its DCI-P3 color range. For someone like me who spends a lot of screen time, the Low Blue Light Certification is a blessing, reducing eye strain during longer sessions. What truly elevates the viewing experience, however, is the 120 Hz refresh rate. Whether I'm scrolling through articles, watching HDR10+ content, or playing games, everything appears ultra-smooth.
With a pixel density of 276 PPI and a brightness of 500 nits, everything, from photos to movies, looks crisp and clear. The generous 83.60% screen-to-body ratio further enhances the immersive experience, making it one of the best displays I've encountered on a tablet.
In essence, with the Galaxy Tab S7, Samsung has blended top-notch design elements with an exceptional display, making it not just functional but also a piece of art.
Samsung Galaxy Tab S7 Review– Camera And Features
Unpacking the Samsung Galaxy Tab S7, the camera was one of the features I was most curious about. Tablets aren't always known for their camera, but the Tab S7 pleasantly surprised me. It has dual rear cameras. With a 13 MP main camera complemented by a 5 MP ultrawide lens, I was able to capture wide shots without having to step back. The colors were vibrant, and the details were crisp, especially in well-lit conditions. The added HDR and panorama options further elevated the photo-taking experience.
Shooting videos was also a treat. The rear cameras can record in 4K resolution at 30fps, which is great for capturing those memorable moments in high detail. As for video calls and selfies, the 8 MP front camera did a commendable job. Although I mostly use it for video conferencing, the 1080p@30fps video recording option on the front camera is a handy feature.
The tablet boasts a range of features that complement its powerful camera setup. The quad speakers tuned by AKG, combined with Dolby Atmos, offer a cinematic sound experience, which is perfect for when I'm watching videos or movies. Connecting devices is also a breeze, thanks to Bluetooth 5.0 and super-fast Wi-Fi 6.
I appreciate the USB Type-C 3.2 port for its fast data transfer and charging capabilities. Another cool feature is the side-mounted fingerprint sensor, which ensures quick and secure access to the tablet. Samsung has also provided special features like Samsung DeX and the S Pen, which transforms the Tab S7 into a mini workstation, helping me multitask effortlessly.
Additionally, for those who rely on navigation and location-based services, the tablet comes equipped with GPS, GLONASS, BDS, and GALILEO. In a nutshell, the Samsung Galaxy Tab S7 doesn't compromise on camera quality or features, proving that it's not just designed for entertainment but also for productivity.
Samsung Galaxy Tab S7 Review– Hardware And Performance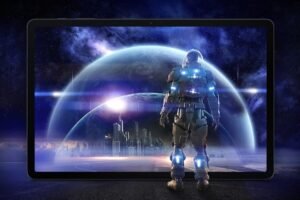 The heart of any gadget lies in its hardware and performance, and this holds true for the Samsung Galaxy Tab S7. My experience with it has been quite impressive, and here's why.
At the core of the Tab S7, we find the Qualcomm Snapdragon 865+ chip, built on a 7nm process. Simply put, this means it's designed to offer outstanding performance while consuming less power. This became evident when I juggled multiple apps, streamed high-resolution videos, and played graphics-intensive games without any lags. The octa-core setup, which includes a potent 3.09 GHz core, ensures that even demanding tasks feel like a breeze.
Accompanying the powerful processor is the Adreno 650 GPU. As someone who enjoys mobile gaming, this GPU ensured that every game I played, from simple puzzles to complex 3D adventures, ran smoothly with vivid graphics and no hiccups. This means Tab S7 can run high-graphics games very easily like PUBG Mobile, COD Mobile, etc.
The Tab S7 comes in multiple RAM and storage configurations(6+128GB, 8+256GB, 8+512GB), catering to different user needs. I opted for the 8GB RAM variant with 256GB (UFS 3.0) internal storage, and it was more than enough for my multitasking habits and storage needs. For those who are voracious media collectors or need more space for work files, the storage can be expanded with a microSDXC card – up to a whopping 1 TB. This is an absolute blessing, especially when I think about all the photos, documents, and apps I can store without ever worrying about running out of space.
In conclusion, the Samsung Galaxy Tab S7's hardware is top-notch. Whether you're a casual user or someone who pushes your device to the limits, this tablet doesn't disappoint. It's not just about the specs on paper; it's about the seamless user experience they come together to provide.
Samsung Galaxy Tab S7 Review– Software And Battery Life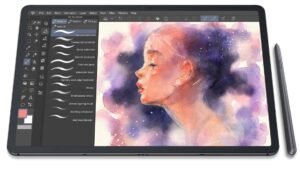 The Samsung Galaxy Tab S7 isn't just about powerful hardware; it's the fusion of software and long-lasting battery life that truly defines its user experience. Here's my take on it.
The tablet comes pre-installed with Android 10, layered with Samsung's One UI 2.0. If you're a fan of timely updates and enhanced features, you'll be glad to know that it's upgradable to Android 13 One UI 5.1. Transitioning from one UI to the other was a breeze for me, and I was pleasantly surprised by the lack of bugs. Everything feels smooth, animations, transitions, or even the multitasking experience. Navigating through apps and accessing various functions felt intuitive and snappy.
Speaking of software, I have to mention Samsung Knox security. It provides that extra layer of protection, ensuring my personal and work-related data remain safe from potential threats. It's a reassuring feature to have, especially in today's digital age.
But what's software without dependable battery life? The Tab S7 is powered by an 8000 mAh Li-Polymer battery. On average days with browsing, streaming, and a bit of gaming, the device lasted me up to 14 hours. And if I ever found myself running low, the 45W fast charger ensured I was quickly back in action. The inclusion of a USB Type-C 3.2 port not only supports faster charging but also ensures quick data transfers.
To sum it up, the Galaxy Tab S7 promises an efficient software experience paired with impressive battery longevity. It ensures that whether you're working, playing, or a mix of both, the tablet keeps pace with your demands seamlessly.
Samsung Galaxy Tab S7 Review– Additional Features
Diving into the Samsung Galaxy Tab S7, beyond its core offerings, I was particularly intrigued by the additional features which, in many ways, set this tablet apart from others in its bracket.
First up, the S Pen. Not just any stylus, the S Pen provided with the Tab S7 is truly a game-changer. Lightweight yet robust, the pen glides effortlessly on the screen. Whether I was jotting down notes during a meeting, sketching during my downtime, or simply navigating through the UI, the S Pen felt intuitive and highly responsive. Its precision is commendable, and it offers a natural writing experience, quite like putting pen to paper. The magnetic attachment to the tablet is a bonus, ensuring I don't misplace it.
Then, there's the Book Cover Keyboard. While initially skeptical, I soon realized that this accessory transforms the Tab S7 from just a tablet into a mini workstation. The tactile feedback from the keys is satisfactory, and the touchpad below is surprisingly accurate. When attached, it not only gives the Tab a laptop-like feel but also activates Samsung DeX, which offers a PC-like experience. Moreover, the cover provides an added layer of protection, ensuring my tablet remains scratch-free. Although you have to buy a book cover keyboard separately.
In essence, these additional features – the S Pen and the Book Cover Keyboard – elevate the entire user experience of the Tab S7. They aren't just mere accessories but essential tools that enhance productivity and creativity, making the tablet a versatile gadget for both work and play. If you're contemplating the Tab S7 and pondering on these additions, my take is they're absolutely worth it.
Conclusion
The Samsung Galaxy Tab S7 encapsulates what a modern tablet should be. Seamlessly blending top-tier performance with a captivating display, it sets a benchmark in its category. Its design speaks of elegance, while the hardware under the hood ensures tasks are executed without a hiccup. Accessories like S Pen make it more special and premium.
The software experience, backed by Samsung Knox security, offers both efficiency and peace of mind. With the added bonus of lasting battery life and swift charging, this tablet proves its mettle. For those seeking a harmonious blend of form and function, the Tab S7 stands out as a clear choice. In the realm of tablets, it has cemented its place, offering a genuine alternative for those weighing their options beyond the Apple ecosystem. Simply put, it's a stellar device worth every penny.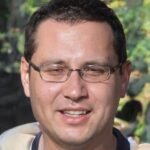 Ben Scott is a prominent technology journalist and reviewer, specializing in tablet devices. He is known for his comprehensive and unbiased reviews of tablets from various manufacturers.
With a deep understanding of tablet technology, including hardware components, operating systems, and software applications, Scott provides clear and informative reviews accessible to readers of all levels of technical expertise.
His attention to detail and in-depth analysis have earned him a loyal following of readers.