Are you confused about which tablet to pick for Blender?
If yes, then this article is for you because this article is exclusively about the best tablets for blenders.
Picking the best tablet for Blender can be a challenge for designers and even I have faced this problem when choosing a tablet for my design work. As the use of illustrations and animation in media increases day by day, graphics are becoming more prevalent.
PCs are becoming more and more convenient for people who like to draw because they have many options for completing their drawings.
In addition to drawing on a computer, a tablet and pen can prove more effective for easy drawing as well as for drawing the very best from within. I have selected the best tablet for blender 3D design for you in this article.
Okay, so let me show you some of the different types of tablets that are available in the current market so that you can get a more clear idea.
Types Of Tablets For Blenders
Drawing tablets are available in three different types. There are differences between them in terms of features but similarities in terms of drawing, so it depends on which is best for you.
1. Digitizer Pen Tablet
Digitizer pen tablets are devices similar to slates that you connect to a computer via a cable. Once connected, you can use the tablet as an additional mouse or draw on it with a pen.
In this case, the tablet has its own pen and it supports pressure sensitivity so you simply can draw on the tablet with your pen, and the output of your drawing appears on the monitor of your PC.
While you are drawing on these tablets, you must keep your eye on the monitor. If you don't want your hand to cover the image while drawing, then this type of tablet is for you.
2. Monitor Tablet
Digitizer tablets have been updated to become Monitor tablets. These devices have their own monitor so that you can display your drawing directly on them and do not need to use a computer monitor.
In addition to the stylus, these tablets have the ability to let you draw on the screens, and then you can transfer it to your PC or other devices.
Comparatively, a Monitor Tablet is more expensive. They are similar to traditional paper pens in the sense that you can see your hand while you're drawing.
3. Tablet PC
Despite the fact that this is a computer, you can use it as a tablet because of its touch screen and detachable keyboard.
PCs of this type are just beginning their journey, and they support pressure sensitivity and the ability to use for drawing, which is why it belongs to the category of drawing tablets.
Although it's more expensive than other tablets, I think I can say that it's all in one since it can also be used as a computer. I think that a computer is much better than a tablet so you should realize that.
But before all this let's look at some basic points that I recommend you look for in a tablet before choosing a tablet for a blender.
What Should You Look For In A Tablet For Blender?
The artists of the past used pen/pencil on paper to draw their thoughts as artists but now everything is becoming digital. From beginners to professional artists, everyone draws on a computer or with their smartphone or tablet.
The best creation can be done with the help of a drawing tablet and for that purpose, you should know something about the tablet you're buying. Here are some features you will find in a drawing tablet for Blender.
1. Active Area
When a pen is used to draw on a tablet, the active area is the area on the tablet that will be active during drawing. There is a difference in area between the two, with the smaller one having a smaller area.
This varies from hand to hand. It is in my opinion more convenient to draw in Blender when the drawing area is larger.
2. Lightweight
It isn't just for laying on the desk all the time. You may also have to hold it in your hand or pack it in your backpack, so it is crucial that you can feel the weight. Depending on your capacity or weight, it may weigh 1 kg or a little more.
3. Compatibility
There are tablets with their own display and some that do not, but the assistance of an external device is a must for sharing your creations and even for other purposes at least, so your drawing tablet must be compatible with your device.
The applications here are all compatible with Android, Windows, and Mac devices, so you can select any of them you like. However, some are not compatible with iPad and iPhones, so you can avoid them.
4. Connectivity
To be able to use a blender, a drawing tablet needs to connect with other necessary devices, and the connection is determined by the system. Most tablets have a wired connection while a few are wireless.
Wireless connectivity is more convenient here due to its portability. If the connection is wired, you will be tethered to the wire and you might feel restricted in your mobility.
5. RAM
The best experience of drawing in Blender can be ensured by at least 4GB+ of RAM. A good amount of RAM is a sign of lag-free use.
6. Pen/Stylus
In order to draw on the device with a pen, it must be wireless, battery-free, and pressure-sensitive. Artists know best how important these features are. Besides them, some companies offer extra nibs, so you may want to get extra if you need to.
7. Technology
The most effective technology for drawing tablets is electromagnetic resonance (EMR). This technology stabilizes each line on the surface of the tablet and helps to create the exact footage.
8. Resolution
For a good picture, you need a high-resolution tablet. To ensure the best tablet experience, make sure that your tablet has at least 5080 LPI.
9. Extra keys
The extra keys make it faster to use the tablet as they can be used to shortcut quick actions which are why some tablets have them and others have many, if the extra keys can be customized it will be even better so you can set them up according to your needs.
Some pens come with extra keys for when you can get around faster with the help of a key, why not choose a tablet or pen with additional keys?
Keep in mind that you can customize your pen or tablet.
10. Price
As price plays a significant role when purchasing the best tablet for blender 3D, here I list the best cheap tablet that comes with a wide range of features.
There are cheaper tablets available here that cost less than $100, but they must have acceptable performances and be of the best brand. When you're a newbie, you should go with a cheaper one, otherwise, you can pay more if you're the best.
Okay so have you gathered some knowledge on what to look for in a tablet for Blender, right? Alright.
But now I will guide you on which tablets you should really focus on. So without any further delay let's look at the tablet options that I have arranged for you for the best web surfing experience.
List of Best Tablets for Blender Available In Market:-
1. Huion Inspiroy H950P
Let's start with a budget-friendly drawing tablet for blender, the Huion Inspiroy H950P. No matter what level of expertise you have, this tablet will help you create an image to your satisfaction.
Tablets can be easily connected to smartphones, tablets, and PCs, and the tablet's advanced controlling system makes the process of drawing more convenient.
You are purchasing it to connect to your other devices, so keep in mind the compatibility, as it's compatible with Android 6.0 or higher, as well as Windows 7. Samsung Note series cannot display the cursor, but it will work if you don't have an iPad (iOS). This drawing device will not work on an iPad (iOS).
In this tablet, control management is the most important function, and with its tilt-control system, the Pen pressure is 8192 levels, and able to work with an accurate cursor at different angles, it lets you feel the feeling of actually using a pen on paper.
A high level of line and color accuracy is assured by its 233 PPS response rate, 5080 LPI resolution, and 233 PPS response rate.
The tablet comes with 8 express buttons that allow you to customize them as you want and with which you are most comfortable.
The Pen is also great. It is equipped with 8 different pen nibs that are good for different uses, as well as the tilting function that can use up to 60 degrees. It is wireless, so you will not need to worry about extra batteries, as well as the convenience of using it at any time.
2. Huion Inspiroy H640P
Huion offers the Inspiroy H640P drawing tablet as the cheapest drawing tablet for blender 3D, which is compatible with Windows, Mac, and Android.
A second OTG cable is required to support your android device's OS version of 6.0 or higher. This is a thin and lightweight drawing tablet that is easy to use, so kids and beginners can enjoy it more easily.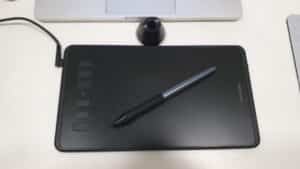 With this software, I was able to draw 3D in a blender and create other digital artworks as well as use it for my business or study. This tablet contains the Digital Pen PW100, which has 8192 levels of pressure sensitivity and 5080 lines per inch resolution.
Having no lag in this pen allowed me to get ultimate precision and control, the 8 different nibs, and battery-free use also made me happy. There are also two buttons on the pen for express keys, and the holder serves to keep it safe.
For you to use a drawing device more comfortably and at a faster pace, a shortcut key is very important, and this drawing device has 6 customizable shortcut keys. It does not matter if you are left-handed or right-handed, you will be able to handle it.
Hardware Specifications of Huion Inspiroy H640
Pen sensitivity

8192+ Levels

Active Area
6.3×3.9inch
Input Resolution
5080 LPI
Voltage
DC 5V
OS Support
MAC OS 10.12 or later and Windows 7 or later
Battery Life
Micro-USB
Weight
0.60 lbs
PROS
Battery Free stylus.
For professionals.
Cheapest in the segment.
CONS
No screen.
Not for beginners.
If you are still now convinced about buying this tablet, you can also check out its long review which was done by experts in another article.
Thus, I can assure you that you can do your drawing in the blender, your sketching, and your photo/video editing to the best of your ability.
3. Gaomon S620 Graphics – Tablet For Blender Sculpting
No matter what the purpose of this tablet is, you may go to buy a tablet for blender sculpting but this one can also be used for Excel, Word, PDF, and PowerPoint and not to mention educational purposes.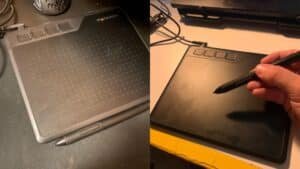 Artists strive to draw their best, but a high-quality tablet can play a major role in achieving that goal, and I would like to state that this Gaomon S620 tablet provides excellent drawing, sketching, 3D art, graphic design, and animation experiences.
In order to enhance drawing and reduce workloads, the blender-compatible tablet comes with four express keys that can be set up as one wishes to have more functions by pressing them.
I could easily carry it towards nature as I am a nature lover and I love to sketch digitally in the open. It is portable and lightweight so you can easily take it anywhere you go. Its 266 PPS report rate and 5080 LPI resolution in a 6.5 x 4-inch active area guarantees perfection as the best tablet for blenders.
Pen sensitivity can be adjusted according to the need to draw on paper and the battery-free pen eliminates battery hassle while the 8192 high-level pen pressure will provide the output with natural lines. The 4 express keys give the user the flexibility they need.
4. Wacom Intuos
In order to benefit from a drawing tablet, you need some software and if you can get some of them for free then your projects will be much nicer, this tablet offers Clip Studio Paint Pro (2 years), Corel Painters Essentials 8 & AfterShot Pro (3 months) and Clip Studio Paint Pro for Chromebooks (3-months).
Therefore, I hope the price is worth more than its cost.
As well as free services, a blender tablet's capacity is also important, and in this path, it also makes sense to use a cool tablet. Drawing on the Wacom Intuos Graphics Drawing Tablet is controlled with 4096 levels of pressure sensitivity, making it easy for you to get precise results.
Whenever other drawing tablets didn't offer Chrome OS, Wacom offered it. Wacom has been producing and updating its Digital Pens for 35 years. This 4K pressure-sensitive pen delivers an exact pen experience.
Hardware Specifications of Wacom Intuos
Pen sensitivity

8192+ Levels

Active Area
8.7" x 5.8"
Input Resolution
5080 LPI
Pen
Battery operated
OS Support
MAC OS 10.12 or later and Windows 7 or later
Battery Life
Micro-USB, Bluetooth
Weight
1.5 lbs
PROS
Light weight.
Easy to use.
Pro pen 2.
Wide area of operation.
CONS
Battery operated pen.
Costly.
There are no batteries needed for the stylus and the tab has 4 express keys whereas the stylus has 2 express keys. It supports USB-A & USB-C or OTG depending on the port of your device.
You can also check out its full comprehensive review of Wacom Intuos in our other article which consists of its many aspects which weren't covered in this brief section.
5. Wacom One Graphics Display Tablet
I have used the Wacom One tablet which I think is designed for amateur artists, note takers, and doodlers. It's also the cheapest tablet of this brand.
I felt that in contrast to non-display tablets with small screens, this tablet has a display that measures 13.3 inches, which is perfect for users of blender apps.
The 1080P resolution produces sharper pictures which felt pleasant to my eyes and the best LCD quality of the display panel, i.e IPS. Even when viewing my tablet from extreme sides I noticed very less color and picture quality distortion.
Matte black bezels and relatively light weight of 2.2 pounds make it easy to carry around when I'm out for work.
For this best tablet for 3D modeling, the pen pressure sensitivity is also impressive since it offers 4092 pressure levels which I felt was adequate.
Hardware Specifications of Wacom One
Pen sensitivity

4096 Levels

Active Area
11.6 x 6.5 inch
Respnse Time
26 ms
Voltage
DC 5V
OS Support
MAC OS 10.13 or later and Windows 7 or later
Battery Life
Micro-USB
Weight
4.56 lbs
PROS
Surface feels like paper.
Small size fits anywhere.
Pen quality.
CONS
Multi cord setup.
Not for the long run.
A four-way adapter cable system is built into the tablet and allows it to be easily connected to a PC, smartphone, or TV screen through this system. It runs on Windows 7 and later, Android phones, Macs, and Chromebooks.
The tablet-like Adobe Photoshop, blender, and more apps you want to use are perfectly compatible with these drawing apps. This tablet is quite good for entry-level and professional users alike, and I can assure you that it has everything you need.
As this brief review didn't cover all things about this amazing tablet, you can also check out its extensive review.
6. XP-PEN Deco Pro Digital – For Blender 2.8
For 3D sculpting, I recommend you a budget-friendly tablet that offers all the features you need must be the top priority. The XP-Pen Deco Pro meets those requirements at a lower price. The price difference between this tablet and Wacom is about one-third.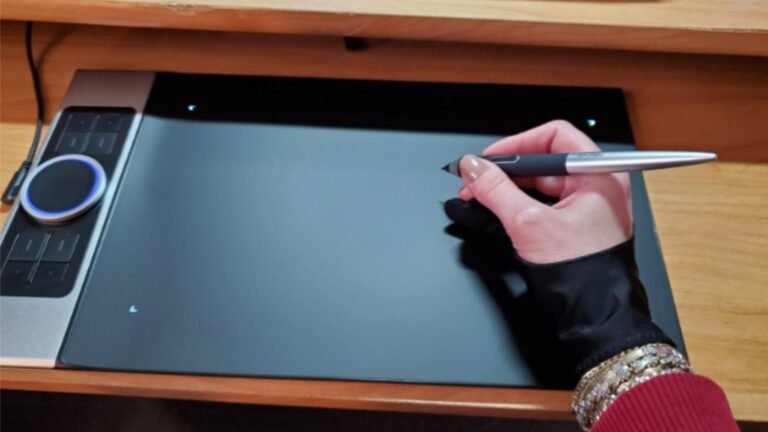 Despite being superior in drawing, there are some problems with the software drivers. 8192 levels of pressure sensitivity are also sufficient for drawing. This large active area of 9×5 inches is designed for the user to have a larger area to feel comfortable using a digital tablet.
Professionals will enjoy its innovative double-wheel interface combined with trackpad functionality, as 8 shortcut keys are also included to improve your experience.
Hardware Specifications of XP-Pen Deco Pro
Pen sensitivity

8192+ Levels

Active Area
9 x 5 inches
Input Resolution
5080 LPI
Express Keys
8
OS Support
Windows 7/8/10, Mac OS X 10.10 Android 6.0
Battery Life
USB Powered
Weight
3.21 lbs
PROS
Battery Free stylus.
Light weight.
Cheap.
Compatible with any OS.
CONS
No screen.
Pen sensitivity.
With this best XP-Pen tablet for blender sculpting, you get everything you need, and you'll be glad to know it has received awards like the Red Dot Design Award and Good Design Award.
You can also read out its full review in our other article if you have time. However, this brief can also be helpful to you.
7. XP-PEN StarG640 Digital Animation Tablet
XP-Pen StarG640 is an animation tablet that is similar in design to Wacom CTL4100, but it does not cost as much, and it is well built and has good build quality, as well as feeling easy to carry around.
The work will be fine without shortcut buttons, there are no shortcut buttons in it. You can show your creativity on 6.4 inches of the active area. When you buy this tablet, especially for new users, you can easily expand your creativity as it is easy to use.
With the free stylus that comes with this drawing tablet, you can get variations in each line as needed to show your drawing. It has 8192 levels of pressure sensitivity and is battery-free.
The slate features 266 Report Rate Speed, which ensures truly accurate performance during the draw.
Aside from these valuable options, compatibility is also an important consideration. If it isn't compatible with your device, money cannot be justified. It is a nicer tablet for blender sculpting that is supported by Adobe and Autodesk across Windows and Mac platforms.
Overall, in my opinion, the price is low enough to buy, and the features are sufficient to use.
8. Wacom Cintiq 22 – Drawing Tablet For 3D Modeling
Whether you need a pen display tablet for 3D modeling in Blender or you have a high budget, then this tab would be a great fit.
A Wacom Cintiq creative pen display is the perfect accessory for displaying your drawings. It's necessary to upgrade your experience to the next level, and this tablet does just that by creating a seamless interaction between pen and display to enhance your skill and make you feel like you're drawing on paper.
Through the vivid display, you will experience HD clarity with the Pro Pen and 22 natural drawing experiences. You can display them on the screen and take the steps you need besides connecting them to the computer screen through HDMI and USB cables.
For each line, precise control and precision of pen strokes are required, and the Wacom best pen for 3D sculpting has two specific features, including 8192-level pressure sensitivity and a low actuation force.
A battery-less pen was used to avoid the use of the Electro-Magnetic Resonance technology.
Hardware Specifications of Wacom Cintiq 22
Pen sensitivity

8192+ Levels

Active Area
18.7 x 10.5 inches – (1920 x 1080)
Input Resolution
5080 LPI
Pen
EMR
OS Support
Windows 7 or later
Express Key
2 switches
Weight
12.35 lbs
PROS
Large pen-enabled screen.
Value for money.
Accurate colors.
CONS
Non- Portable.
No finger support.
Featuring full HD 1920 x 1080 pixels and 16.7 million colors, the screen makes it easy to use and see, and all the new and updated popular apps can be run on it.
As this is a brief review, it doesn't contain every single detail. If you want to know more about them, you can also check them in this tablet's long-form review.
9. Wacom PTH660 Intuos Pro – Tablet For Linux Blender
Wacom Intuos Pro PTH660 is an ultra-slim tablet for blender 3D design that comes in three sizes: large, medium, and small depending on the needs of artists. I am glad that it also differs based on a person's income.
There is no difference in quality and features between the sizes; it comes with premium materials, a metal back, and a footprint. Its best materials give me a sense of premium quality. This is a high-end tablet with 3D design capabilities in Blender.
Because of its size and wireless connectivity, it's portable. Just connect to your phone or tablet via Bluetooth connection and it'll be at your fingertips.
With a USB interface, you can also connect to the internet wirelessly. So, this section is rich in contrast to other sections that have only wired connections, I hope you understand.
Along with the large surface area, it has multi-touch gestures that speed up your workflow, with express keys, radial menus, and pen switches. The Pro pen can also be used but unfortunately, it is sold separately.
With its 8192 presser levels and battery-free operation, tilt response rate, and lack of free tracking, the pro pen will provide you with the ability to control how the line is drawn.
The software supports new drawing apps such as Blender, and after registration, you'll get free access to premium apps such as Boris FX Suite, Adobe Premiere Pro & Adobe After Effects.
10. Huion H610 Pro V2 – Tablet For Blender 3D
One of the best budget-friendly drawing tablets for blenders is the Huion H610 Pro V2, which supports Windows, Android, and Mac, so you can use it with all three.
The importance of comfort during drawing is due to attentiveness, and this tablet is a complete package to provide you with the best experience.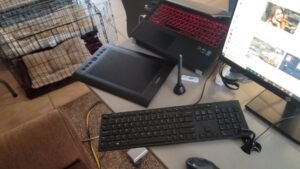 There is also a large drawing area, so you are comfortable drawing even for long periods. It comes with a free battery stylus, so you won't have to worry about running out of electricity.
There are 16 soft keys on the device and all of them can be customized, 2 keys are also available in the pen, installation guide will also tell you how to customize the keys. It has a familiar design, is lightweight to carry, and has a large enough active area.
Despite being totally compatible with new devices like Windows 7 and up, Mac 10.11 or later, the Huion H610 Pro V2 doesn't support iPhone or iPad and the cursor isn't being displayed on the Samsung Note series.
With this 3D drawing tablet, I was able to work with all the major programs I needed, including Photoshop, Illustrator, Mega Studio, Zbrush, Blender, Gimp, and more.
I offer you the best product for your drawing needs with the best stylus that comes with a pen holder and 8 different nibs with 8192 levels of pressure, and the best display that relies on 5080 LPI in resolution and 233RPS in reading rate for an accurate and natural drawing experience.
Frequently Asked Questions
For Blender, do you need a drawing tablet?
It's up to you whether you use a drawing tablet or your mouse to use Blender because you can use either. On a blender, drawings have some special functions, such as requiring precision and allowing the tablet's pressure sensitivity to be used.
How Does A Drawing Tablet Work in Blender?
This open-source computer graphics software is used to create 3D animated films, visual effects, art, and to create 3D printed models.
In this case, the drawing tablet serves as an alternative to a mouse during the drawing process. You can either draw with a mouse or get help by using a drawing tablet.
Also included in it is a drawing tablet used in blenders like a pencil and paper, and other advantages are also available based on personal preference.
Conclusion
Thank you if you have read till this point because you have reached the conclusion, so let's talk about the final verdict. These were my top picks on tablets for Blender.
Speaking from my art life experience, artists are known for their creations and graphic design. Nowadays, 3D modeling is becoming more popular for best earnings, and for that support, you will want a tablet.
You can utilize a drawing tablet to create better drawings with Blender, which is becoming more popular for artists. If you can save your time and bring out the best of your inner self with the help of the best blender tablet here, it would surely help in your art career, mark my words.
I hope that I have guided you in choosing your tablet that would fit the best for your Blender and 3D needs. Now it is up to you which tablet you should go for.
Everyone has personal preferences and I respect that. So what are you waiting for? Go ahead and grab your favorite tablet for Blender.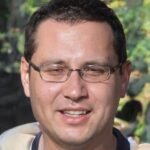 Ben Scott is a prominent technology journalist and reviewer, specializing in tablet devices. He is known for his comprehensive and unbiased reviews of tablets from various manufacturers.
With a deep understanding of tablet technology, including hardware components, operating systems, and software applications, Scott provides clear and informative reviews accessible to readers of all levels of technical expertise.
His attention to detail and in-depth analysis have earned him a loyal following of readers.