Looking for the best tablets for reading? Well, I've got some great for you. I'll list out the best reading tablets for you here in this article. So that you can make the best choice while buying a tablet for reading your favorite books.
Of course, we have mobile devices and smartphones that can help us do everything but, those devices are not made for reading purpose and can hurt our eyes as well. With the continuous use of mobile devices for reading purposes, you will make your eyes more prone to eye weakness.
E-readers are best when it comes to reading, they are ruling the market for a long time now.
There are a lot of reasons to consider E-reader over traditional tablets for reading purposes. These devices are built keeping in mind the customer perspective while reading things on digital devices. They have a small and compact design with an eyes-on-eyes display that doesn't harm your eyes. If you've decided to get a tablet for your reading purpose then we have also included some amazing reading tablets in our list.
You can also gift out these best reading tablets to your dear ones As they are budget-friendly and will not put a load on your pockets as well.
I'd make sure that the devices listed below are best to my knowledge based on their features and thousands of user reviews and opinions on the web.
Before moving on the list of best tablets for reading, let's know what to consider when it comes to choosing the best reading tablets.
Things To Consider While Buying Tablet For Reading
This part of the article will help you understand the specification you need to look upon while you're buying a tablet for reading. It'll help you in choosing the best device in the best budget. You can also skip this section Click here to move to the list of best reading tablets.
What Type of Screen & Size?
E-readers generally have E-ink screens to display texts. E-ink looks like a paper and is also easy to eyes for long reading sessions. On inexpensive models, the display is not having a backlit, it means you will need an external light source to read texts, just like reading a printed book. While with the high-end devices you can adjust the brightness of the panel according to your needs.
If you're going to buy one of the traditional tablets for reading then you will suffer a lot as they don't come with a glare-free display like E-readers. Your eyes will suffer a lot from distracting reflections. You can go for Amazon Fire 7 tablet which is one of the best cheap tablets for reading, watching videos, and browsing the web.
Waterproof Device or Not?
Many of you might like to read by a riverside or pool, then you need to buy a device that must be waterproof. We've listed out various reading tablets but none of the kindle series devices are waterproof. Only two of the best-listed tablets i.e Kobo Aura One & Noble Nook are water-resistant.
Wi-Fi OR Cellular Connectivity?
If you'll buy an E-reader with cellular connectivity then it will become easier for you to download and read books on the go, as you can download them from anywhere. But cellular connectivity features come only in the expensive models. Best reading tablets under budgets have only the wifi connectivity feature.
How Much Should You Spend?
It's up to you about how much you can spend on the devices. I'll recommend you to go for the base model of Amazon Kindle if you're on a very tight budget because the base model of the Amazon Kindle will only cost you $80 will almost every feature that's required. If you can spend more than you will get more features as you spend more.
That's it for this section and I hope you have now a clear idea of specification and features to look upon while buying a reading tablet. We can move on to the list of the best tablets for reading purposes.
Best Tablets For Reading- Top Picks For 2020:-
1. Kindle E-Reader- Best Cheap Tablet For Reading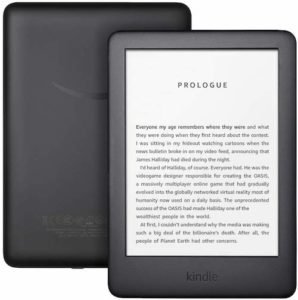 We always recommend Amazon's Kindle series of tablets to people who ask me for the best tablets for reading. Amazon Kindle series has been renowned as the best digital books globally. This device is the latest in the Kindle series and is designed in such a way that it can easily fit in your palm.
Kindle E-Reader weighs around 174 grams which makes it the lightest device in this segment. It also has a 6-inch glare-free display which will help in making your reading experience far better. With Amazon's E-Ink pearl technology, you will get a better viewing along with an adjustment in color brightness according to your comfort.
Talking about the other specifications, it has a 4GB on-device storage, You can also expand it through the cloud. You can also access Amazon's huge collection of ebooks. This tablet comes with Wi-fi connectivity and supports WPA & WPA2 for authentication.
In summary, this device is going to be the best choice for E-readers.
2. Kindle Paperwhite E-Reader
Another in the list, Kindle Paperwhite reader is one of a fully feature-packed device that can meet up your expectations from an E-Reader. This device has 2 color variants i.e black and white color with an amazingly compact design.
This one is also a light-weight device with a 6-inch display along with a pixel density of 300 PPI. Kindle Paperwhite E-Reader also comes up with minimal screen glare,  3g & Wifi both connectivity options you have. When it comes to storage, It also has an inbuilt 4GB storage that can be expanded. You can fully charge this device in just 3 hours and can be expected to last for weeks on a single full charge. Kindle Paperwhite is one of the best tablets for reading at an affordable price.
3. Kindle Voyage E-Reader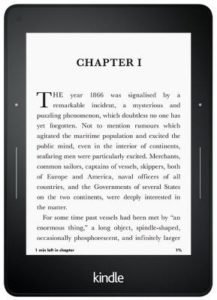 Kindle Voyage E-Reader is also one of the premium devices from Amazon's Kindle Series, packed with some amazing features, specially built keeping in mind the perspective of readers. This one also has a 6-inch display and comes with an adaptive light sensor i.e it can automatically adjust the screen brightness according to the environment's lighting conditions, which will make your reading experience better and smoother.
You don't have to turn the pages while reading, you can just turn pages by force pressing the page. Kindle Voyage is also a very light-weight device that comes only in the black color variant. Its display comes with anti-reflective technology along with high-levels of grey levels. You can connect to a network through the 3G network or WiFi. Just like others from the Kindle series, it also lasts for a week on a single charge.
4. Kindle Oasis E-Reader
This is among those high-end devices out of the Kindle's show that includes physical buttons to seamlessly manage the device while using it. The gadget includes a 6-inch high-resolution anti-glare display that includes decent brightness levels to allow for reading. The device also includes free cloud-storage to store your favorites. The tablet includes a hump in the rear, which delivers another grip to continue while giving it a more superior look too.
Kindle Oasis has become a bestseller worldwide and offers 3G & WiFi connectivity. The device includes over 16-depths of all grey-level colors, which is corrected by an individual's relaxation. Kindle Oasis has Best-in-Class, language builder, parental control, as well as lets you create up personal aims in reading. These devices from Kindle series are all globally-renowned and therefore are the global-best sellers. The motive being, their strong specs, and very Long-lasting battery backup that continues more than a week on a single charge It is considered as the best anti-glare display tablet for reading.
5. Barnes & Noble NOOK GlowLight Plus E-Reader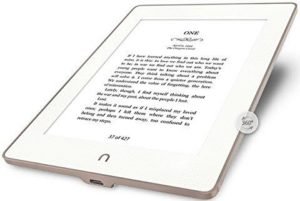 This tablet from Barnes & Noble is exceptional within this section. Having said that, this reading tablet comes with waterproof and dustproof protection and is built with aluminum. This is the reason I placed it in the list of best tablets for reading in 2020. The tablet has a 6-inch HD display with 300 DPI. The screen on the unit is given with an anti-glare screen to supply decent sunlight legibility and cross angle readings.
Underneath the hood, the device sports a Quad-Core Processor for quicker and more effective performance. Even though the device is primarily meant for reading books and comics, it still serves quite a bit of additional daily essential utilities as well. The device also has a list of connectivity options such as WiFi, a USB 3.0 microSDXC/SDXC port, a Card Reader plus much more.
The device although composed of an all-metal body weighs near 11 oz, which makes it very easy for the users to grip and carry around. The device can also be expected to last for more than 8 hours of constant use on a single charge, which is pretty ideal considering the use.
6. Kobo Clara One E-Reader
Kobo Clara ONE is among the hot-selling premium reading tablets from the producer. Although the device prices close to $300, it still is worth every penny you are gonna spend on it. That said, the device comes preloaded with a lot of options and features, which is guaranteed to bolster and ease the reading experience to the users.
The display on the unit is sharp, crisp, and supplies the vital levels of grey to correct as per the reader's comfort. Under the hood, the gadget comes with a 1GHz processor paired with 1GB of RAM. The tablet includes 8GB of internal storage, which pretty much suffixes the use. The device can also be watertight IPX certified.
The display on the system is accompanied by another blue-light night studying adjustment to comfort the scanning in darker surroundings without straining the consumer's vision. The battery backup is yet another core element within this tablet and is expected to deliver up to Weeks on a single charge.
7. Amazon Fire 7
Fire 7 retains the record of becoming the best-selling Fire tablet from Amazon's portfolio worldwide. Underneath the hood, the unit is powered by a 1.3 GHz Quad-Core chip paired with 1GB of RAM for multitasking. On the storage front, it comes in two unique versions to pick from i.e 8/16GB of storage, which can be further gearing up to 256GB using a microSD card.
This Fire tablet is essentially a multipurpose tablet with features and specifications to accommodate the majority of the regular use. Along with this, it includes the Kindle shop's accessibility to download, store, and browse all of your favorite ebooks on the go. The tablet comes in a diverse color choice to pick from such as the Black, Marine Blue, Punch Red, Canary Yellow.
The gadget becomes fully charged in about two hours and is expected to provide 8 hours of studying, surfing the internet, watching movies, and listening to audio. Overall this tablet is excellent for every user, who requires a tablet for reading and a device to manage the majority of their everyday essentials to provide an effective touch.
8. Apple iPad Mini 4
Apple iPad mini 4 as its name implies is the most recent and somewhat streamlined variant from Apple's iPad Mini series. Accordingly, the tablet includes a rather compact form-factor and weighs only near ten ounces. It is one of the best tablets for reading in 2020.
The device sports a 7.9-inch Retina screen that's crafted to perfection concerning providing excellent viewing angles. Underneath the hood, the unit is powered with a Hexa-Core A12 Bionic using Quad-Core Apple Graphics paired with 3GB of RAM plus a huge 64GB / 256GB of onboard storage.
On the front, the system includes an 8 MP iSight camera to catch the moments with clarity. The iPad gets charged from 0 to 100 in under two hours and may provide over 10 hours of constant use. The form-factor, the burden, the Gorgeous screen, and a Superb battery backup would be the main reasons to think about Apple's iPad Mini is the Perfect Selection for reading function. Read complet overview of Apple iPad Mini 4
9. Lenovo Yoga Book 10.1
Lenovo Yoga Book is the planet's most populous, thinnest, and lightest tablet on earth using a weight less than two pounds. Even though the unit is lightweight concerning its weigh, it's a loaded strong tablet once it comes to specifications and features. The tablet computer is powered by a 2.4 GHz Intel Atom chip paired with a huge 4GB of RAM. It includes an internal memory of 64GB, which can be fairly sufficient for nearly all users make us convinced to put in the list of best tablets for reading.
The important features to consider about this 2-in-1 tablet computer as an efficient reading tablet is because of the simple transform feature, the simplicity of writing notes, drawing and highlighting texts with its Halo computer keyboard, and much more. The system runs on Android 6.0-marshmallow from this box and is expected to obtain the Android 7′ update shortly. All-in-all, this tablet out of Lenovo is for people who seek flexibility and productivity daily, without compromising on the performance.
10. Samsung Galaxy Tab A7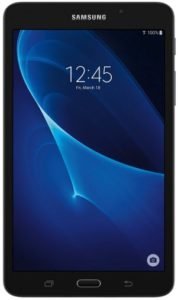 The gadget includes a 7-inch glowing HD screen with a resolution of 1280 x 800 pixels. This tablet is budget-friendly and has a 1.3GHz mobile chip paired with 1.5GB of DDR3 RAM. You receive an 8GB of internal storage, which can be further expanded using a microSD card slot. Such great specifications and features with a cost of under $150 make it a worthy competitor in this list of the best tablet for reading books
The unit is mild as mentioned previously and includes Google's PlayStore and Samsung's exclusive material to navigate and download. The device also includes an exceptionally superior battery backup, which lasts for more than 10 hours on a single charge. Overall, the Samsung Galaxy Tab A7 is the ideal android tablet for reading pdf, books, and comics. This was the last in the list of best tablets for reading.
Wrapping Up
We tried our best to list out the best tablets for reading that can fit under your budget and you get all the features too. There are a lot of tablets for readers out there, but we pick up the top 10 best tablets for readers. We have posted about the best drawing tablets for you.
Make sure you leave your valuable opinion in the below comments.