It's not always feasible to have your desktop and laptop with you. Your shift might end but the tasks seldom do. Mobile phones also have a limit and so they might not be able to help you with multiple sets of functions. It would be highly rewarding if you carry a hybrid 2 in 1 Business tablet along and take care of your work irrespective of your location or situation.
With the constant upgrades and enforcements, the modern tablet has now successfully transformed itself into a light portable notebook, built on an operating system that performs similar to a mobile phone but has some extensive and advanced features that offer strong use, also some added comfort.
List of 10 Best Tablets for Work In 2023:-
Down below, we have provided you with a list and descriptions of the best business tablets for work currently in the market. We are sure that the tablets are powerful enough to help you in your daily business operations. We recommend the following tablets for students and adults too.
1. Microsoft Surface Pro 6
CPU: i5-8350U – i7-8650U
RAM: 8 – 16 GB
Storage: 128 GB – 1 TB
Screen Size: 12.3 Inches
Resolution – Pixel: 2736 x 1824 – 267 PPI
Battery: 13 hours approx
Many people desire a fast and secure windows tablet because the brand is trusted by many. If you are that person then you should take some heed to the new Surface Pro. Surface Pro is an upgraded model of the previous models in the series line. We are sure that you will be highly impressed as it is a classy business tablet which is not just on point on looks but also so in function. The built is strong and the sleek black adds a lot of appeals. It is the best business tablet for work.
This upgraded model is faster and it is carefully designed with a long-lasting battery and Quad-Core processing. This combination lets you run most of the mobile apps on the go.
It is not hidden that this window tablet lacks the type of cover that you might need to turn it into a laptop-like device. The tablet comes with a stylus. It's better from its previous model and it represents the best of Windows in the business model gadget category.
2. iPad Pro 12.9
CPU: A12X Bionic
RAM: 6 GB
Storage: 64 GB – 1 TB
Screen Size: 12.9 Inches
Resolution – Pixel: 2732 x 2048 – 264 PPI
Battery Life: 10 hours approx
This particular tablet with a dimension of 12.9 inches is one of the most powerful and highly efficient tablets from the brand.  They are placed at a price range of $1000 to $1300 and come with a dedicated Apple stylus and also a keyboard. The latest version of the iPad Pro 12.9 shows a powerful A12x Bionic processor serving the mirth of core i7 power laptops. Not only that but this tablet is extremely handy as it weighs 1.4 pounds. I consider it the best iOS business tablet for work.
Compared to the previous versions, Apple has now curated this particular tablet with striking similarities to the iPhone X in the areas of performance and function. The tablet has a full-screen design and an interface that can be managed by gestures. It means that you no longer need a dedicated home button for Face ID that matters. The pen stylus is quite pleasant to hold and operate. Also, it does not provide any nuisance.
The striking features of this tablet are the 13-hour battery life which lets you work seamlessly. This tablet would be an added advantage for your business activities. Never miss the joy of stationery with the adorable pen. The tablet is efficient, powerful, slim, and light, still full of life.
3. Lenovo ThinkPad x1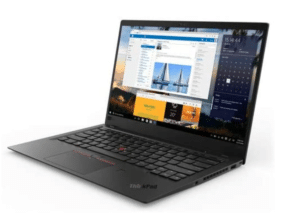 CPU: i5-8250U – i7-8650U
RAM: 8 GB – 16 GB
Storage (SSD): 256 GB – 1 TB
Screen Size: 13 Inches
Resolution – Pixel: 3000 x 2000 – 277

PPI

Battery Consumption: 8.5 hours approx
This one is the most deserving tablet because it's solely focused on productivity at work. Wherever you go, it gets you covered. The tablet showcases a convertible design and is carefully manufactured to let you utilize all of the business assets used regularly, with precision. The extensive set features do not add to the bulk as the tablet is extremely light and portable.
You will see little reminders of Lenovo in the tablet including the signature red color scheme, perfectly finished and designed. Trackpoint and acute type keys have a classic innovative feel. This Windows Tablet is powered by an Intel I7 processor which is capable of simplifying the most daunting tasks.
The RAM provided by the brand is 8GB LPDDR3 which pumps up multitasking. 12 inch IPS touch screen display with 2160 X 1440 pixel resolution displays some solid images. The tablet has a stylus which comes in handy and simplifies clicks just as fingertips. You can easily sign documents and annotate images.
Office apps are completely compatible and the tablet is backed up by numerous connectivity options such as dual-band Wi-Fi, Bluetooth connectivity, 4G LTE.
It's a solid 2 in 2 tablet that works on getting the task done for the convenience of laptops.
4. Google Pixel Slate – Best Tablet For Work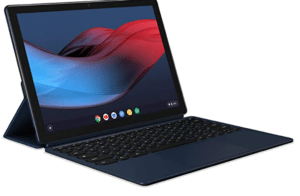 CPU: 8th Gen Intel Core m3 – i5 – i7
RAM: 8 GB – 16 GB
Storage (SSD): 64 GB – 256 GB
Screen Size: 12.3 Inches
Resolution – Pixel: 3000 x 2000 – 293 PPI
Battery Works: 10 hours approx
This one is a classic example of a premium Chrome OS tablet. The tablet shows in its parts of the previous pixel model in order to create a top-end product in the convertible tablet laptop market. The combination stands with equal firm respect to the Microsoft Surface Pro series and Apple iPad Pro. One of the keynotes of this tablet is that it has access not only to Google Play at stores but also to Chrome OS. The tablet also lets you run certain Linux applications so you can now say that this is probably the best convertible tablet in the market and provides innumerable features.
The Pixel slate delivers good resolutions all thanks to its strong hardware and efficient software. I have carefully held Google's entire app range within itself.
Chrome operating system has been updated successfully and is equipped with intelligent tracks such as natural writing recognition and some Nifty features that you might find in Androids.
The output is more than just good and the tablet is not just good looking and also well-performing.
The thing you should know is that certain features that have been bought from Android might seem a little buggy. Except for this little roadblock, everything that is offered by this pixel Slate is phenomenal. A durable screen and a Long battery life had a lot to do with the virtues endowed by the device.
5. Microsoft Surface Go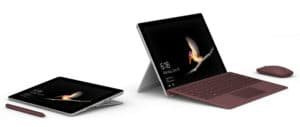 CPU: Pentium Gold 4415Y
RAM: 4 GB – 8 GB
Storage (SSD): 64 GB – 128 GB
Screen Size: 10.6 Inches
Resolution – Pixel: 1800 x 1200 – 217 PPI
Battery Works: 9.5 hours approx
Microsoft Surface goes is a feasible option for those people who want a cheap priced tablet. It is the best tablet for work in the budget range and would simplify your business needs without any difficulty.
The tablet is not just lightweight for its namesake but the feathery weight improved its portability and worth.  Outside looks are cool and insides get the job done. Microsoft has designed this tablet with love and care. Every Microsoft app that you can probably think of comes pre-installed on the device. It's amazing what all this tablet has to offer at this price. If you are always working while you are traveling you can completely rely on this tablet.
I think that sets it apart from other tablets in this range is the fact that this runs on Windows operating systems which are more efficient and versatile than the Android and IOS. You can check the comparison between both.
Keypad also has a touchpad to control the cursor more conveniently. It's the best tablet with a keyboard and pen.
The display is quite expressive and the processor is the Pentium processor that utilizes the short battery pretty well.
6. iPad Air 3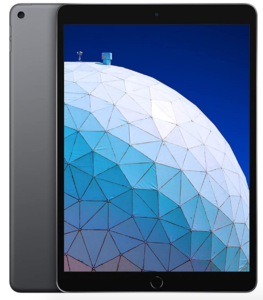 CPU: A12 Bionic
RAM: 3 GB
Storage: 64 – 256 GB
Screen Size: 10.5 Inches
Resolution – Pixel: 2224 x 1668 – 264 PPI
Battery works: 6 hours approx
The 2019 version of Apple air connects the dots between Apple's low-end t$29 iPad and the price end. This tablet is a significant jump from the cheaper iPad which is also used to fulfill basic computing tasks but it cannot have in itself the top knot features that the $100 at a true had.
This reasonably mid-priced iPad Air comes with a big bed and a screen that provides cold storage and a better room for performance. Apple smart keyboard case is compatible with the device. The upgrade is trustworthy and powerful. The entry-level version has 32 GB of storage; the most recent one has 256 GB of storage.
You can easily handle all your business stuff while you wander around endlessly. When we look at the design, it's surely a surreal white or grey front and a glossy back. The tablet comes with 4G connectivity and the AppleSimTec which allows you operations just after you invest in a data plan. If you want an Apple product for all your business needs then you can simply go for this one as it contains all the expenses and functions that might be needed.
7. Samsung Galaxy Tab S4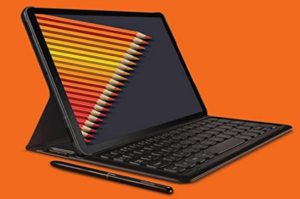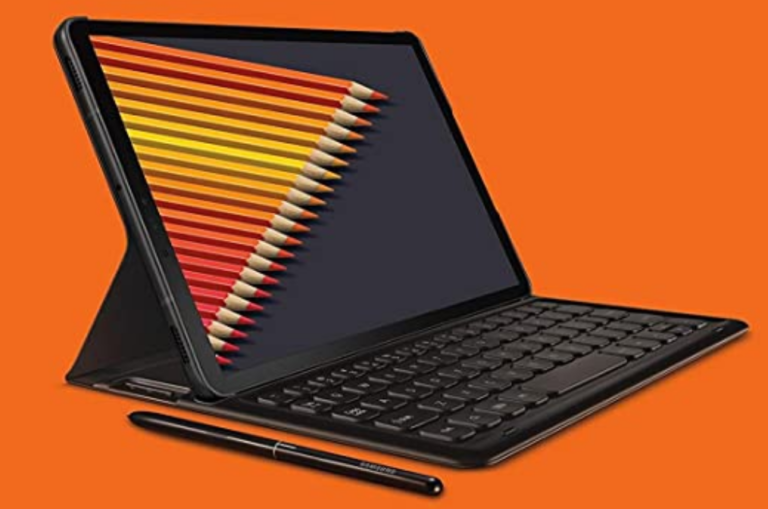 CPU: Qualcomm MSM8998
RAM: 4 GB
Storage: 64 GB – 256 GB
Screen Size: 10.5 Inches
Resolution – Pixel: 2560 x 1600 – 287 PPI
Battery Life: 8.3 hours approx
Any list is incomplete without honorable mentions from Samsung.  The tablet we have placed on the list is the Samsung Galaxy Tab S4 which is budget-friendly. It is also one of the best Samsung tablets for work.
Samsung has goodwill in the market and this particular tablet is a good example of Samsung's credibility. The tablet is an excellent Android tablet. Some people might feel that it's a little pricey but that's ok because you get an awesome screen for your web browsing and videos and additional accessories such as a keyboard mouse pen and numerous other things. Samsung is known for its colorful and sophisticated screen.
The tablet comes in a 10.5-inch size and it is lighter than the Ultrabook even though it has a keyboard and a pen. I have also placed it in the list of most popular 10-inch tablets.
Samsung has been successful in converting Galaxy Tab S4 into a real portable computer, but there's still not forgetting the fact that it runs on the Android 8.1 operating system.  The Android system is Android 8.51 OS web desktop-style design and some improved multitasking abilities.
This high-end tablet relies on its fast processor and HDR OLED screen. It is a good option for Android lovers.
8. Lenovo Idea Pad S940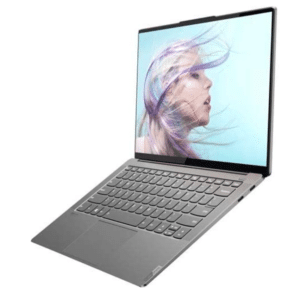 CPU: Intel Core i7-8565U
RAM: 8 GB
Storage: 128 – 256 GB
Screen Size: 14 Inches
Resolution – Pixel: 1920 x 1200 – 186 PPI
Battery Life: 7.5 hours approx
This is one of the most extensive tablet laptop from Lenovo plus, operates on the 8th generation, and has better connectivity, and a keyboard driver.
It is a solid tablet and probably a reliable one.
It is powered by 8GB RAM and a 2.3 gigahertz core i7 8565U CPU which processes offer a ravishing speed and powerful performance, something a business-minded function will surely need.
The streaming experience for YouTube videos is lovely and you will be satisfied with the 14-inch display.
You can even split your screen to enjoy multitasking. Since it's a Windows Tablet it supports all the latest software applications that one regularly uses on their desktop or laptop.
We were expecting a little more in terms of video capturing but the camera works just fine.
Overall if you need a fast-performing tablet with Stylus and a detachable screen, the MIX 526
Works just fine.
9. Acer switch 5
CPU: i3-7130U – i5-7200U
RAM: 4 – 8 GB
Storage: 128 – 256 GB
Screen Size: 12 Inches
Resolution – Pixel: 2160 x 1440 – 216 PPI
Battery Life: 8.5 hours approx
The Acer Switch 5 is the optimum tablet for folks that love the multifunctionality offered by high-end tablets such as Microsoft Surface Pro at nominal prices.
Sure, you can have a lot of features at a cheap price but that doesn't mean that quality won't be compromised.
If you are willing to make some adjustments to the sound quality and resolution, you are good to go. This one is a solid business tablet for the people who see the tablet for business purposes.
This tablet is mostly an upgrade of the previous Acer switch Alpha 12 tablet. The tablet has a Tweaked hinge and an active stylus. The tablet is a convertible workhouse but does not offer looks of the surface pro. Acer switches 5 is a Windows tablet that runs on a powerful Intel Core i5 72002 CPU and 8GB RAM.
The tablet does all the tasks with even the most difficult ones. A cool feature of the Acer switches 5 is a liquid cooling system which ensures that the tab runs silently.  I'm sure you'll ask for more.
10. Asus Transformer 3 Pro
CPU: i5 6200U – i7 6500U
RAM: 16 GB
Storage: 128 GB – 1 TB
Screen Size: 12.6 Inches
Resolution – Pixel: 2880 x 1920 – 275 PPI
Battery Life: 9.5 hours approx
Asus Transformer 3 Pro has some impressive specifications namely the Intel Core i7 6500U CPU,   a stunning 16GB Ram, and 512 GB storage. In the case of competition and goes unrivaled most of the time. It's the best in the versatile category because you can convert it into a laptop. The 39 WH batteries are great but not the best. Nevertheless, the tablet has a dedicated stylus and a keyboard.
The tablet has many chunks of a magnesium alloy, a Metal fusion majorly found in high and laptops. Space is plenty, the processor is fast and the technology is the latest. How would one beat the competition?
The tablet is extremely portable and has a strong kickstand and some features that are for the price tablet range. This should be your go-to option if you want a tablet with some powerful specifications and a laptop-like built, within a price but does not hurt your pockets.
The only probable drawback is the battery life which is comparatively shorter but charges relatively fast. The battery gets half charged within an hour. The charger is small and doesn't take a lot of space.
FAQ About Tablets For Work
How do we choose the best tablets for work?
 The list created is dependent on a lot of factors.
These factors together constitute options. First and foremost is the operating system that is being used by the tablet.
We start by examining different tablet products that work on their respective operating systems.
We make sure to include at least one Android tablet and one iOS tablet and a Chrome operating system tablet. The key specifications to look for are-
battery life
processing power
size of the tablet
screen size
overall design and storage space
Why do you need a tablet for work?
Sure, the laptop is the best investment but a tablet provides more flexibility and thus, adds to the comfort and overall experience.
If I were to expand I would say that companies like Google and Apple are now working efficiently to provide high-end laptop tablets which would work even more efficiently than most of the native laptops.
A tablet with a keyboard comes in handy and since the laptops come in 12 to 16-inch sizes, they are heavy and occupy a lot of space. Tablets on the other hand are shorter in dimension and why are easier to store.
The major criteria which prove tablet superiority over laptops are the battery life which is quite extensive. If the laptops are small in size they tend to have longer battery life. Apple iPad 2 and iPad Air 2 can provide you with up to 10 hours of regular use time.
Any laptop with a similar battery life would cost much more. Tablets are flexible and behave like a large Smartphone. You can record a video or click pictures, use the video call features, and even conference, single-handedly.
It can do everything that a laptop can.
We have done our homework to present you with the top 10 business tablets which are available today as well as the pros and cons.
Business tablet with keyboard Buying Guide
You should consider the possibilities of the gadget and then match it with your requirements and then conclude.
  Identifying areas of your concern I would help you the most in easing out your options.
Tablets can efficiently complete all the tasks of a business. It's both powerful and resourceful.
Reasons to have a tablet can be multiple.
Here are a few of the reasons that you might want a tablet for.
Media Consumption
Why do people love watching online videos and Surfing the internet?
Financial Operations
It can help you to make business payments and access multiple banking operations with a single click.
Handling Daily Business Operations
You can work from the comfort of your home all the seed of a car while traveling at the airport.
Meetings
Various conferences and Skype lectures can be attended smoothly
Features to look out for in a business tablet
Hybrid 2-in-1 tablets are mightier than the primary laptops or desktops. A good tablet should have enormous computing power, wireless connectivity, and longer battery consumption. Below are some additional features that you must take into consideration.
Storage
There are numerous documents or presentations, memos, client IT files that you might want to safely Store within a device.
You should go for an option that has enormous built-in storage of at least 64 GB or higher.
Battery Life
Since you have a carrier tablet everywhere, home the battery must stand out. Battery capacity should be at least between 6000 MAh to 8000 MAh. Anything below 5000 MAh won't be good in the long run.
The same property holds true for the RAM.
Higher is the RAM, the better is the multitasking.
Stylus
Stylus or a Digital Pen comes in handy during a business.  It's not just meant for the designers but also simplifies your day to day operations and makes signing documents easier. Not to forget that handwritten notes won't ever go out of fashion. Almost all top-rated brands provide you with Stylus support.
Connectivity
Tablets must have multiple connectivity options such as Wi-Fi, LTE, Bluetooth, and USB ports since they are highly required for data transfer and connectivity. I'm sure no one can breathe without the Internet these days. Bluetooth helps you to connect your wireless keyboards and the mouse to your tablet.
Applications
The operating system is responsible for the application that you get to work on. Windows 10, iOS a good range of business applications but certain applications are dedicated to the operating system. You can download any application with a tablet.
Screen and display
A smaller screen means greater portability. If you feel suffocated while performing every task on the tablet then you might see this screen.  People often ignore the aspect ratios and pixels, which inversely affects business tablet criteria
Conclusion
Each tablet has a different style and a different set of functions. Each product will have a certain weakness but that doesn't mean that they won't be able to offer you some of the best Technologies We hope to have helped you with some other way.
Howdy Geeks, I'm Andrew, a young passionate blogger, Tech Freak & a Gadget Lover. I help people in buying them the best tablet devices