Carrying a tablet with a keyboard instead of a laptop is very comfortable and convenient but the benefits of a full keyboard can still come in handy. The models in this list give you the experience of a laptop without having it — usually referred to as "hybrids" or "two-in-ones."
Suppose you don't want to expense your money by buying separate laptop and tablet devices. In that case, there's an easy and obvious money-saving shortcut, and that's to purchase a tablet with a detachable keyboard.
Then there was an innovation of 2-in-1 that is convertible. Hence they come along with the keyboard. It can be detachable or have some different sort of functionality. This makes it multifunctional and also works in every scenario either you want to use it for entertainment or work purposes.
Samsung Galaxy Tab S7-Best Tablets With USB Port
Here's the best pick for the best tablet with keyboard, If you're looking for a reliable and feature-loaded tablet with smart features then this Samsung Galaxy Tab S7 Tablet is going be the best android tablet with a keyboard.
The Samsung Galaxy Tab S7 is considered the best tablet with a detachable keyboard.
Some of its key features are:
11-Inch Android Tablet
128/256/512 GB Internal Space and 6/8 GB RAM
Octa-Core (3.09+2.4+1.8GHz)
Android 10 operating system
13+5 MP front and 8 MP rear-facing camera
Quad + AKG + Dolby Atmos
Battery Backup

Up to 15 hours

4.8/5 Rating

By Users
Whatever your needs, you'll definitely find something to suit in the following roundup of the best tablet with keyboard.
List Of Best Tablet With Keyboard In 2021:-
1- iPad Pro 11″/12.9″: The Best iPads
The iPad Pro 11-inch and iPad Pro 12.9-inch are the best pure tablets you can get right now. For both, Apple offers a cover that protects the keyboard as it is very thin. Because they're very slim, the keys have a very small travel life. I think the iPad Pro models are the best pure tablets you can buy.
They offer good build quality, very beautiful and bright screens, and outstanding performance. We're getting 11-inch and 12.9-inch high-resolution screens with a refresh rate of up to 120Hz, as well as very fast Apple A12X processors.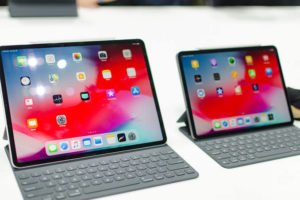 The liquid Retina XDR Mini LED display is stunning, providing maximum brightness unmatched by other tablets – this slate can keep up with Samsung's Galaxy Tab S7 Plus, which seemed like a significant upgrade for tablet screens just one year ago. Besides being perfect for watching movies, it is also ideal for everyday tasks.
Other features like four speakers, Face ID, and an optional Apple Pencil 2. I've written many articles with the iPad Pro keyboard. With that being said, if you need desktop-like multi-functioning and write a lot about anything, a tablet with keyboard might be better suited for you. At least if you're planning to replace your main laptop or desktop with a tablet.
Hardware Specifications of iPad Pro 11″
Processor
A12X Bionic chip with Neural Engine
RAM
6 GB
Storage
256 GB
Display
11″ Inch Retina display with 3000 x 2000
Camera
Rear- 12MP | Front- 7MP
Operating System
iPadOS
Battery Life
10 hours
Weight
1.03 lbs
2- Microsoft Surface Go 2
Seldom, it takes another try to make a thing go true. The Surface Go 2 takes purpose at all the defects of the predecessor and beats them all down. First of all, smaller bezels make way for a larger screen, arguably the most significant part of a tablet. The Surface Go 2 has a 10.5-inch layout, compared to 10 inches for the former model.
The most significant upgrade is the Surface Go 2's 11 hours and 39 minutes of battery time, over 5 hours higher than the initial Surface Go. Microsoft also acknowledged my prayers for a laptop with a great webcam.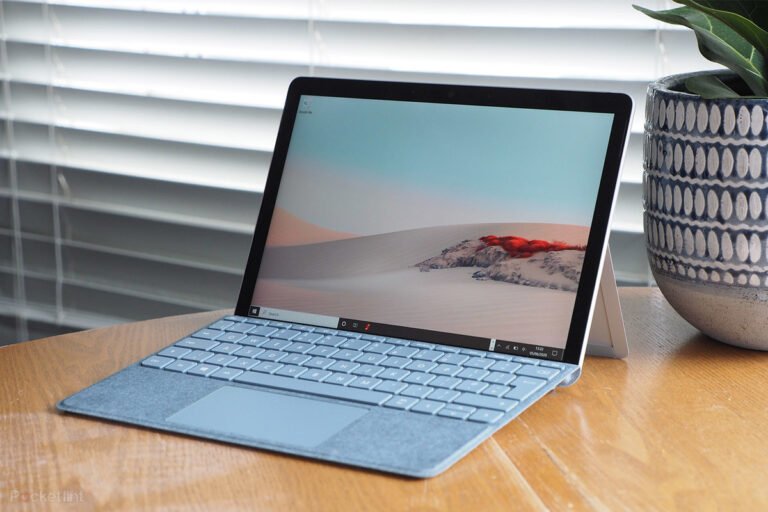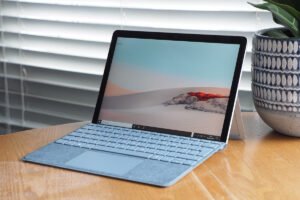 The 5-megapixel 1080p camera in its best bezel is excellent for the time of online video calls, and its second head camera sensor figures Windows Hello biometric login. Lastly, take the Surface Go 2 with the 8th Gen Intel Core m3 grade, it's a little pricier, but it's unquestionably the ideal for multitaskers.
Hardware Specifications of Microsoft Surface Go 2
Processor
8th Gen Intel Core M3 / Intel Pentium Gold 4425Y
RAM
4 GB
Storage
64 GB/128 GB
Display
10.5″ PixelSense Display with 1920 x 1280 Resolution
Camera
Rear- 8MP
Operating System
Windows 10 Pro
Battery Life
10 hours
Weight
1.2 lbs
PROS
Bigger screen.
Core M3 processor option.
Runs any Windows app.
CONS
Very low performance ceiling.
Battery Life.
Keyboard Flex.
3- Microsoft Surface Go 10"
It's perfect for all your daily tasks and compatible too. Its weight is less as compared to the other. The pen used in this is also lightweight with greater sensitivity and feels natural. Attached with a multitasking removable keyboard with 4GB of RAM and 128GB SSD. The 4096 pressure point responds to the lightest touch. Tilt pen to shade like a pencil.
Slightly round from the corner and provide more handgrip to the corner of the device. Its stand helps a lot to put it at any angle up to 165 degrees. Have both front and rear cameras fr smart users and photo lovers.
Like other tablets you don't need to do other pc work on other devices when attached to the keyboard it works the same as a laptop or a personal computer. Pressure sensitivity is good (4096), size is 9.7 x 69 x 0.3, Along with keyboard surface light pen is also with it for better creative work like drawing, sketching, etc.
Hardware Specifications of Microsoft Surface Go 10"
Processor
1.6 GHz 8032 Intel Pentium Gold
RAM
4 GB
Storage
128 GB
Display
10-inch Retina display with 1800 x 1200
Camera
Rear- 8MP (Webcam)
Operating System
Windows 10 Home
Battery Life
9 hours
Weight
1.15 lbs
For more detailed information read our Microsoft Surface Go Review.
PROS
Design
Lowest price
Compact size
CONS
Average processor
Keyboard and pen sold seperately
Battery life
4- Microsoft Surface Pro-6 – Best Tablet With Keyboard
We all know very well about this brand. When we talk about the quality product then this came into existence. After Microsoft Surface Pro-6, this pro 7 is more powerful in every way, here's everything you need to know about ultra-light and versatile Surface Pro 7.
The artistic features of this product attract a user a lot. We can draw over it with the help of the Surface Pen.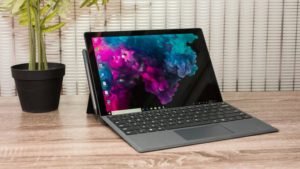 Low weight and stylish look make it comfortable for the user. Faster multitasking and improved graphics, with up to 16GB RAM. Its lightweight provides convenience to use and carry. Processor and RAM helps a lot for multitasking operations. It also launched in different variants according to the user's needs. Connectivity is as usual with wifi and Bluetooth.
Hardware Specifications of Microsoft Surface Pro 6
Processor
Intel Core 8th Gen i5 or i7
RAM
8 GB
Storage
128 GB, 256 GB
Display
12.3" PixelSense Display
Camera
Rear- 8MP (Webcam)
Operating System
Windows 10 Home
Battery Life
13.5 hours
Weight
3.15 lbs
PROS
Fast Performance
Excellet Battery
Bright and colorful display
Thin keyboard
Pen support
CONS
No C-type USB
256GB SSD is bit sluggish
5- Microsoft Surface Pro 7
If we talk about the tablet having a keyboard with it the only a few names come to our mind so the word "Microsoft" is one of them. After a lot of versions of the surface, this surface 7 is a great option. There are USB Type-A, Type-C, and Surface Connect ports on the right side. The power button is located on the top. The volume rocker is on the left edge. Surface Type Cover connectors and a 3.5mm audio socket is also on the left side.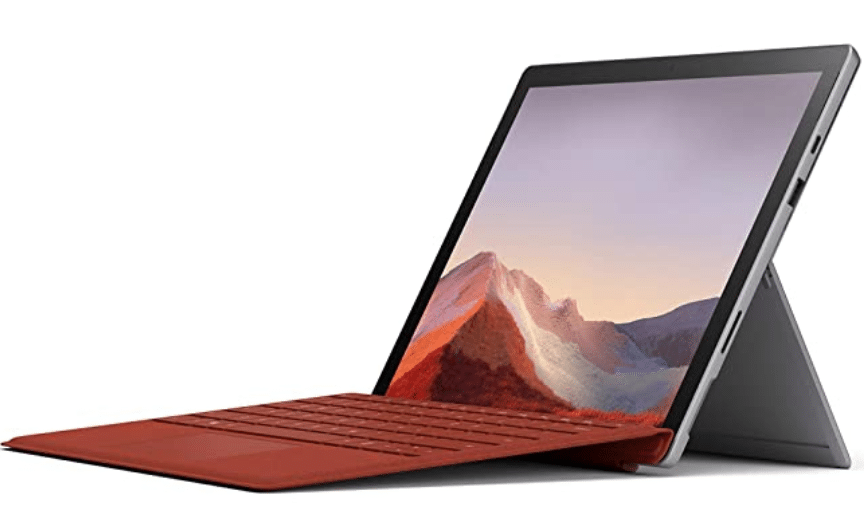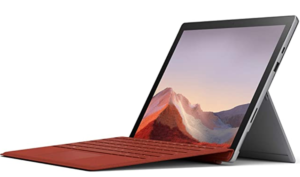 One of the critical features of this device is the 12.3-inch PixelSense display with 2,736 x 1,824 resolution and a 3:2 aspect ratio. There is also an integrated kickstand with a hidden micro-SD card slot on top. With this display, we get a polished presentation with high resolution. A USB Type-C port replaces the mini-DisplayPort on the tablet. As a result, multiple monitors can be used at the same time with the tablet.
Keyboard quality is good and very thin so can use peacefully and also help to store it in the minimum required space. However, the Microsoft Surface Pro 7 has a disappointing battery life, despite more robust performance and better ports.
Hardware Specifications of Microsoft Surface Pro 7
Processor
10th Gen Intel Core i3/ i5/ i7
RAM
4 GB/ 8GB/ 16GB RAM
Storage
128 GB/ 256 GB/ 512GB/ 1TB SSD
Display
12.3 Inch PixelSense Display with 2736 x 1824 Resolution
GPU
Intel UHD Graphics/ Intel IRIS Plus Graphics
Operating System
Windows 10 Home
Battery Life
10.5 hours
Weight
3.53 lbs
PROS
Quad-core performance.
Cool and quiet with a quick resume.
USB-C port.
CONS
Still no Thunderbolt 3.
Dated design.
Lack of built-in LTE.
6- Lenovo Miix 630
If you want an 'always connected' 2-in-1 Windows 10 laptop with a Qualcomm CPU, quite possibly this is for you.
Miix 630 is powered by a Snapdragon 835 chip which gives it just about enough power under the hood battery life is the best plus point in this up to 20hr. Lenovo provides the Miix 630 with detachable keyboard cover, but also a stylus as well. You don't have to pay an extra penny for this.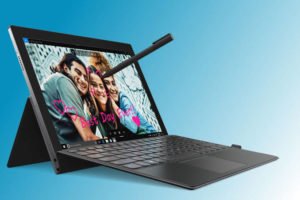 There are caveats with Qualcomm-powered Windows 10 machines, in that you can't expect the earth with performance, but the 630 is solid enough with general everyday computing. Also, it runs Windows 10 S Mode by default, but this can be easily switched away from. Graphic memory is just better then its previous editions it has Adreno 540 with 8GB of RAM and full HD resolution 1920 x 1280. Again, though, their price tags won't be comparable to the other tablet with keyboard.
Hardware Specifications of Lenovo Miix 630
Processor
Qualcomm Snapdragon 835
RAM
4/8 GB
Storage
128 GB
Display
12.3" (1920 x 1280 HD Resolution)
Camera
Rear- 8MP (Webcam)
Operating System
Windows 10 Home
Battery Life
20 hours
Weight
5.42 lbs
7- Samsung Galaxy Tab S6/S6 Lite
Our favourite Android tablet with a keyboard option is the S6/S6 lite for several reasons. This is a premium tab that boasts excellent performance levels thanks to its Snapdragon 855 chip, and the best thing nowadays, it has a Super AMOLED display, which made up to bring it in a segment of tablet with keyboard.
As a result, it's fantastic for media playback in particular, and a bonus is the inclusion of HQ AKG-tuned speakers. However, its keyboard is not attached to its price you have to buy it separately, and it's cover.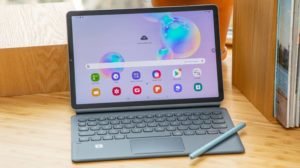 Although many rivals sell these accessories together with the tab, if you switch to Samsung, you need to go for others. Under the hood, it is powered by Snapdragon 855 with Adreno 640 graphics. RAM is much better, 6GB – 8GB, and full HD display since it has android nine but can be upgraded further.
Hardware Specification of Samsung Galaxy Tab S6
Processor
Octa-Core(2.8GHz+3×2.4, 4×1.7)
RAM
6 GB
Storage
128 GB
Display
10.5″ Inch Retina display with 2560 x 1600
Camera
Rear- 13MP | Front- 8MP
Operating System
Android
Battery Life
15 hours
Weight
0.92 lbs
Still want to know more?? Read our expert's Review on Samsung Galaxy Tab s6.
PROS - Tab S6
Powerful Processor
DeX mode
Storage space
Updated S pen stylus.
CONS - Tab S6
Keyboard need to buy seperately
Small keys
On the other hand, the Galaxy Tab S6 Lite's tiny bezels help it reach out to the mid-range tablet people even further, making it seem more like the iPad Pro than the iPad.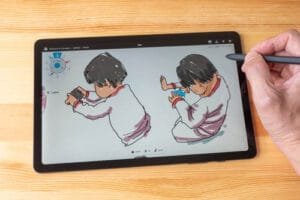 Oh, and the S-Pen stylus, which allows low-latency design, is included by error, and it closes to the top of the Tab S6 Lite, so you're less inclined to lose it. In reality and performance-wise, though, the Tab S6 Lite won't be driving people away if they attempt to multitask.
However, if you come looking for snappy navigations and complex gaming it's not a device for you. With slow performance, word processing is a bit slow too when composing lengthy documents, the average palm detection also gets in your way of working and gets quite annoying. But if you want to use it for a normal purposes and need a keyboard then you can easily use it for your need.
Hardware Specifications of Samsung Galaxy Tab S6 Lite
Processor
Exynos 9611
RAM
4 GB
Storage
64 GB
Display
10.4″ Inch Retina display with 2000 x 1200
Camera
Rear- 8MP | Front- 5MP
Operating System
Android
Battery Life
12 hours
Weight
1.02 lbs
PROS - Tab S6 Lite
Robust Design.
Plentiful UI Design.
S Pen included.
CONS - Tab S6 Lite
Issue with Pen.
Little sluggish.
8- Lenovo ThinkPad X1 Tablet (3rd Gen)
The tablet itself is built to a high standard featuring a superbly vivid 13-inch 3K touchscreen, and connectivity is impressive for a 2-in-1 in terms of the device being equipped with a pair of Thunderbolt 3 ports. It comes with a well-built removable keyboard which is nicely comfortable to type on, and it's another hybrid that bundles a stylus into the bargain (Lenovo's ThinkPad Pen Pro).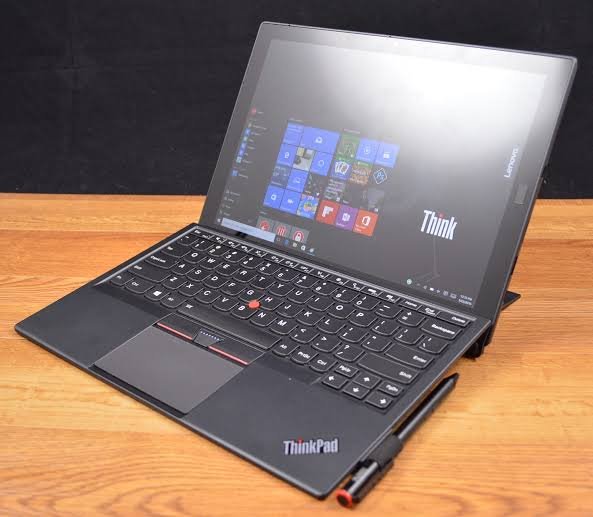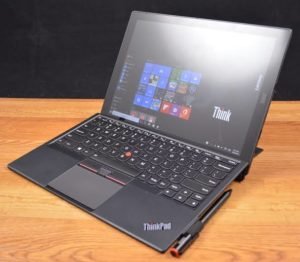 They are powered by an 8th-gen Intel Core i5/Core i7 processor for gaming. Video quality is integrated into Intel UHD Graphics 620. RAM is between 8GB – 64GB so that the user may select accordingly. Screen resolution of 2000 x 3000 is excellent for video experiences so that the storage ranges between 256-512GB for internal media.
Hardware Specifications of Lenovo ThinkPad X1 Tablet
Processor
Intel Core i7-8650U with UHD Graphics 620
RAM
16 GB
Storage
256 GB
Display
13.5″ Inch Retina display with 3000 x 2000
Camera
Rear- 8MP | Front- 2MP
Operating System
Windows 10 Professional 64-bit
Battery Life
9.5 hours
Weight
2.8 lbs
9- Microsoft Surface Book 3
With a stunning display and one of the best keyboards I've seen, the Surface Book 3 is still a top-notch piece of gear. However, most premium portables in 2021 will outperform them in terms of specs and price.
There's no need to be surprised by how beautiful the Surface Book 3 is. The chrome Microsoft logo on the back of the device and the rigid feel of the keyboard make it look like a quality device.
Surface Book 3's keyboard deck has two USB 3.1 Gen 2 Type-A ports, a USB 3.1 Gen 2 USB-C port, Surface Connect port that can be used to charge and connect an expensive dock. If you remove it from the keyboard dock, you will discover another Surface Connect port and a 3.5mm jack on the Surface Book 3.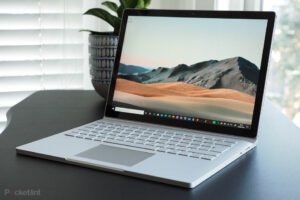 However, the PixelSense display is perhaps what makes it so unique. This 15-inch model has a display resolution of 3,240 by 2,160 pixels. You'll find this aspect ratio very useful when working at a desktop computer, and it still looks good when you're watching a 16:9 video with your friends. However, black bars will be annoying while you're watching.
Unfortunately, there are no H-series processors available for the Surface Book 3. You'll typically find an Intel Core i7-1065G7 in laptops like the Dell XPS 13 since it's the standard processor.
However, the discrete GPU is directly responsible for a large portion of that price rise. Nvidia's GeForce GTX 1660 Ti is found in the model I reviewed. The GPU is capable of gaming, but I wouldn't recommend it for gaming at native resolution.
In our experience, the Surface Book 3 has the best keyboard and one of the best displays of any laptop I've used. But its price tag and poor processor restrict its true potential.
Hardware Specifications of Microsoft Surface Book 3
Processor
10th Gen Intel Core i5-1035G4 Processor
RAM
8/16/32 GB
Storage

256 GB – 1TB SSD

Display
13.5/15″ IPS display with 2736 x 1824
Camera
Rear – 8MP | Front- 5MP
Operating System
Windows 10 with Pen
Battery Life
11.5 hours
Weight
7.79 lbs
PROS
Premium alloy construction
Elegant convertible design
Well-implemented kickstand.
CONS
16GB RAM maximum
Surface Pen is an additional purchase
SSD storage is pricey
10- Google Pixel Slate (Chrome OS)
One of the best keyboard tablets on our list with Chrome OS. With the Google Pixel Slate 12.3inch's powerful Chrome OS device and optional accessories, the Pixel Slate can do work and play beautifully. Having both a tablet and laptop in one device will come at a hefty price.
If you want a tablet plus keyboard combo that runs Chrome OS, this is the best pick (out of a vanishingly narrow field, admittedly).
This Slate is well-designed hardware with a beautiful display that makes pretty, good battery life, and the keyboard cover itself is a palatable enough accessory. One thing that can be said about this is its cost compared with others with the same features.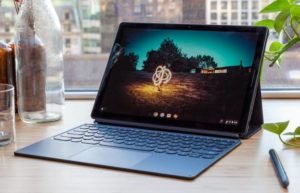 You can buy the Pixel Slate online with a keyboard. Still, the price tag is, frankly, pretty exorbitant – even for the base model, which only has a Core m3 processor – i7, Intel U-HD Graphics 615, and as usual 3000 X 2000 resolution with 64-256GB of storage.
A great product from Google is no surprise with the Pixel Slate. Google Chrome OS is a very flexible operating system, and it has excellent hardware. My daily computer has been an enjoyable experience, but I have difficulty recommending it. Pixel Slate's pricing is almost confusing, and it is expensive.
Hardware Specifications of Google Pixel Slate (Chrome OS)
Processor
8th Gen Intel Core m3 processor
RAM
8 GB
Storage
64 GB
Display
12.3″ Inch Retina display with 3000 x 2000
Camera
Rear- 8MP | Front- 8MP
Operating System
Google Chrome OS
Battery Life
10 hours
Weight
1.6 lbs
---
PROS
Nice display
Solid build
Support mouse and keyboard
11- Panasonic Toughbook CF-33
A rugged 2-in-1 is another niche area, but for those who need a tablet with a keyboard that can take some punishment, this Panasonic product is the king of the rough-and-tough hill. Panasonic's Toughbook CF-33 is sold standalone as a tablet or maybe with the keyboard, so be sure about the keyboard when you are buying it as using a keyboard gives a better experience and is comfortable too.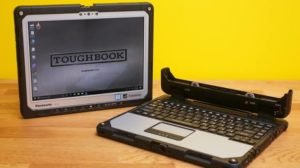 Battery life is superb, which is excellent for those using the CF-33 in the field, plus you get an HD display and a 2-in-1 capable of surviving drops and shocks, rain, extreme temperatures, and humidity, which meets the military-grade toughness, one of the most challenging tablet with keyboard. Its CPU is Intel Core i5-7300U, graphics Intel HD Graphics 620 with 8GB of RAM and vast internal storage.
Hardware Specifications of Panasonic Toughbook CF-33
Processor
CF-33 Intel Core i5-7300U
RAM
16 GB
Storage
512 GB
Display
12″ Inch Retina display with 3000 x 2000
Camera
Rear- 8MP | Front- 8MP
Operating System
Windows 10 Pro
Battery Life
20 hours
Weight
6.1 lbs
12- Dell XPS 12.5
You might have heard lots of a tablet serving as a laptop when connected to a keyboard. But what if a laptop can show the same thing whenever you feel like it. This is one such fantastic convertible that made its way to our list of best tablets for business.
The device comes with a 12.5-inch UHD display which provides a fantastic color experience and viewing angle—talking about the specifications; the device is powered by the Intel Core M processor paired with 8GB of RAM and 128GB / 256GB of SSD storage.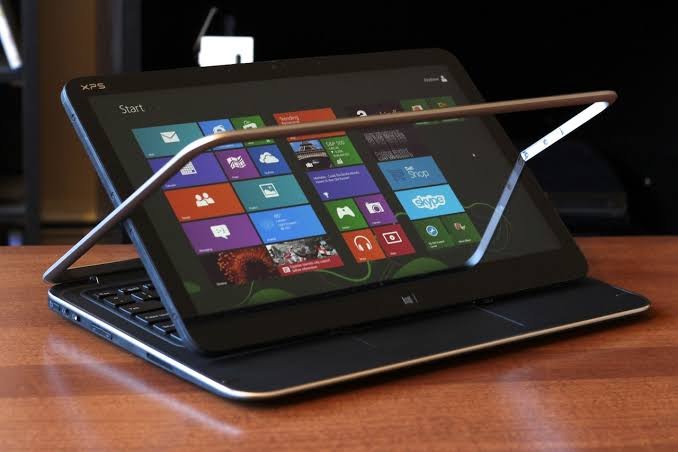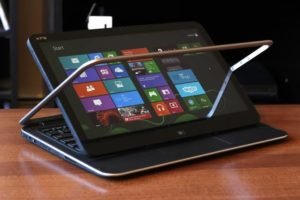 The device weighs just under 2.8 pounds, and the keyboard can stay run for over 7 hours on one charge. Thunderbolt port delivers transfer speed up to 40gbps, which is eight times of USB 3.0. And, if you want to connect with 5K resolution, which is more than enough or making it the most advanced tablet with keyboard in the segment.
Hardware Specifications of Dell XPS 12.5
Processor
Intel Core i7-5400U Processor 1.8 GHz
RAM
8 GB
Storage
256 GB
Display
12.5″ Inch Retina display with 1920 x 1080
Camera
Rear- 1.3MP (Webcam)
Operating System
Windows 8 (Upgradable)
Battery Life
10-12 hours
Weight
6.5 lbs
13- ASUS Transformer Mini 10.1″
ASUS is one of the most reputed brands in the global market, and the company is known for its laptops and is also known for its tablets. The device comes with a 10.1-inch 1280×800 pixels LED-backlit enabled display. The multi-touch display is quite extraordinary, max up to 10 touches.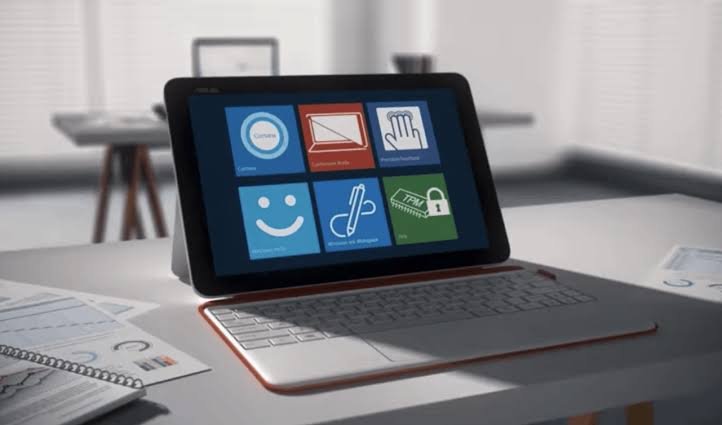 The device is powered by an Intel Atom x5 processor paired with 4GB of DDR3 RAM. Storage on the device is backed by 64GB/128GB of eMMC storage, which is almost sufficient for most potential business users. The device also comes with many connectivity options, such as a micro HDMI port, micro USB port, and a microSD card slot.
The device stays powered by a 2-cell polymer battery, which is expected to provide over 10 hours of continuous usage on a single charge. Finally, the ASUS Transformer Mini 10.1 is one of the best tablet with keyboard for business and enterprise usage.
Hardware Specifications of ASUS Transformer Mini 10.1″
Processor
Intel Atom Quad-Core x5-Z8350 Processor
RAM
4 GB
Storage
128 GB eMMC storage
Display
10.1″ Inch Retina display with 3000 x 2000
Camera
Rear- 2MP (Webcam)
Operating System
Windows 10 Pro
Battery Life
11 hours
Weight
1.7 lbs
Some More Popular Tablets With Keyboard
Bestseller No. 1
Apple iPad Air 2, 64 GB, Space Gray (Renewed)
Apple iOS 8; 9.7-Inch Retina Display; 2048x1536 Resolution
A8X Chip with 64-bit Architecture; M8 Motion Coprocessor
Wi-Fi (802.11a/b/g/n/ac): 16 GB Capacity: 2GB RAM
8 MP iSight Camera; FaceTime HD Camera - Up to 10 Hours of Battery Life
Sale
Bestseller No. 2
Apple Smart Keyboard for iPad (9th, 8th and 7th Generation) and iPad Air (3rd Generation) - US English
Smart Keyboard lets you write a term paper or create a presentation on a full-size keyboard whenever you need one.
It connects easily without the need for pairing or charging, so it's always ready to go.
And when you're done, it folds to create a slim, lightweight cover.
Compatibility: iPad (9th generation), iPad (8th generation), iPad (7th generation), iPad Air (3rd generation), 10.5-inch iPad Pro
Apple Smart Keyboard is a front cover only
Bestseller No. 3
Apple MacBook Air MJVM2LL/A 11.6-Inch 128GB Laptop (Renewed)
Renewed products look and work like new. These pre-owned products have been inspected and tested by Amazon-qualified suppliers, which typically perform a full diagnostic test, replacement of any defective parts, and a thorough cleaning process. Packaging and accessories may be generic. All products on Amazon Renewed come with a minimum 90-day supplier-backed warranty.
1.6 GHz dual-core Intel Core i5 (Turbo Boost up to 2.7 GHz) with 3 MB shared L3 cache
11.6-Inch (diagonal) LED-backlit Glossy Widescreen Display, 1366 x 768 resolution
Intel HD Graphics 6000
Bestseller No. 4
Apple iMac 21.5in 2.7GHz Core i5 (ME086LL/A) All In One Desktop, 8GB Memory, 1TB Hard Drive, Mac OS X Mountain Lion (Renewed)
Intel Iris Pro Graphics
2.7 GHz Quad-Core Intel Core i5 Processor (Turbo Boost up to 3.2 GHz) with 6MB L3 cache
21.5-inch (Diagonal) LED-backlit Display with IPS Technology; 1920-by-1080 Resolution
1TB Hard Drive, 8 GB (Two 4 GB) of 1600MHz DDR3 Memory
This Certified Refurbished product has been tested and certified to work and look like new, with minimal to no signs of wear, by a specialized third-party seller approved by Amazon. The product is backed by a minimum 90-day warranty, and may arrive in a generic brown or white box. Accessories may be generic and not directly from the manufacturer
Bestseller No. 5
Sale
Bestseller No. 6
Logitech Harmony Elite Remote Control, Hub and App
The most powerful and intuitive Harmony remote works with Alexa for voice control. All-in-one control of up to 15 home entertainment and connected home devices
Full color touchscreen: Simply swipe and tap to control channels, movies, volume, 50 favorite channels and smart home devices like Philips Hue lights
One-touch Activities: Touch an Activity like "Watch a Movie" to automatically power on and switch devices to the right settings; Compatible with Amazon's Alexa for easy voice integration and activation
Harmony app: Turns iOS or Android smartphones or tablets into personal universal remote controls for the whole house
Closed cabinet control: Included Harmony Hub lets you control devices in closed cabinets, or even when away from home
Finishing up
We have reached the end of the 13 best tablets with keyboard. As you can see, there are so many options for the tablet with keyboard available on the market today, but the final call is yours and which is suitable for you and your needs.
You may also confuse as we add lots of Microsoft devices but believe me that you will never regret buying any of them. Also, most users who use PC prefer the windows platform to work upon, so this is the best option.
You can also check out our list of Tablets with pen and Tablets under $300