Multitasking programmed tablet with highly desirable features. Huion GT-221 Pro HD undoubtedly a very good option for those who don't have much money for high premium products. It feels almost like a premium item.
The company's motive is to realize your creative ideas which are dedicated to the realization of creative ideas and exploring, creating better user experiences. They always follow their motto to provide the best version of their product reaching every person in the world.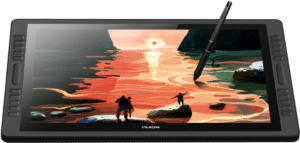 As compared to highly premium Wacom products, the Huion GT-221 is the best and cheap in price that a common person can easily afford and makes his mind and ideas more creative.
Features and Specifications
Huion gt-221 Pro features normal specs which are enough for high performing tasks. So first have a quick look at its specification and a hardware install in it.
Hardware Specifications of Huion gt-221 Pro
Screen Size
21.5″
Pen Pressure
8192 levels
Resolution
1920 x 1080
Display
IPS monitor
Camera
No
Operating System
Windows and Mac
Power
36 Watt
Weight
4.5kg
---
Battery free pen
Good pressure level
Accuracy and responsive
Works good with mac and windows
Display and Screen
The Huion gt-221 pro is an upgraded version with advanced pro graphics drawing having an ultra 21.5-inch screen.
This Kamvas gt-221 pro has top-rated anti-glare glass that upgrades you with a comfortable ultra-smooth finish and also protects your eyesight too. its IPS panel with a wide viewing angle gives you a better image view, high definition, best color, and high light transmission at every viewing position.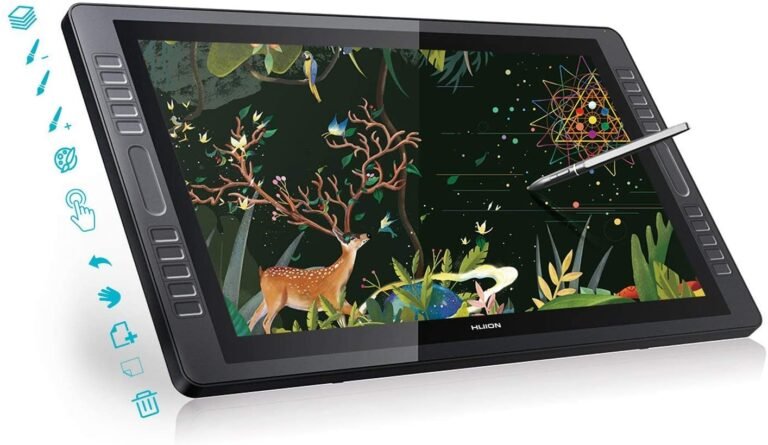 The Huion gt-221 pro has a quick response analysis system that provides you with the features of a 233pps report rate and 508lpi resolution. These paramedics guarantee that you will get a faster quick response with the best display effects during the work.
A special function is commendable i.e 10 press key on both sides and 2 touch bars that makes it customizable and handy, which provides more conveniences to your work.
Due to the glossy ultra-smooth finish of gt-221 pro, you should really like the paint color with the mat finish of this device. The pressure sensitivity of the pen is so much compatible to use as compared with the Wacom products. As the users are liking the advancement of the device the Huion gt-221 pro is reaching the level of popularity in a very high manner.
Compatibility
The Kamvas gt-221 pro works on windows 7/8/8.1/10/10 pro mac or os x10.11 and above with all programs and more. In this new digital pen, pe330 has a long-lasting battery with long durable life, and with 8192 levels of pressure sensitivity, it comes with great precision stroke.
One of the best parts of this tab, the sturdy and reliable stand which can stand and adjust within 20-80 degree range easily.
Appearance
American technology is looking for the best version of a user's experience which is helpful for them in terms of use and informative upgrades to make the best premium products.  This tab is an electromagnetic resonance technology with an IPS monitor type supporting the colors 16.7m(8bit).
It has a video interface of HDMI, video, VGA, etc, and a very less operation power consumption of 36w only. It also supports many old languages likes English, traditional Chinese and simplified Chinese, etc. As the user experiences lots of weight issues that's why the company makes this entire tab at a very less net weight of 4.5kg.
Is this really for you?
Before anything, you know by the artist for a beginner or a well pro user this drawing tablet gives you everything as a graphics tablet should have undoubtedly. You can say that this device is far better than many premium devices without any hesitation. You should trust the product and go for it. You will never get disappointed.
Many users have experienced lots of problems in stability control, sensitivity control, pressure point of the pen. Eye sights assist due to long-term use but in this tab, such kinds of problems are not even considered by the users because the gt-221 pro consists of left-hand sight stability, as well as a right side with an adjustable side.
It has the best sensitivity scale and due to the 8192+ level of pressure sensitivity, the prices during work are so much accurate. The anti-glare-glasses provide you with healthy eye sights because it's naturally acceptable.
The battery-free pen making it hassle-free from regular charging and pen dying out the protective nature of this pen is highly regardable and also gives you the smoothness and accuracy that you are looking for. If you are a new user then this is like a gem mine.
The most advanced of this tab that you can use multiple operations like win/mac.
The drivers are regularly updated in some months of the interval of time available at the app market of the device in system and support. The user manual is always beneficial for the better use and appliance for the tab.
Conclusion
Finally, we can say that the Huion gt-221 pro is very commendable and provides you a very unseen and unused experience that attracts you to do the work. The looks of this device are definitely making you curious and the glass mate finishing makes you feel like a well-fulfilled premium item.
it is so very easy to use and operate in ways as the user wants in his way. without thinking of so much time you may go and buy the product and experience a new era of Huion gt-221 pro world.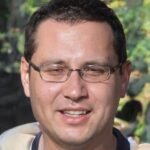 Ben Scott is a prominent technology journalist and reviewer, specializing in tablet devices. He is known for his comprehensive and unbiased reviews of tablets from various manufacturers.
With a deep understanding of tablet technology, including hardware components, operating systems, and software applications, Scott provides clear and informative reviews accessible to readers of all levels of technical expertise.
His attention to detail and in-depth analysis have earned him a loyal following of readers.