Are you thinking of getting a tablet for making skype calls, attending Zoom video meetings, or a tablet for a kid taking online classes or a tablet for an elderly person who needs a reliable video calling device to connect with their family members? If yes, then this article is just for you. In addition to video conferencing, tablets can be used for a variety of other things, so it's important to invest in a balanced device.
I assume you want powerful cameras, high-quality microphones, a long-lasting battery, plenty of storage to store conversations, proper venting to prevent overheating, and a 3.5mm audio jack to pair a traditional headphone for some conversational secrecy.
As a result, most tablets offer subpar cameras, shoddy microphones, disappointing speakers, and a questionable battery life that rarely lives up to the OEM's price tag. Despite the endless needs and scant fulfillments, I think it is time for you to get to know some of the best video calling devices.
In the midst of the gadget-infested retail space, I have discovered nine of the best tablets based on specifications, cost to ownership ratio, utility and availability.
So without any further delays let's look at the tablet options that are worth your precious hard earned money.
Given that you are still on the lookout for that perfect tablet for video calling and more, I am now going to compile a list of devices that might prove useful. Selecting one is completely up to you, but I want to point out that each of these tablets has been tested and reviewed across a wide range of parameters.
The list has also been balanced by starting with some high end models and going down to midrange and finally budget models that offer the biggest bang for your buck.
List of the Best Tablet For Video Calling in 2022:-
1- Apple iPad Pro – Top Priority
Apple's iPad Pro 11 boasts an out of the world camera setup to satisfy almost all your video calling needs. This come in our first place due to its build quality and reliability, as everyone know about this brand.
Also, thanks to the dedicated LiDAR scanner in the back, I believe the Apple iPad Pro would be a great tablet to purchase for Computer Vision experts, AR professionals, or mechanical engineers. Furthermore, the new iPad Pro is a better pick than the 2020 variant, thanks to the improved front camera.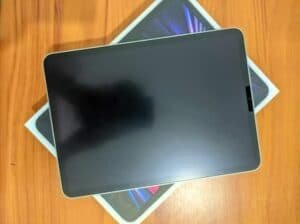 Hardware Specifications of Apple iPad Pro 11″
Processor
Octa-core 4×2.5 GHz Vortex
RAM
4 GB
Storage
256 GB
Display
11-inch Retina display with 1668 x 2388 Resolution
Camera
Rear- 12+10 MP | Front- 7 MP
Operating System
iOS 12
Battery Life
10 hours
Weight
1.04 lbs
PROS
Trackpad Support.
Gorgeous Display.
Faster Chipset.
Better Cameras.
LiDAR Scanner.
CONS
Costly.
Processor Is Not A Major Upgrade.
There is no better device to make video calls in any capacity than the iPad Pro 11". Its 12MP ultra-wide shooter, capable of covering an incredibly wide area, works to its advantage. As a result, you can expect this tablet to provide a wide view as you connect with friends and family, so you can see several people simultaneously.
For technical professionals who prefer to capture frames with greater accuracy, the triple-camera setup at the back with wide, ultra-wide, and 3D sensors is a strong selling point. Plus, you can hear voices clearly enough thanks to the quad-speaker setup.
Furthermore, Wi-Fi 6 technology provides speedier internet connections, which means that video calls will render faster and have fewer lags.
Designed with a focus on clarity and color accuracy, Apple's 11-inch Liquid Retina display feels all-hands-on-deck. This IPS screen features 2388 x 1668 pixels as the native resolution. The wide color palette contributes to the stunning visuals, as does the 120Hz refresh rate, which is perfect for avid video callers.
Click here for detailed review of Apple iPad Pro.
The iPad Pro 11″ features eight gigabytes of RAM and a powerful M1 chipset. As for storage, you get 128GB right out of the box. However, it is not upgradable. The OS, iPadOS 14.5.1, loads fast and has quite an intuitive user interface.
An aluminum-clad tablet measuring 9.73 x 7.03 x 0.23 inches, with a scratch-resistant front panel, weighs a tad over a pound. In addition, if you prefer a secure device, the Face ID functionality seems to be a biometric gold standard. Additionally, this tablet includes an innovative Type-C port as well as Thunderbolt 4 port functionality.
In terms of autonomy, the iPad Pro promises 10 hours of battery life. Furthermore, Apple has made way for fast charging, so you can easily recharge your device.
In general, the Apple iPad Pro is a balanced tablet that is designed to be used for more than just video conferencing. In addition, its top-of-the-line rear camera setup makes it stand out on the list as compared to other Facetime devices.
2- Samsung Galaxy Tab S7/s7+
There is an 8MP front snapper on the Samsung Galaxy Tab S7, which is very good in low light conditions. Additionally, there are two cameras on the back of the device, including a 13MP primary and a 5MP ultra-wide secondary camera.
In fact, I even compared it to the more affordable Tab S6 Lite, but the Tab S7 won out because it had a larger screen and more memory.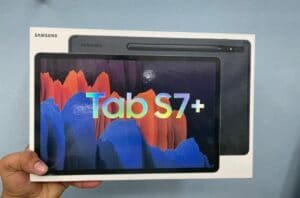 AKG tuned speakers are positioned at the periphery for top acoustic performance. Moreover, top-rated microphones enable you to communicate with others on video calls, even if you do not have headphones. In addition to Wi-Fi 6 support and Bluetooth 5.0 for setting up wireless earphones, other features that justify Tab S7's inclusion on the list include its wireless earphone compatibility.
The 11-inch TFT screen displays 2560 x 1600 pixels as its standard resolution and is exceedingly vibrant. 84 percent screen to chassis ratio lets you maximize the field-of-view while using Zoom, Skype, and other apps that are compatible.
Hardware Specifications of Samsung Galaxy Tab S7
Processor
Octa-Core (3.09+2.4+1.8GHz)
RAM
6 GB
Storage
128 GB
Display
11″ Inch Retina display with 2560 x 1600
Camera
Rear- 13MP | Front- 8MP
Operating System
Android 10
Battery Life
12 hours
Weight
1.1 lbs
PROS
Powerful Processor
DeX mode
Storage space
Updated S pen stylus.
CONS
Keyboard need to buy seperately
Small keys
Qualcomm's Snapdragon 865+ chipset works hand-in-hand with 6GB of RAM and a sizable 128GB of storage space to power the device. You can even consider upgrading the same by an additional 1TB, provided you intend to keep a lot of video session recordings for future reference. Android 10 promises faster response times and a full range of relevant applications like screen recording and video recording.
Thanks to the metal clad form factor, this tablet looks sleek and premium. Its dimensions are 9.99 x 6.51 x 0.25 inches, which is right on par with expectations, and it weighs 1.10 lbs. A secure, side-adhesive fingerprint scanner is bundled with the stylus and makes it quite responsive.
Read detailed review of Samsung Galaxy Tab S7.
Galaxy Tab S7 is powered by an 8000mAh battery with fast charging, which provides 15 hours of extended battery life. As far as relevance is concerned, I would recommend the Samsung Galaxy Tab S7 to students who wish to explore newer facets of online academics.
Additionally, if you have a child, this is the perfect tablet to bring along on trips, as the fast charging capability is probably superior to any other tablet on the list. On the other hand, if you have an underwhelming budget, the 128GB storage space on the Galaxy Tab S6 Lite also makes it an attractive option.
Despite the stylus pen, this alternative has a slightly shorter battery life of 12 hours as well as a slightly smaller 10.4 inch screen and 4GB RAM.
3- Apple iPad Air
If you don't want to spend a fortune on the iPad Pro but still want to stick with Apple, the iPad Air is the perfect tablet. I feel that the iPad Air is the best video calling tablet for corporate professionals and businessmen based on its size and functionality.
With a better camera with an f/2.0 aperture, the 4th gen iPad Air is even better than the 3rd gen iPad Air, providing better low-light photography.
Apart from the 7MP front camera, you also get a 12MP wide-angle rear camera for capturing video conferences. Additionally, the stereo speakers ensure that the interacting parties can be heard clearly enough. Not to mention the support for Wi-Fi 6, which ensures stable and lag-free internet connections and video output.
One of the advantages of the 10.9-inch IPS screen is its brightness. Detailed specifications of the Liquid Retina panel are as follows: 2360 x 1640 pixels. Additionally, there is a scratch-resistant panel atop the LCD screen, designed to absorb minor bumps along the way.
Hardware Specifications of iPad Air 10.9
Processor
A14 Bionic
RAM
4 GB
Storage
64/256 GB
Display
10.9″ Retina display with 2360 x 1640
Camera
Rear- 12MP | Front- 7MP
Operating System
iPad OS 14
Battery Life
9 hours
Weight
1.0 lbs
PROS
Elegant thin and light design.
Bright, colorful and sharp display.
Excellent webcam.
Magic Keyboard.
CONS
No face id.
No headphone jack.
Expensive accessories.
A proprietary chipset from Apple, the A14 Bionic, drives the iPad Air. Additionally, Apple includes 4GB of RAM and a non-upgradeable 64GB storage unit for faster file and recording retrieval. Apple's iPadOS 14.1, which comes with the storage unit, is quite interactive and accommodating to users who are new to the Apple ecosystem.
The exquisitely designed tablet weighs only 1.01 pounds, so its name is justified. It measures 9.75 x 7.03 x 0.24 inches as far as its dimensions are concerned. In addition to the chassis, the smartphone includes a fingerprint scanner.
Apple's iPad Air runs for up to 10 hours on a single charge, making it one of the best and most suitable tablets for video conferencing. Also, compared with some of the other tablets on this list, its intuitive digital voice assistant and user interface set it apart from the rest.
4- Microsoft Surface Go 2
Users of traditional laptops may wish their Windows experience would be carried over to their tablets. Accordingly, the Microsoft Surface Go 2 may be the perfect 2-in-1 tablet for those with similar preferences. Skype users who are more comfortable working on the Windows ecosystem will benefit from this product most.
Furthermore, the Surface Go also offers Wi-Fi 6 support, which is superior to the Surface Go's older model when it comes to quality of internet connections.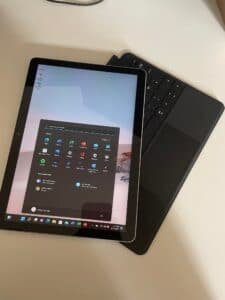 Surface Go 2 offers a wide range of features for managing video calls, including a Skype-appropriate 5MP front camera and an 8MP rear camera. Additionally, you don't have to use a headphone to stay in touch with your team members since the studio-grade dual microphone setup captures even the most inconsequential sounds.
Following the stereo speakers are the Dolby Audio speakers, which improve the sound quality and make the acoustic projections clear and loud.
With regards to the display, the PixelSense panel is quite a pleasant surprise. In addition to Gorilla Glass 3, the screen has an overall resolution of 1920 x 1280 pixels, which improves the overall color accuracy. Drawing, photo editing, stock trading, etc., are all easily performed with the combination of powerful hardware, Windows OS, and a PixelSense display.
Hardware Specifications of Microsoft Surface Go 2
Processor
8th Gen Intel Core M3 / Intel Pentium Gold 4425Y
RAM
4 GB
Storage
64 GB/128 GB
Display
10.5″ PixelSense Display with 1920 x 1280 Resolution
Camera
Rear- 8MP
Operating System
Windows 10 Pro
Battery Life
10 hours
Weight
1.2 lbs
PROS
Bigger screen.
Core M3 processor option.
Runs any Windows app.
CONS
Very low performance ceiling.
Battery Life.
Keyboard Flex.
An 8GB RAM module is available, and a 128GB solid-state drive is included. It's all about the Intel Pentium Gold 4425Y as a low power chipset when it comes to processing power. With the Windows 10 S Mode OS, the hardware setup is comparable to that of an entry-level laptop, further enhancing the professional experience.
Surface Go 2 utilizes magnesium alloy for its form factor, which contributes to its heft of more than 1.2 pounds. Dimensions of 9.65 x 6.90 x 0.33 inches suggest a thicker chassis, but this can be overlooked considering the PC like functionality.
Want to know more? Read our expert's review on Surface Go 2.
Added functionality such as Windows Hello and TPM make this tablet more private. Furthermore, the device includes a 3.5 mm jack, Type-C port, and a card reader to upgrade the existing storage.
The Surface Go 2 offers close to ten hours of battery life. Therefore, if you prefer a Windows powered tablet for your video conferencing needs, this device would be a solid choice. Furthermore, thanks to the SSD support, it stands out among other products on the list for its ultrafast storage unit.
5- Lenovo Tab P11
It is hard to find a tablet with an Android operating system that is fast, smooth, and responsive on a budget. Despite its shorter battery life, the Lenovo Tab P11 still wins over with its powerful midrange processor. Considering the tablet's portability and speed, it is suitable for college students who wish to stay in contact with their teachers throughout the day.
In my review of the P11, I replaced it with my M10 tablet, and found that it boasted a better set of shooting capabilities and even more storage space to keep study materials and recordings.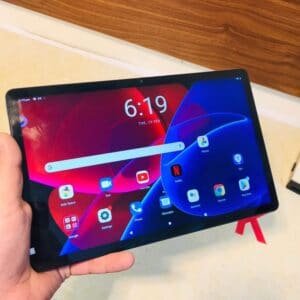 One of the reasons the Tab P11 is the best tablet for Skype or Zoom calls is its excellent camera setup, led by a 13MP rear camera and an 8MP wide-angle front camera. Additionally, the high-end microphones and quad-speaker arrangement produce a much better acoustic output, making voices and deductions clearer.
You can connect wireless earphones via Bluetooth 5.1 using Wi-Fi AX for faster internet speeds. There is also Wi-Fi AX support for faster internet connections.
This laptop displays a 1200 x 2000 pixel native resolution on its 11-inch IPS screen that is bright. It displays color accuracy and even allows you to manage images from deplorable angles due to the accurate viewing angles. The best-in-class display panel on this tablet makes it ideal for watching Netflix or offline movies.
Hardware Specifications of Lenovo Tab P11 Plus
Processor
MediaTek Helio G90T Tab Octa-Core
RAM
4 GB
Storage
128 GB
Display
11″ Inch display with 2000 x 1200
Operating System
Android 11
Battery Life
15 hours
Weight
1.08 lbs
PROS
Punchy OLED screen.
Great-sounding quad speakers.
Responsive enough performance.
CONS
Few optimized apps.
Productivity mode.
Keyboard and pen accessories.
Snapdragon 662 handles the processing workload, not that you would need much for simple video calls. While this chip offers a powerful octa-core processor, it is able to take advantage of a powerful 4GB RAM and 128GB UFS storage space.
Also, Android 10 OS comes preloaded with a wide range of video conferencing applications available through the Play Store, right out of the box.
This is a 1 pound plastic tablet with metallic accents that holds on to its plastic body. In terms of dimensions, the device measures 10.17 x 6.42 x 0.30 inches, making it relatively slim compared to the Surface Go 2.
Lenovo's Tab P11 has an incredible 12-hour battery life, making it one of the best tablets on our list for video calls. With its anti fingerprint display, the Lenovo Tab P11 tops other products on the list, allowing for worry free handling of the device.
6- Vastking Kingpad K10 Pro
In order to stay up to date with team meetings, a tablet PC can be pricey, but you don't have to worry if you're using the Vastking Kingpad K10 Pro. In addition to a docking case that can accommodate a standard keyboard, this product comes with a stylus pen that can be used to manage Skype and Zoom controls, from a distance.
Also, the K10 Pro outperforms the standard K10, thanks to the large storage module for video recordings.'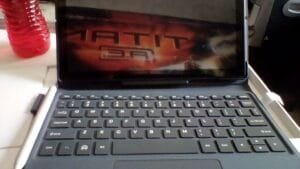 In addition to its large 8MP front camera, the Kingpad K10 Pro features a wider field of view for participants in Skype, Duo, and Zoom calls. Plus, there is a 13 MP camera at the back to spice things up for globetrotters.
The tablet incorporates a dual speaker setup, digitally controlled voice recording functionality, and other relevant specs like a sound amplifier, gesture navigation support for better tablet control, and live captioning.
Taking center stage is the small, compact, 10-inch screen with a native resolution of 1920 x 1200 pixels. Slimmer bezels on the IPS panel further maximize the screen's real estate.
A 4GB RAM module provides ample support for the Octa-core processor present in this tablet. The 64GB of ROM can be expanded to 512GB using the microSD card, which perfectly meets storage requirements.
As for the Kingpad K10 Pro, it measures 9.6 x 6.3 x 0.3 inches and is quite durable. Furthermore, the tablet weighs 1.10 pounds, which is quite reasonable considering the fact that there are other heavier tablets on the list. There is also a Type-C port on the tablet.
Including this device on this list is justified by its 12 hour battery backup. In actuality, the Vastking Kingpad K10 Pro makes it to sixth place because of its multi-mode operability, the keyboard included, and the stylus pen.
7- Samsung Galaxy Tab A7
If you are not comfortable wearing headphones, the Samsung Galaxy Tab A7 could be just what you are looking for. Also, this is one of the few Samsung-branded tablets that does not come with a lot of Bloatware that consumes the storage.
Furthermore, if you previously used the older Tab A from the same company, the Tab A7's faster chipset might help you make video calls better even if the network is congested.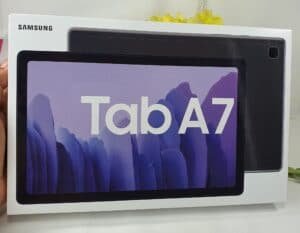 The Tab A7 is a great choice if you are primarily interested in Zoom calling, thanks to its standard 5MP front camera. As well as the front camera, the rear camera is equipped with an 8MP camera for better visuals. Nevertheless, the quad-speaker set-up and related surround sound setup make this tablet all the more credible, as far as video conferencing is concerned.
Additionally, the dual-band wireless support allows you to establish high-speed, lag-free connections with other participants.
There is enough brightness on the 10.4 inch TFT screen. However, when it comes to the resolution, you'll be happy to know that 2000×1200 pixels guarantees better color accuracy and better visibility.
Tab A7 from Samsung comes with a standard Snapdragon 662 chipset, along with 3GB of RAM. With the 64GB module, users can meet their storage needs, which can later be expanded to 512GB, when necessary. As well as upgrading from Android 10, the OS can even be upgraded to a newer version.
Plastic is the only material used for Samsung's Tab A7. This sleek device weighs just 1 pound and even measures 9.75 x 6.20 x 0.28 inches, making it quite a sleek device. In addition to that, this phone also comes with a 3.5mm jack and a standard Type-C port.
An individual charge for this Samsung Tab A7 will last you for up to 12 hours. The bottom line is that this is one of the few budget tablets on the list that offers all the relevant resources for seamless video conferencing. It features faster charging than other products, which, as compared to other products, makes it more desirable.
8- CHUWI HiPad X
In addition to being the only tablet on the list that replaces your smartphone, the CHUWI HiPad X features dual-SIM functionality. This might be the ideal device to buy under $200 if you have kids at home and want to avoid having to buy separate devices for calls and online classes.
With the inclusion of built-in LTE support, the HiPad X outshines the HiPad Plus as well as the HiPad Plus.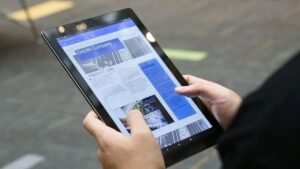 Due to its sharp, 5-megapixel front camera, the HiPad X is an excellent tablet for attending video calls when all you need is a simple, all-inclusive, functional tablet. In fact, one of its greatest strengths is its 8MP rear camera, which creates clearer images when you want to interact holistically with the participants.
Moreover, the high-fidelity speakers and studio-grade microphones enhance the audio output, while Wi-Fi AC technology ensures better internet connectivity.
The display configuration of the CHUWI is up to snuff with a standard 10.1-inch IPS display. The resolution stands at 1920 x 1200 pixels, which is adequate for connecting outdoors.
Hardware Specifications of CHUWI Hi10 X
Processor

Intel N4120 Quad-core

RAM
6 GB
Storage
128 GB
Display
10.1″ Inch display with 1920 x 1200
Camera
Rear- 5MP | Front- 2MP
Operating System
Windows 10
Battery Life
6 hours
Weight
1.15 lbs
PROS
Processor.
The camera is below average.
CONS
Very low performance ceiling.
Battery Life.
Keyboard Quality.
The Octa Core chipset is capable of meeting your processing needs. Even when you multitask on the tablet, the Helio MT6771V ensures that calls connect seamlessly. Furthermore, the system comes with 4GB of RAM and 128GB of upgradable storage space. With the UFS storage module, the pre-existing Android 10 operating system boots up almost immediately.
With dimensions that measure 9.9 x 6.4 x 0.37 inches, the HiPad X does not attempt to be sleek. Moreover, the tablet weighs a staggering 1.30 pounds, so it is among the heavier products on the list. It also comes with bundled HiPen 3 and a durable kickstand, not to mention product management support.
This device has a 15 hour battery backup, which makes it a better choice for students. Your children will be able to stay fully engaged in their online classes with this feature without having to worry about their batteries dying.
While quite a few dependable tablets are included on this list for video calling, nothing beats the LTE support offered by the CHUWI HiPad X, making it possible for you and your kids to stay connected even without a wireless network.
9- Vastking Kingpad K10
You should choose the Vastking Kingpad K10 if you are looking for an affordable tablet that can handle video calls with ease. This tablet is a tough one to beat when it comes to managing significant tasks like home automation via voice and video, occasional calls to loved ones, and more.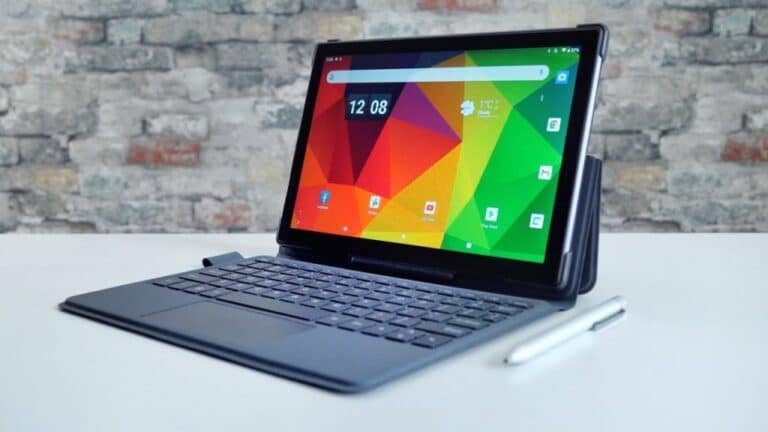 Moreover, the Kingpad K10 offers a faster processor for seamless multitasking compared to the Kingpad SA10, a similar budget tablet.
There are quite a few features about the Kingpad K10, including the 5MP front camera and the 13MP rear camera. Plus, the integration of facial recognition allows you to set more privacy-oriented parameters.
There exists a standard acoustic set up, consisting of dual speakers and a basic microphone. For extended video conferencing, I would recommend that you purchase a headphone when purchasing this tablet.
Hardware Specifications of Vastking Kingpad K10
Processor

Octa Core (2X1.8Ghz + 6X1.6GHz)

RAM
4 GB
Storage
64 GB
Display
10.1″ Inch display with 1920 x 1200
Camera
Rear- 13MP | Front- 8MP
Operating System
Android 10
Battery Life
12 hours
Weight
1.15 lbs
PROS
Camera with decent quality.

Unlocking with facial recognition.

Vivid and bright display.

Includes a keyboard and a pen.

The price is affordable.
CONS
A brand that is not popular.
The 10.1 inch panel is easy to hold. Furthermore, the IPS screen's native resolution is 1920 x 1200 pixels, which is adequate in terms of color accuracy and viewing angles. Also, you need not worry about the occasional drop because the screen is shielded by a 2.5D reinforced glass panel. As a result, the videos render smoothly with the screen experiencing a 60Hz refresh rate.
With the T610 SoC, you get plenty of processing support from the 3GB RAM, so you can handle games, video calls, and even web browsing at the same time. 32GB of storage seems to be a bit sparse, but you can expand it up to 512GB using the microSD card support.
In spite of its simplicity, the Android 10 OS has some of the best video conferencing applications, such as Google Duo, Zoom, Marco Polo, Houseparty, and many more.
Considering the Kingpad K10's price, it's surprising metal makes an appearance. As long as you don't mind the small dimensions, the 9.60 x 6.30 x 0.30-inch tablet feels pretty sleek even when in transit.
With a battery backup of almost 12 hours, the Vastking Kingpad K10 is one of the most capable phablets on this list. Additionally, this sub-$150 tablet seems like a better buy in comparison to some other sub-$150 tablets due to its multi-mode functionality and ability to use an external keyboard.
Conclusion
Thank you if you have read till this point because you have reached the conclusion, so let's talk about the final verdict. These were my top picks for best tablets for video calling. All of these can be searched or you can add a few more to your wishlist, but don't forget the mentioned features.
It's not just about the cameras when you are looking for the right tablet for video calling. As an alternative, you must check how the shooters interact with the speakers, microphones, batteries, and even the internet standards.
I hope that I have guided you in choosing your tablet that would fit the best for your video calling needs. Now it is up to you on which tablet you should go for.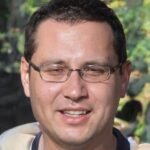 Ben Scott is a prominent technology journalist and reviewer, specializing in tablet devices. He is known for his comprehensive and unbiased reviews of tablets from various manufacturers.
With a deep understanding of tablet technology, including hardware components, operating systems, and software applications, Scott provides clear and informative reviews accessible to readers of all levels of technical expertise.
His attention to detail and in-depth analysis have earned him a loyal following of readers.