Introducing the Samsung Galaxy Tab S8, one of the premium and flagship tablets from Samsung. When discussing tablets, display, performance, and features are often a paramount concern, and in this respect, the Tab S8 doesn't disappoint. Its screen is not just large, but it's also crisp and vibrant, making every interaction a visual treat. Whether you're streaming a movie, scrolling through photos, or working on a presentation, the display ensures clarity and richness in every pixel.
But a tablet is more than just its screen. Dive deeper into the Galaxy Tab S8's specifications, and its performance metrics quickly capture attention. Equipped with powerful internals, this device promises a seamless user experience. Whether you're switching multiple apps, playing graphics-intensive games, or conducting video conferences, the Tab S8 is designed to handle tasks with efficiency. No doubt, the performance aspect of this tablet is clearly top-tier.
Beyond just display and performance, the Galaxy Tab S8 shines in its array of features. Samsung has always been at the forefront of integrating useful and innovative features into its devices, and this tablet is no exception. From its intuitive user interface to its suite of productivity tools and apps, every feature seems meticulously crafted to enhance the user experience. This makes it a versatile gadget, suitable for professionals looking for a work companion, students in need of a study tool, or anyone seeking entertainment on the go.
In conclusion, the Samsung Galaxy Tab S8 emerges as a well-rounded device, balancing aesthetics with functionality. With its remarkable display, high-end performance capabilities, and so many user-friendly features, it's evident that Samsung has once again set a high standard in the world of tablets. Join me as we further explore what makes the Tab S8 a standout in its category.
Hardware Specifications of Samsung Galaxy Tab S8
Processor
Qualcomm Snapdragon 8 Gen 1 processor
RAM
8 GB
Storage
128 GB, 256 GB
Display
11-inch (2560 x 1600) LTPS LCD
Camera
Rear – Dual 13+6 MP | Front – 12 MP
OS
Android 12 ( One UI 4.1)
Battery 
8000mAh (Up to 15 hours)
Weight
503g (Wi-Fi), 507g (5G)
PROS
Powerful Processor
DeX mode
Updated S pen stylus
CONS
No bundled charger
No under-display fingerprint
No AMOLED Display
Samsung Galaxy Tab S8 Review– Design And Display
The Samsung Galaxy Tab S8 made its first impression on me with its premium design and feel. Weighing in at 503g for the Wi-Fi model and slightly more at 507g for the 5G variant, it's a tablet that feels substantial without being overly hefty. The dimensions of 253.8 x 165.3 x 6.3 mm make it sleek and comfortable to hold, whether I'm lounging on the couch or on the move. Crafted with an aluminum back and frame, it boasts durability, ensuring it's robust enough for daily wear and tear. The available colors, namely Graphite, Silver, and elegant Pink Gold, give potential buyers a good range of choices to reflect their personal style.
Now, moving on to the display, which is arguably the heart of any tablet experience. With an 11-inch LTPS LCD screen, the Tab S8 offers a spacious canvas. What stood out to me was the sharp resolution of WQXGA (2560 x 1600), translating to a crisp 274 PPI. This means that whether I'm watching movies, reading, or browsing, everything appears detailed and clear.
The tablet's 120 Hz refresh rate ensures smooth scrolling and a fluid visual experience, a feature I've come to value highly. The HDR10+ support, combined with the 480 nits brightness and DCI-P3 color range, provides vibrant and dynamic visuals, making streaming or gaming a delight. I also appreciate the Low Blue Light Certification, which ensures that prolonged screen time is easier on the eyes. With a commendable 83.60% screen-to-body ratio, the bezels are minimal, enhancing the immersive experience.
In sum, the Galaxy Tab S8's design and display aspects merge form and function beautifully. It's a blend of aesthetic appeal with a screen that's not just expansive, but also excels in delivering quality visuals. Whether for work or entertainment, the design and display of this tablet enhance every interaction.
Samsung Galaxy Tab S8 Review– Camera and Features
Navigating through the features of the Samsung Galaxy Tab S8, the camera was one of the standout elements for me. The rear dual-camera setup with a 13 MP main lens and an accompanying 6 MP ultrawide ensures versatility in capturing moments. The main camera's f/2.0 aperture lets in ample light, making photos brighter, while the ultrawide lens at f/2.2 ensures a broader field of view.
Whether I was taking scenic shots or capturing memories with loved ones, features like HDR and panorama allowed me to obtain pictures with depth and detail. The ability to record videos in 4K 30fps and in 1080p 30fps adds a professional touch to my recordings, making moments come alive in high definition.
Shifting the focus to the front, the 12 MP ultrawide camera is perfect for video calls or the occasional selfie. Its 120˚ wide field ensures group selfies are a breeze. The 4K video recording capability is consistent, allowing for clear video chats or capturing moments from a front perspective.
Now, moving beyond the camera, the Galaxy Tab S8 is jam-packed with features that elevate the user experience. The quad speakers tuned by AKG, paired with Dolby Atmos, guarantee a rich audio experience, whether I'm watching a movie or listening to music. Connectivity options, including the latest Bluetooth 5.2 and Wi-Fi 6E, ensure a seamless online experience. The USB Type-C 3.2 port ensures fast data transfer and charging. Security features like the side-mounted fingerprint scanner provide quick and efficient access, while the sensors – (Accelerometer, Gyroscope, Proximity, Compass, and Ambient light sensor), add layers of functionality and ease.
The cherry on top is the S Pen Stylus. Its 6.2ms low latency and Bluetooth integration make note-taking, sketching, or doodling a joy. The Samsung DeX mode transforms the tablet into a near-desktop experience and if you attach a book cover keyboard then you can get a full PC-like experience.
In essence, the Samsung Galaxy Tab S8's camera and features fuse quality with functionality. Whether you're an amateur photographer, a professional on the go, or simply seeking an immersive tablet experience, the Tab S8 checks all the boxes.
Samsung Galaxy Tab S8 Review– Hardware and Performance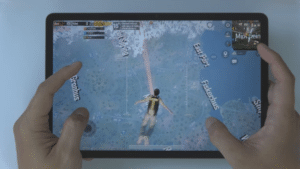 Diving into the heart of the Samsung Galaxy Tab S8, its performance is something that truly stands out. At its core, the tablet is powered by the Qualcomm Snapdragon 8 Gen 1 system chip, which is a powerhouse in the realm of mobile processors. Manufactured with the advanced 4 nm process, it promises efficiency and speed.
The octa-core CPU setup, consisting of a high-performance Cortex-X2, three mid-tier Cortex-A710 cores, and four energy-efficient Cortex-A510 cores, has ensured that I've faced no lags or slowdowns in daily tasks or even more demanding applications.
The GPU side of things, handled by the Adreno 730, has been equally impressive. Whether I'm streaming Ultra HD content, indulging in some gaming, or using graphics-intensive games like PUBG, COD, etc. the visuals have been smooth and lag-free. For a tablet, this kind of graphical performance is a treat and ensures that both work and play are enjoyable experiences.
Another noticeable aspect for me was the multitasking prowess, courtesy of the 8GB LPDDR5 RAM. Switching between apps, having multiple tabs open, or even running intensive tasks in the background – the Galaxy Tab S8 has managed all of it without a hiccup.
Storage-wise, options of 128GB and 256GB UFS 3.0 ensure quick app launches and file transfers. I went for the 256GB variant, and it's been more than ample for my needs. However, the dedicated microSDXC slot, supporting up to a whopping 1TB, is a comforting backup for those who need even more space.
In a nutshell, the Samsung Galaxy Tab S8 packs a punch when it comes to hardware and performance. It feels like a device that's ready for anything you throw at it, be it work, entertainment, or multitasking. It's clear that Samsung hasn't cut any corners in ensuring this tablet delivers top-tier performance across the board.
Samsung Galaxy Tab S8 Review– Software and Battery Life
The Samsung Galaxy Tab S8, straight out of the box, offers a slick software experience with Android 12 and the One UI 4.1 overlay. As someone who prioritizes a seamless user interface, I was elated to discover that the device is also upgradable to Android 13 and One UI 5.1.1. This indicates not only longevity in terms of software support but also a commitment from Samsung to provide users with the latest features and improvements.
Navigating through the tablet, I found the UI to be smooth and virtually bug-free. It's evident that a lot of thought has gone into ensuring that user interactions are intuitive and fluid. The animations are fast, giving the device a responsive feel which is a must-have in today's fast-paced digital world. The multitasking capabilities, probably powered by the robust hardware, are effortless. Switching between apps and utilizing the split-screen mode feels like a breeze.
On the security front, Samsung Knox provides an added layer of protection, ensuring my data remains secure and private. This peace of mind, especially in a world teeming with cybersecurity threats, is invaluable.
Now, onto one of the most crucial aspects of any device: battery life. The Tab S8 packs an 8000mAh Li-Polymer battery, and in my use, it has comfortably lasted up to 15 hours with mixed activities, from browsing to video streaming. This longevity means I'm not constantly tethered to a charger. Speaking of charging, the tablet comes with a 45W charger. Samsung's claim of reaching 100% in 80 minutes stands true in my experience. The USB Type-C 3.2 magnetic connector ensures a snug fit and fast charging times, adding to the overall convenience.
In essence, the Galaxy Tab S8 strikes a harmonious balance between top-notch software experience and commendable battery performance, making it a reliable companion for both work and play.
Conclusion
In wrapping up my experience with the Samsung Galaxy Tab S8, it's evident that Samsung has once again delivered a tablet that beautifully marries form and function. Boasting a vivid display, powerful performance metrics, and a software experience that's both intuitive and forward-looking, the Tab S8 is more than just a device – it's a statement of premium craftsmanship and innovation.
The tablet's commendable battery life, coupled with the security of Samsung Knox, makes it both reliable and trustworthy. Whether for work, play, or anything in between, the Samsung Galaxy Tab S8 undoubtedly stands out as a top-tier choice in the bustling tablet market. Simple yet sophisticated, it's a testament to Samsung's commitment to deliver unparalleled user experiences.