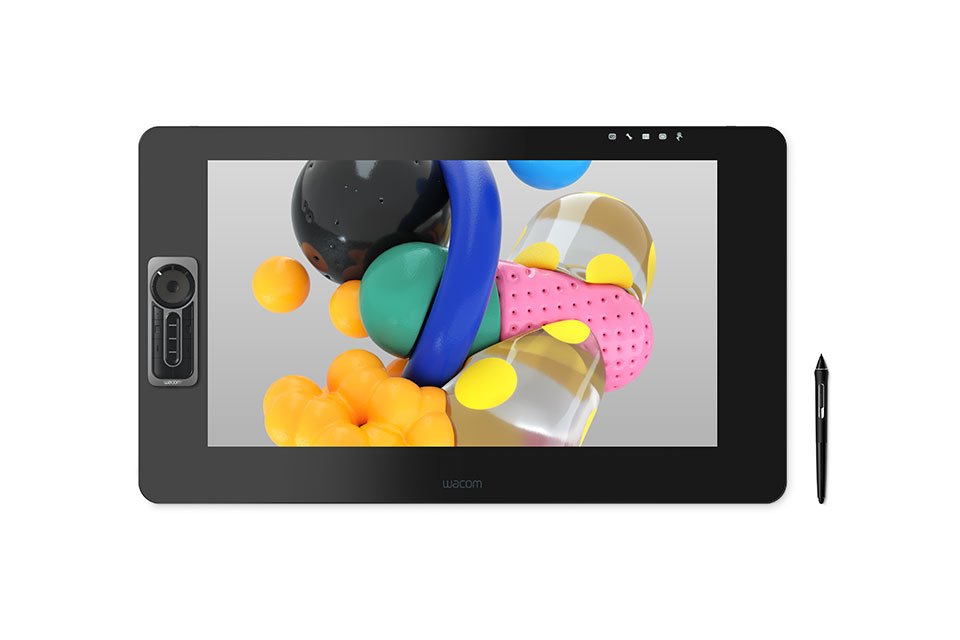 When delving into the world of digital artistry, certain names stand out, and Wacom is undoubtedly one of them. The Wacom Cintiq Pro 24 is a testament to the brand's commitment to delivering top-tier creative tools for artists, designers, and professionals alike. Nestled under the banner of "Creative Pen Display" this device offers more than just a canvas for digital strokes; it is a bridge between imagination and realization.
Wacom further refines the experience by presenting two distinct models of the Cintiq Pro 24. First, we have the DTK-2420 Creative Pen Display, designed specifically for those who prefer to communicate directly through the pen, prioritizing precision and responsiveness.
On the other hand, the DTH-2420 Creative Pen Display Touch introduces an added layer of interaction, allowing users to engage with their creations using both pen and touch gestures, offering a tactile and immersive experience. Both models share the same dedication to delivering a seamless interface between the artist and the digital world.
Yet, by offering these two variants, Wacom ensures that every individual can find a model tailored to their unique workflow and preferences. Whether you're sketching, designing, or just navigating, the Wacom Cintiq Pro 24 promises a journey marked by clarity, fluidity, and above all, creativity. As I venture deeper into the digital art realm, it's devices like these that reaffirm my belief in the limitless possibilities that technology can offer to creative minds.
Hardware Specifications of Wacom Cintiq Pro 24
Display 
23.6 Inches | 4K Ultra HD(3840 x 2160)
Dimension 
677 x 394 x 47 mm
Active Area
522 x 294 mm
Pen
Wacom Pro Pen 2
Sensitivity 
8192
Pen 
5080LPI
Keys
17 customizable Express Keys
OS Support 
Windows, macOS
Weight
7.2 kg (15.8 lbs)
PROS
Big 4K Display.
Stylus is the best available.
Express Key.
Solid color gamut coverage
CONS
Very expensive.
Not compatible with Chrome OS and Android
Wacom Cintiq Pro 24– Design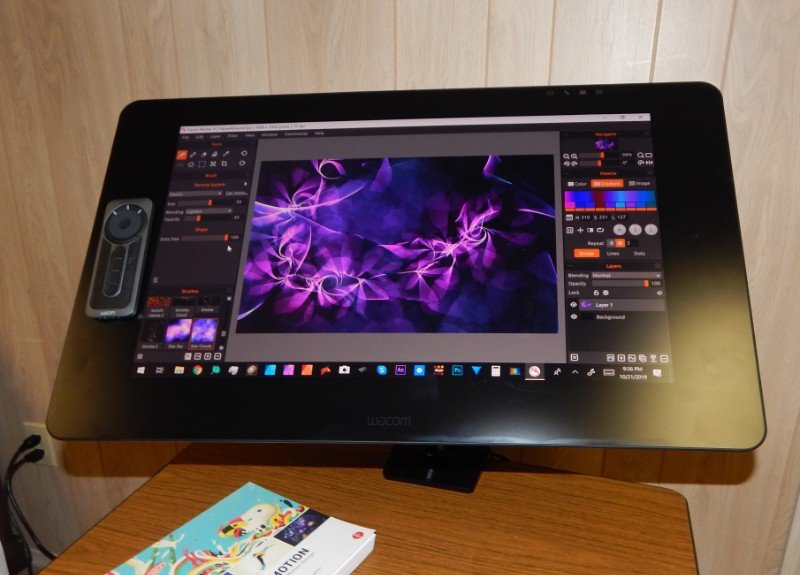 Having had the opportunity to explore the Wacom Cintiq Pro 24, I must admit that the design aspect of this tablet genuinely complements its functionality. At first glance, the sleek black aesthetic immediately captures attention, seamlessly fitting into any professional or creative workspace.
Its dimension, standing at 677 x 394 x 47 mm (26.6 x 15.5 x 1.9 in), strikes a harmonious balance between a substantial work area and desk compatibility. Weighing 7.2 kg (15.8 lbs), it feels solid and sturdy, ensuring that it remains rooted during intense work sessions.
What truly elevates the Cintiq Pro 24's design are the productivity boosters. The inclusion of the ExpressKey Remote is a game-changer. Boasting 17 customizable ExpressKeys, each key can be tailored for specific applications. This level of customization, along with a Touch Ring, Rocker Ring, and dedicated Home Button, streamlines the creative process.
It allows functions like pan, scroll, zoom, and brush size adjustments to be at one's fingertips, quite literally. Moreover, the Precision Mode, Radial Menu, and Display Toggle are intuitive features that enhance usability and adaptability.
The on-screen controls provide an interactive experience, making it a joy to toggle between tools and adjust settings on the fly. Furthermore, connectivity is not an issue. With 4 USB 3.0 ports, a USB C port, an HDMI 2.0 port, a DisplayPort, and 2 USB-A ports (with one specifically designed for the ExpressKey Remote dongle), it's clear that Wacom intended for this tablet to be the hub of one's creative space. It has also a 3.5mm jack and a dedicated SD card slot.
In conclusion, the design of the Wacom Cintiq Pro 24 isn't just about aesthetics; it's about crafting an experience that merges form and function seamlessly. Every design element feels purposeful, enhancing the overall user experience.
Wacom Cintiq Pro 24- Display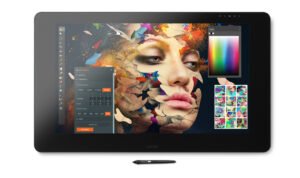 After spending a significant amount of time with the Wacom Cintiq Pro 24, I can confidently say that the display is one of its standout features, enhancing the overall creative process.
The vast 23.6-inch display offers an expansive canvas for detailed work. With a resolution of 3840 x 2160 pixels, the 4K Ultra HD clarity ensures that every pixel, every nuance of my designs, is visible with crisp clarity. It's impressive how an IPS LCD panel can provide such vibrant and consistent color accuracy across the board.
The Active Area of 522 x 294 mm (20.6 x 11.6 in) feels generous and spacious, allowing my hand to move freely as I sketch and design. The 16:9 aspect ratio is a standard that I'm familiar with, making it perfect for both work and entertainment.
Touch responsiveness on the touch model (DTH-2420) is smooth, thanks to the projected capacitive touch technology. Multi-touch gestures feel intuitive, making zooming in and out or panning around an artwork a breeze.
The viewing angles are outstanding at 176° horizontally and vertically. This means colors remain consistent even if I'm not sitting directly in front of the display. With a contrast ratio of 1000:1 and brightness of 235 nits, images look vibrant and dynamic.
One feature that truly shines is its color accuracy. Covering 99% of the Adobe RGB gamut and capable of displaying 1.07 billion colors with a true 10-bit color depth, my artworks look true to life.
Lastly, the edge-to-edge tempered glass with AG etching not only adds a premium feel but also provides a smooth drawing surface that replicates the feel of paper and provides good protection too.
To sum it up, the Wacom Cintiq Pro 24 offers a display that's not just about high resolutions and specifications; it's a canvas that brings my creative visions to life with impeccable clarity and color accuracy.
Wacom Cintiq Pro 24- Pen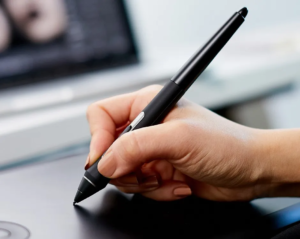 The pen is often a defining aspect of any graphic tablet, and after immersing myself in the Wacom Cintiq Pro 24 experience, I can attest that the Wacom Pro Pen 2 truly lives up to its reputation.
Firstly, the pen's design feels incredibly natural in the hand. Lightweight and ergonomically crafted, it mirrors the feel of a traditional art tool, making the transition from paper to digital almost seamless. The pressure sensitivity is remarkable, boasting 8192 levels for both the pen and the eraser. This means the tablet captures the slightest variations in pressure, translating to authentic and nuanced strokes on the screen. Whether I'm lightly sketching the initial outlines or applying more force for bolder marks, the Pro Pen 2 ensures every nuance of my hand movement is recorded.
The Pen Resolution of 5080LPI further elevates the precision of my work. Every detail, no matter how intricate, is captured flawlessly. This precision is a game-changer, especially for detailed illustrations and designs.
One of the standout features for me is the fact that the pen is both cordless and battery-free. Gone are the days of worrying about charging or being tethered by cords. The freedom this offers truly amplifies the overall drawing experience.
Adding to its functionality, the 2 side switches on the pen are customizable and incredibly handy. They provide quick access to tools or shortcuts, streamlining my workflow and ensuring I stay in the creative zone without unnecessary interruptions.
In essence, the Wacom Pro Pen 2, with its electromagnetic resonance technology, has redefined my expectations of what a digital pen should offer. It's a culmination of precision, convenience, and a natural feel, making it an indispensable tool for any artist or designer working on the Wacom Cintiq Pro 24.
Wacom Cintiq Pro 24- Compatibility

The compatibility of a graphic tablet is a critical factor, especially for someone like me who uses multiple platforms and applications. With the Wacom Cintiq Pro 24, I've found a seamless integration that genuinely enhances my workflow.
To begin with, the OS support is comprehensive. Whether I'm on my Windows machine or my Mac, the Wacom Cintiq Pro 24 fits right in. It supports Windows 7 and later versions, as well as macOS 10.11 and the newer iterations. This flexibility means I don't have to worry about switching between my devices. It's a relief knowing that this tablet will work efficiently regardless of the system I'm using.
But it's not just about the operating systems. A drawing tablet's real value emerges when it complements the range of applications an artist employs. I've used the Wacom Cintiq Pro 24 with a variety of apps, and the experience has been nothing short of phenomenal. Whether it's sketching on ibisPaint, painting on MediBang paint, jotting down ideas on Bamboo Paper, or crafting intricate designs on Adobe Sketch and Infinite Painter, the tablet responds brilliantly.
Moreover, when venturing into more specialized software like Autodesk SketchBook or even video editing with Adobe Premiere Rush, the Wacom Cintiq Pro 24 continues to impress. And let's not forget the compatibility with popular programs like CLIP STUDIO PAINT and Jump Paint by Medibang, where the precision and responsiveness of the tablet shine through.
In a nutshell, the compatibility aspect of the Wacom Cintiq Pro 24 has been a game-changer for me. It effortlessly syncs with a broad range of systems and applications, ensuring that my creativity is never stifled by technical constraints.
Wacom Cintiq Pro 24- Accessories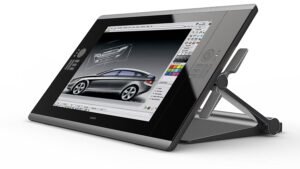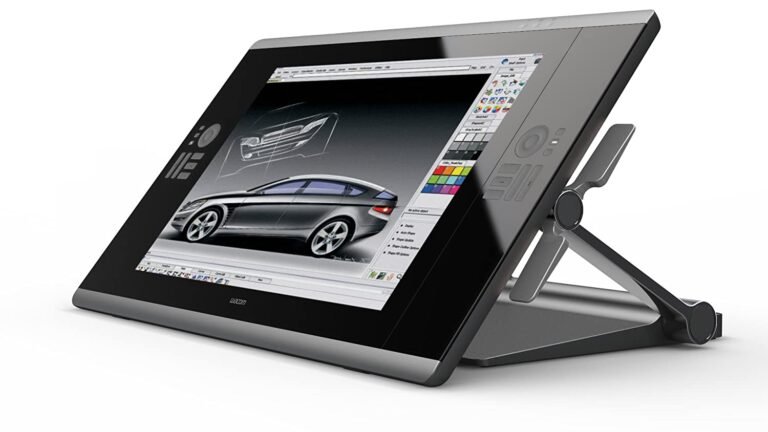 When I invested in the Wacom Cintiq Pro 24, I knew I was getting more than just a tablet. The range of accessories that comes bundled with this device genuinely adds to the overall experience, and I couldn't be more pleased.
First off, the ExpressKey Remote is a game-changer. This handy device, complete with a USB-A RF dongle and its 30cm micro-USB to USB charger cable, offers an intuitive way to access my most-used shortcuts. It's like having an extension of my hand, allowing me to swiftly make changes without breaking my workflow.
The pen stand is another thoughtful addition. Not only does it provide a dedicated space for the pen when not in use, but it also houses 10 replacement nibs. With 6 standard and 4 felt options, I can choose the one that best suits my drawing style. And the included nib removal tool ensures that switching them out is a breeze.
I appreciate the pen holder as well. It's a simple accessory, but it speaks to Wacom's understanding of an artist's needs, ensuring that the pen is always within arm's reach.
On the connectivity front, Wacom has got it covered. The 180W AC adaptor with its 1.8m power cable ensures that I'm always powered up. And the range of cables, from the 1.8m USB-C to USB-C to the 3.0m DisplayPort, HDMI2.0, and standard USB-A cables, means I never have to scramble for the right connection. Plus, the DisplayPort to Mini DisplayPort adapter adds that extra layer of compatibility, ensuring I'm never left wanting.
The Wacom Ergo Stand for the Cintiq Pro 24 has genuinely transformed my drawing experience. Prioritizing ergonomics, the stand offers versatile adjustability, allowing for tilting, raising, and even rotating the tablet with ease. Its robust build ensures my Cintiq Pro 24 stays stable, offering me peace of mind, especially during intense work sessions.
In conclusion, the accessories of the Wacom Cintiq Pro 24 aren't just add-ons; they're integral to the device's functionality. Each piece has been thoughtfully designed, emphasizing user comfort and efficiency. It's clear that Wacom understands the artist's journey and has equipped us with all the tools we need to create seamlessly.
Why buy the Wacom Cintiq Pro 24?
If you're a serious designer, artist, or 3D modeler, and cash is no object, you'll fight to do better than the Wacom Cintiq Pro 24. The large screen offers great color gamut coverage and precision straight out of the box, and the added stylus and remote are the most reliable available.
But, with Wacom charging more for the Pro Engine and Ergo Stand that you'll want to fully take account of the screen section, the new Cintiq is extortionately costly – particularly if you don't previously own a powerhouse PC capable of running demanding original workloads.
Final words
After investing ample time with the Wacom Cintiq Pro 24, it's clear that this tablet stands as a pinnacle in the realm of digital art tools. Coming with a spectacular 4K display with the unparalleled sensitivity of the Wacom Pro Pen 2, it offers artists, designers, and creators a canvas that's both expansive and exceptionally precise. Its compatibility with a wide range of OS versions and apps like Adobe Sketch and Autodesk SketchBook underscores its versatility for various creative ventures.
Moreover, accessories like the Ergo Stand and ExpressKey Remote further elevate the user experience, making workflows more efficient and ergonomic. In summary, the Wacom Cintiq Pro 24 isn't just a tool; it's a game-changer, empowering professionals and hobbyists alike to bring their visions to life with unmatched clarity and comfort. At last, I would say that the tablet is very good but also very expensive.
Howdy Geeks, I'm Andrew, a young passionate blogger, Tech Freak & a Gadget Lover. I help people in buying them the best tablet devices