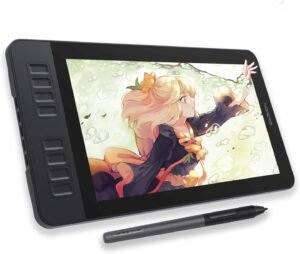 The GAOMON PD1161 Drawing Tablet is a versatile tool that is much more than just a conventional drawing tablet. Designed with precision and functionality in mind, it caters to a broad spectrum of users. Whether you're a beginner in drawing or a seasoned professional, the GAOMON PD1161 ensures that your digital art, sketching, graphics design, 3D artwork, and animation needs are thoroughly met. But the utility of this device isn't confined only to the realm of art.
In this increasingly digital age, where online education and remote meetings have become the norm, the PD1161 emerges as a reliable companion. It seamlessly integrates with most online meeting platforms, such as Zoom, making it an invaluable asset for educators and business professionals alike. The ability to annotate documents can revolutionize your online teaching or meeting experience, ensuring that ideas are communicated clearly and effectively.
Moreover, for those in the corporate sector or even individuals who often find themselves needing to annotate documents or provide electronic signatures, the GAOMON PD1161 shines. E-writing in popular formats like Excel, Word, PDF, and PPT becomes a breeze, making tasks like annotating and signing both efficient and effortless.
Comparing this drawing tablet to other brands like HUION, PARBLO, ARTISUL, and many more is affordable and cheaper than others. You can also compare Huion and Wacom but still, you will find it better in any way.
In essence, the GAOMON PD1161 Drawing Tablet is not just a device; it's a gateway to a world of digital possibilities, blending art, education, and business in one sleek package.
Hardware Specifications of

Gaomon PD1161

Display 
11.6 Inches 1920×1080 (IPS LCD)
Product Dimensions 
361.6 x 200 x 13mm
Active Area
256.32 x 144.18mm
Pen
Digital Pen AP50
Pen Pressure Levels
8192
Pen Resolution
5080LPI
Keys
8 Express Keys
Weight
866g
PROS
The pen holder protects.
Millions of color gradation.
Adopt Battery-free electromagnetic.
CONS
Not compatible with Chrome OS.
Gaomon PD 1161- Design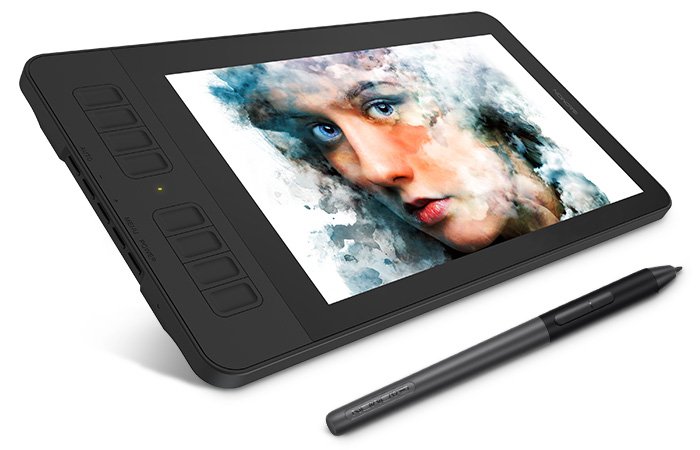 The GAOMON PD1161 Drawing Tablet boasts a design that's both functional and aesthetically pleasing. Right from the outset, the tablet feels solid and well-balanced, measuring 361.6 x 200 x 13mm. Its compact dimensions make it convenient for both work and portability, fitting comfortably on most desks or in a larger carry bag.
Weighing in at 866g, it's sturdy enough to feel substantial but not too heavy, making extended drawing sessions comfortable. The tablet's all-black color scheme gives it a professional and sleek look, ensuring it complements any workspace setup.
One of the standout features of the PD1161's design has to be the 8 Customized Press Keys (Eraser, Brush, Zoom In, Zoom Out, Increase Brush Size, Decrease Brush Size, Move, Tab). Positioned thoughtfully, these keys are a boon for artists, allowing quick access to frequently used commands or tools. They have also provided 5 Menu keys on the left side of the display: AUTO/+ /- /MENU/POWER. They're incredibly responsive and have a tactile feel, which means I didn't find myself second-guessing whether I pressed a button or not.
The tablet offers a variety of connectivity options that are both versatile and user-friendly. The input interface includes a Mini HDMI and Type-C port, ensuring compatibility with a range of devices. On the other hand, the output interfaces like USB-A, HDMI, and DC make it versatile for different connection needs.
In conclusion, the GAOMON PD1161 Drawing Tablet's design is a blend of aesthetics and functionality. Its dimensions and weight strike the right balance between portability and workspace utility. The 8 press keys and varied interface options only add to its appeal, making it a solid choice for both budding and professional artists.
Gaomon PD 1161- Display
The display of the GAOMON PD1161 Drawing Tablet truly stands out and elevates the drawing experience to a whole new level. With an ample screen size of 11.6 inches, it provides artists with a sizable workspace that's neither too overwhelming nor too restrictive. The resolution, set at 1920 x 1080, ensures that every line and color gradient is crisp and sharp. It's a treat for the eyes to see artwork come alive in full HD.
The tablet uses an IPS LCD display, which is renowned for offering vibrant colors and wide viewing angles. Speaking of which, the 89° horizontal and vertical viewing angles are remarkable. No matter which angle I'm looking at the screen from, the colors remain consistent, and there's no noticeable distortion or color shift. This is essential for artists who move around as they work.
Its active drawing area, measuring 256.32 x 144.18mm, is perfectly aligned with the 16:9 aspect ratio. It feels natural to work on, mimicking the proportions of many standard screens. The contrast ratio of 1000:1 ensures that the blacks are deep, and the whites are bright, enhancing the depth of images and drawings.
With a brightness level of 220 nits, the screen is adequately bright for indoor use. The response time of 25ms might seem a tad on the higher side for gaming, but for drawing purposes, it's more than sufficient. The color representation is decent too, with a 72% NTSC gamut volume and the ability to display 16.7M colors. This ensures a decent range of colors, making digital art vibrant and true to life.
Lastly, the anti-glare protective film is a thoughtful addition. It not only protects the screen but also ensures that any ambient light doesn't cause reflections that can disrupt the drawing process.
In summary, the GAOMON PD1161 offers a stellar display experience, combining high resolution with excellent color accuracy and viewing angles. Whether you're a professional artist or a hobbyist, this tablet's display is bound to impress.
Gaomon PD 1161- Compatibility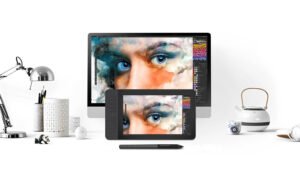 The GAOMON PD1161 Drawing Tablet is impressively versatile when it comes to compatibility, and I found this to be one of its strongest suits during my usage. Starting with its OS support, the tablet integrates seamlessly with both Windows (7 or later) and macOS (10.12 or later). This broad OS compatibility makes it an incredibly flexible tool, suitable for a wide range of users from digital drawing enthusiasts to professional architectural designers.
But where the GAOMON PD1161 truly shines is in its adaptability with numerous software programs. Being an avid user of popular software like Photoshop and Illustrator, I was thrilled to see that the tablet performed outstandingly well with these programs. The strokes were fluid, and the pressure sensitivity was spot-on, enhancing my digital drawing and photo editing tasks.
Beyond the well-known names like Photoshop and Illustrator, I ventured into testing it with other software. The GAOMON PD1161 doesn't disappoint. Whether it was sketching in Sketchbook Pro, creating manga in Manga Studio, or even exploring 3D sculpture, the tablet proved its mettle. The compatibility with software like CorelPainter, FireAlpaca, OpenCanvas, Paint Tool Sai2, and Krita was the icing on the cake. Not only does this make it an excellent tool for seasoned professionals, but it also stands out as an ideal companion for drawing beginners, photography buffs, animators, and even those in 3D sculpture.
In essence, the GAOMON PD1161 Drawing Tablet's compatibility range is expansive, catering to both mainstream and niche software requirements. For anyone, like me, who dabbles in various digital art forms, this tablet is a dream come true. It effortlessly bridges the gap between creativity and technology, making it a must-have for digital artists and professionals alike.
Gaomon PD 1161- Pen Sensitivity
The GAOMON PD1161 Drawing Tablet comes equipped with Digital Pen AP50 that truly elevates the drawing experience, and having had the pleasure to use it, here's my take on it.
First and foremost, the pen's Battery-free Electromagnetic Resonance technology is a game-changer. Gone are the days of constantly checking battery levels or pausing in the midst of creativity to recharge. This feature ensures uninterrupted drawing sessions, which I found to be exceptionally convenient.
Diving into its technicalities, the pen boasts an impressive 8192 pressure level. This means the tablet effortlessly captures even the most nuanced pressure variations, allowing for a range from the lightest strokes to the boldest lines. During my sketches, I could see this attribute coming to life, giving a very natural and pencil-on-paper feel.
The pen resolution stands at a commendable 5080LPI, translating to accurate and sharp strokes. Combined with a swift report rate of ≥266PPS, the pen's response is instantaneous. There's no noticeable lag between the pen's movement and the line appearing on the screen, which is pivotal for any artist.
Accuracy, as promised, is spot-on. At the center, it's as precise as ±0.5mm, and even at the corners where many pens tend to waver it remains fairly accurate within ±3mm. Additionally, the generous sensing height of 10mm means the pen doesn't necessarily have to be in direct contact with the tablet to be detected, offering a more flexible drawing stance.
A feature I particularly enjoyed was the tilt function. With a range of ±60°, it adeptly recognizes the pen's angle relative to the tablet, adding another layer of depth and realism to shading and varying line widths.
In conclusion, the pen of the GAOMON PD1161 Drawing Tablet isn't just a tool, but rather an extension of the artist's hand. It captures intent, pressure, and movement with remarkable precision, making the drawing experience both intuitive and delightful. For artists, both budding and professional, this pen might just be the magic wand they've been searching for.
Gaomon PD 1161- Accessories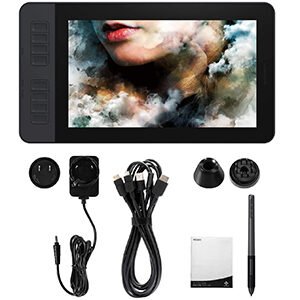 When unboxing the GAOMON PD1161 Drawing Tablet, the assortment of accessories provided immediately stood out to me. These accessories not only enhance the user experience but also ensure that the tablet is ready for use right out of the box.
Starting with the heart of the package, the Pen Display PD1161 itself is a marvel, but its complementary accessories amplify its capabilities. The Digital Pen AP50 is an excellent tool, and as previously reviewed, it offers stellar performance. However, what makes the deal even sweeter is the inclusion of thoughtful extras.
The 3-in-2 Cable provided is particularly useful. In a world where cable management is a challenge for many digital artists like myself, this consolidated cable design is a breath of fresh air. It efficiently connects the tablet to power and data sources, minimizing clutter and tangling.
Speaking of power, the Power Adapter in the box ensures that the tablet remains juiced up and ready for long creative sessions. Its build is robust, and the length of the cord is generous enough for comfortable setups.
The Pen Holder is a subtle yet significant inclusion. Not only does it serve as a resting spot for the Digital Pen AP50, ensuring it doesn't get misplaced, but it also doubles up as a storage space for the additional 8 Pen Nibs. Having these nibs on hand is invaluable. Over time, with wear and tear, the nibs might require replacement, and GAOMON ensures you don't have to scramble looking for them.
In conclusion, the GAOMON PD1161 Drawing Tablet doesn't merely give you a tablet; it offers a comprehensive package. Each accessory has been thoughtfully curated, reflecting GAOMON's commitment to delivering an unparalleled user experience. Whether you're sketching, designing, or teaching, these accessories ensure that the PD1161 is always at its optimal performance, making the creative process smooth and delightful.
Final Words
The GAOMON PD1161 Drawing Tablet emerges as a standout tool for anyone navigating the realms of digital creativity. Its expansive features, from a vibrant display to a responsive pen, cater beautifully to both beginners and seasoned professionals. The broad compatibility with various operating systems and art-centric software ensures that users can smoothly transition between tasks, from intricate sketches to essential document annotations.
Beyond the main functions, GAOMON's attention to detail is evident in the supplementary accessories that accompany the tablet. Each accessory has been carefully chosen to make the user's experience better., making the creative process seamless and enjoyable. For anyone seeking a reliable and versatile digital canvas, the PD1161 stands as a compelling choice, solidifying its position in the world of digital artistry.
Howdy Geeks, I'm Andrew, a young passionate blogger, Tech Freak & a Gadget Lover. I help people in buying them the best tablet devices