What is the best drawing tablet for you, between Wacom and XP-Pen?
Older manufacturers, like XP-Pen, have established themselves by undercutting Wacom on price. Wacom is still the market leader, but it is no longer the only real name in digital design. In the past, the rule was that Wacom was better but more expensive, and XP-Pen was less expensive but of worse quality.
If this were still the case, making a decision would be relatively simple! But since then, things have changed, and I should say that the XP-Pen is a serious contender to take into account if you want quality at a competitive price.
Both companies keep releasing new models, which further muddies the picture. Consider the new XP-Pen Artist 24 Pro, which with its 23.8-inch QHD display is quite obviously aiming for the professional market.
Recent launches like the XP-Pen Innovator 16 help XP-Pen maintain its strong reputation in the mid-range of graphics tablets. Such tablets offer a fantastic middle ground, providing a drawing area large enough for most uses, enough features, and the capability to satisfy the majority of digital artists like you and me, all for a fairly reasonable price.
So it makes sense and I shall examine their features in more detail and break down whether you should want a Wacom or an XP-Pen tablet. This post serves to do just that for you. To give you the best opportunity of finding the drawing tablet that best meets your needs, I'll be comparing the two brands and their models.
Specification Comparison Between XP Pen Innovator 16 And The Wacom Cintiq 16
1. Size
The size for both, the Innovator 16 and Cintiq 16 are the same i.e 15.6 inches.
2. Weight
The Innovator 16 weighs 1400 Grams whereas you should expect the Cintiq 16 to weigh around 1900.5 Grams.
3. Build
The Wacom tablet boasts better construction, with a design that feels heavier and more durable. It weighs roughly 1.9kg, compared to the 1.5kg of the XP-Pen Artist 15.6 Pro. Except if you carry the tablet around all day, in which case, trust us, you'll notice it, that's not a significant change.
4. Resolution
Both offer the same screen resolution as well and that is HD 1920 x 1080.
5. Connectivity
XP Pen uses a 3-in-1 cable technology whereas Cintiq allows HDMI connectivity.
6. Operating System
XP Pen Innovator Display 16 supports Windows 11/10/8/7, Mac OS X 10.10 (and higher), and  Linux (Detailed versions). It is also compatible with popular digital art software, including Adobe Photoshop, Illustrator, SAI, CDR, GIMP, Krita, Medibang, FireAlpaca, Blender 3D, and others.
Wacom Cintiq 16 works on pc with Windows 7 or later and macOS X 10.12 or later.
7. Product Dimensions
Innovator 16 has a size of 17.44 x 10.08 x 0.35 inches whereas Cintiq 16 is 16.6 x 11.2 x 1 inch. 
8. Shortcut Buttons 
You'll notice some noticeable visual differences right away. The Wacom Cintiq 16 is all-screen from the front, but the XP-Pen Artist 15.6 Pro contains buttons that can be seen on one side. There are a total of eight shortcut keys on this device, in addition to the recognizable red dial that can be used for zooming and other settings.
9. Stylus
XP Pen PA5 vs Wacom Pro Pen 2
Naturally, the XP-Pen and Wacom tablets each come with a unique stylus. Both are roughly what you and I would anticipate; Wacom styluses are often a little heavier than XP-Pen ones. The XP-Pen will have more functionality and a less quality feel when compared to a Wacom, as is the trend you may have picked up on by now.
For instance, the XP-Pen Innovator 16 includes a thin stylus with 8,192 levels of pressure sensitivity. In contrast, the Wacom One, which costs approximately the same, has a stylus with 4,096 pressure levels that are more basic than the top-tier Wacom tablets. In addition, the XP-Pen stylus features two programmable buttons as opposed to the Wacom's single one.
The styluses made by the Wacom company are of high caliber. One of the best styluses on the market in the eyes of not just me but most digital artists are Wacom pens. I'll also mention that despite being a more affordable option to Wacom's drawing tablets at the professional level, the Cintiq 16 nevertheless has the same stylus (Wacom Pro Pen 2) as the Cintiq Pro versions.
This is a significant benefit. You can recognize up to 8192 pen pressures and 60 degrees of tilt with the Pro Pen 2. I also noticed that the pen also features an eraser at the back and two side buttons.
The most cutting-edge stylus ever produced by Xp Pen, the "Xp Pen PA5 stylus," is included with the XP Pen Innovator 16. The PA5 stylus has 8192 pressure sensitivity levels and a tilt sensitivity of 60 degrees, just like the Pro Pen 2.
Both the Wacom Pro Pen 2 and the XP Pen PA5 stylus feature excellent pressure sensitivity and pen tracking.
While using both the stylus, I didn't come across any pen jitter (wavy lines) or unexpected pressure bumps, and their lines are smooth and consistent. The strokes taper nicely at the end. The pen feels snappy and fluid all around. You might only notice a difference in the first activation force.
The Wacom Pro Pen 2 is extremely sensitive and may begin drawing with the smallest amount of pressure applied to the stylus.
I found the Wacom Pro Pen 2's first activation to be superior to that of the XP Pen's stylus. According to XP Pen, the Innovator 16's updated PA5 pen has a stronger initial activation force. Like the tilt sensitivity, the Wacom Pro Pen 2 performs better than the XP Pen stylus. Having said that, the tilt sensitivity of the PA5 stylus is also completely usable.
To know more about Wacom Cintiq 16, you can check out this article.
What Should You Expect Inside The Box?
1. The Wacom Cintiq 16
Wacom Cintiq 16 

Wacom Pro Pen 2

 Detachable Pen holder

 3 replacement nibs

 5.9 ft 3-in-1 cable 

5.9 ft Power cable AC adaptor (12V, 3A, 36W) the XP Pen Innovator 16
2. XP Pen Innovator 16
XP Pen Artist Innovator 16 Drawing Display

1x Battery-Free Stylus

1x 3-in-1 USB Cable

1 x Extension Cord

1x Power Adapter

1x Portable Stand

1x Pen Holder (comes with 8 pen nibs) 

1x Quick Guide

1x Cleaning Cloth

1x Black Drawing Glove
And a worry-free 12-month warranty card.
An Experience I Had While Using The XP Pen Innovator 16
I got this around a month ago, and I've been using it a lot ever since. Since I have a knack for drawing tablets, I wanted to try my hands on the XP Pen ranges. This time I debated between comparing this because it was a newer release, which probably meant fewer driver issues and a better build. The display's thinness also caught my attention. 
After calibrating the screen, the parallax, if it exists, is hardly noticeable because the monitor is amazingly tiny and responsive. Simply following the instructions in the handbook made it quite simple to set up, and it started up and operated quickly as well. The zooming in and out process is quite natural while using the roller wheel, which is comfortable to use.
The outside touch wheel is snappy and enjoyable to use, but I don't use the inner touch wheel very much and haven't looked into how to utilize it. The pen is sturdy and comfortable to grip, and the buttons on the side are clicky and easy to designate purposes.
I thought it was a smart use of space for the pen holding tube to serve as both a pen holder and protection as well as a container for extra pen nibs. Compared to the colors on my laptop, I found these colors to be more vivid and true.
Given the price of this monitor, which isn't exactly cheap, it would have been wonderful to have a stand with several angles if there were anything to sort of complain about. However, you may raise the display to a greater angle by piling several books under the stand. Overall, I'm quite delighted and amazed with this display.
The Experience I Had While Using The Wacom Cintiq 16
Comparing the Cintiq 16 to an Intuos Pro tablet is a tremendous improvement.
The cons are many. The screen's surface feel is significantly better than that of my iPad Pro with Apple Pencil. Although I won't say it resists like paper, it isn't as smooth as glass. It fits me well. In comparison to the older pens, the new pen is a lot more sensitive. Before experiencing it, I didn't believe that would matter to me.
Normally, I lower the pressure sensitivity so I don't have to push as hard, but I get better accuracy within that range. It is incredible indeed.
Touch input is not available, but that didn't bother me as much. Moreover, the screen size suits my needs perfectly well. Since my laptop cannot produce greater than 1920×1080, it works for me. It's not a very bright monitor, and in my opinion, a room with indirect lighting—not a bright, sunny room—works best for it.
Although I didn't purchase the stand, the supplied legs are enough. Be careful while fully opening them though; if they don't open slightly outward, you haven't opened them far enough. It is simpler to use my keyboard in addition to the Cintiq because of the size.
Occasionally I lean it flat against the desk. I will give the screen a rating of 5, but that's a 5 considering the cost. This works for me if I think about the price I paid. However, having used the more expensive Cintiq, I can assure you that it gets even better than this. If you ask me, I mostly use this, even though I also have an iPad Pro and an Apple Pencil.
I should also mention that I spotted a tiny amount of parallax. To get it right for me, I had to fiddle with the calibration in the settings, but I'm accustomed to it now. Be prepared for a bit of that. It is probably between 1/16 and 1/8 of an inch, but not enough to cause me any significant problems or annoyance while working on my projects.
Finally, for someone who has already used the higher-end Cintiq, the Cintiq 16 might be a downgrade. But I found it to be an upgrade from the XP Pen Innovator 16.
Wanted to check out other graphic and drawing tablets, then check this article.
Conclusion
Well, about the Wacom Cintiq 16, The pro pen 2 and this screen are amazing for drawing. Excellent feeling, I significantly altered my pressure curves, and the result feels like sketching with a feather. I spent a lot of time in painter playing with the brush curves. However, it wasn't enjoyable or quick.
It's worth it even if you only use it as a sketching tablet while using your monitor. It is a lot smoother experience than the Intuos Pro, and for me, the pen sensitivity has a wider range too.
Even while I adore the Cintiq 16, I find it difficult to rationalize Wacom's exorbitant price tags. These days, you could spend half as much money and have a device with a larger screen and even more functionality. Having said that, you cannot discount Wacom's caliber. This may very well be the greatest tablet for the lowest price offered by Wacom if you're looking for something reliable and long-lasting.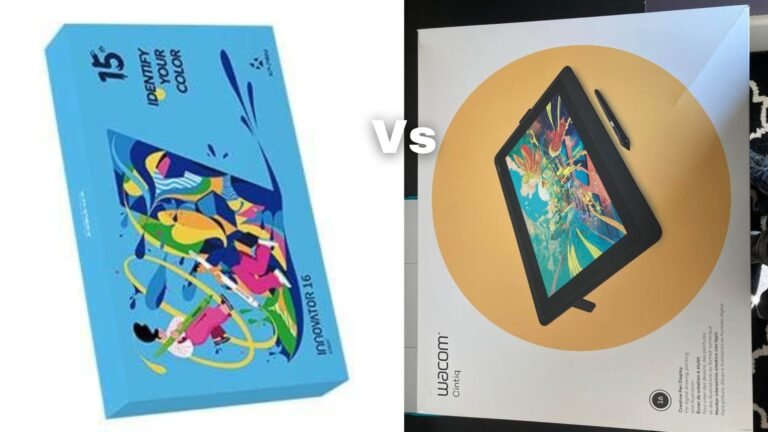 Concluding the Innovator 16 is a well-made drawing tablet. I appreciate XP Pen's attempt at providing a thin body which adds to the rich look and feel of the tablet. But the pen is crooked. I had to calibrate the pen approximately every 20 minutes since it showed on the screen.
In comparison to the Innovator, I honestly think my mouse produces straighter lines. At that moment, I wanted to switch back to my iPad or Wacom. However, shortcut keys are convenient. It's also quite nice because after registering, you can choose between open canvas or rageart.
But for a solid mid-range drawing tablet, the art application doesn't suit the screen adequately, which is unpleasant and surprising. With that, I'd state that you can rarely go wrong with a Wacom and the rest of your choice depends on your budget and experimentation needs.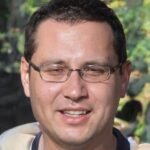 Ben Scott is a prominent technology journalist and reviewer, specializing in tablet devices. He is known for his comprehensive and unbiased reviews of tablets from various manufacturers.
With a deep understanding of tablet technology, including hardware components, operating systems, and software applications, Scott provides clear and informative reviews accessible to readers of all levels of technical expertise.
His attention to detail and in-depth analysis have earned him a loyal following of readers.